Adding pumpkin puree to the sauce of this mac and cheese recipe makes it extra creamy and velvety smooth, and adds tons of nutrition. This Pumpkin Mac and Cheese is the ultimate in healthy comfort food!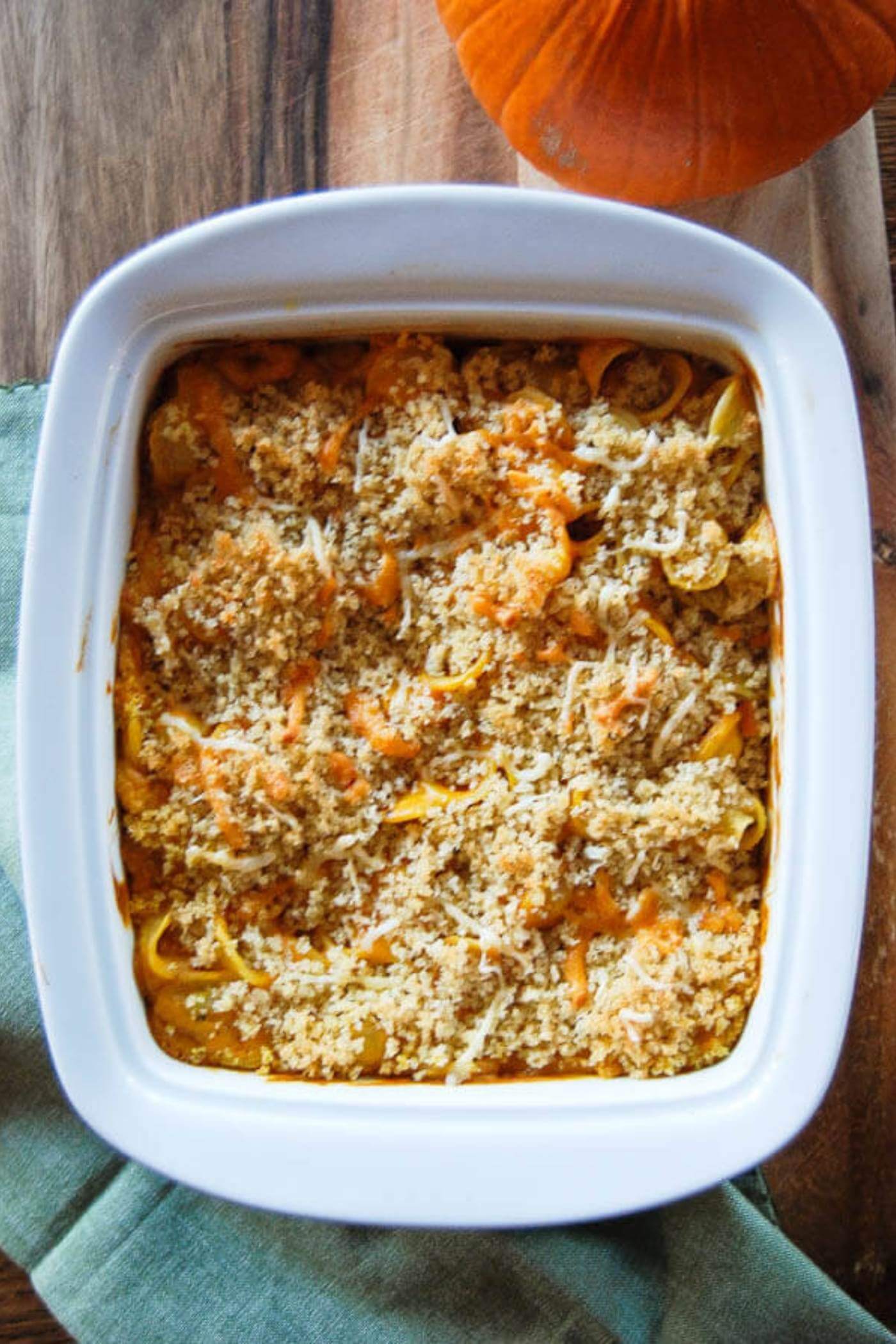 Are your kids mac n cheese addicts? Mine are. And, if I'm being honest, I am too. Who doesn't love creamy cheesy pasta?
This homemade pumpkin mac and cheese recipe takes the classic dish up a notch and adds tons of nutrition to it by including fiber-rich pumpkin.
Here's Why I Love This Healthy Pumpkin Macaroni And Cheese
It's so much healthier than your typical mac and cheese. Cutting down on some of the cheese and butter slashes the calories of this dish. And, pumpkin is also a great source of vitamin A, potassium, and antioxidants and is low in calories. It's the perfect addition to a dish that is typically loaded with calories.
So so creamy! Adding pumpkin puree to your cheese sauce makes it incredibly smooth and velvety. Delicious and healthy!
The sauce is so versatile! This cheesy and creamy sauce is great for macaroni, rice, pasta, veggies, or even nachos! You can also change the flavor by varying your spices.
Quick and easy! If you've never made homemade mac and cheese before, you're missing out. It's super easy, and so much better than the store-bought stuff.
The breadcrumb topping! Personally, I love the added crunchy buttery topping of this pumpkin mac and cheese, but if you're strictly team creamy all the way, feel free to omit it.
How To Make Pumpkin Mac And Cheese
Homemade mac and cheese is easy to make, and involves just a few simple steps.
First, boil your pasta noodles according to the package instructions.
Next, create a rue-based pumpkin and cheese sauce, and add in the herbs and spices you're craving. (A rue is basically a flour/butter/milk combination that helps to thicken sauces.)
Finally, combine the sauce and noodles and pop it in the oven for about 20-30 minutes. Yes, it takes a little bit longer, but it's so worth it.
You can really customize the flavors of this sauce. We of course added pumpkin puree to our cheese sauce but also used garlic and sage to make it a bit savory.
You could also add a little red pepper or hot sauce to make a spicy mac n cheese. And, you could up the nutrition factor even more by adding chopped walnuts or other veggies.
Try this ultimate comfort food for dinner and then leave a comment below! And don't forget to tag me on Instagram!
More Easy Dinner Ideas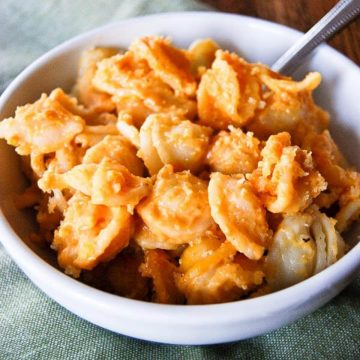 Pumpkin Mac And Cheese
Adding pumpkin puree to the sauce of this mac and cheese recipe makes it extra creamy and velvety, and adds tons of nutrition. This pumpkin mac and cheese is the ultimate in comfort food!
Ingredients
1

lb

pasta shells or macaroni

4

tablespoon

unsalted butter

¼

cup

all-purpose flour

2

cups

whole milk

½

teaspoon

pepper

½

teaspoon

garlic powder

½

tsp

sage

15

oz

can pumpkin puree

6

oz

extra sharp cheddar cheese (plus extra for sprinkling on top)

½

cup

parmesan cheese

1

cup

panko breadcrumbs
Instructions
Preheat your oven to 350 degrees. 

Cook pasta as directed on package. Drain when finished cooking.

While your pasta is cooking, make your sauce.  Melt the butter in a large saucepan over medium heat (don't let it burn!).  Once the butter is melted and slightly bubbly, add your flour and stir constantly for 2-3 minutes to combine.

Continue to stir the flour/butter mixture as you add your milk. Your rue will begin to thicken slightly. 

Season the sauce with salt, pepper, garlic powder and sage. 

Add the pumpkin and cheddar cheese to the sauce. Stir constantly until combined and the cheese has melted. Add more salt and pepper to taste.

Add the sauce to your cooked pasta noodles and combine well.

Transfer to a buttered casserole dish and top with remaining cheddar cheese, Parmesan, and breadcrumbs.

Bake at 350 degrees for 20-30 minutes.