This Cheesy Pasta comes together so easily and is a comforting simple dish on a cool evening. Meaty, cheesy, and delicious, all you need is a side salad and a good loaf of bread to round out this easy meal.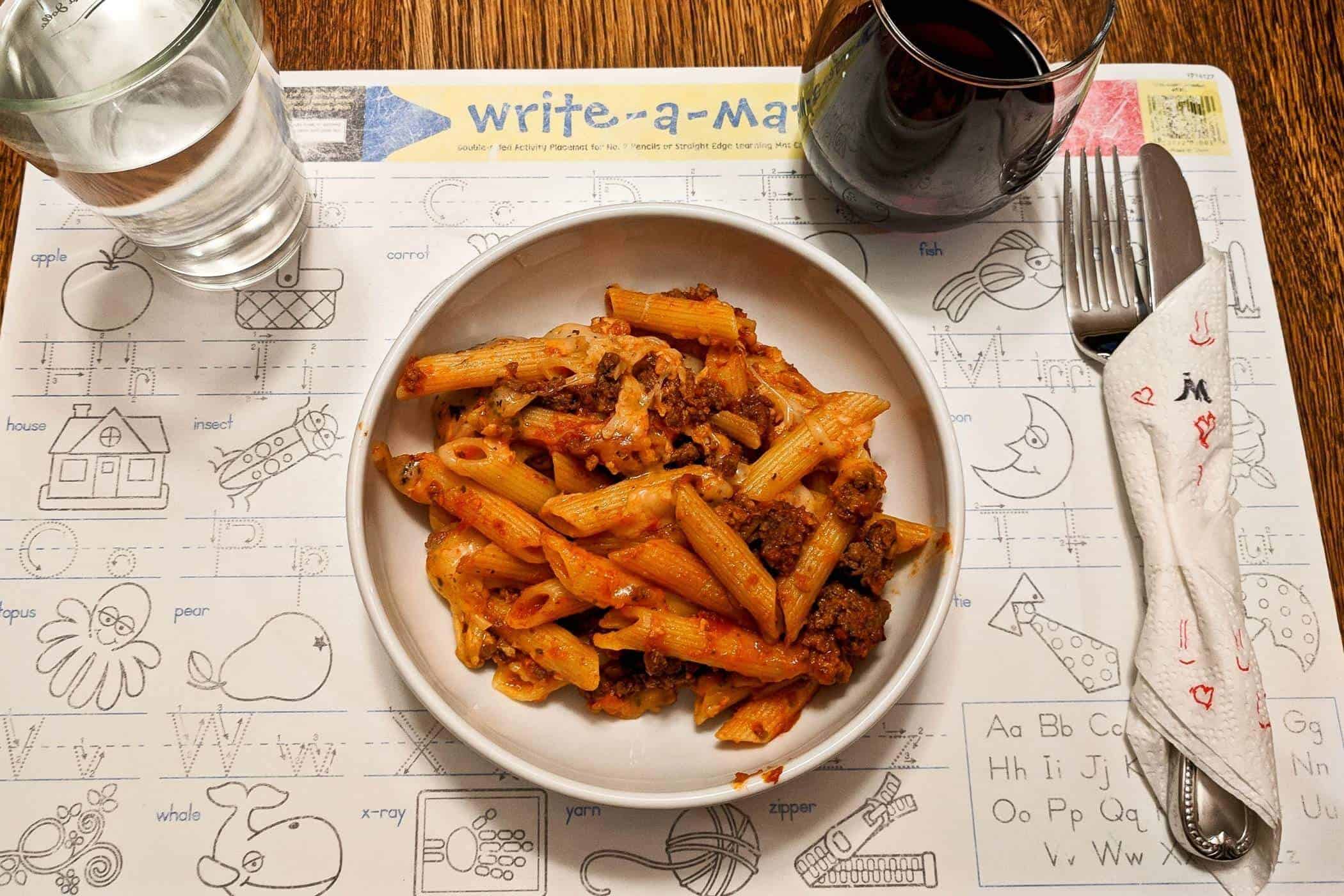 Let me ask you a few questions: When was the last time you used your fine china? Broke out that fancy bottle of wine, just because? Or lit some candles to use during dinner? If you're anything like me, it's been a while. I've always been one to save the good stuff for a special occasion. After all, that's what makes it special, right? But the other night, my 7-year-old made me rethink that notion.
We were having cheesy pasta for dinner, a family favorite, and I had asked him to set the table, one of his nightly chores. My son started bustling around the table, arranging plates and silverware and getting everything just right while I was finishing up dinner. But it wasn't until I started to serve dinner that I saw what he had done.
He had lovingly hand-decorated each of our paper napkins and then delicately wrapped them around the silverware for each place setting. He even wrote our initials on them to make them personalized (that one's "M" for "Mom" in case you're wondering).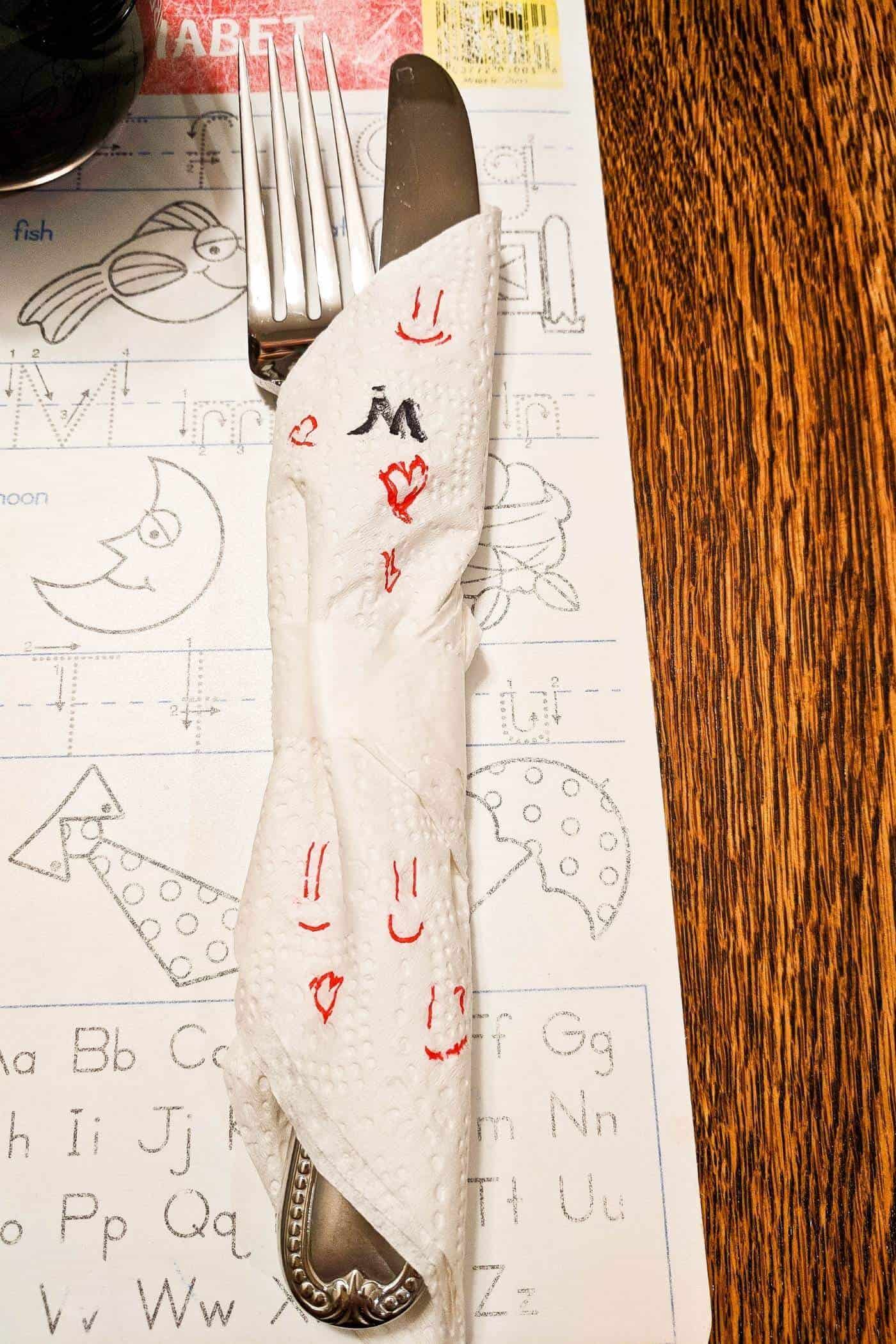 It was such a simple gesture, but something that made the dinner far more enjoyable and special for all of us. It got me thinking about how I view weeknight dinners in our house. They're usually pretty simple and things that we can get on the table quickly like tacos, salad, or pasta dishes.
Forget about fancy dishes or a nice presentation (did you see those placemats?). With two active school-aged boys, it's hard to find the motivation (or time) to get fancy with meals throughout the week (soccer, swimming, karate…oh my!). We're really just trying to get through the evening and check all of our to-do's off the list – extracurricular activities, homework, dinner, bath, teeth, story, bed! It's a total whirlwind.
But I think it's important to try and bring some of these little niceties to our days even in the midst of a busy workweek. After all, these years are flying by at warp speed and it's the little things that will make us remember how great and special they are, even if the days are filled with basic routines like chores, activities, and the general exhaustion that tends to come with having little ones. I want to remember all of it, satisfied that we didn't just rush through our days, but savored them, and each other, in the moment. This is hard to do, but it's important.
We're living in crazy times these days – mass shootings, threats of nuclear weapons, the awful consequences of bullying – the front page of most newspapers is enough to make any parent want to bubble-wrap their kids and keep them safe at home until they're at least 18. Unfortunately, we can't do that. We have to go on living each day. And we have to make each day count because none of us really knows what's going to happen tomorrow.
I want to make sure that I don't take for granted these days by not paying enough attention to the things that really matter. I want to encourage my kids to keep noticing the little details and to continue to put in that extra little bit of effort, just because. I want to use the fine china.
My husband and I have been married for almost 13 years and you know how often we've broken out the china that we got from our lovely wedding guests? Exactly once. Yep. We have 10 place settings, serving dishes, bowls, coffee mugs, you name it.…all in a storage closet just waiting for that "special" event that will warrant using them.
I think maybe tonight, a random Thursday, with a very fancy menu of turkey sandwiches and potato chips, calls for just such an occasion.
How To Make This Cheesy Baked Pasta
This recipe is on heavy rotation in our house because it's simple enough to whip up on a weeknight, and always tastes fantastic. Plus, my kids love it and any dish that they don't complain about is a winner in my book.
Start by choosing your noodle. You can really use any type of noodle, but we prefer something short. Mostaccioli, macaroni, fusili, penne.....it doesn't really matter. All will work equally well so don't overthink it and just use what you have or what's available.
Next, choose your meat. Ground beef is an easy choice, but you could also go for Italian sausage, lamb, turkey - all acceptable.
Add your sauce. A tomato-based sauce works best here. Anything creamy will compete too much with the cheese so keep this simple and classic.
Finally, the cheese. We typically use mozzarella, but you can get creative here. Experiment with Parmesan, Pecorino, or Asagio. We've even subbed in cheddar in a pinch, which still ended up being delicious.
To make it, boil the noodles and brown your meat. Combine both in a large casserole dish, add your sauce, and mix in your cheese. Then cover it with foil and bake it for 35 minutes in the oven, uncover and bake for an additional 15 minutes
Can I Make This In Advance?
This dish can easily be made ahead of time. Just mix the noodles, browned meat, sauce, and cheese together and keep in the refrigerator until you're ready to bake it, or freeze it to use later. When you're ready to bake it, thaw in the refrigerator overnight and then bake in the oven as directed above.
If you give this cheesy pasta a try, let me know what you think in the comments below. And then tag me with a pic on Instagram so I can see your creation - fancy homemade napkins and all!
More Easy Weeknight Meals!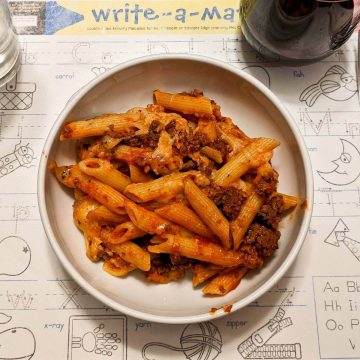 Cheesy Pasta
This cheesy pasta comes together so easily and is a comforting simple dish on a cool evening. Meaty, cheesy, and delicious, all you need is a side salad and a good loaf of bread to round out this easy meal.
Ingredients
1

lb

mostaccioli

(or whatever type of pasta you have on hand)

1 ¼

lb

ground beef

1

jar pasta sauce

1

16 oz

package Mozzarella cheese

1 ½

tablespoon

Italian spices
Instructions
Preheat the oven to 380 degrees F.

In a large pot, cook pasta according to instructions.

While your pasta is cooking, brown the ground beef.

Once the pasta and ground beef are finished, add them to a large casserole bowl.

Add the jar of pasta, half of the mozzarella cheese, and 1 Tablespoon of the Italian spices.

Mix everything to combine.

Add the remaining cheese to the top of the dish, and sprinkle the rest of the Italian spices over the top.

Bake in the oven, covered, for 35 minutes. Remove cover and bake for an additional 15 minutes. Serve immediately.