Cheesy chorizo nachos for dinner? Yes, please! These Sheet Pan Nachos come together in 15 minutes, and clean-up couldn't be easier! An easy weeknight dish or appetizer the whole family will enjoy!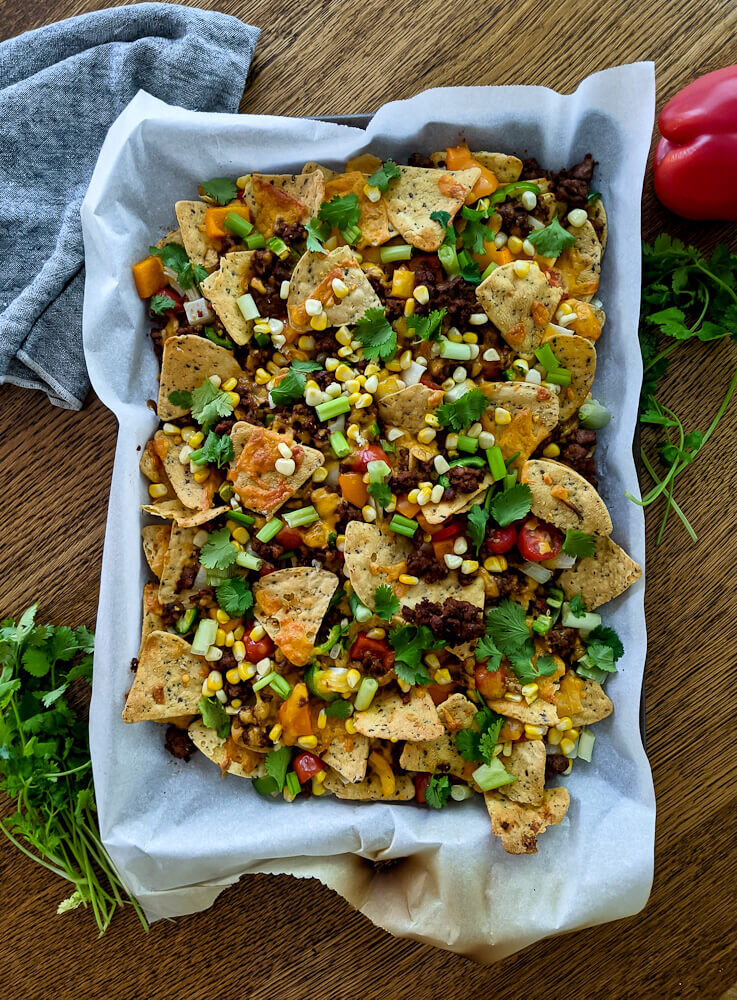 Are sheet pan dinners not the most beautiful thing to come out of the past few years? They're incredibly easy and such time savers. And sheet pan nachos may just be my favorite version of the sheet pan dinner craze.
This meal is so easy that we make it at least once every couple of weeks. It's great for dinner when you're short on time (less than 10 minutes in the oven!) and is even a great impromptu appetizer when you need one. Plus, everyone in our family loves it, which is not always easy when you have a 7-year-old picky eater you're trying to please.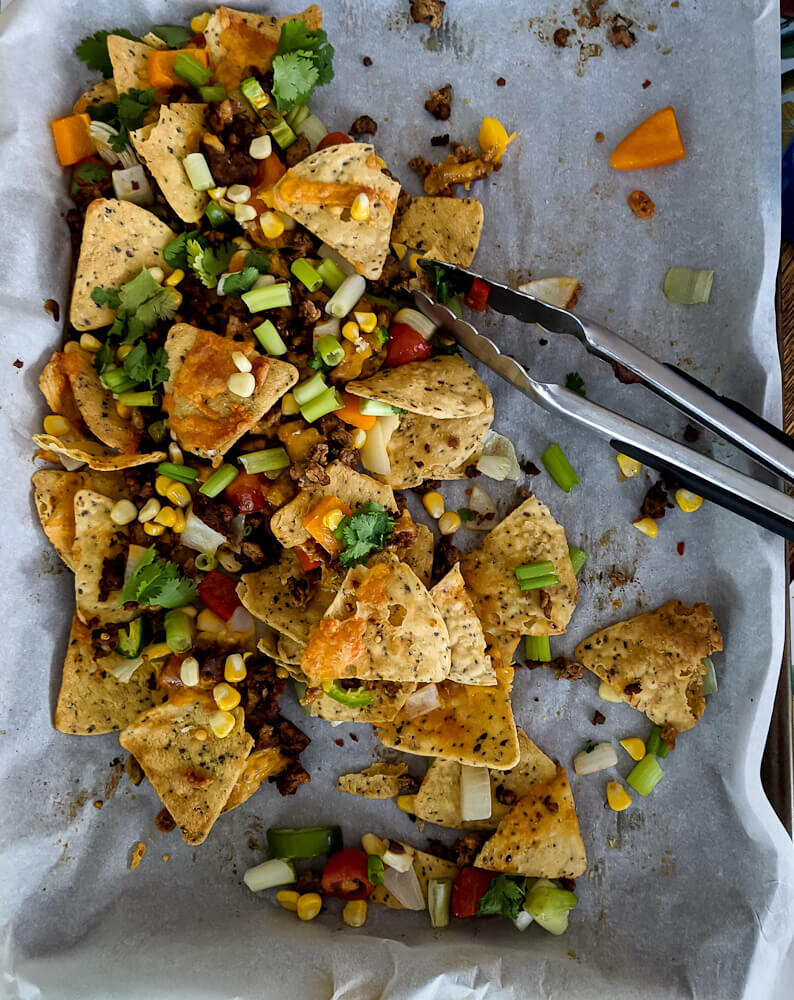 Ingredients
Tortilla chips. I like to choose a sturdy chip for these since you'll be weighing them down with cheese and toppings. All the better for scooping!
Chorizo. I love the spicy heat of chorizo for these nachos but you could also use ground beef, shredded pork, or even chicken.
Veggies. For this version, I used cherry tomatoes, corn kernels, onions, orange bell pepper, green onion, and jalapeno. But, if you have other veggies, use them. (There's a reason we also sometimes call this dish "Clean Out The Fridge" Nachos.)
Cheese. I mean, it's not really nachos without this key ingredient, right? I love a good shredded cheddar but you could also use Colby jack or a shredded Mexican blend.
Cilantro. I love it, but if this is a no-go for you, just omit it.
How To Make Sheet Pan Nachos
There's no real mystery behind this one. Here's how to make them.
Start with a layer of tortilla chips (store-bought or homemade) on a sheet pan lined with parchment paper.
Add some cheese, about half your meat, and half your red onion and jalapenos.
Add another layer of chips, then follow with the cheese/meat/onion and pepper routine.
Top with an extra sprinkling of cheese, then throw the whole thing in the oven for about 7 minutes, or until your cheese has melted nicely.
Once it's done baking, add the rest of your toppings: corn, cherry tomatoes, red bell pepper, scallions and cilantro.
I love making these nachos when we're short on time. It's also great at the end of the week when we're trying to use up all our veggies. It's easily adaptable so don't overthink it. You can customize this to your taste or whatever else is lurking in your fridge.
How To Avoid Soggy Nachos
My secret for getting a good consistent bite with these sheet pan nachos is to add everything in layers. Don't put all your chips on the bottom because your cheese will hold all your toppings at the top. Instead, layer the chips, cheese, meat, and veggies as you go, lasagna style. This ensures each bite will have a good ratio of chip to toppings.
I also like to add the red onion and jalapeno to the pan prior to baking vs. at the end as a fresh topping. I think a little heat helps to mellow out the spiciness of them just a bit. If you prefer less spice, feel free to omit them altogether. 
If you try these Sheet Pan Nachos, please let me know what you think in the comments below! Then tag me on Instagram with a pic so I can see your creation!
Try These Easy Mexican Meals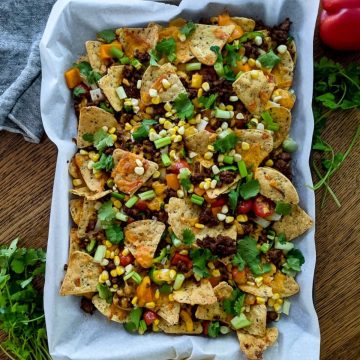 Sheet Pan Nachos
Cheesy chorizo nachos for dinner? Yes, please! This batch, made easily on a sheet pan comes together in 15 minutes, and clean up couldn't be easier!
Ingredients
12

oz

tortilla chips

1

lb

chorizo

¼

cup

red onion, diced

1

small jalapeno, seeds removed, diced

(optional)

½

cup

shredded cheddar cheese

½

cup

corn kernels (fresh or frozen)

1

cup

cherry tomatoes, halved

½

cup

orange bell pepper, diced

2

scallions, diced

2

tablespoon

chopped fresh cilantro
Instructions
In a small skillet, brown the chorizo over medium heat, making sure to crumble the meat as it browns. Drain, and set aside. 

Line a large sheet pan with parchment paper and arrange half of the chips in a single layer on the pan.

Add ½ of the chorizo, ½ of the cheese, the red onions, and jalapenos (if using) on top of the chips. 

Add the second layer of chips, and repeat with the chorizo, cheese red onion, and jalapeno layers.  

Place the sheet pan in the oven and bake for 6-7 minutes, or until the cheese is fully melted and the onion and jalapenos have softened slightly.

Remove the sheet pan from the oven and top with the tomatoes, scallions, bell pepper, and cilantro.

Serve and top with sour cream and salsa if desired.