This Pineapple Salsa Recipe comes together quickly and can be modified to be sweeter or spicier depending on your preference. It's a great appetizer to serve with tortilla chips or to add to grilled chicken, fish, or pork.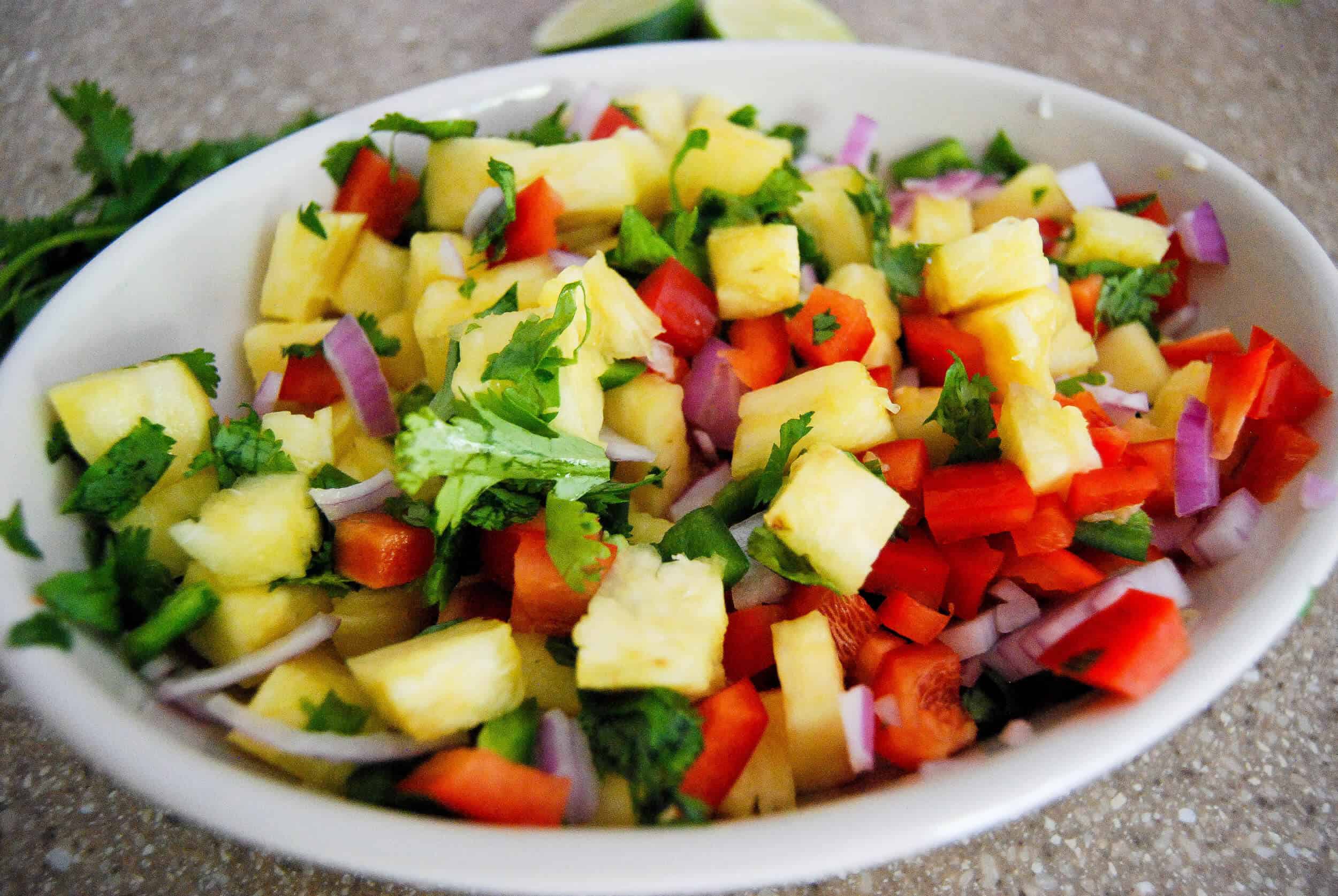 Hello! We've been having so much fun this summer! Friends and family visits, vacations, lazy pool days, bike rides – it's hard for me to stay in the kitchen during these summer months, and even harder to get me to turn on my oven. This is why I'm so head over heels for this fresh pineapple salsa and can't wait to share it with you.
This recipe will have you in and out of the kitchen in just five minutes and is the perfect pairing for your next grilling adventure or party app, alongside bowls of other salsas and guacamole.
This is a delicious salsa that pairs equally well with pork (which is how we enjoyed it) as it does with a bag of tortilla chips. It's totally good for you since it's loaded with fresh fruits and veggies. And it delivers that sweet/salty combination that I'm always craving.
This recipe uses fresh pineapple, not canned. If you've never bought fresh pineapple before this can feel a little intimidating (how do you even cut that thing?). But rest assured, it's a simple process and once you have it down you'll never buy canned again.
Before we get into the recipe specifics, let's dig in a little on how to best select and chop up that pineapple.
How To Pick A Pineapple
Pineapple season is between March and July, so that's when they'll be at their peak. There are a few things to look for when you're buying a fresh pineapple at the grocery store:
Look for a golden color. While this isn't the only factor when considering which pineapple to consider, it's a good indication. Pineapples go from green to yellow when they ripen so a nice, in-between color, like golden, is a good indicator that your pineapple will be just right and not too sweet. The leaves should also be a vibrant green, which indicates freshness.
Squeeze it. Does the pineapple give a little when you squeeze it? That means it's ripe. Too firm means it's probably underripe. Too soft and you likely have a pineapple that's past its prime.
It should smell sweet. Give it a sniff right at the base. No smell=underripe, bitter=overripe. If it smells sweet, you've got a winner.
It should feel heavy. A heavier pineapple, especially when considering the size, should yield a juicier and sweeter pineapple.
The leaves should easily pop off when pulled. Give the top leaves a tug. If they come off easily, that's an indication that the pineapple is probably ripe.
How To Cut A Pineapple
Ok, so now that we've figured out how to pick the best pineapple, let's talk about how to cut it.
Choose a large sharp knife to cut your pineapple. This will make it much easier.
This is a simple process and only takes a few minutes.
Cut off the ends. Start by slicing off both the top and the bottom of the pineapple. This will get rid of some of the bulk immediately and give you a nice flat surface to cut the rest.
Cut off the skin. Place your pineapple vertically, with one of the flat cut ends on the bottom of your cutting board. Using a large knife, and starting from the top, slice from one cut end to the other in a downward motion. Rotate your pineapple and continue cutting the skin off until all of it has been removed. Try to follow the curve of the pineapple as you slice downward, and cut deep enough to remove all the small pokey bits left over from the skin. (If you don't get all of them, you can always remove them with a paring knife.)
Core the pineapple. An easy way to do this is to simply slice the fruit off of the core. Find the core (it's the tough fibrous center of the pineapple) and, with your pineapple upright, place your knife to the outer edge of the core. Slice the ripe fruit from top to bottom off of the core, leaving you with one large slice of pineapple. Rotate the pineapple and continue this motion until you've removed all the fruit from the core. It should take about 4-5 slices. (Tip: Even though the core is tough, it is edible and works well for smoothies!)
Chop it up. Finally, you can cut the pineapple into chunks, or however you wish to chop it up. (For this recipe we'll need it diced.)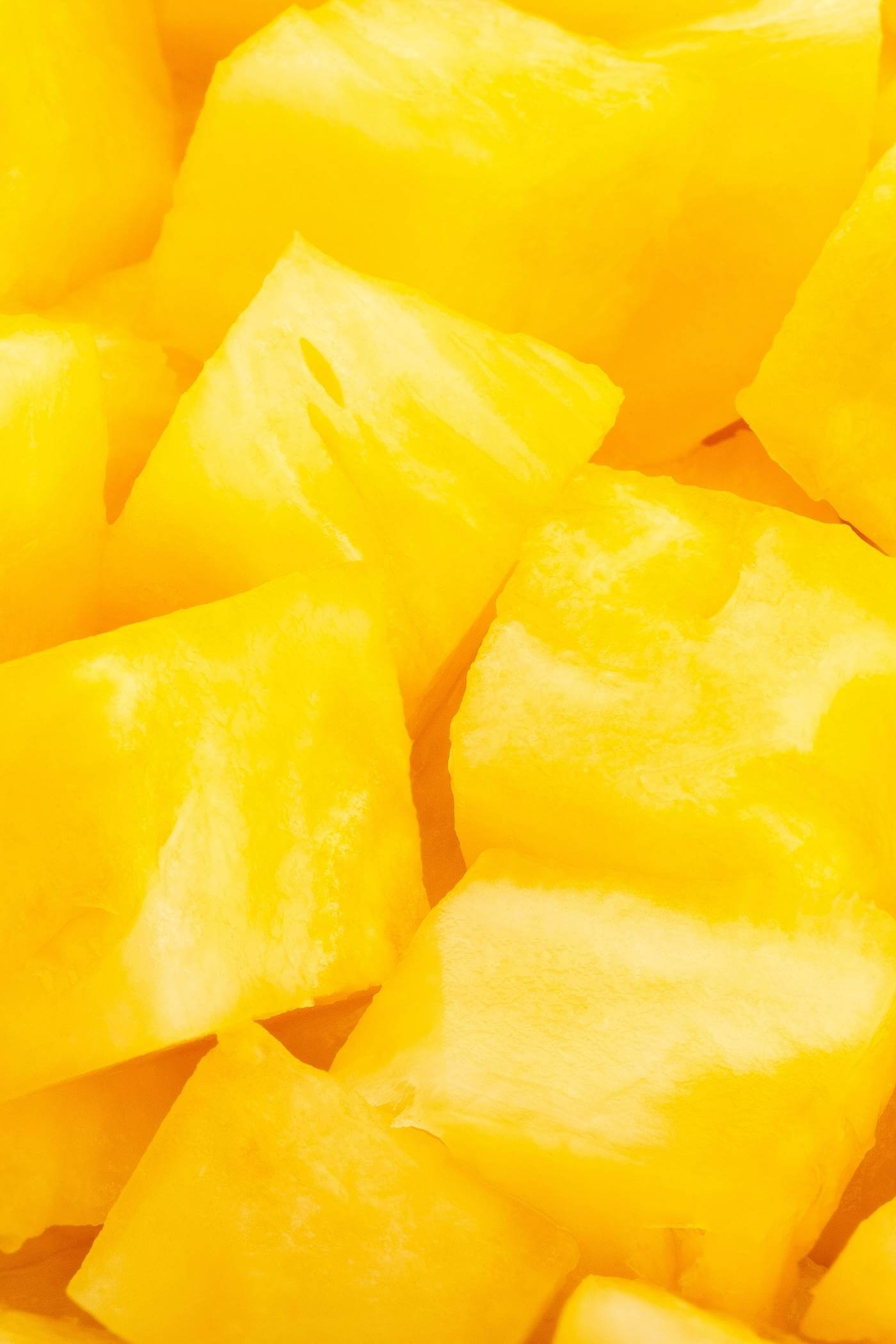 What Ingredients Will I Need For This Salsa?
This pineapple salsa uses all fresh ingredients and a few spices to give it some oomph.
Pineapple. Duh. You'll want to use fresh pineapple here, not canned. And now that you know how to select and cut up a pineapple, you have no excuse!
Red Onion. A nice contrast to the sweet pineapple.
Jalapeno. Bring on the heat! The spiciness of the jalapenos pair so well with the sweet pineapple and red bell pepper. You can increase or decrease this ingredient based on your preference for spiciness.
Red bell pepper. I chose red bell pepper here, but you could really use any combination of red, orange, yellow, or green bell pepper.
Lime juice. The lime juice brightens this dish.
Spices. Salt brings out the flavors of the fruits and cumin adds just a little bit of warmth to the salsa.
Cilantro. I love how this spice adds a fresh flavor to the salsa. I know not everyone is team cilantro, so if you don't like it, just omit it.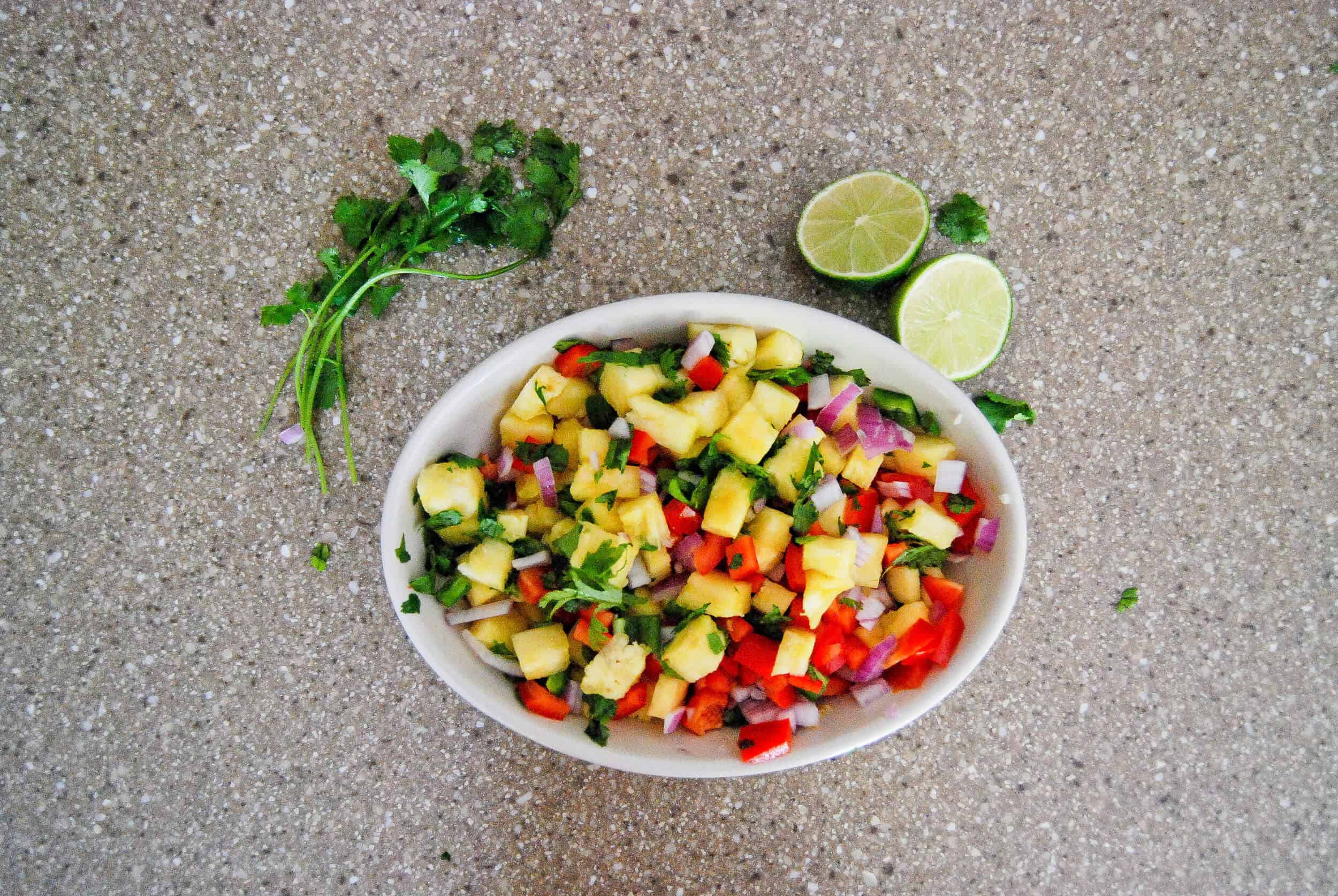 How To Make This 5-Minute Pineapple Salsa Recipe
Making this pineapple salsa recipe couldn't be simpler.
Chop up all your ingredients. You'll want to make sure these are finely diced, as it will help ensure each bite has a robust combination of flavors.
Add the diced fruit and veg to a bowl.
Combine your spices and lime juice, then pour over the pineapple mixture and stir to combine.
Stir in your cilantro, and serve!
What Can I Serve This With?
This pineapple salsa goes well with so many things!
Grilled meat - this pineapple salsa goes great with chicken or pork!
Fish.
Ham.
In rice bowls.
In tacos.
On quesadillas.
As a dip with tortillas.
This pineapple salsa recipe is delicious and is a great alternative to your normal tomato-bases salsa. Plus, it makes a pretty side dish on your back porch dining table.
If you try this Pineapple Salsa Recipe, I'd love to know what you think so let me know in the comments below. Or, share a picture with me on Instagram with the hashtag #frontrangefed!
More Easy Apps!
5-Minute Pineapple Salsa Recipe
This 5-minute pineapple salsa recipe can be modified to be sweeter or spicier depending on your preference. It's a great appetizer to serve with tortilla chips or to add to grilled chicken, fish, or pork.
Ingredients
2

cup

pineapple

¼

cup

onion

1

jalapeno

1

red pepper

juice of 1 lime

⅛

teaspoon

cumin

⅛

teaspoon

salt

1

handful cilantro
Instructions
Chop the pineapple, onion, jalapeño, and red pepper into small pieces and place them in a bowl.

Add the spices, and the lime juice and mix everything together well.

Stir in the handful of cilantro.

Serve on its own with chips, or as a side dish with grilled pork, chicken or fish.