These Oven-Baked Carrot And Parsnip Fries are topped with parmesan and parsley, and served with a trio of sauces, making it an easy, healthy, and delicious appetizer or side dish.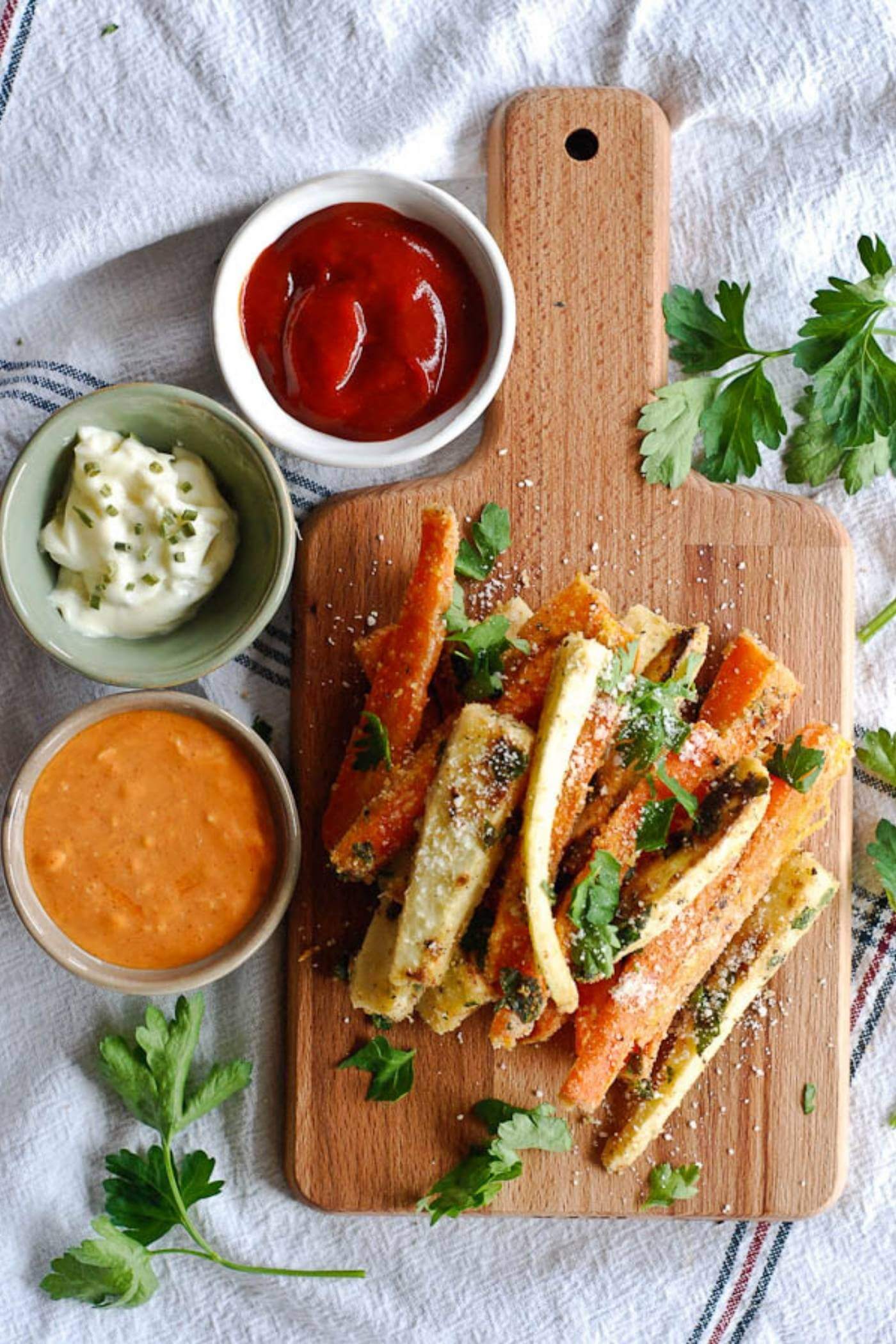 It's Super Bowl day!! I'm sure you're all prepping for the big game so we're going to dig right into this easy, last-minute, and healthy (!!!) appetizer.
What's Great About These Oven-Baked Veggie Fries
Sooo easy to make. These parmesan carrot and parsnip fries are super easy to make and they taste delicious.
A great healthy appetizer or side dish. They're baked in the oven so they're a bit healthier than normal fries. They're made with carrots and parsnips which slash the calories while still filling you up.
That parmesan crust! Ugh, it's so good. The parmesan crisps up in the oven and helps to create a satisfyingly salty, toasty crunch with each bite.
They're so pretty! The orange and golden colors of these veggie fries are stunners on an app table, or served next to a big juicy burger.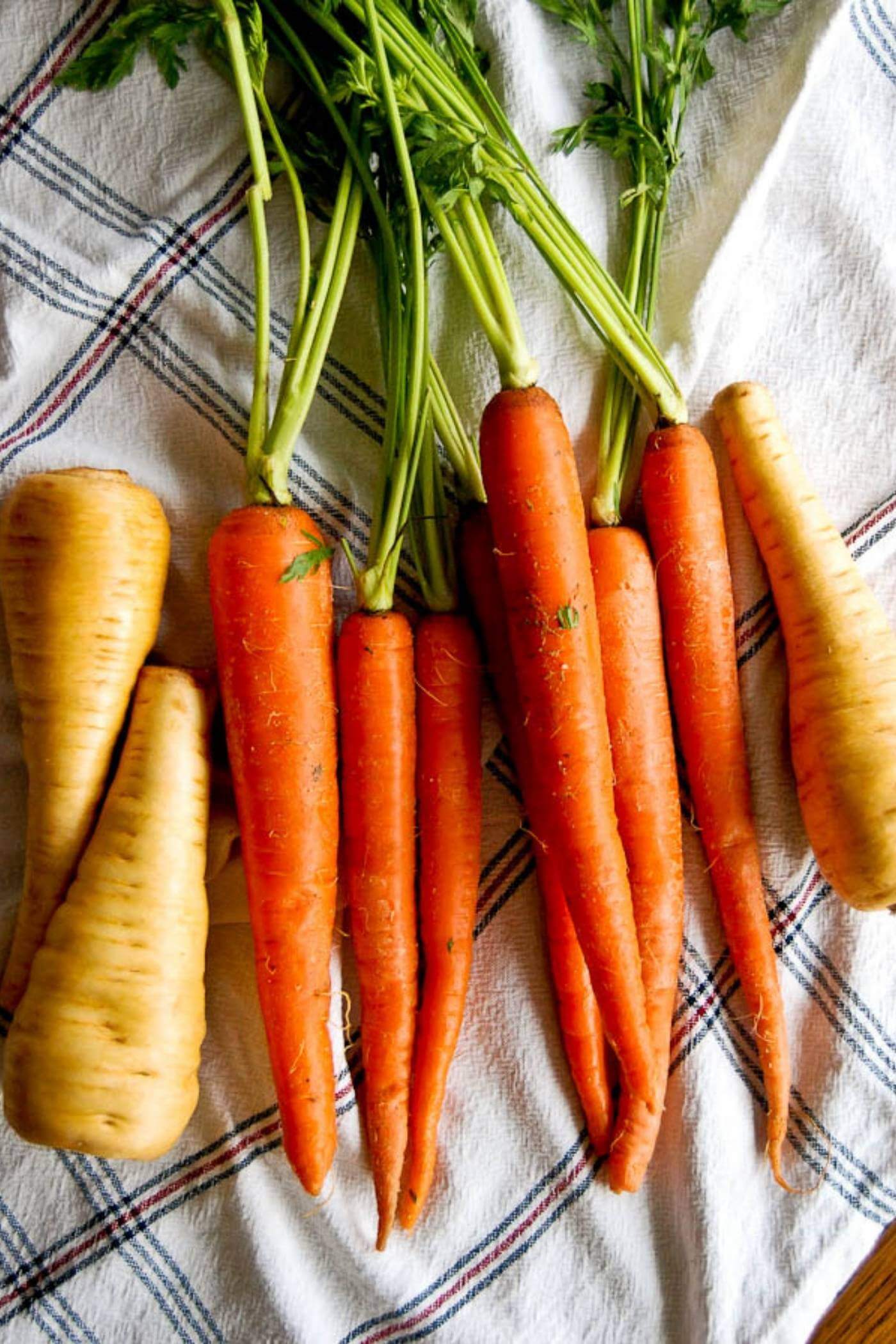 What Makes These Veggie Fries Extra Crisp?
Baking veggie fries in the oven is sometimes a little dicey since they can turn out soggy if you're not careful. It's really hard to mimic that crispiness you normally get from an oil-fried veggie. There's nothing worse than thinking you're biting into a crisp fry but instead, sinking your teeth into what feels like a mushy cooked carrot. But here's a trick to making these oven-baked veggie fries crisp. Using cornstarch helps add a bit of crispiness to the outer layer, resulting in a much more satisfying "fry".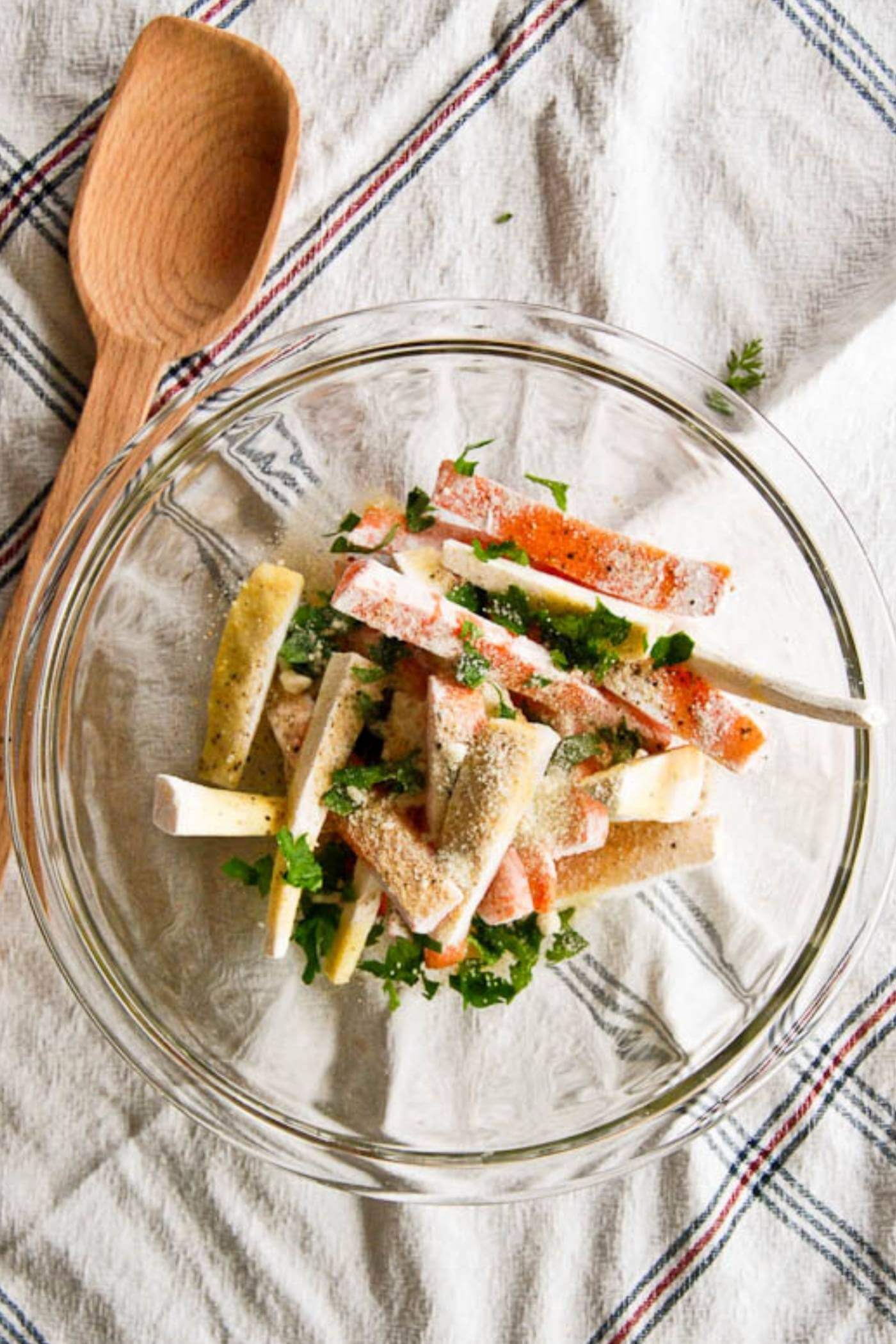 How To Make Oven-Baked Parmesan Carrot And Parsnip Fries
Start by peeling the carrots and parsnips and then slice them into strips. You can do this pretty easily by hand, or try a mandolin if that works better for you.
Create a thin layer of cornstarch on your fries by shaking them in a ziplock with the cornstarch before mixing in your oil and other seasonings. Just make sure not to make your coating too thick since that will actually prevent the veggie from crisping up.
Dump your fries into a bowl, mix with a little olive oil and salt, and then arrange in an even layer on a baking tray. Sprinkle some parmesan over them and then bake for about 15-20 minutes, flipping them halfway through.
Finish by topping the fries with some fresh parsley and extra parmesan and serve with your favorite sauces! (Garlic mayo is my fave!)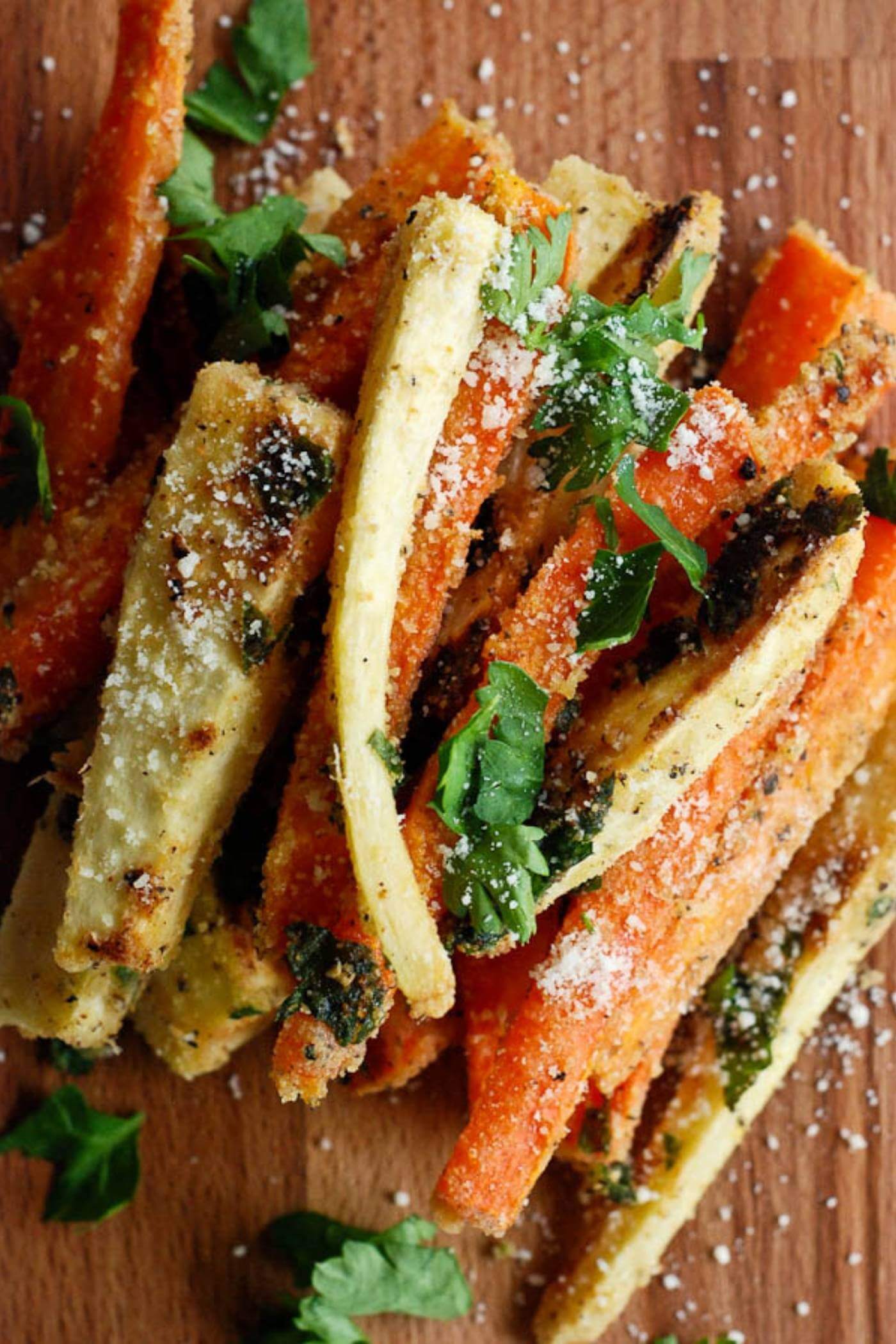 What About Sauces For These Veggie Fries?
Ok, so here's the deal. These carrot and parsnip fries are really GOOD. But they become truly GREAT when you add in some good sauces. Here are three combos we used, all easy to mix up while your fries are baking.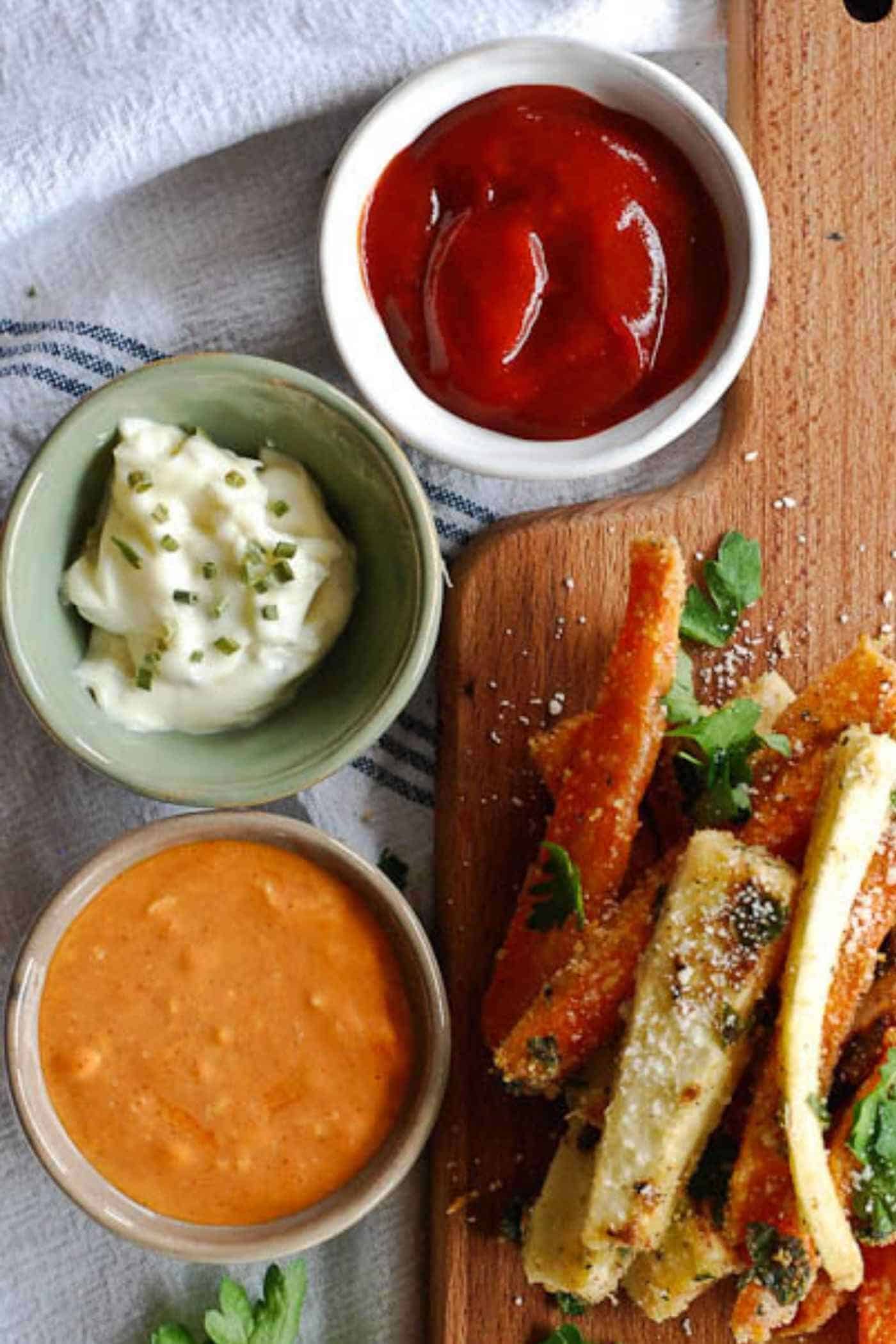 Ketchup and sriracha. We like a good ratio of 2:1 for this ketchup and sriracha sauce, but you can make this milder if it suits you by adding less sriracha (or go full-on blazing by adding more.)
Sriracha and mayo. Again a ration of 2:1 for this mayo and sriracha is good for us but customize according to your tolerance to spice.
Garlic mayo. (This one is my absolute fave.) Also called a garlic aioli, this is the most complicated of the bunch, but not too much, and it's so worth it IMHO. Create a garlic paste by mincing three cloves of garlic, then crushing them extremely well with the back of your knife (you don't want too many lumpy bits here). Then just mix the paste with one cup of mayo, and 1 tablespoon of lemon juice. Trust me - it goes so well with these carrot and parsnip fries, and if you make an extra batch you can use it on sandwiches for the rest of the week. Yum!
These carrot and parsnip fries are fast, easy, healthy, and delicious. Try them today for the game, or when you want a healthy side to pair with your next burger.
If you do try these Oven-Baked Parmesan Carrot And Parsnip Fries, share a comment below. And don't forget to tag me on Instagram with your creation!
More Delicious Game-Day Snacks!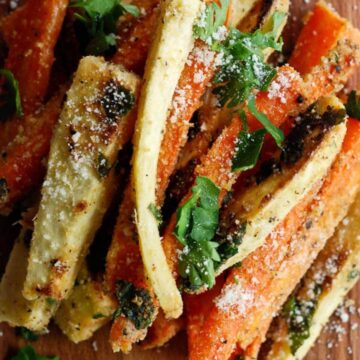 Oven-Baked Parmesan Carrot And Parsnip Fries
These oven baked carrot and parsnip fries are topped with parmesan and parsley, and served with a trio of sauces, making it an easy, healthy and delicious appetizer or side dish.
Ingredients
1

lb

carrots

1

lb

parsnips

1

tablespoon

cornstarch

1

tablespoon

olive oil

salt and pepper to taste

3

tablespoon

grated parmesan

2

tbsp

chopped fresh parsley
Instructions
Preheat oven to 450 degrees.

Peel your carrots and parsnips and slice them into strips. Try to make your fries as evenly as possible as this will help them all cook the same way – there's nothing worse than having half your tray burnt or undercooked because your slices were too varied!

Place the carrots and parsnips in a ziplock bag with the cornstarch. Seal the bag and shake well to mix, ensuring all pieces are evenly coated.

Empty your bag into a bowl, taking care to shake off any extra cornstarch that may be on your fries.  Mix the fries with the olive oil, salt and pepper and place onto a baking tray. 

Sprinkle parmesan over the fries and bake in the oven for about 10 minutes. Flip fries and bake another 5-10 minutes, keeping a careful eye on them so they don't burn. (Note: your cooking time may vary depending on how thinly or thickly you cut your fries.)

Top fries with chopped parsley and an additional sprinkle of parmesan, if desired.

Serve with a sauce of your choice! We love these fries with ketchup and sriracha, sriracha mayo, and garlic mayo (all shown above).