These copycat Wingstop Louisiana Voodoo Fries are seriously good, and so much healthier than the real thing since the "fries" are roasted in the oven. Crispy golden brown fries topped with, cajun seasoning, a creamy ranch dressing, and smooth and creamy cheese sauce - this is a decadent treat and is a great dish for your next game day hangout!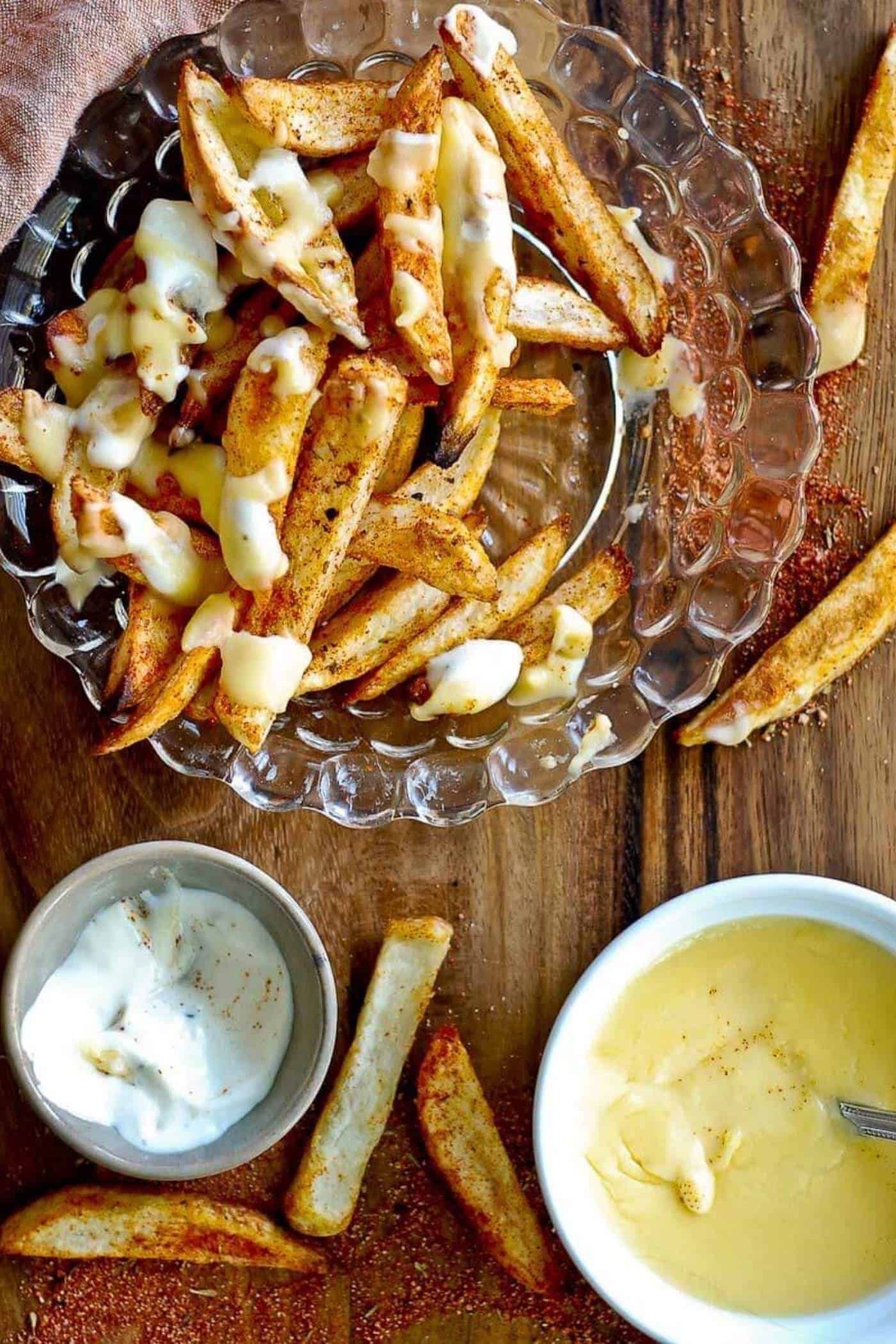 What Are Louisiana Voodoo Fries?
I'm so glad you asked. They're a menu favorite at Wingstop, a chain restaurant famous for its fresh-cut fries and decadent toppings. (And their wings, of course.) Louisiana Voodoo Fries take their classic cut fries up a notch by topping them with cajun seasoning, ranch dressing, and cheese sauce.
I know, I know. This sounds totally unhealthy. But just hear me out on why I love this version of Louisiana Voodoo Fries: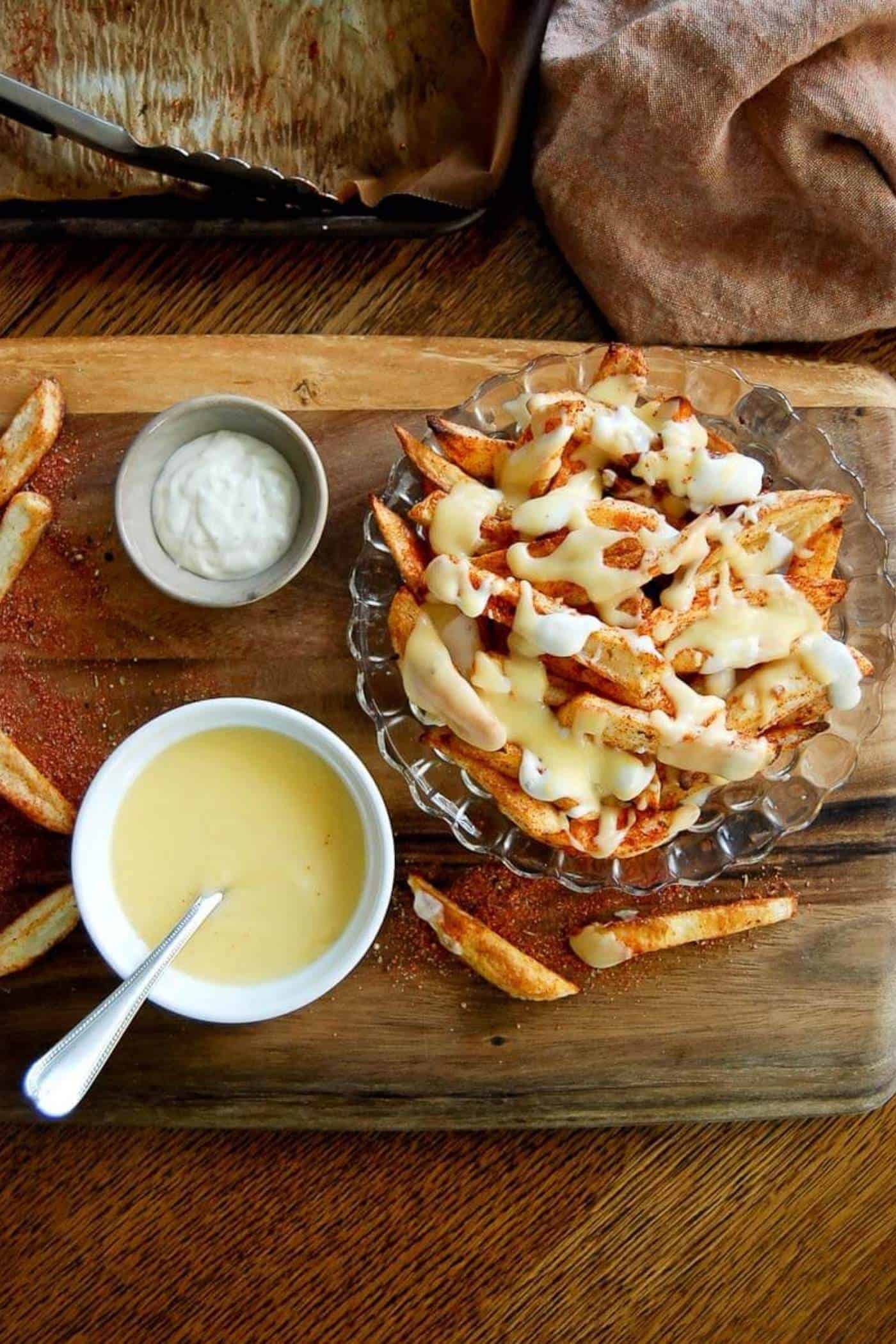 While Wingstop's fries are undoubtedly fried, this recipe bakes the fries and uses minimal oil to do it. This makes them MUCH lower in calories than the normal Wingstop version.
You can customize how much of each topping you use, or even just use them as dipping sauces, meaning you don't have to drench the fries in the sauce. 
I used a low-fat buttermilk ranch dressing for this, which also cut back on the calories.
Can't get enough of that cajun heat - yum! 
They're pretty easy to make, and my method for roasting the fries is a foolproof way to ensure they're extra crispy. These aren't your typical baked fries! 
These don't take much time at all. And while I made my own cheese sauce, you could totally use storebought cheese sauce, or even add some shredded cheddar cheese to the top of these to save even more time.
They're freaking delicious!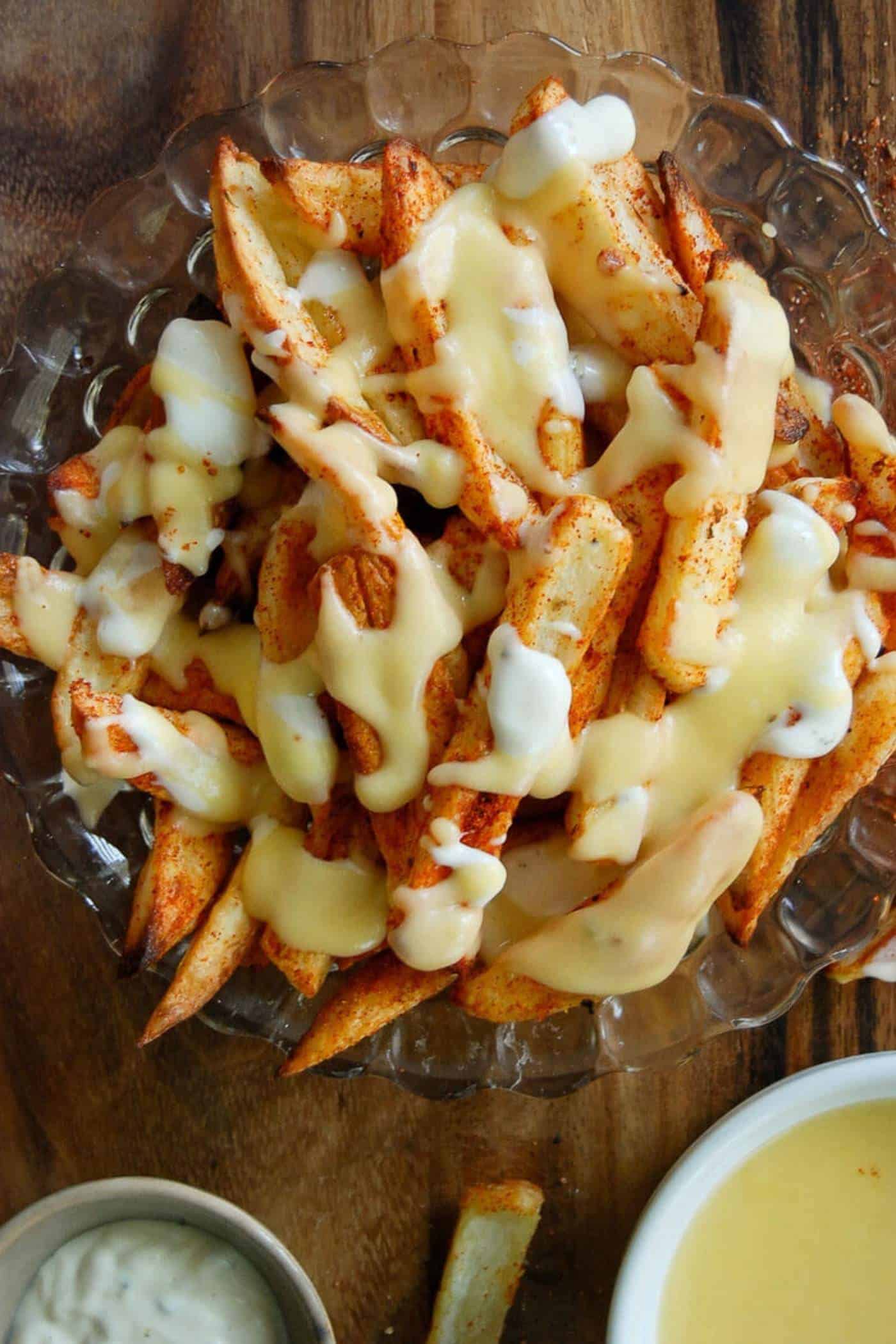 What You Need For Louisiana Voodoo Fries
Potatoes. I think Russet Potatoes work best here, but choose what you like best or use whatever you have on hand. They're pretty hard to mess up.
Olive oil. You only need a couple of tablespoons for roasting your potatoes. Using less oil makes the potatoes come out super crispy and not soggy.
Cajun seasoning. You can buy this as a mix in the store, or make your own. 
Ranch dressing. Use your favorite store-bought ranch. The main thing to note here is you want this more on the creamy side, without too much of an herby flavor.  I used a creamy buttermilk ranch and it was perfect. 
Cheese sauce. Making your own cheese sauce is super easy. And as long as you have some shredded cheddar, you likely have the other ingredients you need to make this (flour, butter, and milk).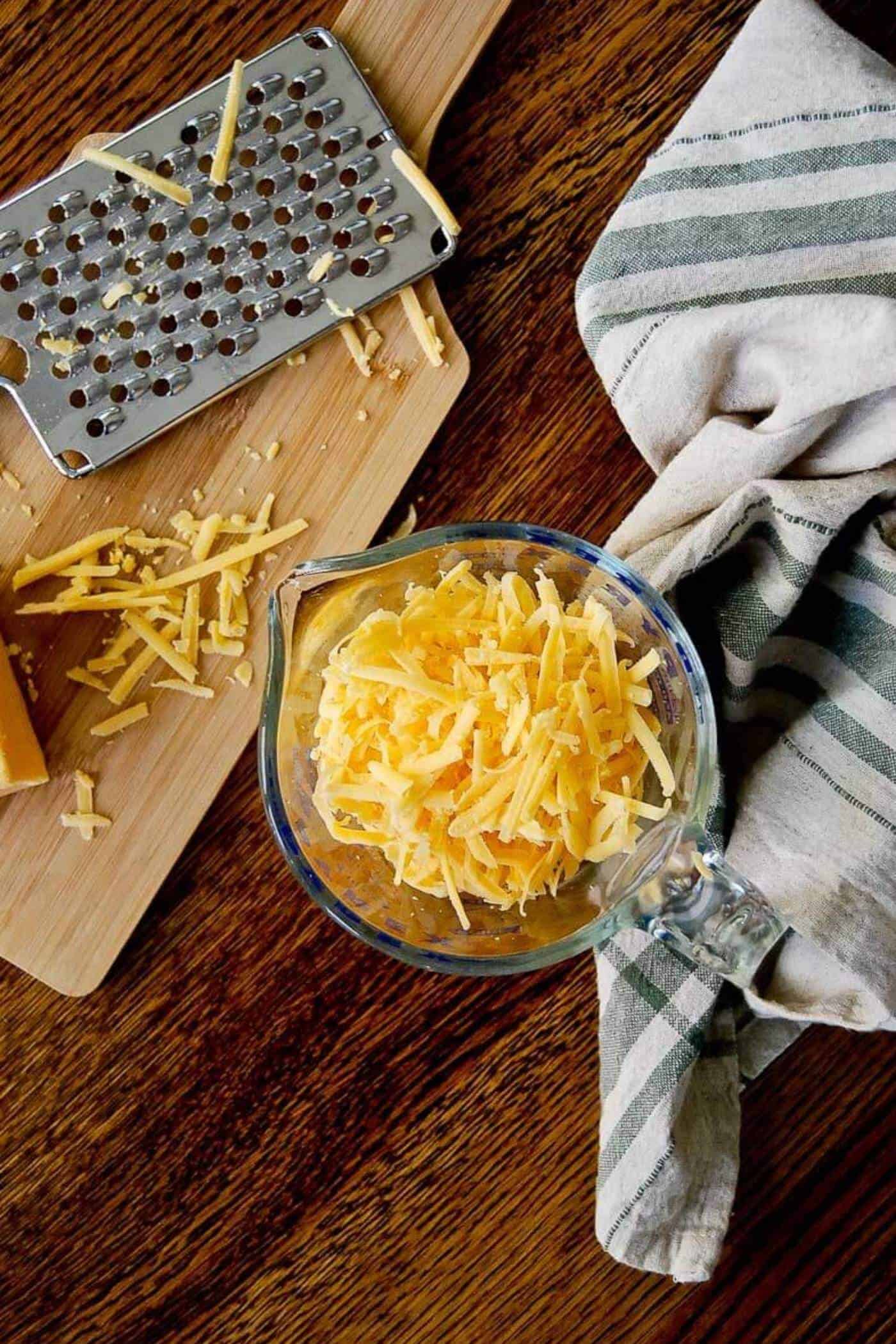 Making The Oven-Baked Fries
There's no question that fried potatoes are delicious. But I dare you to try these oven-baked fries and not be blown away by how closely they resemble the real deal. This method for making oven-baked fries produces perfect crispy brown fries every time and slashes calories in the process.
Steaming The Fries First Makes Them Extra Crispy When Baked
The trick is to steam the fries over some boiling water for a few minutes before tossing them with a bit of oil and then baking them. Steaming the fries softens the outer edge of the cut potato, allowing it to crisp up nicely, while still keeping the inner portion of the fry soft.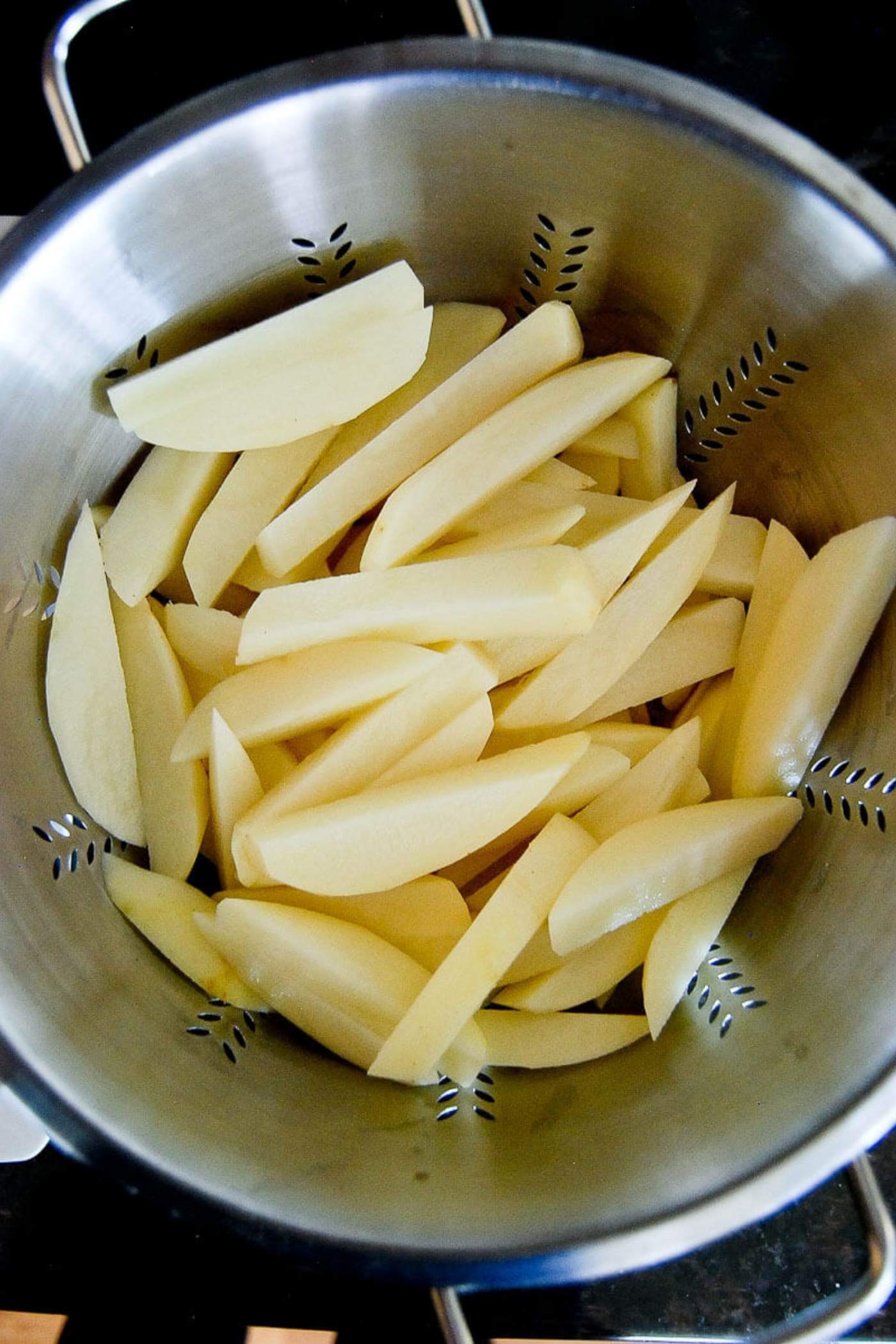 Here's how you do it. Peel your potatoes and cut them into a "fry" length, about ¾ of an inch thick and 3 inches long each. Place them in a colander over a pot of boiling water and let them simmer for about 10-12 minutes. You want the outer edge to be soft, but you don't want the fries to be so soft that they fall apart or become mushy.
It's a fine line so keep an eye on them, and test them at around the 10-minute mark by sticking a knife into the center of one. If you're able to insert it easily and it comes out clean, they're done.
Allow the steamed potatoes to cool slightly, then add them to a bowl with 2 tablespoons of olive oil. Toss the fries gently (careful here - you don't want them to fall apart) and then, using a slotted spoon, scoop the fries out of the bowl and arrange them in an even layer on a parchment-lined baking sheet.
Using a slotted spoon means that you'll only pick up the oil that is coated on the fries and not any extra that might be remaining in the bottom of the bowl. Too much oil can make oven-baked fries soggy and prevents them from becoming crispy.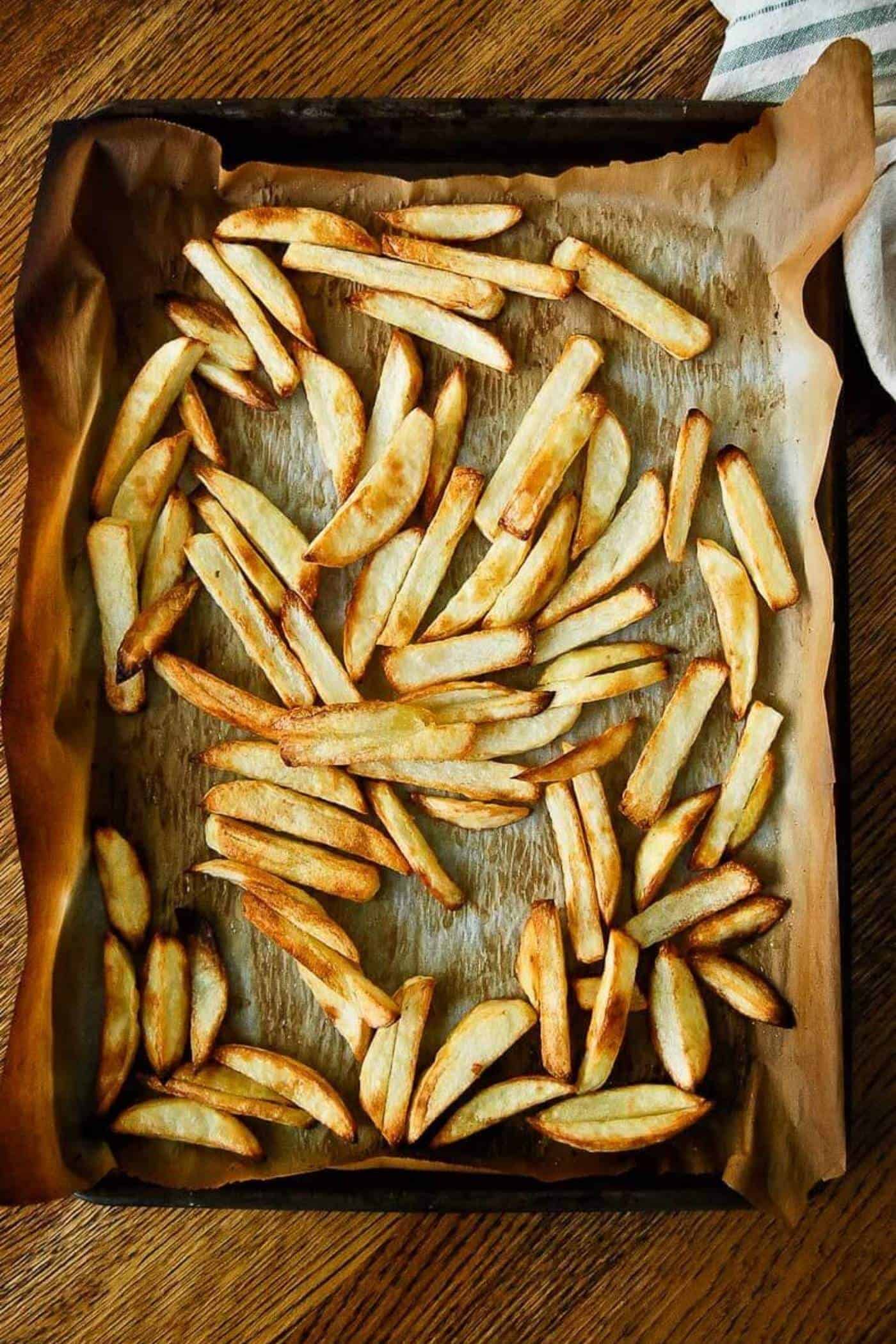 Bake the fries in the oven for about 20 minutes, tossing or flipping them at the halfway mark to ensure they are cooking evenly on all sides. (If you've cut your fries thicker, you may need to leave them in for a bit longer to get them crispy.)
Remove the fries from the oven, and viola! You have gorgeous, crispy brown healthy "fries" and no one will be the wiser!
How To Make Louisiana Voodoo Fries
Ok, here comes the fun part.
While your fries are cooking, make your cheese sauce. Create a simple roux of butter, flour, and milk, and stir it until you don't see any lumps. Add the shredded cheddar cheese and stir it with a silicone spatula until everything is combined, and your cheese sauce is smooth and creamy.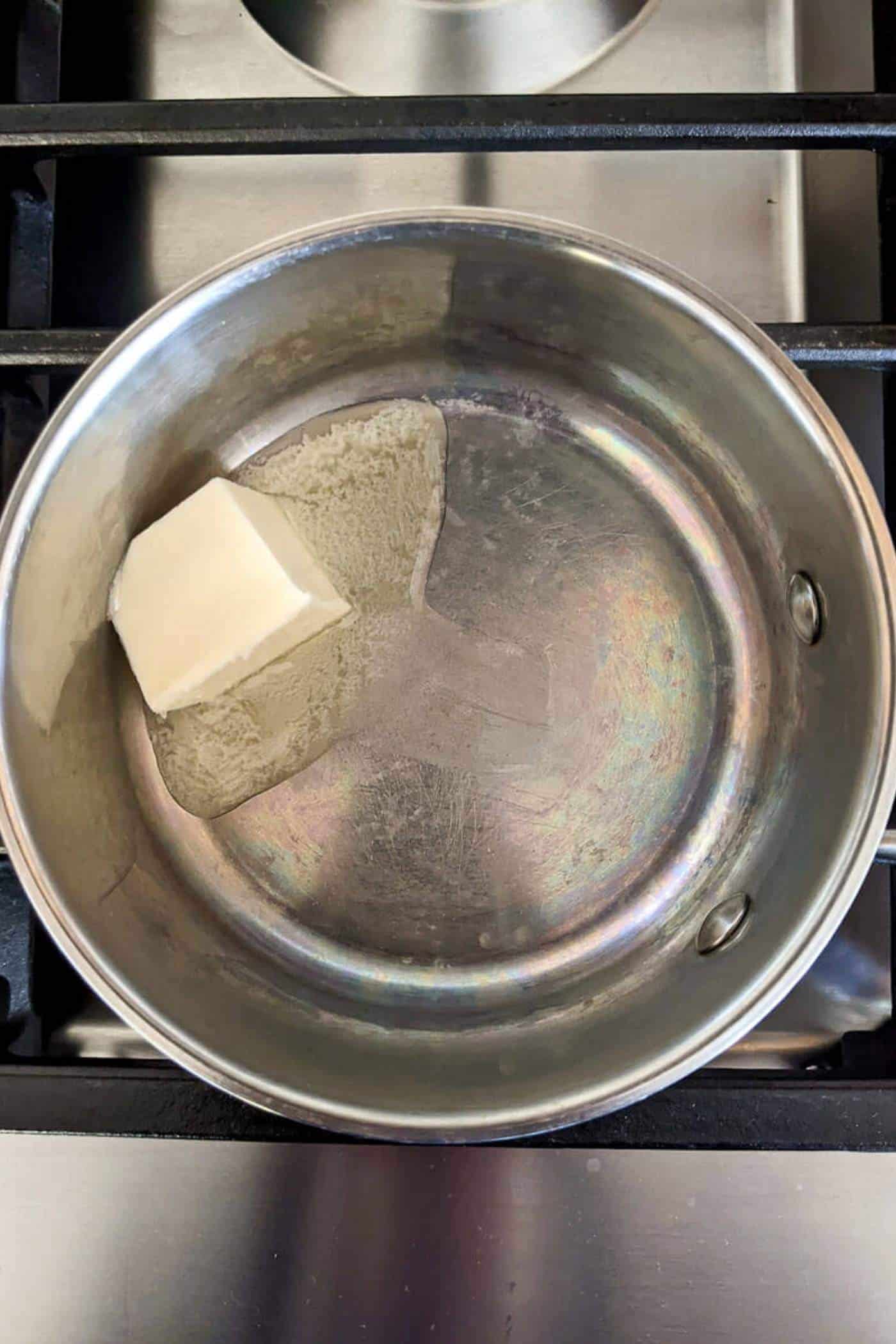 (Guess what - you can also use this method for making your own homemade mac n cheese! Yum!)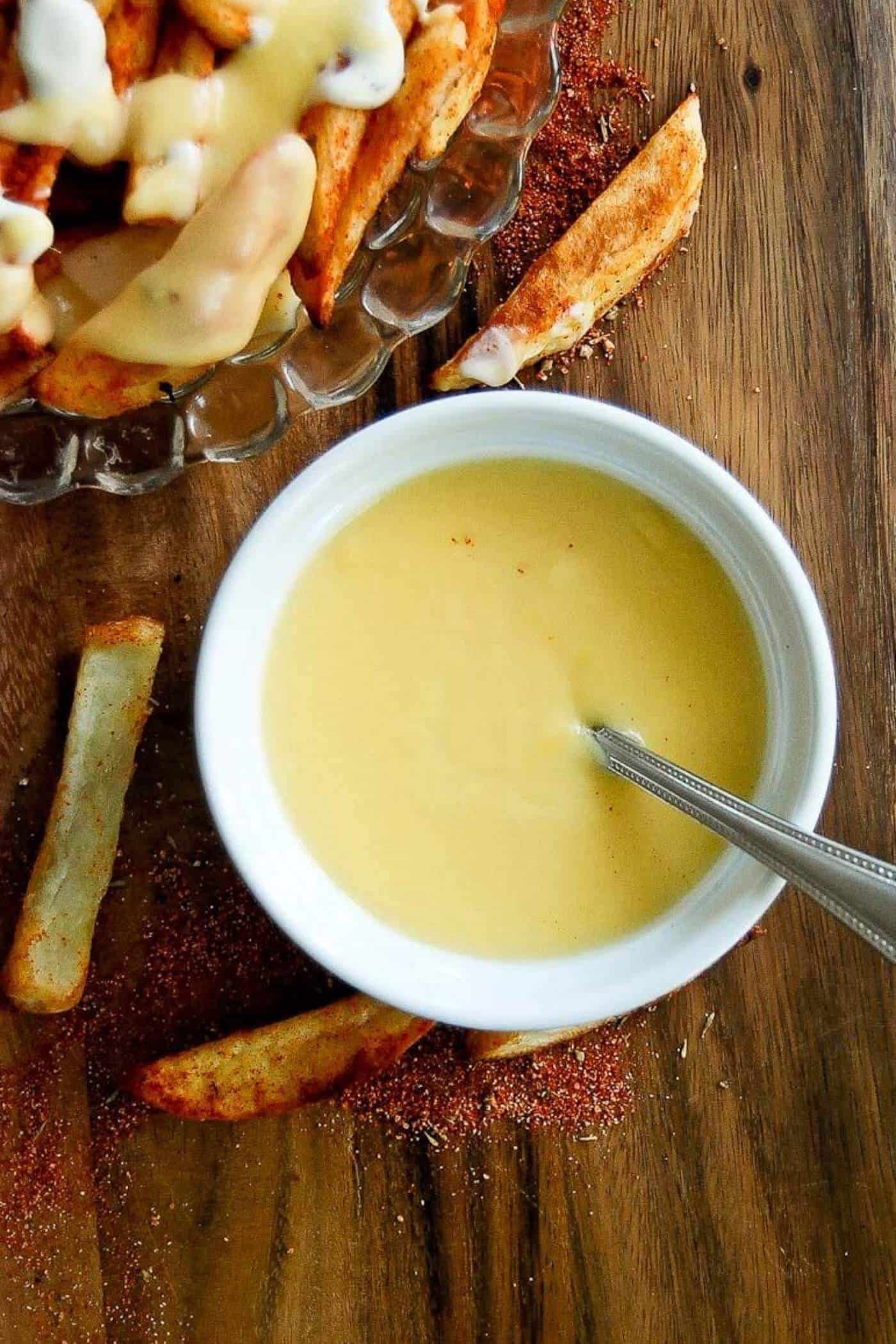 Once your fries are out of the oven, pile them high in a bowl or on a plate. Then sprinkle the cajun spice over the fries, drizzle the ranch, and cheese sauce over the fries and serve!
Tips
Peel your potatoes. I find that the method of steaming and then baking really works best on a peeled potato. It allows the outer sides of the fry to really soften and then crisp up in the oven. 
Don't let the potatoes get too soft when steaming them. You'll end up with a big pile of mushy fries and no one wants that. 
Use a light hand with the toppings at first until you find a good balance of flavors you like. (Especially with the cajun sauce, since that's a super strong flavor and can overpower the cheese and ranch flavors if you're not careful). I used about 1.5 tablespoons of cajun seasoning, ¼ cup of ranch dressing, and ¼ cup of cheese sauce. Then served extra ranch and cheese sauce on the side for dipping. This is a great way to keep these from becoming too soggy or weighed down with sauce. Plus, it can cut down the calories if you're looking to make these a bit lighter.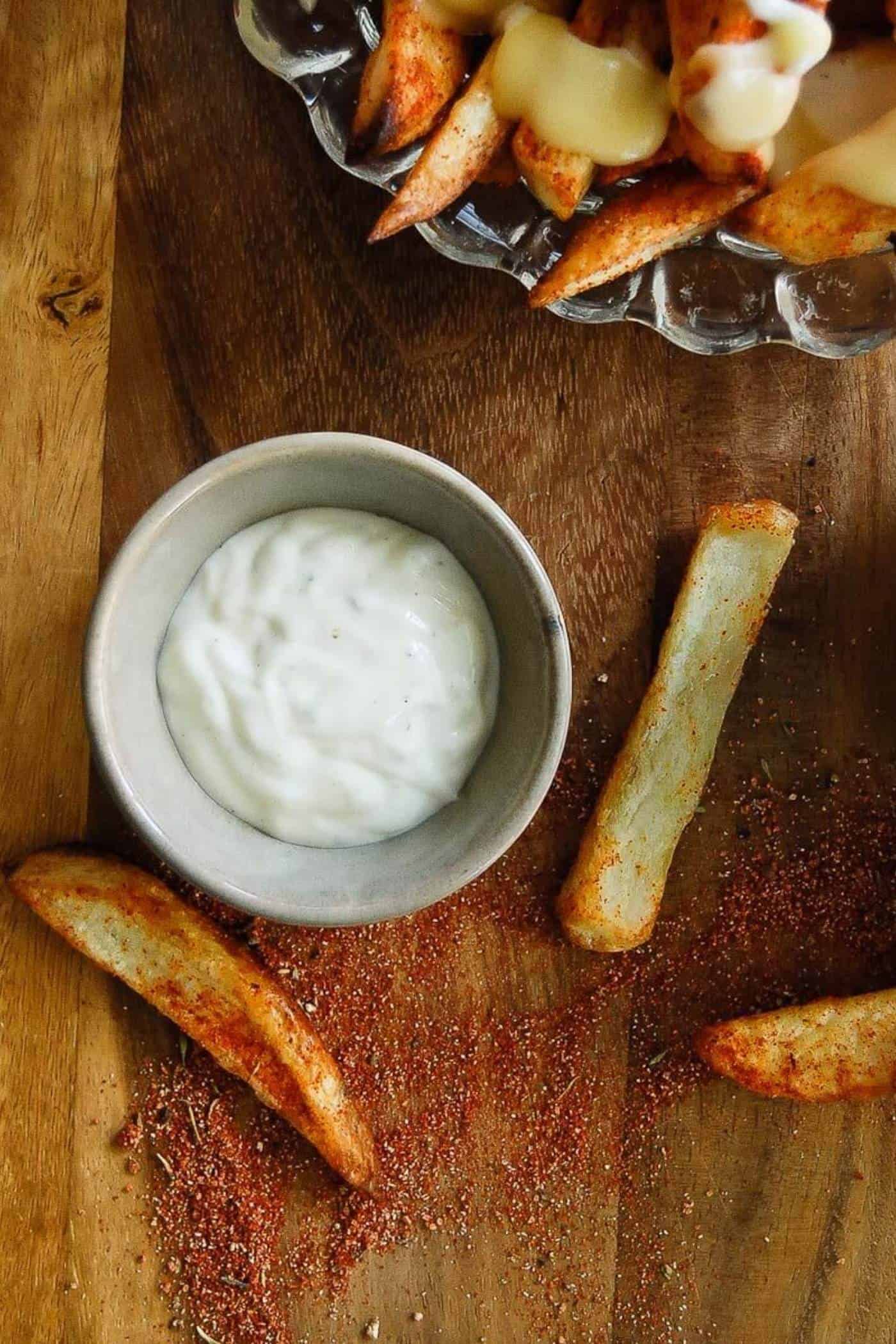 What To Serve With Louisiana Voodoo Fries
Wings! These are a copycat version of a Wingstop recipe so wings are an obvious choice here. It's a great side dish for a fall or winter bbq, and the PERFECT dish for game day!
Fried Fish
Chicken Tenders
Seared Steak
Philly Cheesesteaks
BBQ Pork Sandwiches
Gyros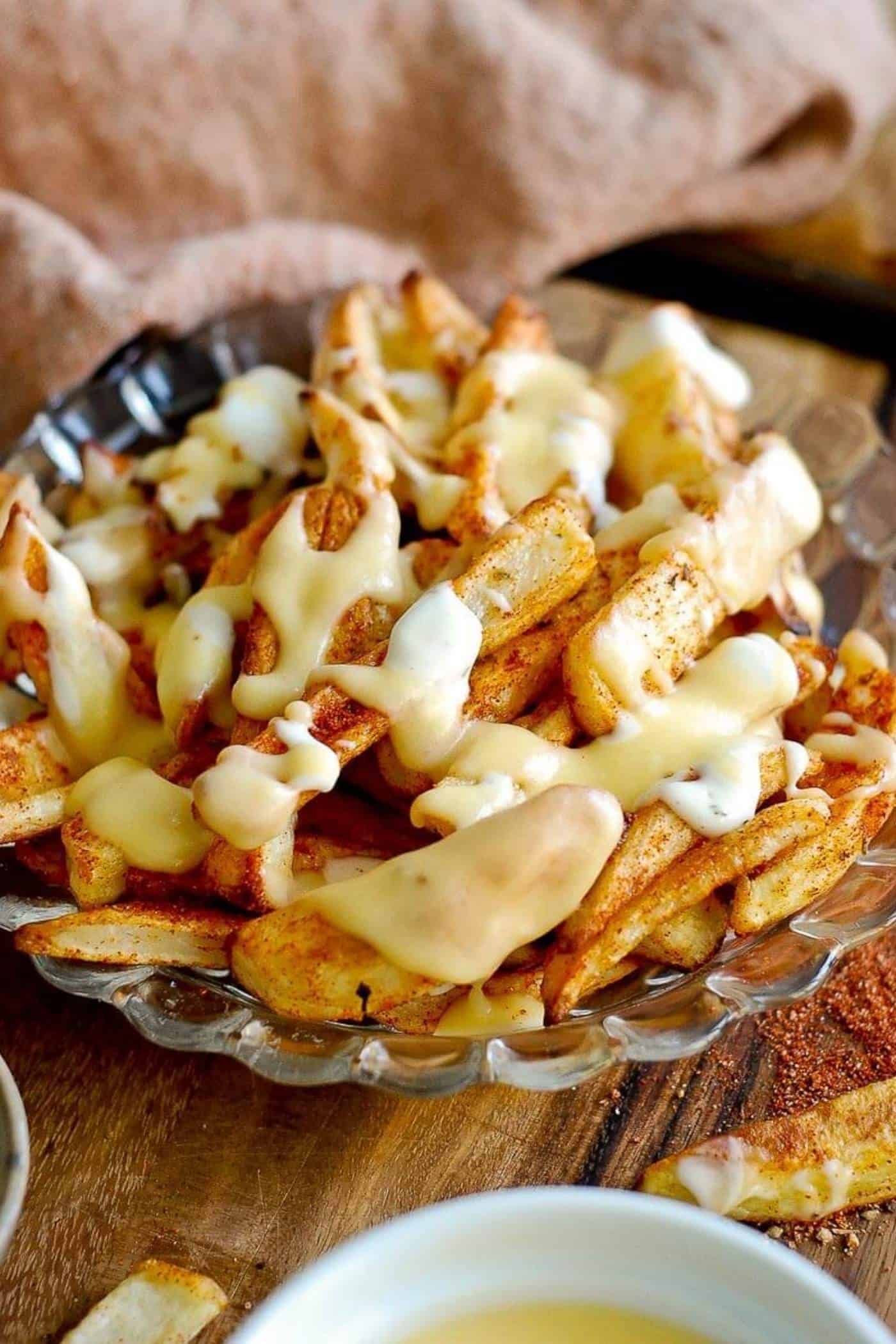 If you make these Louisiana Voodoo Fries, I'd love to hear what you think of them! Leave a comment below, or tag me with a pic on Instagram @frontrangefed.
More Delicious Side Recipes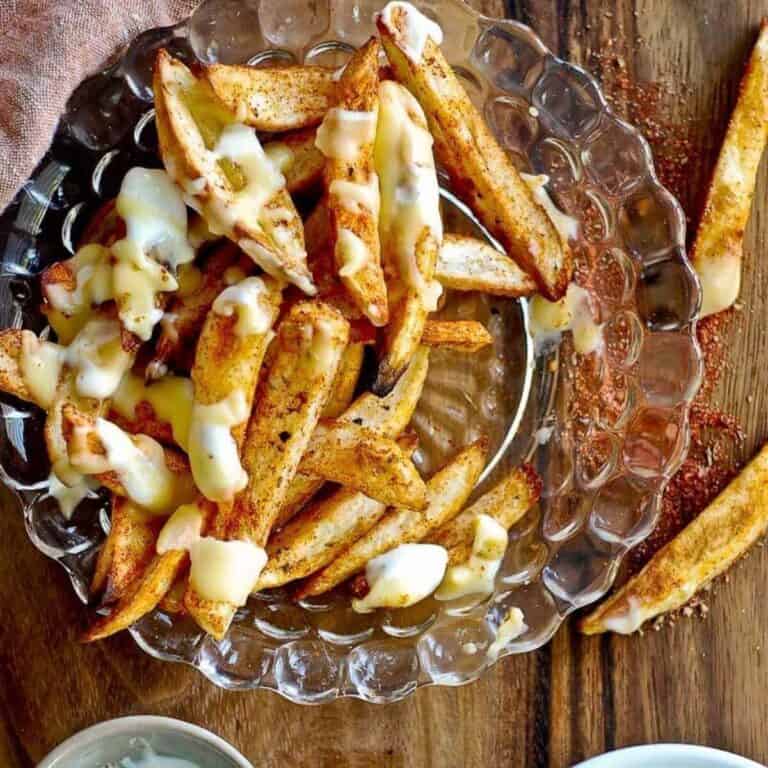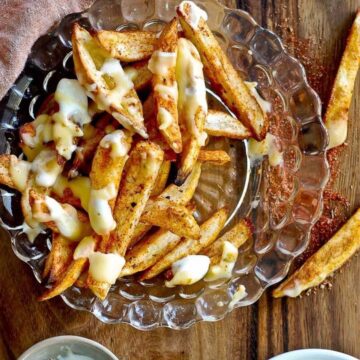 Louisiana Voodoo Fries
These copycat Wingstop Louisiana Voodoo Fries are seriously good, and so much healthier than the real thing since the "fries" are roasted in the oven. Crispy golden brown fries topped with, cajun seasoning, a creamy ranch dressing, and smooth and creamy cheese sauce - this is a decadent treat and is a great dish for your next game day hangout!
Ingredients
6

medium

russet potatoes

2

tablespoon

extra virgin olive oil

1-2

tbsp

cajun seasoning

¼

cup

creamy ranch dressing

plus extra for dipping
Creamy Cheese Sauce
2

tablespoon

butter

2

tablespoon

flour

⅔

cup

milk

2

cups

shredded cheddar cheese
Instructions
Prepare your fries. Wash and scrub your potatoes, then pat dry with a paper towel. Peel the potatoes, then slice them into thick fries, ¾ inch by 3 inches.

Prepare a pot of boiling water, and season with 3 tablespoons of salt.

Bring 1 quart of water to a simmer. Using a basket or a colander, place the potatoes over the boiling water, cover and steam them for about 10-12 minutes, or until a knie inserted comes out clean. Be careful not to cook potatoes all the way through - you don't want them to be mushy or falling apart.

Transfer the potatoes to a bowl and drizzle them with the oil. Toss them carefully so that the oil coats each fry.

Using a slotted spoon, transfer the potatoes to a nonstick baking sheet and arrange them in a single, even layer.

Bake them in the oven for about 10 minutes, turn your pan around to encourage even baking, then bake for an additional 5-10 minutes, watching them carefully to ensure they don't burn.

While your potatoes are baking, make your cheese sauce. In a medium sized sauce pan, melt the butter over medium heat. Slowly whisk in the flour and milk and stir until no lumps are present. Add in the shredded cheese and stir until the cheese is fully melted and the sauce is creamy.

Once your fries are ready, remoe them from the oven, and sprinkle the cajun seasoning over the fries. Mix thoroughly.

Top the fries with a drizzle of your favorite ranch dressing, and about ¼ cup of the cheese sauce. Reserve the rest of the cheese sauce for dipping.