Delicious yogurt flatbread can be yours in a snap with this easy 20-Minute Yogurt Flatbread Recipe. Pile it with your favorite toppings, use it to scoop up your next curry dish, or just eat it on its own. It's a versatile recipe that is the perfect base for busy weeknight meals.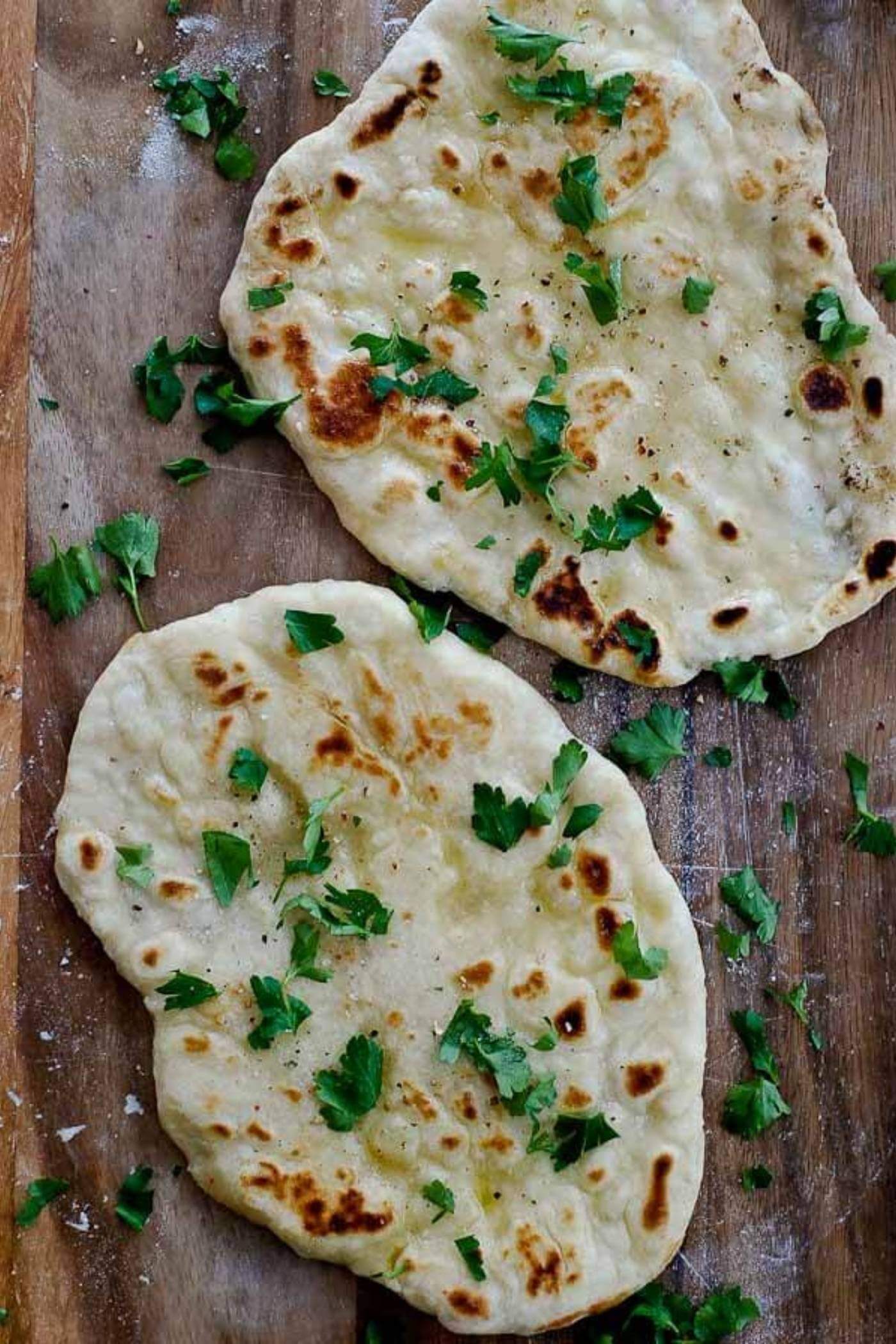 This simple, quick, 20-minute yogurt flatbread recipe is the answer to your weeknight meal dreams. Seriously. I know because it was the answer to mine. I first found this recipe one evening when I was racking my brain at 6:00 pm, wondering what on earth I was going to make for dinner. After a quick Internet search, I came across an article that read "This Flatbread Recipe Will Forever Change Your Weeknight…". And my friends, it did. So simple, yet so delicious.
The easy yogurt flatbread recipe is from bon appétit and has become one of my go-to's for an easy weeknight (or weekend, to be honest) dinners. It's a great back-pocket recipe that doesn't feel back pocket at all, since when you make it, your family will ooh and ahh and wonder how they got so lucky to have delicious homemade bread right off the skillet for dinner. It will be your secret that it only took a handful of ingredients and 20 minutes to make.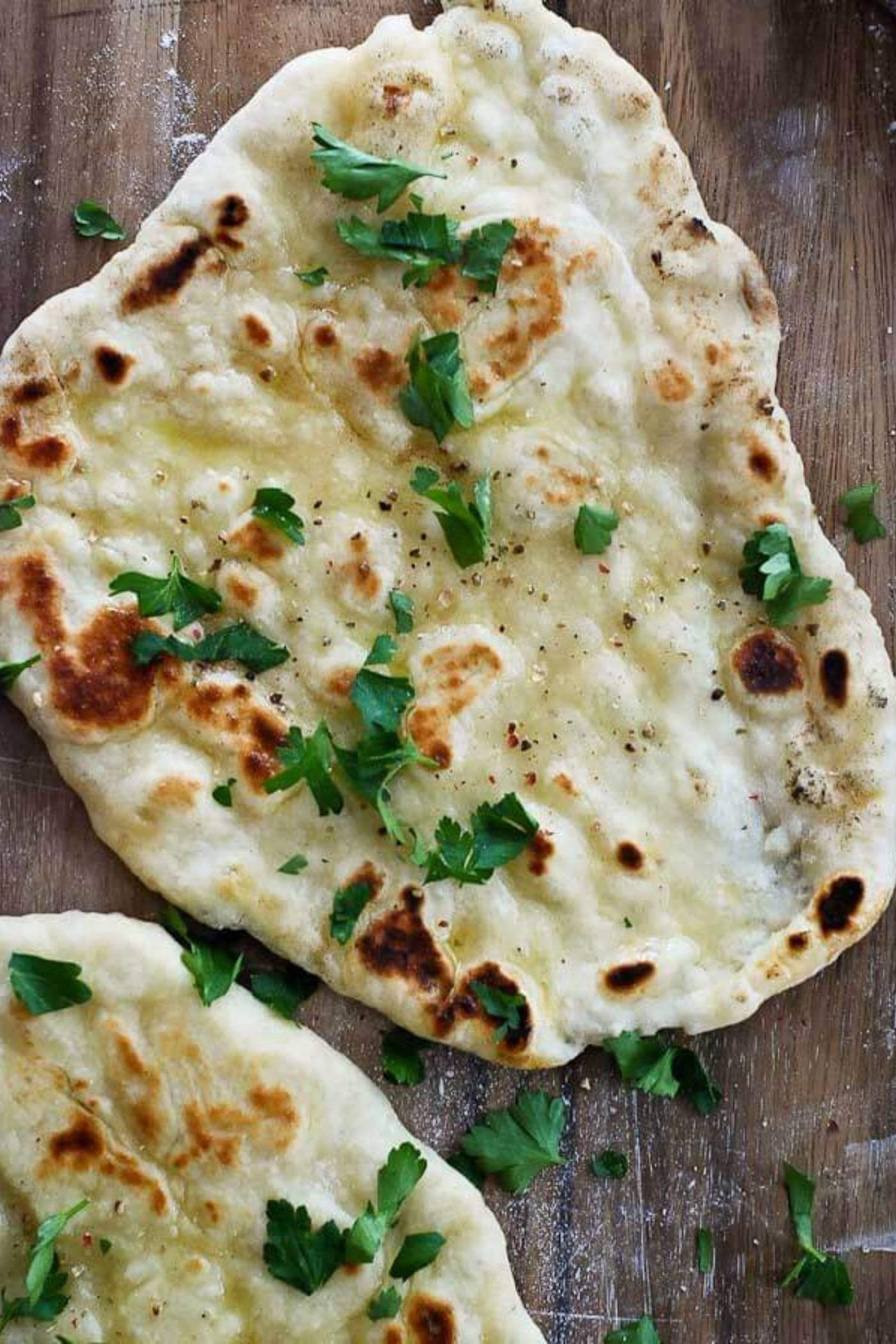 Ingredients
Another great thing about this yogurt flatbread is that it uses only five ingredients, and they're all simple ones that you probably won't even need to make a trip to the store for.
Flour. This recipe calls for a mixture of whole wheat and all-purpose flour which yields an amazing taste and great consistency.
Whole-milk yogurt. This is important - don't use greek or low-fat yogurt here. It will totally change the texture of the flatbread.
Baking powder. For your leavening agent.
Salt. For a delicious flavor.
How To Make Yogurt Flatbread
So, how do you make this divine flatbread with yogurt? It's so easy.
First, assemble your ingredients. Take a mix of whole wheat and all-purpose flour, some salt, baking powder, and yogurt. That's it. No yeast or crazy long rise times. Just five ingredients.
Next, whisk your dry ingredients together then add the yogurt.
Knead the dough until it's smooth (which sounds like work, but RELAX – it only takes about a minute).
Wrap the dough with plastic and let it rest for about 15 minutes while you do other important things (like, maybe preparing whatever else you're going to serve with this amazing flatbread).
After 15 minutes, roll out your flatbread on a floured surface (just enough so that it doesn't stick on either side) to about ⅛ of an inch thick.
Finally, just cook the flatbread in a cast-iron skillet for a couple of minutes until you start seeing some of those lovely browned spots, flip and repeat. That's right – you don't even have to turn your oven on for this bread. Done.
What To Serve With Flatbread
Reserve it for those hellish days when you just don't have the energy for anything else. When you can barely make one more decision after a long workday except to know that this is what you will be eating for dinner. For those emergencies when your friends all decide to gather at YOUR house at the last minute and you have nothing to serve them. Or, just make it because it's easy and makes just about any meal more delicious.  I'm serious here – IT GOES WITH ANYTHING!! 
Serve this easy yogurt flatbread as a side with some soup or salad.
Use it as a base for flatbread pizza.
Top it with smashed avocado and an egg for breakfast (or an easy dinner!).
Add some white beans cooked with veggies.
Throw some shrimp and cabbage on top of your flatbread.
Chop it up and dip it in hummus or other delicious dips and sauces.
Seriously – ANYTHING! Go wild with your imagination here – it's hard to screw this up.
A Couple Of Notes...
Don't get all fancy with Greek or low-fat yogurt here. This recipe calls for plain ole' whole milk

yogurt

. In fact, if you use Greek yogurt, your moisture ratio will be off and the flatbread will suffer. (Trust me – I know this from experience. You need the fat and you need regular yogurt for this.)

Watch your flatbread carefully as it cooks – it doesn't take long on either side to start browning and the worst thing to happen after waiting 20 minutes is to have one side scorched. Don't walk away from the stove.
I doubled the original bon appétit recipe so that it would make about 4-6 medium-sized flatbread rounds, enough to feed my family. If you don't need that much or are planning on using this for one medium-sized pizza, you can probably halve the recipe below.
Variations
This artisanal flatbread is totally delicious as it is, but you can customize it too by adding in your choice of seasonings. Knead in some garlic and rosemary. Add some red pepper flakes. Throw in some parsley and oregano and then top with a light sprinkle of Parmesan. The options are endless!
If you make this 20-Minute Yogurt Flatbread, let me know how you like it by leaving a comment below or tagging me on Instagram. I'd love to hear what customizations you made, if any, to the flavors and what you topped it with!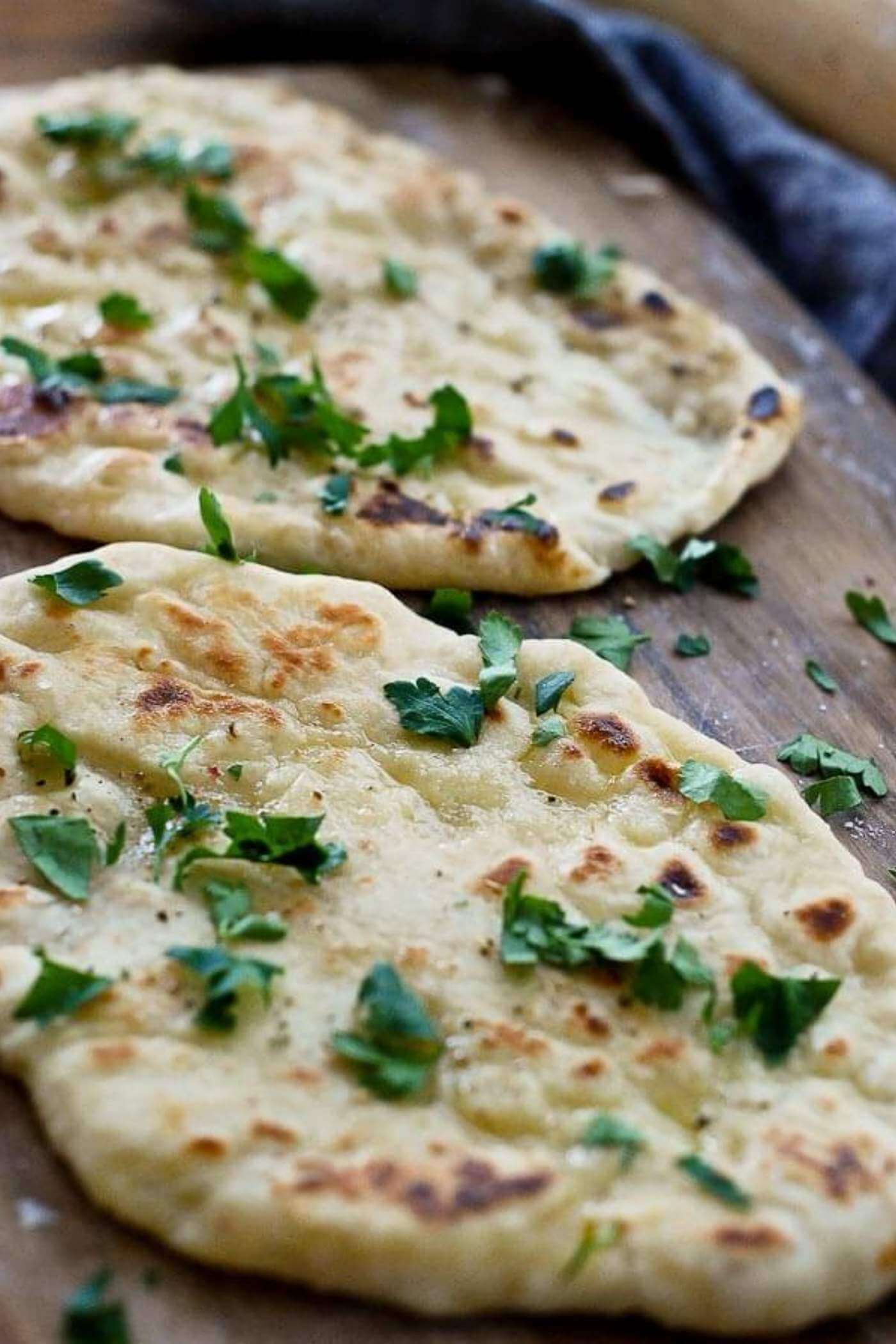 More Easy Bread Recipes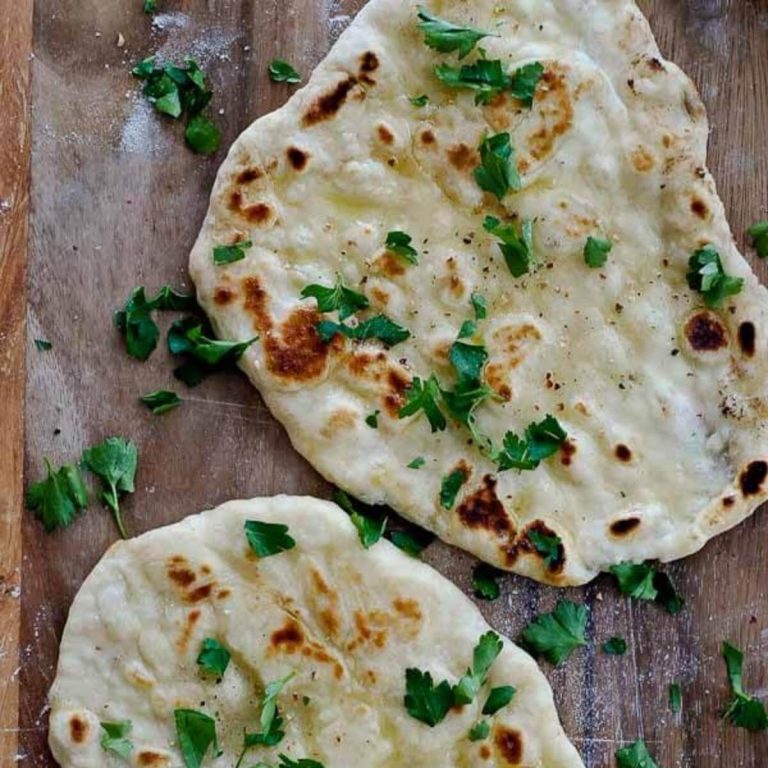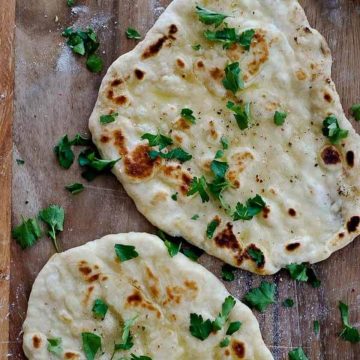 Easy 20-Minute Yogurt Flatbread
Delicious yogurt flatbread in 20 minutes can be yours with this easy 20-minute yogurt flatbread recipe. Pile it with your favorite toppings, use it to scoop up your next curry dish, or just eat it on it's own. It's a versatile recipe that is the perfect base for busy weeknight meals.
Ingredients
1

cup

whole-wheat flour

1 ½

teaspoon

salt

½

teaspoon

baking powder

⅔

cup

all-purpose flour (plus more for rolling out your flatbreads)

1

cup

whole-milk yogurt (don't use Greek or low-fat here!)

¼

cup

chopped parsley (optional)
Instructions
Add all your dry ingredients, except the parsley to a large bowl and whisk to combine.

Add your yogurt to the dry mix and stir to combine. Remove the dough from the bowl and, on a lightly dusted surface, knead the dough until it's smooth.

Divide your dough into 4-6 equal pieces and wrap in plastic. Allow the dough to rest for 15 minutes. 

After your 15 minutes have passed, roll the dough out onto a lightly floured surface. The flatbread should be about ⅛ inch thick.

Cook each flatbread individually in a cast iron skillet over medium-high heat for about 2 minutes, then flip and cook the remaining side. You'll know the flatbread is ready to flip when the cooked side is golden brown and you start to see it puff up a bit.

Once flatbread is cooked, sprinkle with chopped parsley, or your preferred toppings and serve!