These Homemade Croutons With Garlic And Parmesan are a cinch to make in the oven and way better than store-bought croutons. Buttery, garlicky, cheesy – they're the perfect way to amp up a salad or a hearty bowl of soup!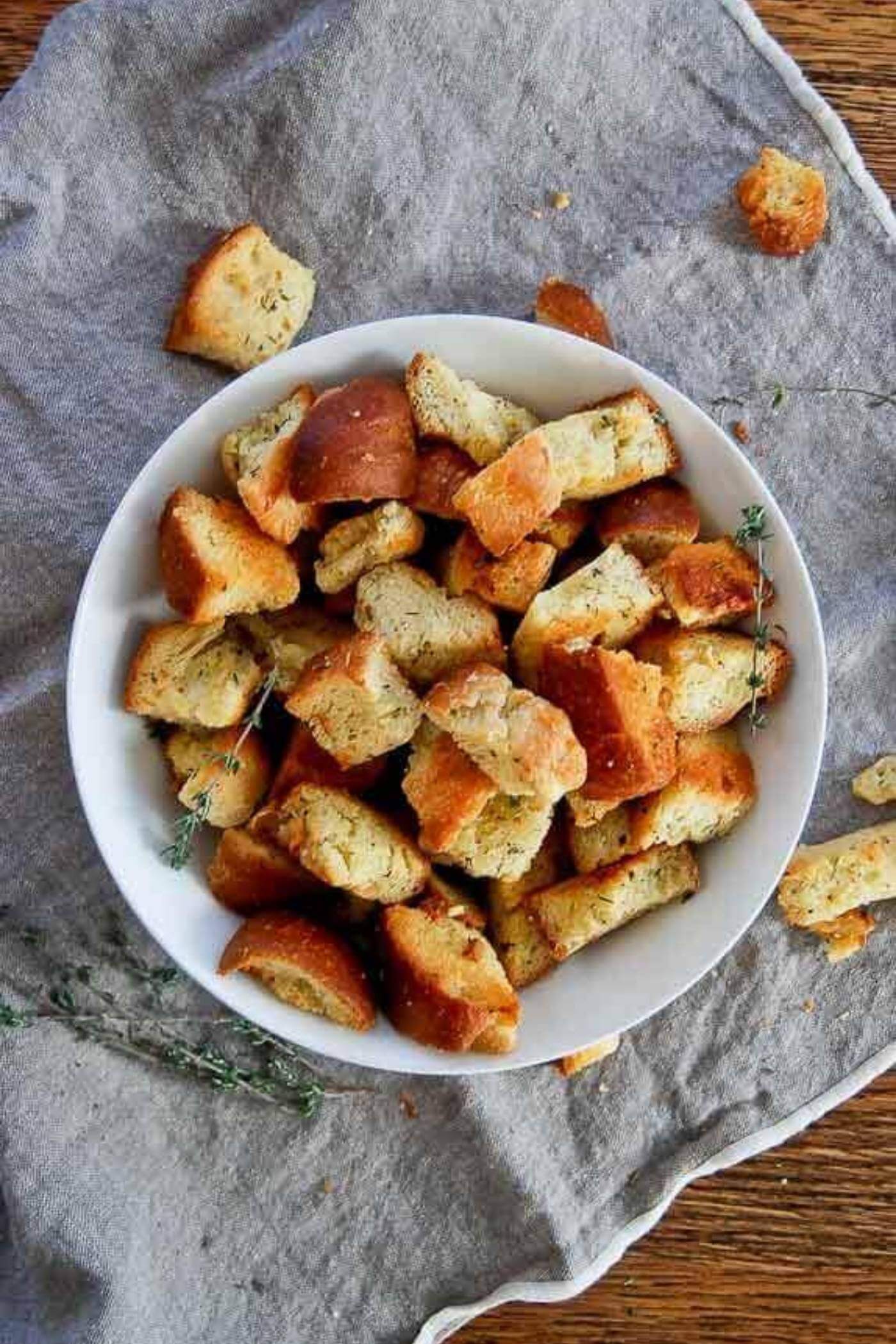 Let's talk about croutons. Specifically, these super delicious, crispy-crunchy, garlicky, buttery, cheesy Parmesan croutons.
If you're like about 80% of the population, you've likely been detoxing from all the holiday fare over the past few weeks. Too many cookies, drinks, desserts, and appetizers can leave much to be desired come January. So, salads from here on out! Or at least for the next week or two. (Best intentions.)
But that doesn't mean you can't indulge just a little bit.
These homemade croutons are so easy to make (they seriously take about 20 minutes), are more cost-effective than buying them at the store, and they taste way, way better. Like, eat them straight out of the oven, all on their lonesome kind of better. They make me look forward to eating a salad. (Not that I typically need a lot of motivation to eat my greens but add these babies to the top and I'm diving in head first.) Plus, they're great for using up leftover bread! Win-win!
Oh! And let's not forget about soups! It is still soup season after all, and these pair perfectly with a hearty soup. Think split pea, potato, tomato, or a chunky minestrone. All are a mere base for these amazing chunks of garlicky goodness.
How To Make These Homemade Croutons
Ok, if I've sold you on making these homemade croutons, now comes the easy part. All you need is a loaf of French bread (stale is better since it's a bit more dried out, but it's totally fine if you use fresh and I won't blame you at all if you run right out to the store to pick a loaf and make them today. Because sometimes you can't wait.)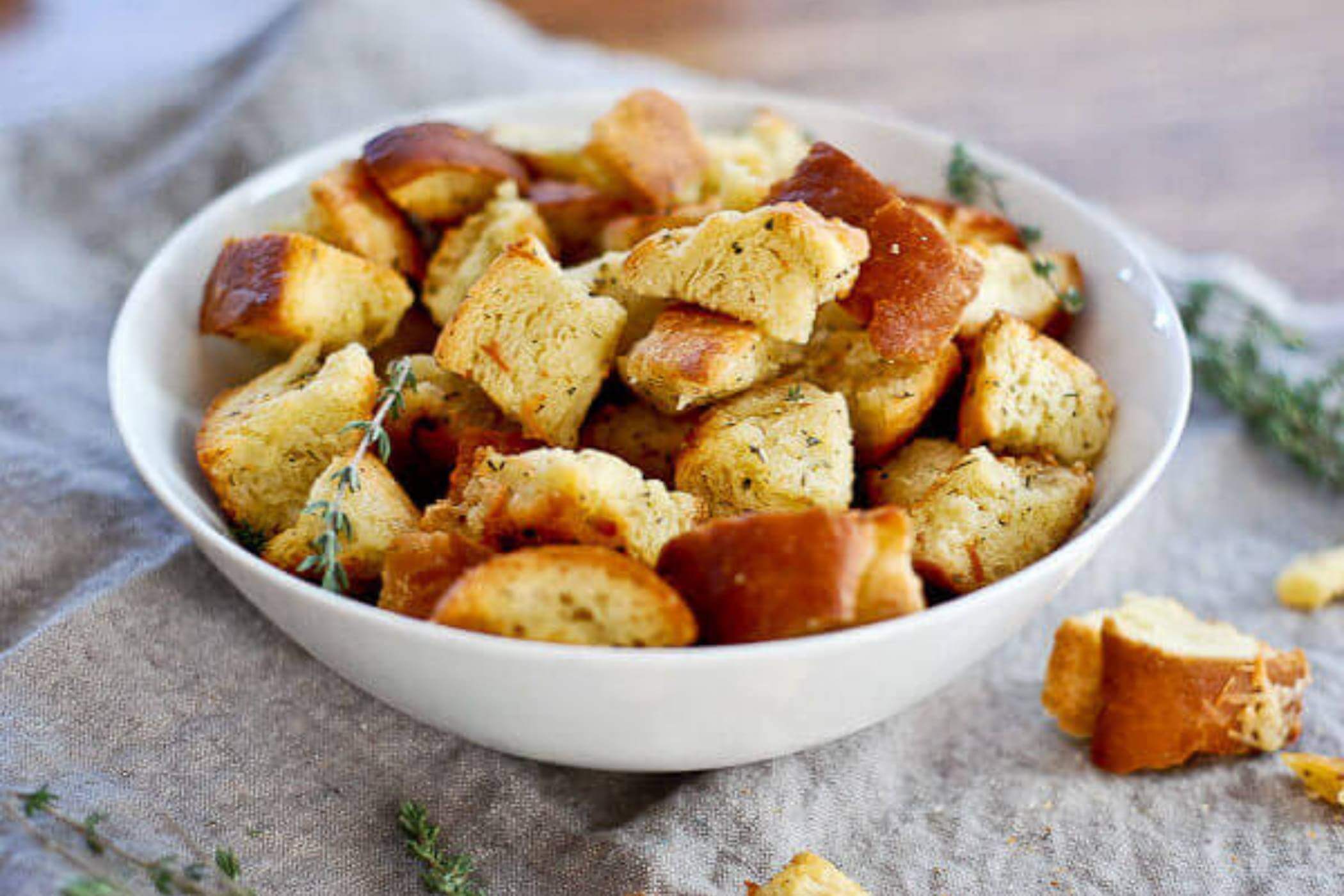 You likely have all the other ingredients – butter, olive oil, garlic cloves, some seasonings, and Parmesan cheese.
All you do is chop up your bread into cubes (they don't have to be perfect – in fact, a little bit of sloppiness makes them look a bit more rustic, which I love).
Next, combine some melted butter, olive oil, garlic, and Italian seasoning. Toss the bread cubes and your butter/olive oil mixture to combine, then bake them in the oven for about 10 minutes on a baking sheet.
After they've baked for about 10 minutes, give the sheet a good shake then toss it in for 5 minutes more, and presto, you've got yourself some croutons. (Delicious, golden, crunchy, garlicky croutons.)
But don't forget the Parmesan cheese!!! Sprinkle some over the top right as they come out of the oven then allow to cool for about 5 minutes. The cheese will melt over the warm bread and then harden as the cubes cool, adding a salty, crunchy cheesy note to these delicious croutons.
So, so so good! I promise. You'll never have a boring salad again!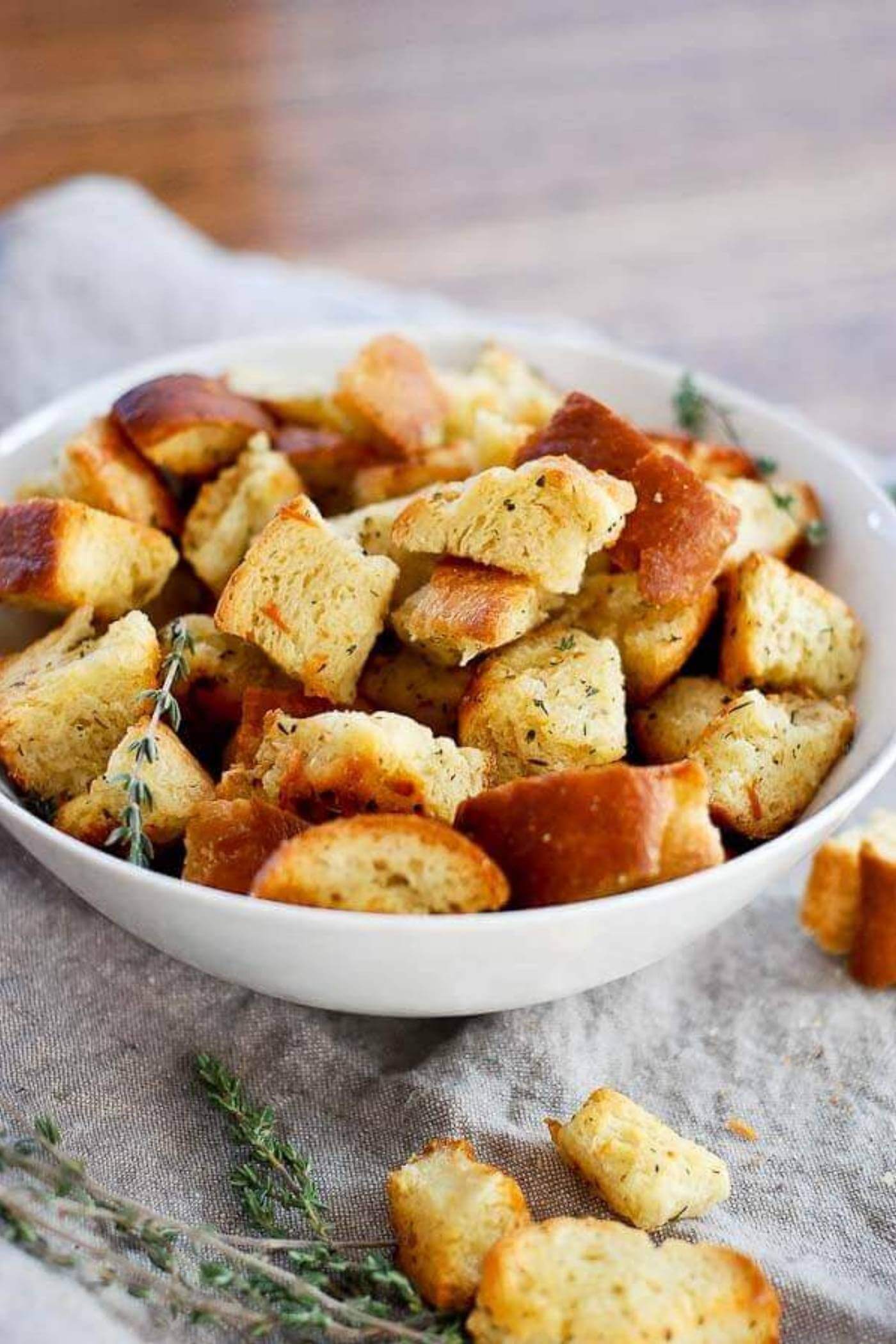 How To Store Them
These garlic parmesan croutons are easily stored in a large ziplock bag or air-tight container. Make sure the croutons are completely cooled before storing them.
If you make these Easy Homemade Croutons, I'd love it if you leave a comment below, or tag me on Instagram and let me know what you think! I LOVE seeing all your creations!
Looking for some meals to top with these delicious croutons? Give these a try!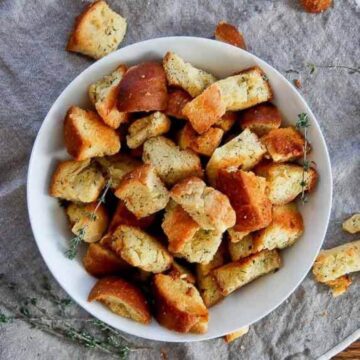 Easy Homemade Garlic Parmesan Croutons
These homemade baked garlic Parmesan croutons are a cinch to make in the oven and way better than store bought croutons.  Buttery, garlicky, cheesy – they're the perfect way to amp up a salad or a hearty bowl of soup!
Ingredients
1

loaf french bread

1

cup

butter, melted

2

tablespoon

extra virgin olive oil

4-6

garlic cloves, minced

2

tablespoon

italian seasoning

1

tsp

salt

1-2

tablespoon

finely shredded parmesan
Instructions
Cut the loaf of French bread into rough cubes.

Combine the melted butter, olive oil, garlic, Italian seasoning, and salt.

Add the cubed bread pieces to the butter/olive oil combo and mix together well.

Arrange the seasoned cubes in a single layer on baking sheet lined with parchment paper and sprinkle Parmesan over top of bread cubes.

Bake at 375 degrees for about 10 minutes. Remove from oven, flip croutons, and bake for an additional 5 minutes, or until crisp.