This Apple, Cranberry, and Walnut Quick Bread is bursting with huge chunks of apples, tart cranberries, and crunchy walnuts. It's the perfect addition to your breakfast table.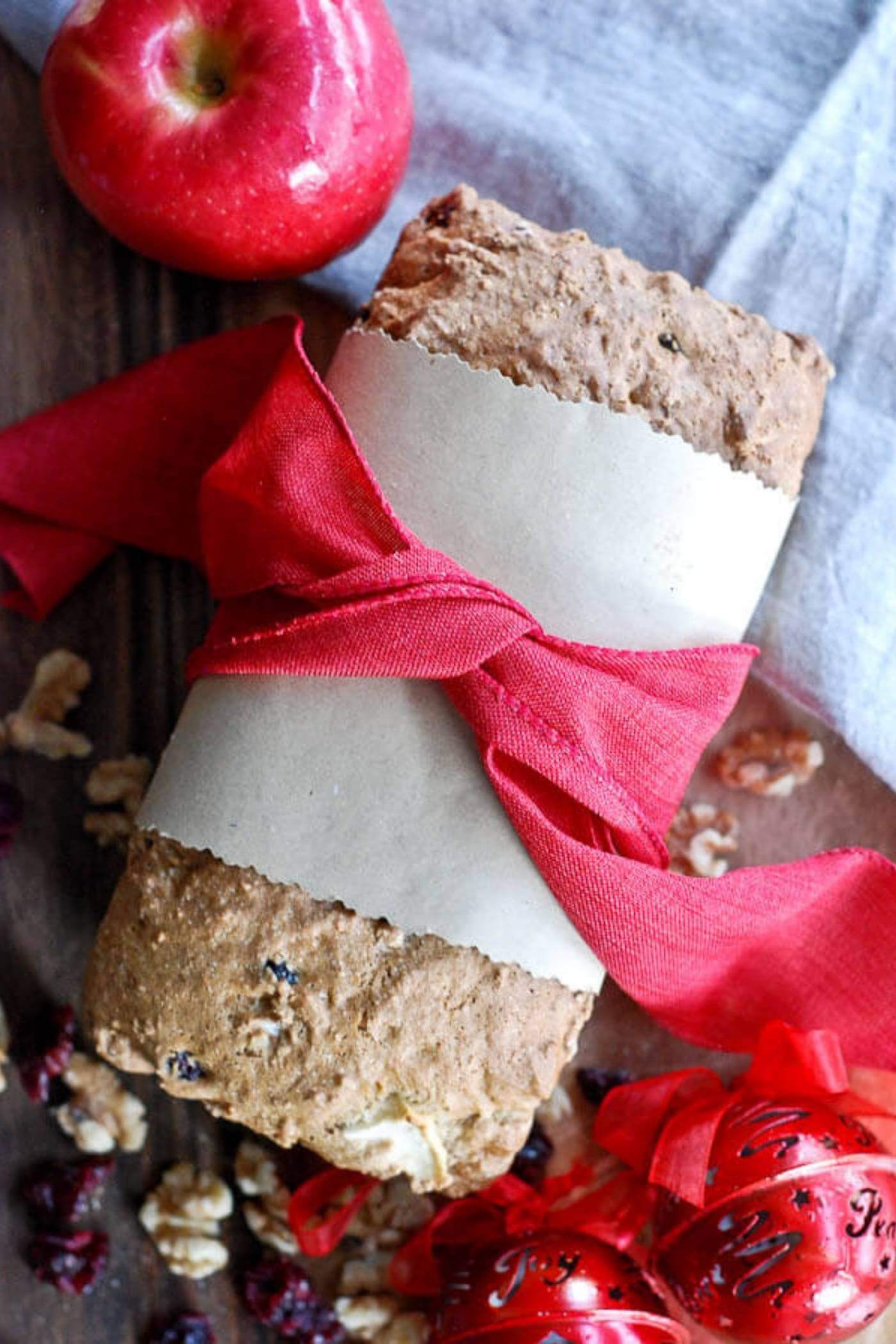 You guys - this cranberry and apple bread is SO GOOD! It's based on the apple and cranberry muffins I used to get at Magnolia Bakery in Chicago and when I bite into it I'm taken back to that place every time.
Magnolia Bakery, Where The Idea For This Bread Was Born
When we used to live in the suburbs of Chicago, I'd commute (on the Metra) every day into the city from Oak Park and walk about a mile across the loop to my office. It was a short commute – the train ride was less than 20 minutes, and the walk took only around 15. But, as anyone who takes public transit to work knows, the enjoyment of my commute often depended on the weather.
In Chicago it always felt like it was one extreme or the other. For about 5 months out of the year, it could be freezing temps. This was often mixed with rain or snow, and almost always with a murky gray slush lining the streets that somehow never seemed to go away throughout the season.
On the other end of the spectrum, the summer months could be just as brutal with the Midwest humidity and high temps. I'd arrive to work with sweat pouring from every part of me, breathing a sigh of relief as soon as my body met the air-conditioned safety of my office.
But there was also a third type of day, and while they were much rarer, they were what made me love the city. Those picture-perfect days when there was a soft breeze blowing across the lake, the temperature a very comfortable 75, tulips lining all the flowerbeds along Michigan Avenue, and everyone you passed actually smiled at you because it was so refreshing to actually have a day like this every once in a while.
On those days, the perfect ones, I'd often make a short detour on my way to work to stop at Magnolia Bakery. (By short I mean about 5 extra blocks, but hey, the things you do for love, right?)
While Magnolia (yes an offshoot of THE Magnolia Bakery in New York) is best known for their cupcakes, those mornings it was usually their apple, and walnut muffins I was after.
Oh, the muffins! They were so delicious! Slightly crisp on the outside and soft in the middle, with huge chunks of apples in every bite. They were so totally worth those extra five blocks. (And let's be honest, I probably needed at least 5 extra blocks to even begin burning off the calories from that muffin).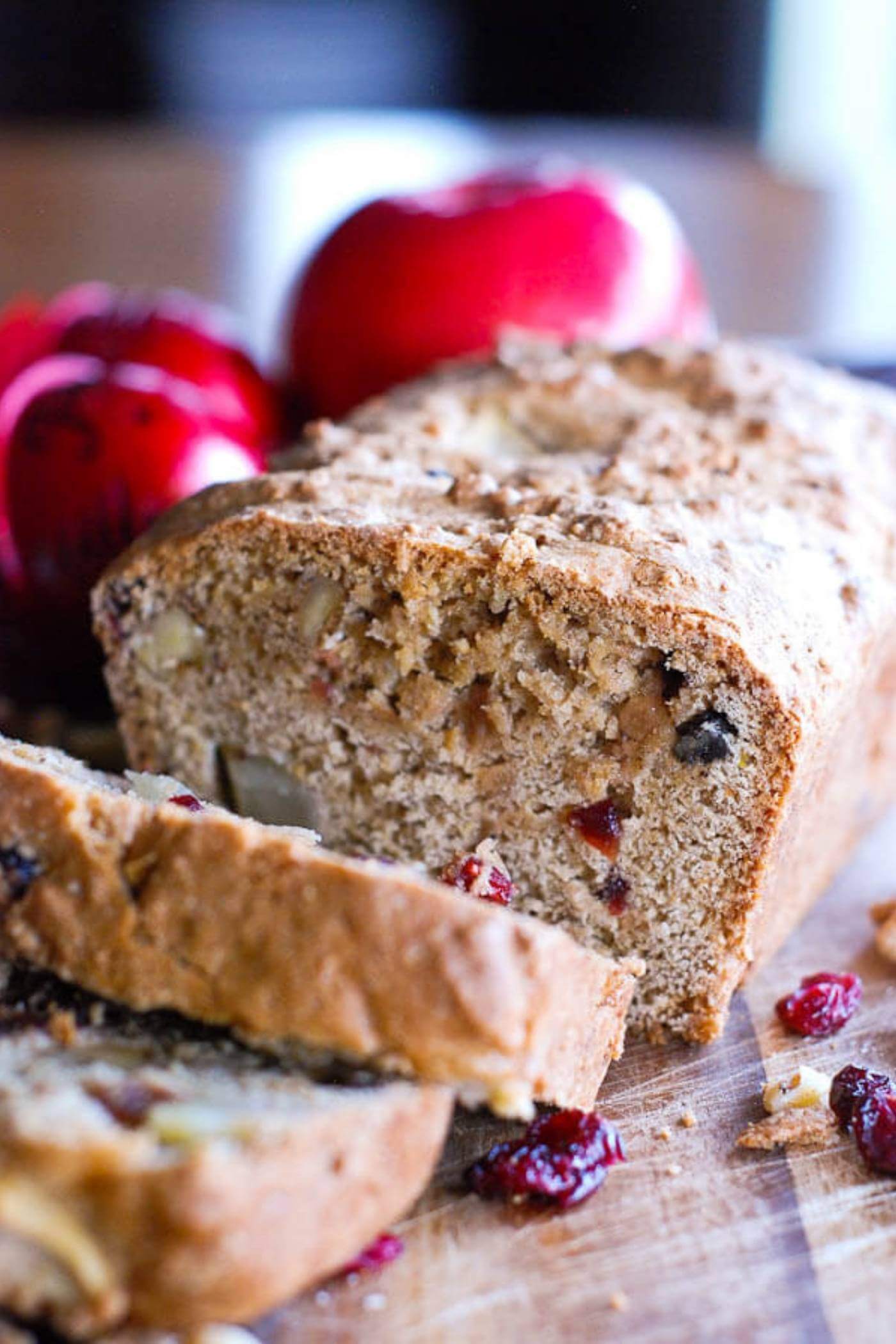 It's been 5 years since we moved from Chicago, but I still think about those apple cranberry and walnut muffins and the perfect Chicago days that would lead me into Magnolia Bakery on State Street. And since I've been feeling a bit nostalgic, I decided it was high time I came up with my own Apple Cranberry and Walnut Muffin recipe. Although instead of a muffin, I opted for a quickbread. (You could totally use this batter to make muffins though if you wish. Just dial back your baking time to about 18 minutes.)
How To Make This Apple, Cranberry, And Walnut Bread
This quickbread relies on large chunks of apples (don't chop them too small!) to give it that wow factor. The cranberries lend the bread a nice tartness, and the walnuts add a bit more texture. It's a good easy quick bread when you need something to serve for breakfast or brunch but don't want to make a big fuss.
In a large bowl, combine your dry ingredients: flour, baking soda, baking powder, cinnamon, and nutmeg.
In a separate bowl, whisk your eggs and sugar together. Then add in some applesauce (to make it even moister and give it some extra apple goodness!) large chunks of apples, cranberries, and walnuts and stir until everything is combined.
Finally, add your dry ingredients to the wet ingredients, toss it in a loaf pan, and bake it for just under an hour.
This bread is so good - the chunks of apple, the earthy crunch of the walnuts, and the sweet pops of cranberries make this a recipe I will come back to again and again. I hope you give it a try! If you do, be sure to tag me on Instagram! LOVE seeing your photos!
(Psst…this bread is also amazing with this orange marmalade!).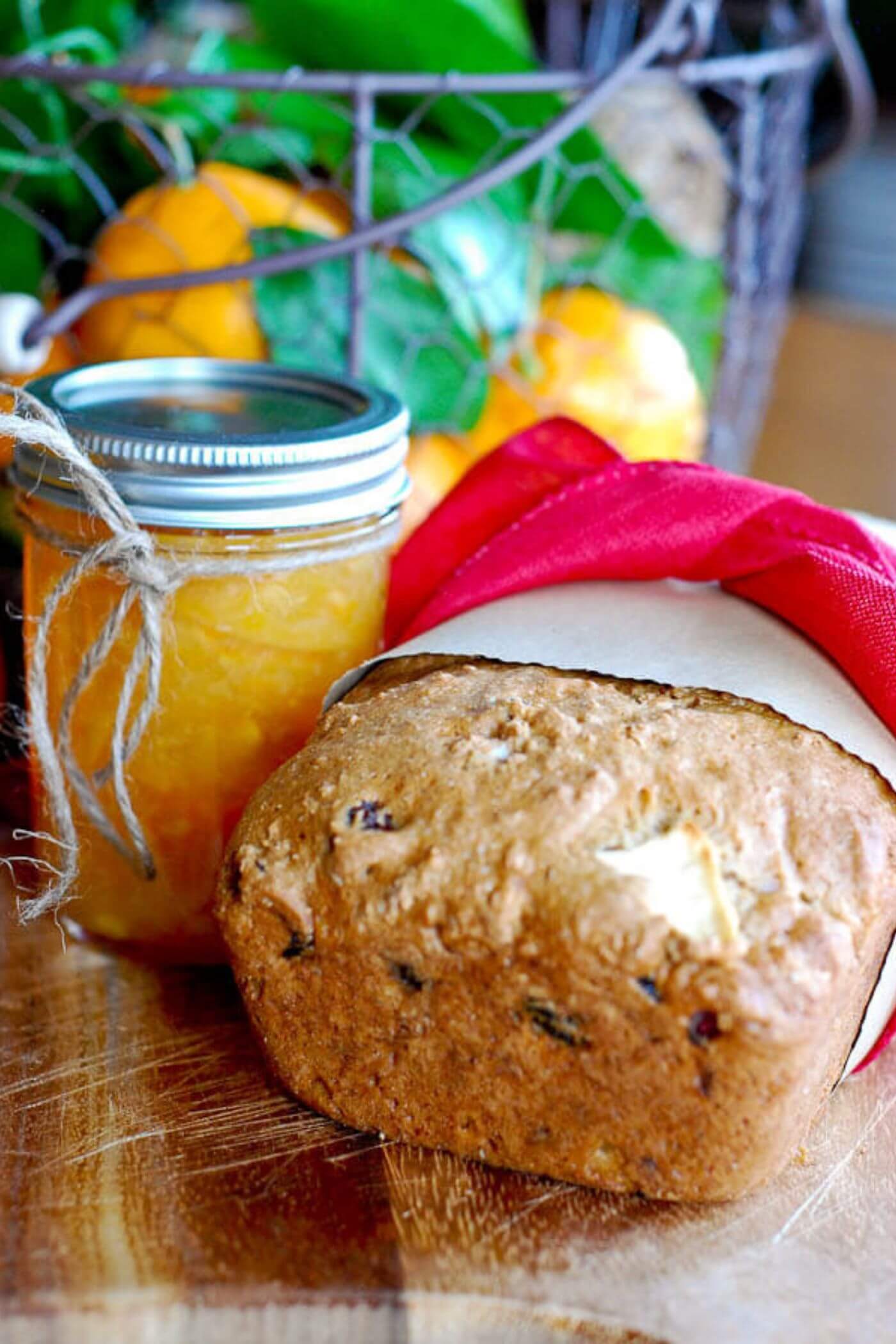 More Delicious Bread Recipes!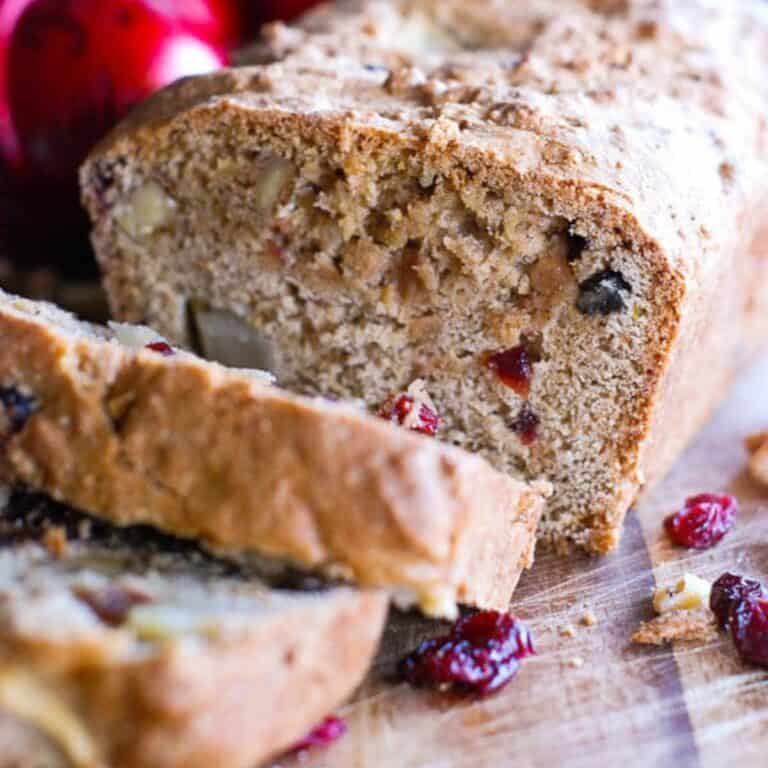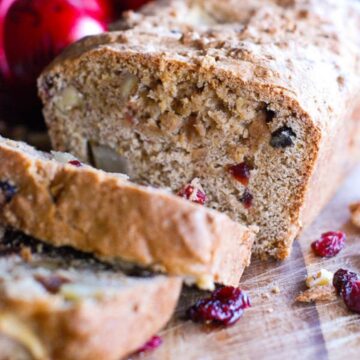 Apple, Cranberry And Walnut Quick Bread
This apple, cranberry, and walnut quick bread is bursting with huge chunks of apples, tart cranberries, and crunchy walnuts. It's the perfect addition to your breakfast table.
Ingredients
1 ½

cups

all-purpose flour

1

teaspoon

cinnamon

½

teaspoon

baking soda

½

teaspoon

salt

¼

teaspoon

baking powder

¼

teaspoon

nutmeg

2

large eggs, beaten

¾

cup

brown sugar

1

cup

applesauce

½

cup

chopped apples (peeled and cored)

¼

cup

cranberries

¼

cup

chopped walnuts
Instructions
Combine dry ingredients through the nutmeg in a large bowl

In a separate bowl, with a hand mixer, combine the egg and sugar. Add the applesauce, apples, cranberries and walnuts to the same bowl and mix well.

Add the wet ingredients to the dry ingredients and mix until just combined. (Don't over mix!)

Pour the batter into a greased 8x4x2 bread pan.

Bake bread at 350% for 50-55 minutes, or until a toothpick inserted into the center of the loaf comes out clean.