Easy Homemade Soft Cinnamon Sugar Pretzels can be made quickly and are a great project to do with your kids! Delicious, comforting, doughy, and sweet, these adorable pretzels provide a good snack or dessert.
Hello friends,
It's been a while since I wrote my last post in January. It's hard to believe that was really only about 3 months ago when life felt sort of normal. But so much has changed since then and I felt I owed you an update.
At the tail end of January, my father was diagnosed with a brain tumor. Cancerous, inoperable, and earth-shattering for my family. My siblings and I rushed home to be with him (we are all scattered across the country) as he had an emergency craniotomy and we sat with him and my mom in the hospital for two weeks before we each came back to our lives for a while.
Needless to say, I needed some time to not only help coordinate efforts for my Dad but to also just decompress a bit. It's a hard thing to accept that the person who you have always looked up to, who has always been one of your biggest supporters, and who has been the glue that held your family together could be facing such a difficult diagnosis. But he is in treatment now and we are all praying for a good outcome.
And then, of course, the coronavirus blew up all of our worlds and only added to all of our worries. What if Dad gets it? What if any of us get it? I had planned to take my two young boys in April so we could spend some time with him but those plans have been canceled since we're too afraid of spreading something to him.
So, I guess I haven't really felt much like running a food blog for the past few months. At one point I even mentioned to my husband that maybe I would just shut it down, but he encouraged me to keep going and said that maybe it would be a good outlet for me to express myself and take my mind off of some of the harshness these past few months have brought.
So here I am, and still, life goes on I guess. We definitely have some things to feel grateful for – a roof over our head, the ability to work from home, and two boys who seem to be at the sweet spot in ages for having to stay at home (if there is such a thing?) – old enough to be fairly self-sufficient, but still young enough to play well together and enjoy being home and with their Mom and Dad.
And the actual staying at home part is not so bad here – we love the extra time together, have been sleeping a tad bit later, getting in some regular exercise and outdoor time, and spending more quality time together as a family as much as we can.
And, of course, we've been cooking. Because as much as I felt I didn't want to write about food, it didn't mean that I didn't want to make it. I love cooking and it has always served me well, especially over these past several weeks. It takes my mind off of things to prepare delicious meals for my family, try out new recipes, and get my boys involved in the kitchen. We've been busy making oatmeal cream pies, re-growing scallions in our kitchen, learning even more new ways to use beans (Alison Romans chickpea stew really is so good!), and making lots of delicious soups, like this Garlic Basque recipe that is basically a bowl of oily, crusty bread soaked in a broth of garlic and spices. Yum!
And like the rest of the world, I've been trying my hand at my first sourdough starter, who I have affectionately named Gus. I'll admit that my first loaves were nothing to write home about – while they tasted good, they somehow failed to rise enough in my opinion – but we'll keep trying. And the recipes that we've been making from the discard starter have turned out so many delicious snacks – cheesy crackers, homemade English muffins, blueberry muffins, and even a chocolate cake! – that I think those alone may be worth the effort. (Have I mentioned that I will probably be about 200 pounds when this is all over?)
My Dad also just finished radiation treatment this week, which was some more great news, and a relief, as he had been making daily trips to the cancer center for the treatments. He has been such a strong person – still a role model for all of us as he goes through this extremely difficult time. And now he has a month-long break to recoup some of his strength before starting chemo. We hope to be able to be there with him for the summer.
Before any of this craziness happened, back in early January when the world felt normal, I made these cute little soft cinnamon sugar pretzels in the shape of hearts. I had planned to post them for Valentine's Day, but that obviously did not happen, so I'm posting these today.
They still seem timely to me – after all, everyone seems to be baking these days, right? And it's a fun recipe to whip up with your kids if you have them. Plus, they're really good and comforting for a time when we probably all need a bit of that.
How To Make These Soft Pretzels
Ok. So this recipe is easy, but it is a bit time-consuming and has several steps. Don't worry - I'll walk you through how to do it all!
Start by creating your dough. Dissolve yeast and sugar into a bowl with some warm milk and let it sit and starts to become frothy and bubbly (about 10 minutes). As you wait for the yeast mixture to become ready, combine flour with brown sugar and salt and place it in a large bowl, carving out a small well in the middle. Once your yeast mixture is ready, pour it, along with some vegetable oil, into the flour well and then stir to combine. (Doing this in a stand mixer with the hook attachment makes this easy.) Let your dough rise in a covered oiled bowl for about 1.5 hours. (It should double in size.)
When your dough is ready, fire up your oven to 425 degrees and line two baking sheets with parchment paper.
Roll the dough out onto a lightly floured surface and then cut into strips, about ¼-1/2 inch thick. I used a pizza cutter to cut my strips.
Now shape your hearts! Using two strips for each heart, cross the top of each strip and wrap them together. Then align the bottom part of the strips and twist to form your heart.
Now for the slightly tricky part - the boiling! Boil a large pot of water and add some baking soda to it. Baking soda is a key ingredient when making pretzels - It's what gives them their golden color, crispy exterior, and chewy texture. Reduce the heat to low and, using a slotted spoon, carefully dunk each of your heart-shaped dough pieces into the water for about 10 seconds. Remove and place on the prepared baking sheet.
Place the baking sheets in the oven and bake the pretzels for about 10 minutes (watch them - you don't want them to overbake!)
Allow them to cool slightly once removed from the oven, then brush with melted butter and sprinkle them with a mixture of cinnamon and sugar before placing them on a cooling rack.
These are best enjoyed warm!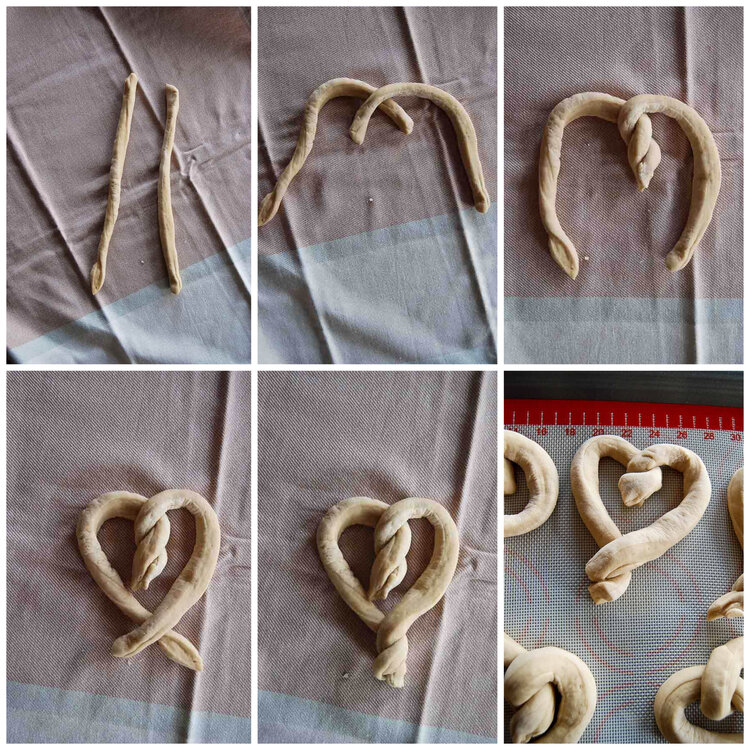 I shaped these into hearts to make them cute for the holiday, but if you just want to make little pretzel balls or a normal pretzel shape, that works just as well if it's easier for you. Although, I sort of think we could all use a little bit of extra love right now so maybe the hearts should actually be mandatory. 😉
Until next time, love to you all, and stay safe!
If you try these Soft Cinnamon Sugar Pretzels, please let me know what you think in the comments below. And don't forget to tag me with a pic on Instagram @frontrangefed.
More Great Snacks Recipes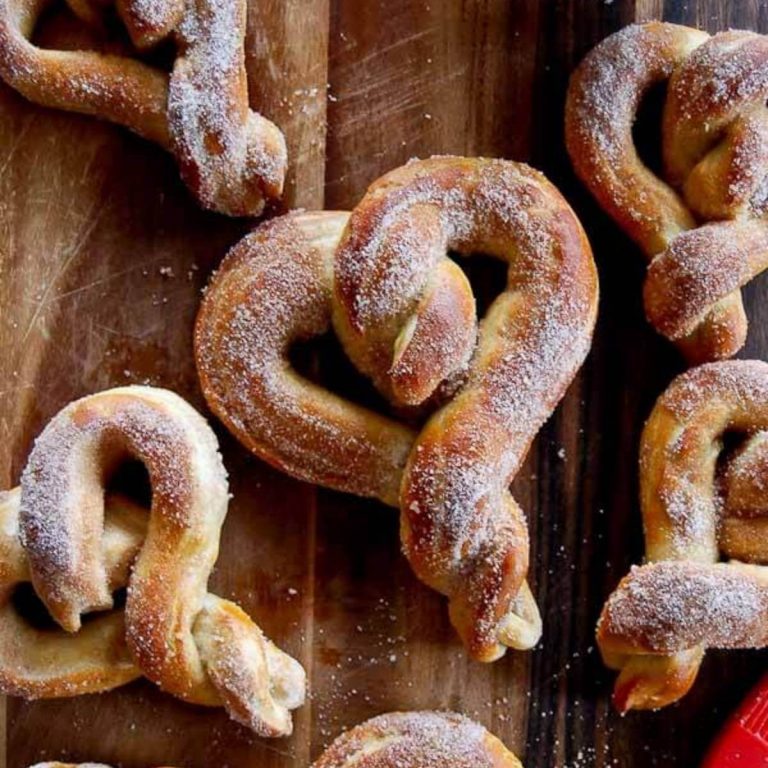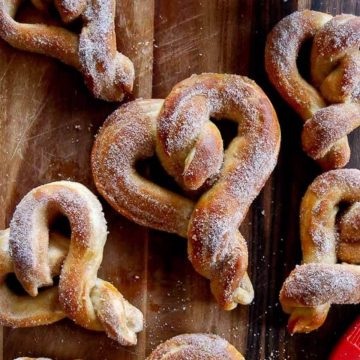 Homemade Soft Cinnamon Sugar Pretzels
Easy homemade soft cinnamon sugar pretzels can be made quickly and are a great project to do with your kids! Delicious, comforting, doughy, and sweet, these adorable pretzels provide a good snack or dessert.
Ingredients
1

packet

active dry yeast

1 ½

cup

warm milk

1

teaspoon

granulated sugar

3-4

cups

all-purpose flour

½

cup

brown sugar

1 ½

teaspoon

salt

1

tablespoon

vegetable oil

½

cup

baking soda

4

cups

boiling water

4

tablespoon

cinnamon sugar mix (see notes below)

4

tablespoon

butter, melted
Instructions
In a small bowl, dissolve the sugar and yeast in the warm milk and let sit for about 10 minutes until the mixture is creamy and bubbly.

Mix 3 cups of flour, brown sugar and salt together in a large mixing bowl or stand mixer. Create a well in the middle and add the milk/yeast mixture and the vegetable oil to the center. Stir to combine, and add extra flour if needed.  Knead the dough well until it becomes smooth. (You can also use your hook attachment on a stand mixer for this.)

Place the dough in a large, lightly oiled bowl covered with a towel. Allow dough to rise in a warm place for about 1.5 hours, or until doubled in size.

Heat your oven to 450 degrees and line two baking sheets with lightly oiled parchment paper.

Once the dough has risen, roll it out into a rectangle and cut it into strips. 

Shape strips of dough into hearts. (See step-by-step instructions for this in the photo above.)

In a large pot, bring 4 cups of water to a boil and add the baking soda.

Reduce heat to low and, using a slotted spoon, dunk your dough hearts into the water for about 10 seconds each, then place them onto the baking sheets.

Bake pretzels for about 8-10 minutes, then remove from the oven and allow to cool slightly.

While pretzels are baking, mix the cinnamon and sugar together, and melt your butter.

Once out of the oven, brush the melted butter over the pretzels, then dredge them in the cinnamon-sugar mixture.

Allow pretzels to cool slightly on a rack before eating (although these are best eaten when warm!)