If you're looking for an Awesome Guacamole Recipe, this is it. Chunky, filled with veggies and punched up with flavors from cumin, garlic, and cilantro, this is a hearty appetizer for your next party or back porch hang.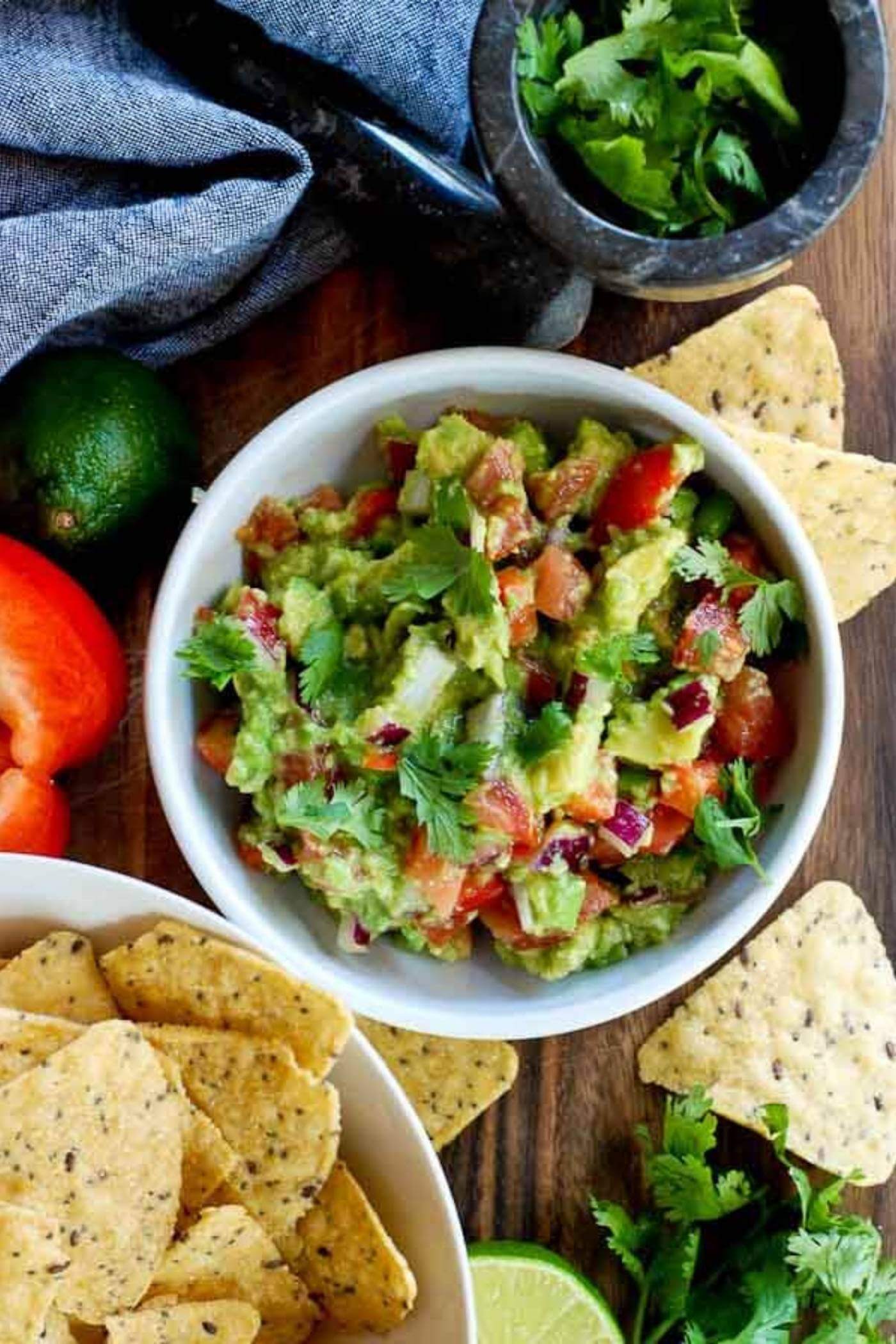 Guacamole: let's face it - it's pretty hard to screw up, right? When you look at the ingredients – avocado, garlic, tomatoes, peppers, spices – it's difficult to go wrong. Most combinations will yield a pretty decent guac appetizer. But I am of the opinion that it's not only what you put into your guacamole, but how you prepare it that makes it go from good to great.
What's In This Chunky Guacamole?
Many people may disagree with me, but I'm not one of those who likes a smooth guacamole. I prefer mine with some weight to it –
Chunky bits of avocado, just slightly mashed
Chopped red peppers and tomatoes
Fresh garlic, red onion, and jalapeños
Topped off with pungent cumin, fresh cilantro leaves, and a splash of lime.
This guacamole recipe is not for the faint of heart. It's a meaty appetizer that demands a sturdy chip. Step aside pureed avocado – this takes guacamole to a whole other level. And in my humble opinion, it's the best guacamole recipe out there.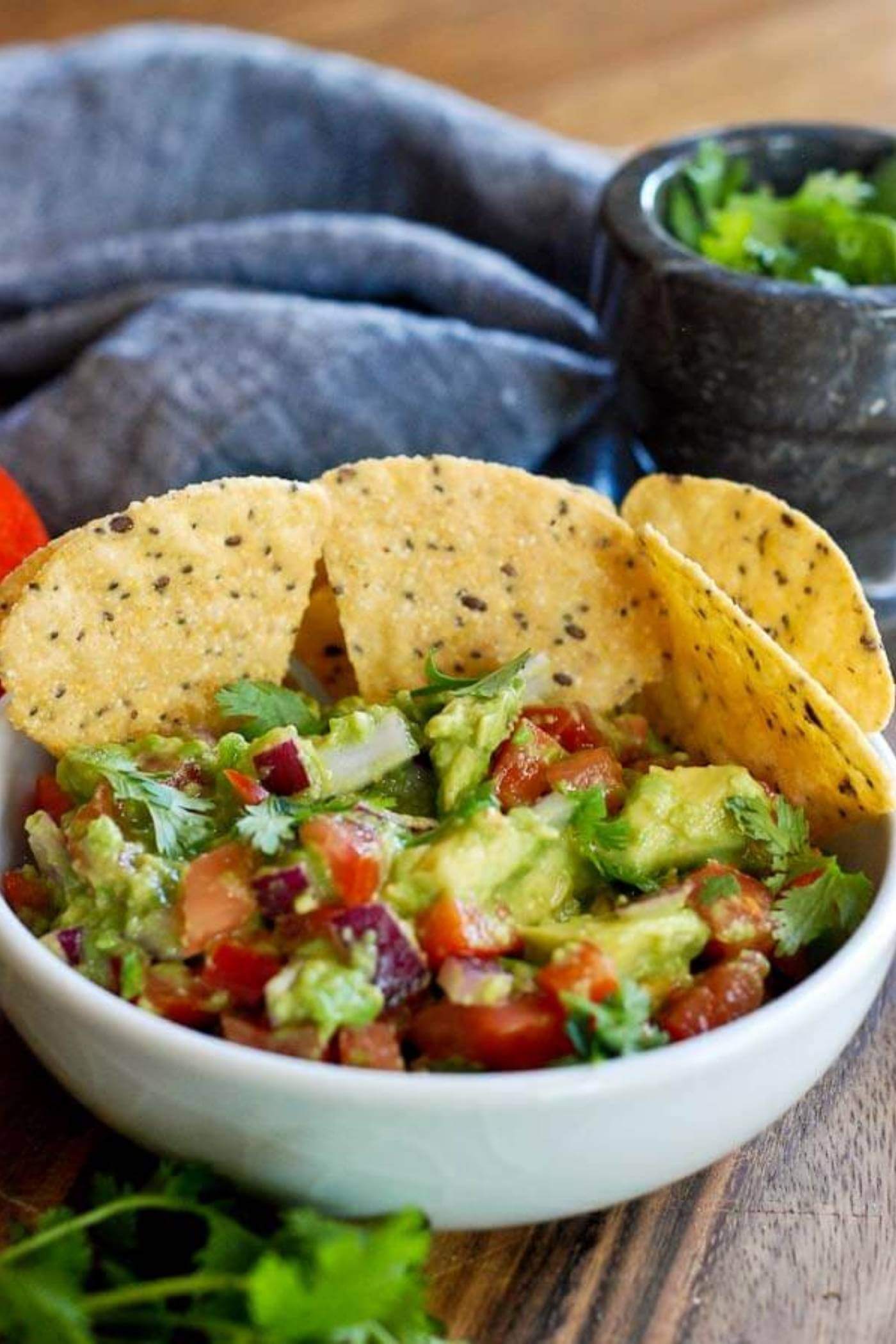 If you've never made this before, let me tell you, it's a super easy guacamole recipe and is a great last-minute appetizer to make when friends are coming over and you're in a hurry. Plus, guacamole is super healthy so it's a great snack that you can pair with chips at a party, or with veggies for after school. The only downside is that it doesn't really last long in the fridge – it starts to turn brown after a day or so if left uncovered (although the lime juice helps with this) and gets a little soggy. But don't worry - this recipe never lasts too long.
How To Make Guacamole
So, here's how you make it.
First, do your prep. Roughly chop all your veggies into bite-size pieces. When preparing the avocado, chop it into chunks and just barely mash it before combining it with the other veggies. You want it to be soft, but not totally mashed because you want to keep that chunky texture.
Chop up your other veggies and mix them in with your avocado chunks.
After you've combined the veggies, add your spices and lime juice and mix well.
Then just add in some cilantro and you've got yourself a healthy snack that took only about 10 minutes to prepare.
Make this easy Guacamole Recipe for your next party! If you do try it, let me know what you think in the comments below and tag me with a pic on Instagram!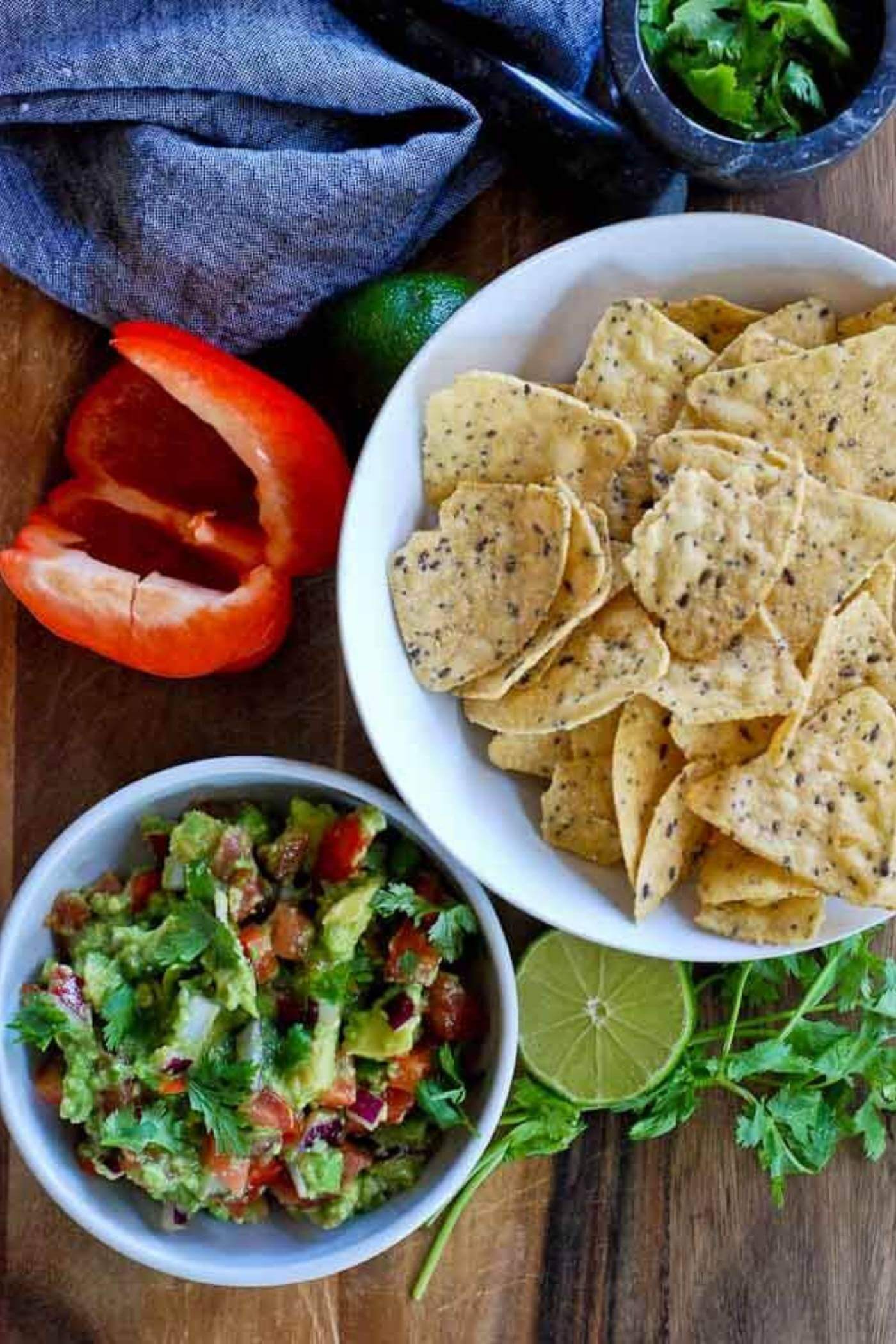 More Great Mexican Dishes!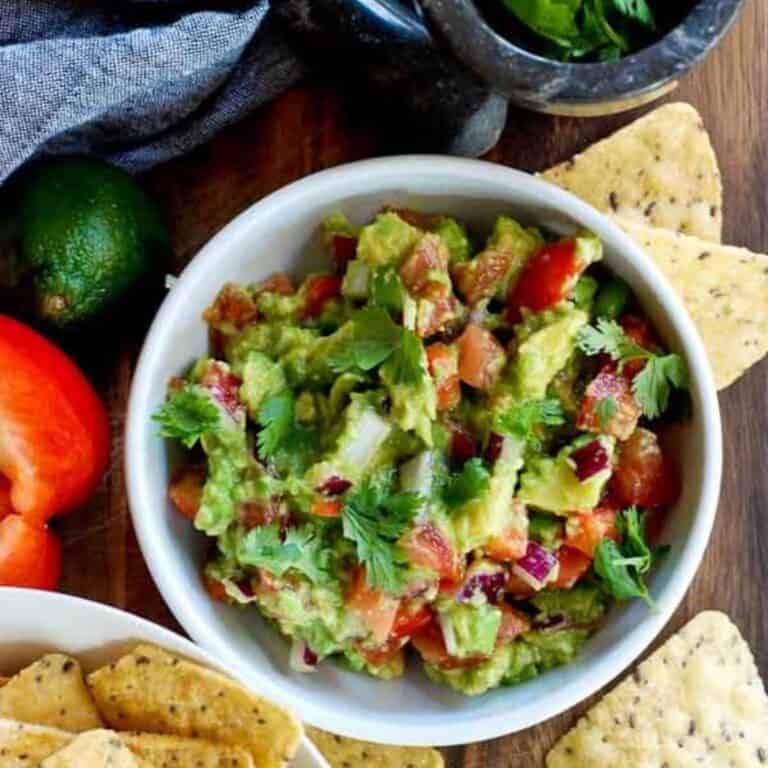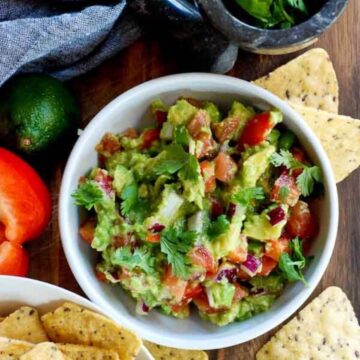 Chunky Guacamole Recipe
If you're looking for an awesome guacamole recipe, this is it. Chunky, filled with veggies, and punched up with flavors from cumin, garlic, and cilantro, this is a hearty appetizer for your next party or back porch hang.
Ingredients
2

medium avocados, roughly chopped and very slightly mashed with a fork

½

red pepper, chopped

1

small tomato, chopped, with seeds and juices removed

1

tablespoon

red onion, finely chopped

1

garlic clove, minced

1

jalapeno pepper, chopped with seeds removed

pinch of salt (plus more to taste)

¼

teaspoon

cumin

juice of ½ lime

2

tablespoon

chopped cilantro
Instructions
Prepare your avocados. Roughly chop them, then place in a bowel and very slightly mash them with a fork, but not too much – you want them to retain that chunky consistency.

Combine your peppers, tomatoes, red onions, garlic, and jalapeno (if using). Add the avocado mixture and stir lightly until just combined.

Add in your spices and lime juice and stir until evenly combined.

Top with cilantro and fresh lime wedges.
Notes
If you're not a huge fan of spice or cilantro, feel free to omit them.