This recipe for Chicken Mole Tacos is CRAZY GOOD! And, it's made in the crockpot, making it an easy dinner to make even on a weeknight!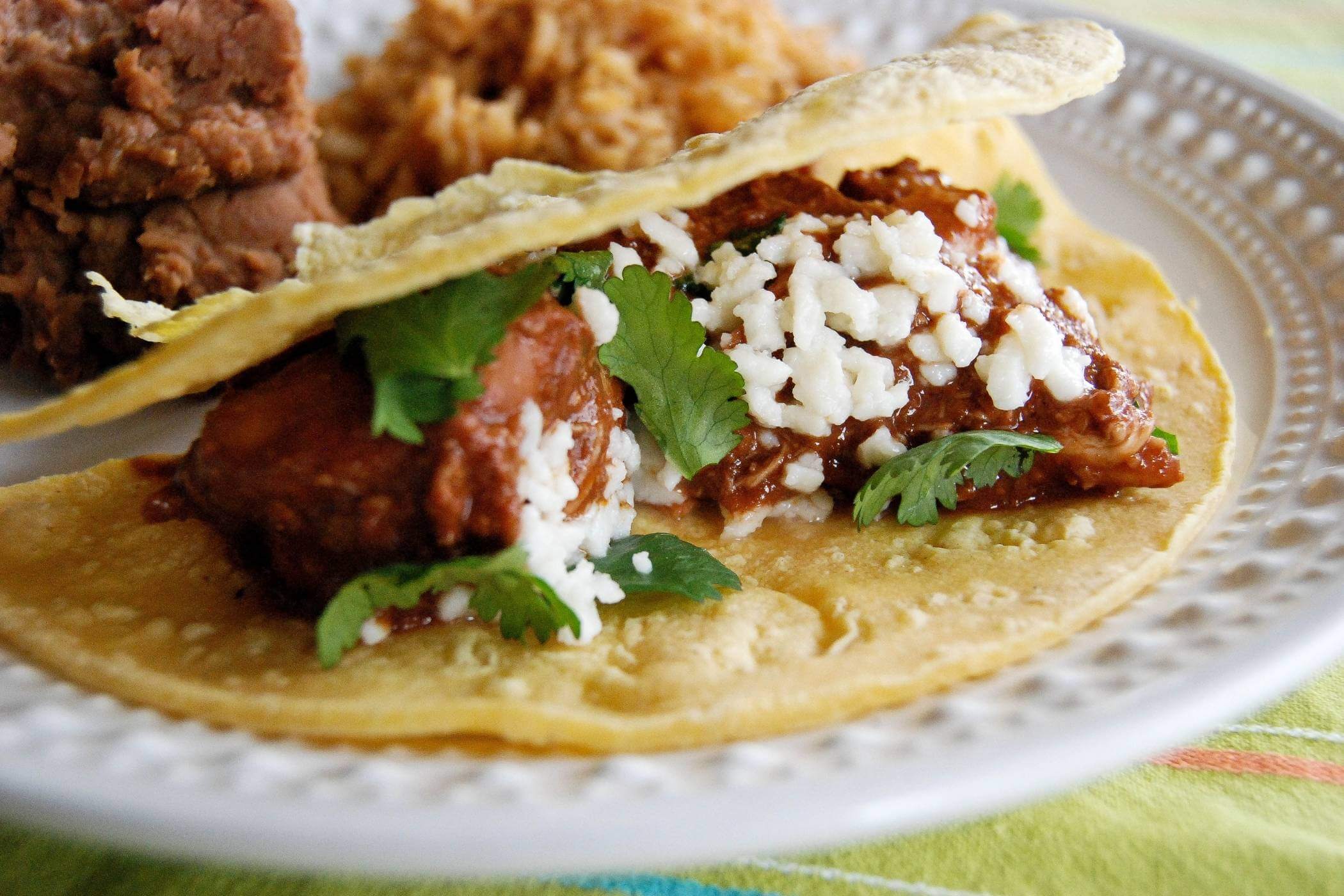 Do you live with a picky eater? I do. My oldest son has an adventuresome palate and will at least try most anything we put on his plate. My youngest son? Not so much. If he even catches a whiff of something that he deems unacceptable, he'll look at it sideways until forced to spoon up just the teensiest bite on his fork.
And then, it's standoff time for the next 45 minutes with his father and I demanding that he eat at least 3 spoonful's before calling it quits.
Mealtime can be exhausting because of this. So, we're constantly on the lookout for new recipes that he might like that won't keep us glued to the dinner table for the majority of the night.
But, here's a trick: sometimes, it's all in the way you market the meal.
At our house, we love a good Taco Tuesday and have tried many variations over the years – shrimp, ground beef, chicken, pork. Sometimes they're a hit with my son, sometimes not.
But this time, I tried something that I knew would at least make him try a bite. We were hankering for some chicken mole tacos but when we sat down to eat, we presented him with Chocolate Chicken Tacos! That's right – what 4-year-old can resist a main dish with the word chocolate in it? Not this one.
And you can't imagine my elation when he proclaimed it the "best meal ever" after wolfing down every single bite and asking for more.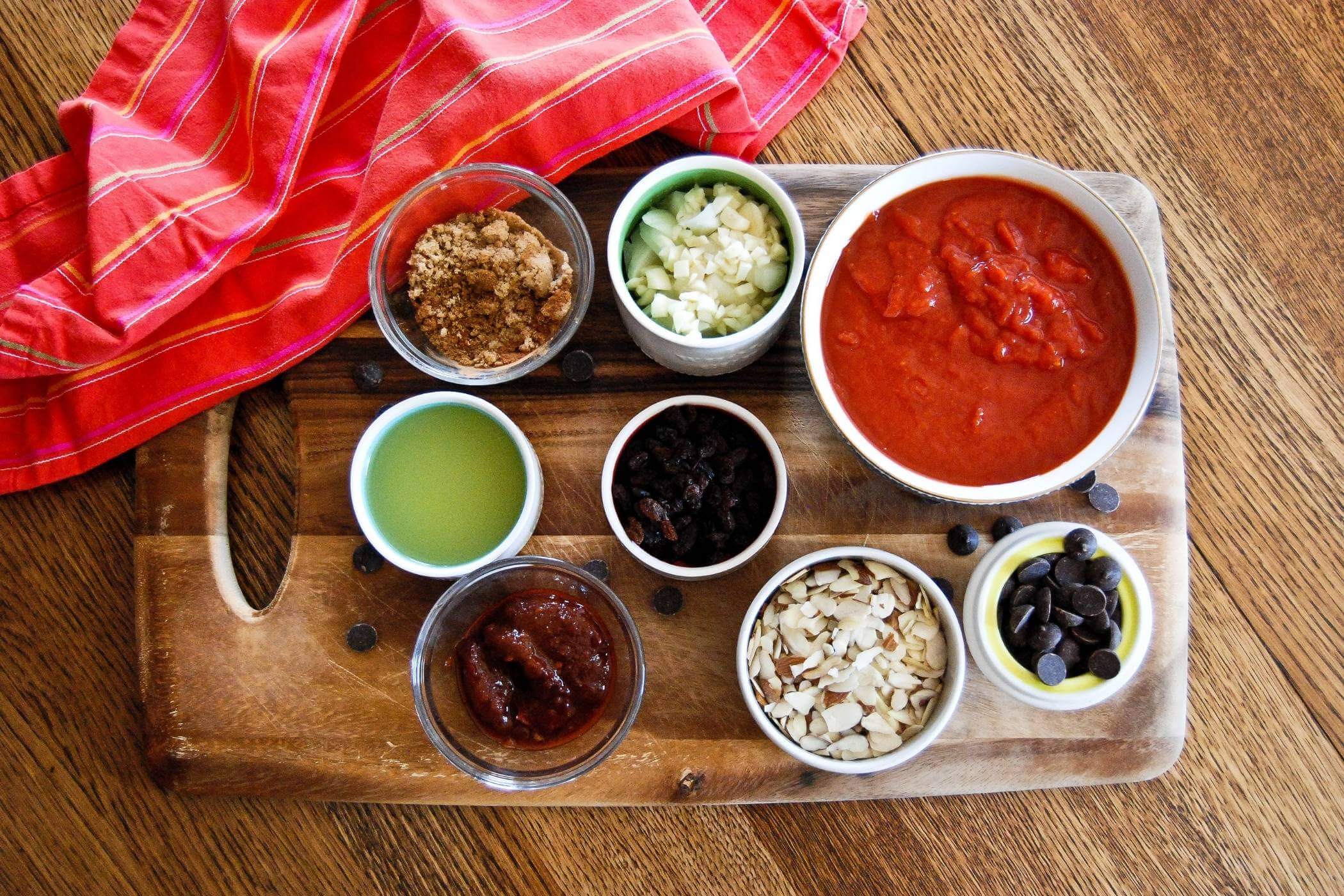 Ingredients For The Mole Sauce
The ingredient list is long, but all of it is easy to come by at your local grocery store so don't let it intimidate you. To make this mole sauce you will need:
Raisins. The raisins in this sauce give it a little touch of sweetness which balances the spiciness nicely.
Sliced almonds. To add a bit of a nutty flavor. If you're allergic to almonds, raw sunflower seeds are a good substitute.
Chicken broth. Add more chicken broth for a thinner mole, and less for a thicker sauce.
Crushed tomatoes, onion, and garlic. Standard veggies that are included in a mole sauce.
Chipotle chiles in adobo sauce. (Plus 1 tablespoon of canned adobo sauce.) Bring on the spice!
Spices! This sauce includes cumin, cinnamon, chili powder, nutmeg, and coriander. This mix is such a great blend of earthy and spicy and provides a lot of flavor to the mole sauce.
Bittersweet chocolate. Traditional mole usually includes spiced Mexican chocolate, which is often hard to find. Instead, opt for dark bittersweet chocolate (at least 85% cocoa).
Chicken! We are making chicken mole here after all! However, you could make the sauce all on its own, and sub out the chicken broth for vegetable broth to make it vegan.
This mole sauce is gluten-free. Many people add flour to their mole as a thickener, but I feel the pureed nuts do this job well, and since it's simmered in a crockpot over a longer period of time, it thickens nicely without the filler.
How To Make Chicken Mole Tacos In The Crockpot
This recipe is truly a fix-it-and-forget-it recipe (for the most part), because of the wonderous invention called the crockpot. Whip up your sauce, throw in the chicken, cook it on low, and by the end of the day, you have a delicious taco-filler that will satisfy even your pickiest of eaters.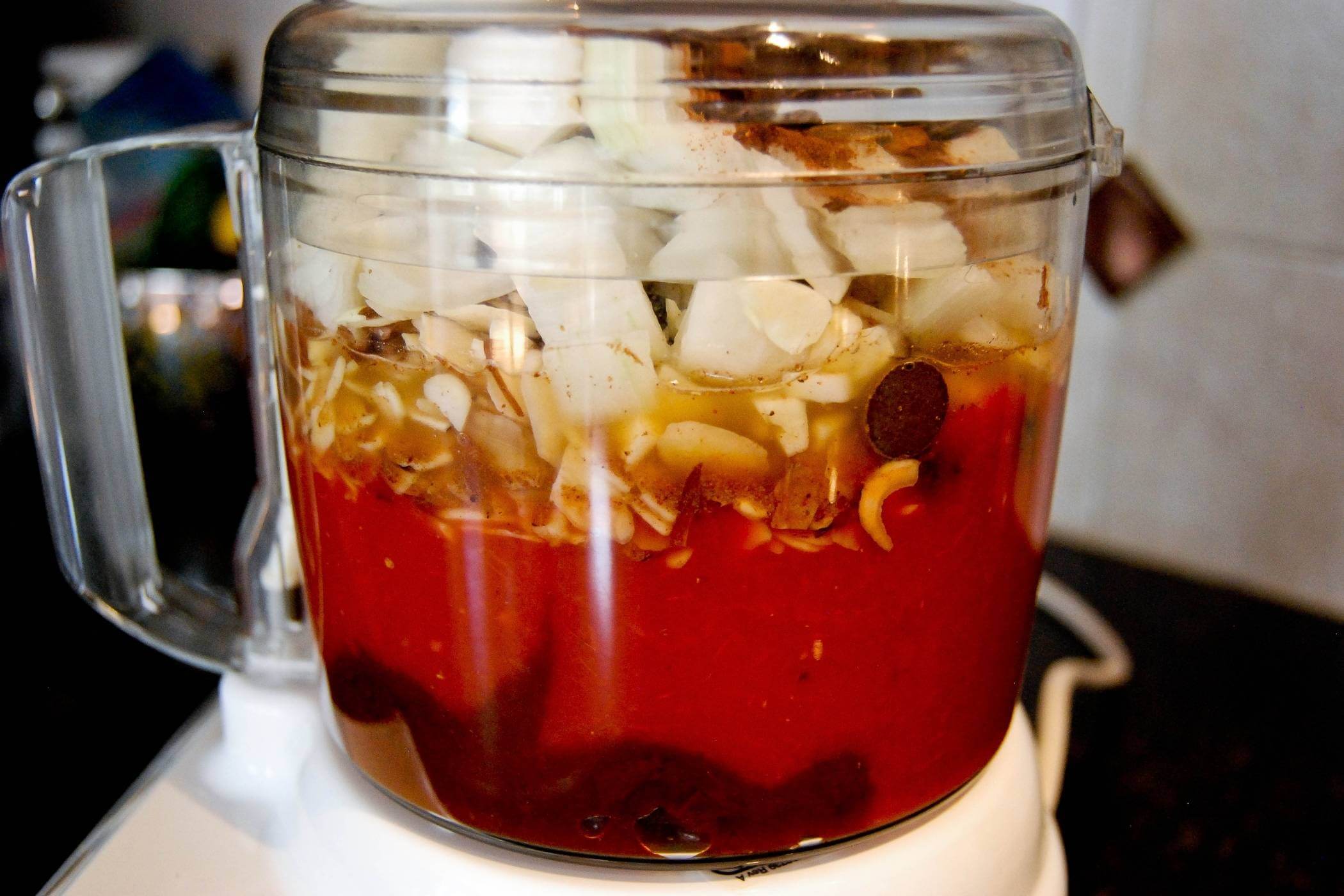 Start by making the sauce. Combine the raisins, almonds, chicken broth, tomatoes, onion, garlic, chocolate, chipotle chiles, adobo sauce, and spices into a food processor or blender. Depending on the size of your food processor, you may need to do this in batches.
Add your chicken to the slow cooker, pour over your mole sauce, and cook on low for 8 hours.
Once the chicken has cooked, remove it from the sauce and shred it into chunky pieces.
This recipe makes quite a bit of sauce. I like to remove about half of it to store or freeze for another meal.
Return your chicken to the sauce and mix well until the chicken is fully coated.
Make your tacos! Stuff your delicious chicken mole sauce into some corn tortillas and top with crumbled queso fresco cheese, fresh cilantro, plus a lime wedge on the side.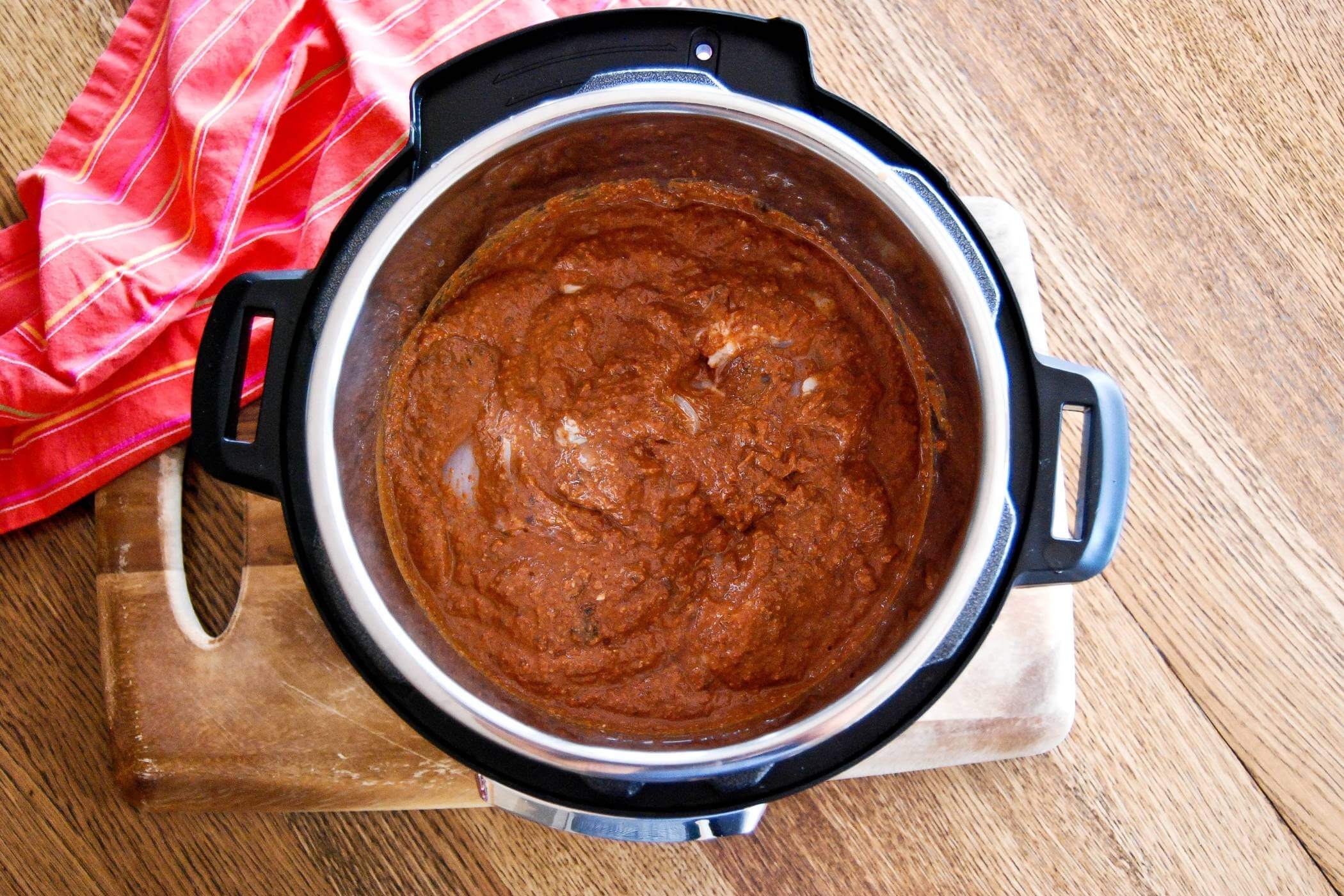 What Else Can I Use The Sauce For?
Since this recipe makes a lot of sauce, you can save half for another use. Mole sauce is great on:
Rice
Burritos
Tacos
Nachos
Quesadillas
Eggs
Pork, chicken, or beef dishes
Burrito bowl
It's really such a versatile dish and tastes great on so many things!
Is It Spicy?
With all the chilies and the spices in this chicken mole taco recipe, you may be thinking this is going to be really spicy, but I assure you that it is not. The flavors blend together well and you just get a hint of that smoky adobo sauce mingled with the nutty chocolate flavor.
If it's spice you're after, you can of course add in some pasilla chiles or chipotle chiles to amp up the spiciness.
Can I Freeze The Chicken Mole Sauce?
YES! In fact, this is a great make-ahead freezer meal for busy nights when you want something delicious but don't want to cook. Freeze the mole sauce on a large ziplock bag (I usually double bag these to avoid spills) and it will keep in the freezer for about 3 months.
When you're ready to use it, just thaw it overnight, heat it over the stovetop or in the microwave, and serve!
One of the best parts of this recipe is that it actually makes a ton of sauce – so much so that you can remove half of it once it's cooked and save it for another meal (or freeze it!). Two easy weeknight meals in one, plus a fun name that even my pickiest of eaters is sure to eat? Sold!
If you try these Chicken Mole Tacos, please tell me what you think and leave a rating in the comments! And don't forget to tag me with a pic on Instagram @frontrangefed!
More Easy Weeknight Dinners
Chicken Mole Tacos
This recipe for Chicken Mole Tacos is CRAZY GOOD! And, it's made in the crockpot, making it an easy dinner to make even on a weeknight!
Ingredients
⅓

cup

raisins

¾

cup

sliced almonds

½

cup

chicken broth

28 oz

can

crushed tomatoes

1 ½

tablespoon

cumin

¾

teaspoon

cinnamon

½

teaspoon

chili powder

½

teaspoon

nutmeg

¼

tsp

coriander

1

cup

chopped onion

5

garlic cloves, minced

4

oz

bittersweet chocolate

(I used chips but if you have a bar, just break it into small pieces.)

3

chipotle chiles, canned in adobo sauce

1

tablespoon

canned adobo sauce

2

lbs

boneless chicken thighs

16

corn tortillas

½

queso fresco cheese, crumbled

fresh cilantro leaves and lime wedges for serving
Instructions
Combine all ingredients listed above through the adobo sauce. Mix together, and, in batches, process in a food processor.

Add chicken to the slow cooker.

Pour sauce over the chicken to cover and set the slow cooker on low for 8 hours.

Once the chicken is fully cooked, remove it from the sauce and shred it into large pieces. (Note, this recipe makes a lot of sauce – much more than you will need for one meal. The great news is you can half the sauce at this point and throw it in the freezer for another night. Just thaw it out, warm it up, and pull it over a rotisserie chicken for a fast and easy weeknight meal.)

Add the chicken back to the sauce.

Top corn tortillas with the chicken and sauce mix, then crumble the cheese and cilantro over the top of each.

Serve with lime wedges, Spanish rice, and beans.