Looking for a quick and easy summertime dinner? This Easy Rotisserie Chicken Banh Mi Sandwich comes together in 15 minutes! Store-bought rotisserie chicken, quickly-pickled veggies, and a tangy mayo make these delicious Vietnamese sandwiches super easy to pull together. It's perfect for a weeknight meal or a delicious addition to your picnic basket.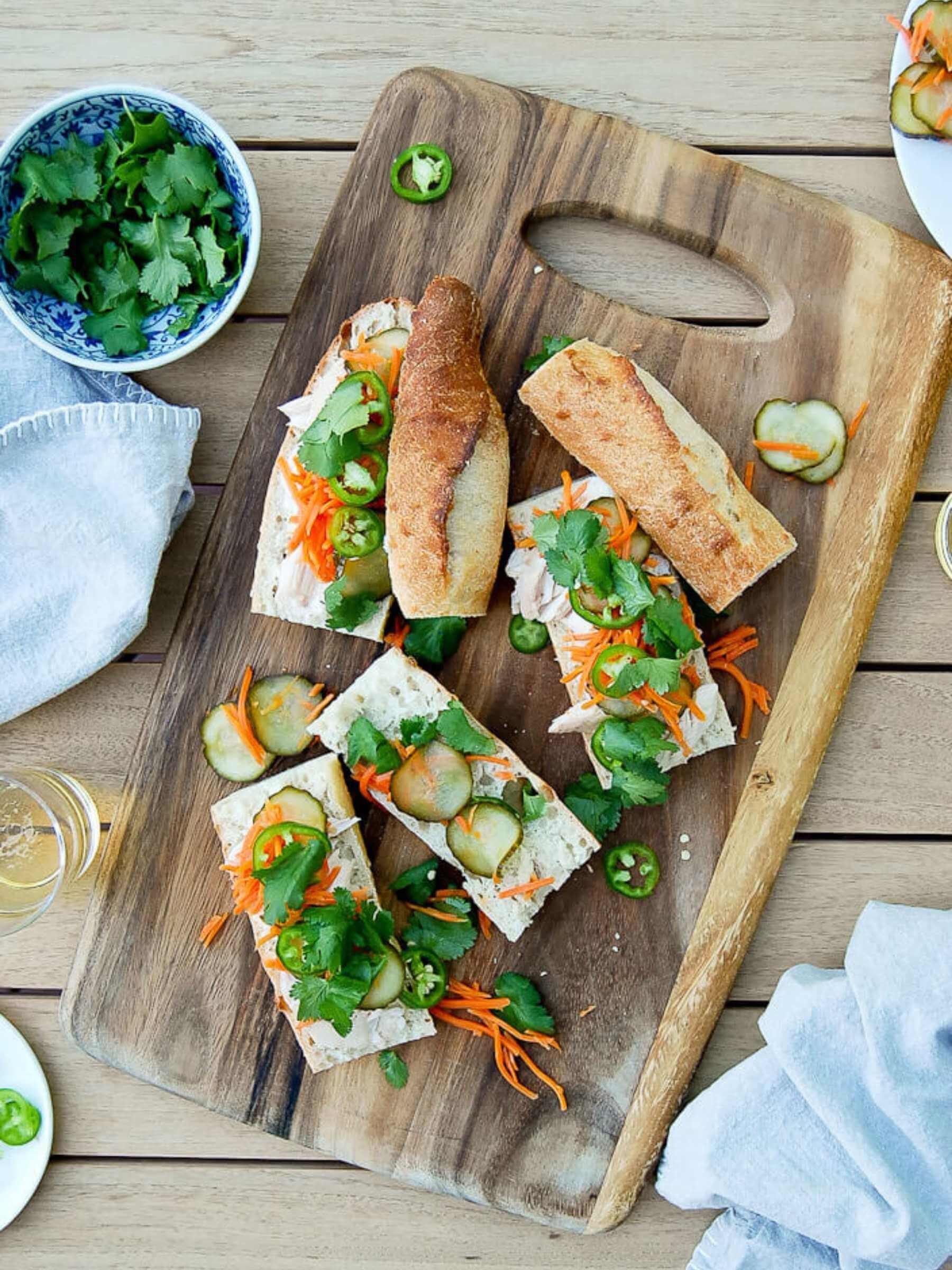 We've been doing a lot of alfresco dining this summer, avoiding the oven as much as possible due to the high temps. And this chicken banh mi sandwich recipe has earned its spot in our rotation of easy, no-cook dishes for the season. It takes just 15 minutes to come together and I LOVE that we don't need to heat up the house to make it.
I've always been a big banh mi sandwich fan. It's one of my favorite things to order when I see it on the menu at a restaurant. Turns out, it's super easy to make this Vietnamese chicken sandwich at home with the right ingredients and just a small amount of prep! Chicken banh mi sandwiches
Why You'll Love This Easy Vietnamese Sandwich Recipe
Fast. Using store-bought rotisserie chicken helps cut down on the prep and makes this chicken banh mi sandwich come together super quickly. You'll have this meal on the table, start to finish, in just 15 minutes.
Easy. Using rotisserie chicken means you don't even need to turn your oven on to make these easy banh mi sandwiches. Most ingredients are store-bought so it's super simple to just assemble it and serve!
Perfect For Weeknights, or For Company.  This easy chicken banh mi sandwich recipe looks beautiful, tastes delicious, and is the perfect thing when you want a fast weeknight meal or an easy addition to a laid-back dinner party.
A great picnic meal! Wrap these easy sandwiches up in some parchment paper, pack them in your picnic basket with some chips and you're good to go! Their super portable and travel well.
What Is A Banh Mi Sandwich
A banh mi sandwich is sort of like the Vietnamese version of a submarine sandwich. "Banh mi" actually means bread in Vietnamese. It's a traditional Vietnamese sandwich that starts with a crispy baguette and tops it with pickled veggies like cucumbers and carrots, and some type of protein (usually pork or pork belly, pate, or some combination of these.)
A buttery mayonnaise dressing and fresh herbs like cilantro complete the sandwich. Often, a banh mi sandwich will contain some type of green or red chili to add a little kick. 
What's In This Chicken Banh Mi Sandwich?
Here are the ingredients you'll need for this easy chicken banh mi recipe
French Baguette. You'll want a thin baguette for this sandwich - lightly crispy on the outside and pillowy soft on the inside. 
Rotisserie chicken. The star of the show, using rotisserie chicken for these easy sandwiches makes this a FAST recipe for a busy weeknight. 
Pickled vegetables. These are staples in banh mi sandwiches. They add a nice tangy flavor to the sandwich. I used cucumbers and carrots here but you can also use radishes (daikon are typical in a banh mi), jalapeno or red chili peppers, or red onions. All taste great!
Mayo dressing. The dressing for this chicken banh mi sandwich uses mayonnaise, lime juice, black pepper soy sauce, and rice vinegar to add a bit of tangy goodness. You could also make this a spicy mayo by adding a touch of sriracha if you want an extra kick. 
Fresh herbs. Cilantro is the common pick here and really completes this sandwich. 
How To Make This Easy Chicken Banh Mi Sandwich
While a typical banh mi sandwich is made with pork, I was going for super easy and fast with this recipe and subbed in rotisserie chicken. I love using rotisserie chicken in dishes when I know I'm going to be short on time. The flavor is great and it's super easy to grab one at the supermarket and cut it up to use in recipes for the week.
Making this Vietnamese chicken banh mi sandwich is really easy and only requires a few steps, making it a great, easy 15-minute weeknight meal: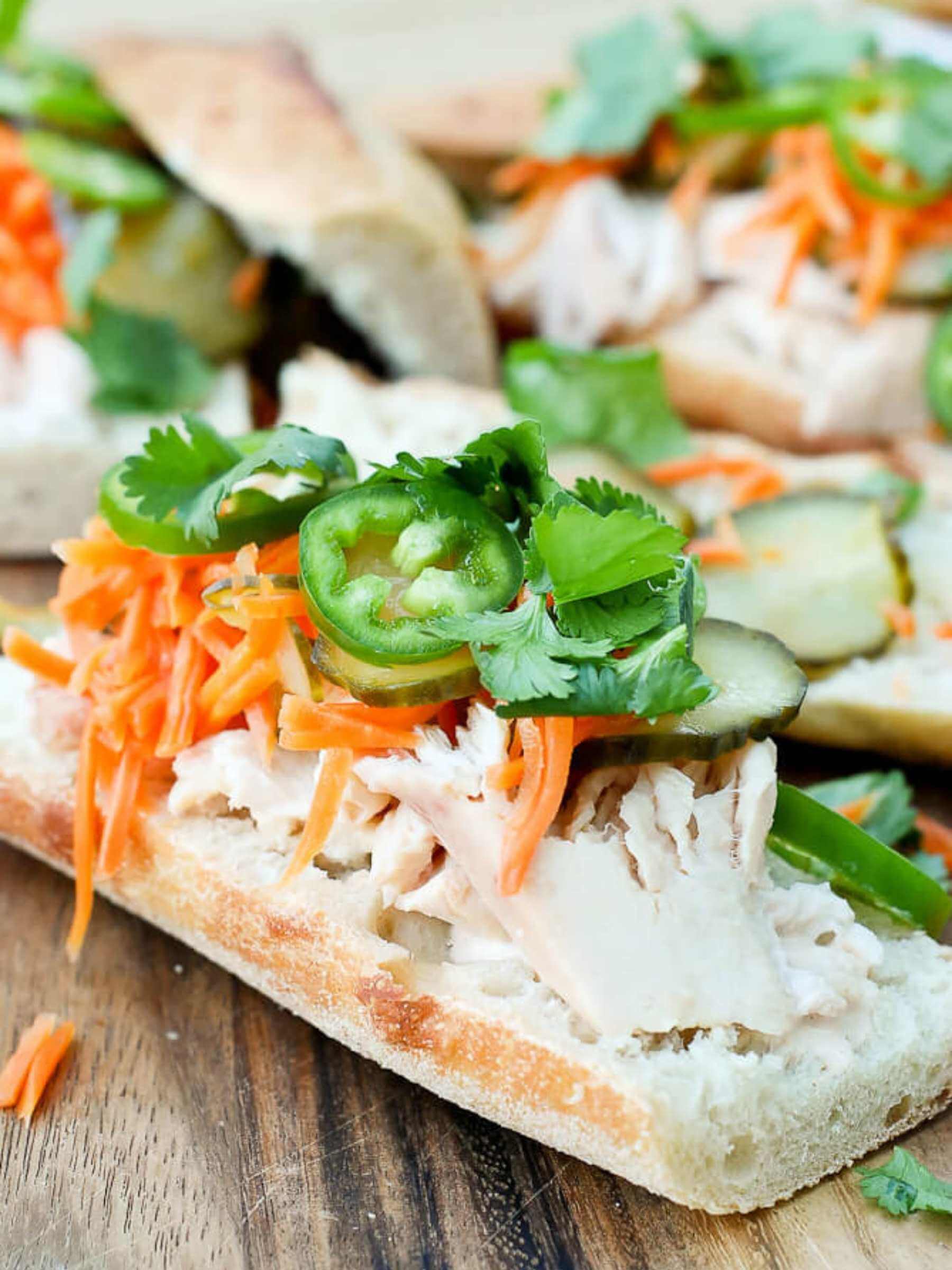 Start by making your Vietnamese pickled vegetables. You may be able to find pickled vegetables at the store, saving you even more time, but making your own is actually really easy and doesn't take much time at all. I used shredded carrots and cucumbers for this recipe as my pickled veggies. To pickle veggies, all you do is place them in a bowl covered with rice vinegar and sugar, then allow them to soak for about 15-30 minutes. Easy! (Note, while you don't need to leave these in the vinegar-sugar mixture long for them to have a great flavor, the flavors will intensify the longer you leave them to pickle.)
While your veggies are pickling, shred your chicken. This recipe subs in chicken for the typical pork, and using store-bought rotisserie chicken makes this meal even easier to throw together. Just shred the chicken while you're veggies are pickling. 
Make the mayo dressing. The dressing really adds a ton of flavor to these sandwiches so don't omit it! Make the dressing by mixing mayonnaise with some lime juice, soy sauce, black pepper, and a little bit of rice vinegar in a bowl. Set this aside to use once you assemble your banh mi sandwiches. 
Slice your baguette. A crispy on the outside, and pillowy soft on the inside baguette is essential for a Vietnamese banh mi sandwich. Grab a long french baguette and slice it down the middle. You can also scoop out some of the soft bready center to make more room for your filling if you'd like.
Assemble your banh mi sandwich! Pile your shredded rotisserie chicken on the bottom half of the baguette and add the pickled veggies to the top. Top with the mayo dressing. 
Don't forget your toppings! Add your thinly sliced jalapeno or red chili peppers to the top if using, then finish the chicken sandwiches with fresh cilantro.
Tips For The Perfect Sandwich
Use a fresh baguette. You want it soft on the inside and crisp on the outside. A great tip is to scoop out some of the inner portions of the baguette to make more room for your filling. 
Give your veggies time to pickle. You can pickle your veggies in just 30 minutes, but for a little stronger flavor, try pickling your veggies the day before. (Bonus points for meal prepping!). I also like to make a big batch of pickled veggies to use in other recipes throughout the week. When refrigerated, pickled vegetables will last for 5-6 months in a jar and they're nice to have on hand.)
Thinly slice your veggies. If pickling your own veggies, slice them thin. This is especially true if you're going to do a quick 30-minute pickling.
Don't skimp on the dressing or toppings. Because we're using rotisserie chicken here and we aren't using a marinade, the chicken won't have that Vietnamese flavoring that a marinated pork or tofu might have. Use plenty of the mayo dressing and pile your chicken banh mi sandwich high with the pickled veggies and toppings for an authentic banh mi flavor.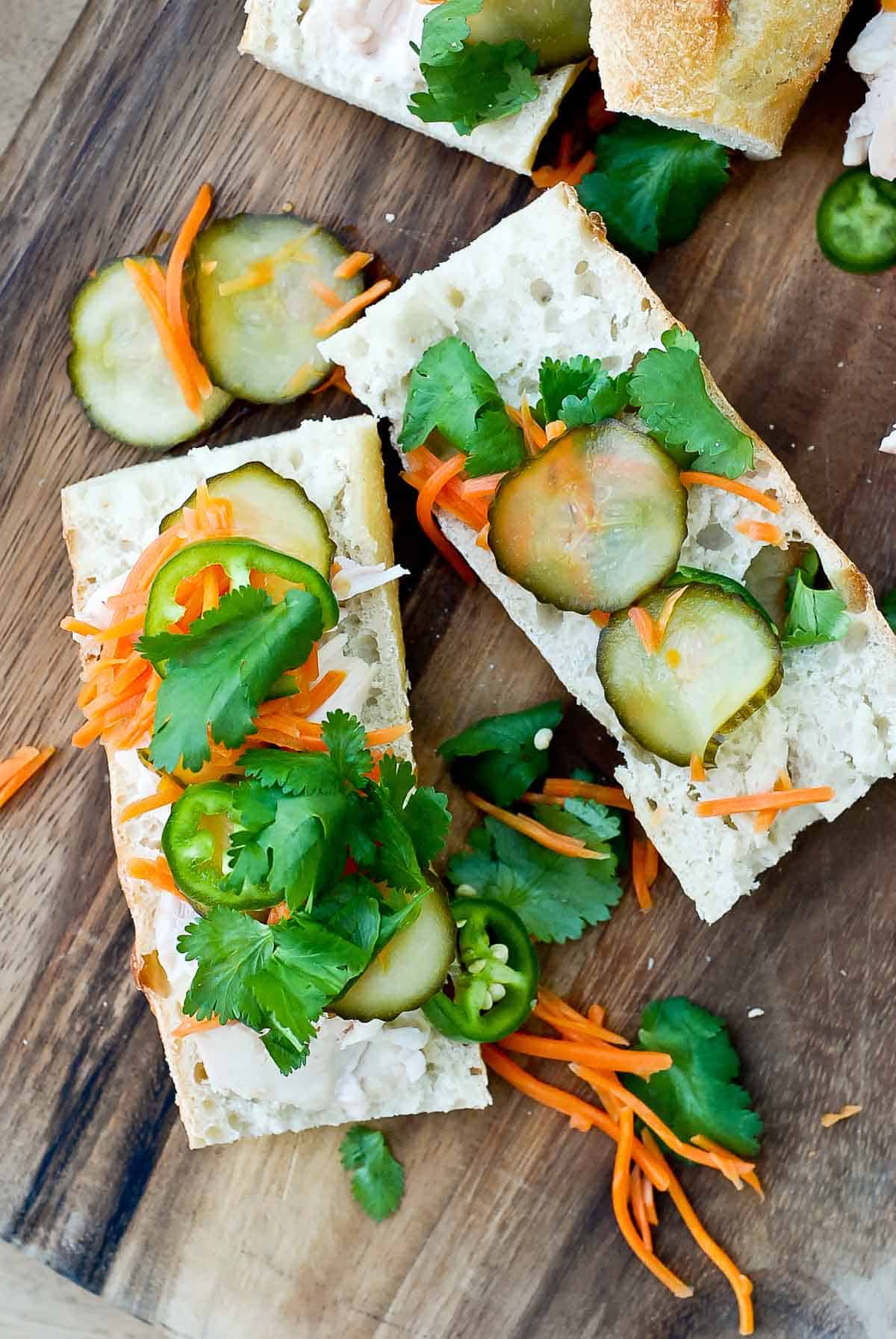 Variations on this traditional Vietnamese Sandwich
This rotisserie chicken banh mi recipe is fast, easy, and so delicious, but it's fun to mix it up and try some different combinations. Here are some ways you can customize this Vietnamese sandwich.
Add a different meat. As I mentioned above, traditional banh mi sandwiches use pork instead of chicken. Try using pork, pork belly, pork sausage, or even a pate for something different. 
Use eggs! Fried eggs are a popular variation of banh mi sandwiches. You can use them on their own, or alongside your pork or chicken. (Fried eggs are especially good when using pork sausage for these sandwiches - make sure to leave those yolks runny!.)
Try it with sardines. Canned sardines in tomato sauce are also a popular version of this Vietnamese sandwich. This version also receives bonus points for its easy assembly (no cooking required!).
Make it vegan! Looking to make this banh mi vegan? Use tofu as the protein base. This is a popular variation and is a great option for vegetarians. 
Mix up your veggies. Cucumbers and carrots are typical veggies used in a banh mi sandwich, but you can also try radishes, onions, or even jalapenos for some different flavors. 
Turn it into banh mi tacos! For a completely different idea, use crispy tortilla shells instead of the bread to make these into a taco Tuesday dish!
Spice it up! These Vietnamese sandwiches are delicious when served just like this. But if you're looking to up the spice even more, add a little sriracha sauce to the mayo dressing for an extra kick.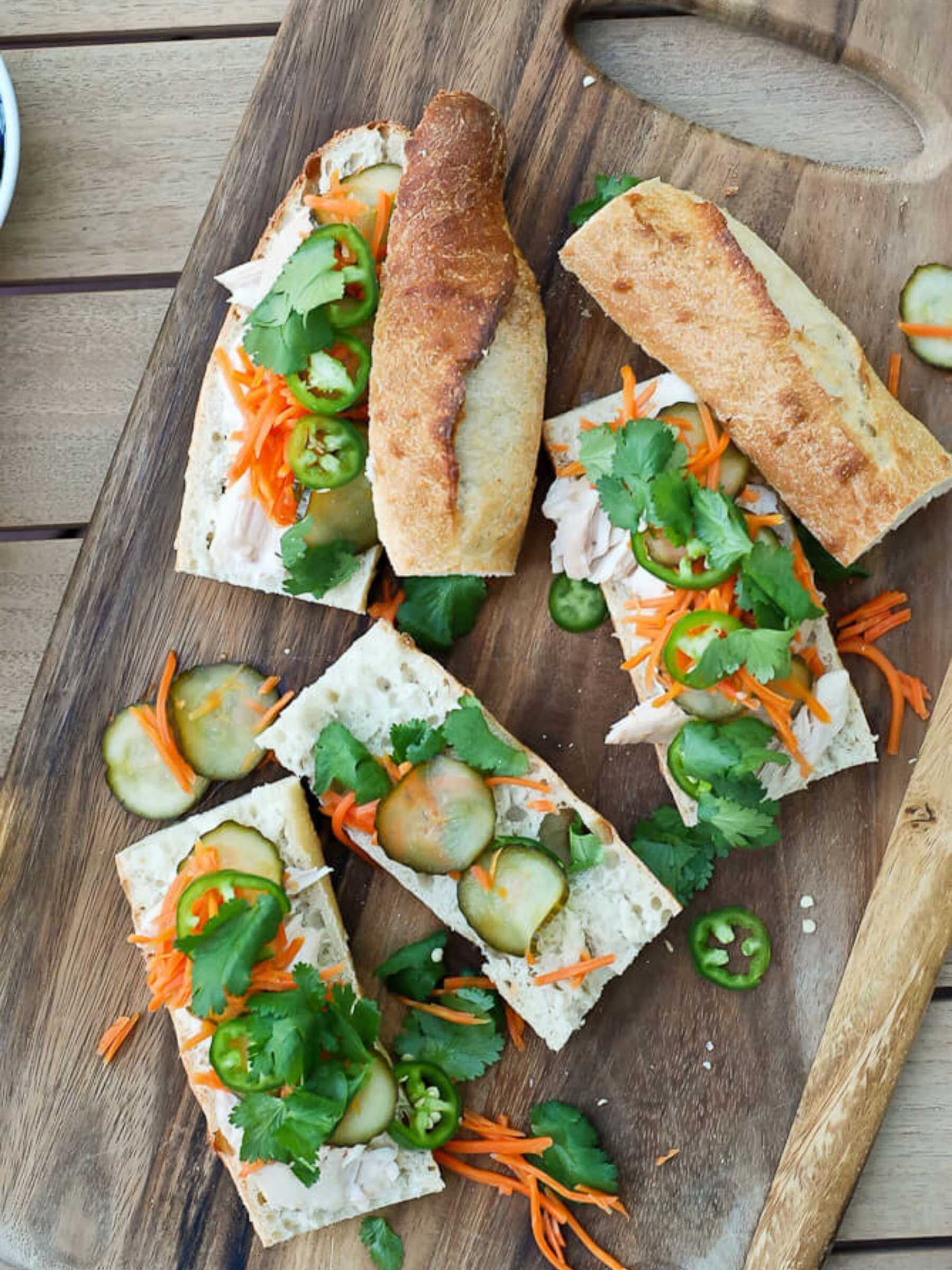 What to serve with a banh mi sandwich?
This classic Vietnamese sandwich goes great with any type of barbecue or picnic side. Here are a few ideas:
A nice green salad
Spicy or regular potato chips
Potato salad
Cucumber salad
I love this recipe not only because it's fast and delicious, but because it uses easy pantry staples that I typically have on hand.
Try these Easy Rotisserie Chicken Banh Mi Sandwiches this week and you won't be disappointed. And don't forget to tag @frontrangefed on Instagram with pics of your completed dish - I love seeing your creations!
Other Easy Weeknight Recipes
Recipe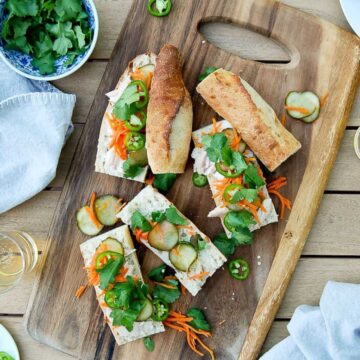 Weeknight Rotisserie Chicken Banh Mi Sandwiches
Store-bought rotisserie chicken and simple veggies make these chicken bahn mi sandiwches crazy easy to pull together - perfect for a weeknight meal or a delicious addition to your picnic basket.
Ingredients
1

cup

water

1 + ½

cup

rice vinegar (divided)

⅔

cup

sugar

1 ½

cup

shredded carrots

1

cup

thinly sliced English cucumber

¼

cup

mayonnaise

1

tablespoon

lime juice

1

tbsp

soy sauce

½

teaspoon

ground black pepper

1

16 oz baguette

10

oz

shredded chicken

1

cup

cilantro

1

jalapeno, thinly sliced
Instructions
Combine 1 cup water, 1 cup rice vinegar, and ⅔ cups sugar in a small saucepan and bring to a boil over high heat.

Add the carrots and cucumber slices and cook for one minute. Turn off heat and allow the mixture to cool completely, about 30 minutes before draining the liquid.

Meanwhile, mix together the mayo, lime juice, soy sauce, black pepper, and ½ teaspoon of the rice vinegar in a bowl. 

Cut the baguette into four equal portions, and split each horizontally. 

Spread the mayo mixture on either side of each sandwich. Layer the chicken, carrot and cucumber mixture, and cilantro on the bottom halves of the sandwiches. Top with jalapeno slices.
Notes
Tips For The BEST Chicken Banh Mi Sandwich:
Use a variety of cuts from your rotisserie chicken. Some portions of the chicken (like the breast) may be a bit drier. Be sure to incorporate a mix of chicken thighs, legs and breast into your sandwich filling.
Scoop out some of the center of the baguette to make more room for the banh mi filling.
Use fresh baguette. You don't want stale bread for this recipe. 
Don't skimp on the toppings. Liberally apply your mayo dressing and pickled veggies to the sandwich to add great traditional banh mi flavors. 
Recipe adapted from Eating Well, January/February 2019 Issue