Avocado Toast With Egg is a quick and easy breakfast staple. This one adds a squeeze of lemon and crushed red pepper for zing and tops it with a tomato and fried egg. Delicious!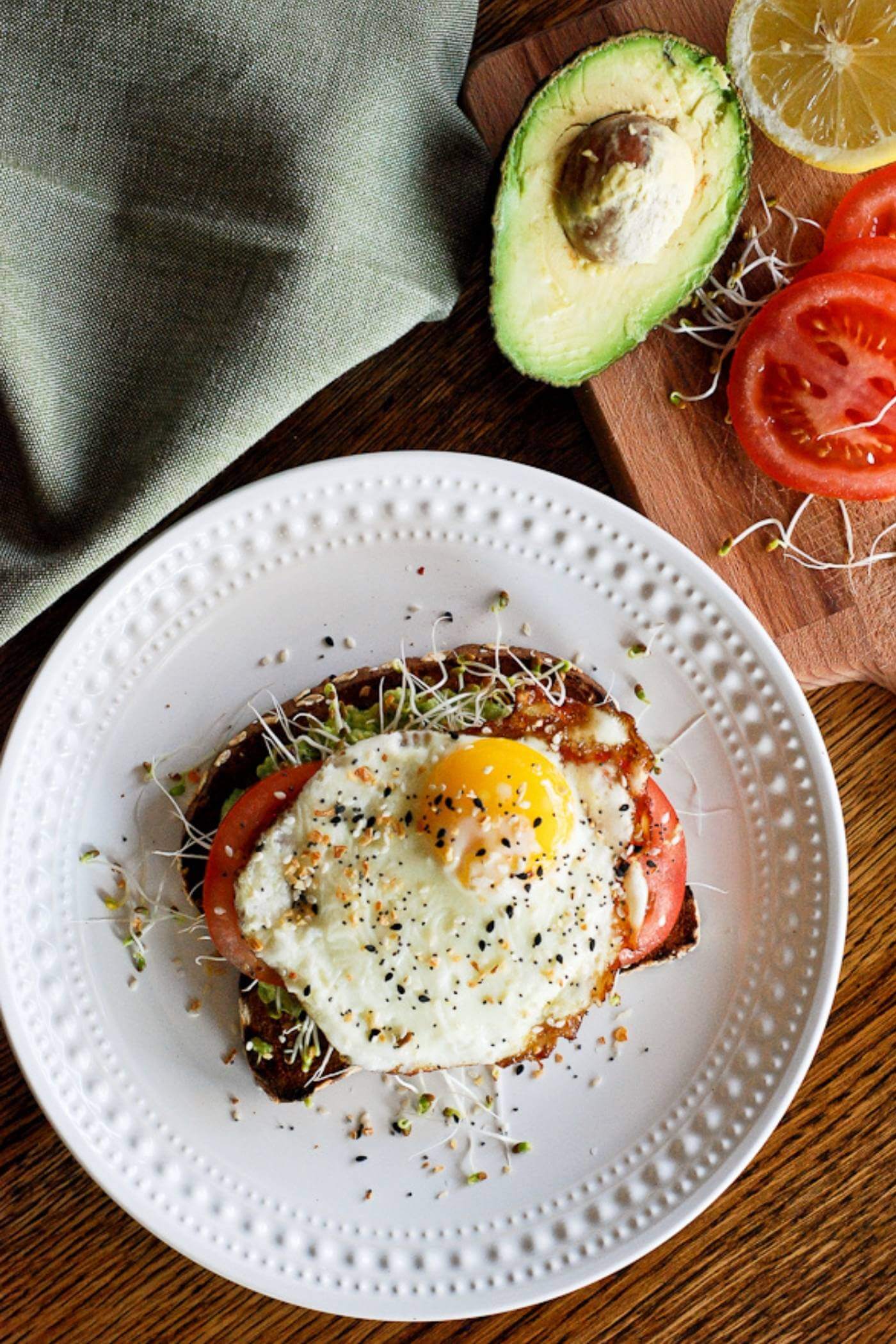 I'm sitting down to write this at the beginning of September and if you would have told me back in January all that would have happened this year, I would never have believed it. (I'm sure many can share this sentiment.) Back then, my kids were in school, my friends and family were all healthy, and my biggest problem was probably figuring out what to feed my family for breakfast.
Fast forward to today, and we're in the midst of a crazy virus, and civil unrest, and I've lost one of my biggest fans, my father to brain cancer. If you read my previous post from April (yes, it's been that long since I've written), you'll know that my family was going through a rough time.
My Dad had just been diagnosed in February but had completed radiation and a round of chemo and it appeared that it had actually been working! His tumor had shown signs of shrinking. My two boys and I were excited at the prospect of spending the summer with him and were counting down the days until they were finished with school and we could drive out to see him.
Then, towards the end of May, my Dad had a stroke. I rushed home; driving all night from Colorado to Illinois, trying to make it in time, as the doctors had told my Mom there was not much more they could do for him…he had a couple of days at most, they thought. All my siblings were headed to see him as well, and luckily we all made it – even some driving 3 days across the country with their little ones.
We were with my Dad in the hospital for a few days before we decided to bring him home for hospice care. It was an incredibly difficult decision, but it was what he wanted – to be with his family in the home that he built and lived in for close to 50 years.
My father died just two days later, surrounded by all of us - his wife, kids, and grandkids. While he was unable to open his eyes or talk with us, he gave us signs that he knew we were all there during his final days at home, and I know he felt the love we all had for him, pouring out of us each time we held his hand, gave him a kiss, or whispered how much he meant to each of us in his ear. A squeeze of our hand when we told him we loved him. A raise of his eyebrows when his grandkids sang him a goodnight song or gave him a hug. These were his final experiences and I'm so glad that we were able to share those with him.
I've written this post several times to try to express the emotions I've been feeling since then, but it all falls short and nothing seems to capture it just right. The finality of him being gone has been so overwhelming and still seems completely unreal. How could this have all happened so fast? I'm so grateful to have had those last moments with him and think of him every day. I am still greatly grieving the loss of him and imagine that will never completely go away.
The months of June and July were spent with my Mom, siblings, my kids (and two surprise visits from my sweet hubby!), grieving, and trying to move forward. We laughed and cried together as we recalled memories and tried to pick up the pieces and move on, one day at a time.
I cannot count the number of people who helped us do that. We received countless meals and gifts from neighbors, friends, and family that live locally: casseroles, sandwiches, more cards than we could count, flowers, and random acts of kindness that we didn't even realize we needed, but they somehow knew.
But we also received so much comfort from so many friends all across the country: cards, gift baskets, flowers, stamps, meals sent on dried ice, gift cards for groceries or local restaurants, specialty shipments of ice cream, donations to the glioblastoma foundation made in my Dad's name…the list goes on. The outpouring of support from loved ones was truly inspiring and was such a comfort during such a difficult time. Thank you, to any of you reading this, for your love and kindness toward my family over the past several months. You will never truly know how touched we were by all of your kind and giving hearts.
The boys and I came back to Colorado at the end of July and were able to enjoy a few short weeks of summer before they started school at the end of August. As with most schools across the country, we are starting remotely, which makes things seem even stranger and only adds to this surreal year.
It's been a struggle to think about this blog this past summer when I don't even feel much like cooking at all. But I'm slowly getting there and am starting to look forward to digging back into it. My Dad always read my posts and was one of my biggest supporters. I know he would want me to continue to press on and I keep hearing his voice in my ear to just get going already.
So, here I am, my first post since April. I'm keeping it simple, since that's what feels the most natural these days, and starting with an avocado toast with egg recipe.
Yes, that's right. The lowly avocado toast. Praised always for its deliciousness and simplicity, but probably posted so often on food blogs that it feels a little silly for me to even post it here. But there is a reason that avocado toast recipes are so popular – they're healthy, full of protein, super easy to make, and you can eat them for any meal – breakfast lunch, or dinner. And, oh yeah, they're delicious! And while it's been done a thousand times, here is how I like to make it.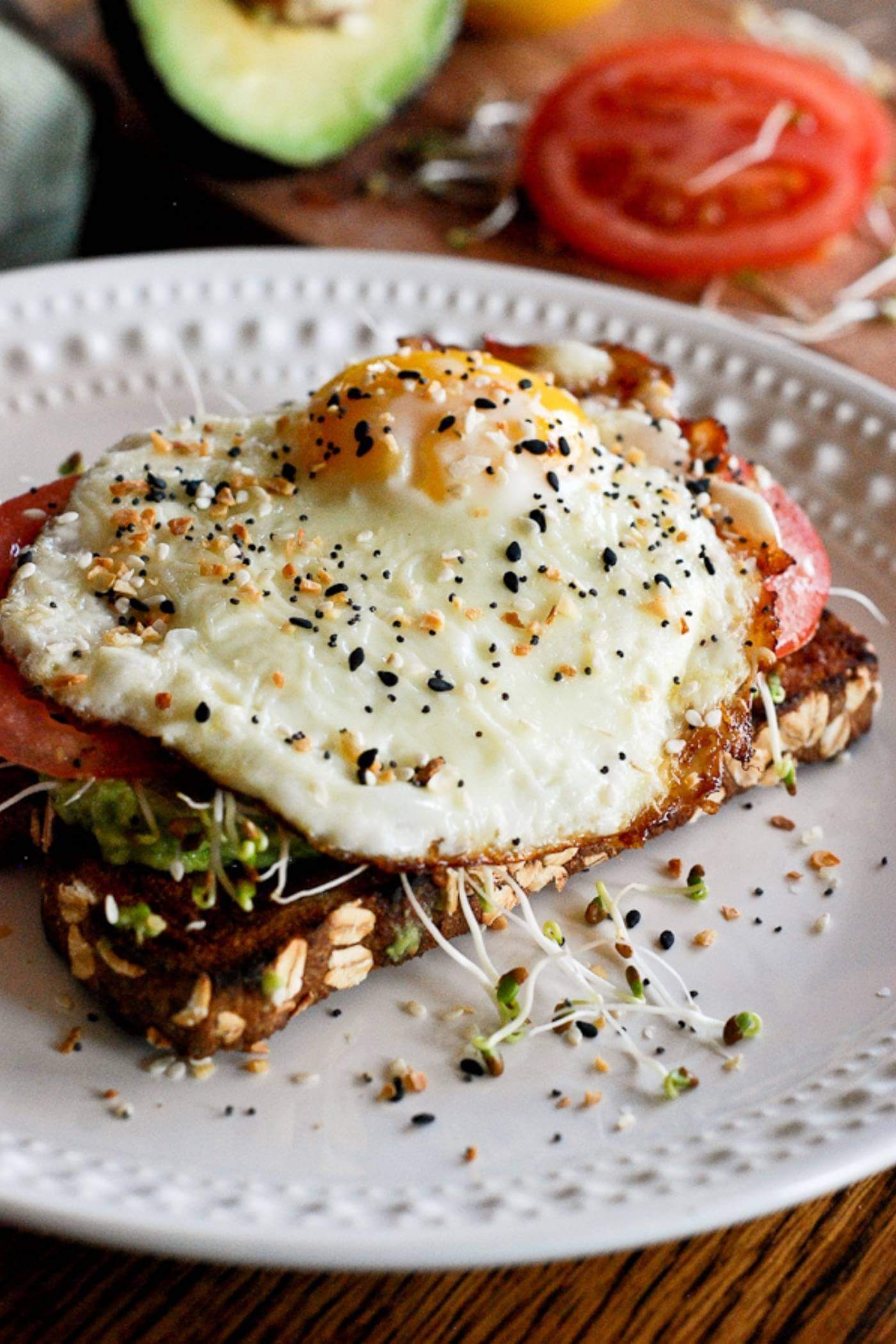 How To Make Avocado Toast With Egg
I start with a base recipe for the avocado mash. Sure, you could simply mash up some avocado and plop it on a plain piece of toast, but, you'll end up with a bit of a ho-hum breakfast, (in my opinion), with little taste. To really make the avocado shine, you need to add a few basics: a squeeze of lemon, a sprinkling of salt, and a small pinch of crushed red pepper, are my favorites.
Mix all of the above together in a bowl. Butter your toast, and add the avocado mixture. While most mornings I might just stop there and call it a meal, if I'm feeling really fancy, I'll slice up a fresh tomato (which are so so good right now) and then pile it on top of the avocado, then add a fried egg, some sprouts, and everything bagel seasoning. A delicious and perfect way to start (or end?) your day.
A word does need to be said about the type of bread you use. I've tried avocado toast with a lighter bread, but you really need something with some heft to hold the weight of the avocado and all these toppings. Choose something sturdy, maybe with a little seasoning to add flavor. What I'm saying is, don't skimp on the bread here – it's the foundation of everything and you don't want it crumbling, breaking, or getting mushy on you.
So there you have it. An update from me, and a simple Avocado Toast With Egg Recipe that you can make any time of day during this busy and strange season we're all going through. I hope you are all well, and can't wait to begin to connect with you again more regularly.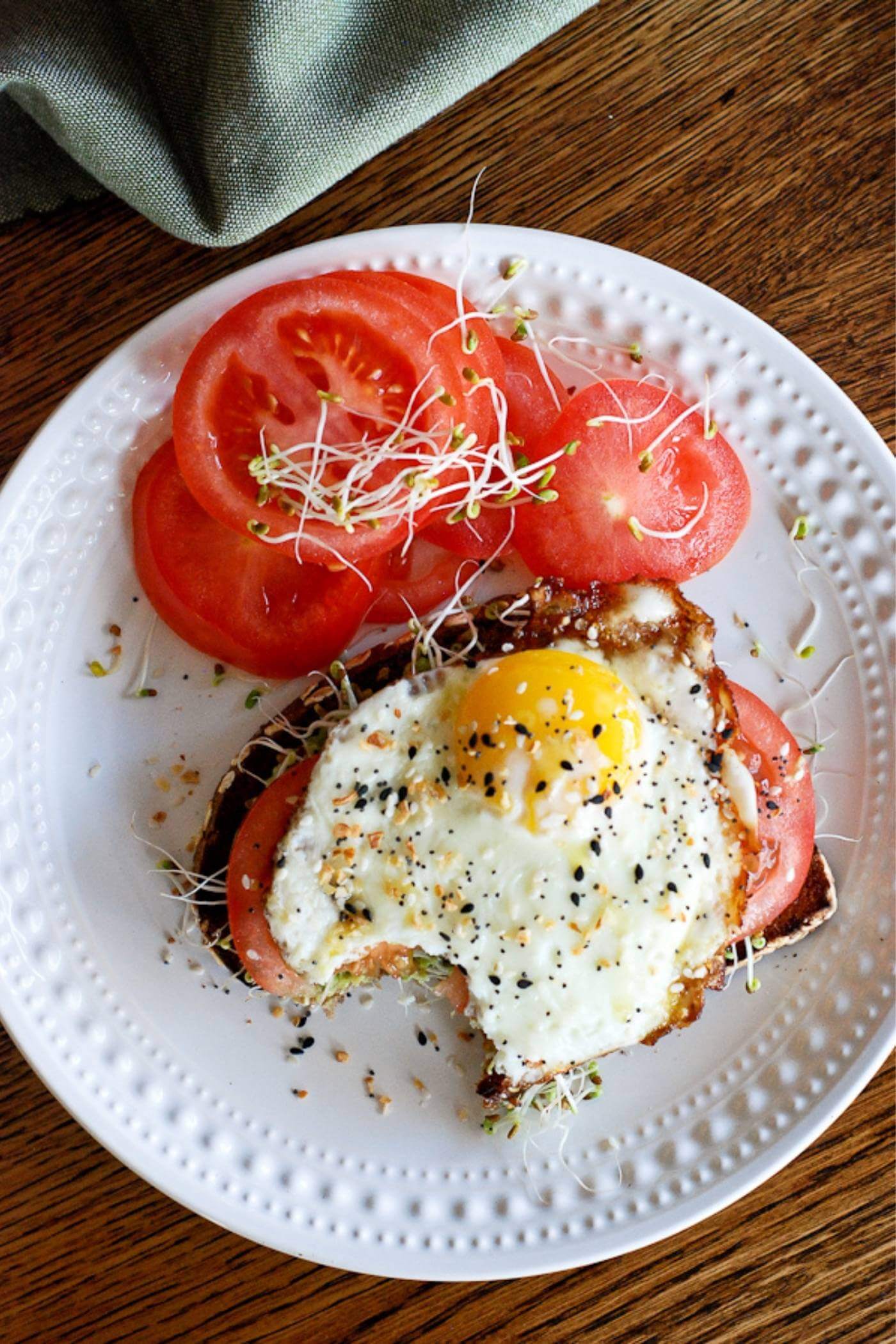 More Simple Breakfast Recipes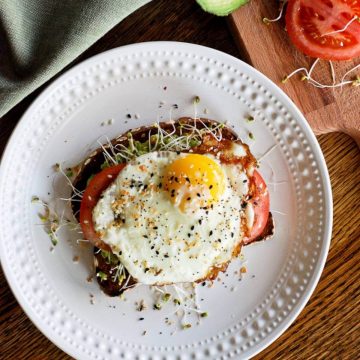 Avocado Toast With Egg
Avocado toast with egg is a quick and easy breakfast staple. This one adds a squeeze of lemon and crushed red pepper for zing and tops it with a tomato and fried egg. Delicious!
Ingredients
1

slice

thick toast (use something with a little weight to it that won't fall apart easily)

½

teaspoon

butter

¼

mashed avocado

1

pinch

sea salt

¼

¼

teaspoon

fresh lemon juice

1

pinch

crushed red pepper

2

thick slices of tomato

1

egg, fried

⅛

cup

bean sprouts

1

pinch

everything bagel spice

salt and pepper to taste
Instructions
Slice your toast to your desired doneness. 

While your bread is toasting mash your avocado and mix in the sea salt, lemon juice and crushed red pepper.

Fry an egg and set aside.

Once your toast is done, butter the toast and add the mashed avocado mixture.

Top the avocado with two slices of tomato.

Add the fried egg on top of the tomato, and sprinkle the bean sprouts on top of the egg.

Add everything bagle spice, if desired.

Add salt and pepper to taste, and enjoy!