Looking for an Easy Homemade Blueberry Waffle Recipe? These waffles are light and fluffy on the inside and crispy and golden brown on the outside resulting in the perfect bite every time.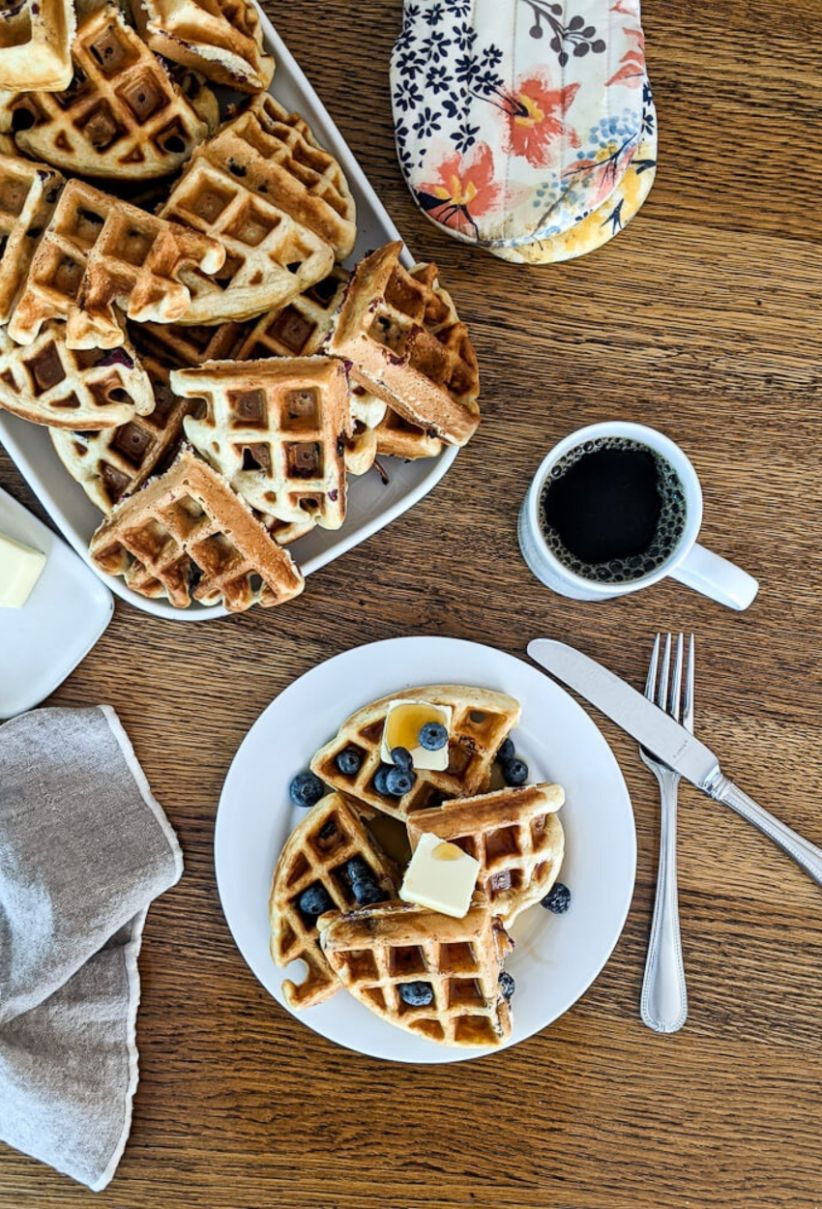 Do you have any weekend traditions? One of our favorites is brunch. No matter what, we always try to make time for a good breakfast on the weekend (even amidst soccer and baseball craziness!), whether it be a full-blown casserole or simply scrambled eggs and bacon. But, our two favorites are homemade waffles and pancakes, and, while my husband is the resident expert for pancakes, I am the appointed queen of waffles. 
This homemade blueberry waffle recipe took a little time to perfect - my first attempts came out too chewy and not crisp enough on the outside. But after several tries and adjustments, I'm proud to call this the best. We love blueberries in these waffles, but really, any berry would be great.
I Love This Homemade Blueberry Waffle Recipe For Many Reasons:
They're super easy to make, and you likely have all the ingredients you need already.
These blueberry waffles come together pretty fast. I do recommend letting the batter rest for 15-30 minutes before making the waffles. Resting the batter this way allows the flour to moisten and helps the batter to cook more evenly. I typically whip up the waffle batter and then prepare the toppings or any other sides we're serving for breakfast to give the batter time to rest. By the time the waffle iron is warmed up, the batter is ready to go.

They freeze really well. You can make a huge batch of these and stick them in the freezer for later - they toast up well, just like store-bought frozen waffles (but they taste way better!).

Best of all - the taste! They are so crispy on the outside and light and fluffy on the inside, the perfect combo for a waffle.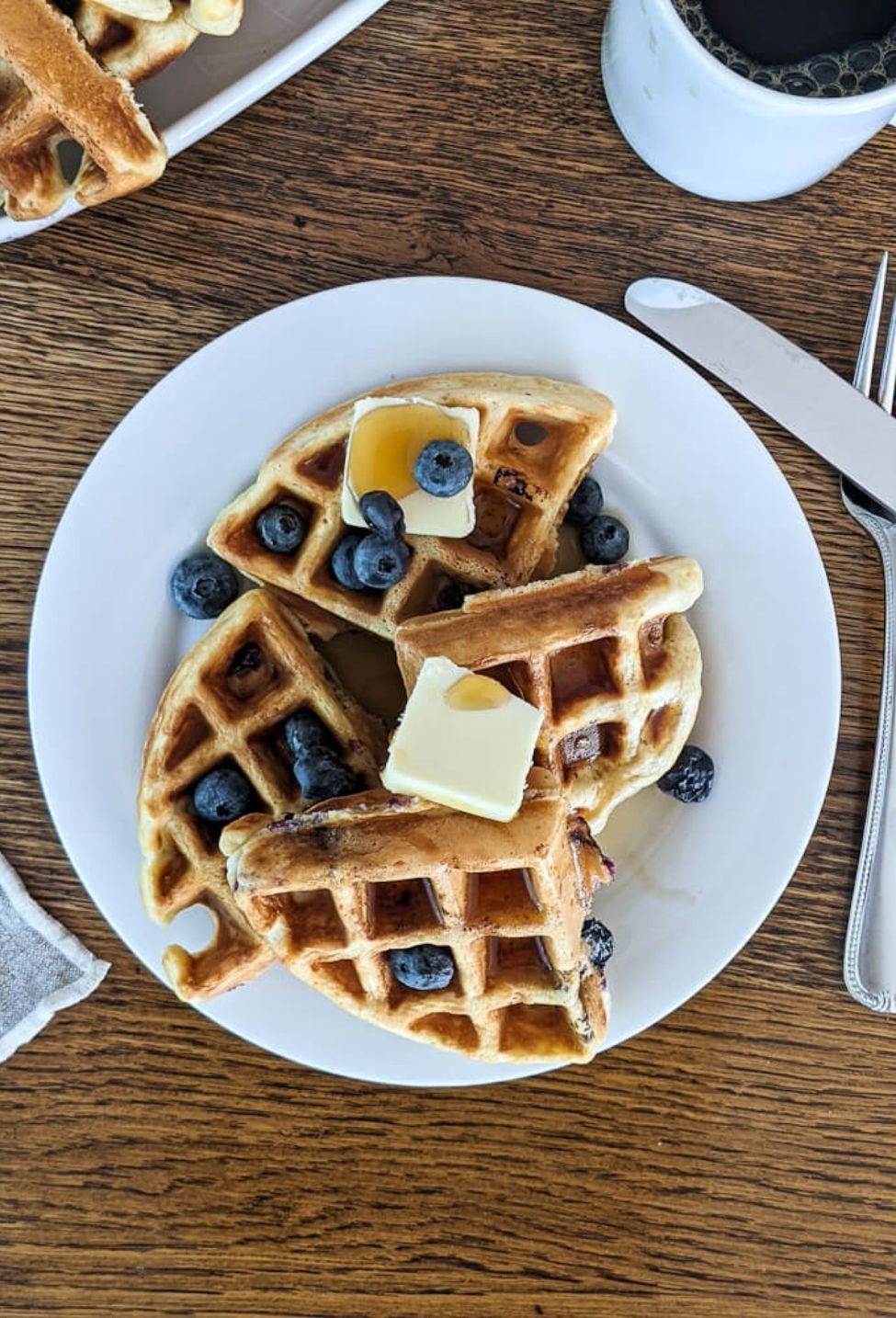 How To Make Them
Start by making your batter. Whisk your dry ingredients together and then set aside. Then, separate the egg whites from the egg yolks. Set the egg whites aside. Combine the egg yolks with the rest of the wet ingredients, then add the wet ingredients to the dry ingredients and stir to combine.
In a large bowl with the egg whites, whisk the whites until stiff peaks form. You can do this by hand or with an electric mixer. This helps to make your waffles so light and crispy.
Fold whipped egg whites into the batter, then add your blueberries and stir until just combined. Let the batter sit for 30 minutes.
If you're running short on time and can't wait this long, it's ok - you'll still end up with a pretty good waffle. But letting the batter sit for even just a bit helps to hydrate the flour and allows the gluten to soften and expand, giving you a much lighter waffle with better consistency. I actually find that by the time I've prepared my waffle maker and my toppings, the 30 minutes go by pretty quickly.
Once your waffle maker is ready, add ¼ to ½ cup of batter to it and cook for 4-5 minutes until the waffle is a nice crispy golden color.
Serve immediately with the toppings of your choice.
Topping Ideas
Of course, I love the standard butter and maple syrup on blueberry waffles, but you can also mix it up. We've tried tons of variations:
Sour cream + powdered sugar + berries
Whipped cream (we may have even added some gummy bears and M&Ms to this once for a special birthday!)
Peanut butter & jelly
Nutella + sliced bananas
Sauteed cinnamon and sugar apples
Almond butter
Ice cream - yes, this could also be dessert!
Fried egg
Fried chicken
Helpful Hints
Using room-temperature milk and buttermilk isn't mandatory, but it does help to keep the melted butter from solidifying when you mix them.

Separating your egg yolks from the egg whites and whisking the whites separately before adding them into the batter helps to lighten the batter a bit, making a nice golden brown and crispy exterior.

You may want to do a test run to make sure your waffles are cooking long enough (and not too long!). Every waffle maker is different and it took me a few tries to get the cooking time perfect for waffles when I first tried this recipe.
Can I Freeze Them For Later?
Yes! We often make a double batch of these blueberry waffles for exactly that purpose. Just wait until they've cooled completely, then put them in an airtight freezer bag and pop them in the freezer. They should keep for 3-4 months.
This makes for a super easy breakfast since you can pop the frozen waffles in your toaster and they come out beautifully.
Give these Homemade Blueberry Waffles a try for your next weekend brunch! If you do try them, leave a comment below and tell me what you think, and don't forget to tag me on Instagram @frontrangefed with a pic!
Try These Other Great Breakfast Recipes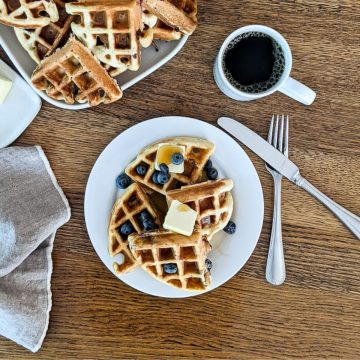 Homemade Blueberry Waffles
Looking for an easy blueberry waffle recipe? These waffles are light and fluffy on the inside and crispy and golden brown on the outside resulting in the perfect bite every time.
Ingredients
2

cups

all-purpose flour

1

tblsp

sugar

½

teaspoon

cinnamon

1

teaspoon

baking powder

¾

tsp

salt

½

tsp

baking soda

5

tblsp

unsalted butter, melted

1

cup

buttermilk

(room temperature)

1

cup

milk

(room temperature)

4

large

eggs

1

teaspoon

vanilla extract

6

oz

blueberries

(fresh is best but frozen will work too)
Optional Toppings
maple syrup

whipped cream

fresh fruit

sour cream

powdered sugar

peanut butter or almond butter
Instructions
Whisk the flour, sugar, cinnamon, baking powder, and baking soda together in a large bowl.

Separate the egg whites from the egg yolks and set them aside.

Combine the buttermilk, milk, melted butter, and egg yolks in a separate bowl and whisk until combined.  

Add the wet ingredients to the dry ingredients and combine until no lumps appear. 

Using an electric mixer, or by hand, whisk the egg whites until they're light and airy and stiff peaks form. Fold the egg whites into the batter.

Carefully stir in the blueberries until just combined.

Allow the batter to sit for 30 minutes while you warm up the waffle iron. (This step is optional, but allows the flour to fully hydrate, allowing the batter to cook more evenly.

Preheat your waffle iron. Add ¼ - ½ cup of batter to the waffle iron (depending on how big yours is) and cook until crispy on the outside. (My waffle maker typically takes about 4-5 minutes for each waffle). 

Serve immediately with toppings. Waffles can also be frozen and reheated in the toaster for a quick weekday breakfast.