This recipe for Soft, Buttery, Creamy Scrambled Eggs is the best. Cooking the eggs over very low heat makes them silky smooth and is the BEST way to make sure your scrambled eggs come out perfect every time. Great for breakfast, lunch, or dinner!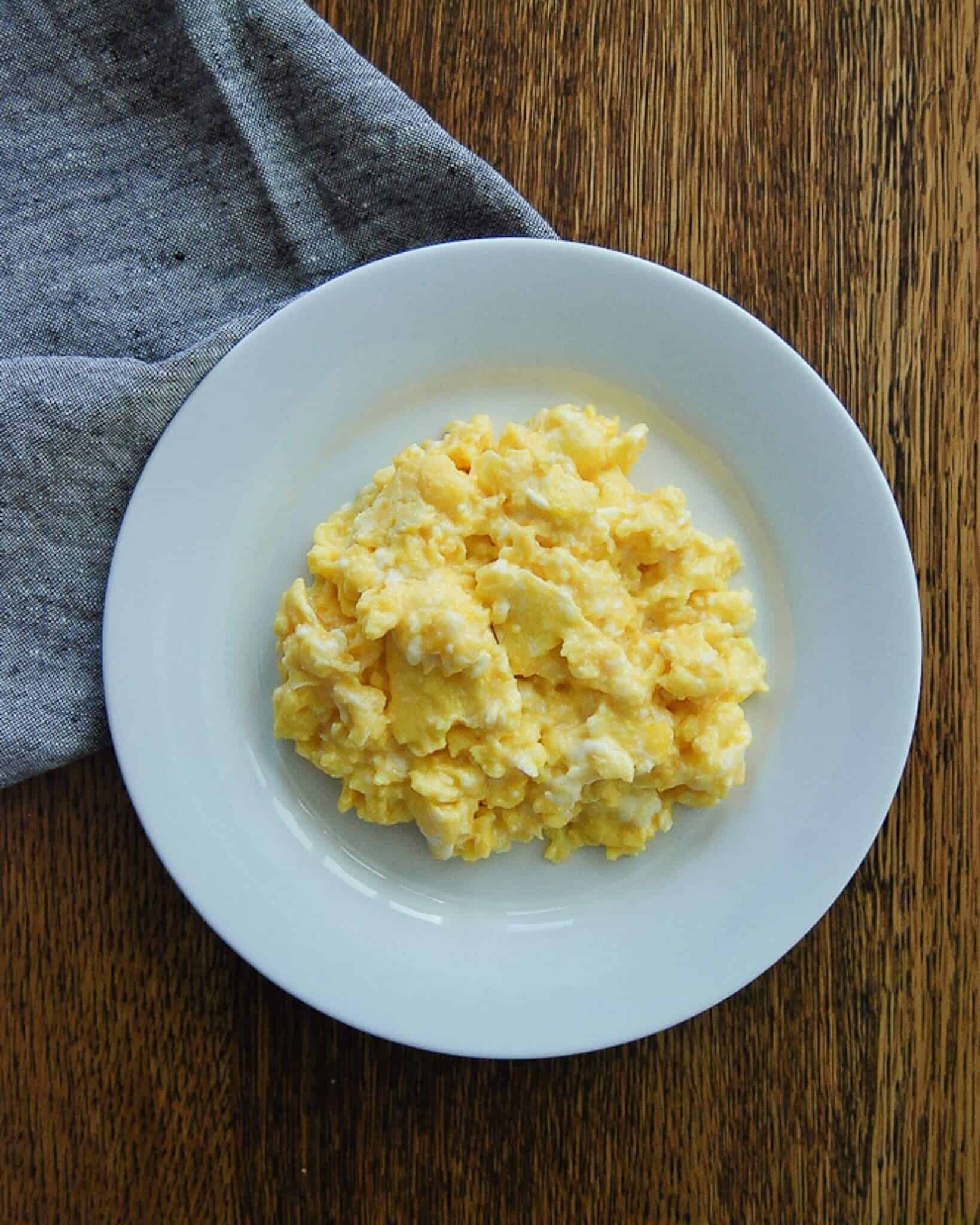 Most folks are either a scrambled egg person, or they're not. And I believe that it's 100% dependent on how they've had their eggs prepared in the past. Cooked too quickly and they turn into rubbery clumps. But cooked properly, they become soft, creamy layers of buttery goodness, enjoyed just as much on their own as they are stuffed inside a breakfast burrito or piled onto a sandwich.
Scrambled eggs are a staple in our house. Most weekend mornings you'll find us making these soft and creamy scrambled eggs, accompanied by a thick piece of toast and the occasional slice of bacon. They're the ultimate in easy, since even when cooking them slowly they never take more than 15 minutes, start to finish. And they're a great way to work some protein into your daily diet, without too many calories (only 91 calories per scrambled egg!). I promise – this recipe for silky smooth eggs will change the way you think about scrambled eggs.
How To Make Soft And Creamy Scrambled Eggs
The secret to good creamy scrambled eggs is simple, and all in the technique. Keep your heat low, and lovingly stir the eggs over a period of 15 minutes or so on the stove. Note that 15 minutes is an average for these, not an exact time. You really need to watch these closely since they can go from perfectly creamy to overdone in a matter of seconds. Read below for tips on how to make the BEST creamy scrambled eggs!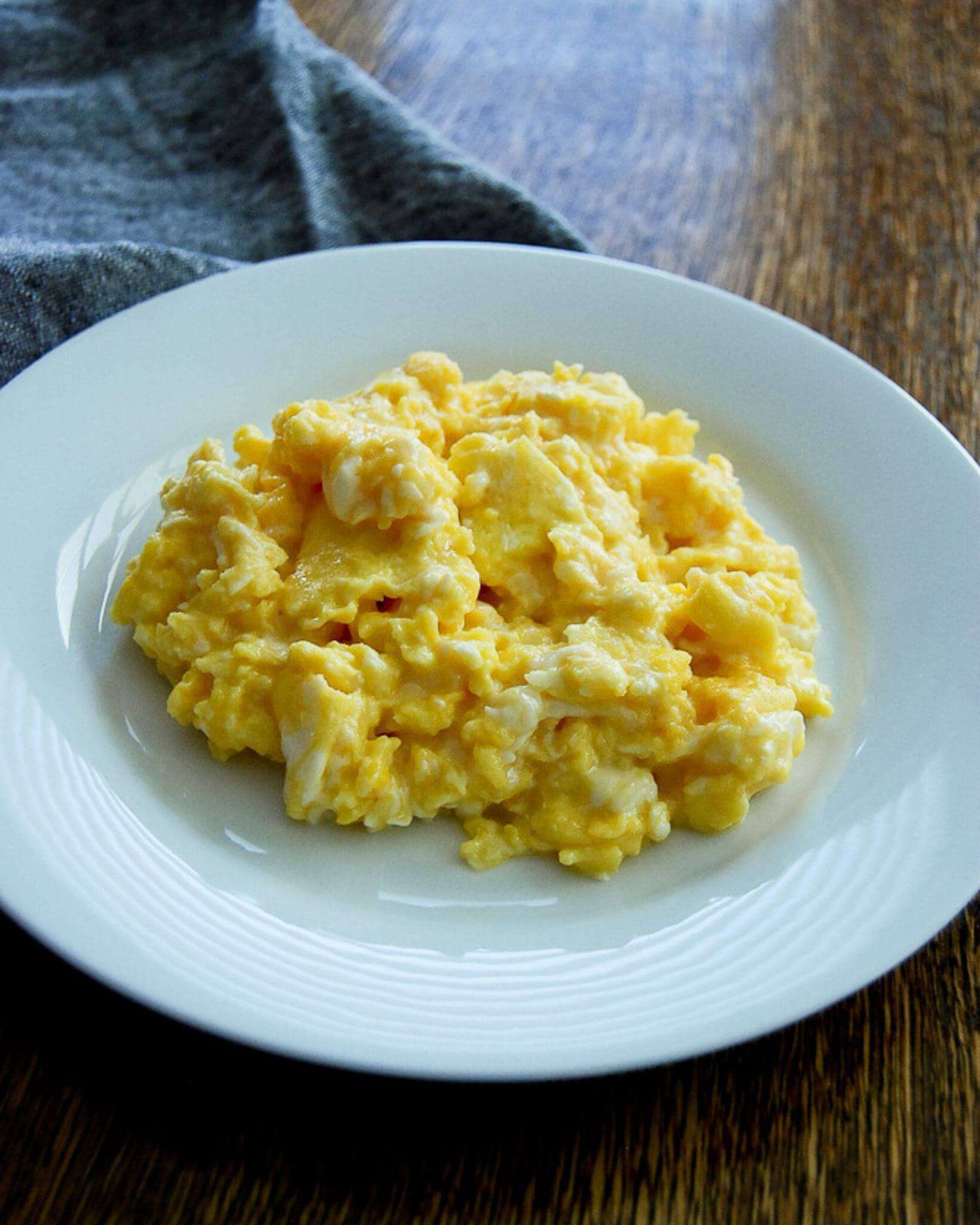 Helpful Hints For Making Creamy Eggs
Don't add milk or cream. I know some people like to do this, but just….don't. Trust me. It changes both the taste and the texture of the eggs, making them runnier, which may even cause you to overcook them, which then would make them rubbery. Save the milk for your coffee.
Keep your heat low. This may be the most important tip here. We start off with very low heat and then inch it up as we cook, adjusting the temperature as we see how quickly the eggs are cooking. Low and slow is the name of the game if you want your eggs soft and creamy instead of dry and rubbery.
Stir frequently. You're not trying to make an omelet here so make sure you're standing close and stirring continuously so you don't end up with huge overcooked clumps. Frequent stirring and scraping the cooked eggs from the bottom of the pan will ensure that your eggs are cooking evenly and you're not overcooking them in the areas that are touching the pan. 
Remove the eggs from heat before they are done cooking. Yes, the eggs will look almost too soft, and a little runny, but they'll continue cooking, even after you remove them from the heat and will result in the most perfectly creamy scrambled eggs. Err on the side of caution and remove them before they're done. You can always add them back to the heat after a few minutes if they aren't firming up as much as you'd like. 
To really keep them from overcooking, add in just a small touch of cream cheese.  This will cool them down and keep them from getting too firm. You could also use a tiny bit of sour cream (with caution - too much of it will, again, make the consistency of the egg runny), or even cold shredded cheese to help reduce the heat of the cooking eggs.
Add-Ins
As I said, I love simple creamy scrambled eggs on a thick piece of toast with a side of bacon, but there are literally hundreds of ways you can customize these eggs and mix things up. Here are a few ideas:
Add in some cheese. You can add just a touch of cream cheese that I mentioned above, but you can also (or instead of) add cheddar, feta, pepper jack, or whatever type of cheese you have in the fridge. I'm partial to a sharp cheese to add some great flavor but a mild creamy cheese can be great with eggs too.
Throw in some herbs. Dill, thyme, sage, basil, parsley or any other herb you have on hand can really make your scrambled eggs unique.
Sausage, chorizo, ham, or bacon are great additions.
Smoked salmon plus a little cream cheese tastes amazing with scrambled eggs.
Veggies, like tomatoes or onions, or greens like a handful of spinach not only add great taste but also are an awesome way to pack in some extra veggies.
I may be biased, but I truly think this is the best way to make scrambled eggs. Follow these steps and you'll have Perfectly Soft And Creamy Scrambled Eggs every time!!
Have you tried this recipe? Tell me what you think in the comments! And be sure to tag me on Instagram (@FrontRangeFed) with a pic of your creation!
More Great Breakfast Recipes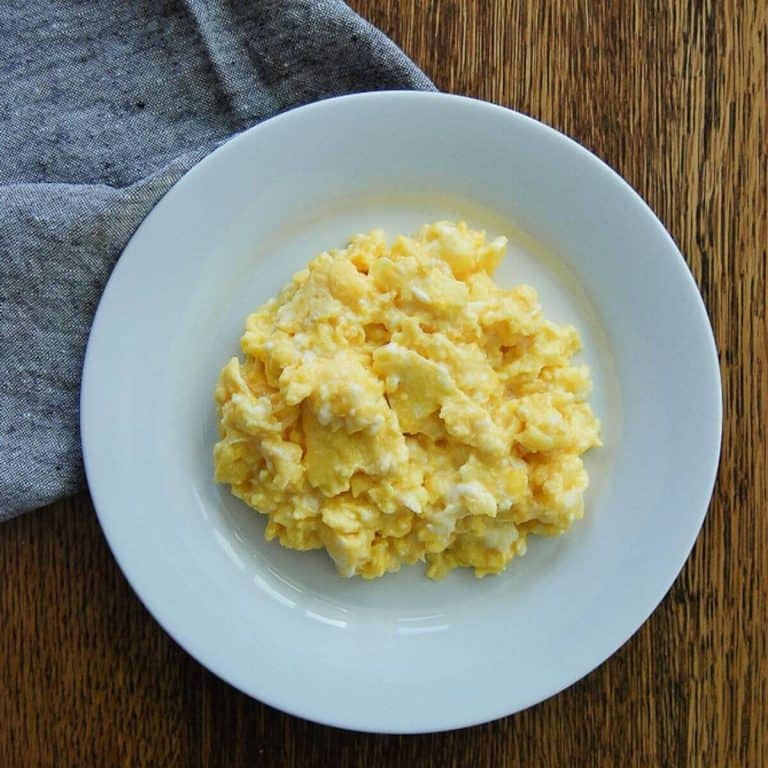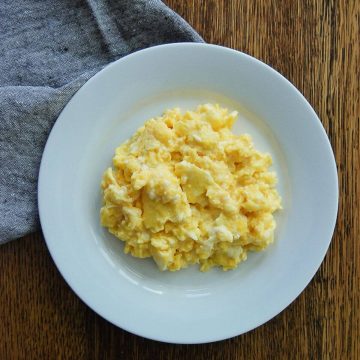 Creamy Scrambled Eggs
This recipe for soft, buttery, creamy scrambled eggs is the best.  Cooking the eggs over very low heat makes them silky smooth and is the BEST way to make sure your scrambled eggs come out perfect every time. Great for breakfast, lunch, or dinner! 
Ingredients
8

large eggs

2

tablespoon

butter

½

tsp

salt

1

teaspoon

cream cheese
Instructions
In a large bowl, crack eggs and beat with a whisk until yolks and whites are completely blended. Add the ½ teaspoon of salt and stir to combine.

In a medium-sized frying pan (nonstick is the easiest for eggs), turn the heat to medium-low. Err on the side of too low here – if you're not sure, you can always increase the heat but once you've gone too high, it's hard to go back. Add the butter and allow it to melt, swirling it to coat the pan.

Add your eggs and stand by. After about 30 seconds, you'll see a thin layer of cooked eggs forming on the edge/bottom of the pan. Use your spatula to gently scrape the cooked bits from around the edges of the pan. At this point, you'll want to watch the eggs closely and continue to stir them to prevent them from getting too firm.

Just before the eggs are completely set (they will still look slightly runny) remove them from the heat and add the cream cheese. The coolness of the cream cheese prevents the eggs from cooking further.

Enjoy the eggs as is with a slice of toast, atop a croissant, or piled onto a breakfast sandwich. 
Notes
Notes:  The secret to making super creamy scrambled eggs is to cook them on low heat, for a longer period of time. You'll need to be patient with these, stir them consistently, and watch them carefully. But in the end, you'll have perfect soft and creamy scrambled eggs! These eggs are delicious as is, but if you'd like to take them even further, try mixing in ½ cup of shredded cheese as you remove them from the heat. Cheddar or Gruyere are amazing here.