These Egg Muffin Cups are a great make-ahead breakfast that can be customized to fit whatever diet you're on - keto, paleo, whole 30, vegetarian - these will work! They're a healthy alternative to sugary breakfasts and simple to make.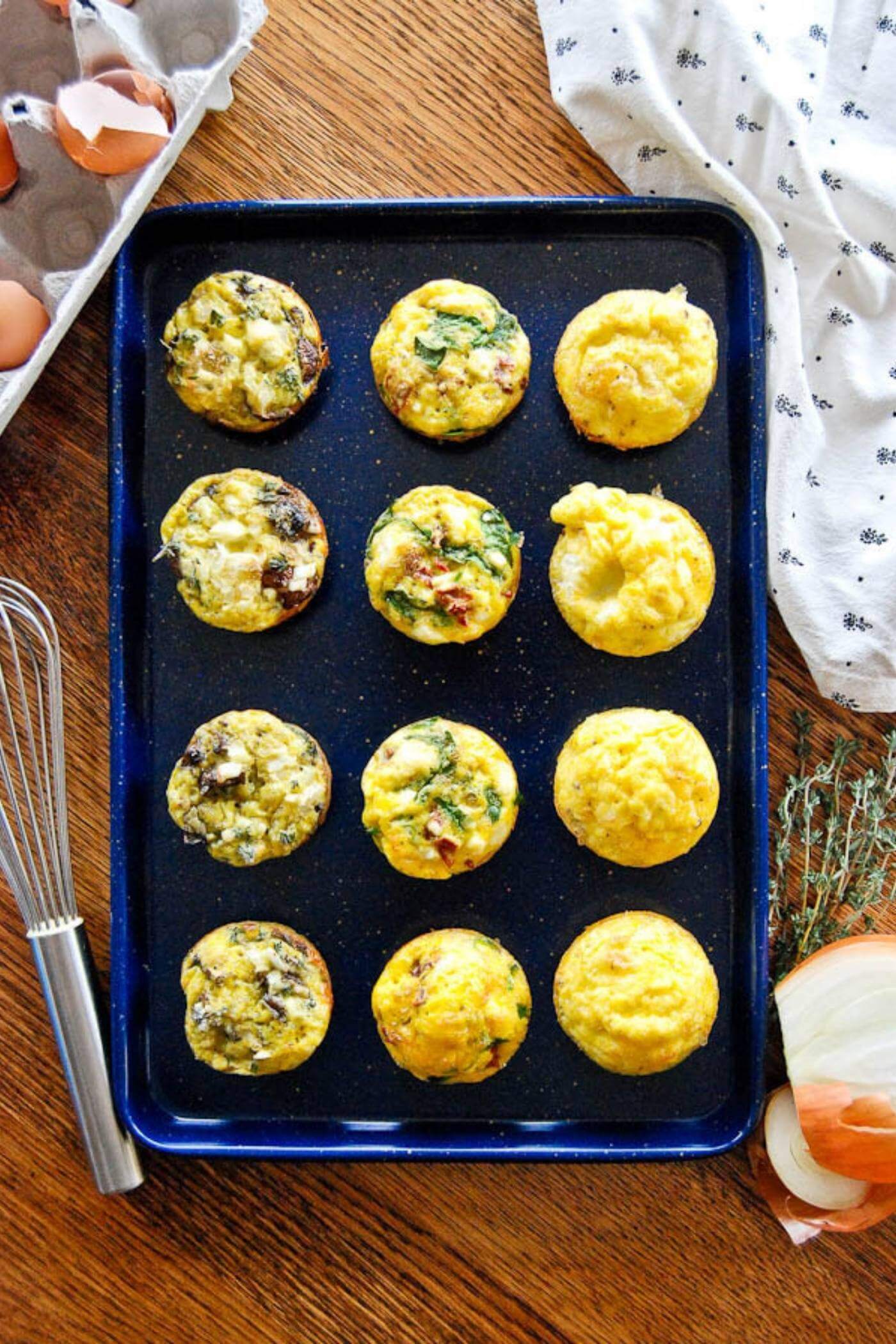 Helloooooo!!! Did you miss me? I took a short (ahem - 2 months!) hiatus from the blog over the past several weeks since we've had so much going on – spring break trips, tons of school activities, and getting ready to wind down a bit for the summer.
Is this you? Are you frantically running through each day wondering how you're going to make it to the next? You're in luck! This egg muffin recipe will be your savior for this final countdown until school ends.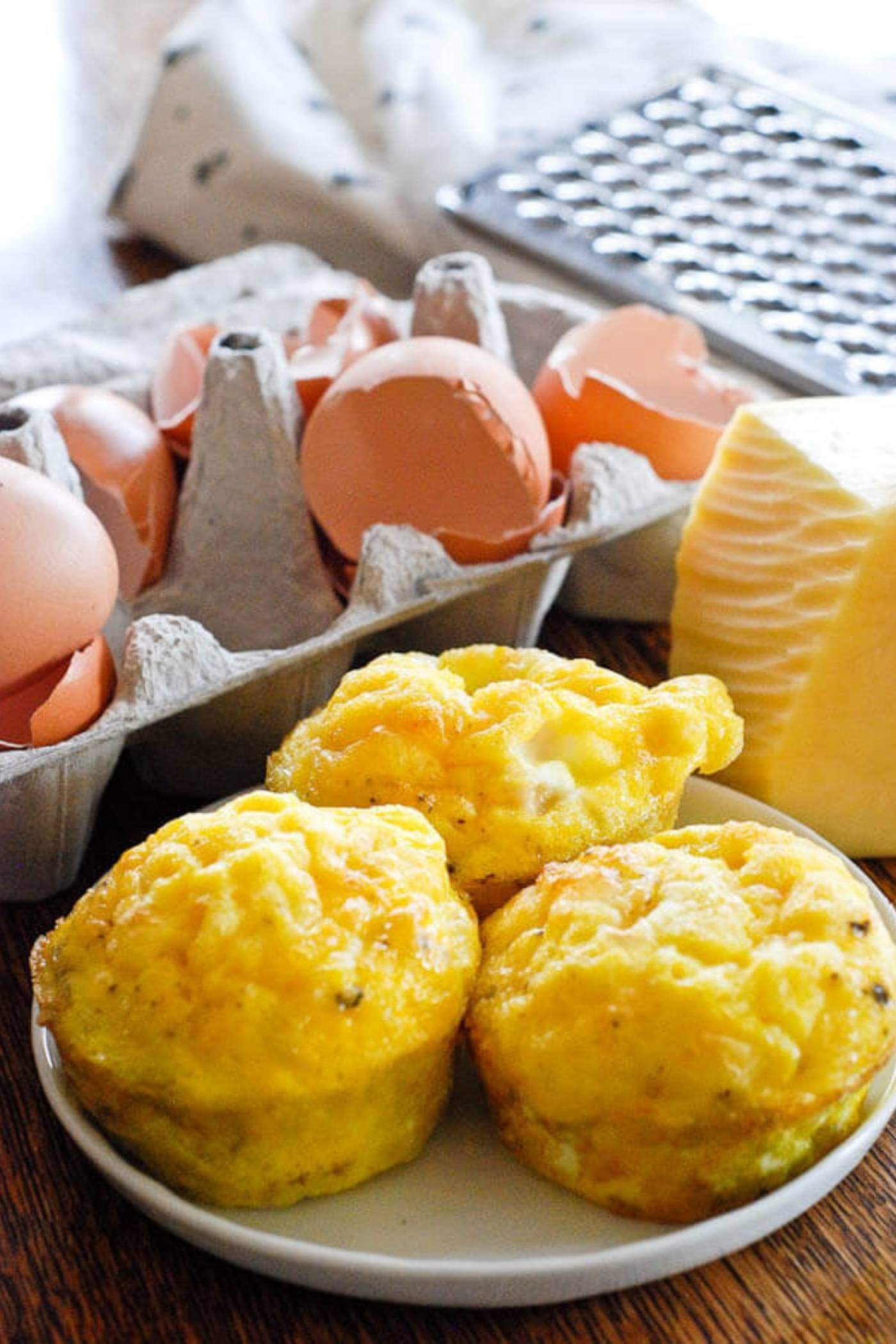 What are egg muffin cups you ask? Pretty much the best time saver ever. We've been eating these egg muffins on and off through our busy days these past couple of months and they are SUCH a lifesaver. They're easy to make ahead and so simple to pop in the microwave in the mornings when we're rushing to get the kids off to school. These are even great to have for a light lunch or dinner, served alongside a salad when you don't feel like (or have time!) to make anything.
They're super-customizable too. You can add veggies, meat, cheese, whatever you like! These are hard to mess up.
I love serving these egg muffin cups to my kids because they are fairly healthy – so much better than a bowl full of sugary cereal. They're low-carb, high protein, and depending on what you add in you can make them fit almost any diet (Keto, Whole 30, paleo, vegetarian, etc.).
How To Make Baked Egg Muffin Cups.
Making these breakfast egg muffins is fairly easy. Start by spraying a 12-cup muffin tin with cooking spray to keep the egg muffins from sticking to the pan. Next, whisk together a dozen eggs, and some salt and pepper to taste and pour the mixture into the muffin cups. Don't fill them all the way – fill about ¾ of each tin to avoid them baking too big.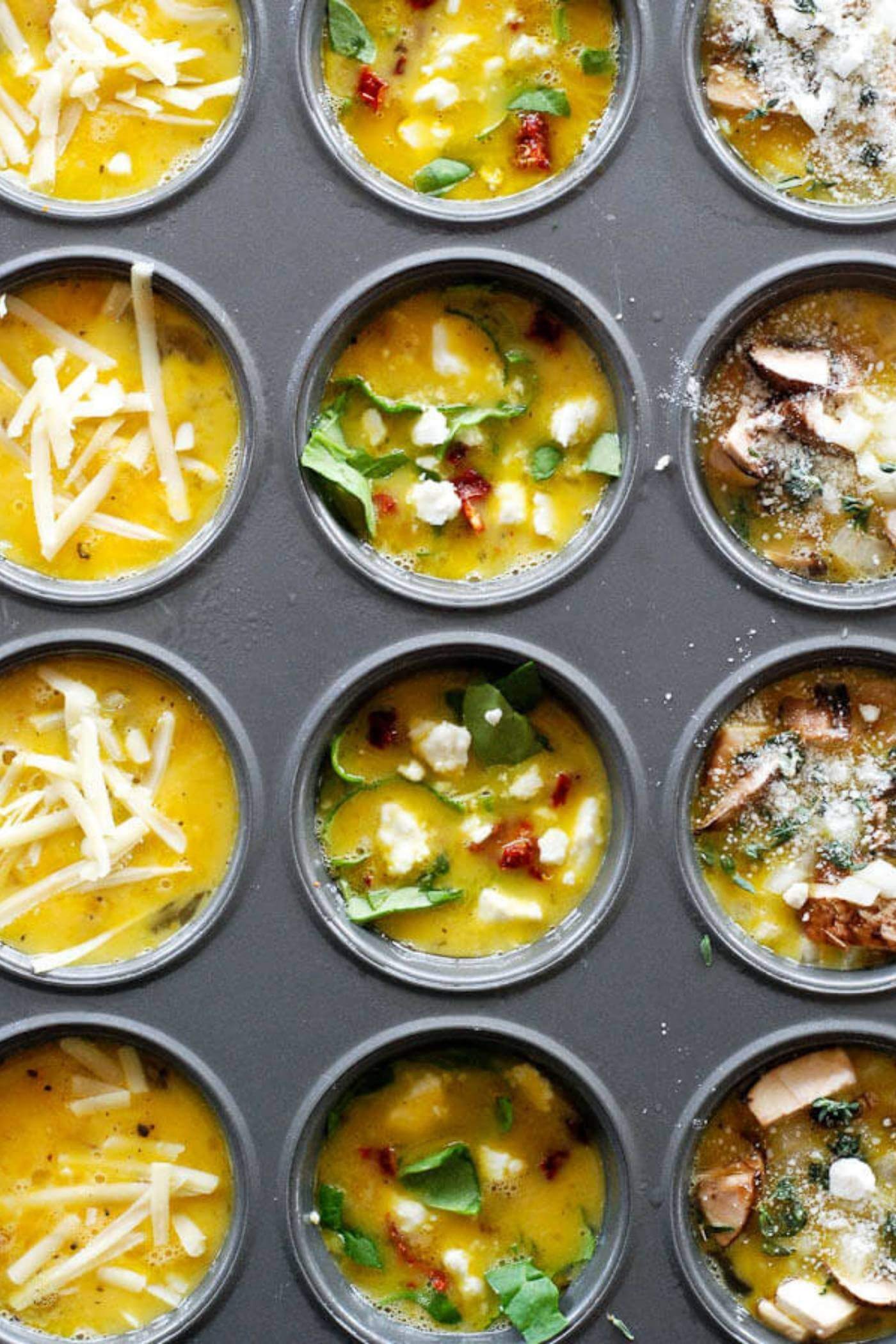 Finally, add your mix-ins to each cup – these can be whatever you want really, from simple ham and cheddar to a fancy mushroom and Gouda. Get creative and experiment with different combos!
Then just bake them at 350 degrees for about 20 minutes, allow them to cool slightly, and enjoy!!
The best thing about these muffins is that they are an ideal make-ahead breakfast that you can grab quickly for those mornings when you just don't have time for anything else. I find most grab-and-go breakfasts too sugary (granola bars/yogurt/bagels) so this is a great healthy alternative to that. When you want to reheat a muffin, just cover the egg muffin with a paper towel and pop it in the microwave for about 20 seconds, or until it's heated through and you're good to go. Easier mornings are right around the corner!
How To Store/Freeze Them.
You can store these egg muffins in an airtight container for about 5-7 days in the refrigerator. And if you really want to get fancy, try making a double batch and then freezing the egg muffins. To do this, allow them to cool completely, then wrap each individual muffin in plastic wrap and store it in the freezer. They should keep for about 3 months.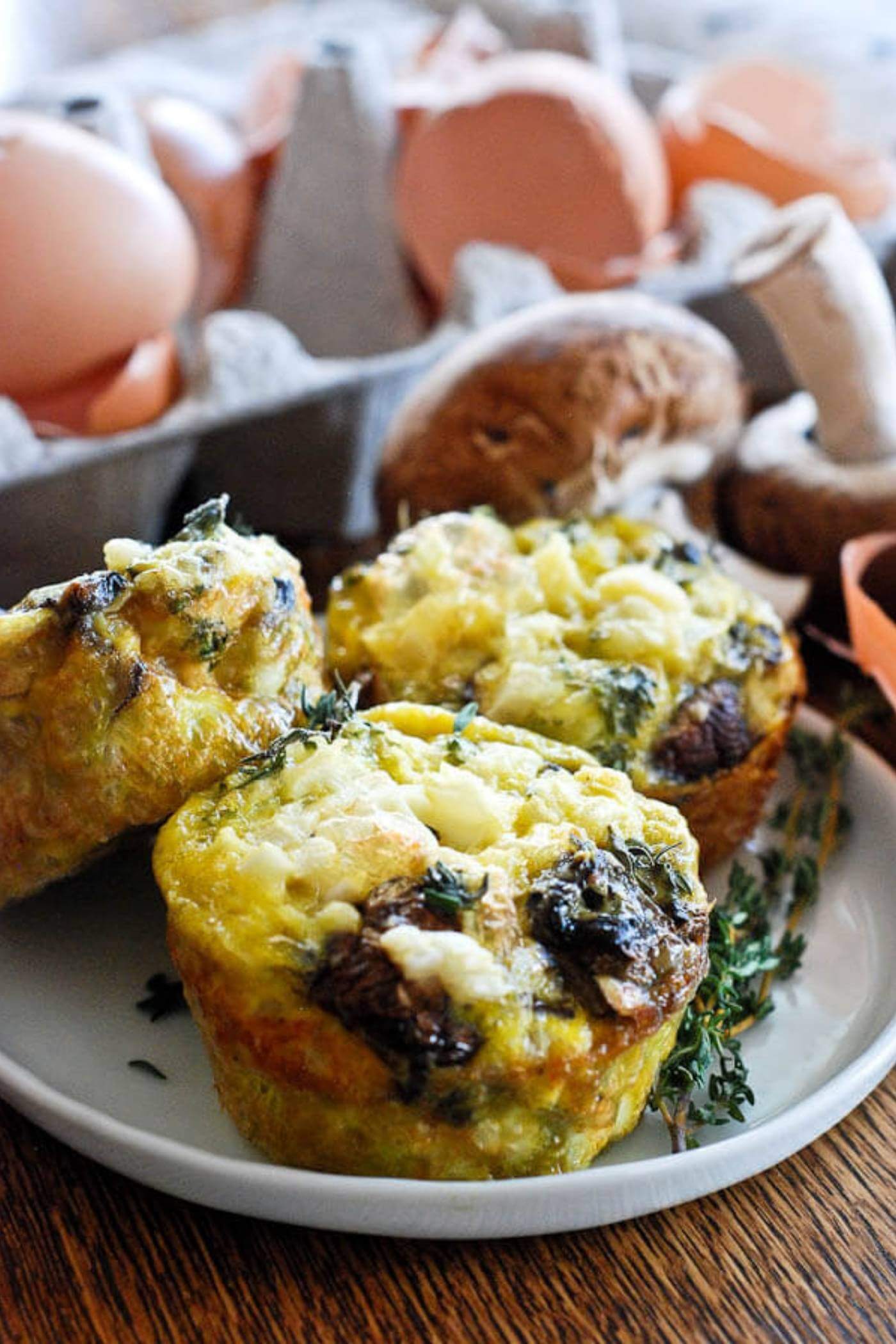 How To Make Egg Cups In The Microwave
Looking for a single-serving egg muffin that comes together without even turning your oven on? You can make egg muffins in the microwave too! We call them eggcups at our house, but it's basically the same idea. Whisk your egg mixture together, spray a microwave-safe mug with cooking spray, and add in your toppings. Cover the mug with a paper towel and heat them on low heat for about 30 seconds. Continue heating in low intervals until egg is cooked through (we usually do another 3-4 10-second intervals).
One word of caution – watch these closely!! Baking eggs in the microwave is a big time-saver but it can result in a huge mess if the egg explodes (trust me on this one – you don't want to be wiping up egg crumbs from your microwave when you're rushing out the door!)
So there you have it! An easy, make-ahead breakfast that allows you to serve something healthy and delicious!
If you make these Egg Muffin Cups, I'd love to see them! Tag me on instagram and let me know the combos you tried!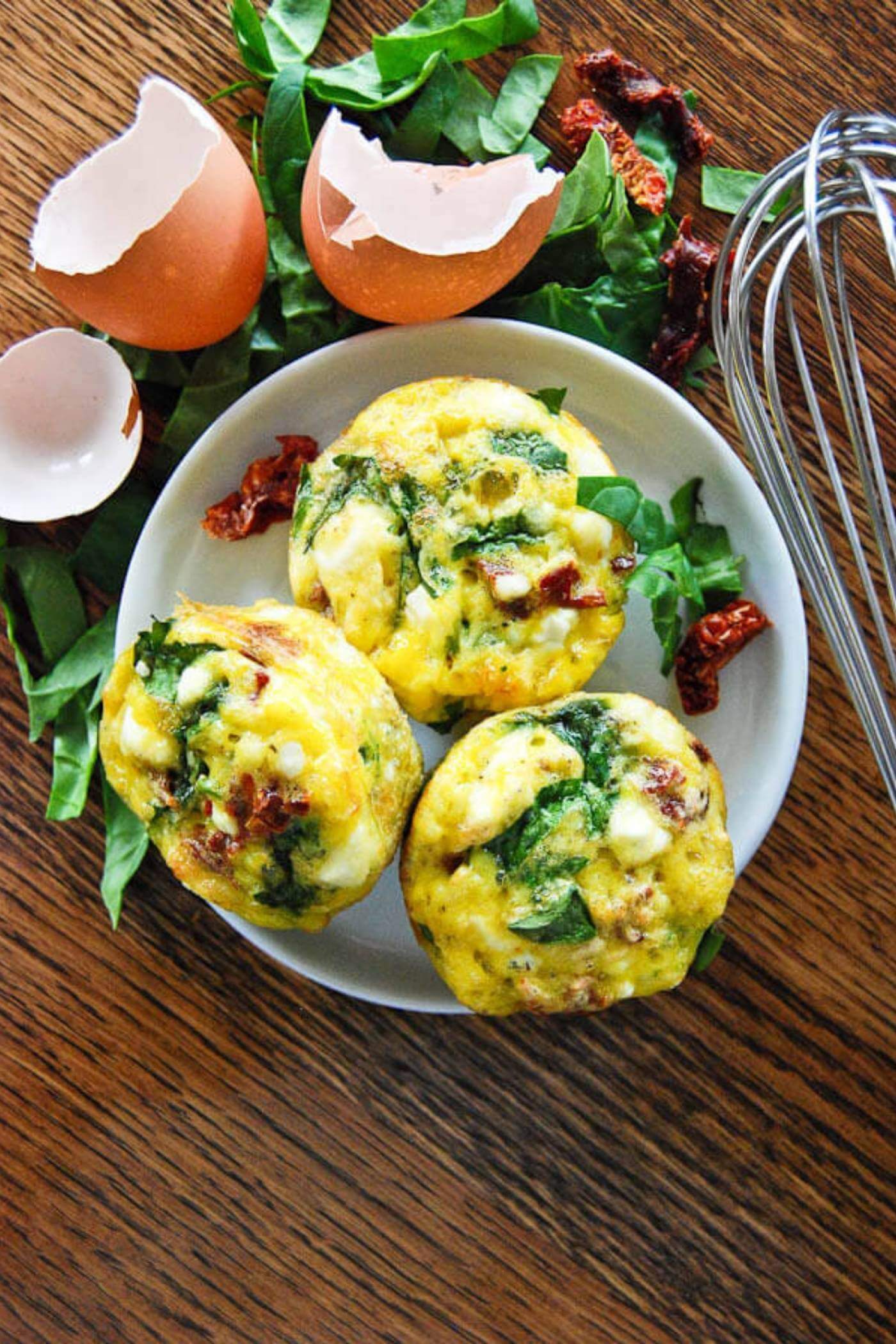 More Delicious Breakfast Recipes!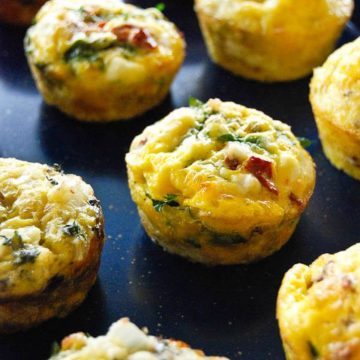 Egg Muffin Cups
These egg muffin cups are a great make-ahead breakfast that can be customized to fit whatever diet you're on - keto, paleo, whole 30, vegetarian - these will work! They're a healthy alternative to sugary breakfasts and simple to make.
Ingredients
12

large eggs

¼

teaspoon

salt

¼

teaspoon

pepper
Ham And Cheese Egg Muffins
½

cup

diced ham

¼

cup

shredded cheddar
Mushroom, Onion & Thyme
¼

cup

diced mushrooms

⅛

cup

diced onion

1

teaspoon

fresh thyme
Spinach, Feta And Sun Dried Tomato
½

cup

spinach, chopped

¼

cup

feta

¼

cup

sun dried tomatoes
Instructions
Preheat oven to 350 degrees.

Prepare a 12-cup muffin pan by spraying non-stick cooking spray into each muffin tin opening.

In a large bowl, whisk the eggs. Add salt and pepper to taste (about ¼ teaspoon each).

Divide the egg mixture into each muffin cup, filling only ¾ the way full.

Top egg mixture with your desired mix ins. (The above recipe makes four of each kind so adjust as needed depending on what/how many you are making of each.)

Bake egg muffins at 350 degrees for 20-22 minutes.

Remove from oven and allow to cool slightly before serving. May be stored in an airtight container in the refrigerator for 5-7 days.