This method for cooking bacon in the oven is the best because it produces perfectly crisp bacon every time, requires little monitoring, and cleaning up is a breeze.  After making this Oven-Cooked Bacon recipe, you'll never want to prepare it any other way!
A couple of weeks ago I shared a recipe for the perfect scrambled eggs so naturally, I had to follow that up with my method for cooking bacon. We've been cooking our bacon this way for years and it's way easier than cooking it on the stovetop. 
If you've never cooked bacon in the oven, this recipe will be a game-changer!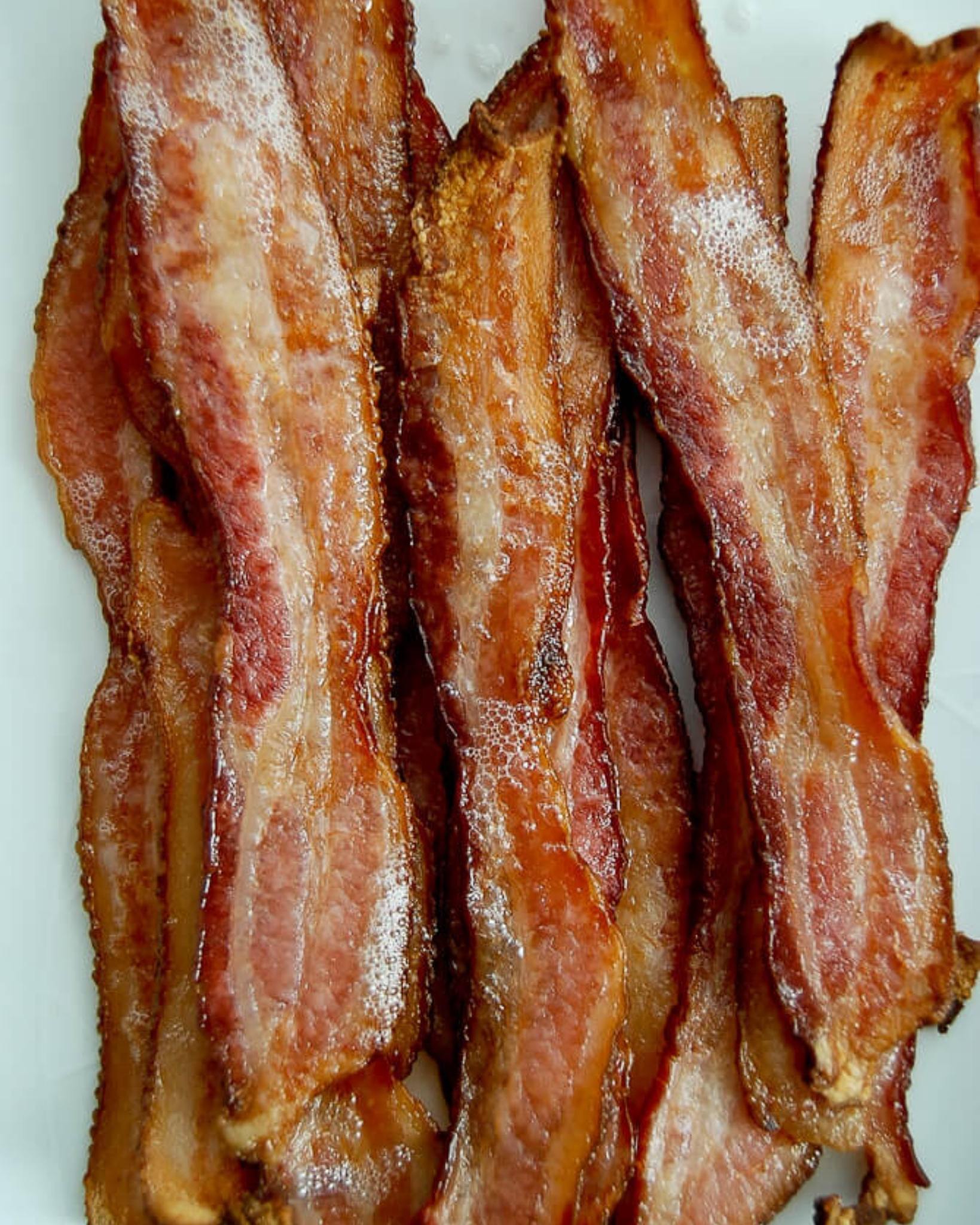 Why Cook Bacon In The Oven?
There are so many reasons I love oven-cooked bacon. Keep reading for why you will too:
The number one reason? The bacon comes out perfectly flat and crisp every time

Cooking bacon in the oven means that it cooks evenly from all around - not just from the bottom (like on a skillet) which can sometimes yield a more crumbly bacon vs. crispy. And, unlike using the skillet, where the heat is concentrated on certain points of the pan, your bacon strips will cook consistently.

Your bacon strips won't stick together like when you cook it in a skillet (which is often too small).

Cooking bacon in the oven means no fuss and no monitoring the stovetop, or having to flip the bacon halfway through cooking.

Cleaning up is so much easier. Ever spend 15 minutes after breakfast wiping up bacon splatter from your range? Yep, it sucks. But cooking the bacon in the oven means you don't have to mess with all that.

The bacon fat drips into the pan - and off the bacon. By placing the bacon on a baking rack, the fat conveniently drips from the bacon into the pan. No more soaking half a roll of paper towels with bacon fat (which is such a waste on so many levels!!)

You can reserve the fat (aka - bacon butter!) to use for other dishes. Such a delicious use for the rendered fat and great for using anywhere you might use butter - sauteed dishes, scrambled eggs, etc.

How To Do It
Making bacon in the oven is as easy as it gets.
Simply line a pan with foil, then place a cooling rack above the foil.
Add your bacon strips to the rack, place the tray into a COLD oven (see the tips below for why this is important) and bake for about 25 minutes at 380 degrees.
That's it! Easy, and totally hands-off!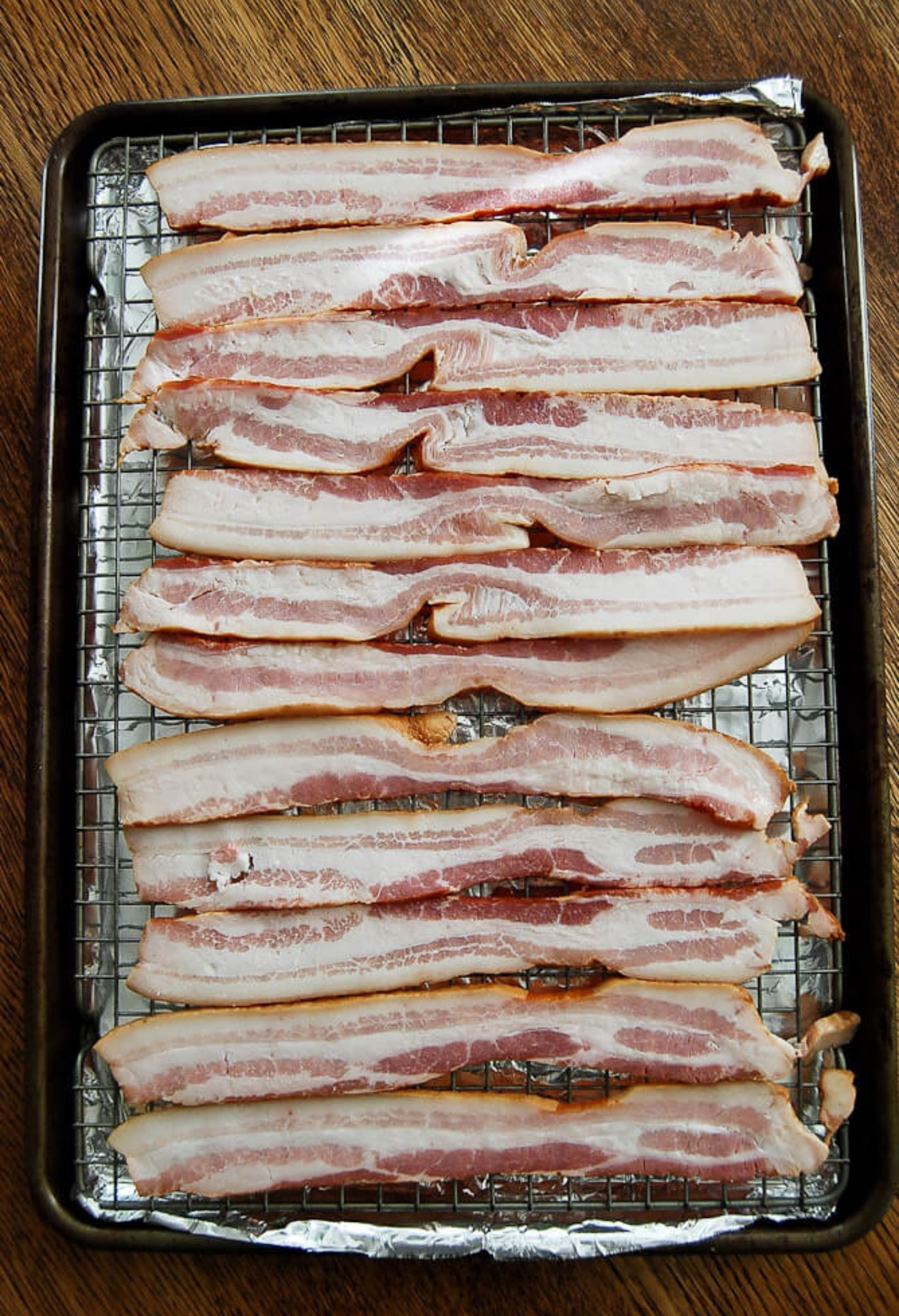 A Few Tips To Remember When Using This Method
Don't preheat your oven! Putting your bacon in the oven when it's cold, allows it to slowly warm up as your oven preheats, rendering the fat low and slow as you go. This produces perfectly crisp bacon every time.

It also helps to let the bacon sit at room temperature for about 15 minutes. This helps to ensure the mean and the fat in the bacon are starting off at the same temperature. If you cook straight from the fridge, the fat will take longer to warm up than the meat and may result in having pieces that are crispy where the meat is and soft and gristly where the fat is.

Don't set your temperature too high. Many oven baked bacon recipes call for a high temperature, but keep in mind those recipes preheat their oven first and are not slowly warming their bacon over time. Slow and low is the name of the game here. I set the oven to 380 degrees.

How long to cook bacon in the oven is really dependent on a few things: how thick your bacon is, how fast your oven heats up, and how crispy you prefer your bacon to be. My oven typically takes about 25-30 minutes to produce perfect bacon this way. But, it may take a little trial and error to get this method perfect for your tastes. Just be sure the first couple of times you try it you check your bacon often - leaving it in for too long can quickly turn your bacon from perfect to burnt.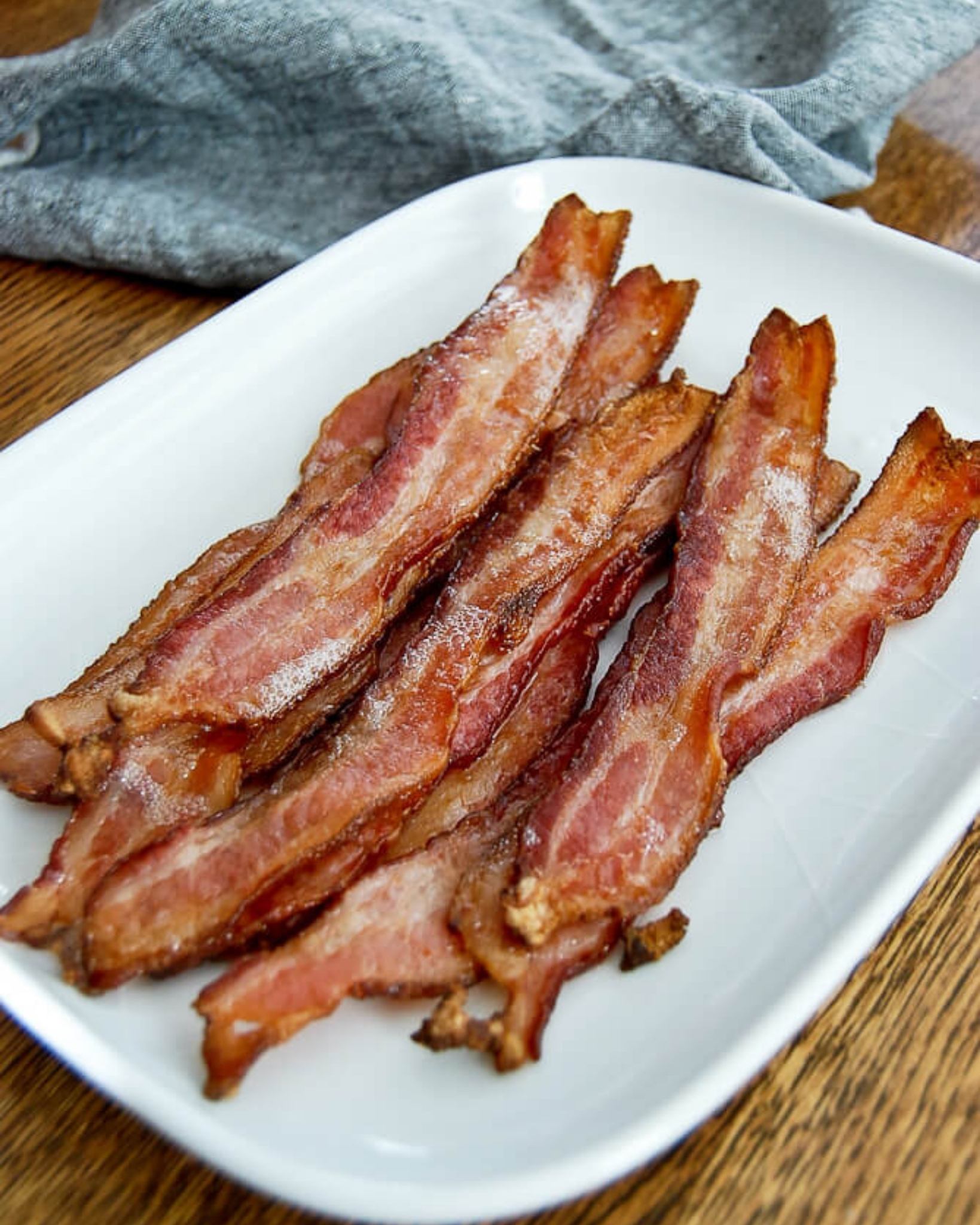 Give this Oven-Cooked Bacon method a try and let me know what you think! As always, tag me on IG (@FrontRangeFed) if you make this recipe - I love to see your creations!
More Breakfast Favorites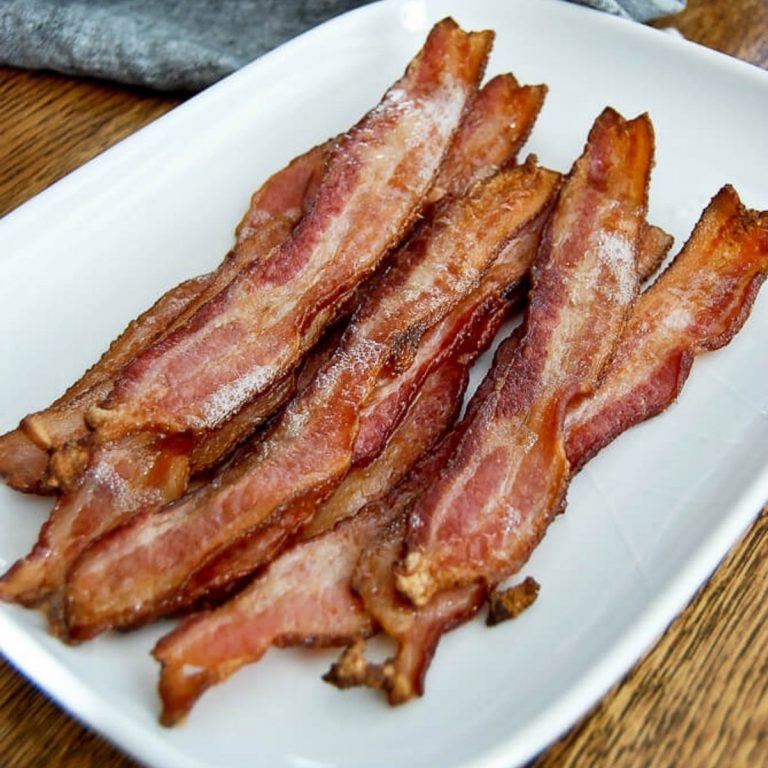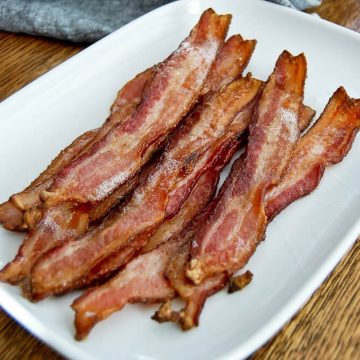 Oven Cooked Bacon
This method for cooking bacon in the oven is the best because it produces perfectly crisp bacon every time, requires little monitoring, and cleaning up is a breeze. 
Instructions
Line a baking sheet with foil or parchment paper and place a baking rack on top of the foil. Align your bacon strips across the top of the baking rack and place the rack in a COLD oven (don't preheat).

Set your temperature to 380 degrees and allow the bacon to cook for about 20-30 minutes. (Note - times will vary based on how thick your bacon is and how crispy you prefer it so keep an eye out and start checking it around the 20-minute mark.)

Once the bacon is crisp, remove it from the oven and allow it to cool slightly before serving.

If you want to save the bacon fat, allow it to cool slightly, then carefully (REALLY Carefully - it will still be HOT!) pour the liquid fat into a small dish, cover, and place in the fridge. Alternatively, if you'd rather not risk singing your arm hair off, you can let the bacon fat cool completely until it is solid and then spoon it into a dish, cover, and store in the fridge.