Who says you can't have pizza for breakfast? This Breakfast Pizza is delicious and is easier than you'd think, using minimal, simple ingredients – runny eggs, melty cheddar Canadian bacon, and piled high with veggies. It's easy enough for a weekday, but pretty enough to serve at a brunch!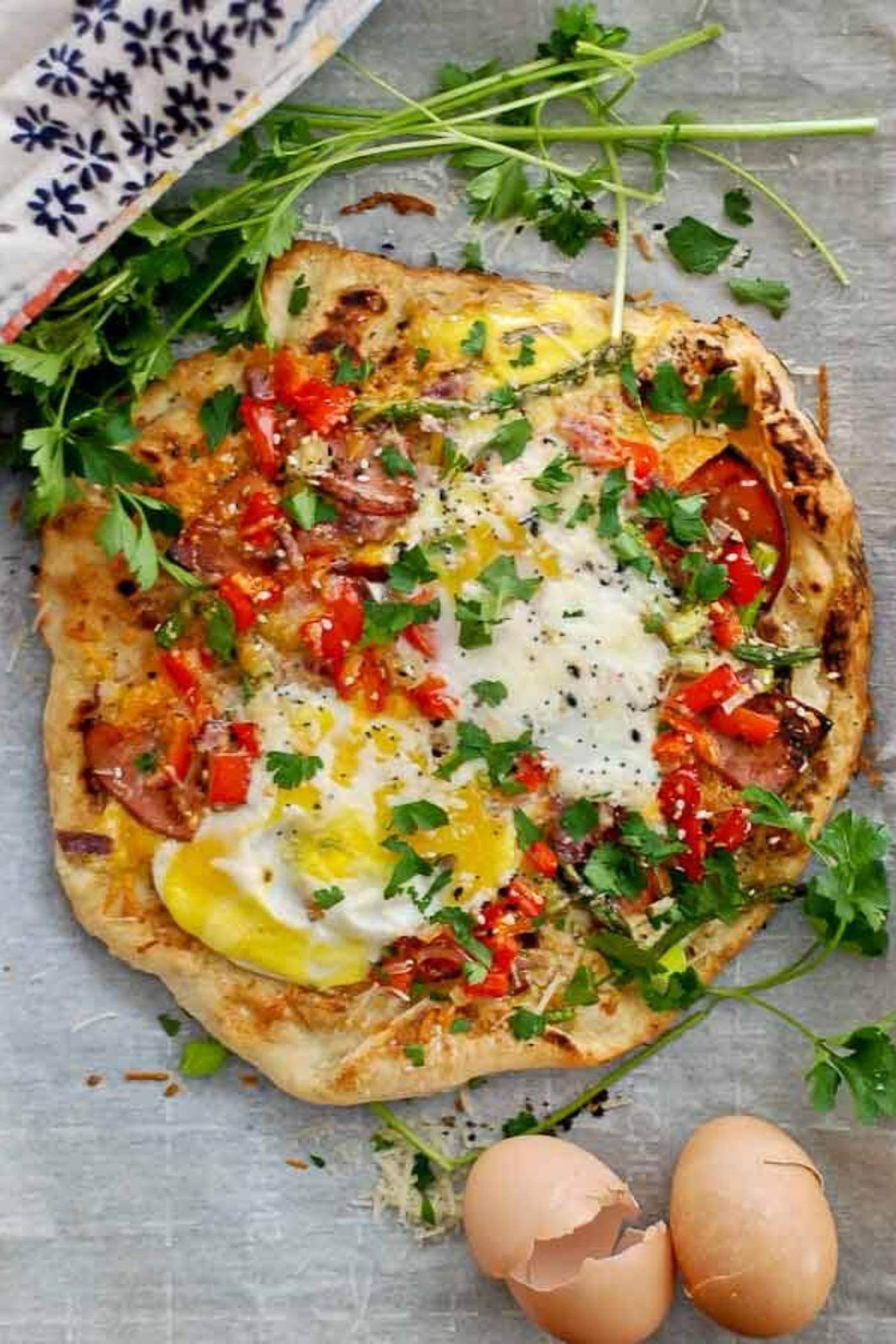 I have two words for you all: Breakfast Pizza! Such a simple concept but one that I never fully embraced until now.
Don't get me wrong – I'm no stranger to sneaking a piece of last night's pizza leftovers in the morning. And it turns out I shouldn't even feel bad about it since recent reports shared that pizza is actually a better breakfast option than cereal.
All that sugar in your cereal isn't doing you any favors, but the protein that's usually found in the pizza will keep you full much longer, on about the same amount of calories. So, there ya go. A Christmas present from me to you.
But sometimes, pizza isn't the MOST appetizing thing to eat for breakfast. Especially the heavy meat-laden kind. This breakfast pizza recipe takes everything you love about pizza, lightens it up a bit, and throws some eggs on top. Because truly, anything can become a breakfast food if you add an egg, amiright?
Oh- and this breakfast pizza is EASY!! Sure, you could go all out and make your own crust, but you could also use store-bought pizza dough or premade crust, some flatbread, or even a bagel if it suits you.
Because hey – it's the morning and you're making a homemade breakfast – you're already a winner! So don't stress. (Although I do have a couple of notes/tips below at the bottom of this recipe if you're using a dough vs. a pre-baked base as I did here.)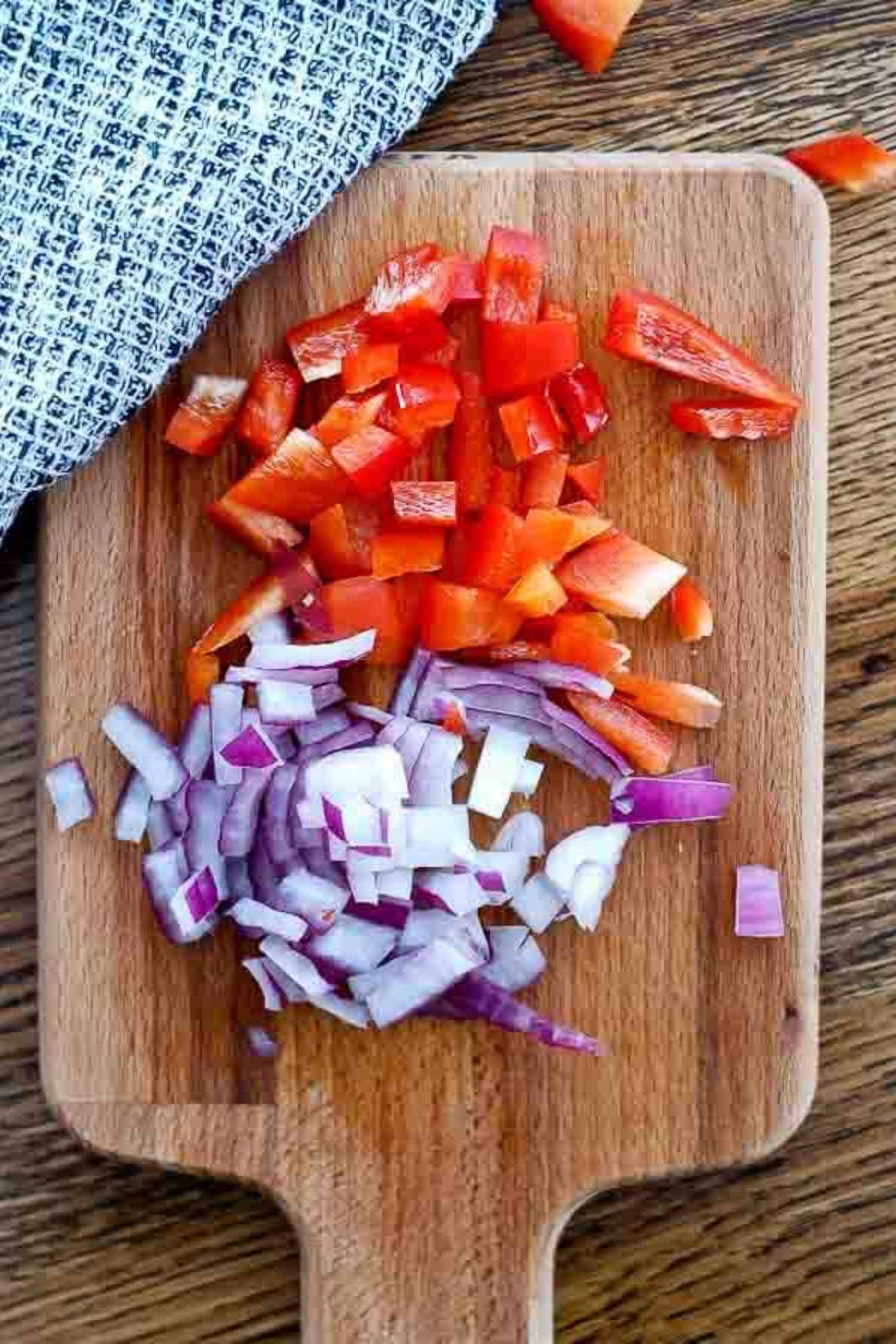 How To Make This Breakfast Pizza
I used a basic flatbread here so I didn't have to worry about cooking the dough all the way through, meaning my total baking time is a bit shorter than if I had used pizza dough. Because of this, I sautéed my veggies for just a few minutes to soften them before adding them to the pizza. I also pan-fried my Canadian bacon a bit to make it crispy.
Now, on to the assembly. Brush your flatbread with about a tablespoon of olive oil, then add your cheddar cheese base. Adding the cheese first helps prevent the other toppings from sliding all over the place. It also gives you a nice way to make a little nest for your eggs later on.
After you've added the cheese, add some Canadian bacon, and then start piling on the veggies. I used diced red pepper, sautéed red onions, and asparagus, but use whatever you have hiding out in your fridge – it will work.
Finally, create two little nests for your eggs and crack the raw eggs right into the nests, being careful to not puncture the yolk.
Top with a sprinkling of Parmesan cheese and everything bagel seasoning. Then, cook it at 450-degree oven for about 8-10 minutes, or just until your crust is nice and golden and your egg whites have set.
Remove from the oven, add a handful of chopped parsley and some extra Parmesan cheese, and serve!
I love this breakfast pizza because it's so customizable and you can really amp up your veggie and protein intake first thing in the morning. Although now that I think about it, I'd probably eat this for any meal of the day, it's so delicious!
Breakfast for dinner is calling my name!
If you make this Breakfast Pizza, share a comment below, or snap a pic and tag me on Instagram! I'd love to see how it turns out!
More Great Pizza Recipes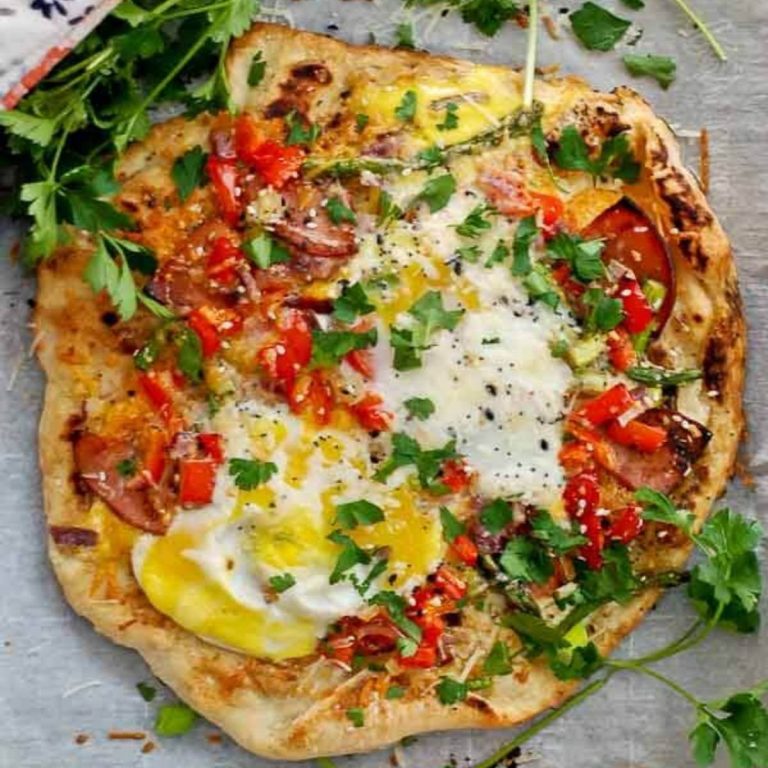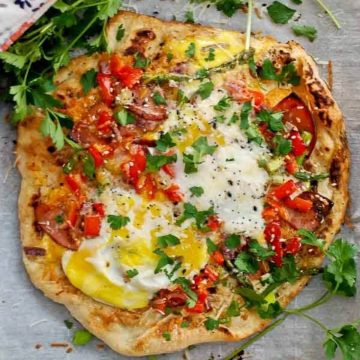 Breakfast Pizza
Who says you can't have pizza for breakfast.  This breakfast pizza is delicious and is easier than you'd think, using minimal, simple ingredients – runny eggs, melty cheddar Canadian bacon, and piled high with veggies. It's easy enough for a weekday, but pretty enough to serve at a brunch!
Ingredients
1

large flatbread

2

tablespoon

olive oil, divided

1

cup

shredded cheddar cheese

4

pieces of Canadian bacon, cut into squares

¼

cup

red peppers, chopped

3-4

asparagus spears, chopped

2

large eggs

1

tablespoon

everything bagel seasoning

2

tablespoon

shredded Parmesan cheese

q

1

tablespoon

parsley, chopped
Instructions
Preheat the oven to 450 degrees.

Heat 1 tablespoon of olive oil in a large pan over medium heat, pan fry the Canadian bacon for 1-2 minutes on each side, then set aside.

Using the same pan, sauté the red pepper, red onion and chopped asparagus spears for about 2-3 minutes, then remove from heat.

Place your flatbread on a baking sheet and brush with olive oil. (If using pizza dough as your base, see notes below.)

Sprinkle cheddar cheese on top of the flatbread, followed by the Canadian bacon and sautéed vegetables.

Create two nests within the toppings and carefully crack an egg into each nest, being careful to keep the yolk intact.

Sprinkle Everything Bagel seasoning over the pizza, and 2 Tablespoons of shredded Parmesan.

Bake in the oven for about 8-10 minutes, or until your flatbread is a golden brown and the egg whites are just set.

Remove from the oven and garnish with parsley and serve immediately. 
Notes
Note: If you're using pizza dough, you'll need to bake the pizza for a bit longer. Because of this, you can skip the step of sautéing the veggies (they'll cook long enough in the oven). Add everything to your pizza except the eggs and parsley, and cook for about 8-10 minutes to allow the pizza dough to cook through. Remove the pizza from the oven, add the eggs, then pop it back into the oven for an additional 8-10 minutes, or until the eggs are set.