This Easy Homemade Pizza Sauce uses real ingredients like whole tomatoes and simple Italian spices. Skip the store-bought versions - this simple homemade pizza sauce will soon become your go-to for delicious at-home pizza.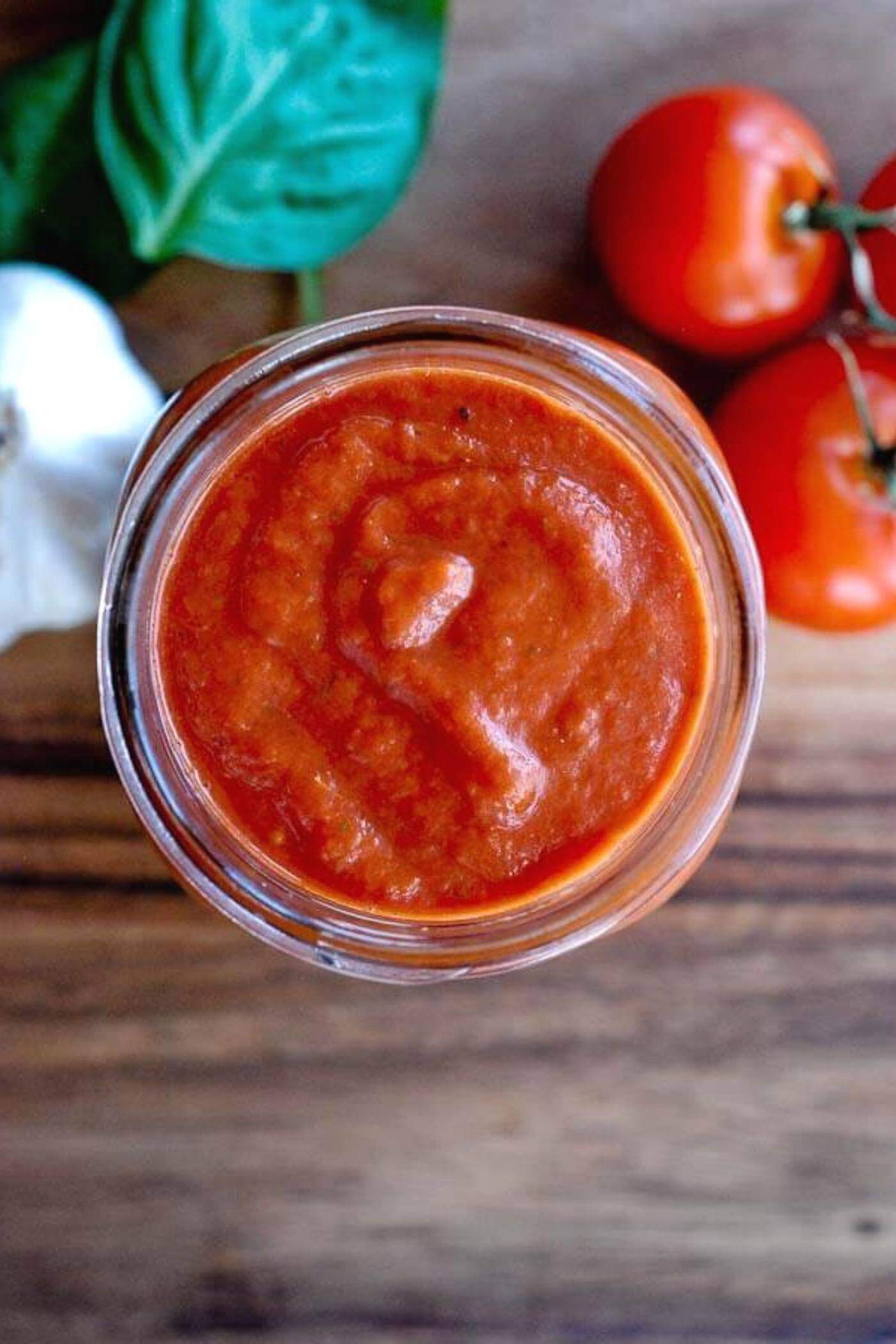 Our family is originally from Chicago, so it's safe to say that we've become connoisseurs of good pizza. In our opinion, two things really make a pizza: the crust, and, of course, the sauce.
We love to make our own pizza, but typically are not huge fans of store-bought pizza sauce, which always tastes too sweet to us.
What's a girl to do? Make her own of course!
Why Make Homemade Pizza Sauce?
This pizza sauce recipe is super easy and quick to make and requires no cooking at all before you slather it atop your crust.
Another plus? You monitor the amount of sugar you add to the sauce (most store-bought pizza sauces have way too much). Case in point: the recipe below has only 1 teaspoon of sugar! I think it does help balance the flavors of the tomatoes and herbs, but you could totally make this paleo or Whole 30 approved if you cut it out. No biggie.
Making your own sauce also allows you to really customize your pizza flavors. Make it as spicy or mild as you want, or add in different herbs, veggies oils for a truly unique sauce!
Some have asked if it's possible to substitute marinara sauce for pizza sauce. Don't you even think of it. Pizza sauce and marinara sauce are NOT the same: pizza sauce is often thicker, less watery, and quite frankly, simpler to make. It uses simple ingredients and serves as a thick, spreadable base for your toppings. If you use substitute pasta sauce for pizza sauce, your toppings base would end up a little watery, your crust might be a bit soggy, and the taste wouldn't be as bold. Just don't do it. Once you see how simple and delicious this recipe is, it won't even be a thought in your mind.
How To Make It
So, how do you make homemade pizza sauce? It's soooo easy! This recipe uses one 28-ounce can of whole, peeled tomatoes (although you could totally use fresh tomatoes if you have them lurking in your garden), a smattering of herbs and garlic, some olive oil, tomato paste, and a tiny dash of sugar. Here's what you do:
Throw everything into a blender or food processor, pulse for a minute or two until it has a spreadable, consistency, and voila! You have an amazing sauce that will work for pretty much any pizza recipe that uses a tomato-based sauce.
See - I told you it was easy!
How Long Will This Keep? Can I Make It Ahead Of Time?
This pizza sauce will keep in the fridge for about a week, so if you're looking to save some time, it's a great thing to make ahead in anticipation of your pizza night.
Can I Freeze Pizza Sauce?
If you're not going to use it right away, you can also freeze pizza sauce. You can freeze pizza sauce in a plastic Ziploc bag of course, but another simple way to do this is to freeze it in small silicone muffin trays. Then you can just pop out the cubes, throw them in a bag, and remove the number of cubes you want when you want to use them. Easy peasy.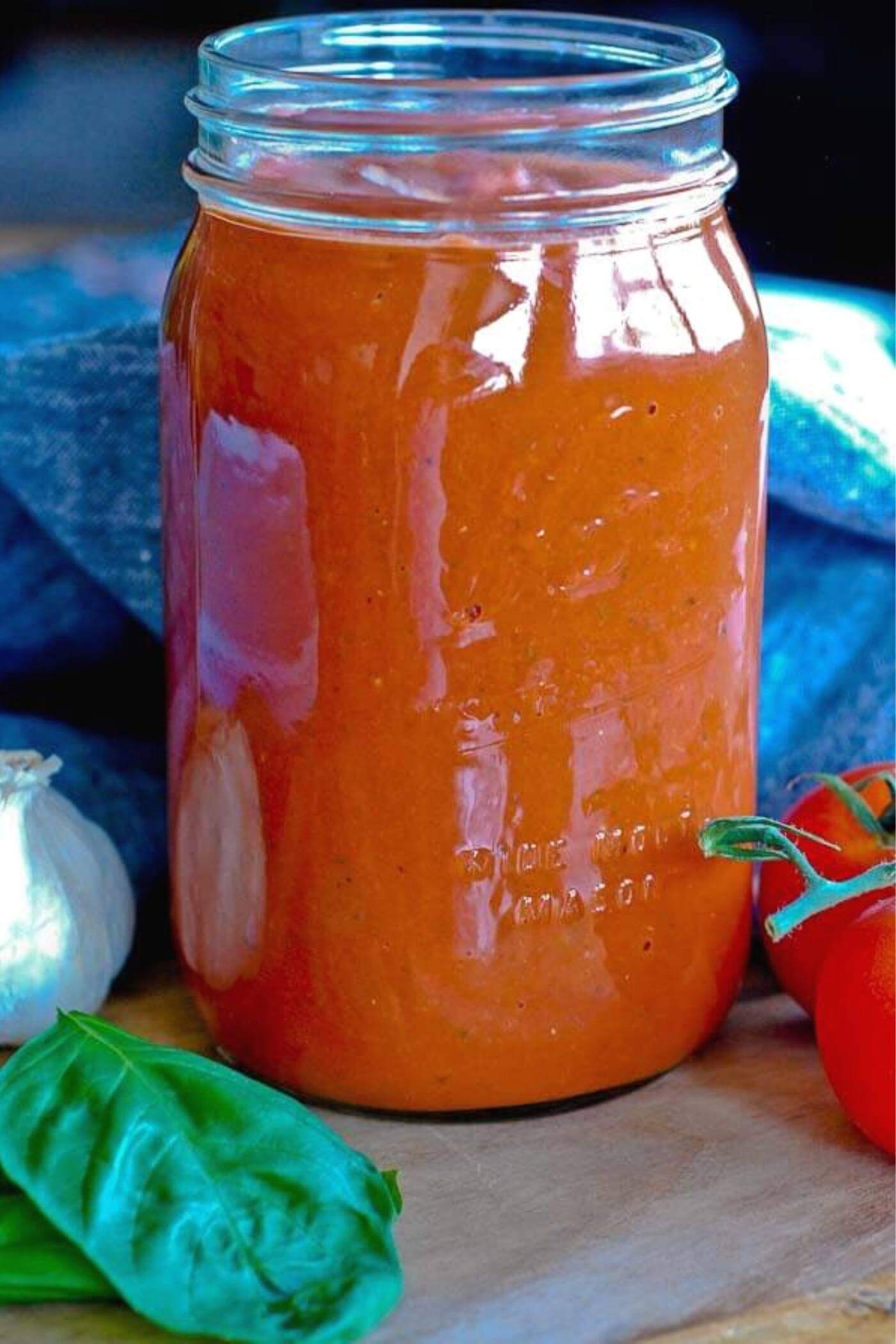 Try this Easy Homemade Pizza Sauce Recipe on your next pizza night. I promise you it won't take you more than a few minutes to throw together. And, it's so much better than the store-bought stuff! And if you do try it, be sure to tag me on Instagram!
Looking For A Great Pizza Recipe? Check These Out!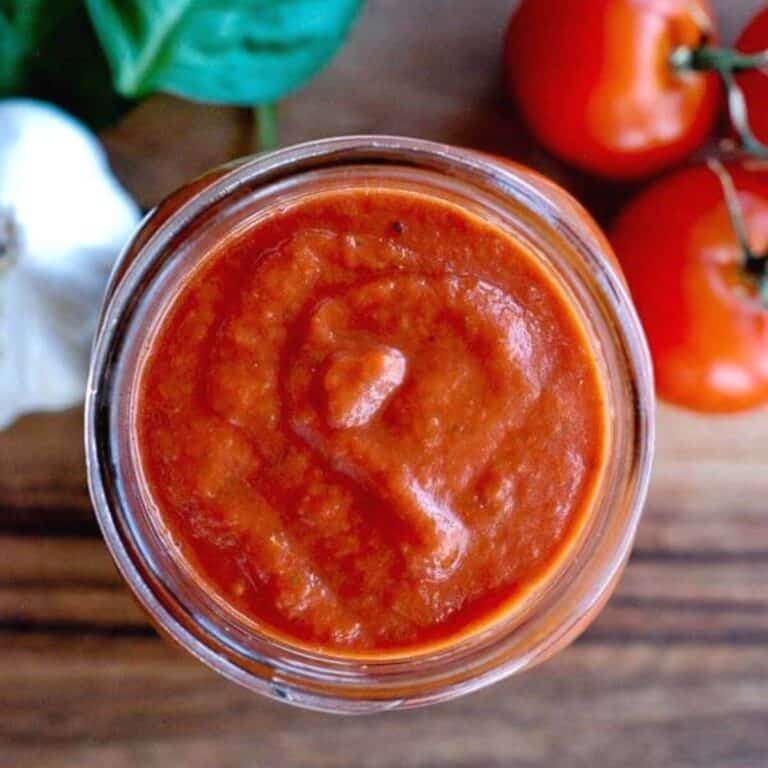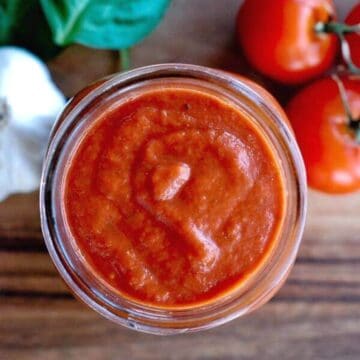 Easy Homemade Pizza Sauce Recipe
This easy homemade pizza sauce uses real ingredients like whole tomatoes, and simple Italian spices. Skip the store bought versions - this simple homemade pizza sauce will soon become your go-to for delicious at-home pizza.
Ingredients
28

ounce

can whole, peeled tomatoes, drained

1

tablespoon

dried oregano

1 ½

tablespoon

dried basil

3

cloves

garlic, minced

3

tablespoon

extra virgin olive oil

1

teaspoon

sugar

1

6

oz

can tomato paste

salt and pepper to taste
Instructions
Prepare all ingredients for the sauce and add them to a blender or food processor

Process ingredients until sauce is smooth and has no remaining large chunks of tomato.

If using for pizza, add to crust as is and bake pizza according to your recipe. If using as a dipping sauce, warm over low heat for 10 minutes to soften and blend the flavors of the sauce.  Stir frequently to avoid burning the pizza sauce on the bottom of the pan.

Sauce may be stored in an air-tight container for 1-2 weeks, or may be frozen for up to 3 months.