Homemade pizza is easy when you have the right ingredients. This Fall Harvest Pizza Recipe uses all the flavors of fall to create a warm, spicy and delicious pizza. Roasted acorn squash, hot Italian sausage, creamy goat cheese, and crisp arugula make this pizza a showstopper!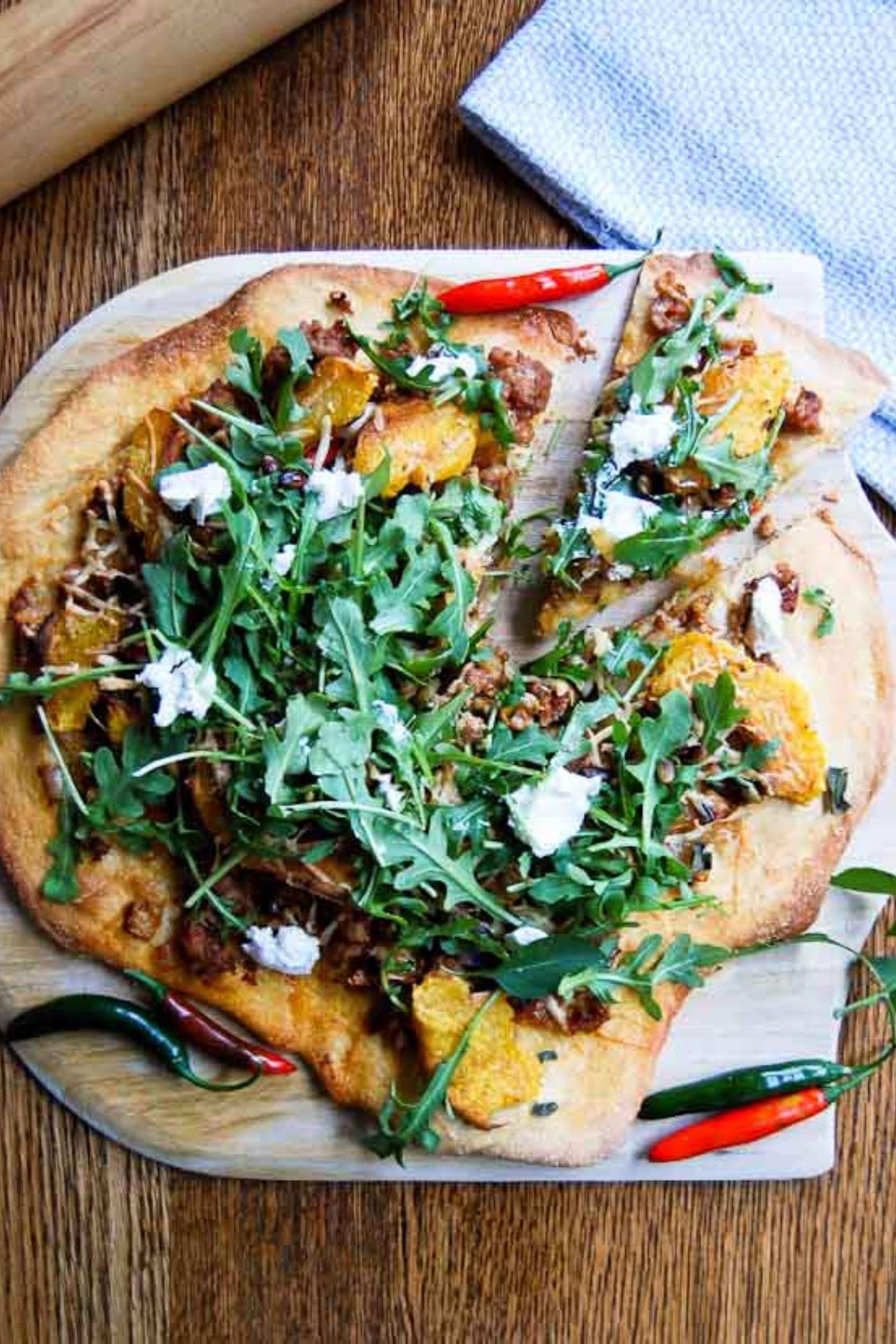 Hello Friends! This is a quick post today since it's my youngest son's 5th birthday!! Let's jump right into it!
My inspiration for this pizza came, in fact, from my son. This year his school has taken part in a program designed to ensure every preschool kid has enough healthy food to eat, even on the weekends. His school sends him home each weekend with a bag full of groceries. It's usually filled with things like rice or pasta, vegetables, apples, and healthy snacks and cereals.
I think this is such a great program and is helping so many families out. Not only do we feel incredibly grateful for this gift, but the look of pride on my son's face when we tell him that the meal we're eating was provided by him is totally priceless.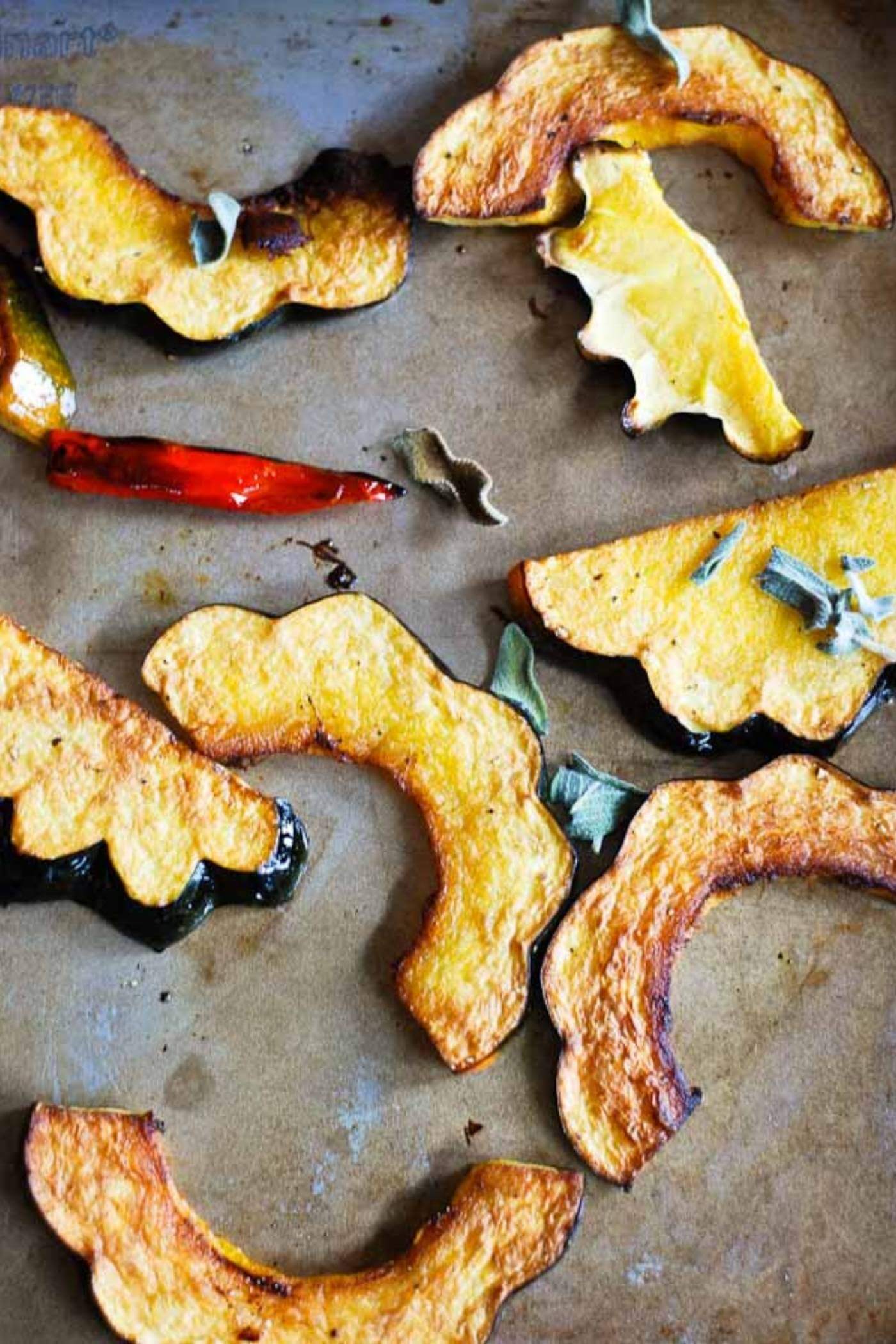 Most of the time, he loves what they send home. But a couple of weeks ago we received an acorn squash, which was a bit of a deal breaker for him. My husband is also a member of the "anti-squash" squad and was out of town for work when it arrived home in our weekly bag.
I, on the hand, love all types of squash. So it was the perfect time for me to experiment with a new recipe that I knew would be pretty much all for me. Thus, this pizza was born. (Um, did I mention this was all for me? Score!)
Ingredients
This is the ultimate fall pizza recipe. I knew I had to do something to offset the semi-sweetness of the acorn squash so I added some hot Italian sausage to balance out the two main flavors.
I nixed any sauce with this pizza as I didn't want the flavors to be thrown off or overpowered by a tomoato-based sauce. Instead, I brushed the crust with olive oil, and topped it with the acorn squash and sausage. I then added some creamy goat cheese, spicy Serrano peppers for some extra heat, and arugula to give it a bit of a fresh and earthy feel. Oh, I also should give an honorable mention to toasted pumpkin seeds (hello fall!) and Sriracha as some additional toppers. All of it was served on top of a crispy, light homemade pizza crust.
Making The Pizza
We had a plethora of Serrano peppers left over from our garden, which I knew would counter the sweetness of the squash perfectly. I also picked up some hot Italian sausage, goat cheese, arugula, and pumpkin seeds on the way home to use as pizza toppings.
Now, onto the crust. In my opinion, pizza crust is really the most important part of making a pizza. Too crispy and it's impossible to eat. But too doughy and you feel like you're eating a pastry instead of pizza. Luckily I came across this pizza dough recipe from Bobby Flay a while back and it's a total keeper – light, crisp, easy to roll out, and bakes like a dream. It's a winner.
But, I also often buy ready-made pizza dough at my local King Soopers in the deli section and it's excellent when you're short on time. You can also usually call up your local pizza joint and order some plain pizza dough from them too. Make it as easy as you want to.
I prepared the pizza crust in advance (it takes a couple of hours to rise) and when it was close to being ready I started in on the pizza toppings.
Here's how to assemble your pizza:
First, start off by roasting your acorn squash. You can do this easily by cutting it in half, removing the seeds, then slicing it into thin strips. Place these on a baking pan and brush lightly with olive oil. Roast it at 385° for about 25 minutes. Then let it cool for just a bit before peeling the skin off.
If you're using Serrano peppers too, you can add these to the baking sheet with the squash. Roasting the peppers lessens the heat just a little bit. These are still very hot peppers so if you prefer, you can use a milder pepper, or omit them altogether.
Next, sauté some onion and garlic and brown your sausage. Pile the squash, peppers, onion, garlic, and sausage mixture on top of your pizza. Then top it with a sprinkling of parmesan cheese before baking it at 425° for 20 minutes or so.
While your pizza is baking, you can toast your pumpkin seeds. This really brings out the flavor of the seeds and I think they add a little extra crunch to the pizza. Just toss a handful into a small pan and stir them over low heat for a few minutes, or until they start browning slightly and smell fragrant. These can burn quickly so keep an eye on them and don't leave them unattended.
Once your pizza is done cooking, remove it from the oven and top with arugula, goat cheese crumbles, and pumpkin seeds.
Because I love the heat (can you not tell by now?), I also drizzled the pizza with a bit of Sriracha sauce, which I think took it totally over the top in my book.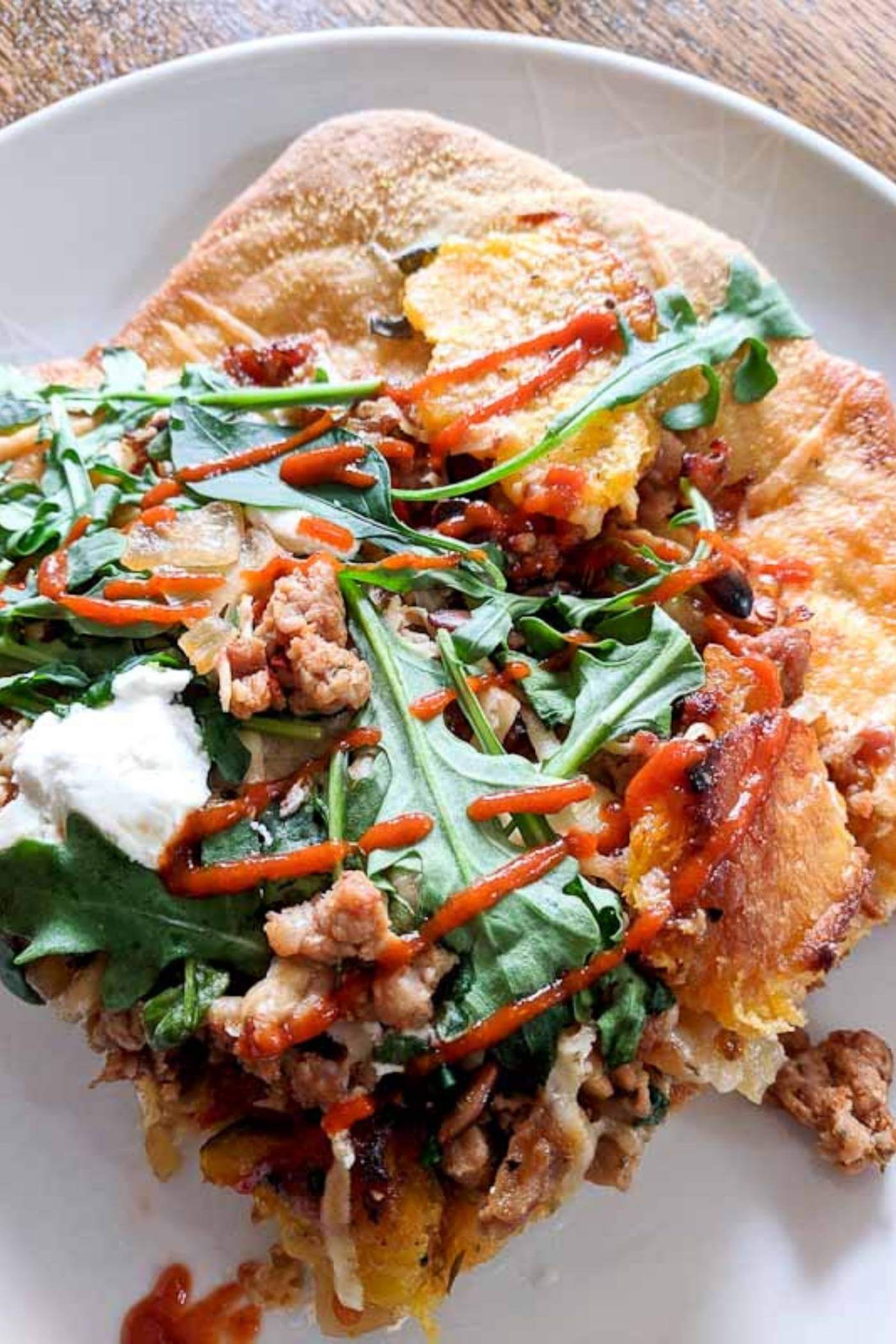 We're kicking off the weekend in style with family movie night and hot dogs (at the birthday boy's request) but I'll be dreaming of this pizza. Go make it tonight! It's the perfect Friday pizza night recipe for fall!
If you do make this Fall Harvest Pizza, let me know what you think in the comments! And don't forget to tag me on Instagram so I can see your beautiful creations!
More Delicious Pizzas Recipes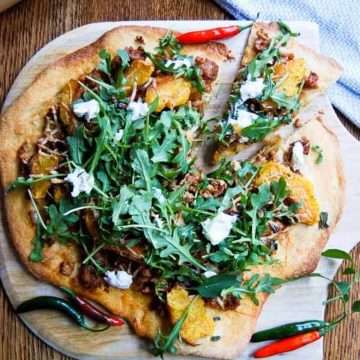 Fall Harvest Pizza Recipe
Homemade pizza is easy when you have the right ingredients. This pizza recipe is the best and uses all the flavors of fall to create a warm, spicy and delicious pizza. Roasted acorn squash, hot Italian sausage, creamy goat cheese and crisp arugula make this pizza a showstopper!
Ingredients
prepared pizza crust

½

acorn squash

1-2

serrano peppers

¼

cup

olive oil, divided

1

yellow onion, sliced thinly

3

garlic cloves, minced

½

lb

hot italian sausage (or if you prefer a milder pizza, you can just use regular italian sausage)

1

cup

grated parmesan cheese

1

large handful of baby arugula

4

oz

goat cheese, crumbled

¼

cup

toasted pumpkin seeds

sriracha for drizzling
Instructions
If you're making homemade pizza dough, prepare it in advance.

Slice your acorn squash into thin strips and arrange on a baking sheet. Brush the sliced acorn squash with olive oil. If you're using peppers, add them to the baking sheet as well. Roast the squash and peppers for 25 minutes, flipping halfway through.

While your squash and peppers are roasting, caramelize your onion.  Add half of your olive oil to the pan and sauté your sliced onions for about 20 minutes on low heat.  They should be translucent and soft when done.  Add the minced garlic to the onion and sauté for 2 minutes more.  Remove from heat and set aside.

In the same pan, brown your sausage.  Once the sausage is finished, combine it with the onion and garlic mixture.

Remove squash from the oven and peel skins off slices. Finely slice your peppers   Increase oven temperature to 425.

Place your prepared pizza dough on a parchment-lined pan or a baking stone and brush lightly with olive oil.

Layer the sausage, onion, and garlic mixture on the dough, and add the sliced squash and pepper to the pizza.  Sprinkle with Parmesan cheese and bake for 20 minutes, or until edges of the pizza are very slightly browned.

While your pizza is cooking, toast your pumpkin seeds. Place seeds in a small pan and stir over low heat for 3-5 minutes, until the seeds begin to smell fragrant.  Remove from heat and set aside.

Once the pizza has finished baking, top it with arugula, coat cheese crumbles and the toasted pumpkin seeds. 

If desired, drizzle pizza slices with Sriracha and/or additional olive oil.