This Cast-Iron Skillet Pizza is a game changer! Crispy crust and a perfectly baked pie, this method is an amazing way to make pizza and will become your new go-to for pizza night!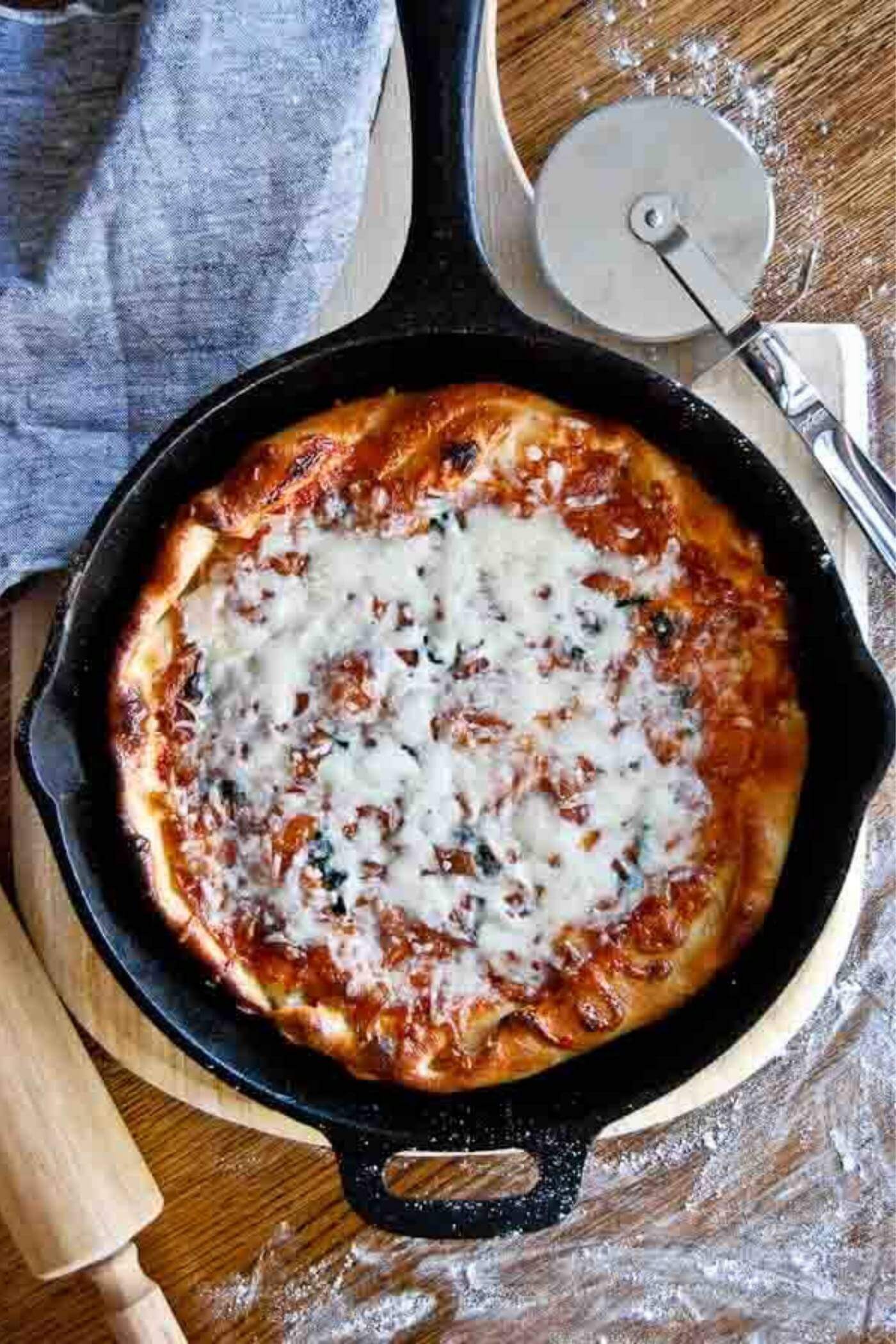 You knew it was coming, right? After posting our favorite homemade pizza sauce recipe it was only natural that a homemade pizza recipe was soon to follow. This cast-iron skillet pizza is a new take on making pizza and it's quickly becoming my favorite. Keep reading to find out what makes it so special, and exactly how to do it.
We're a once-a-week pizza night kind of family. Usually reserved for the weekends, we use pizza night as a chance to relax and reconnect as a family. Whether it's playing games, jamming to some music, or our kid's favorite, dinner theater (where we move the table in front of the television and eat while watching a new movie), pizza night has become a weekend tradition for us and we love it.
While it's nice sometimes to kick back and order pizza from one of the local pizzerias, we love to make our own. We roll out the dough, add our favorite pizza sauce, and let the kids pile on their own toppings. I love getting the kids involved in the kitchen and letting them help make dinner.
Our favorite new way to make pizza is in a cast-iron skillet. We first tried this method while our oven was on the fritz, by making it solely on the stovetop. While it was good, using just the stovetop didn't quite bake the entire pie as well as I'd hoped (even when covering it with foil). This is a good method to try when you don't have an oven (hello camping!).
We've since tried another method, which finishes the pizza off in the oven, and it comes out so so good. The cast-iron skillet has a way of making the crust perfectly crisp, and finishing the pizza in the oven ensures that everything bakes up nicely inside.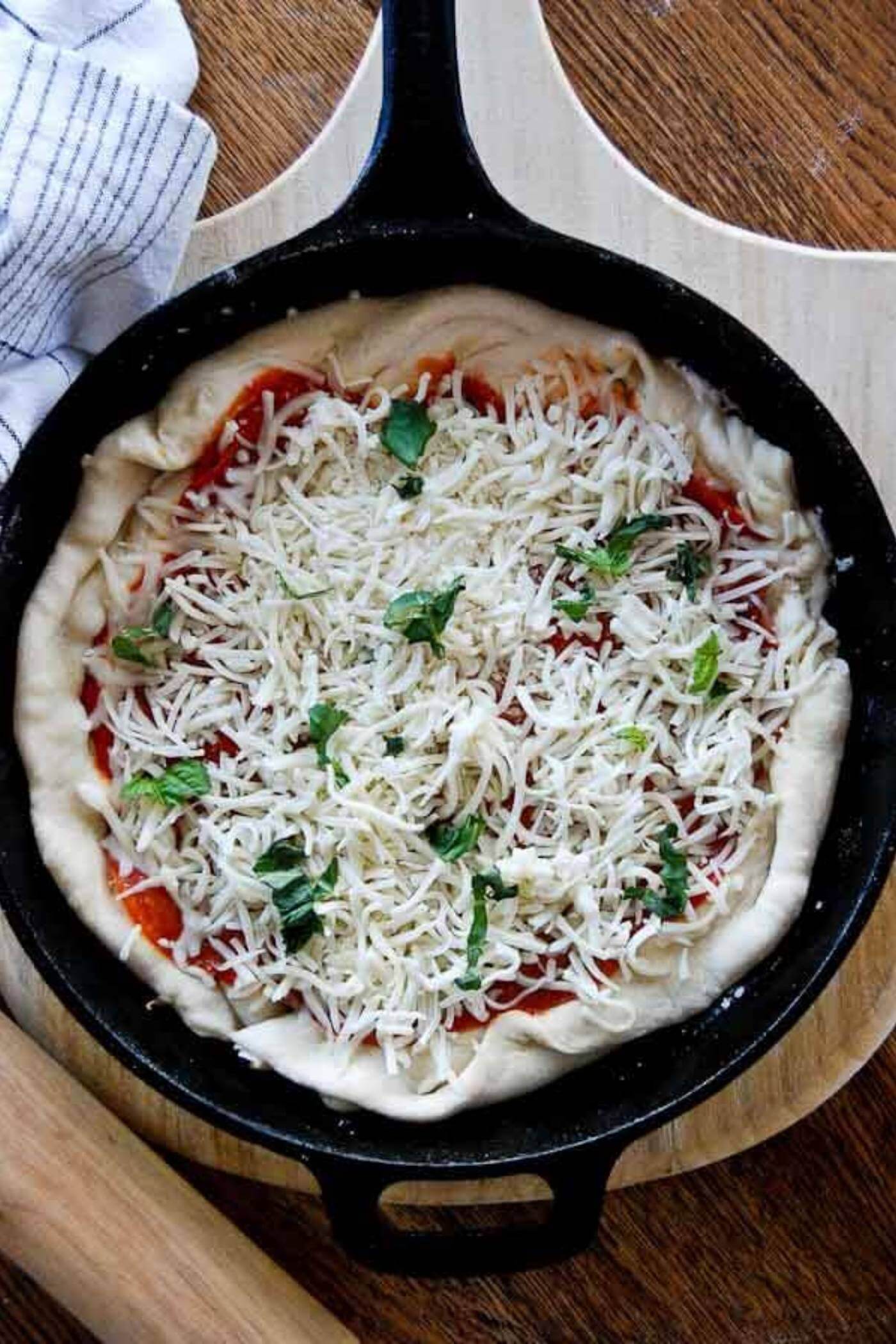 How To Make Pizza In A Cast-Iron Skillet
First, heat the oven up to 525 degrees (or as hot as it will go - you want this screaming hot!).
Roll out your pizza dough just a bit larger than your skillet. This will ensure that the dough can easily line the sides of the skillet.
(A quick note on pizza dough – you likely have a favorite recipe, but if not, or if you don't have time to make it yourself, you can find ready-to-roll-out pizza dough in most grocery stores. Our local King Soopers almost always has it in the deli section. Or, you can contact your favorite pizzeria and ask them if they'll sell you some of their dough. Most of them will, and they usually only charge you a few bucks for it.)
Next, heat your cast-iron skillet over a burner until it's nice and hot. Sprinkle a mixture of cornmeal, flour, and sugar over the skillet. This helps to make your crust nice and crispy, and also easier to remove.
Then place the pizza dough into the skillet, making sure to get it into the corners. Be careful – your skillet will be really hot, so use something to help you gently press the dough into the sides. (A rubber spatula is good for this).
Brush the top of the pizza crust with a little olive oil, salt, and pepper, and wait for it to start bubbling (it should be just a few minutes). Quickly spread your sauce onto the pizza dough (here's a recipe for a great sauce!).
A tip for adding your cheese and toppings. Start by adding a handful of cheese right on top of the sauce. I've found this helps work as a base for the rest of the toppings so they don't slide around so much. Then add your toppings, and finally, the rest of the cheese.
We love a simple pepperoni pizza at our house so we simply add pepperoni, fresh basil, and another smattering of cheese before carefully placing it into the oven. (This is a precarious process since the skillet is heavy and will be HOT! Use some sturdy potholders or towels and be careful here.)
Let the pizza bake for 8-10 minutes (check it at 8 to make sure the cheese isn't burning) then remove it from the oven. If you do find your cheese browning a bit more than you'd like, cover the skillet with foil for the remainder of the baking time.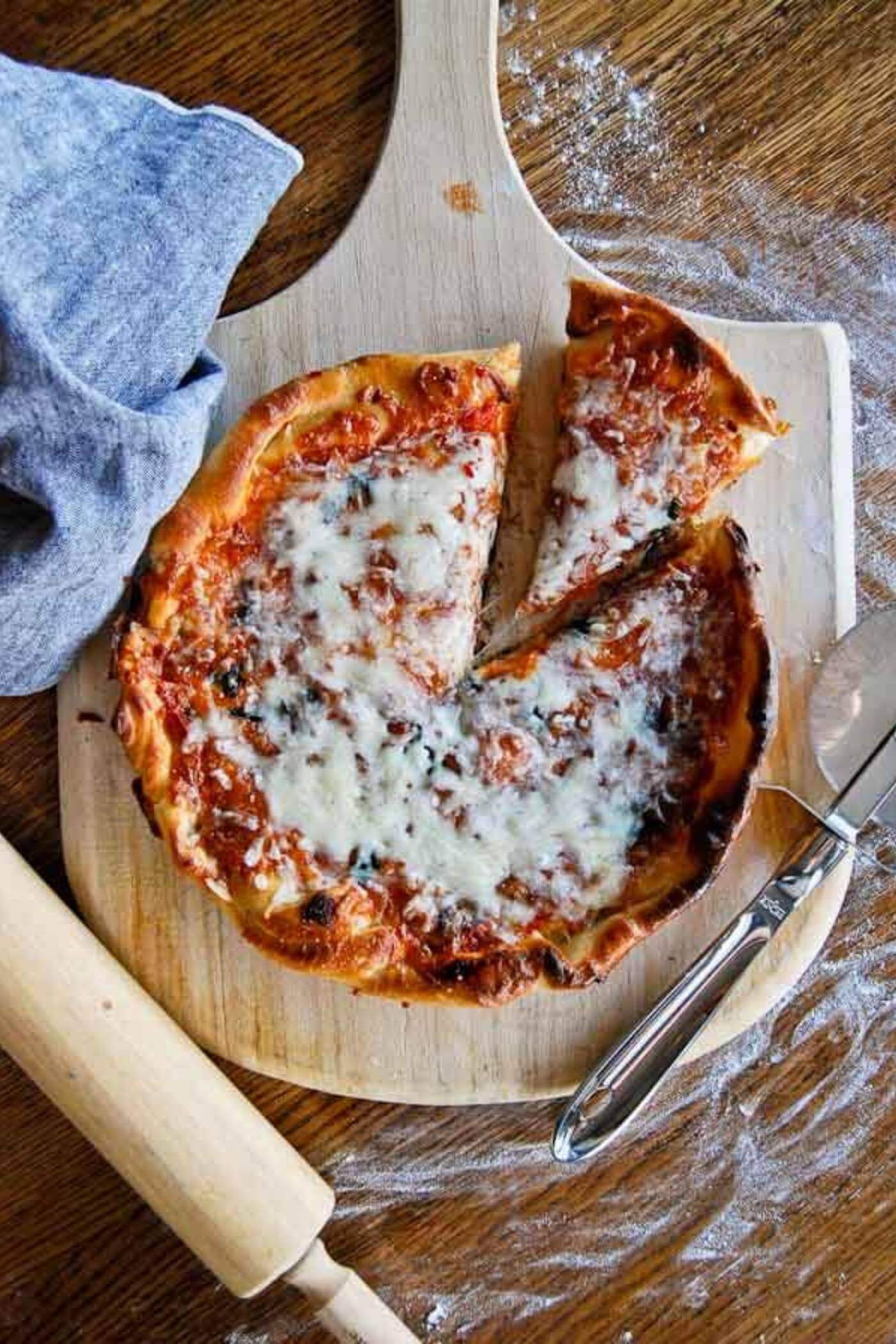 Add A Red Pepper Honey Glaze To Your Crust
You guys - this may be my favorite part. We do this to almost every pizza we make at home and it makes the crust completely addictive.
While your pizza is baking, mix some honey with a few tablespoons of warm water and some red pepper flakes. When the pizza is just out of the oven, brush the honey mixture along the edges of the crust.
This creates an amazingly delicious flavor on the edge of the crust. This is a genius trick that I learned from Bon Appetit and one that I employ on pretty much every pizza recipe I make. (Trust me on this one!)
Let the pizza cool for a few minutes then slice and serve!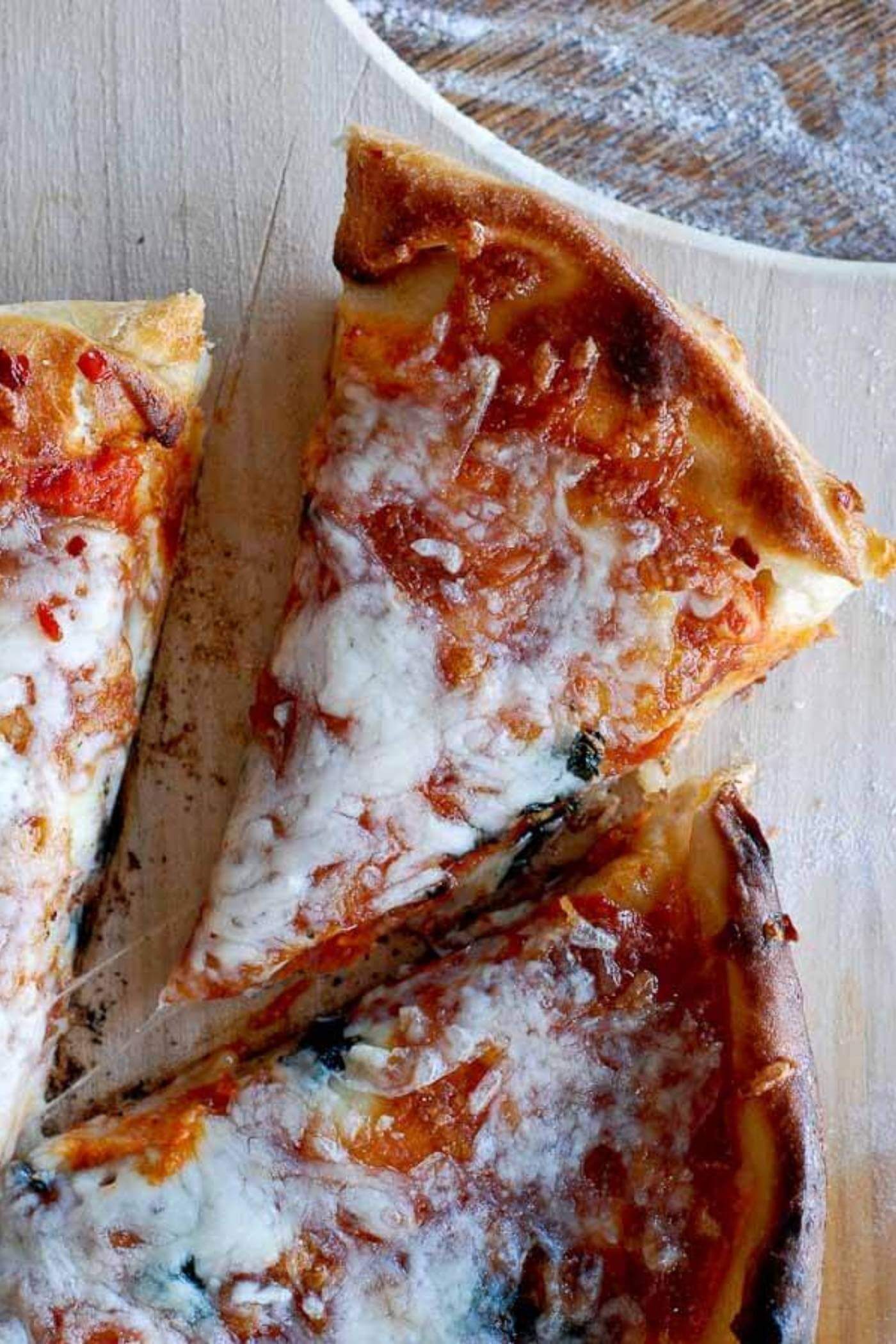 The cast-iron skillet makes this crust incredibly crispy and finishing it the oven delivers a perfectly baked pie every time.
If you make this Cast-Iron Skillet Pizza, let me know your thoughts in the comments below! And please tag me on instagram - I love to see your creations!
More Great Pizza Recipes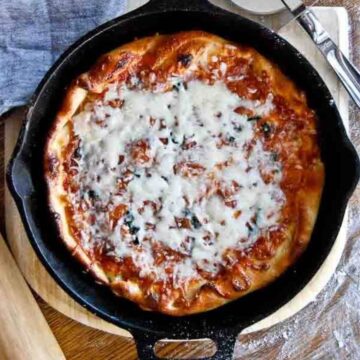 Cast Iron Skillet Pizza
This cast iron skillet pizza is a game changer! Crispy crust and a perfectly baked pie, this method is an amazing way to make pizza and will become your new go-to for pizza night!
Ingredients
pizza dough - homemade or store-bought

2

tablespoon

cornmeal

1

tablespoon

flour

½

tablespoon

sugar

1-2

tablespoon

olive oil

dash of salt and pepper

1 ½

cup

pizza sauce

1

package

pepperoni

2

cups

mozzarella cheese

1

handful

fresh basil, chopped

1 ½

tablespoon

honey

1

dash

crushed red pepper
Instructions
Preheat the oven to 525 degrees.

Prepare your crust. If using store bought crust, remove from the refrigerator and let it sit at room temperature for about 20 minutes.

Roll/stretch your dough out into a large round circle (big enough to fit your skillet, with a bit of extra for the sides

Heat your skillet over the stovetop until it is hot (your skillet should be hot, but not smoking).

Evenly spread cornmeal, flour and sugar in the bottom of the skillet.

Place your prepared dough into the skillet, gently pressing the dough into the sides (I like to use a spatula to help with this – remember that skillet will be HOT!)

Brush the dough with olive oil and cook for a couple of minutes, until the dough starts to slightly bubble on the stovetop.

Lightly sprinkle salt and pepper over the dough, then add your pizza sauce.

Add a thin layer of mozzarella cheese on top of the pizza sauce.

Add the pepperoni, and half of the basil (or whatever other toppings you're using).

Top with the remaining mozzarella cheese and carefully place in the oven

Bake pizza for 10 minutes, checking carefully for the last few minutes of  baking to ensure the cheese isn't starting to brown too much.

While the pizza as baking, combine honey, water and crushed red pepper in a small bowl.

Once pizza is finished baking, carefully remove the skillet from your oven.

Brush the honey mixture along the edge of the crust and let the pizza sit for about 5 minutes.
Notes
(Recipe inspired by
this one
from Bon Appetite)