Chicken Bacon Ranch Wraps are incredibly easy to make. Stuffed with tender chicken, crispy bacon, and creamy ranch dressing, this easy lunch recipe is mostly healthy and perfect for your next meal or casual lunch party!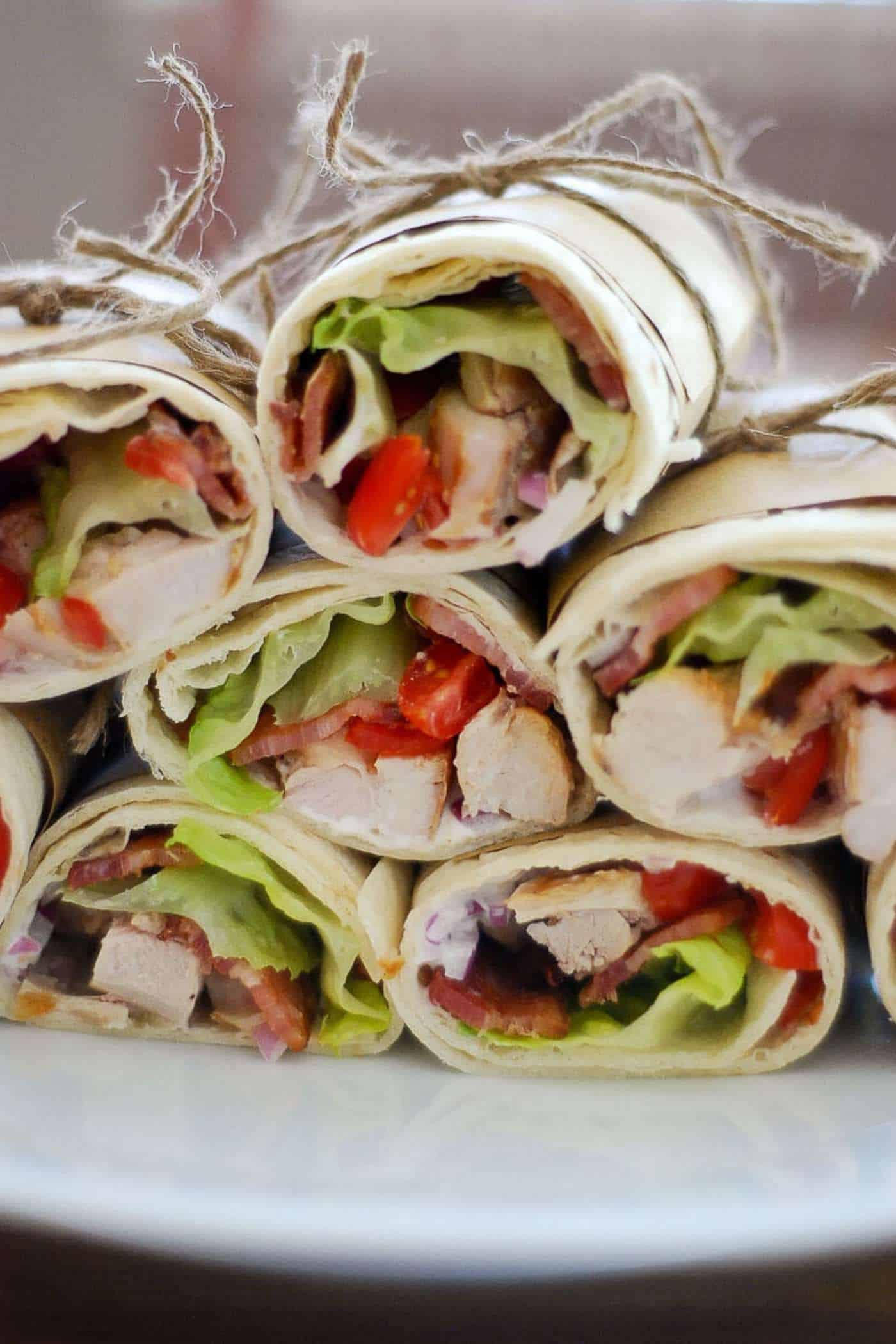 If you're looking for a delicious and easy lunch wrap idea, look no further. My kids love these chicken wraps and can not get enough of them. They're great for an easy meal or perfect to serve at a casual lunch party, cookout, potluck, or picnic.
Why You'll Love These Easy Wraps
These wraps are simple to make. I used pan-fried chicken thighs but you could just as easily use store-bought deli chicken, rotisserie chicken, or chicken breasts.
They're super filling and a great main dish for lunch or dinner.
Chicken Bacon Ranch wraps are super customizable. Use a spicy ranch to add some kick, add in some extra veggies for some more crunch, or change up the wrap for a different texture or flavor.
Wrapping them in craft paper and twine makes such a pretty presentation - totally worthy to serve at a casual lunch, picnic, wedding, or baby shower.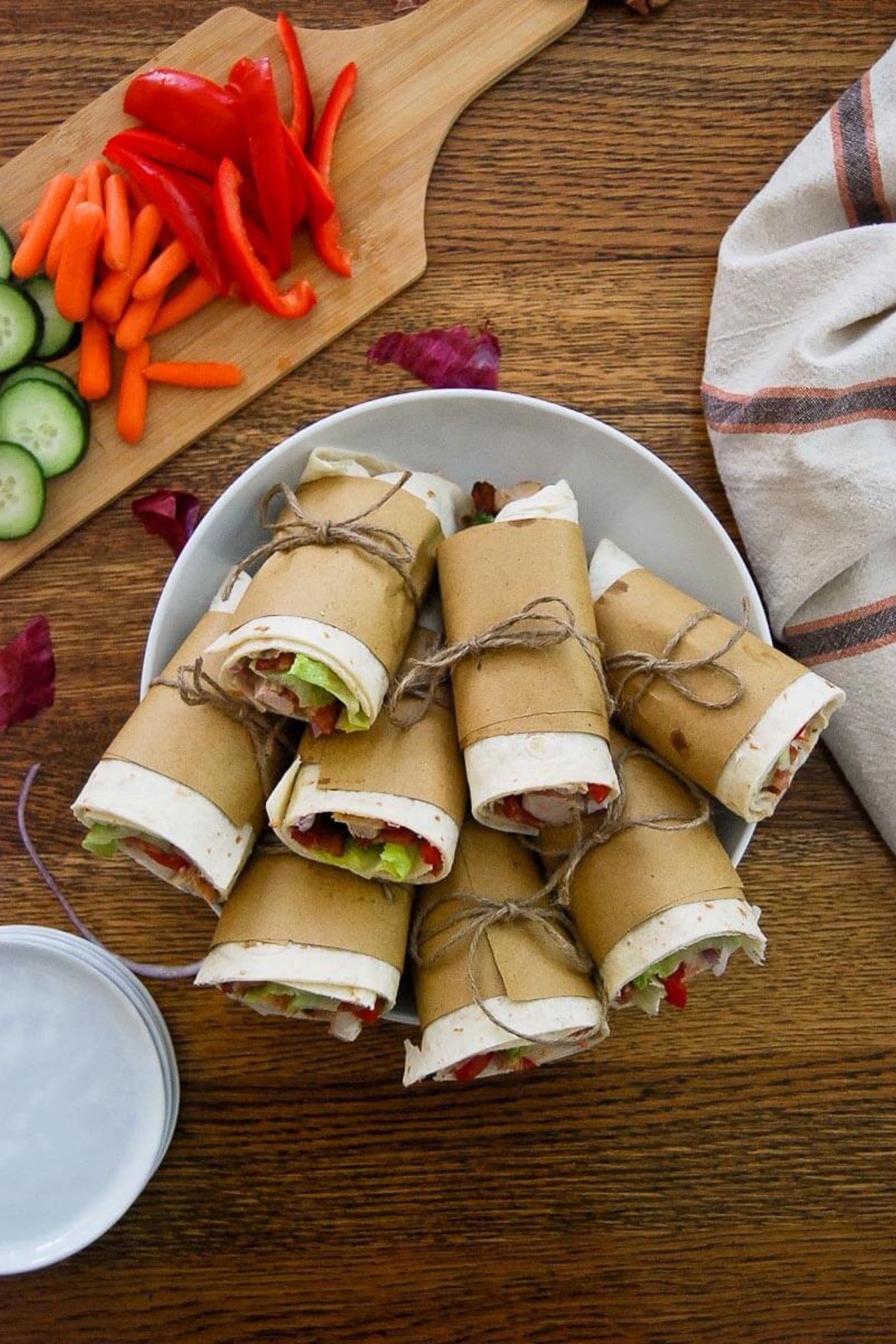 Key Ingredients
Chicken. You can use chicken breast or thighs here, or could even get sliced deli chicken or rotisserie chicken to make this recipe even easier and faster.
Bacon. I like to cook my bacon in the oven on a sheet pan. This makes it so easy and way less messy to clean up afterward.
Ranch. Make your own, or use your favorite store-bought ranch dressing.
Wraps. I used large flour tortillas for these chicken bacon ranch wraps and then cut them in half. But you could use any sort of sandwich wrap you'd like. I do recommend a larger size if you're serving these at a party. Cutting the wraps in half and serving them that way makes for a really nice presentation.
How To Make Chicken Bacon Ranch Wraps
Start by preparing your bacon. Line a baking sheet with foil and a baking rack, add your strips of bacon, set the oven to 380 degrees, and slide your baking sheet into the cold oven. Set your timer for 20-30 minutes (depending on how thickly cut your bacon is).
While your bacon is cooking, prepare the chicken. Rinse your chicken and pat it dry. Season the raw chicken with salt and pepper, and ¼ teaspoon of cayenne pepper. Cook the chicken in a large pan over medium-low heat for about 6-8 minutes, then flip the chicken and cook until well-browned and the internal temperature reaches 165 degrees. (Note - cooking time will vary here depending on if you use breast or thighs, and on how thick your chicken pieces are). Allow the chicken to rest for about 10 minutes before slicing it into strips.
Dice and drain your tomatoes. This step may seem unnecessary, but it's especially important if you're making these wraps ahead of time. This will prevent the juices from the tomatoes seeming into the wraps and making them soggy.
Spread your wraps out and assemble the ingredients, adding 3-4 strips of chicken, 2 strips of bacon, shredded lettuce, and your diced tomatoes onto one end of the wrap. Drizzle ranch dressing in a single line over the ingredients.
Slowly and carefully wrap the tortilla or sandwich wrap around the ingredients to form the wrap.
Using a sharp knife, slice the wrap in half. Serve immediately, or wrap in plastic wrap and store in the fridge for later.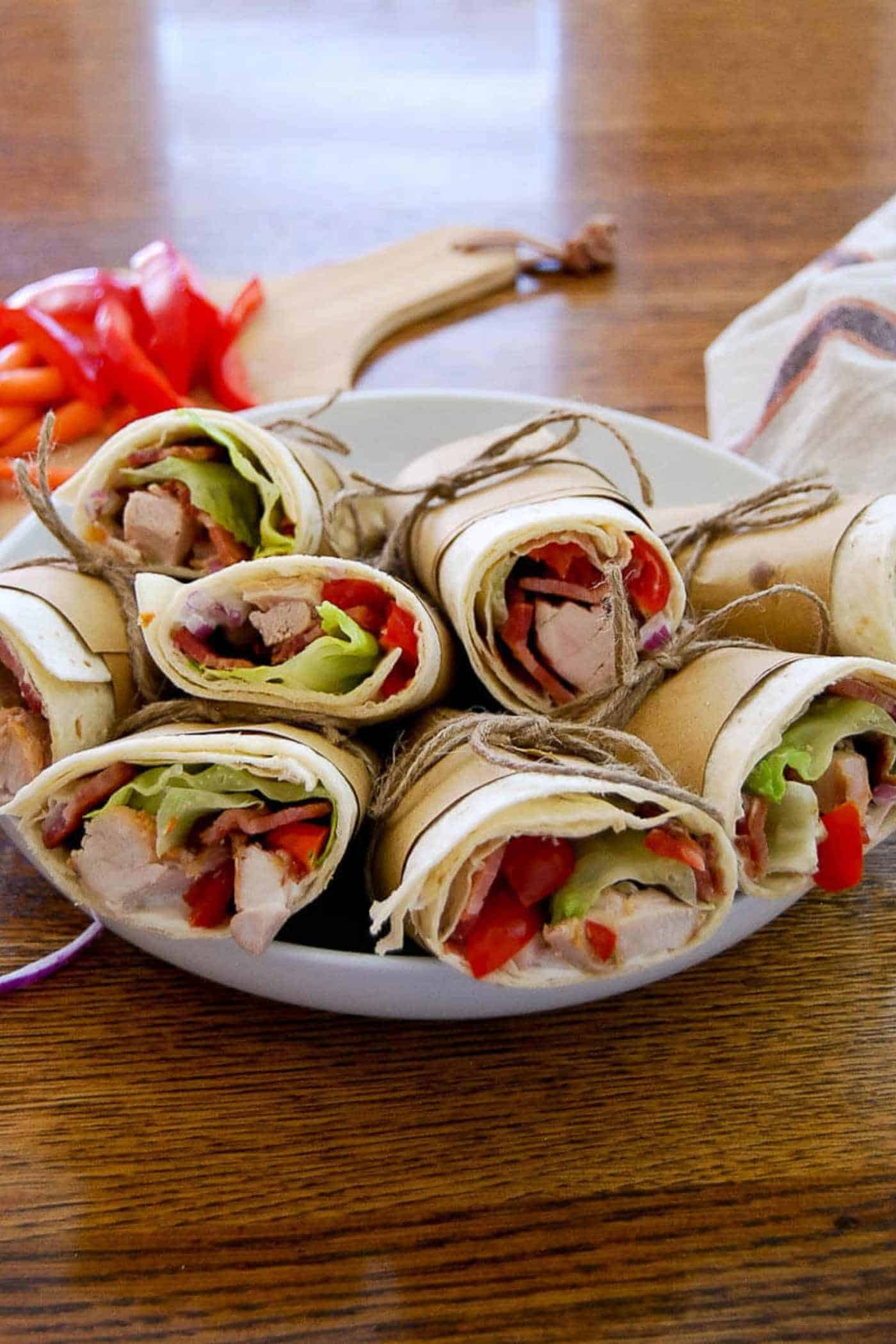 Helpful Tips
Don't fill your wrap too full. I've made this mistake too many times and ended up with a wrap that doesn't stay closed or rips in the middle. Warming the wrap for about 10 seconds or so in the microwave also helps make it a bit more pliable and easier to fold and wrap.
To make your prep easier, use sliced deli chicken, or, use rotisserie chicken.
Add seasoning to your chicken for extra flavor. I used cayenne here but a mix of Italian seasonings would also work well.
Drain your chopped tomatoes so the juice doesn't make your wraps too soggy, especially if storing them to use for later.
If serving these at a party, wrap some pretty craft paper around each individual wrap and tie it with a string or twine for a pretty presentation.
Variations
I love this chicken bacon ranch wrap recipe as it is, but there are tons of ways to mix it up:
Vary your greens to add some different texture/flavor. Iceberg works great here since it provides a good crunch, but you could also try butter lettuce, Romain, or even arugula if you'd like a more earthy flavor.
add some spice by adding a little hot sauce or sriracha sauce to your ranch dressing.
Keep this wrap low cal/low-carb by using light ranch, and omitting the wrap, opting for a large lettuce leave instead - chicken bacon ranch lettuce wraps!
Get some good quality bread and make it a chicken bacon ranch sandwich.
Add in avocado for some good for you healthy fats!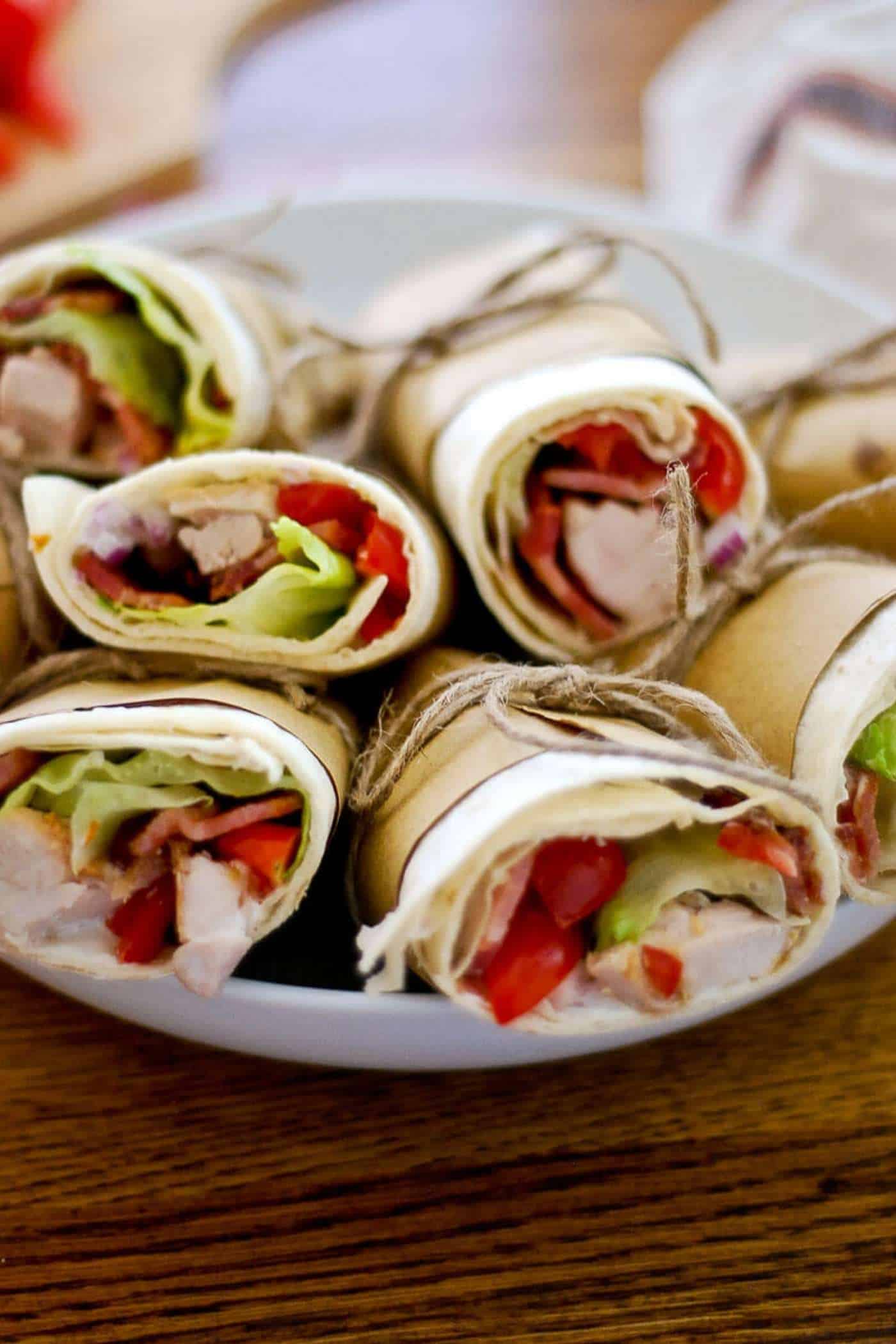 What To Serve With These Chicken Bacon Ranch Wraps
These wraps are a great main dish, and would be complimented with any of the following side dishes:
If you make these Chicken Bacon Ranch Wraps, let me know what you think in the comments. And don't forget to share a pic on Instagram by tagging @frontrangefed. I love to see your creations!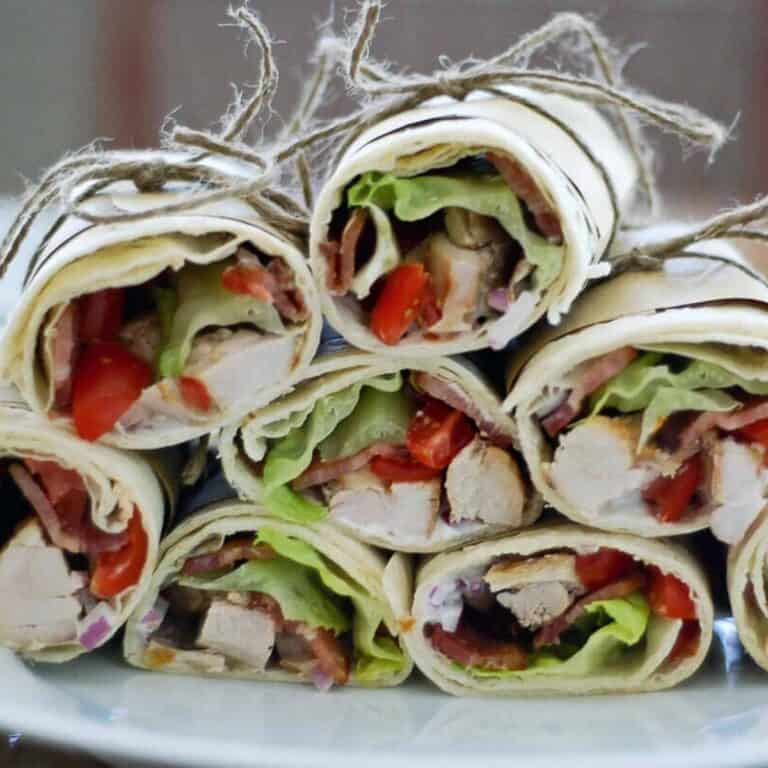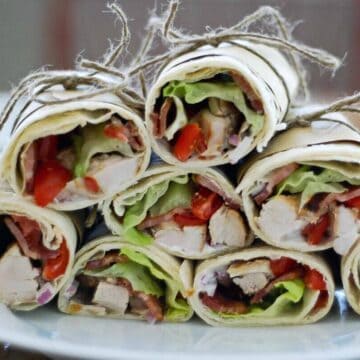 Chicken Bacon Ranch Wraps
Chicken Bacon Ranch Wraps are incredibly easy to make. Stuffed with tender chicken, crispy bacon, and creamy ranch dressing, this easy lunch recipe is healthy and perfect for your next meal!
Ingredients
4

large

flour or sandwich tortillas

8

oz

chicken - roasted, pan fried, or even cooked in your instant pot is fine!

salt and pepper to taste

¼

teaspoon

cayenne pepper

(to season chicken)

8-10

strips

thick bacon

½

head

iceberg lettuce

(or 8-10 Romain lettuce leaves)

1

tomato, diced and drained

4

tablespoon

ranch dressing
Instructions
Prepare your bacon by lining a large baking sheet with foil, and topping it with a baking rack. Align your bacon strips on the rack, then place the rack in a cold oven. Set the oven to 380 degrees, and set a timer to check the bacon in about 20 minutes. Depending on the thickness of your bacon, you may need up to 30 minutes for it to become crisp.

While your bacon is cooking, repare your chicken. Rinse the chicken and pat it dry with a paper towel. If roasting or cooking on a skillet, season the raw chicken breast or thighs with salt and pepper and cayenne pepper. Cook chicken until the outside is browned and an internal thermometer reads 165 degrees. Allow the chicken to rest on a cutting board for 10 minutes, then cut the chicken into into strips.

Dice the tomato and allow it to drain in a colander or fine mesh strainer for about 10 minutes, while your chicken is cooling.

When you're ready to assemble the wraps, warm the wraps for 10 seconds in the microwave. Lay the wraps out flat and add 3-4 chicken strips, 2 bacon strips diced tomatoes, and lettuce to each wrap. Drizzle ingredients in each wrap with 1 tablespoon of ranch dressing.

Create each wrap by rolling each tortilla carefully and tightly around the center ingredients.

Using a sharp knife, cut each wrap in half, then wrap with craft paper and tie with string (or wrap with plastic wrap if serving later.
Notes
Wraps will keep for two days in the refrigerator.