Roasting the squash makes all the difference for this Butternut Squash Soup. It's a silky smooth soup that can be made vegan but is also great topped with sour cream and crumbled bacon. Great as a side, or add some crusty bread and a salad for a delicious light meal.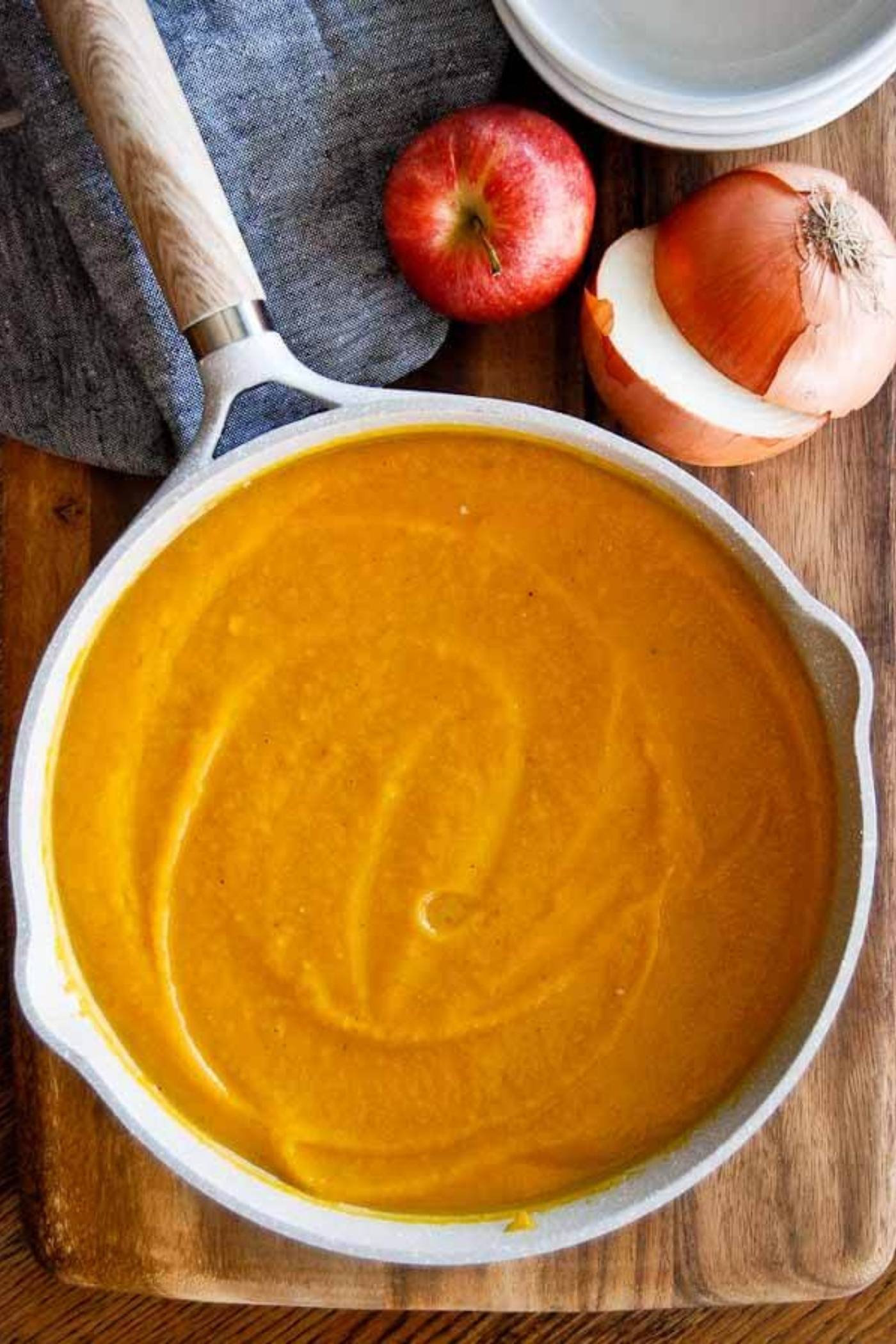 This past weekend we celebrated my youngest son, George's 6th birthday. It seems impossible that he is that old, strutting around like a little man and making me laugh on a daily basis. My baby has become a full-fledged boy. And, while I love watching him grow, it nearly brings me to tears each time I notice him changing. The softness falling away from his face, getting taller by the minute and needing me less and less. I love it all, but, come on, time. Slow down already!
Anyhow, it was a gorgeous day on his birthday, Saturday – reaching almost 80 degrees!! And Jon even took George hiking after his birthday party it was so lovely.
But guess what we woke up to this morning? A blanket of snow and a high of 30 degrees. Which makes me say for about the zillionth time since we moved here 6 years ago, "You're weird, Boulder".
It's these types of days that I hanker for something warm and comforting. And there is absolutely nothing better on a cold, snowy day, than knowing you're coming home to a steaming bowl of delicious soup.
What Makes This Butternut Squash Soup Great
This butternut squash soup is silky smooth and ticks off all the boxes:
Simple to make. You can even make it in advance and then just reheat it when you want to eat it.
Big on flavor. Roasting the squash here makes this soup superb.
Light on calories.
Very healthy, with apples, garlic, onion, and roasted squash starring as the main event.
It's the perfect soup to make when you want something light but filling and comforting. Add a sharply dressed salad and you have yourself a meal.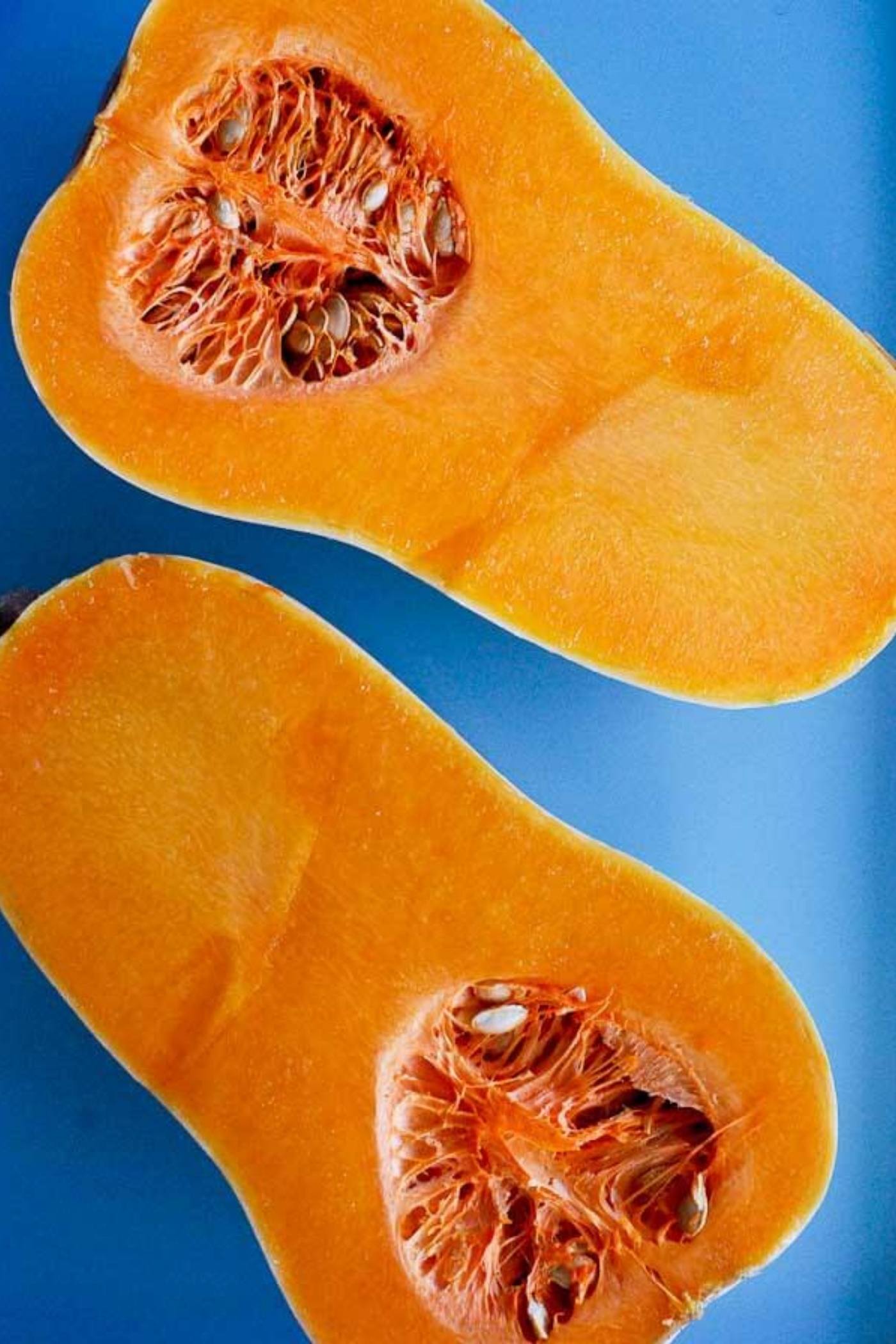 How To Make Butternut Squash Soup
Roast The Butternut Squash. You start by roasting the squash, which is great for two reasons. First, the roasting process really highlights the rich flavor of the squash and makes the soup insanely delicious.
The second reason that roasting it is so great is that I'm lazy and roasting the squash means I don't have to chop it up into cubes or anything. Once it's roasted you can just scoop the flesh right out of the skin and it's ready to go. Swoon.
Prepare Your Add-Ins. While the butternut squash is roasting, you can prepare the other ingredients that make this soup super special. Butternut squash is slightly on the sweeter side and adding an apple really brings out that sweetness without overpowering it (like other sweeteners might).
But I also like to balance the sweetness with some spiciness so I add onion, garlic, and some herbs to create a nice mix of flavors. Sautee the apple, onion, and garlic in a pan on low heat until they are soft, and set them aside until the squash is finished roasting.
Blend Your Soup. Once your squash is ready, simply scoop the flesh out, add it to the apple, garlic, and onion mixture, and add your herbs. Put it all in a food processor or blender along with some veggie broth and puree the mixture until it's silky smooth and deliciously creamy, working in batches if you need to.
Finally, just heat over the stove in a pot until it's piping hot.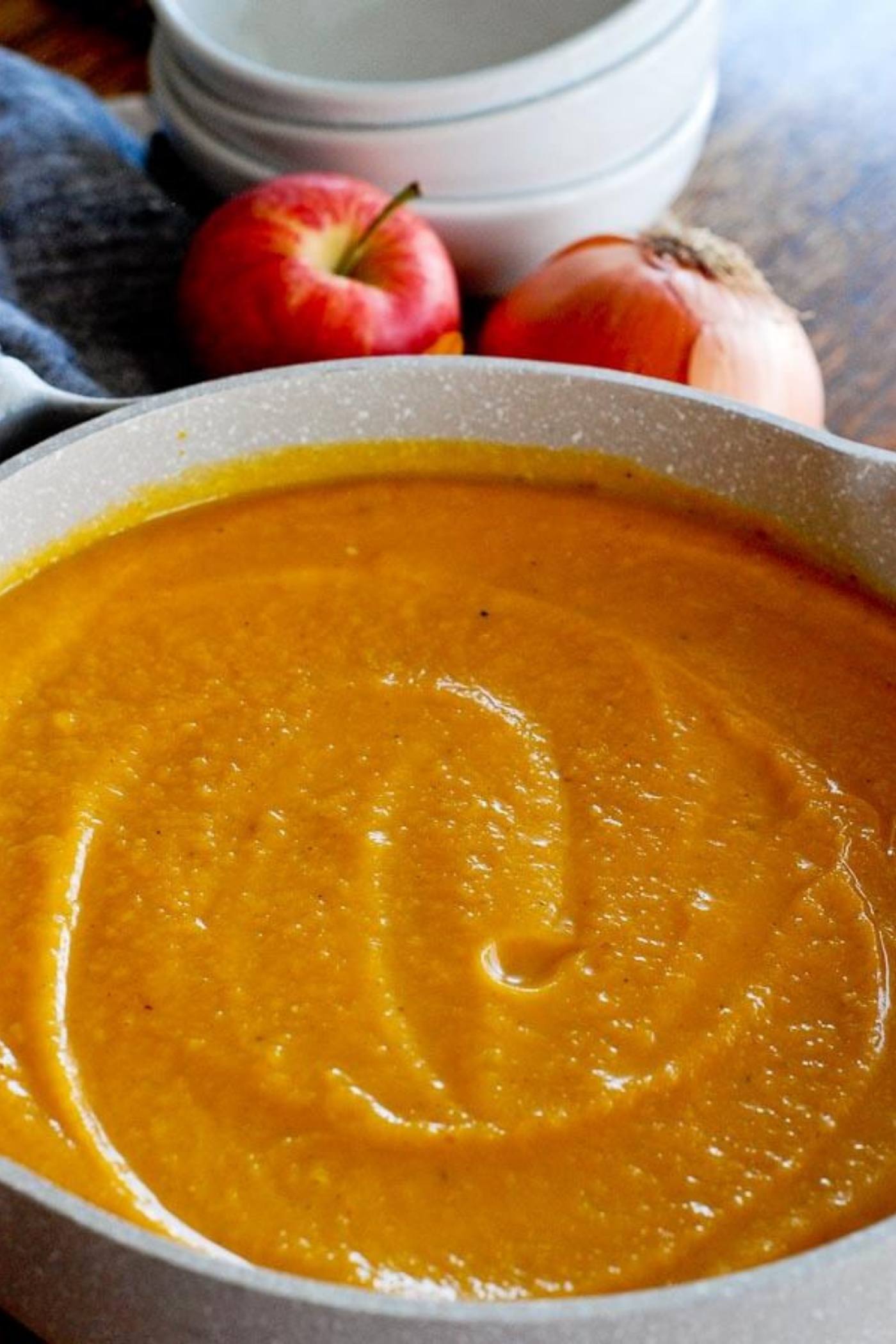 Toppings For Butternut Squash Soup
If you're going the vegan route, this roasted butternut squash soup is good just like this. Maybe throw on a dash of crushed red pepper flakes if you're feeling crazy. But if you want to make this soup truly decadent (and decidedly NOT vegan), it's easy to do. Adding a dollop of sour cream and crumbled bacon really pushes this soup into the category of ultimate comfort food. Pull out a chunk of crusty bread to go with it and you'll be set to fall asleep watching Netflix on the couch about an hour after eating. Done and done.
Can I Make This Soup Ahead Of Time?
You can absolutely make this soup in advance if you're the type that likes to plan ahead. Just puree everything, pop it in the fridge until you're ready to eat, and heat it through just before serving. The perfect dish for meal planning and awesome for a weeknight dinner. You could even freeze it for a quick dinner at a later date!
If you make this Roasted Butternut Squash Soup, let me know by tagging me on Instagram! I love seeing your creations!
More Great Soup Recipes!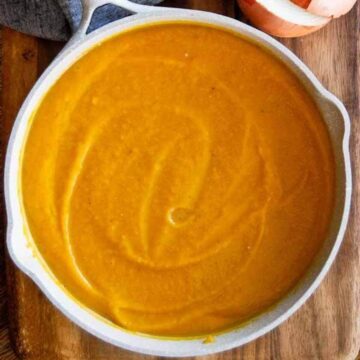 Roasted Butternut Squash Soup
Roasting the squash makes all the difference for this butternut squash soup. It's a silky smooth soup that can be made vegan, but is also great topped with sour cream and crumbled bacon. Great as a side, or add some crusty bread and a salad for a delicious light meal. 
Ingredients
1

large butternut squash

3

tablespoon

extra virgin olive oil, divided into 1 and 2 tablespoons

½

chopped onion

4

garlic cloves

1

apple, peeled and chopped

½

teaspoon

sage

¼

teaspoon

cayenne pepper

2-3

cups

veggie broth

crumbled bacon and sour cream for topping
Instructions
Preheat oven to 425 degrees.

Using a large, sharp knife, slice the butternut squash in half.

Brush 1 tablespoon of olive oil over the cut portions of the squash and place face down on a lined baking sheet (I use a slip mat to line my baking sheets, but you could also use foil).

Bake squash for 50-60 minutes, or until squash is tender and easy to scoop out of the peel.

While the squash is baking, sauté onion and apple in a small pan with the remaining olive oil over medium heat for 5-6 minutes. Add garlic and sauté for an additional 1-2 minutes, being careful not to let the garlic burn or brown. Set mixture aside.

Remove the squash from the oven and allow to cool for several minutes. Scoop the flesh from the butternut squash.

Add the squash, sautéed mixture spices, and 1 cup of the veggie broth to a blender or food processor.

Puree soup until smooth, adding more veggie broth if it feels too thick. (You can work in batches if everything doesn't fit into your blender all at once. 

Once soup is blended, pour it into a large pot and heat over medium/low heat on the stove until warmed, about 10-12 minutes.

Scoop butternut squash soup into bowls and top with crumbled bacon, sour cream, and a sprinkle of cayenne pepper if desired.