This hearty Instant Pot Chicken Noodle Soup is so easy to make and is totally doable on a weeknight! There's absolutely nothing better for fighting a cold than this delicious comfort soup.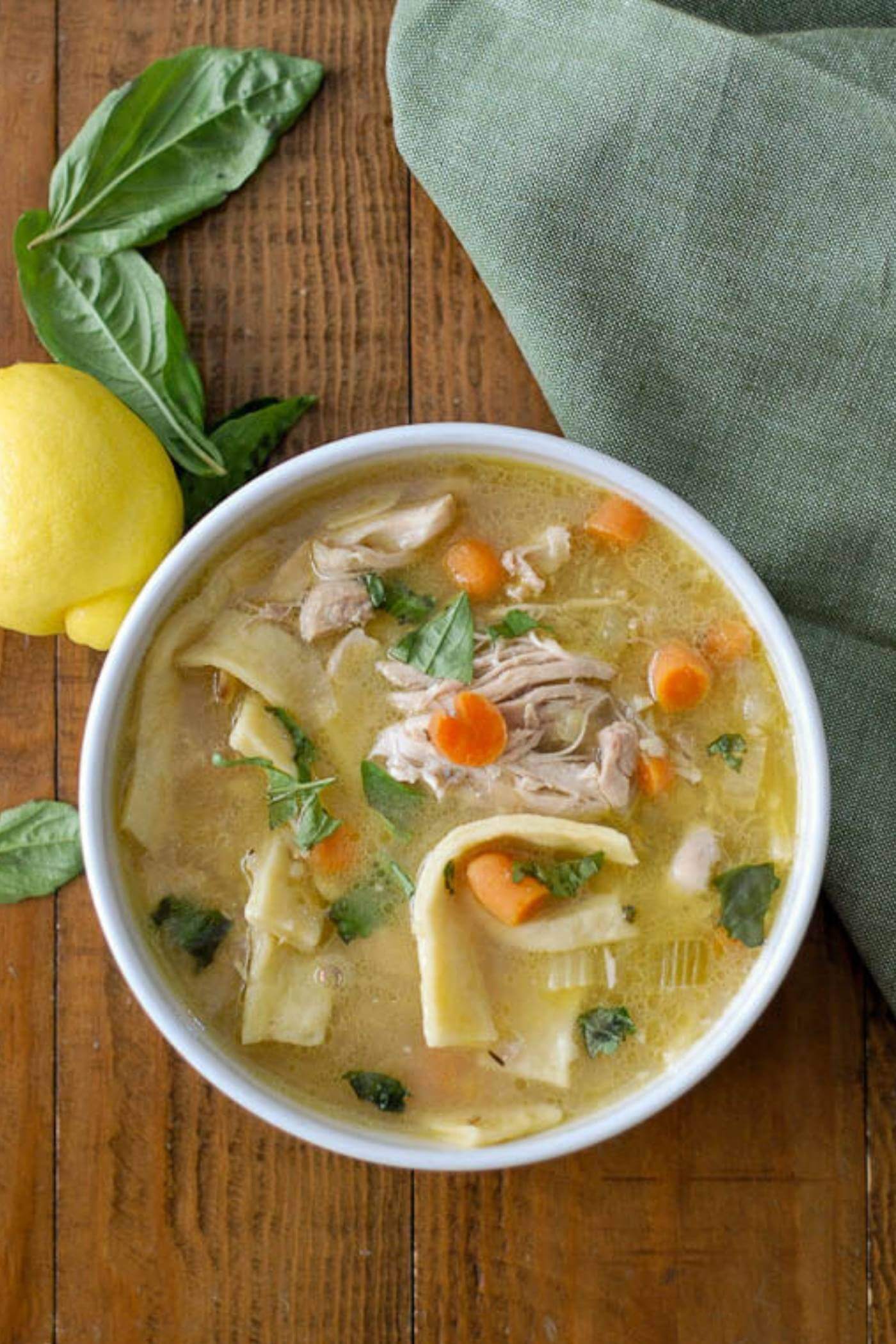 So remember last week when I told you about how my 4-year-old started preschool? Well, guess who came home on Friday coughing and sniffling like crazy, complaining of a sore throat, and feeling downright miserable? Uggghhh…..and so it begins.
The all-night coughing, the scratchy sore throat, the endless runny noses…this was our whole fall last year and it spread to our entire family. The cold that just would not go away. So when it popped up so soon in my preschooler (and has since spread to my second grader), I was determined to stop it in its tracks. Starting with this easy and delicious chicken noodle soup.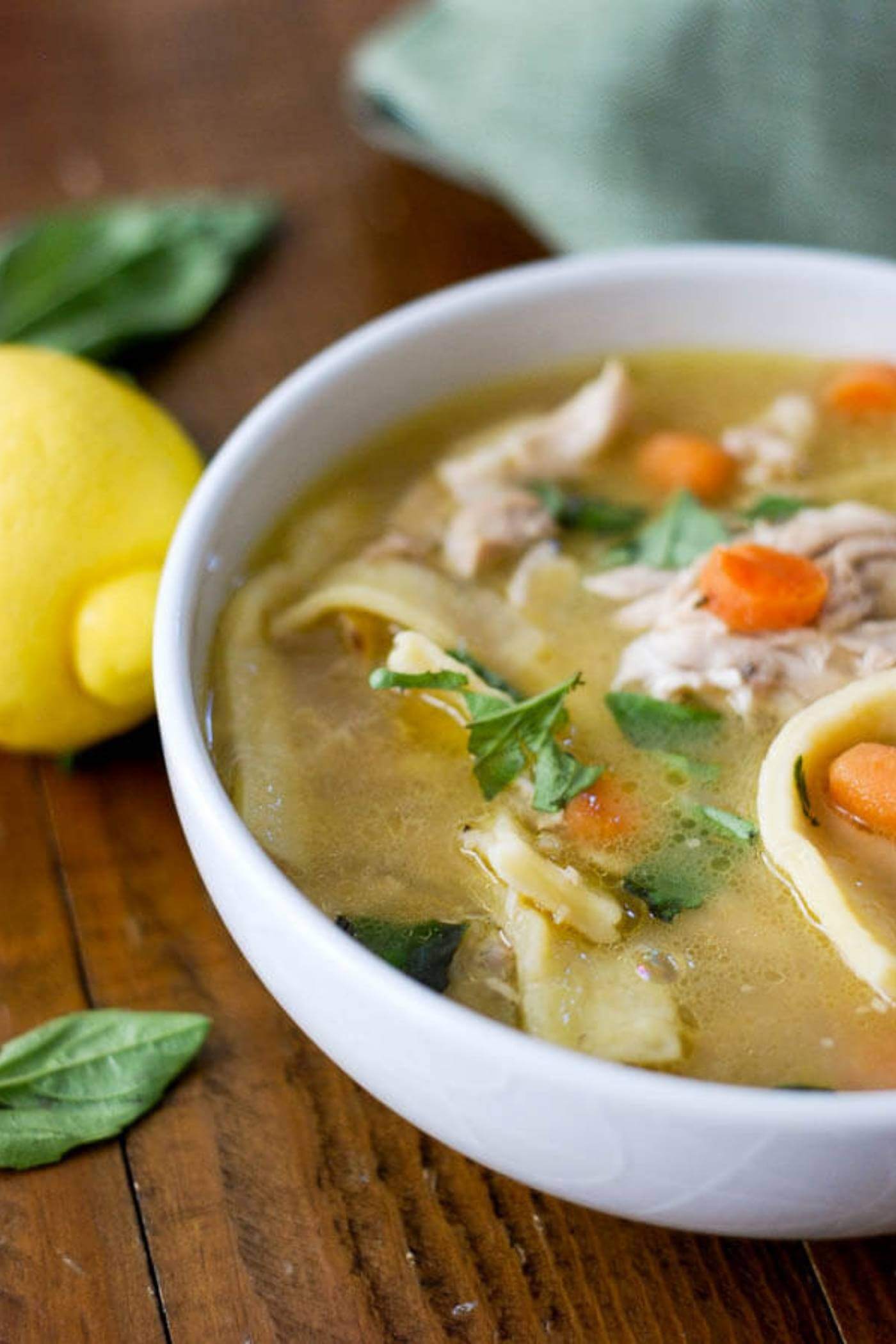 Friends, this soup is so good and comforting with its garlicky broth and homemade noodles, and it's also great at helping you fight off a cold. Plus, did I mention you can make most of it (apart from the noodles) in one pot and it cooks up in under an hour? See? It's totally doable for a weeknight meal when you have no time to labor over a stove for hours.
Ingredients
This Instant Pot chicken noodle soup calls for all the basics – carrots, celery, onions, spices, chicken (obviously). But it kicks up the antioxidant factor a bit by adding in heaps of garlic and uses homemade egg noodles for an extra dose of comfort.
Making The Homemade Egg Noodles
Ok. I know what you're thinking at this point…."Homemade noodles? Ummmmmm….I thought you said this was an easy weeknight dinner?". I did. And trust me, it is. Making your own noodles requires just the teensiest bit of extra time, but you can actually just make them while the soup is pressure-cooking so it's no big deal and it's so worth it!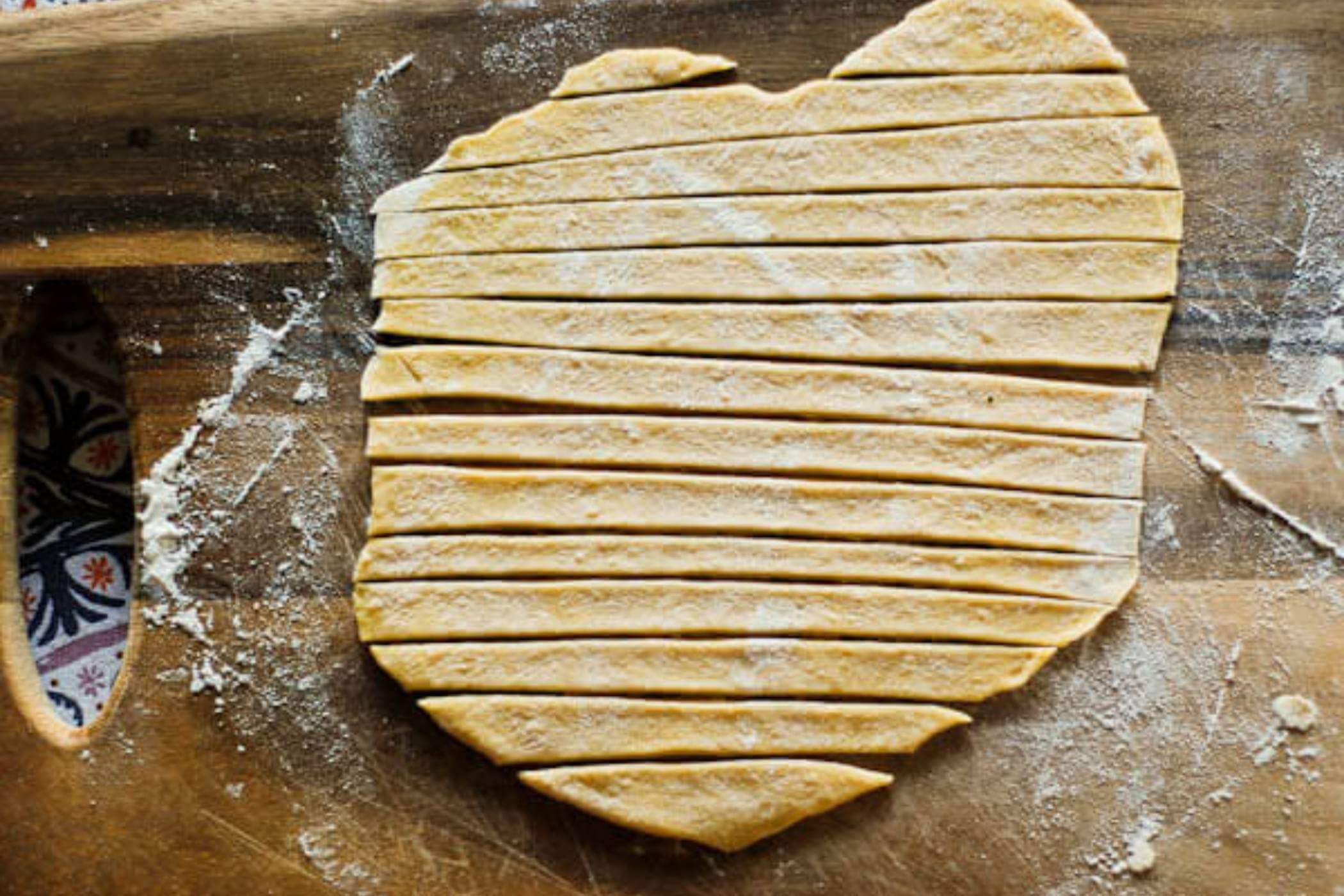 And it's so so easy. Even the ingredients are easy – flour, eggs, salt. You really can't get any more basic than that. If you have those pantry staples, a rolling pin, and 15 minutes you can bang out these homemade egg noodles in a flash.
Oh! And if you're a planner and want to make these ahead, you totally can. Just let them air dry and store them in an airtight container at room temp for up to a month. And then you can brag to your friends that you're the type of person who makes their own noodles. You know, if you're into that sort of thing.
But, if making the noodles isn't your thing, don't sweat it. You can always just buy egg noodles at the store.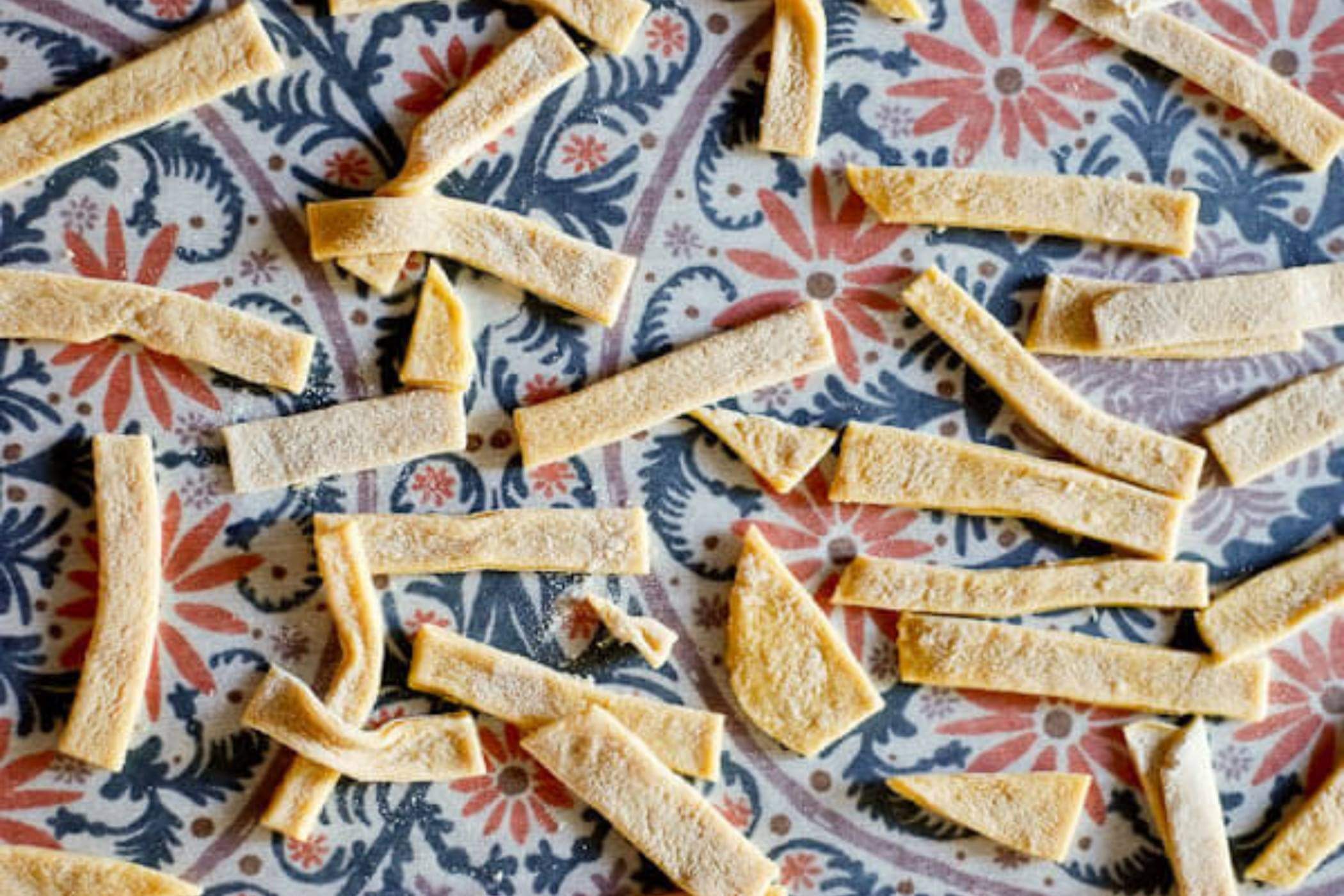 How To Make This Instant Pot Chicken Noodle Soup
This meal cooks up FAST in the instant pot. And best of all, you can make most of it (apart from the noodles) right in the Instant Pot, limiting the number of dirty dishes you have to clean at the end!
You start by turning your Instant Pot on to saute mode. Add the veggies and cook for 3-4 minutes, or until soft.
Remove the skin from the chicken and season it well with salt and pepper.
I use bone-in raw chicken thighs (remove the skin) to make the soup a bit more flavorful. After the thighs cook in the instant pot they pretty much fall right off the bone and then it's easy to shred them and throw them right back into the soup.
Then just add your rosemary and Italian spices, the chicken, broth, water, and bay leaves to the instant pot and set it to pressure-cook for about 10 minutes.
The final step is to add your noodles. You want to do this at the end to avoid your noodles over-cooking. Leave them in too long and they become soggy and will fall apart. Just add your noodles at the end, bring everything to a boil, cook it all for a few more minutes, and you're done!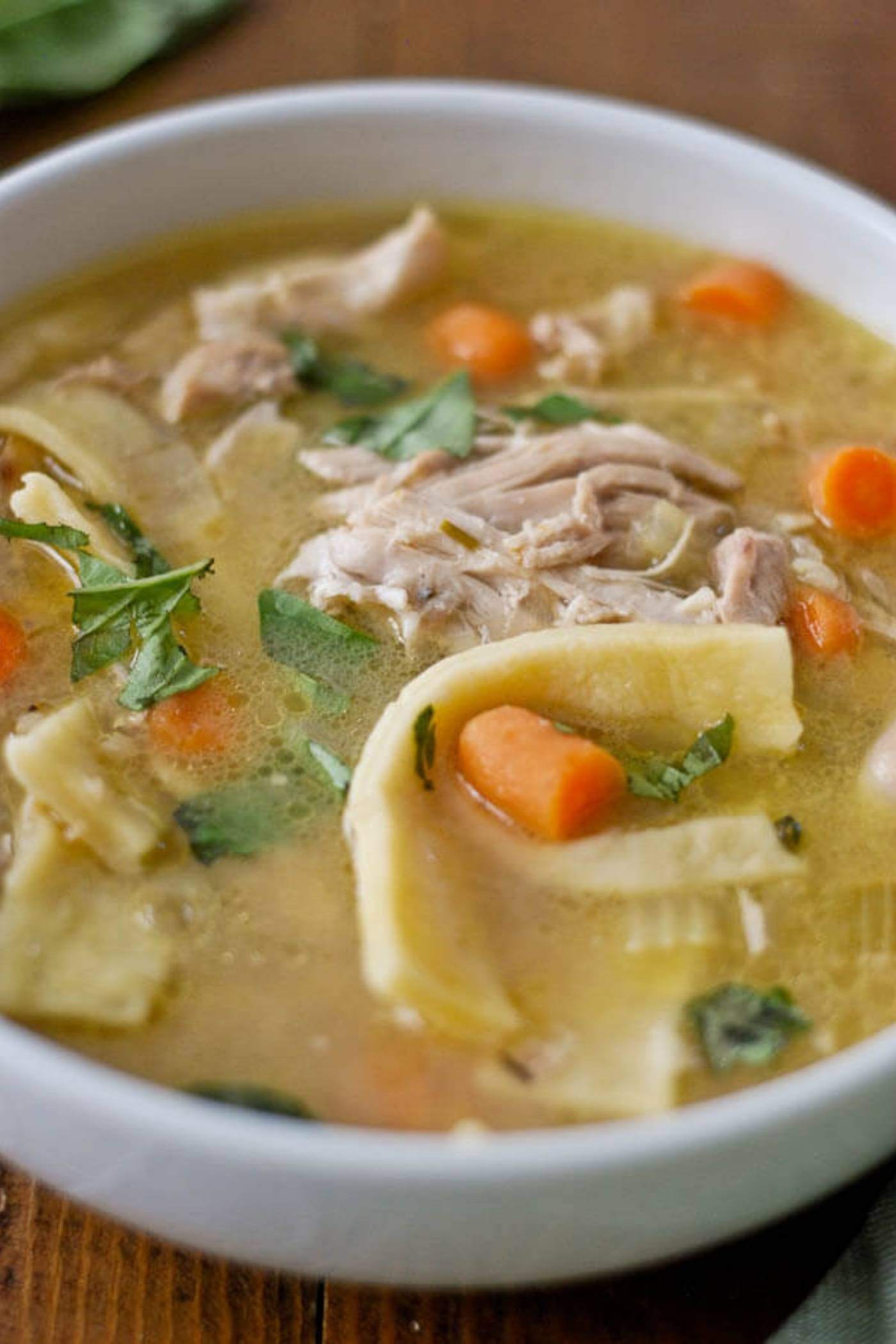 So the next time you feel a cold coming on, or just feel like having a bit of comfort goodness served up to you in a bowl, throw this soup together in your Instant Pot. I have a feeling we'll be keeping it on standby for the next several months.
If you try this Instant Pot Chicken Noodle Soup, let me know what you think in the comments below! And don't forget to tag me on Instagram so I can see your creation!
More Delicious Soup Recipes!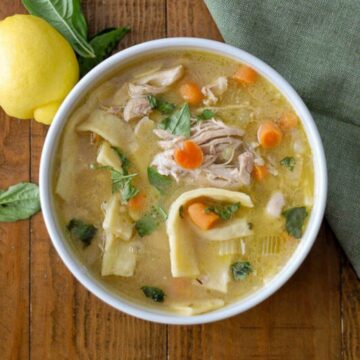 Instant Pot Chicken Noodle Soup
This hearty chicken noodle soup is so easy to make in your Instant Pot, and is totally doable on a weeknight! There's absolutely nothing better for fighting a cold than this delicious comfort soup.
Ingredients
1

tablespoon

olive oil

2

cups

chopped carrots

8-10

garlic cloves, minced

1

chopped onion

3

celery stalks, chopped

1

teaspoon

dried rosemary

1

teaspoon

italian seasoning

2

lbs

bone-in chicken thighs (skin removed

½

teaspoon

salt and peper + more to taste

4

cups

chicken or bone broth

4

cups

water

2

bay leaves

juice of 1 lemon

1

handful chopped basil
For the egg noodles (if making yourself)
1

cup

all-purpose flour (plus more for rolling out the noodles)

2

large eggs

½

teaspoon

salt
Instructions
Set the Instant Pot to the sauté setting and turn to high. Add the olive oil, carrots, garlic, onion and celery. Cook until tender, about 3-4 minutes.

Stir in the dried rosemary and Italian seasoning and cook for one additional minute.

Wash chicken and pat dry. Remove skins from chicken. Season the chicken well with salt and pepper and add to the pot.

Add broth, water, bay leaves, and ½ teaspoon of both salt and pepper to the pot.

Select the manual setting on your Instant Pot and set the time for 10 minutes on high pressure.

While the soup is cooking, make your noodles. Combine the flour and salt in a bowl, then, make a small well in the center. Crack the eggs into the "well", and beat the eggs, gradually brining in some of the flour mixture until well combined and a solid ball of dough is formed.

Working with your hands turn the dough out onto a well-floured surface and knead the dough, adding more flour as needed to prevent it from sticking to the surface and/or your hands. (Note – try not to incorporate more flour than you actually need. Too much flour can lead to dry noodles.) Knead the dough until you have a smooth ball (around 5-10 minutes).

Wrap the dough with plastic wrap and chill it for 15-30 minutes (or up to overnight if making noodles ahead of time).

Remove the chilled dough from the fridge, and divide it into two. Using a rolling pin, roll out each ball individually as thinly as you can (the noodles will plump up a bit when cooking) and then cut with a pizza cutter or very sharp knife. Try to cut them evenly to ensure that they all cook evenly.

Place cut noodles on a pan or drying rack until ready to cook.

Once your soup is finished cooking, quick-release the pressure (according to your manufacturer's directions).

Remove the chicken and remove the meat from the bone (it should come off pretty easily). Shred the chicken and set it aside.

Return the setting on your Instant Pot to the high sauté setting. Bring the soup to a boil and add the pasts. Cook, uncovered until pasta becomes tender.

Stir in chicken, lemon and a big handful of basil. Season with salt and pepper to taste.

Serve immediately with crusty bread.