This Tomato Grain, Mint, And Feta Salad is easy to toss together and uses hearty grains, crunchy chickpeas and pine nuts, bright and colorful tomatoes, and fresh mint. This salad is great as a side dish or a main meal. The perfect summer salad!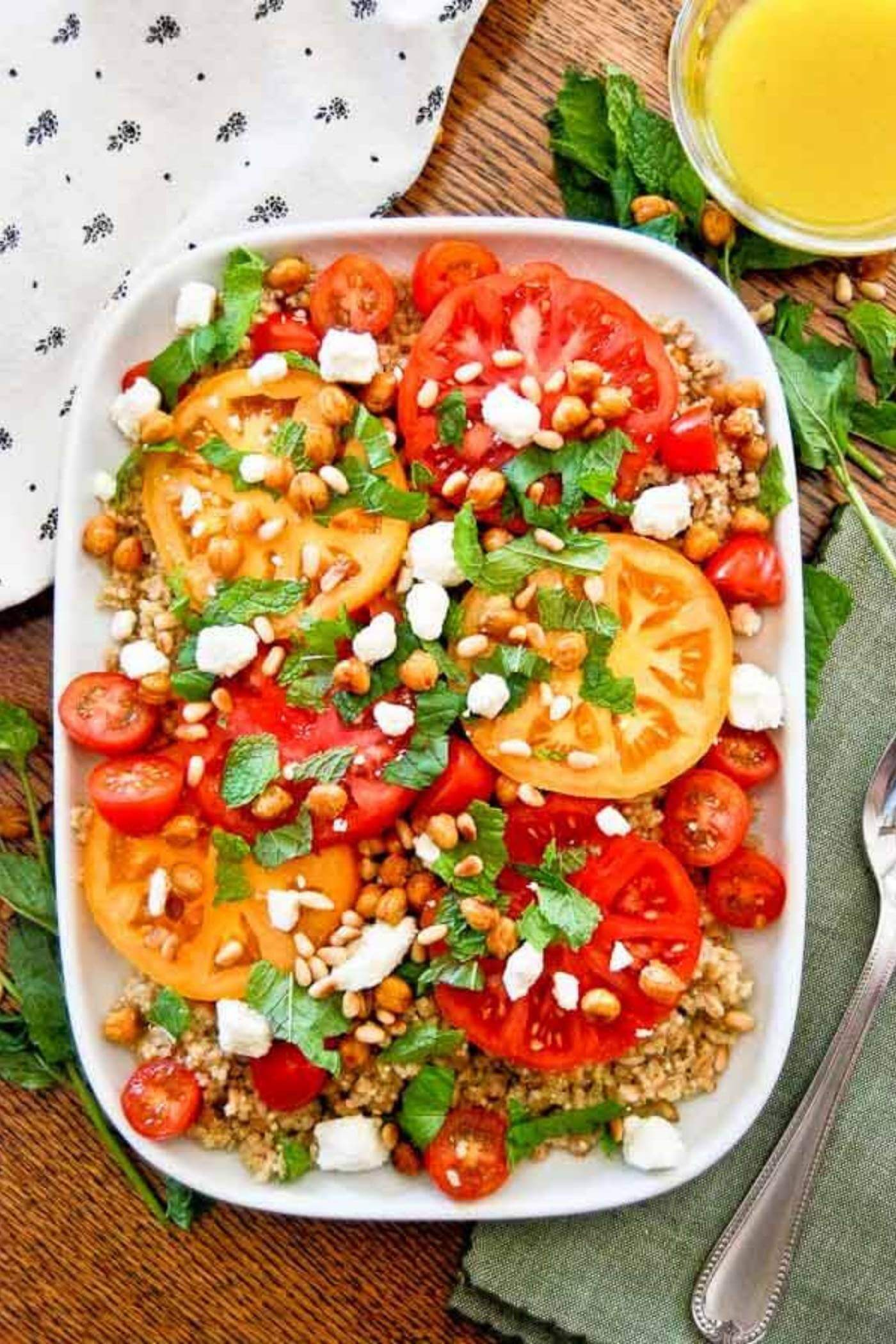 It's the beginning of September but it's still hot hot hot here in sunny Colorado and we're squeezing every last drop out of summer before the weather starts to turn. (AKA, I don't even want to hear about Pumpkin Spice Lattes until temps are at least in the 60's on the regular.)
This tomato, grain, mint, and feta salad is the perfect side dish (or main meal) to adorn your alfresco table these last late summer nights.
This tomato and grain salad packs a punch in taste, texture, and nutrition. Chewy grains tossed in a light vinaigrette, topped with the freshest, most colorful tomatoes you can find, and capped off with crunchy chickpeas and toasted pine nuts, fresh mint, and salty feta cheese – you really can't get much better than that!
If that's not enough to spike your interest...
Here Are More Reasons To Love This Salad
It's light but extremely filling and can be served alongside a main dish or all on its lonesome.
The fiber from the chickpeas, protein from the quinoa and pine nuts, healthy fat from the olive oil, and antioxidants from the tomatoes and mint knock this salad out of the park when it comes to nutrition.
It's pretty versatile when it comes to the grains – I love the chewy texture of the quinoa and faro together, but you could easily use another type of grain you have on hand.
This tomato, grain, mint, and feta salad is best served immediately, but you can make it ahead of time and store it for up to two days in the fridge! (Any longer than that and your tomatoes might start to turn a bit mushy.)
It totally tastes like summer!
How To Make This Tomato, Grains, Mint, And Feta Salad
Making this salad is really easy.
You start by roasting your chickpeas to get them nice and crispy. You do have to turn your oven on for the chickpeas (sorry) but it's only for 10 minutes and you could make the chickpeas way ahead of time if you wanted to.
At the same time, cook your grains (I used a mix of quinoa and farro). Mix your dressing ingredients together while the grains and chickpeas are cooking.
Once all the grains and chickpeas have cooled, you just layer the salad -grains, tomato slices, chickpeas, and nuts.
Finally, just add your mint, feta, and a drizzle of your dressing over the top, and voila! You have a delicious summer salad that will serve as a beautiful centerpiece at your picnic table.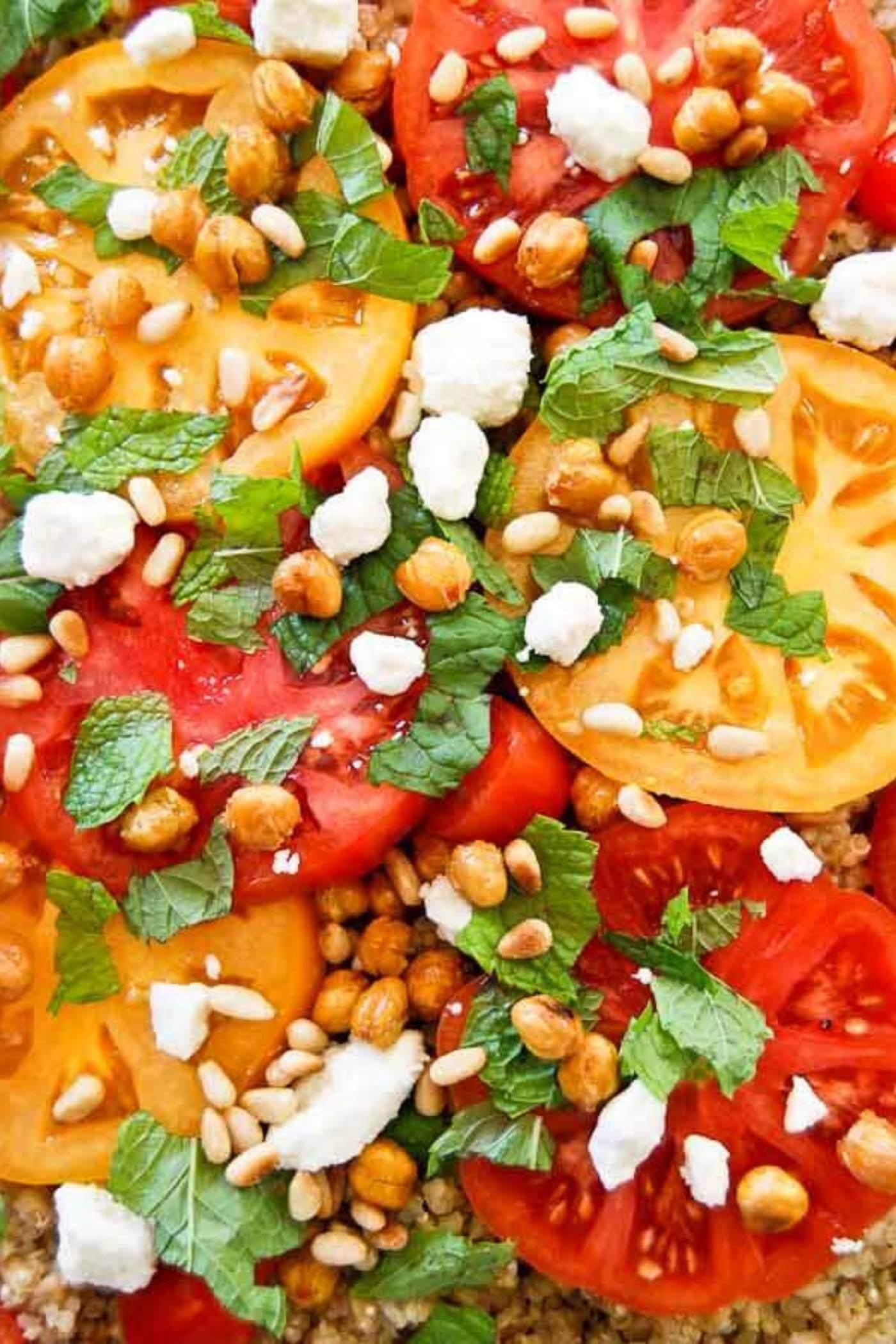 I hope you make this delicious Tomato, Grains, And Mint Salad! If you do, let me know what you think in the comments! Then, tag me on Instagram with a photo - I love to see your creations!
More Delicious Salad Recipes!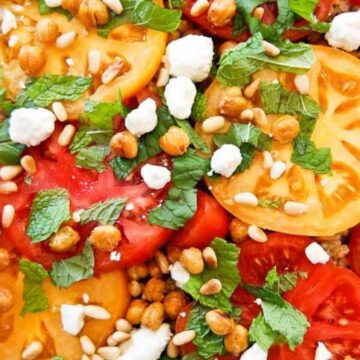 Tomato, Grains, Mint And Feta Salad
An easy salad to toss together using hearty grains, crunchy chickpeas and pine nuts, bright and colorful tomatoes and fresh mint, this salad is great as a side dish or a main meal. The perfect summer salad!
Ingredients
For The Salad
1

can

chickpeas, roasted

1

can

chicken broth

½

cup

quinoa

½

cup

farro

¼

cup

pine nuts, lightly toasted

1

small handful roughly chopped fresh mint

2-3

large heirloom tomatoes, sliced

¼

cup

feta
For The Dressing
1

clove garlic

2

tablespoon

white wine or champaign vinegar

⅓

cup

extra virgin olive oil

freshly ground pepper and salt to taste

1

teaspoon

chopped shallots

1

tablespoon

honey
Instructions
Toss the chickpeas with a tablespoon of olive oil and a pinch of salt and roast them at 425 degrees for about 10 minutes until crisp (don't let them burn!)

While your chickpeas are roasting, toast your pine nuts for about 2-3 minutes over the stove, and then set aside.

In a medium saucepan, toast the quinoa and faro slightly, about 2-3 minutes.

Add the chicken broth (you can sub this for vegetable broth if you're trying to keep this meal vegetarian) and bring to a boil. Reduce heat and simmer until the grains have fully absorbed the liquid, about 10-15 minutes. Times may vary depending on what type of grains you're using.

While your grains are cooking, combine your dressing ingredients and mix well.

Once the grains have cooled, add about ½ cup of the dressing to the grain mixture and stir to combine.

Layer your salad by placing the grains on a large platter or shallow serving bowl. Top them with the tomato slices, roasted chickpeas, toasted pine nuts, mint, and feta. 

Drizzle a spoonful of the dressing over the top of the salad once assembled, or just before serving.

Serve immediately or cover and store in the refrigerator for up to 2 days.