This Strawberry Spinach Salad Recipe is bursting with flavor. A blanket of earthy spinach, topped with juicy ripe strawberries, creamy goat cheese crumbles and crunchy, sweet candied walnuts.
If you live in Colorado, you know how bananas the weather around here is – one minute the sun is shining, and the next – Bam! A snowstorm. This is exactly what happened to us this week. On Monday we were picnicking with friends for dinner at a local park, donning shorts, tank tops, and sandals, and enjoying the 80-degree weather. By Thursday, we had pulled our snow boots back out, had on heavy coats, and were trudging through the 5 feet of snow that was dumped on us.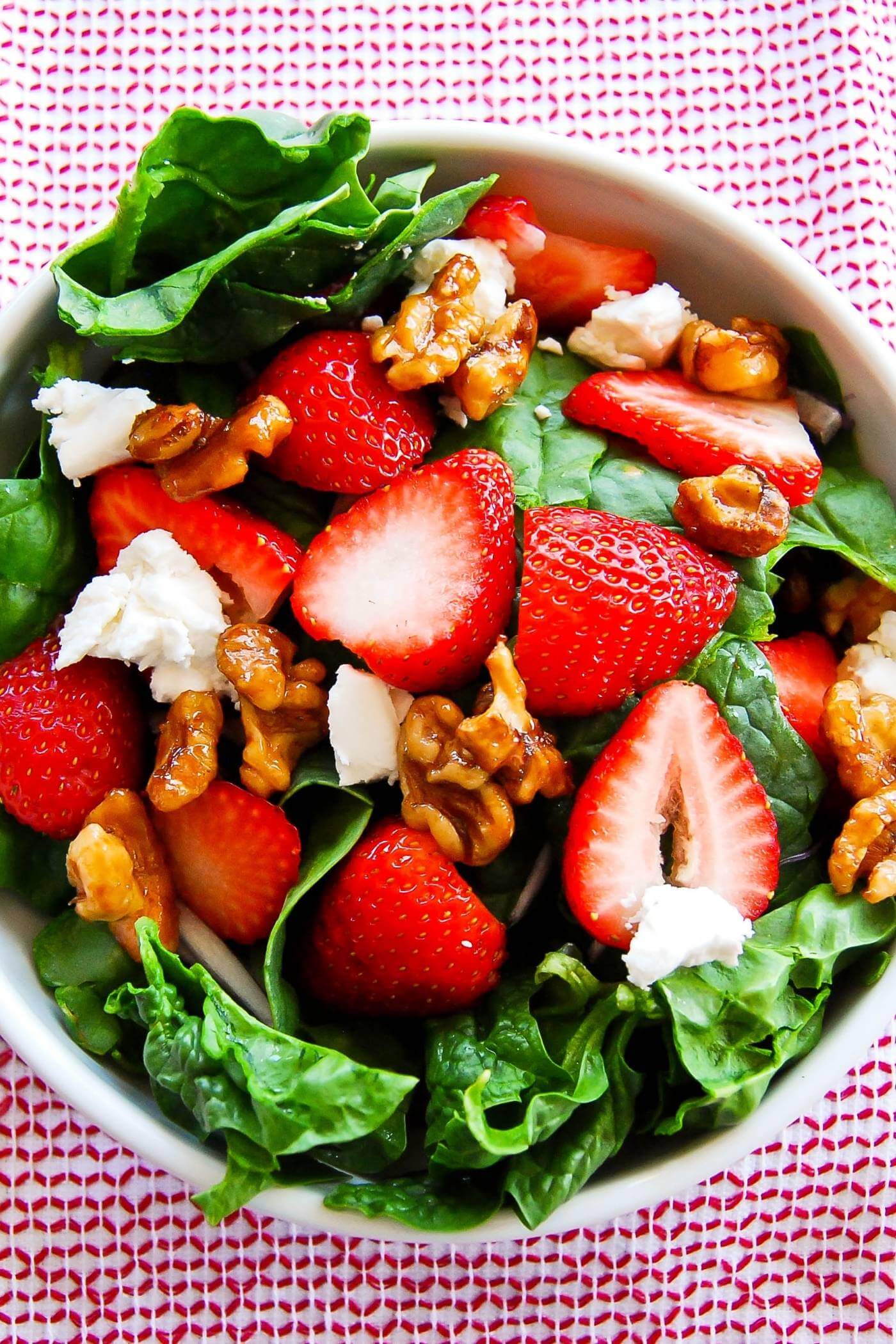 Did I mention that this is the 3rd week of May, people?!? My kindergartener will be done with school for the summer next week. This shouldn't be happening! Which just goes to show - Mother Nature do what she wants.
But, despite all of that, there is a shift in the air that is turning to real summer. Earlier in the week (due to the gorgeous weather we had been having) I was feeling all the summer vibes and hungry for a light and fresh salad – one that would get us all excited about the upcoming months free of schedules and full of sun.
Little did I know I would be eating it in a snowstorm, but hey, you take what you get. And this strawberry and spinach salad recipe did do its part to lift my mood out from beneath the weight of all that snow.
I had stopped over at Isabelle's farm stand in central Lafayette early in the week and picked up some gorgeous-looking spinach. I wanted to bring to mind the sweetness of summer but didn't want a salad that was too heavy, so I landed on a classic strawberry and spinach salad, topped with goat cheese and candied walnuts.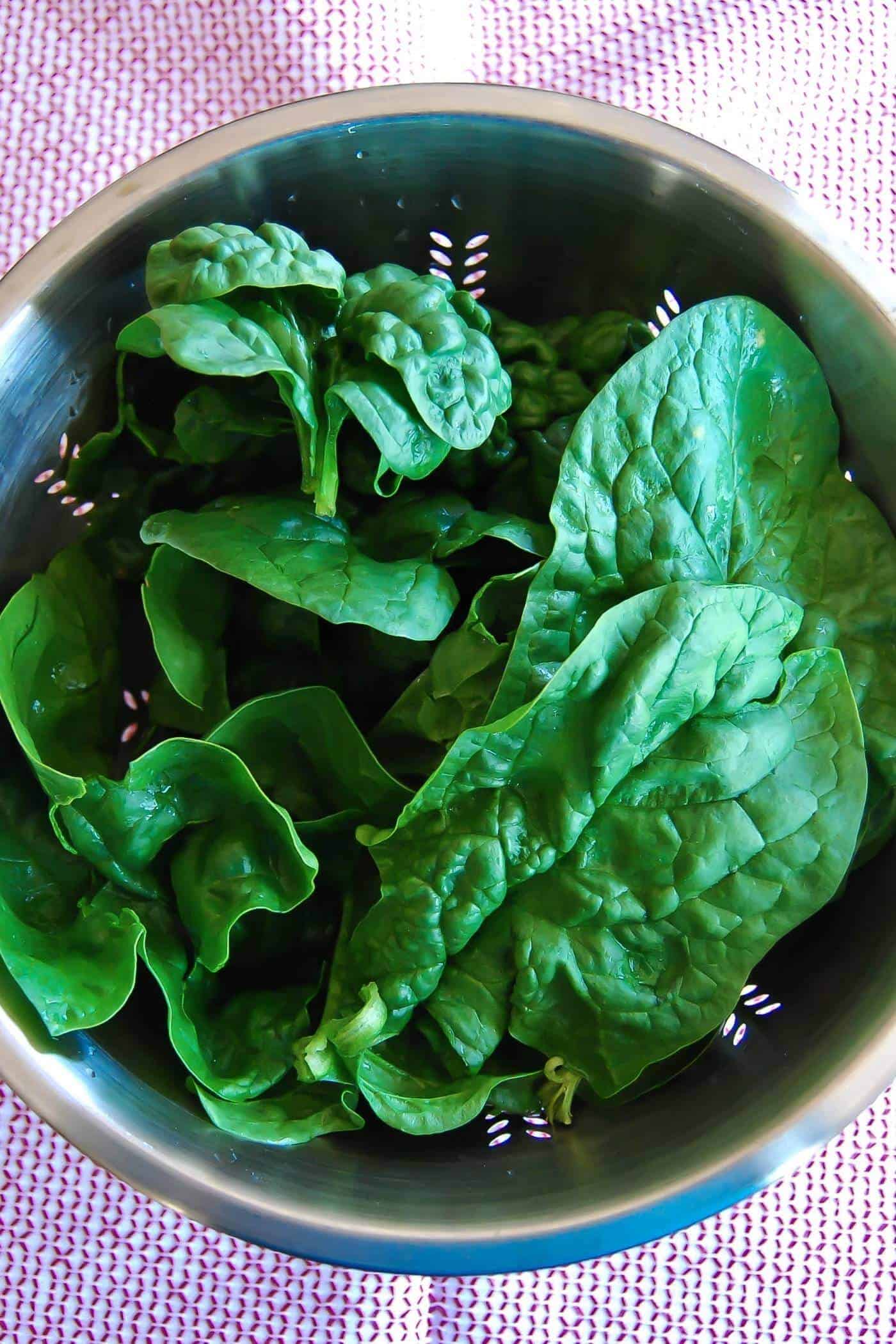 How To Make This Strawberry Spinach Salad
This is an easy-peasy salad recipe that can be thrown together in as little as 5 minutes.
Wash your spinach and strawberries. Next, halve or quarter your strawberries, thinly slice up some red onion, and add all of it, along with the spinach to a bowl.
Add some crumbled goat cheese.
Top with delicious candied walnuts. These are super easy to make and only need a few of ingredients. Add butter, sugar and a dash of salt to a pan and heat over low heat. Add your walnuts and mix until they're well coated. Then just stir them around for 5 minutes over the stove until the mixture carmelizes. Watch these closely, and stir frequently. It's easy to step away for a minute and come back to a pan of burnt walnuts!
Make your dressing, which is a simple mix of olive oil, balsamic vinaigrette, honey and salt and pepper to taste.
Drizzle the dressing over the salad and toss to combine.
The result? Earthy spinach, fresh and juicy strawberries, creamy goat cheese, and the crunch of sweet walnuts, all topped with a sweet balsamic vinaigrette. Perfect! Summer here we come (even if it's taking us just a bit longer to get there.)
If you try this Strawbery Spinach Salad, leave a comment below and let me know what you think! And don't fortget to tag me with a pic on Instagram!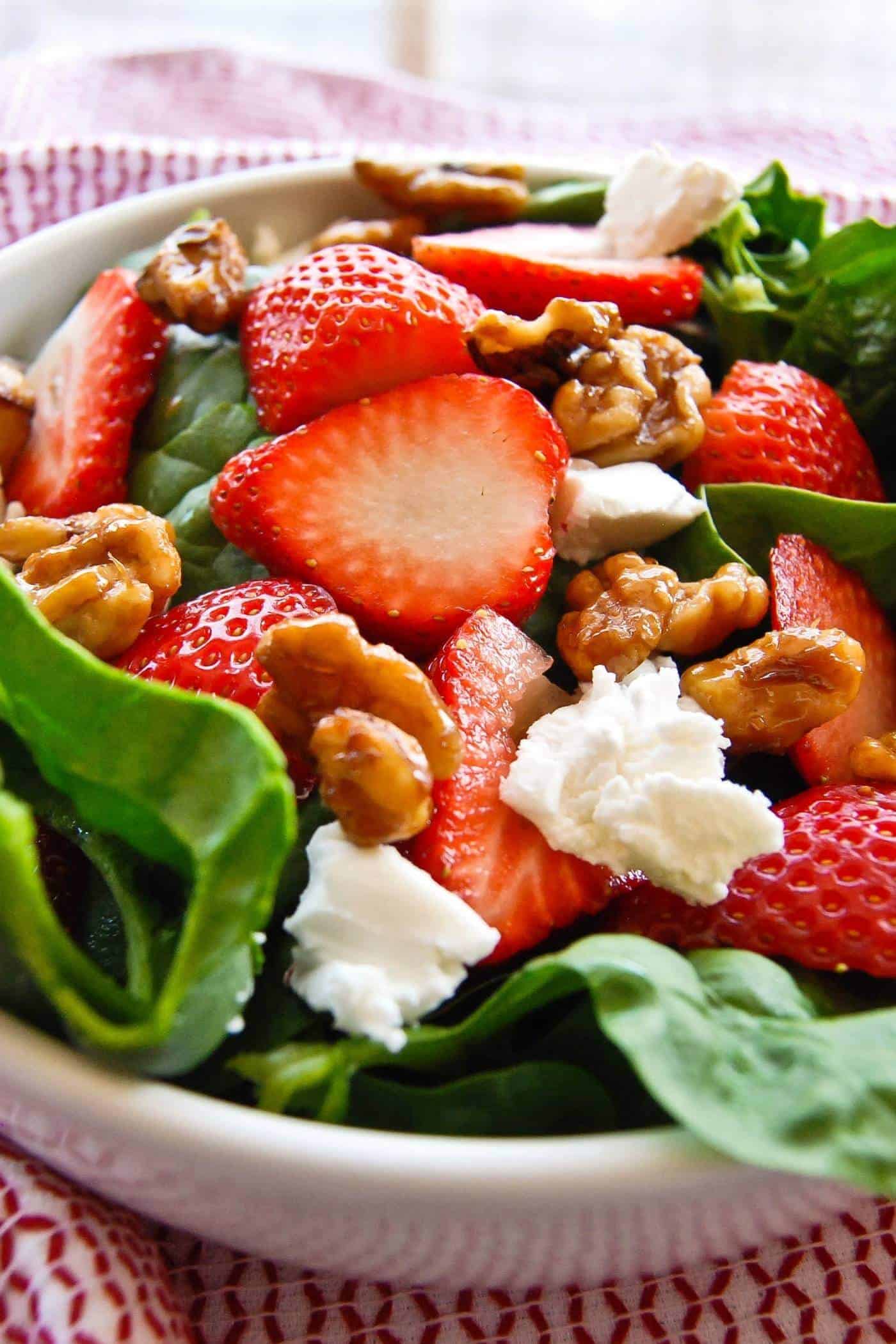 More Bright And Fruity Salads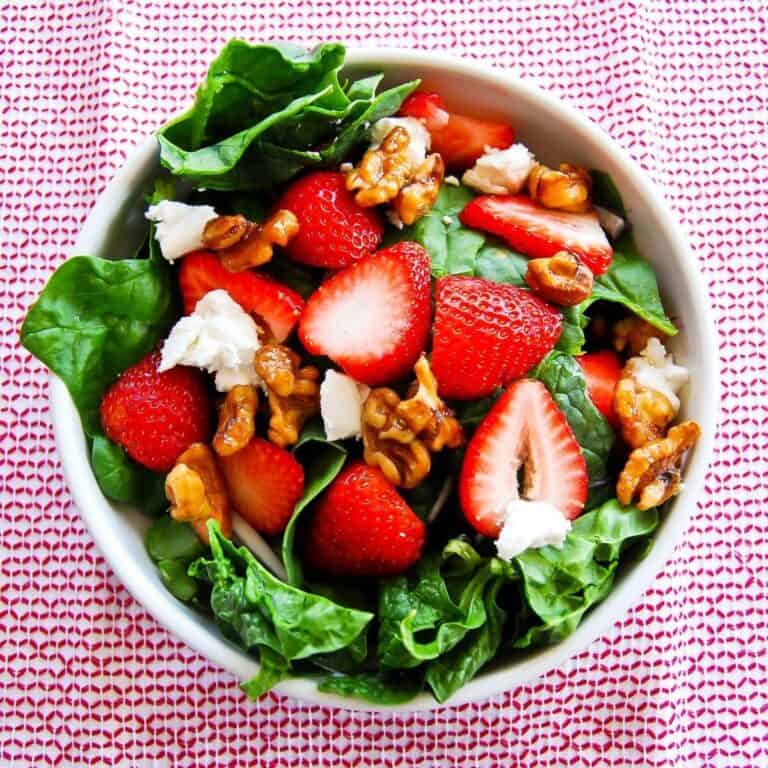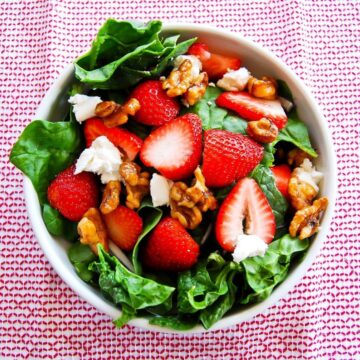 Strawberry Spinach Salad Recipe
This strawberry spinach salad is bursting with flavor. A blanket of earthy spinach, topped with juicy ripe strawberries, creamy goat cheese crumbles, and crunchy, sweet candied walnuts.
Ingredients
For The Salad
2-3

cups

fresh spinach

1 ½

cups

fresh strawberries stemmed and halved

1

cup

whole or halved walnuts

¼

red onion, thinly sliced

¼

cup

granulated sugar

1

tablespoon

butter

¼

cup

crumbled goat cheese
For The Dressing
1

tablespoon

balsamic vinegar

2

tablespoon

extra virgin olive oil

1

teaspoon

honey

salt and pepper to taste
Instructions
Mix the spinach, strawberries, and red onion in a bowl and set aside. (A note about the red onion – a little goes a long way in this salad so be careful not to overdo it. I used ¼ of the onion but you may want to use less depending on your tastes.)

Make the candied walnuts. Over low/medium heat, melt the butter in a saucepan. Add the sugar and a tiny dash of salt. Mix in the walnuts and stir so that the butter and sugar mixture coats the nuts. Continue stirring over medium heat until the mixture caramelizes on the nuts (about 5 minutes). Watch these carefully as they can burn very quickly. Let walnuts cool completely.

Mix the dressing. Add all the ingredients for the dressing to a bowl and whisk until combined. (See how easy it is to make your own dressing! You'll never have to buy it at the supermarket again!)

Add the walnuts and goat cheese crumbles to the spinach mixture

Drizzle with dressing, toss and serve.