This Chickpea Salad With Veggies is so healthy and delicious! Loaded with cucumbers, peppers, carrots, and greens, and topped with a delicious light dill dressing, it's a rainbow salad at its finest!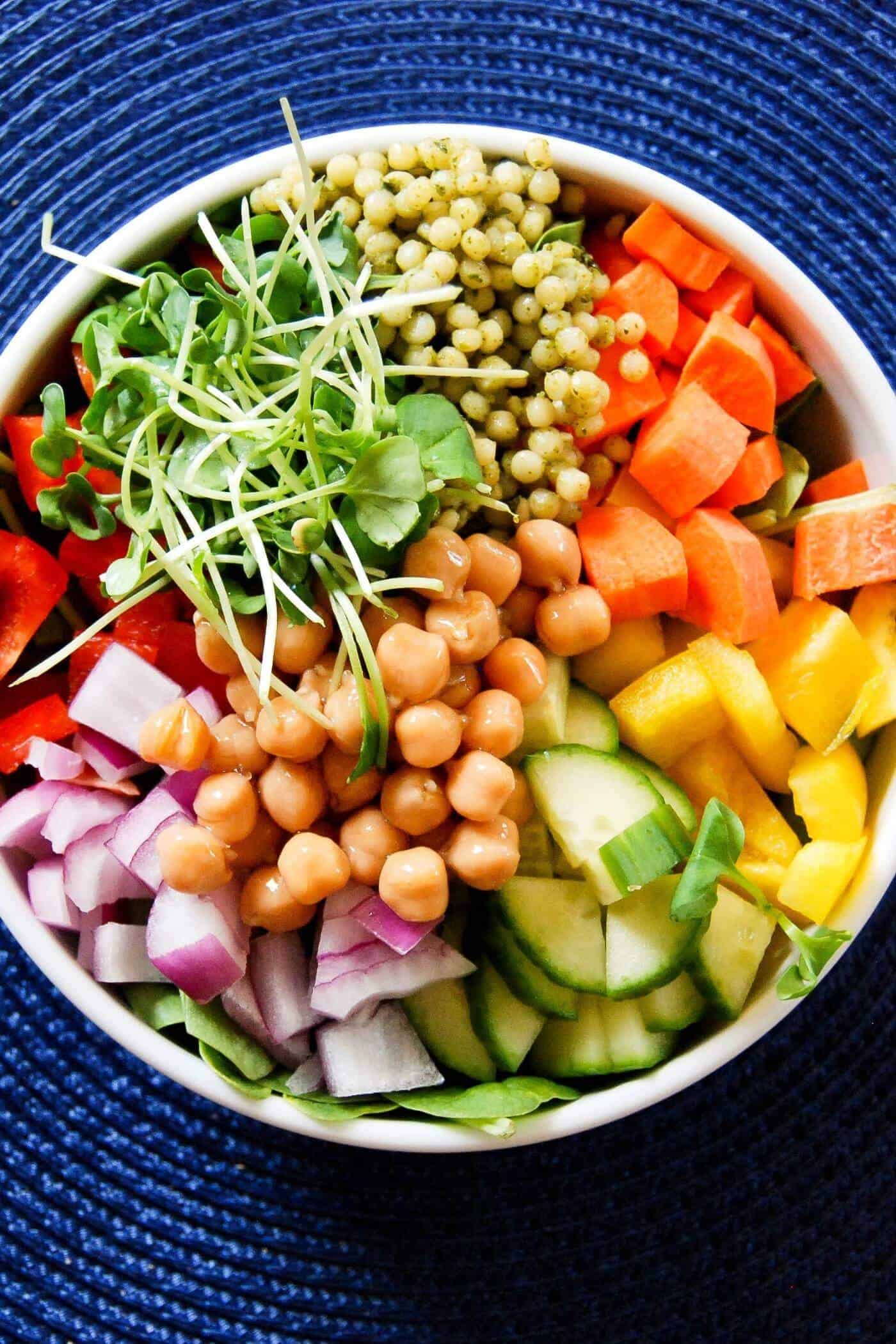 Hello friends! Can you believe it's already the middle of summer? We traveled all over the country in June visiting friends and family, and exploring new places on vacation. And now, after that whirlwind, we're finally back in Colorado to enjoy the rest of this free time with days of splashing in the pool, hiking, playing with friends, and some good old relaxing.
We loved our June trip. We were in Illinois for a time visiting my family. Then the hubby and I got a chance to escape on our own to the northeast, road tripping through Manhattan, New Jersey, Vermont, New Hampshire, Main, Massachusetts, and Connecticut before finally heading back home.
And after all that traveling and eating out (which was delicious, but probably not the best for my waistline), I decided one of the first meals we would make would be something that was wholesome, simple, and delicious – with minimally processed ingredients. I came up with this Chickpea Salad, topped with hearty couscous, a smattering of veggies, and a delicious dill dressing.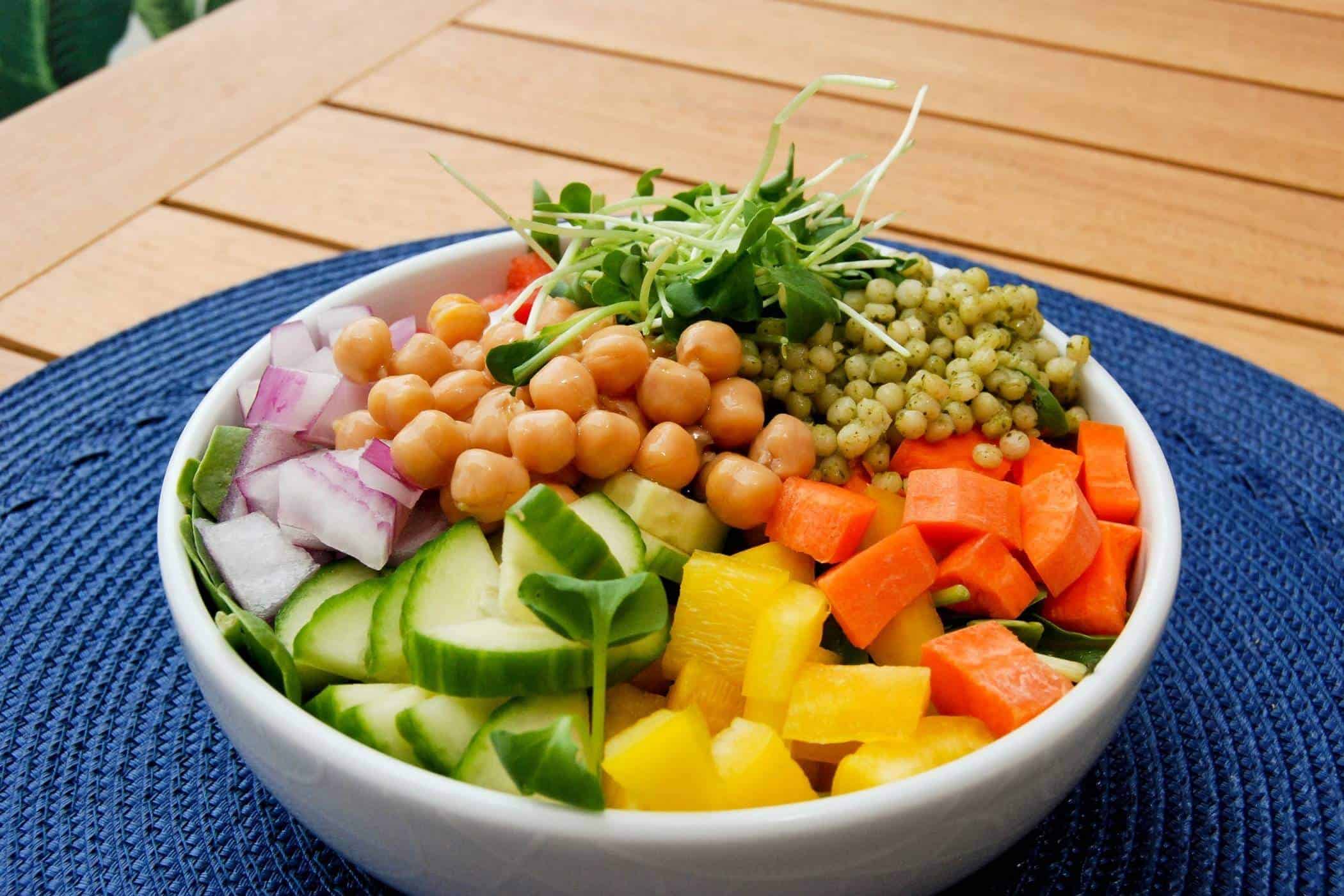 Why I Love This Chickpea Salad Recipe
Packed with nutrients. This salad is so nutrient dense with all the fresh ingredients and hearty beans.
It gives me tons of energy. The protein in the spinach and chickpeas keep me going all afternoon.
It's gorgeous. Seriously - do you see all those beautiful colors? It's a rainbow in a bowl!
It keeps me full. The fiber in this salad from the veggies and garbanzo beans is through the roof, meaning I don't feel the need to snack at all after I eat this.
It's not too heavy. This salad is loaded with veggies and feels substantial for a meal. But not so much that it's going to leave me dragging come 3 pm.
That dill dressing. Ugh. It's so good - I could slurp it straight from the bottle!
How To Make This Protein-Packed Salad
This is an easy salad to throw together and the hardest part is just chopping up the ingredients.
It includes chickpeas, of course, as well as couscous. I feel the couscous gives it just a little extra weight and texture to the salad. Quinoa, barley or farro would also be a good choice here if you don't have couscous on hand.
I used a spinach base to get my green fix here and added a bunch of crunchy veggies to balance out the softer beans and grains. Red and yellow bell peppers, carrots, red onions, and crisp cucumbers.
You can sub out different veggies to go along with the chickpeas here if you want. But I'd recommend keeping the cucumber and carrots, which add a nice crunch. Some roasted walnuts or pine nuts would also be a great addition to add a little something extra.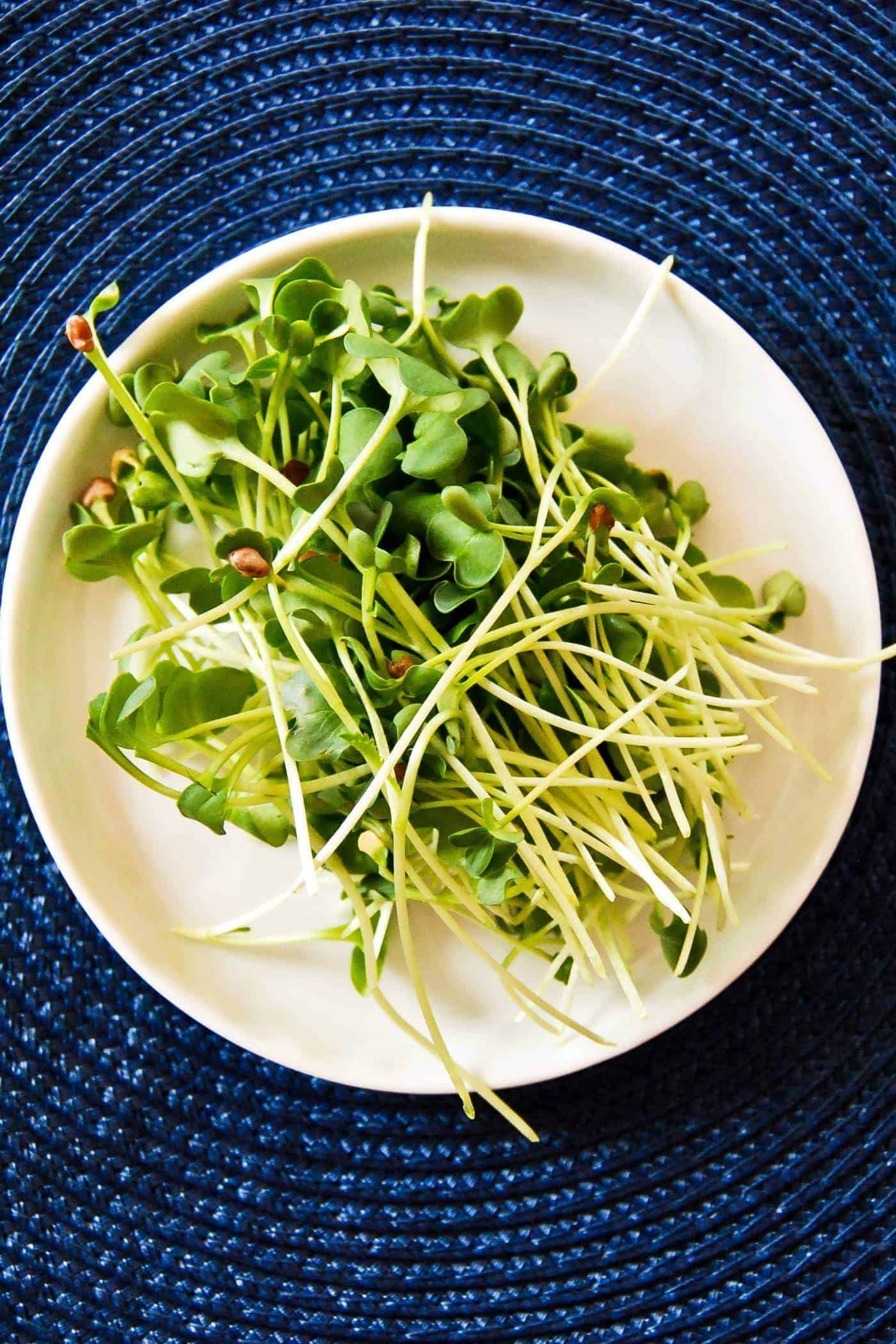 I also added some radish sprouts, which I picked up this week from the new Lafayette Farmers Market. If you've never tried radish sprouts, they're a great addition to salads. They taste like, well, radishes, with a little bit of spice which gives this salad a nice dimension. If you can't find radish sprouts, don't worry. Any type of sprout would give the same texture without sacrificing much of the flavor. 
How To Make The Dill Dressing
Finally, the dill dressing. This is a mayo-based dressing mixed with lemon juice, fresh dill, vinegar, salt, and pepper. It's super easy to whip up and goes well with lots of other salads and should last for 4-6 days in the refrigerator.
I love how colorful and fresh this salad is. It's a great side for a barbecue, but the addition of the chickpeas and the couscous makes it extra filling on its own, so it could serve well as a main dish too.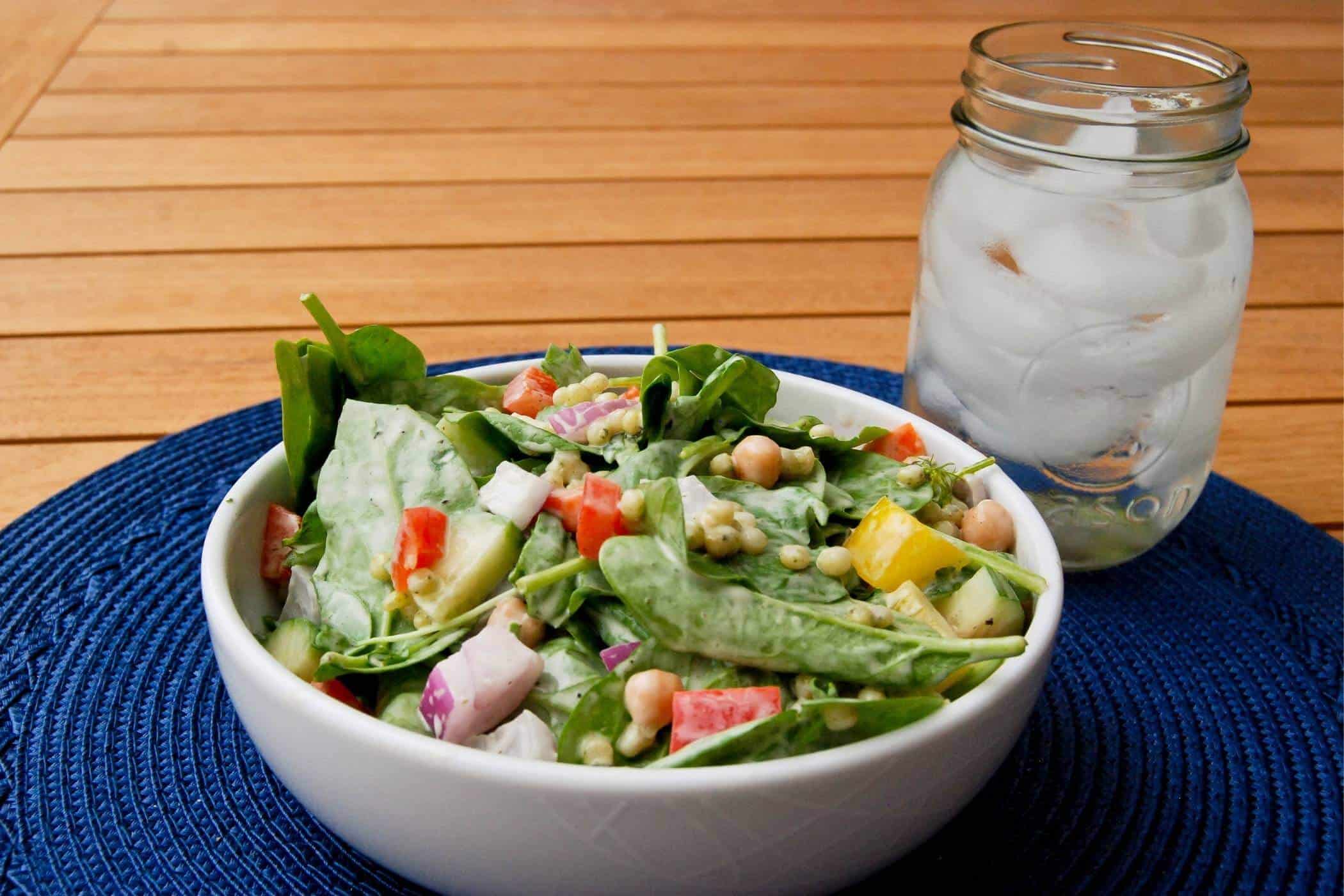 If you make this Chickpea Salad With Veggies And Dill Dressing, let me know what you think in the comments below. And don't forget to tag me on Instagram so I can see your lovely creation!
More Quick And Delicious Salad Recipes
Chickpea Salad Recipe
This Chickpea Salad With Veggies is so healthy and delicious! Loaded with cucumbers, peppers, carrots, and greens, and topped with a delicious light dill dressing, it's a rainbow salad at it's finest!
Ingredients
For The Dressing
1

tablespoon

fresh lemon juice (juice from about 1 small lemon)

⅓

cup

mayonnaise

1

teaspoon

fresh dill, chopped

1

tablespoon

white wine vinegar

¼

teaspoon

freshly ground pepper

½

teaspoon

salt
For The Salad
1

cup

couscous

3

cups

spinach

1

large red bell pepper, chopped

1

large yellow or orange bell pepper, chopped

¼

red onion, chopped

3

large tomatoes, chopped

4

large carrots, chopped

1

cucumber, skin on, chopped

½

cup

radish sprouts

1

15 oz

can chickpeas, drained and rinsed
Instructions
Cook the couscous according to packaging directions and set aside to cool.

Chop all veggies and fill a bowl with the chopped spinach, peppers, onions, tomatoes, carrots, cucumber, and radish sprouts

Drain and rinse the chickpeas and add to the salad mix

Add the cooled couscous to the salad.

Mix all ingredients for the dressing well.

Pour dressing atop salad and mix well.

Top with walnuts or pine nuts if desired.