This Healthy Chicken, Pomegranate, And Arugula Salad has added crunch from toasted walnuts, a sprinkle of creamy gorgonzola, and a tangy dressing make this salad a great option for a satisfying lunch or a light dinner.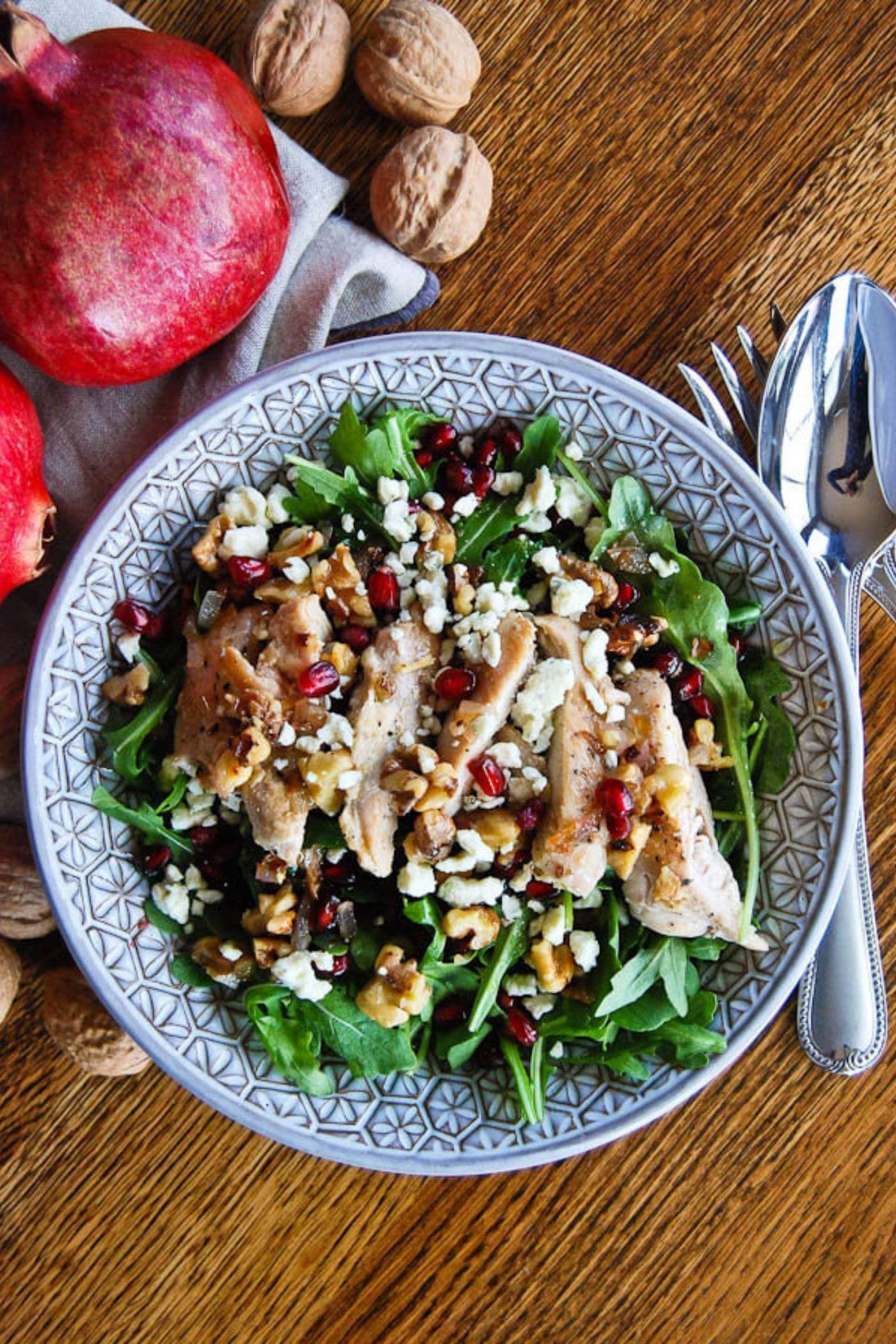 Who has a 3-day weekend?? We're in the midst of ours, which consists of lots of lounging and video-game playing (by the boys), baking (by me – get ready for some swirly cinnamon bread coming to a blog near you very soon), and guitar-playing (by the hubs). It's a bit chilly outside today, but sunny (thanks Colorado!) so I'm sure we'll be heading out to enjoy some outdoorsy-type activity soon.
In the meantime, here's a healthy salad we've been enjoying lately: Chicken, Pomegranate And Arugula Crunch Salad It's the perfect way to start your week!
What's In This Healthy Salad
This chicken, pomegranate, and arugula crunch salad is light but feels decadent thanks to the crunchy walnuts, juicy pomegranates, and creamy and tangy gorgonzola cheese. You'll get a healthy dose of protein from the chicken and good fat from the walnuts. Plus some awesome anti-inflammatory and antioxidant-fighting power from the pomegranates, which help protect against heart disease and even some types of cancer, among other things. It's a great salad recipe for lunch, or for a light dinner.
How To Make It
This really is a simple throw-together salad. Add your arugula first. Then top with the chicken strips, cheese crumbles, walnuts, and pomegranates, and add your dressing.
You can use pre-seeded pomegranates for this if you're really short on time, but we prefer fresh seeds at our house. If you've never dissected a pomegranate before, don't be intimidated. It's super easy and all you need is a bowl full of water and a paring knife. Doing this in water makes the process way easier to separate the seeds.
Here's how to open up the pomegranate to get the seeds out:
Fill your bowl with water and place the whole pomegranate inside.
Score the pomegranate with your knife and slowly pull it apart, revealing the seeds.
Carefully pull the seeds from the pith. The seeds will fall to the bottom while the pith rises to the top.
Discard the membrane and rind.
Rinse your seeds and use them in all sorts of clever ways, like dressing a salad, adding them to your morning yogurt, or throwing them in a juicer.
How To Make The Dressing
I love the simple dressing for this salad and we use it to top not just this, but many of the salads we make. It's a staple in our fridge and can be made using ingredients you likely already have hanging out in your pantry.
Simply add olive oil, lemon juice, honey, red wine vinegar, salt and pepper, and some shallots to a jar. Shake well and pour over your salad, or store in the fridge to use on other dishes. This dressing is great and only gets better with time, as the flavors are allowed to meld together and the shallots start to really mellow.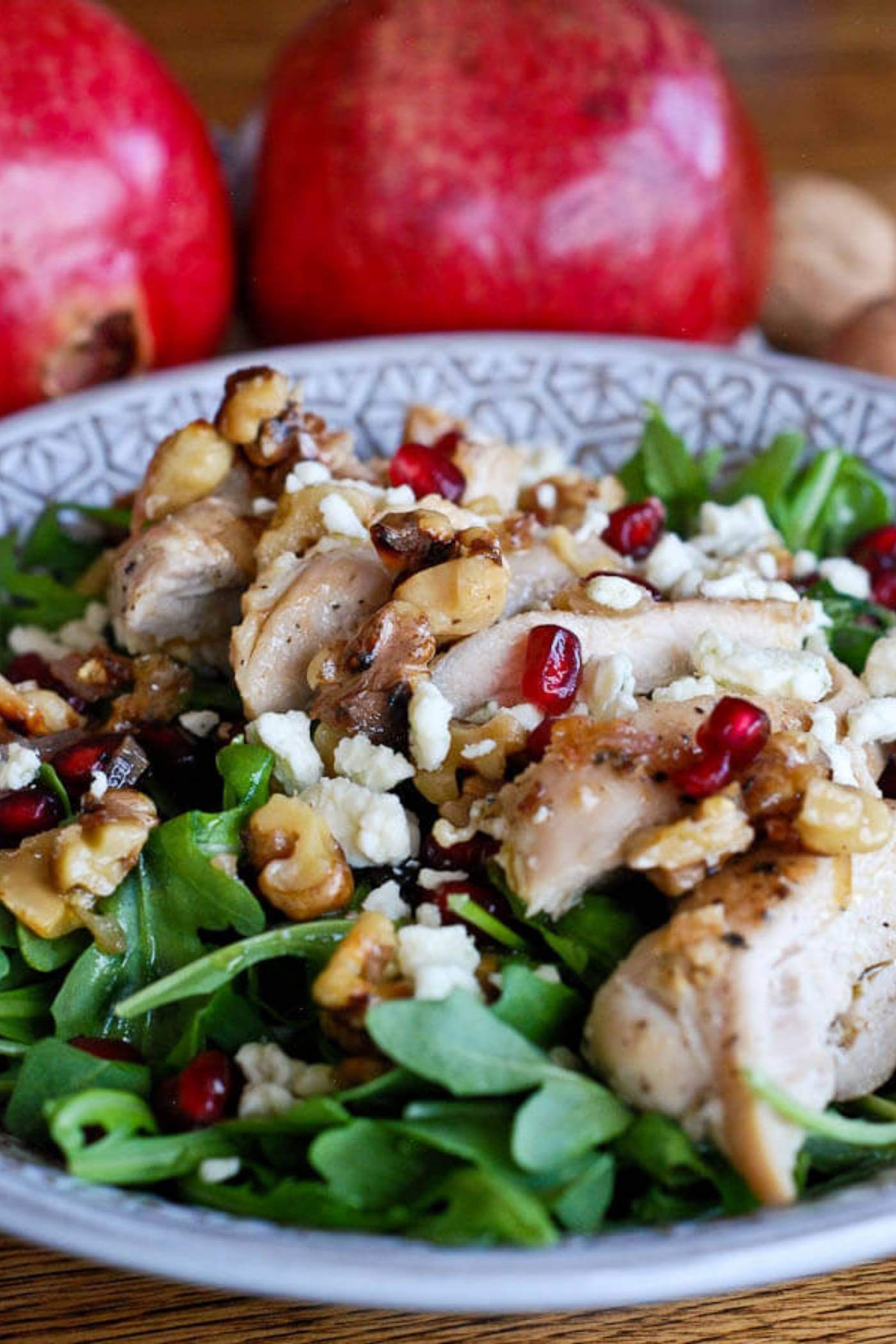 This Healthy Chicken And Pomegranate Salad is so easy to pull together, tastes great, and will make you feel like you've done something good for your body. Let me know if you make it by sharing in the comments below, or by tagging me on Instagram!
More Delicious And Easy Salads!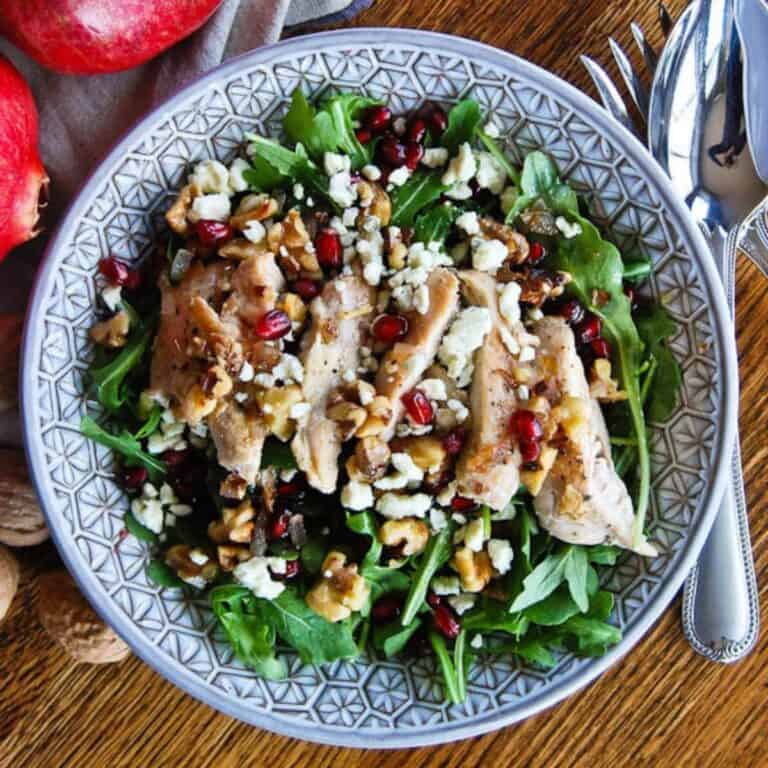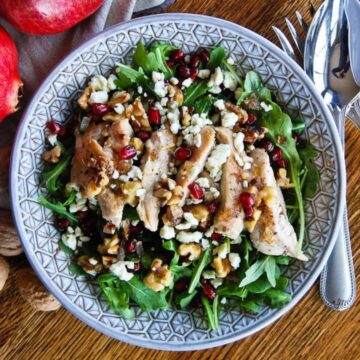 Healthy Chicken, Pomegranate, And Arugula Crunch Salad
This healthy salad is full of crisp greens, filling chicken, and immune-boosting pomegranate seeds. Added crunch from toasted walnuts, a sprinkle of creamy gorgonzola and a tangy dressing make this salad a great option for a satisfying lunch or a light dinner.
Ingredients
3

large handfuls of baby arugula or rocket

2

chicken breasts, grilled or sauteed

1

cup

toasted walnuts, chopped

½

cup

gorgonzola cheese, crubmled

1

cup

pomegranate seeds

1

shallot, chopped

juice of 1 lemon

1

cup

olive oil

1

tablespoon

honey

½

cup

red wine vinegar

salt and pepper to taste
Instructions
Wash and dry your arugula and place in a serving bowl.

Chop your chicken into strips and grill or sauté over the stove (I typically just season the chicken breast well with salt and pepper and heat on the stove top until cooked through – you can do a big batch of these all at once and then keep them in the fridge to throw on salads, in pastas, etc. all week long – it's a great time-saver!)

While your chicken is cooking, toast your walnuts. Just heat them in a skillet over medium heat for a few minutes until fragrant – be careful with these and keep a close eye on them – they can burn quickly!

Top your salad with the chicken strips, toasted walnuts, cheese and pomegranates.

Mix your salad ingredients together in a small bowl.

Drizzle dressing over the salad, or serve on the side.