This is THE BEST Curry Chicken Salad Recipe! So easy, and perfect to take to your next picnic or potluck. Plus, it calls for a yogurt base vs. mayo so it's super healthy!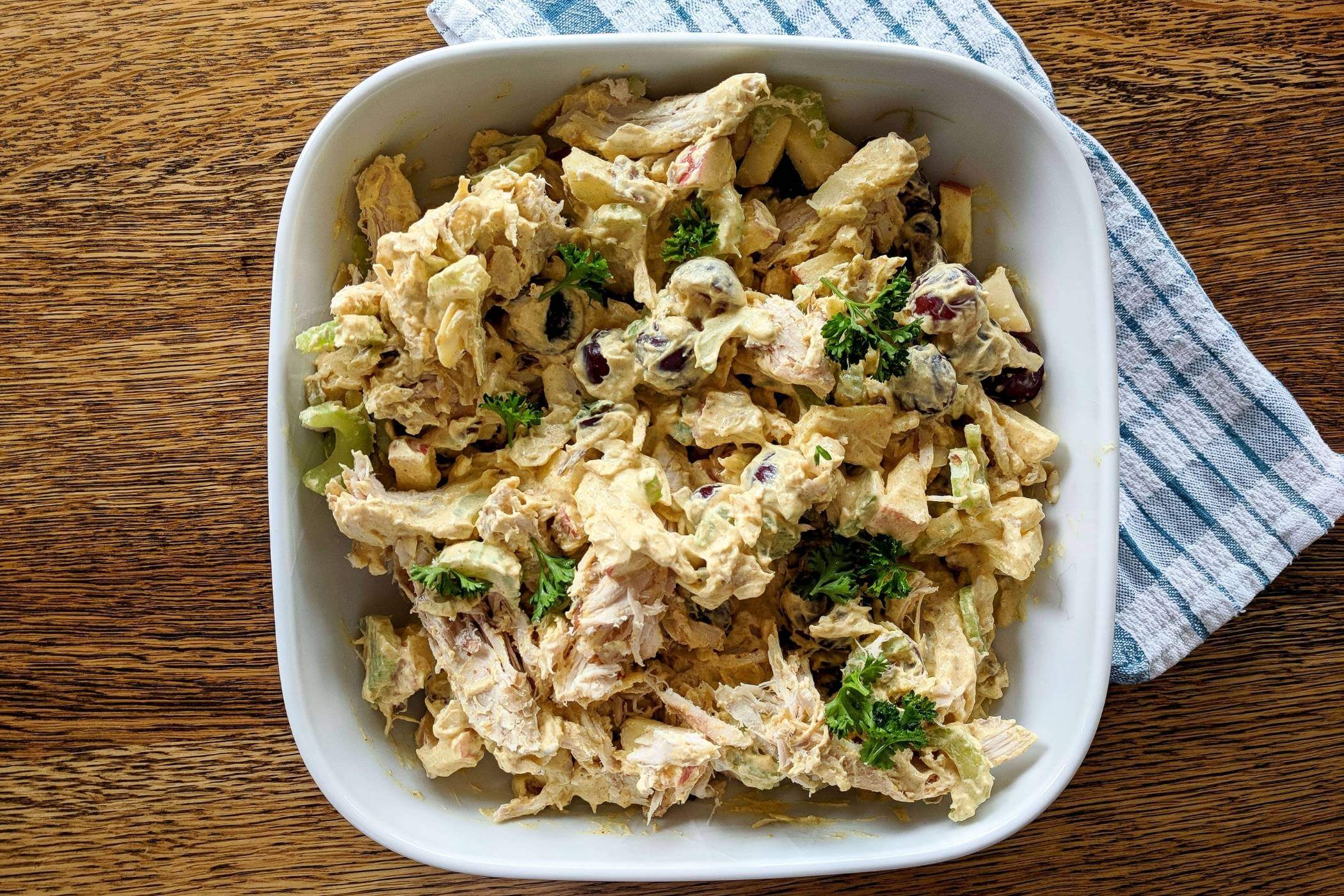 It's been rainy in Colorado on the front range the past couple of months. And while you would have never heard me get excited about rain when living in Chicago, here, it's such a rare event that it's a welcome change from the constant sun that seems to bake us day in and day out with its warm rays.
I know it sounds silly, but sometimes a rainy day is just a nice change of pace – an excuse to stay inside and curl up with a good book, watch a movie, or just get some things done.
That is, except when you've promised your kids a picnic dinner all day. Then the rain sucks.
This is exactly what happened to us a couple of weeks ago. The forecast for the day looked great. However, after dropping my kids off at school, the weather quickly turned from warm and sunny to cold and drizzly. Not great picnicking weather, but my kids insisted and I had made a promise, so rainy weather be damned – we were going on a picnic! And this curry chicken salad was on the menu!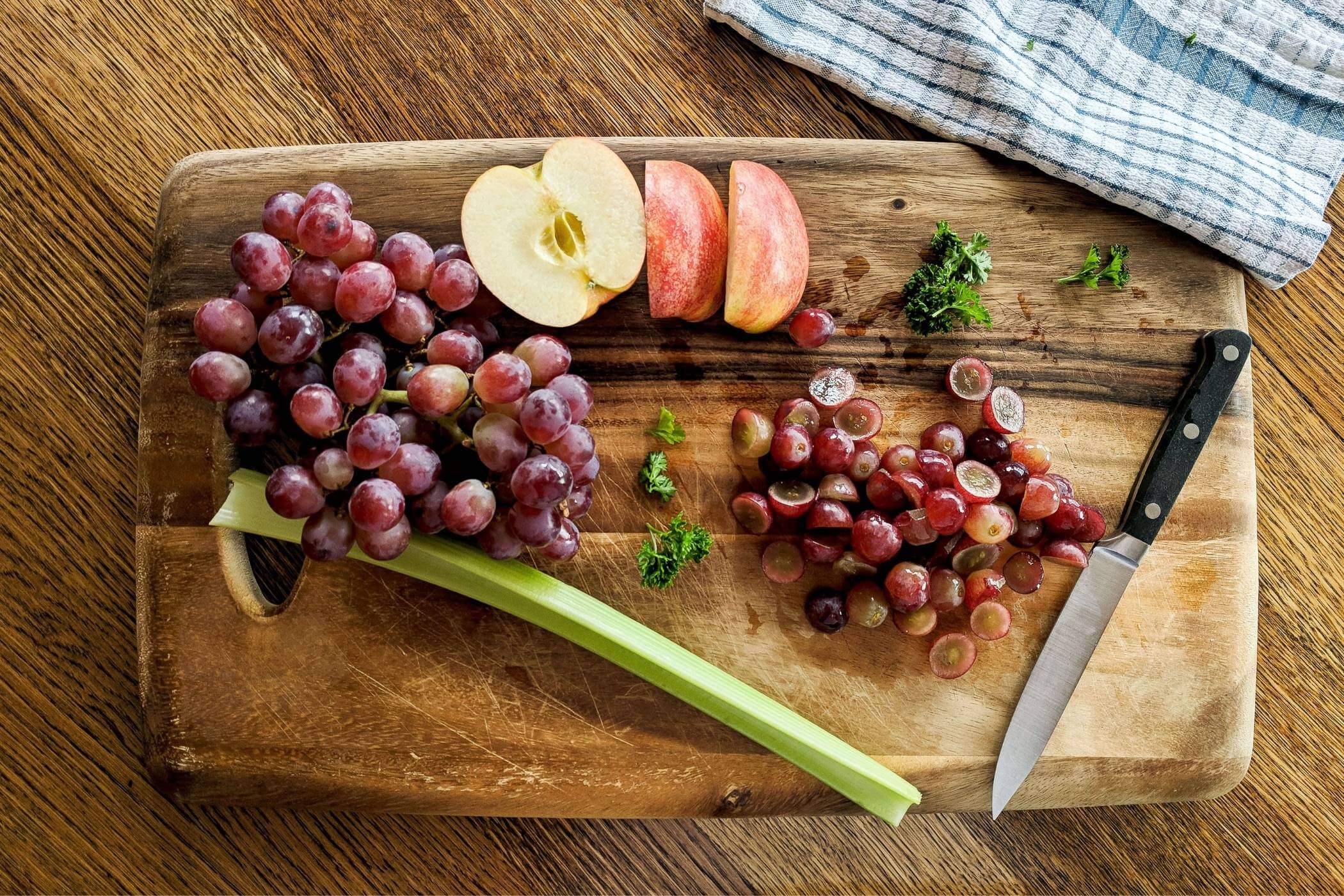 What Makes This Curry Chicken Salad So Great
I absolutely love this new take on chicken salad. Here's why:
Super easy to make. This dish is pretty easy to pull together quickly, especially if you have your chicken cooked in advance (sometimes I even use a rotisserie chicken to make it extra fast).
Great potluck dish. Since the curry flavor is mild enough even for little ones to like it and the grapes lighten it up a bit, it's not too heavy of a dish.
So much CRUNCH! The grapes, the celery, apple, the red onion. This salad is satisfying with every single bite.
A new take on an old classic. This chicken curry salad with grapes is a welcome variation from the normal chicken salad most people are used to. The curry isn't spicy, but has a sweet and savory flavor, giving this salad a deep earthy taste.
Pretty healthy. Many chicken salads use mayo, but this one uses greek yogurt, cutting down on the fat and amping up the protein, calcium and vitamins. Plus, did I mention it has tons of fresh fruit, veg, and lean chicken?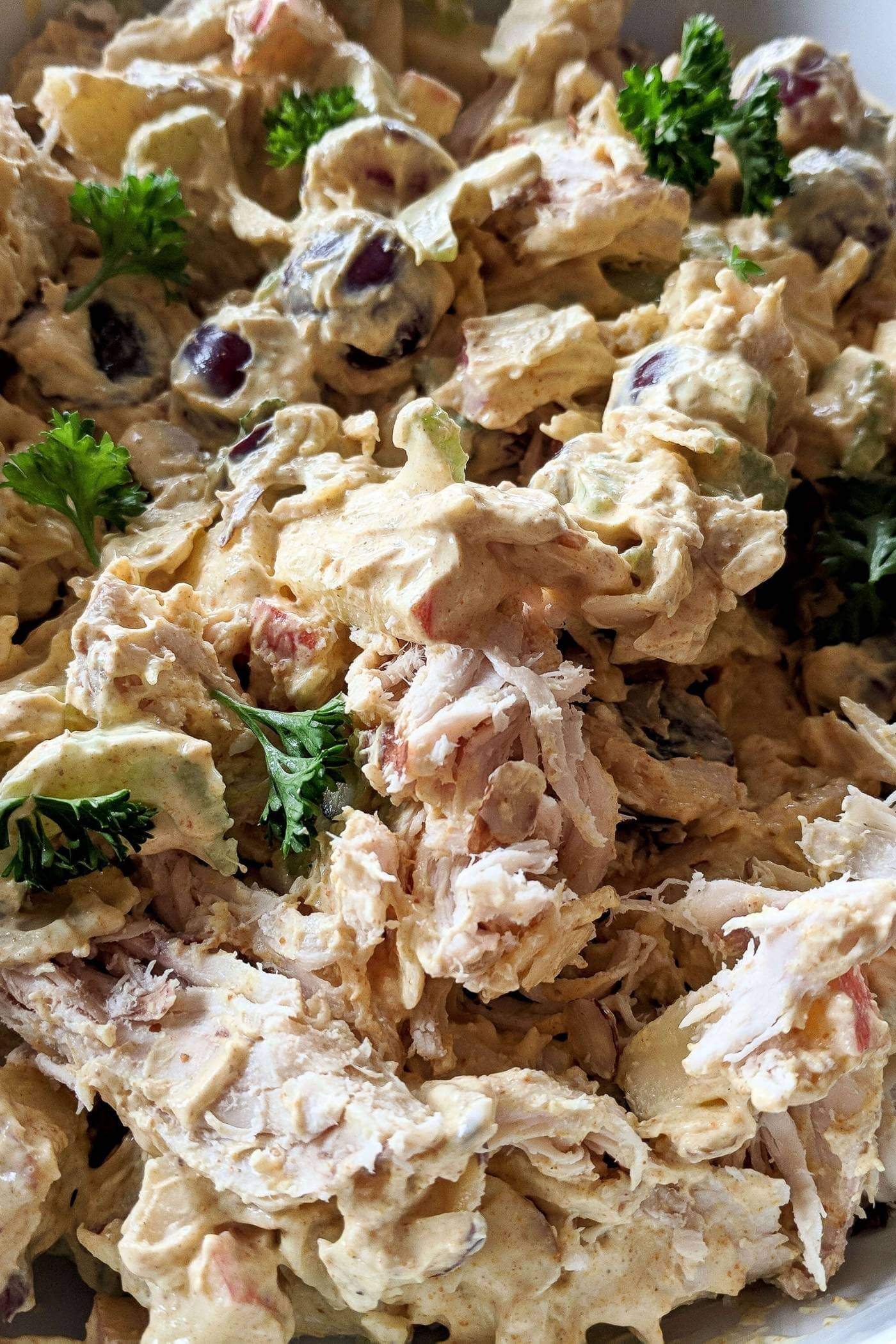 How To Make It
Making this salad is a snap and involves just a few steps.
Shred your cooked chicken into bite-sized pieces. You could also do cubes if you prefer, but I find with all the other elements going on here, shredded chicken works well. Place the shredded in a large bowl.
Prepare your fruit and veg. Halve the grapes, dice the apple and red onion, and chop the celery, then add them to the bowl with your chicken.
Make your dressing by combining your greek yogurt, lemon juice, honey, salt and pepper, and curry powder in a small bowl. Whisk well to combine. (Note - if your dressing is a little too thick for your liking, add a small amount of water or milk, 1 tablespoon at a time, until you reach your desired thickness.)
Add the dressing to the chicken mixture, throw in some parsley, and you're done!
How To Serve This Curry Chicken Salad
We love this on sandwiches, but you could also serve it wrapped in lettuce, on a bed of greens, alongside pita bread, wrapped in a tortilla or flatbread, or as a dip with hearty pita chips!
Our rainy picnic turned out great, despite the weather. I'm not saying this chicken salad had anything to do with it but maaaayyyyybe it helped just a little bit.
Rain or shine, give this one a try.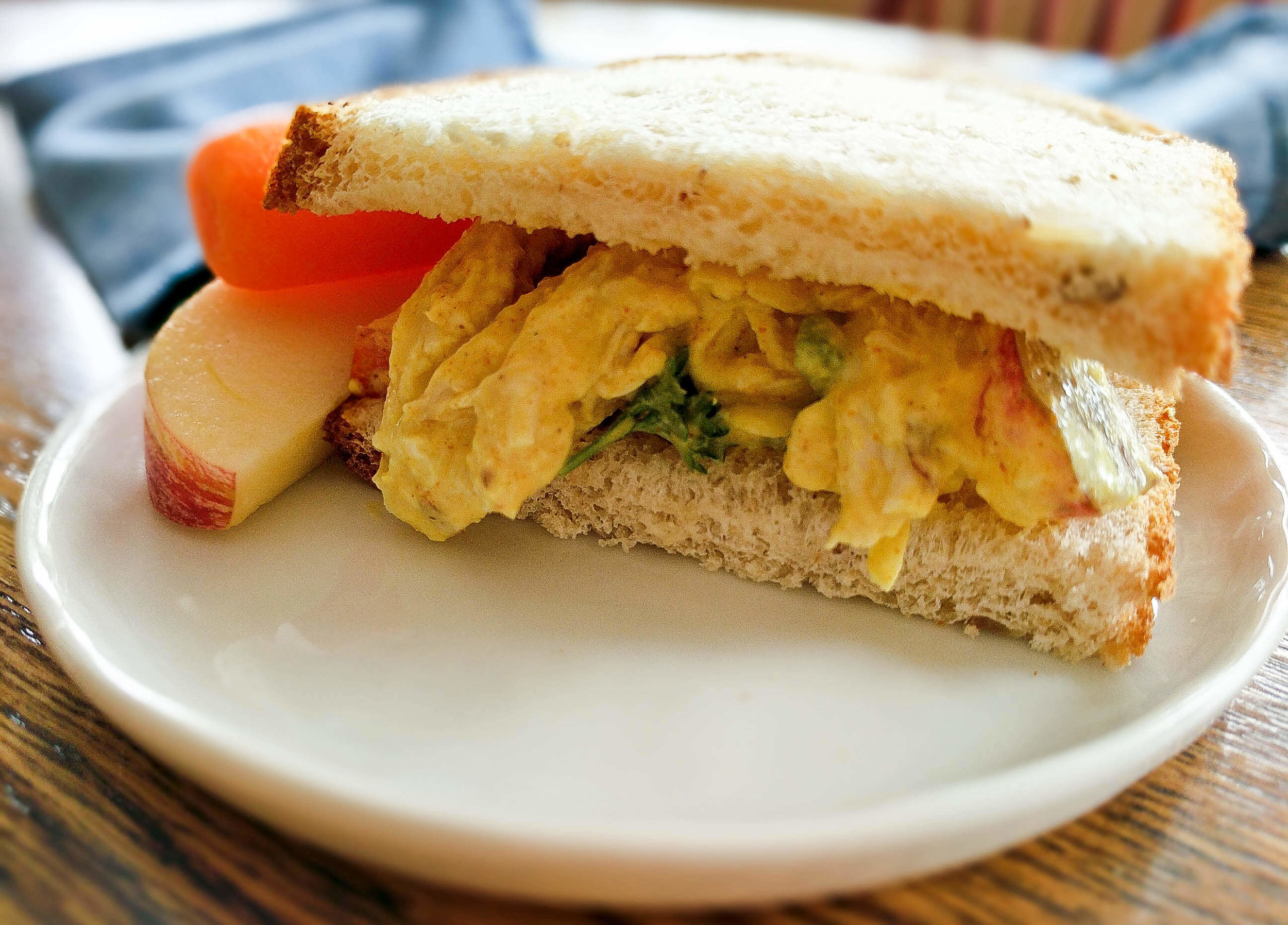 If you do try this Curry Chicken Salad Recipe, please let me know how you liked it in the comments below, or tag me with a pic on Instagram @frontrangefed!
More Delicious Chicken Recipes
Curry Chicken Salad
This is THE BEST curried chicken salad recipe! So easy, and perfect to take to your next picnic or potluck. It calls for a yogurt base vs. mayo, and is loaded with yummy grapes, apples and fresh veg so it's super healthy!
Ingredients
3

large chicken breasts, cooked and shredded

(you could also use rotisserie chicken here to make it easier)

1

cup

grapes, halved

1

apple, cored and diced

2

celery stalks, chopped

¼

cup

red onion, diced

2

tablespoon

parsley, chopped
For The Dressing
3

tablespoon

curry powder

1 ½

cup

greek yogurt

1

tbsp

lemon juice

1

tablespoon

honey

salt and pepper to taste

water or milk, if needed to thin the dressing
Instructions
Shred cooked chicken into bite-sized pieces.

Add grapes, apple, celery, and red onion to the chicken and stir to combine.

Mix all ingredients for the sauce except the water/milk and stir well to combine. If your sauce is a bit thick, add a small amount of water or milk, 1 tablespoon at a time, until you reach your desired thickness.

Add the parsley and mix to combine.