These Spicy Fried Chicken Drumsticks are super crispy, extra juicy, and loaded with flavor. The perfect fried chicken recipe for your next picnic!
What's better than fried chicken? Spicy fried chicken drumsticks!
The first time my husband, Jon, met my family was over a fried chicken dinner. We had just started dating and were coming back from a camping trip in Southern Illinois, passing through my childhood hometown on our way back to Chicago. It was a hot Midwestern July day – the air all thick and sticky, hanging about us like a blanket. My Mom served fried chicken for the meal, which only added to the heat.
Jon was truly in the hot seat. I have 3 brothers and sisters, and all were positioned around the table, peppering him with questions. What do you do? Where are you from? What do you like? It's a wonder he was able to get any bites in throughout this inquisition.
This was a test of sorts. My siblings and I are all very close and for anyone to really have a shot with me, they have to make it with them first. This can be tough. We are a sarcastic and jabbing bunch sometimes, always looking for a laugh (a good-humored laugh, but still). Over time, as we all became accustomed to the heat, I realized that Jon wasn't shying away from the conversation. Rather, he was actually joining in, and throwing a few punches of his own. It's then that I realized that this guy was a serious contender – not just for me, but for my family too.
I also realized at that dinner that Jon loooves fried chicken. (Come to think of it, my Mom's fried chicken may be one of the things that propelled our relationship forward….hmmm…..).
How To Make These Spicy Fried Chicken Drumsticks
So, thinking back to those early days, I whipped up a batch for dinner last night. This recipe adds a bit of heat to your normal fried chicken. Not to worry – for those who are not spice addicts, like me, it's not too hot (my kids ate it and were fine).
I used drumsticks for this recipe, but you can use whatever pieces of chicken you like. To make this fried chicken spicy, add a bit of hot sauce and cayenne pepper to the buttermilk. Then marinate the chicken in this mixture for at least an hour in the refrigerator.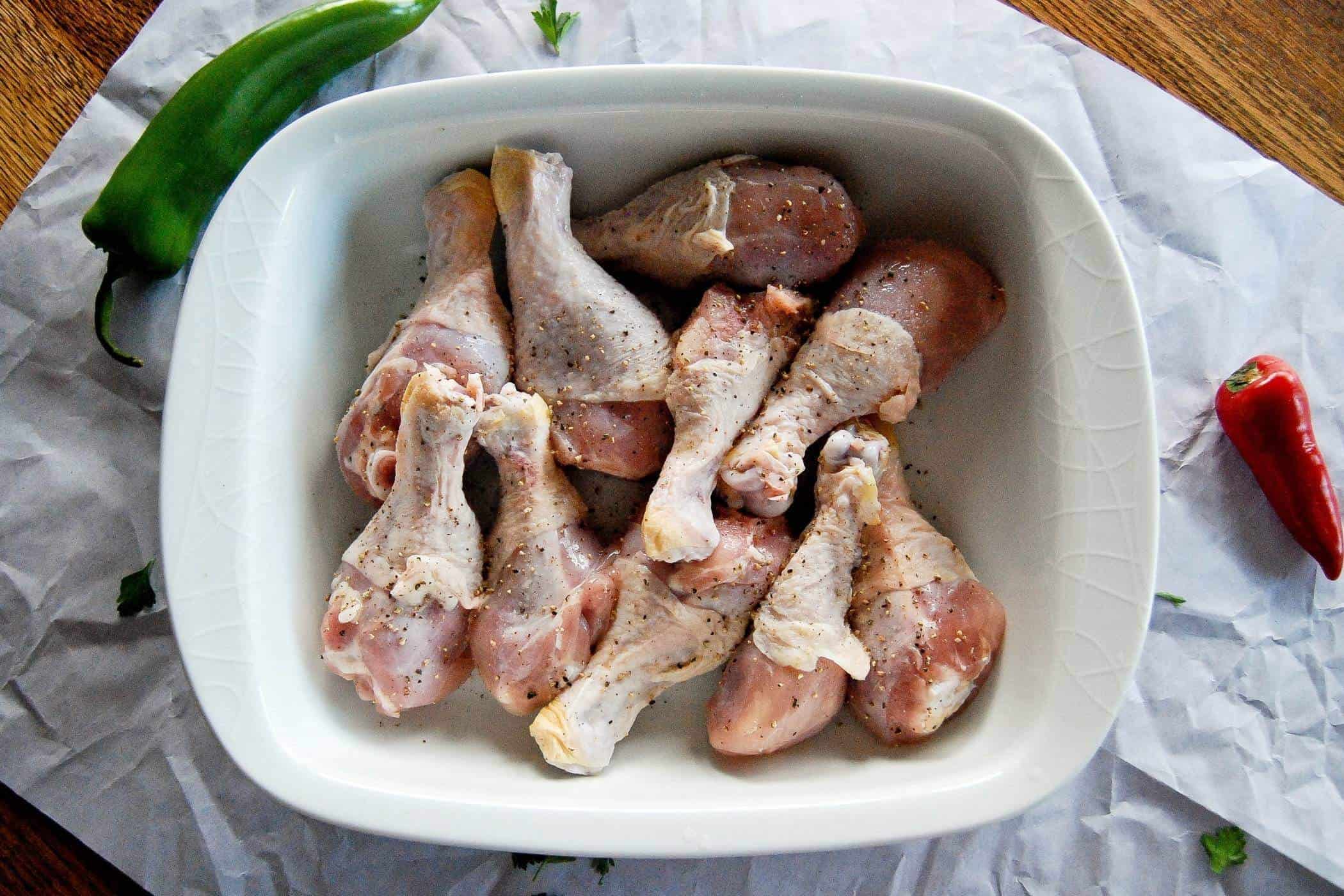 Make a spicy flour mixture by combining flour, garlic, paprika, and more cayenne pepper in a bowl. Once the chicken drumsticks have marinated, dredge them in the flour mixture, then fry them in a large, deep pan with peanut oil (about 15 minutes on low heat).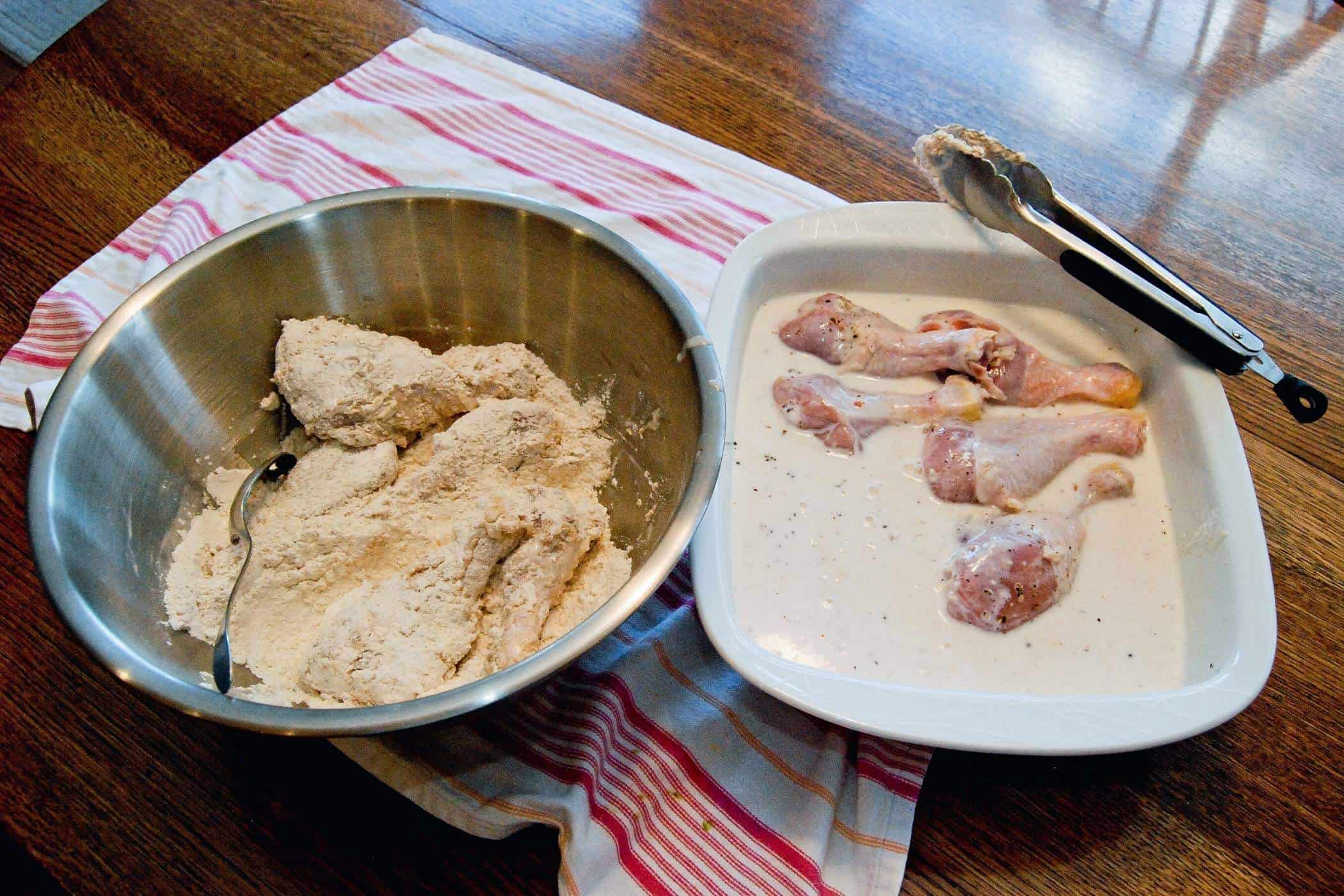 When your chicken is done frying, place it on a paper towel-lined pan. Keep it in a warmed oven or a warming drawer while you fry the rest of the chicken.
For those of you who love spice, you may want to add some Serrano pepper as a garnish. It goes great with the chicken and gives it that extra kick I was looking for.
We had this with fresh green beans sautéed in a bit of oil and garlic, and some crusty bread and the whole meal was very tasty.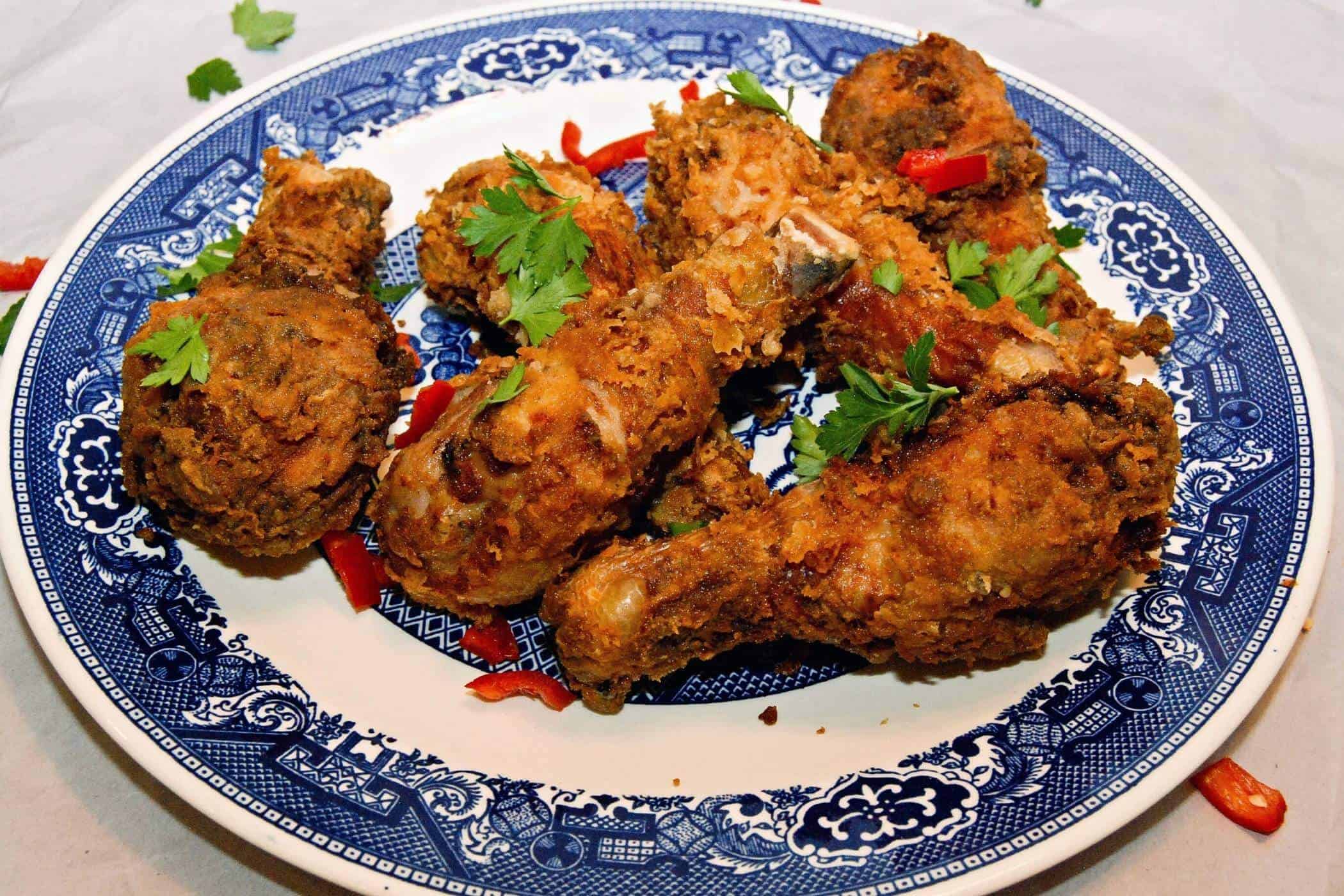 My husband and kids devoured this chicken. I think it's a keeper and who knows – maybe years from now I'll be serving this up to my own future daughter-in-law.
Did you try these Spicy Fried Chicken Drumsticks? Let me know what you think in the comments below. Then tag me on Instagram @frontrangefed with your creation!
More Chicken Recipes!
Spicy Fried Chicken Drumsticks
These spicy fried chicken drumsticks are super crispy, extra juicy, and loaded with flavor. The perfect fried chicken recipe for your next picnic!
Ingredients
10

chicken drumsticks

salt and freshly ground pepper

1

qt

buttermilk

1

tbsp

hot sauce

I like Franks Red Hot Sauce

1 ½

teaspoon

cayenne pepper

peanut oil for frying

3

cups

all-purpose flour

2

teaspoon

garlic powder

1

teaspoon

paprika

2

tablespoon

chopped parsley for garnish

1

chopped serrano pepper (seeds removed) for garnish

(optional)
Instructions
Rinse the chicken drumsticks and pat them dry. Place them in a large casserole dish.

Salt and pepper each side of the chicken.

Mix the buttermilk, hot sauce, and ½ Tablespoon Cayenne pepper together in a large bowl. (Feel free to add extra hot sauce if you love the heat.)

Pour the buttermilk mixture over the chicken, cover, and let sit for 1 hour in the refrigerator.

Use a large, deep pan, or a fryer pot to heat the oil. Heat oil to 350° F.

While your oil and oven are warming up, mix the flour, garlic, paprika, and remaining cayenne pepper in a large bowl.

Remove the chicken from the fridge and begin dredging each drumstick in the flour mixture. (I did this in batches, about 3 or so at a time).

Fry the chicken in batches for about 15 minutes per batch, or until the chicken is a nice golden color. The internal temperature of your chicken should be about 180° F.

Once the chicken is done, place it on a paper towel-lined pan and cover to keep warm (or place them in a warming drawer if you have one.)

Before serving, garnish the chicken with the parsley and Serrano peppers, if desired. (Be careful with the peppers – they are fairly hot. Make sure to wash your hands after handling!
Notes