This Easy Homemade Pita Bread Recipe puts the store-bought stuff to shame. Easy to make, and incredibly warming on a cold winter day, this recipe should be a staple in your kitchen.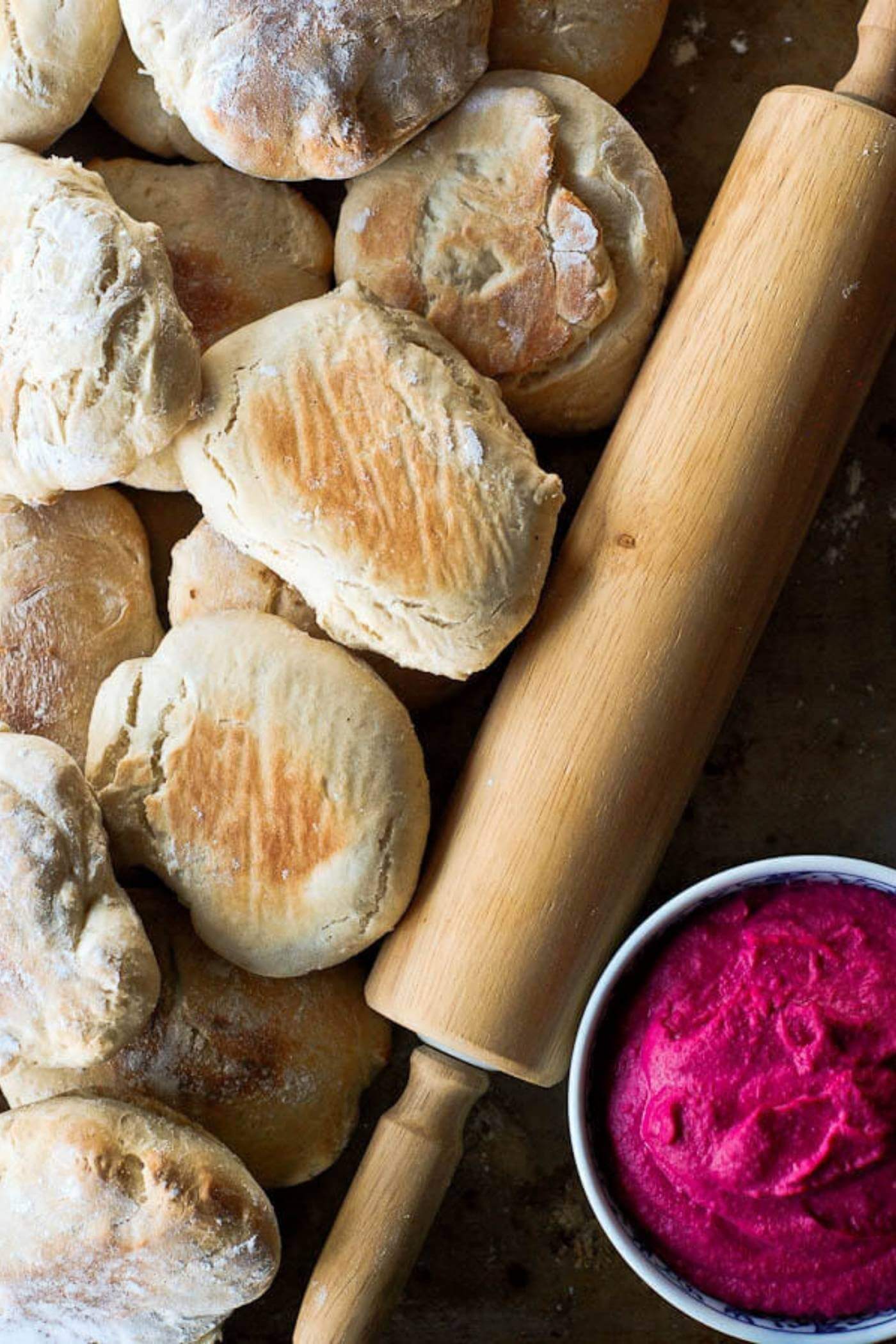 A while back my husband and I went with some friends to Safta in Denver and had the most amazing meal. Marinated olives, roasted beets, cauliflower hummus…the list goes on. But one of the things I loved most was how our lovely server continually came out with a basket of piping hot pita bread. Soft, pillow-like piles of pita, the steam struggling to break free as you slowly ripped it open.
We obviously used this pita bread as a carrier for the amazing lineup of small plates that covered our table. But truth be told, I could have easily eaten only the pita for my entire meal, I was that smitten. Paired with a tall glass of red, I would have left a wonderfully happy and satisfied customer.
And so it came to be, after weeks of obsessing over the memory of that delicious Safta meal, that I decided to try my hand at making some homemade pita bread from scratch, in my own kitchen. I received The Lebanese Kitchen, by Salma Hage as a gift from a friend a couple of years ago and cracked it open one lazy afternoon to see if I could find a recipe for pita bread.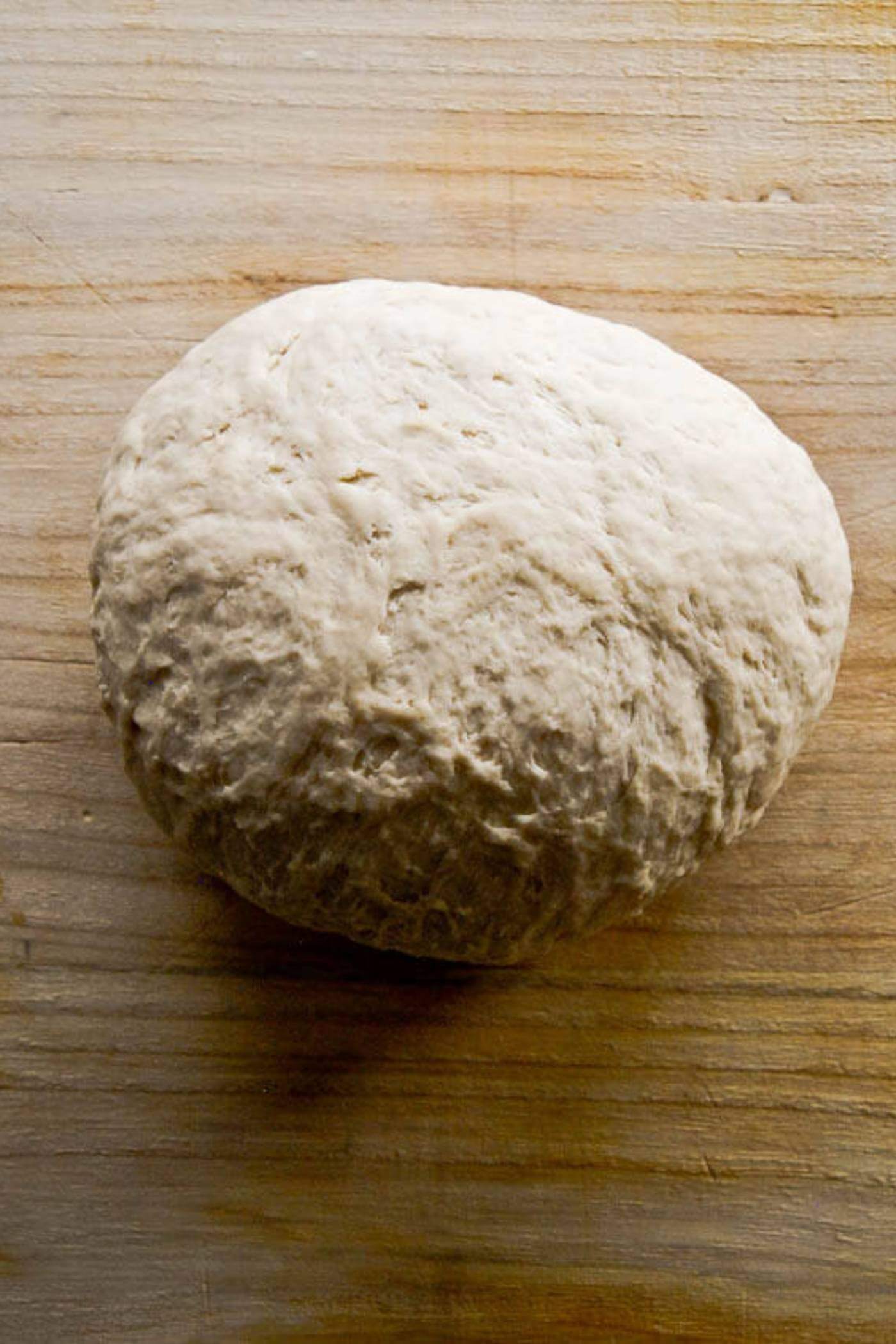 Sure enough, there was a recipe for homemade pita bread that looked pretty doable, with a few adjustments. Turns out, these little wonders are not hard at all to make (my 5-year-old helped!). Within a few hours, we were all sitting down to a basket full of our own pillowy goodness, all puffed and wonderous. Oh - and, did I mention our house smelt amaaaazzzziing??
I paired the pita with some beetroot hummus, another recipe from The Lebanese Kitchen, also amazing.
What Ingredients Will I Need For This Pita Bread?
This easy homemade pita bread recipe uses 6 simple ingredients (well, 7, if you count the water) and most of them you probably have hanging out in your pantry.
Fast action yeast. This is not a slow-rise recipe, thank goodness. Because when you're craving some pita bread, you want it AS SOON AS POSSIBLE. Enter fast action yeast, which means you only need to wait one hour for these babies to rise. Thank you, science.
Honey acts as our sweetener here, although the recipe also states you can sub in ½ tablespoon of sugar if you'd like.
Bread flour. Substitute all-purpose flour if you must, but the bread flour really gives it that glutenous, chewy consistency that makes these so delicious.
Olive Oil.
Milk. Adds terrific flavor and gives the pita bread its creamy color.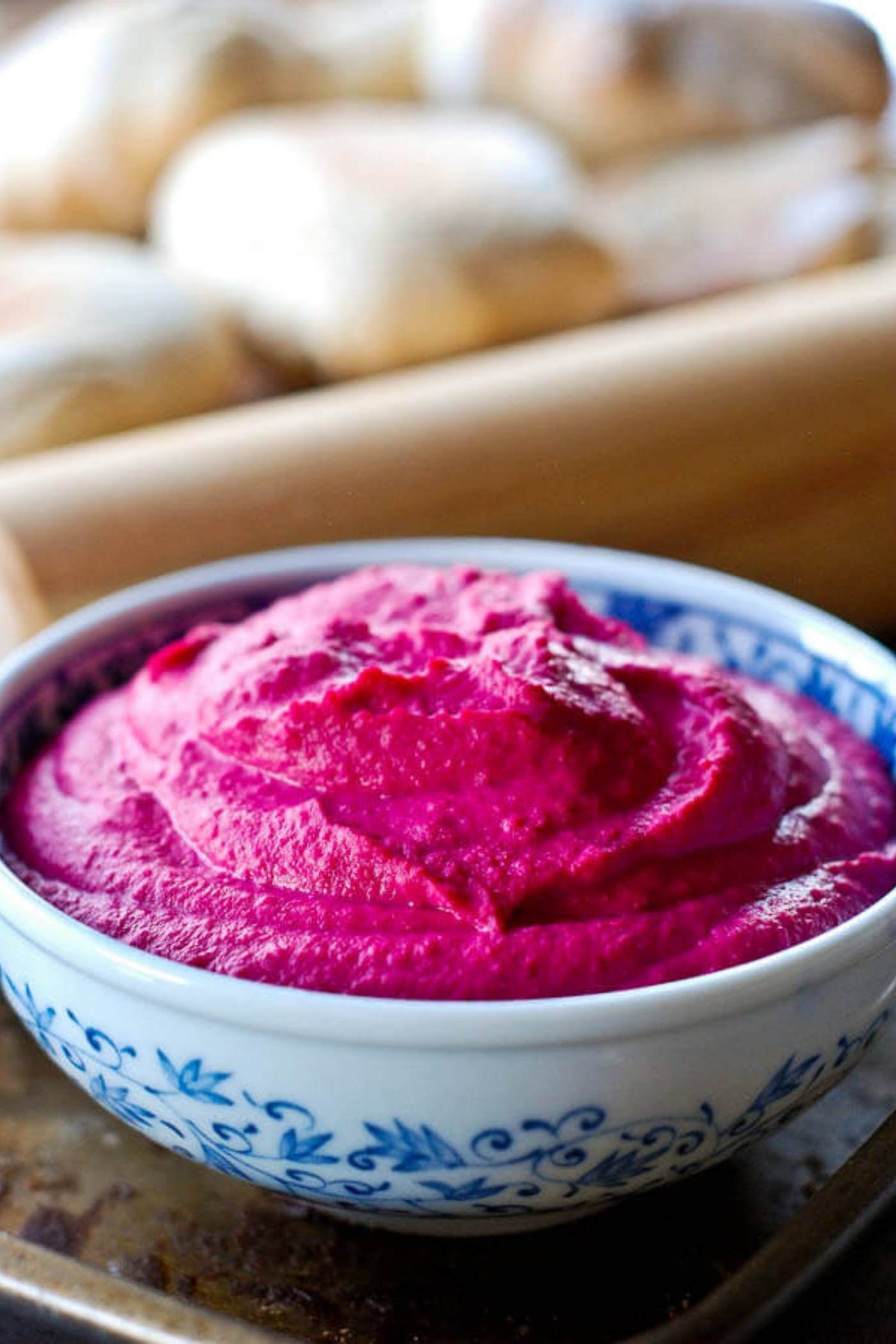 How To Make This Pita Bread Recipe
I can't wait for you to see how easy this actually is.
To start, add warm water and honey to the yeast. Then, in a separate bowl, combine your flour and salt.
Add the yeast to the flour mixture, then fold in the oil and milk.
Knead your dough for about 10 minutes (this feels longer than it actually is), and then let it rise for about an hour. The dough is pretty easy to work with, and can easily be kneaded in a stand mixer with the dough hook attachment if you'd rather not do this part by hand.
Next, roll out the dough balls, top them with a light dusting of flour, and place them in a hot oven.
These only take about 8 minutes to bake, but I will tell you that will seem like an eternity once you start smelling these delicious puffed dough balls baking in the oven.
I have to say, paired with a nice tall glass of red, sitting cozily by the fire and savoring our own warm, straight-from-the-oven pita bread was pretty okay. It may not be a fancy night out at Safta, but it was pretty darn close. And it definitely left me wonderfully happy and satisfied.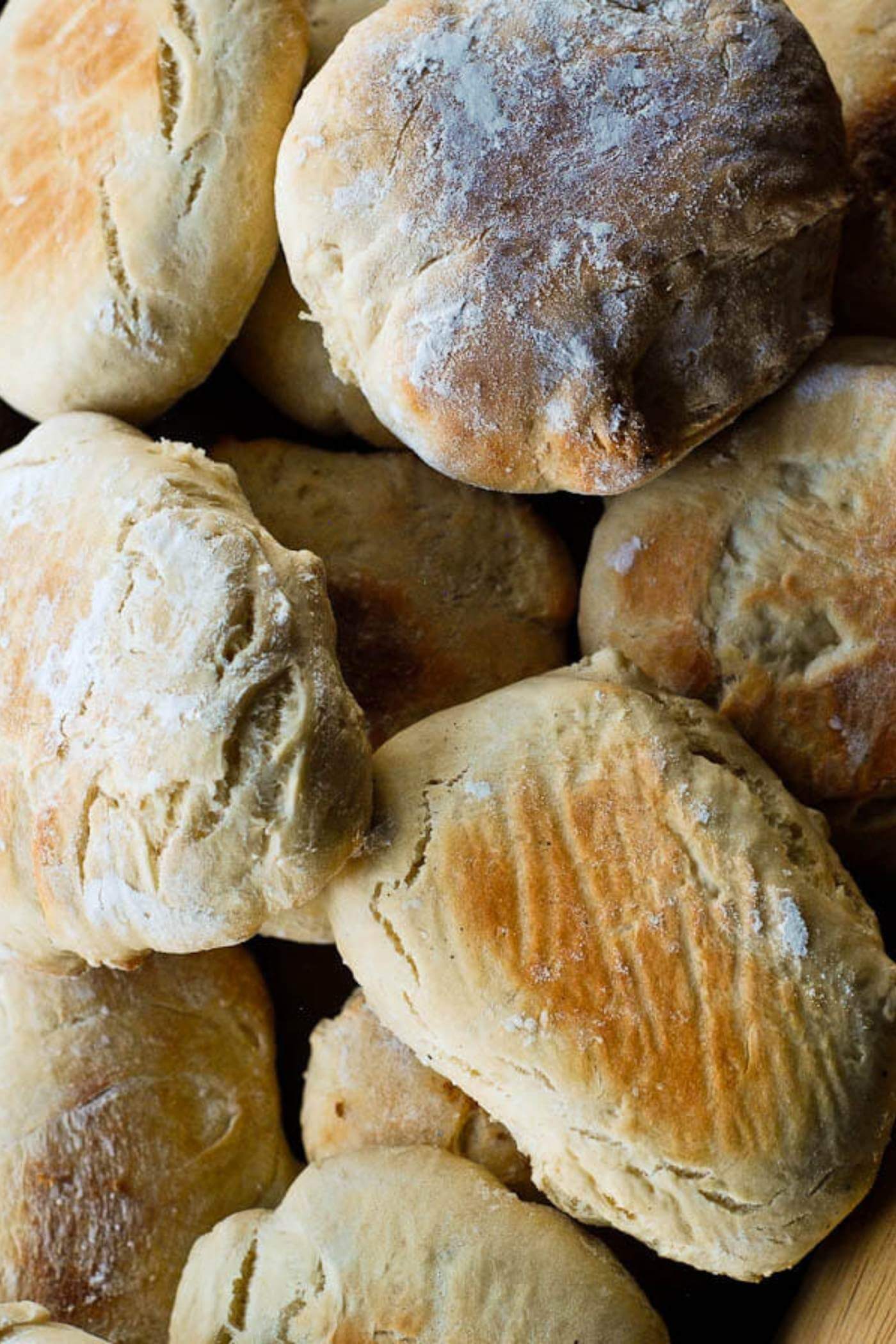 If you try this Pita Bread Recipe, leave a rating and let me know what you think in the comments! And then tag me on Instagram - I love to see your creations!
More Great Bread Recipes!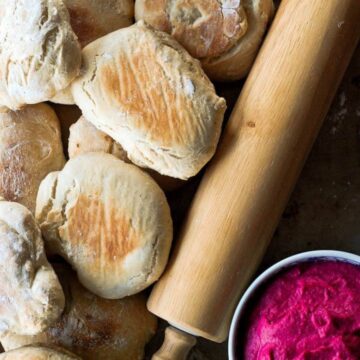 Homemade Pita Bread Recipe
This easy homemade pita bread recipe puts the store bought stuff to shame. Easy to make, and incredibly warming on a cold winter day, this recipe should be a staple in your kitchen.
Ingredients
1

envelope

dry, fast-action yeast

⅔

cup

lukewarm water

1

tablespoon

honey (can substitute ½ tablespoon of sugar)

3 ⅓

cup

white bread flour, plus extra for dusting

2

tablespoon

salt

2

tablespoon

olive oil

½

cup

lukewarm milk
Instructions
Dissolve the yeast in 3 tablespoons of lukewarm water. Stir in the honey.

In a large bowl, sift together the flour and sea salt. Add the yeast mixture, then slowly pour in the remaining warm water the olive oil, and the warm milk. Mix until combined.

Turn the dough out onto a floured surface and knead for 10 minutes until the dough is smooth and elastic. This can be done by hand, but is much easier with a stand mixer.

Place the ball of dough into a lightly oiled bowl and cover with a towel and allow to rise until it has doubled in size, about 1 hour. (Tip: I like to let my bread dough rise placed in the oven, with just the oven light on. It keeps it out of the way and I find the temperature to be just right for bread doughs – especially on these colder winter days!)

Preheat the oven to 450 degrees.

Divide the dough into 6 balls and place them on a baking sheet. Cover the balls with a towel and allow them to sit for 10 more minutes. Using a rolling pin, roll out each ball into a small circle and place it on a baking pan. (You really can't go wrong here in terms of size – feel free to make smaller or larger balls as you see fit, just watch them in the oven to make sure they're not burning.)

Brush each disc with a small amount of water and top with a very light dusting of flour.

Bake for 7-9 minutes, or until they are a beautiful golden color.
Notes
Note: Some recipes call for placing the discs of pita directly onto a hot pan or baking stone. If you do this, pay attention to your baking times, as you'll likely need to lower them significantly.
Recipe adapted from the Lebanese Kitchen Cookbook.