These delicious, moist, healthy, Easy Zucchini Muffins with carrots are loaded with veggies and light on the sugar. Perfect for a brunch or coffee date, or for a quick and easy breakfast.
Its finally fall ya'all!! Sort of. It's unusually overcast today in Colorado where the temperature's not scheduled to go above 60 degrees all day. It's glorious. We hunted through drawers to pull out our down vests, comfy jeans, and sweatshirts today before school started and were rewarded with a fresh crispness in the air, and crunchy leaves beneath our feet as we stepped out the door and into our morning.
It's short-lived though. Even as I'm sitting here in my living room, typing this post, sipping chai tea next to a flickering fire, I can see tomorrow's forecast: a high of 86! But that's the weather in Colorado. You never really know what you're going to get. So we're not putting our shorts away juuust yet. But we're getting close.
So, given the extra time it took us today to locate some of our warm weather gear, I was secretly thanking my past self for thinking ahead just a bit and making a HUGE batch of these carrot zucchini muffins.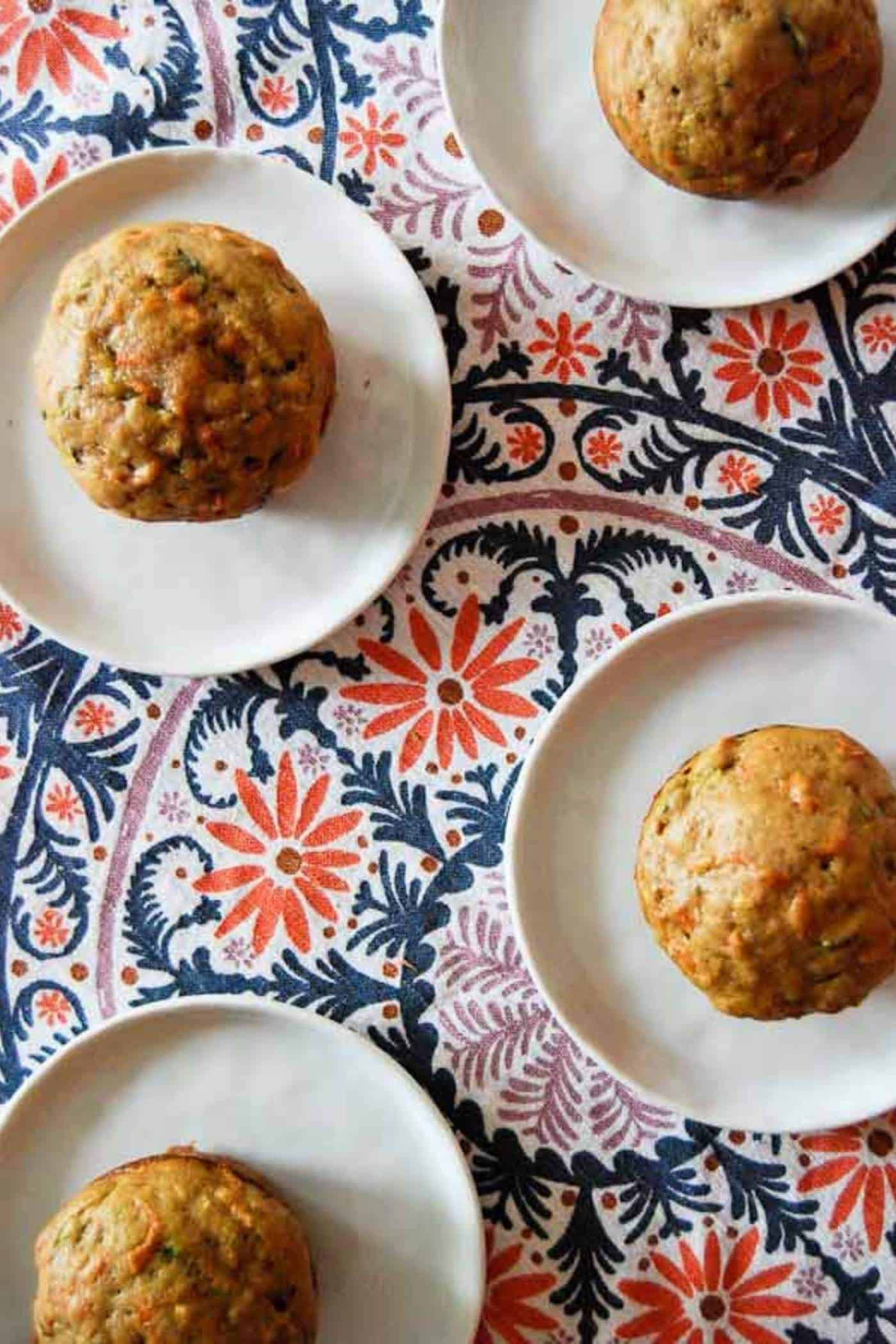 These zucchini muffins are packed with veggies so I don't feel at all guilty about chucking them to the kids as we run out the door at breakneck speed. (Actually, the "speed" part of that last sentence is not at all accurate – if you have elementary kids you're well aware that the mornings move so slowly that it's a wonder you're able to get them to school before lunch. All the more reason to have something quick and easy, ready for them to eat.)
Why I Love These Zucchini Muffins.
These babies are fairly healthy. I mean, what better way to pack in a load of vegetables than in something that resembles cake? I even snuck some carrots into these zucchini muffins just because I could and no one was the wiser. (Just don't tell your kids!)
They're super easy to make. Seriously - they'll be on your table in 30 minutes.
You can customize them to your liking. Want to make chocolate zucchini muffins? Throw in some chocolate chips. Craving something a little fruitier? Add some blueberries. You can't really taste the zucchini in these so it's a great base for making them into whatever your heart desires.
But....they're also great on their own! Moist, cinnamony, and delicious.
As mentioned, they freeze very well and thaw fairly quickly so they're really convenient for days when you're running late and need a healthy breakfast.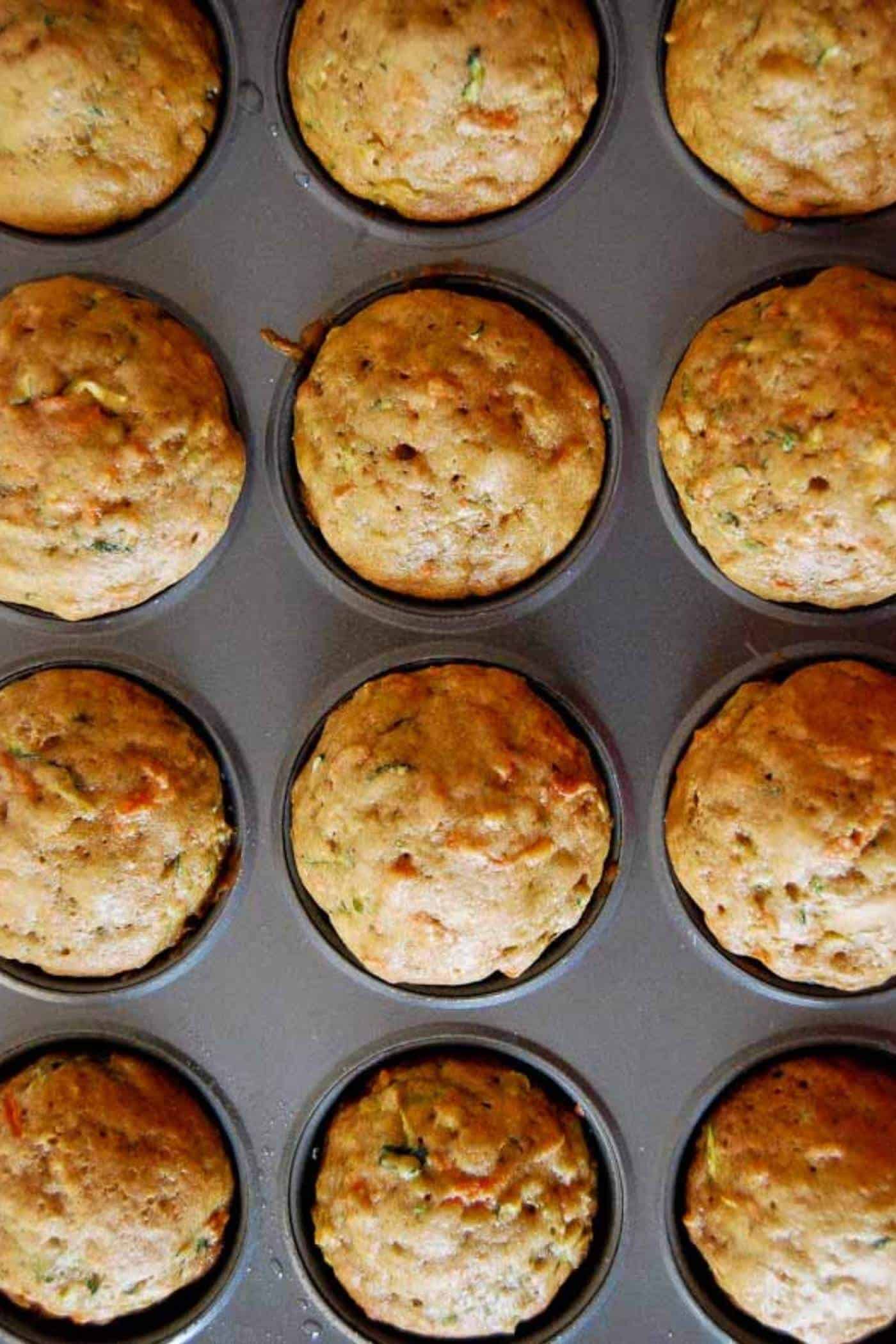 Ingredients
This zucchini muffin recipe is pretty straightforward and is easy to throw together. It includes your standard muffin ingredients - flour, baking soda, salt, and some earthy spices like cinnamon and cardamom. I like to use brown sugar in these muffins, which I feel gives them a deeper flavor.
And, obviously, these include lots of shredded zucchini and some shredded carrots, (just to sneak some extra veggies in there). A box shredder makes shredding the zucchinis simple. No need to peel the zucchini here, or even blot the shredded zucchini with a paper towel as many other zucchini recipes call for. The added liquid from the zucchinis helps to make these muffins MOIST!
How To Make These Muffins.
What's great about these muffins is that they are quick to make. You can have a batch done in only 30 minutes! Here's what you do:
Whisk together your dry ingredients.
In a separate bowl, cream the sugar and butter until well combined then add the eggs and vanilla.
Fold in the dry ingredients and stir until everything is combined. Be careful not to over-mix as it will yield very dense muffins.
Then all that's left to do now is add the batter to your muffin tins, bake for about 20 minutes, and you're done! Allowing the muffins to cool for about 10 minutes will make it easier to remove them from the muffin tins.
How To Freeze Zucchini Muffins
These zucchini muffins are so easy to freeze. I love making multiple batches at once and then freezing them for easy meals or snacks.
To freeze these muffins, allow them to cool completely. I then like to wrap them individually in plastic wrap, toss them in a freezer bag, and then into the freezer they go. This makes pulling out individual muffins so easy and prevents them from potentially sticking together as they freeze. They'll keep in the freezer for about 3 months.
If you're not going to make, and then freeze these muffins to use for your hectic mornings, good. They're actually best right out of the oven. But, they do make a great, quick breakfast when warmed in the microwave for 10 seconds and smeared with a liberal dollop of butter. And even though they are made with what I would technically call "summer veggies", they tasted delicious to me this morning as we welcomed the cooler temps in our bathrobes and slippers.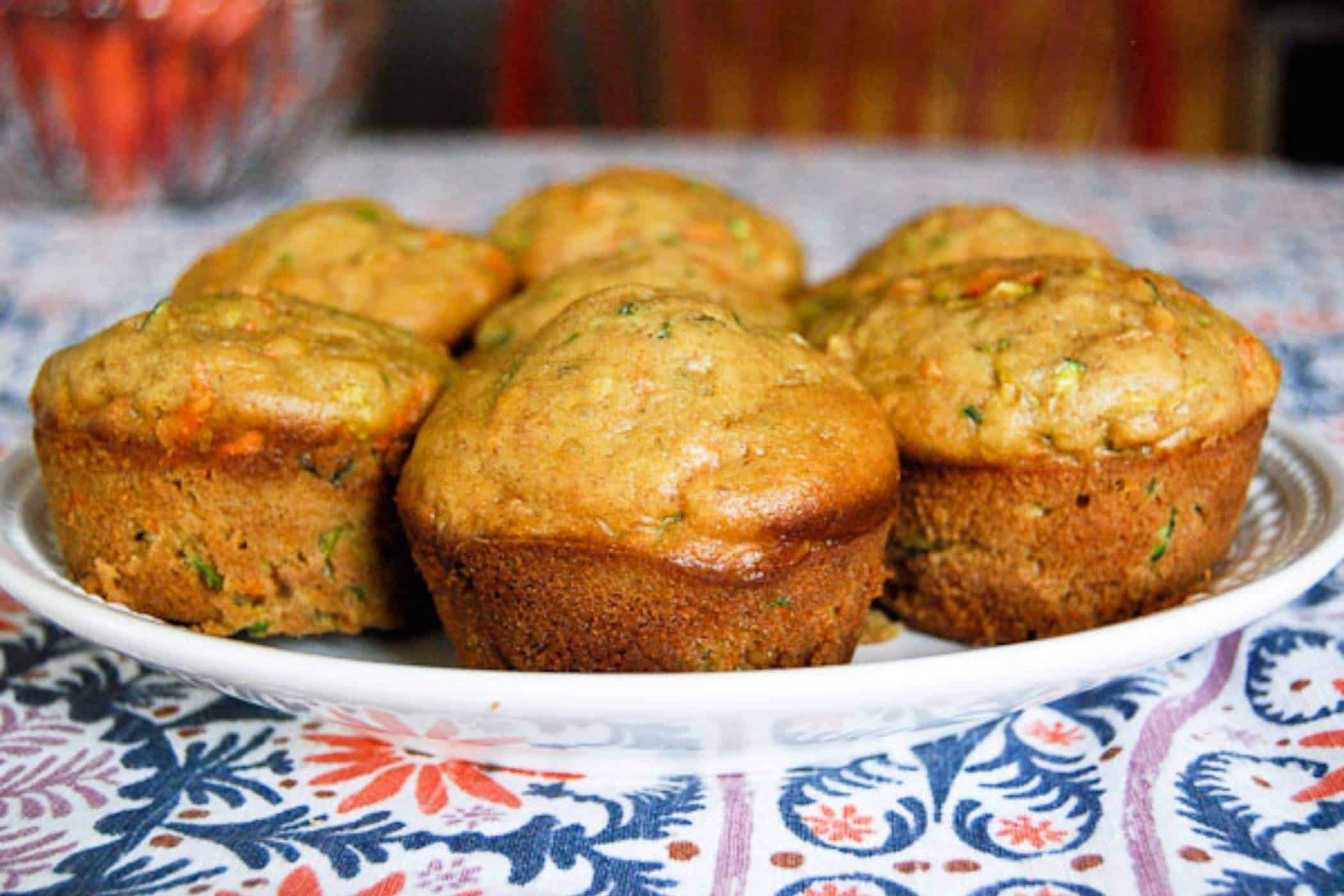 If you make these Easy Zucchini Muffins, please let me know what you think in the comments below! And don't forget to tag me on Instagram so I can see your lovely creations!
More Quick Bread And Muffin Recipes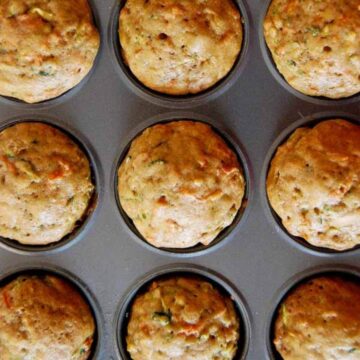 Easy Zucchini Muffins
These delicious, moist, and healthy carrot zucchini muffins are loaded with veggies and light on the sugar. Perfect for a brunch or coffee date, or for a quick, easy breakfast.
Ingredients
2

cups

all purpose flour

1

teaspoon

baking soda

½

teaspoon

ground cinnamon

¼

teaspoon

ground cardamom

¼

teaspoon

salt

1

teaspoon

pure vanilla extract

½

cup

butter

¾

cup

brown sugar

2

eggs, beaten

1 ½

cup

shredded carrots
Instructions
Preheat the oven to 350 degrees and grease a muffin tin with butter or cooking spray (or use paper liners).

In a medium bowl, whisk together the flour, baking soda, cinnamon, cardamom, and salt and set aside.

In a larger mixing bowl, cream the butter and sugar on high speed until well combined.  Add the eggs, one at a time, and then stir in the vanilla.

Fold in the dry ingredients until just combined – don't over-mix!

Divide the batter among the muffin cups, filling each one about 3 quarters full.

Bake for 15-20 minutes, until the muffins are golden brown on top and a toothpick inserted into one of the muffins comes out clean.

Let the muffins cool in the pan for at least 10 minutes, then take them out and finish cooling on a wire rack.