This Blueberry French Toast Casserole can be made ahead the night before so that all you have to do is pop it in the oven the next morning. Perfect for holiday breakfasts or brunch gatherings.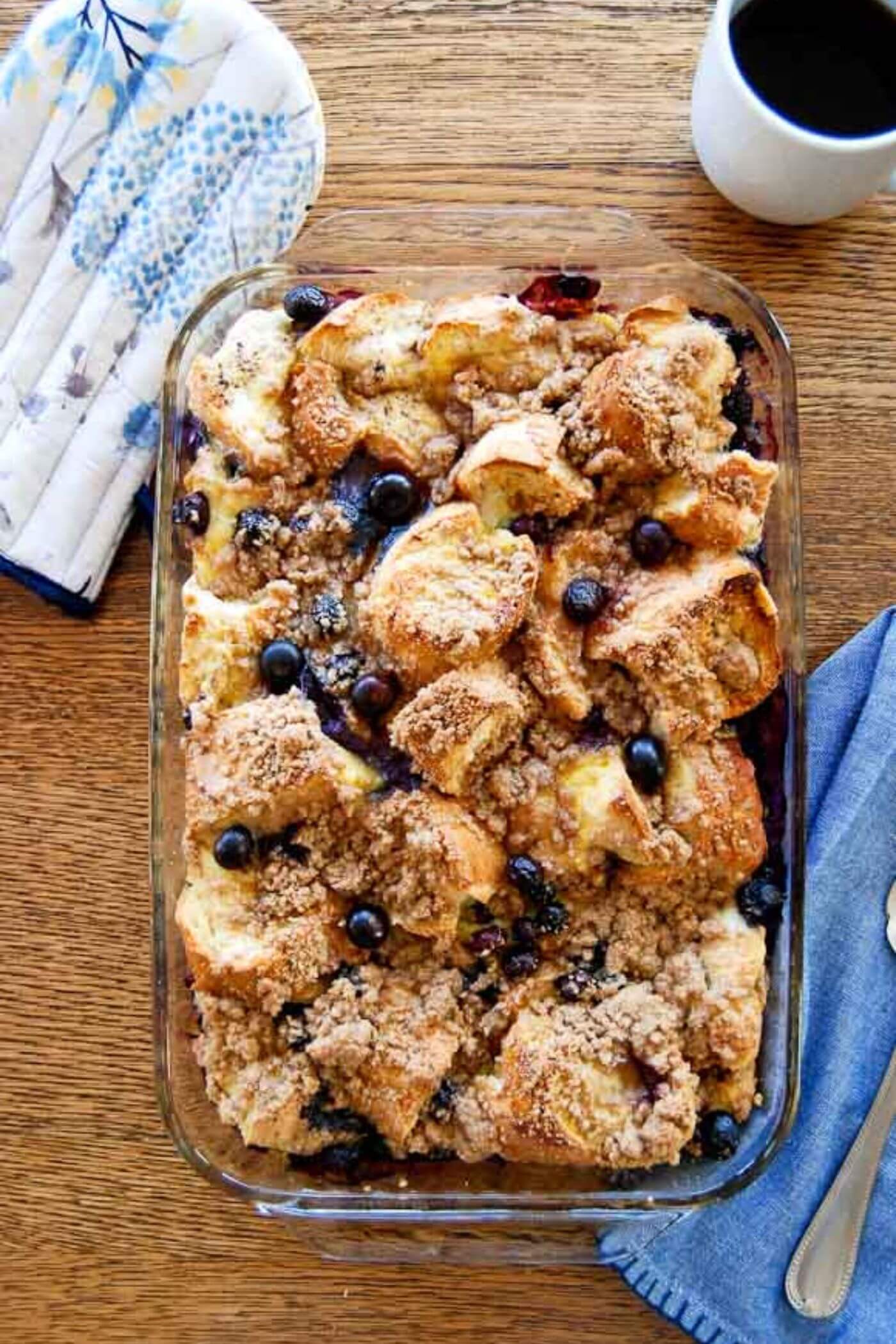 Are you ready for Christmas yet? I'm just starting to get there since we finally have a tree up!
We almost didn't have a Christmas tree this year, as we will be traveling. But then, my husband came home with a pass for us to pick out a tree from a nearby national forest. Yes, in Colorado you can actually go into the forest and cut down your own Christmas tree. How awesome is that!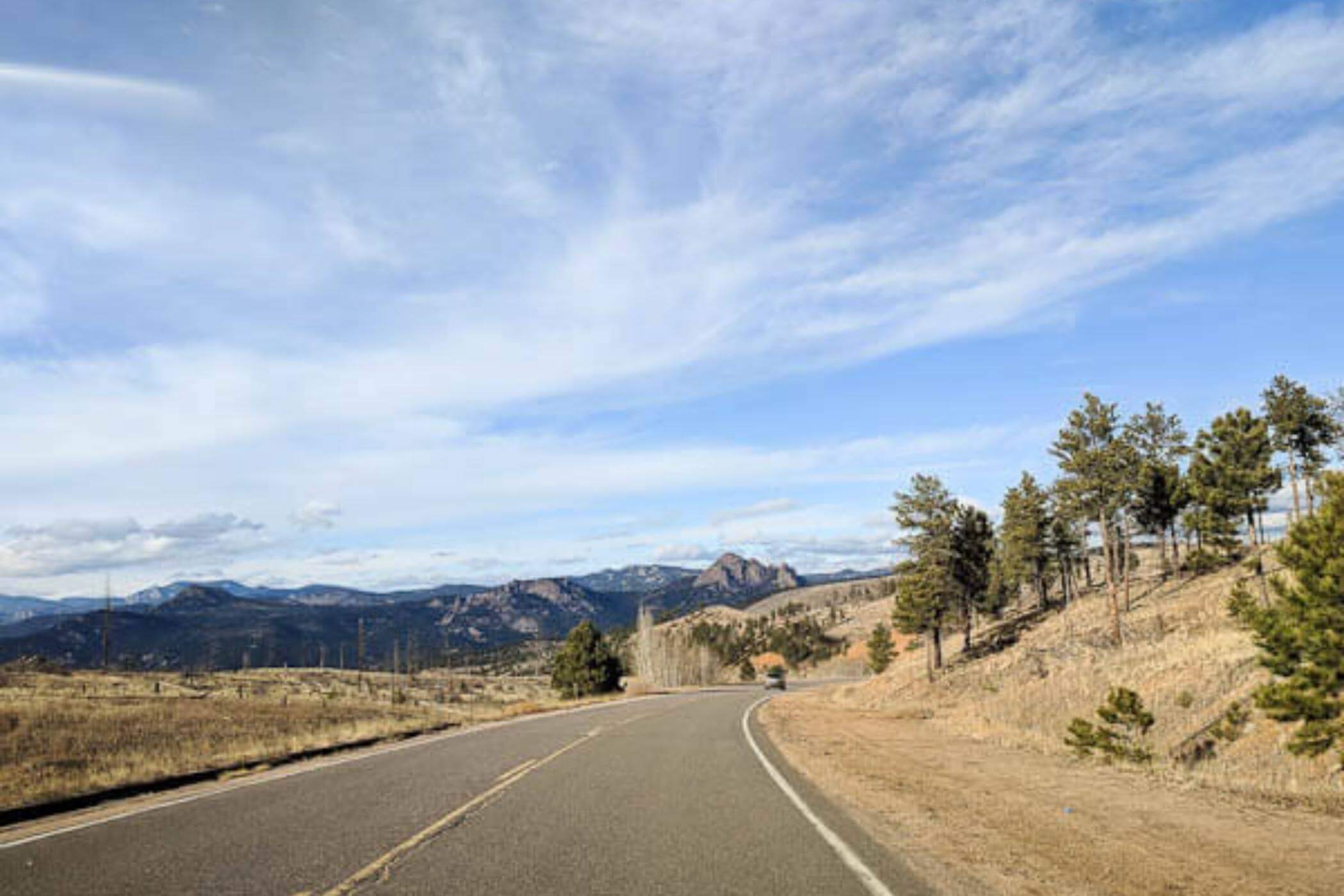 We headed out on Sunday afternoon and after walking through the woods for about 30 minutes finally circled back to the very first tree we saw (sorry honey!) chopped it down, and tied it to our car to head home.
It's a tiny tree – very Charlie Brownish – and fits perfectly at the entrance of our home. We decided to decorate it with simple homemade ornaments the kids made. Snowflakes, finger-knitted garland, candy canes. I couldn't love it more, and I think this may be the start of a new family tradition.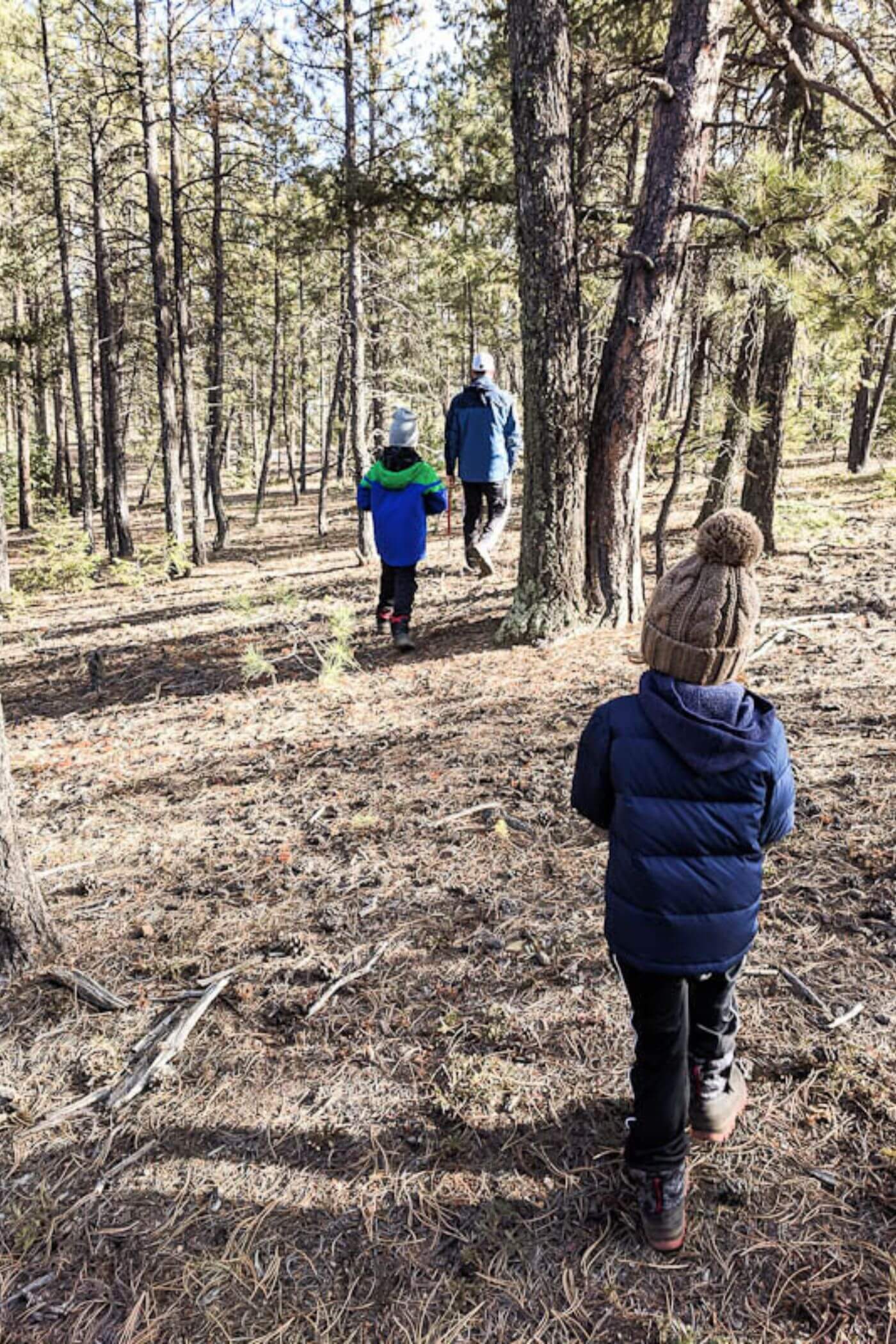 This weekend I also developed a recipe that may be our new go-to for holiday mornings: Blueberry Crumble French Toast Casserole. We had a bunch of French bread left over from a potluck we had been to earlier in the week and it was a perfect way to transform it into something even more delicious.
Think soft pillows of sweet French toast, tinged with warm blueberries and a crunchy cinnamon topping. It's the perfect holiday breakfast!
How To Make Blueberry French Tost Casserole
The best part about this meal (and why it's so great for Thanksgiving or Christmas morning) is that you can, and should, make it in advance.
Start by mixing all the ingredients together in a casserole dish the night before. This basically involves cutting up your bread and placing it in the casserole dish. Then, whisk your eggs, milk, half n half, cinnamon, vanilla, and sugars and pour it over the top so that everything is coated. Add your blueberries, cover the dish and then place it in the refrigerator until the next morning.
The next morning, while your oven is preheating, mix together your cinnamon brown sugar crumble. Then sprinkle it and a few tabs of butter over the top of the casserole. Then just pop it in the oven the next morning. You'll open presents as the delicious smell of baked French toast floats through your home, without any of the mess or prep to ruin your day.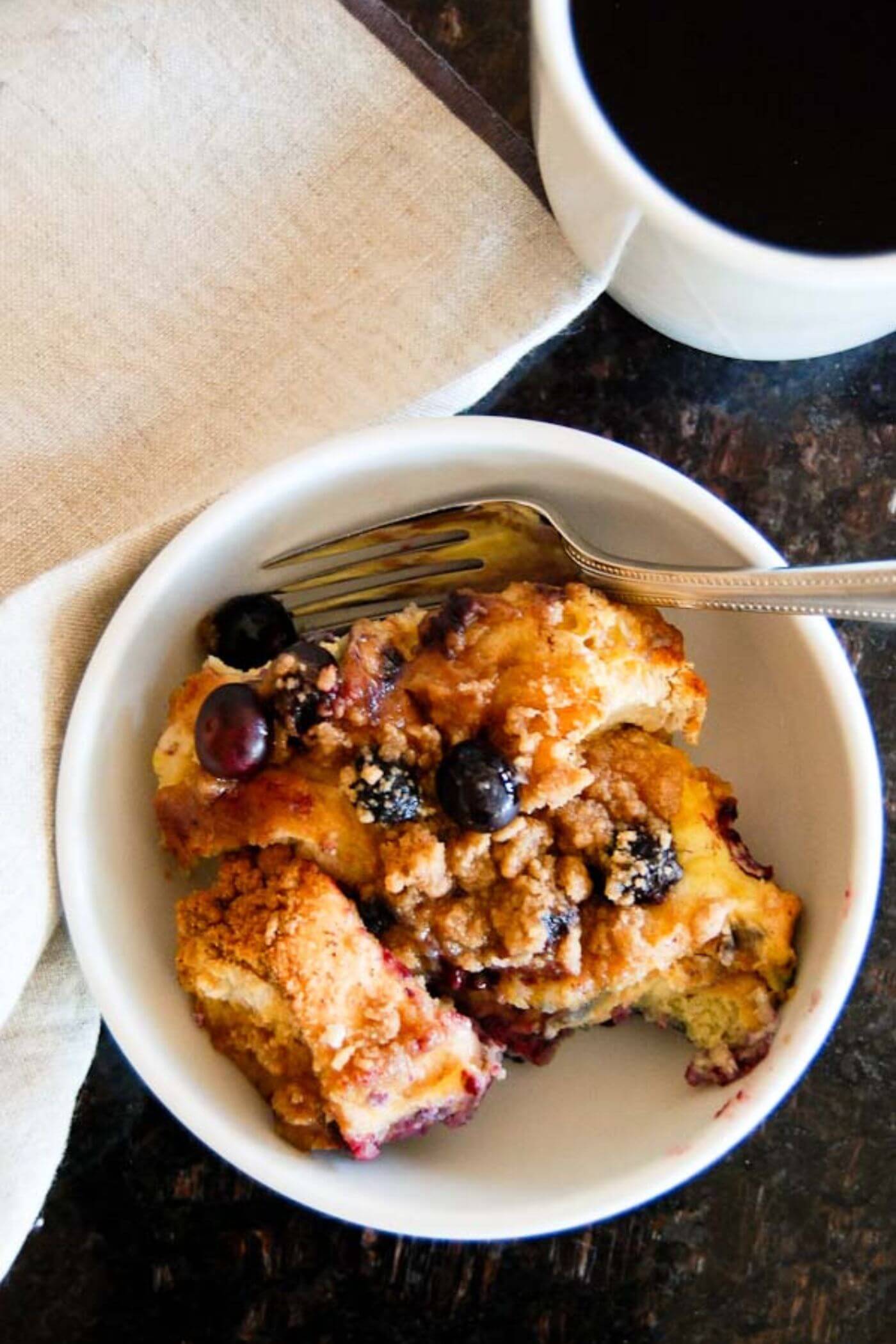 Tips For Success
A couple of notes.
This recipe works best with bread that's a day or two old and a bit dried out. That way you don't end up with a mushy casserole. Is your bread too fresh? No worries. Just slice it up and bake it at a low 250 degrees for about 10 minutes to dry it out a bit and you'll be good to go. (That's what I did.)
I used fresh blueberries for this recipe but you can sub in frozen ones in a pinch. And, you can use whatever fruit suits your fancy – apples or cherries would be great alternatives.
Planning on making this Blueberry French Toast Casserole for Christmas morning? Take a picture and tag me on Instagram @frontrangefed. I'd love to see your photos!!
More Delicious Breakfast Recipes!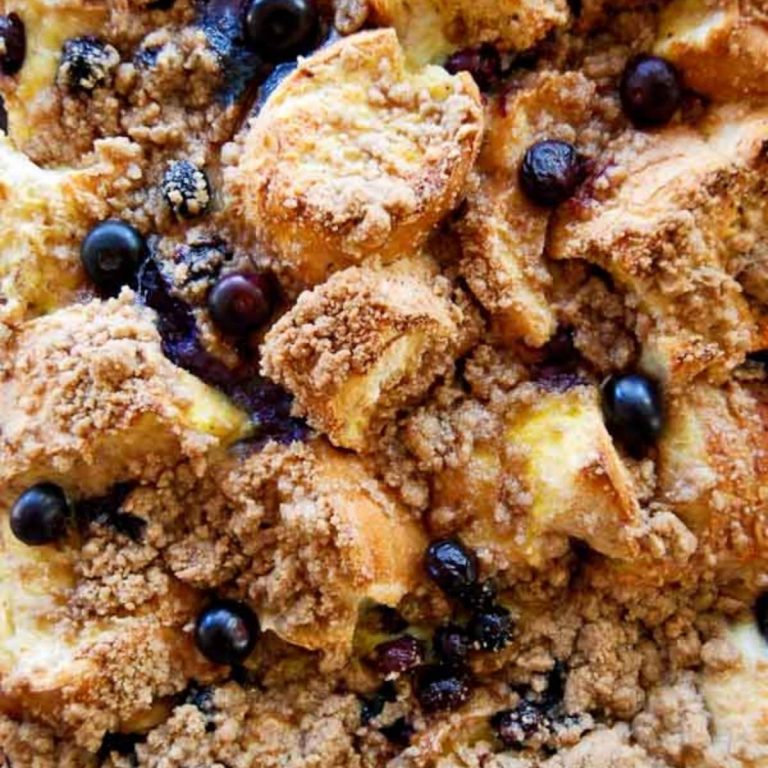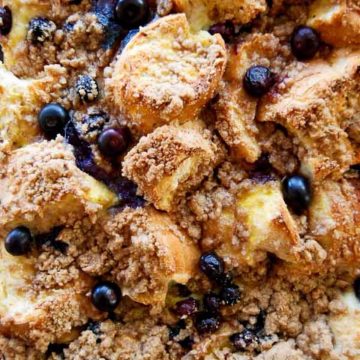 Blueberry French Toast Casserole
This blueberry french toast casserole can be made ahead the night before so that all you have to do is pop it in the oven the next morning. Perfect for holiday breakfasts or brunch gatherings. 
Ingredients
1

loaf crusty bread (preferably a day or two old)

1

cup

lowfat milk

½

cup

half n half

1

teaspoon

cinnamon

10

eggs

¾

teaspoon

vanilla

3

tablespoon

brown sugar

1

pint

blueberries
For The Crumble Topping
⅓

cup

flour

2

tablespoon

brown sugar

½

teaspoon

cinnamon

4

tablespoon

cold butter
Instructions
Cut up bread into bite size chunks. If it's not dry enough, bake at 250 degrees for about 10 minutes. Set aside to cool.

In a large bowl, whisk eggs with milk, half n half, and vanilla.

Add cinnamon and brown sugar to the egg mixture and mix well.

Arrange bread evenly in a 9x13 inch casserole dish. Pour mixture over bread, making sure all the bread is coated (you may need to press some of the bread into the egg mixture.)

Add blueberries to the casserole ensuring they are evenly distributed.

Cover the casserole dish and place it in the refrigerator over night.

When you're ready to bake your French toast casserole, preheat the oven to 375 degrees.

While oven is preheating, make your crumble. Combine the flour, brown sugar and cinnamon in a bowl. Cut the butter into small pieces and add to the flour mixture. Using a pastry cutter, two knives, or even just your hands, cut the butter until it is well integrated into the flour mixture (it should feel kind of like wet sand).

Sprinkle the crumble over the top of your casserole and add additional blueberries if desired.

Bake casserole for 50-55 minutes, or until the top starts to brown slightly and become crisp. (Note, depending on how big your bread chunks are, you may require a slightly longer cooking time.)