This Cinnamon Raisin Bread Recipe, stuffed with rum-soaked raisins and swirls of cinnamon sugar is the best thing to make on a cool Sunday morning. It makes a great piece of toast or is delicious when served warm, straight from the oven.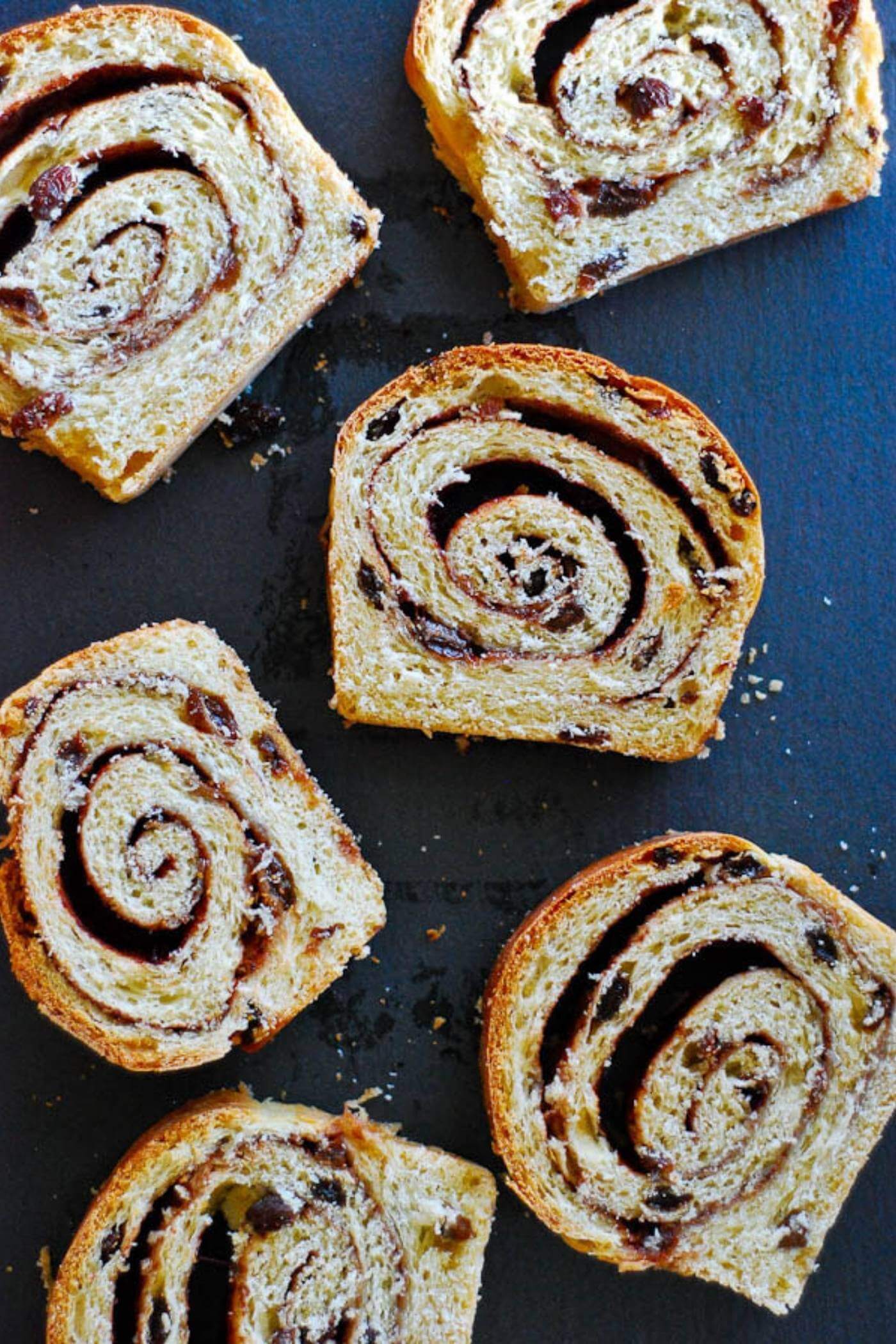 Who's ready for spring? Today finally feels a little bit like it here in Colorado. The birds are chirping, it's sunny out, and the weather feels like it's starting to warm up just a bit. But I know it's a farce – heavy snow and plunging temps are predicted for the next few days, leaving this glimpse into warmer weather in our wake.
But, one saving grace is that it still makes it ok to enjoy the comfort foods of winter – the slowly braised meats, the hearty stews, and of course, the indulgent breads that have been gracing our tables lately.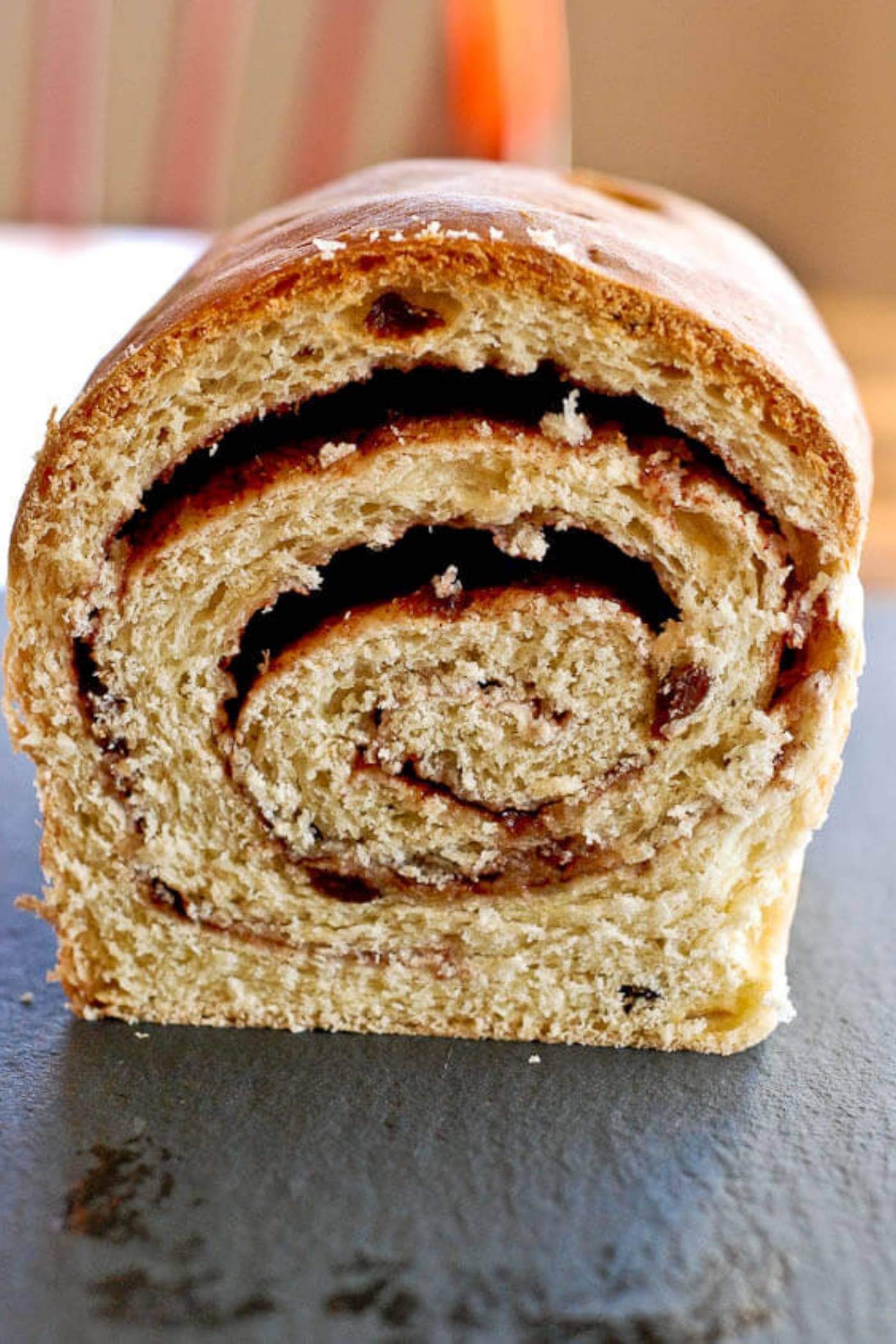 Is there anything better in the morning than the smell of homemade cinnamon raisin bread wafting through your kitchen? Seriously, it is the best feeling. Especially on a cold day, with the snow and wind whipping around outside while you remain cuddled by the fire, sipping your coffee, and enjoying a slice of this amazing cinnamon bread.
This is a basic yeast bread and simply incorporates a bit of cinnamon, sugar, and rum-soaked raisins to add a bit of something special to your morning. Soaking the raisins (even just in water) makes them extra juicy when baked and the rum adds a delicious decadent flavor.
I love how this bread tastes, but I can't lie. The Type A personality inside me also loves how it looks. Those perfect swirls that appear upon slicing are so pleasing to me and look so lovely when served.
How To Make Cinnamon Raisin Bread
You may think that a rolled bread would be complicated, but this cinnamon bread is pretty easy. Not counting the downtime in between to allow the dough to rise, it doesn't take all that long to make. It's the perfect bread for a holiday brunch, a special breakfast, or when you just want your house to smell amazing!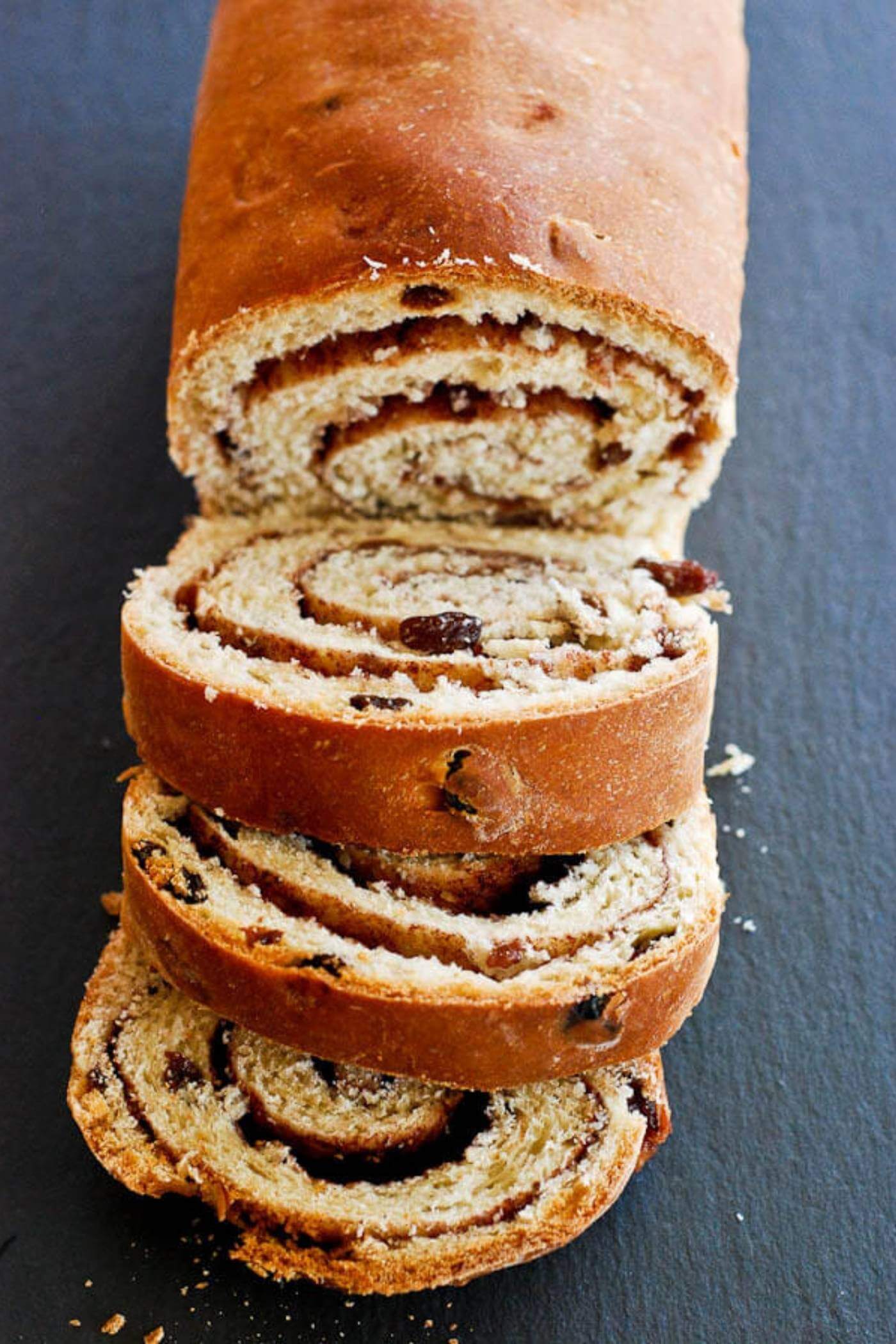 Soak your raisins. This step isn't necessary, but it seriously makes such a difference. I soaked these in rum, but you can also soak them in warm water for about 35-40 minutes.
Warm your milk. You want it to be about 120-125 degrees.
Mix your yeast and water together and let sit for about 10 minutes. Then add the eggs, butter, sugar, salt, raisins, and warmed milk.
In a separate bowl, mix the flour and cinnamon together. Slowly add your yeast mixture to the flour mixture.
Knead the dough until you have a nice smooth dough ball, then place it in a greased bowl, cover with a towel, and allow it to rise until it doubles in size. (I like to let my dough rise in my oven with the oven light on.)
Once your dough has fully risen, roll it out into a large rectangle and spread it with a cinnamon sugar mixture.
Starting from the long end, roll the dough tightly, tucking the ends as you go.
Cut the loaf into three parts, tuck the ends under, and allow them to rise in individual loaf pans for about an hour.
Bake the loaves for 45 minutes, remove, and pour melted butter over the top of each.
Remove the loaves from the pan and allow them to cool before cutting into them.
(Note - this recipe makes 3 loaves, which, unless you're serving a crowd, you may find hard to eat quickly. But no fear! The loaves freeze well and are the perfect treat to pull out when you find yourself with unexpected house guests. They're also great for a simple brunch or coffee date. Just wrap the loaf in plastic wrap and place it inside an airtight ziplock bag in the freezer. It should be good for about 3 months.)
I'd love to hear if you tried this Cinnamon Raisin Bread Recipe! Tag me on Instagram or let me know your thoughts in the comments!
More Great Bread Recipes.
Cinnamon Raisin Bread Recipe
This cinnamon raisin bread recipe, stuffed with rum-soaked raisins and swirls of cinnamon sugar is the best thing to make on a cool Sunday morning. It makes a great piece of toast or is delicious when served warm, straight from the oven.
Ingredients
1 ½

cup

raisins

1

cup

rum (or water)

1 ½

cup

milk

1 ¼

cup

warm water

2

packages

active dry yeast

3

large eggs

¼

cup

white sugar

¼

cup

brown sugar

1

teaspoon

salt

½

cup

unsalted butter at room temperature

7-8

cups

all-purpose flour (plus more for rolling out your dough

1

tsp

cinnmon

1 ⅔

tablespoon

milk

¾

cup

white sugar

3

tablespoon

ground cinnamon

1 ¾

tablespoon

butter, melted
Instructions
Place your raisins in a small bowl and pour the water or rum over them. Allow them to soak for about 30-45 minutes before making your bread. They should be nice and plump and tender once you begin. (This step is not necessary if you're short on time but well worth it in the end!)

In a small pan, warm the milk over the stove until just bubbling. Remove from heat immediately (don't let it burn!).

With a thermometer, test the milk until it measures about 120-125 degrees

Dissolve your yeast in the warm water and let it set until it's nice and frothy (this takes about 5-10 minutes). Add your eggs, sugar, butter, salt, and soaked raisins. Slowly add the milk and stir to combine.

In a separate bowl, mix the flour and 1 teaspoon of cinnamon together. Slowly add the flour mixture to the wet ingredients to combine.

Knead your dough on a floured surface for several minutes until smooth. Then place the dough ball in a large, greased bowl, cover it with a warm, damp cloth and allow it to rise until it has doubled in size (This should take 1-2 hours).

On a lightly floured surface, roll out your dough into a large rectangle.

Rub the 1 ⅔ tablespoons of milk over the dough.

Mix together the ¾ cup sugar and 3 tablespoons ground cinnamon sprinkle the mixture over your rectangle, making sure to spread it evenly across the surface of the dough.

Starting from the longer side, roll the dough rectangle up tightly.

Cut the loaf into thirds and tuck the ends under each loaf.

Butter three 9x5 bread pans and place the loaves inside.

Allow the three loaves to rise in the pan. This should take about an hour.

Preheat the oven to 350 degrees and bake for 45 minutes. Loaves will be a golden brown on the top and sound slightly hollow when tapped on the top.

Allow the loaves to cool, then spread the melted butter over the tops of each loaf.

Remove from the pans and allow to cool slightly before slicing.