Baked cake donuts are super simple when made in designated donut pans, and this Lemon And Blueberry Baked Donut Recipe is awesome for a special summer treat. Stuffed with blueberries and topped with a light lemon glaze, they are the essence of summer and can be on your breakfast table in about 30 minutes.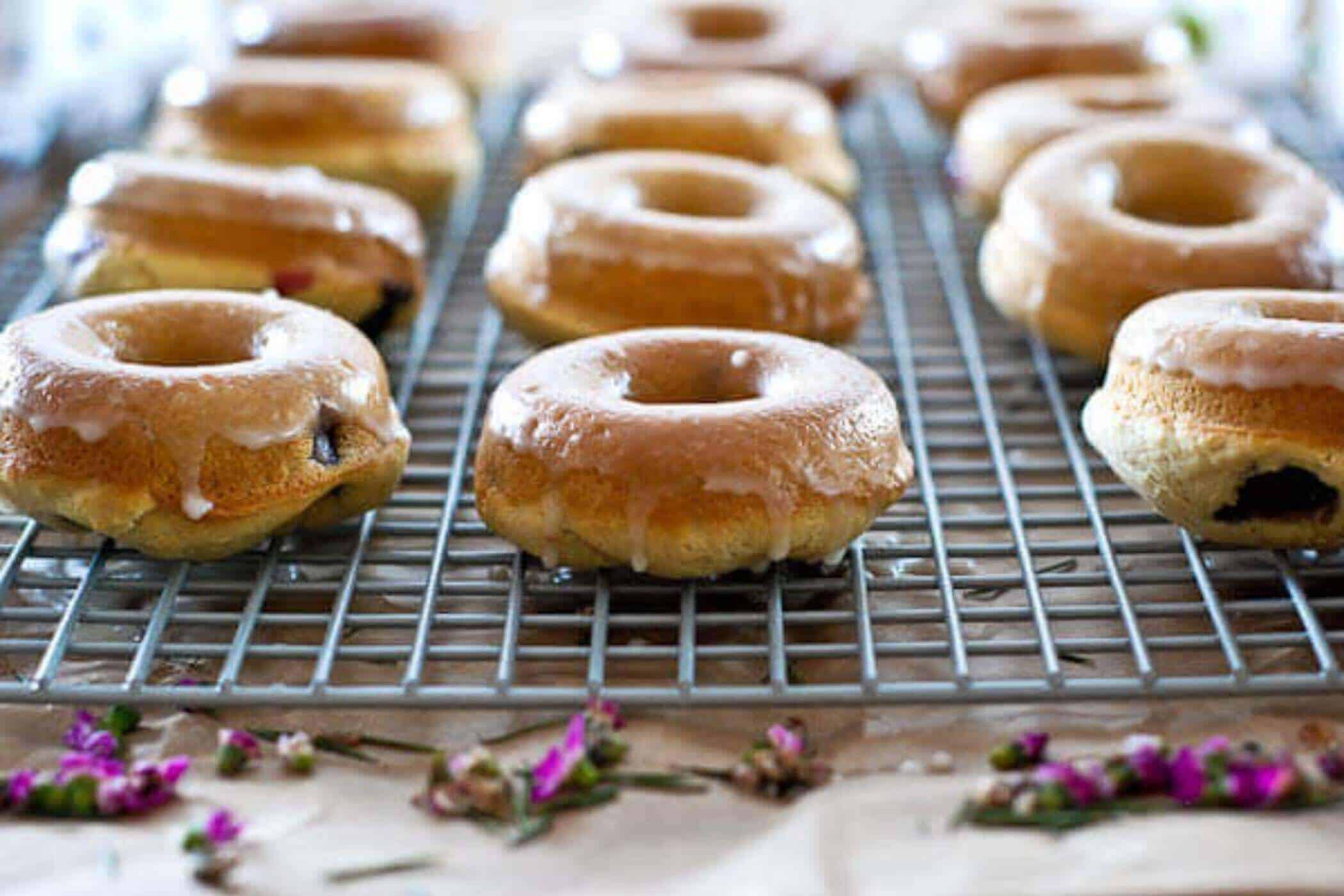 A few weeks ago I participated in a food photo challenge with the lovely Grey Salt Collective using donuts as our subject. I had bought a donut pan several months ago and had yet to put it to use this was the perfect excuse! (Not that anyone needs an excuse to make donuts!)
Making these cake donuts was super simple and is similar to making muffins. Baking the donuts results in a much healthier option than frying them (not to mention less mess!). And using buttermilk in the recipe makes these donuts lighter than a traditional muffin, but still just as delicious. It's a great option for when you want donuts fast, without the hassle of frying. (Or if you're just looking to shave off some calories normally associated with fried donuts.)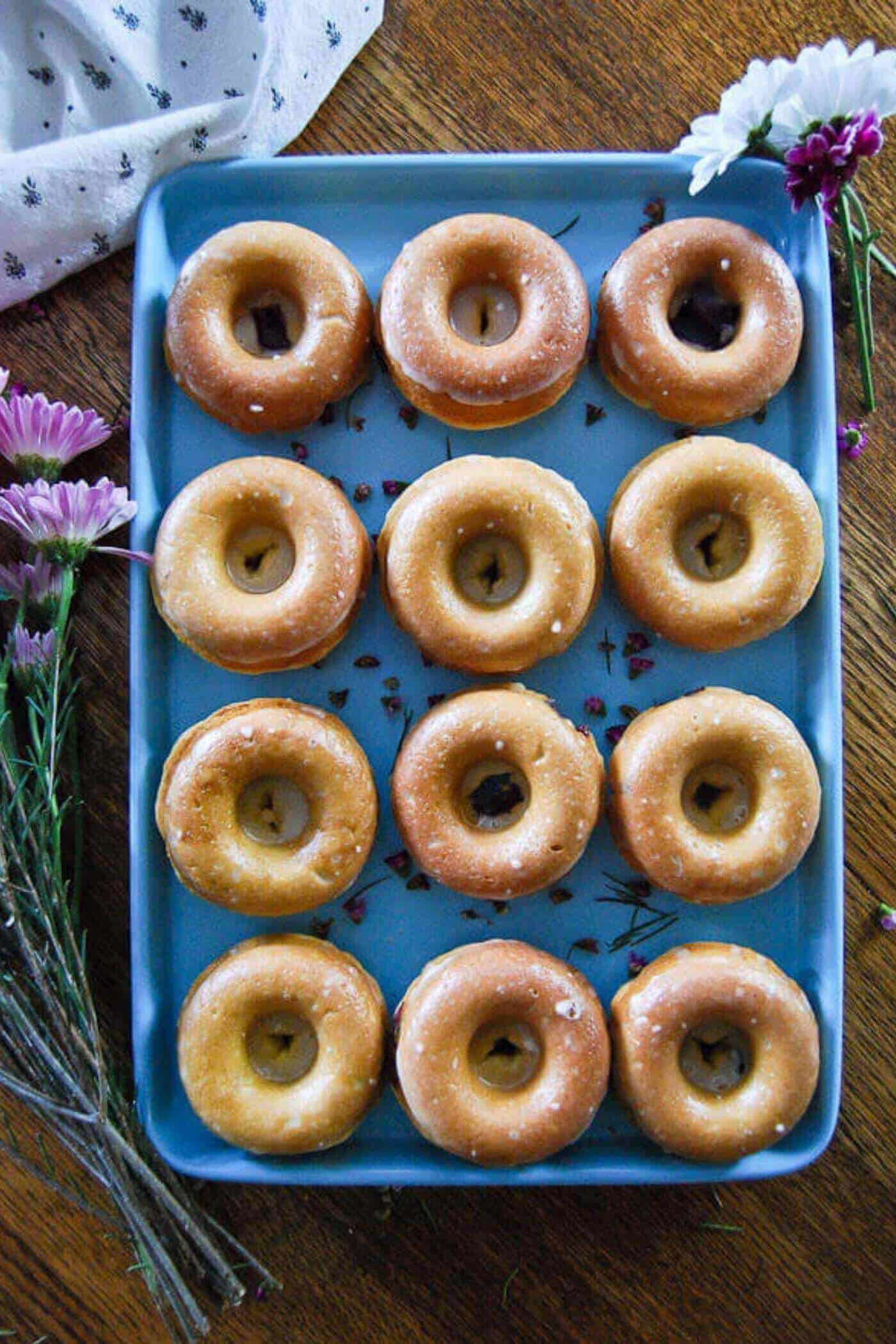 Using a donut pan reshapes the batter into cute little donut shapes and they only take about 10 minutes to bake in the oven.
I wanted something light and fruity so I stuffed these donuts with blueberries and added lemon extract to both the batter and the glaze to give it a delicious summery flavor. But, if you're not in the mood for fruity, you can easily customize these to your liking by omitting the lemon extract and the blueberries, and subbing in cocoa powder, chocolate chips, coconut, or whatever else you can think of.
How To Make Them
Combine your ingredients for the donuts as stated below. Mixing everything up is pretty simple. Just make sure to stir until just combined so that you don't wind up with donuts that are too heavy or tough.
Add the batter to your prepared donut pan.
Add individual blueberries to each donut by pressing them into the batter with a toothpick or spoon.
Bake for just 8-10 minutes in the oven.
Once your donuts have baked, allow them to cool while you whip up the glaze. Then ice your donuts, and you're done!
A fun breakfast treat in just about 30 minutes!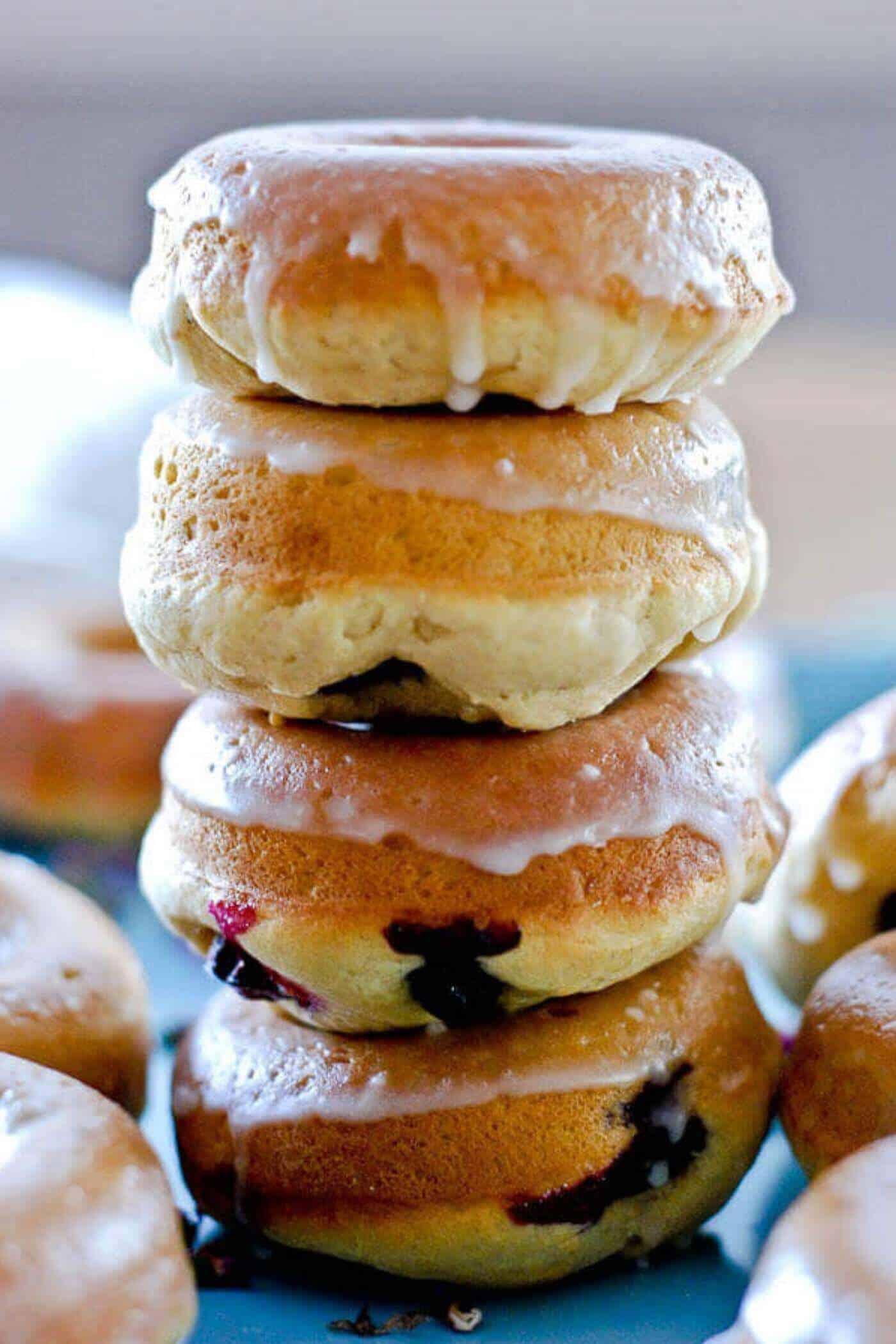 Helpful Tips For Making These Baked Donuts
If you're using a donut pan, here's a great tip to make loading them up a bit easier. Spoon your batter into a large ziplock bag. Then snip off one corner and use the bag to pipe the batter into your donut pan. Trust me – this tip made it way easier to get the batter neatly in the pan.
Because of this method, I added the blueberries at the end to each donut separately by gently pushing them in with a toothpick. If you add the blueberries to the batter before piping it from the ziplock bag, the blueberries may be too large to fit through your opening.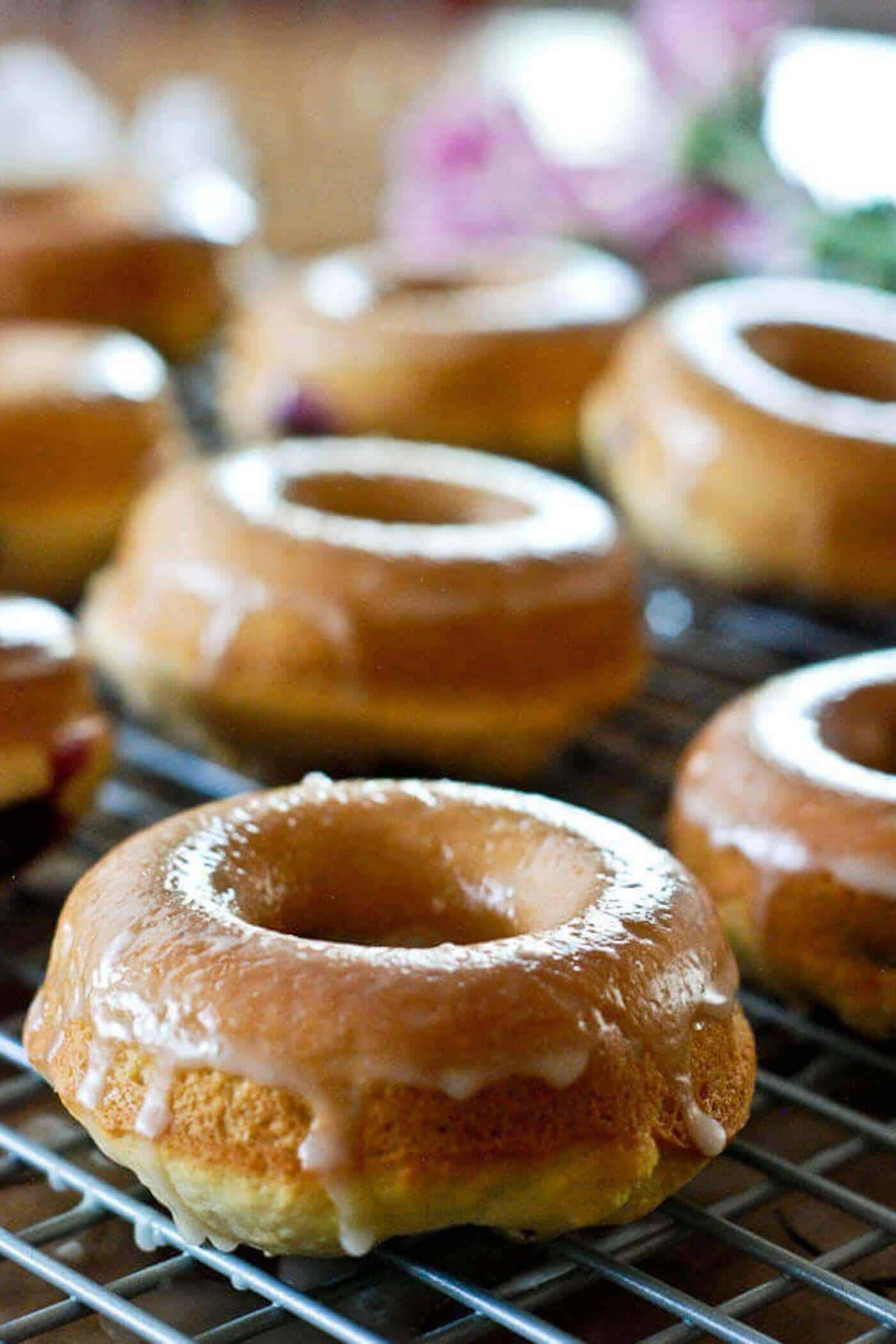 Finally, be sure not to fill your donut cups too full. ⅔ is just about right. This will ensure that your donuts won't expand over the top and create a weird bulging shape on one side. (I may have been a bit guilty of that with some of these!
I hope you try this Lemon And Blueberry Baked Donut Recipe! It's so easy to make and is a great treat to wake up to in the mornings!
If you do try these donuts, please let me know what you think in the comments! And make sure to tag me on Instagram - I love to see your creations!
Try These Other Great Breakfast Recipes!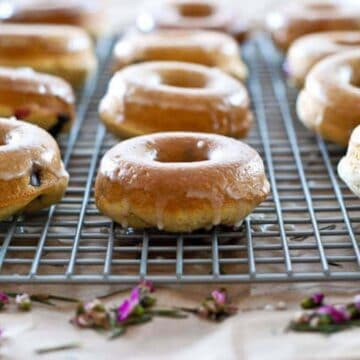 Lemon And Blueberry Baked Donuts
These lemon and blueberry baked donuts are awesome for a special summer treat. Stuffed with blueberries and topped with a light lemon glaze, they are the essence of summer and can be on your breakfast table in about 30 minutes. 
Ingredients
For The Donuts
¼

cup

unsalted butter

⅔

cup

vegetable oil

¼

cup

granulated sugar

⅓

cup

brown sugar

2

large eggs

1 ½

teaspoon

baking soda

⅔

teaspoon

nutmeg

½

teaspoon

cinnamon

¾

tsp

salt

1

teaspoon

vanilla

⅔

tsp

lemon extract

2 ¾

cup

all purpose flour

1 ⅛

cup

buttermilk

⅔

cup

blueberries, rinsed and dried
For The Glaze
1 ½

cup

powdered sugar

5

tablespoon

whole milk

¾

tablespoon

lemon extract

¼

tablespoon

vanilla extract
Instructions
Preheat the oven to 425 degrees

Prepare your donut pan by greasing the trays lightly with butter. Set aside.

Add butter, vegetable oil, and sugars to a bowl and beat with a hand mixer to combine.

Continue to mix while adding egg, baking powder, baking soda, nutmeg, salt, vanilla extract, and lemon.

Slowly stir in flour and buttermilk. Your mixture will be fairly thick.

Add the mixture to a pastry bag or a large ziplock bag, and snip off one corner of the bag.

Pipe the mixture into the pans, filling only about ⅔ of the way to the top of each opening.

Add blueberries to each donut by placing them in the pan and pushing them into the batter with a toothpick or spoon. 

Bake donuts in pan for 8-10 minutes (you'll know they're done when they spring back after poking them with your finger).

Let donuts cool in pan for 8 minutes.

Meanwhile, make your lemon glaze.  Add all ingredients to a bowl and stir until well combined.  You can make your glaze thicker or thinner by adjusting the ratio of the amount of milk to sugar. More milk and less sugar will make your glaze a bit runnier and less milk, more sugar will make it thicker.  (Note: This is glaze is also great to use as a frosting for these sugar cookies! I usually omit the lemon extract and just use a whole teaspoon of vanilla when using it for sugar cookies.)

Remove the donuts from the pan, and allow to cool completely. 

Dip donuts into the glaze and allow to dry. The glaze will harden to a beautiful, smooth, frosting.