Classic deviled eggs get a twist with this spicy bacon version. Try this Deviled Egg Recipe With Bacon And Jalapeno for your next party – the perfect appetizer no matter what time of year!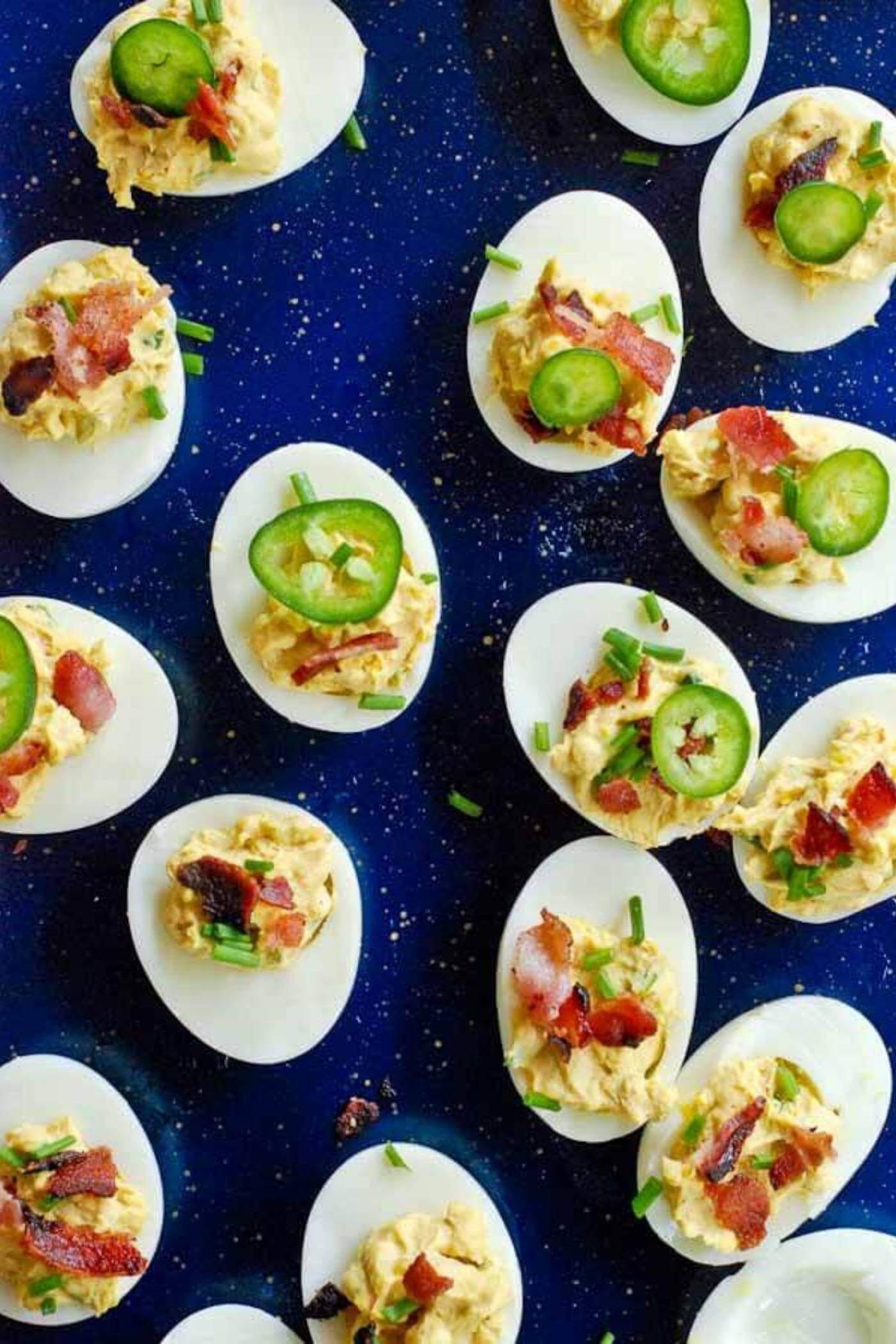 Here's a trivia question for you: How did deviled eggs get their name?
Deviled eggs actually originated in Rome sometime during the 1700s and were often served as the first course of a meal. To "devil" something originally meant to cook something with lots of spices and seasonings. Since these eggs were usually prepared using a lot of mustard and pepper, they were referred to as "deviled eggs".
The holiday season is just around the corner, and if you're like most people, you're going to need some appetizers for your next party, or to bring as a side if you're a guest. These deviled eggs are a great bet since almost everyone likes them, and they're really easy (and FAST!) to pull together. Plus, you probably already have almost everything you need in your refrigerator!
How To Make Them
Making this delicious appetizer is super simple.
Just hard boil your eggs (an Instant Pot makes this process a breeze!), cut the eggs in half, and remove the yolk.
Add in a bunch of savory ingredients, like the classic mustard, mayo, and spices, then fill the egg white halves with your mixture. Top these with a dash of paprika and you've got yourself a classic deviled egg.
We like to take it one step further at our house. I add a touch of bacon, which lends an extra savory flavor (and because why wouldn't you add bacon to anything that you possibly can!). Plus, chives, and then a slice of jalapeño pepper for just a little bit of heat and some added crunch. Seriously – these are THE BEST deviled eggs ever!
How Long Are Deviled Eggs Good For?
These will last about 3 days in the fridge if you place them in an airtight container. Fair warning - they do start to get a bit stinky after the first day or two (as most deviled eggs do). Not that they'll last that long!
If you make these Deviled Eggs With Bacon And Jalapeno, let me know in the comments below. And, snap a photo and tag me on Instagram! I'd love to see your creation and hear what you think!
More Great Appetizers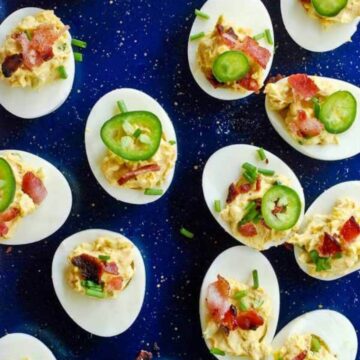 Deviled Eggs With Bacon And Jalapeno
Classic deviled eggs get a twist with this spicy bacon version. Try this deviled egg recipe for your next party – the perfect appetizer no matter what time of year!
Ingredients
12

large eggs

2

tsp

dijon mustard

⅓

cup

mayonnaise

salt and pepper to taste

½

teaspoon

paprika

3

strips

bacon, cooked and crumbled

1

tablespoon

chives, finely chopped

1

jalapeno, finely sliced
Instructions
Add eggs to a large pot and bring to a boil over medium heat. Boil for 3-5 minutes, then turn off burner and allow eggs to sit in hot water for an additional 10 minutes. (Alternatively, you can hard-boil your eggs in an Instant Pot, which is super easy and makes them easy to peel. (See note below if you'd like to cook your eggs the easy way in the Instant Pot!)

Drain eggs and immediately submerge them in an ice bath. The ice bath will help stop the eggs from continuing to cook and can help make them a little easier to peel.

Once eggs are cooled, peel them, slice them in half, and remove the yolk from each egg.

Place the yolks, mustard, mayo, salt, and pepper in a bowl and mash well with a fork until all ingredients are smooth and combined.

Scoop small amounts of the yolk filling into your egg white halves. (If you want to get fancy, you can spoon the mixture into a ziplock bag, cut off one of the corners, and pipe the mixture into the egg halves.)

Sprinkle the eggs with paprika, then top each one with a few crumbles of bacon, chives, and a slice of jalapeno.