These sweet and savory Pear And Cheddar Hand Pies make a great appetizer. Stuffed with tart pears and sharp cheddar cheese, they're perfect for your next party or holiday meal!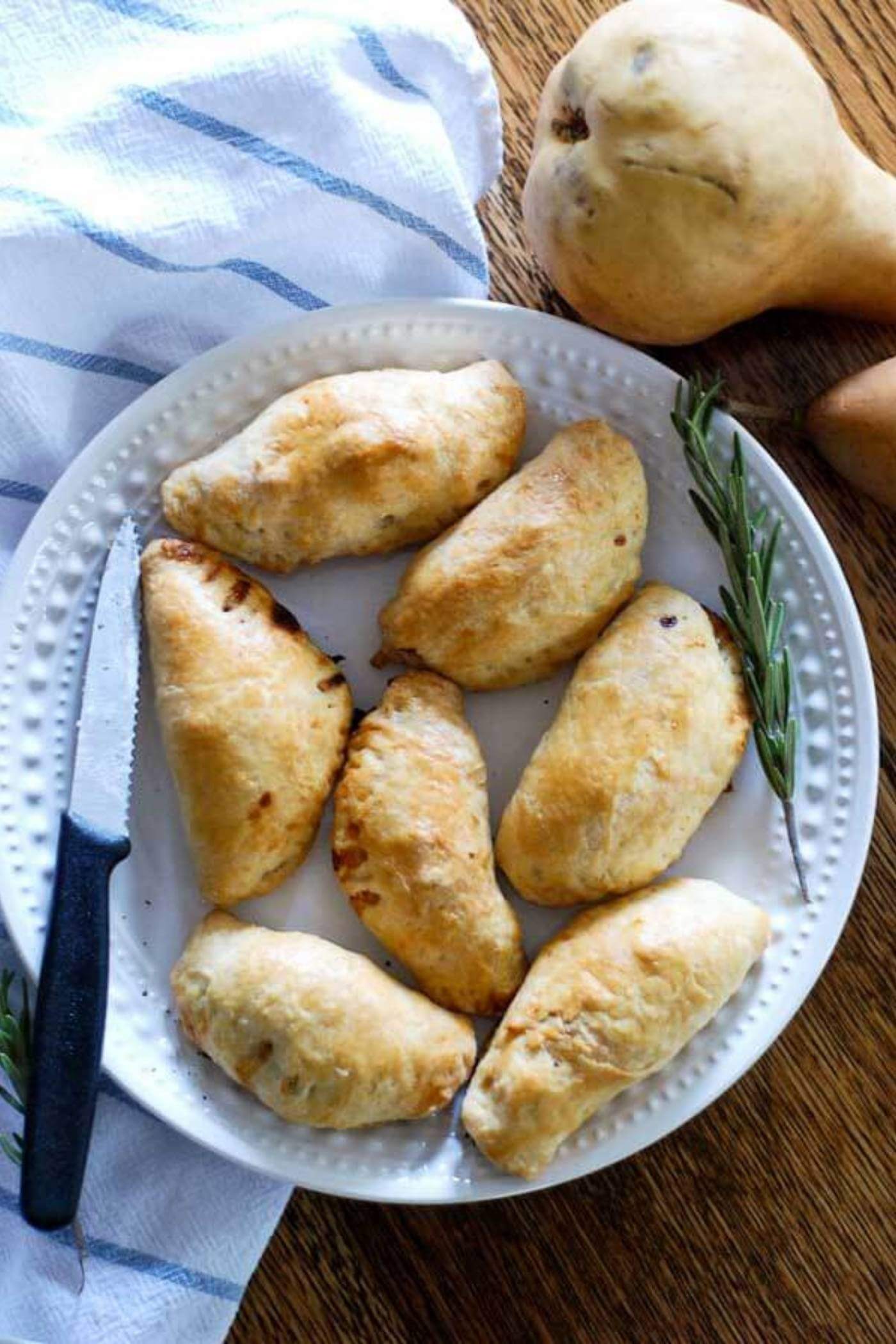 Hello!!! It's been a dreary few days here in Colorado, and we've been busy busy busy with our usual crazy routines. I've been preparing for a race these past couple of months – my first in at least 9 years – and it was just this past Sunday. So, my days these past few weeks have been spent running – both on the treadmill, and to all my boy's activities. Luckily the weather held out and was perfect for running Sunday morning, so it went great.
Oh, and did I mention that it was the Denver Hot Chocolate? Yep, chocolate all along the course, and a huge ole' mug of chocolate fondue at the end. Definitely my kind of race. And, my biggest fans were there to cheer me on – my husband carted the boys around Denver for the duration of the race and they were all there to greet me at the finish line with hugs and high fives. Such a fun weekend!
But today, with the big race out of the way and an excuse to skip the gym, little man and I stayed inside (soccer practice was canceled due to the cold, wet weather, thank god!). We drank hot cocoa by the fire, fussed about in the kitchen, tidied things up a bit, and in general got our hygge on. AND, I finally had a chance to catch up with you all again and write about these delicious and adorable little pear and cheddar hand pies.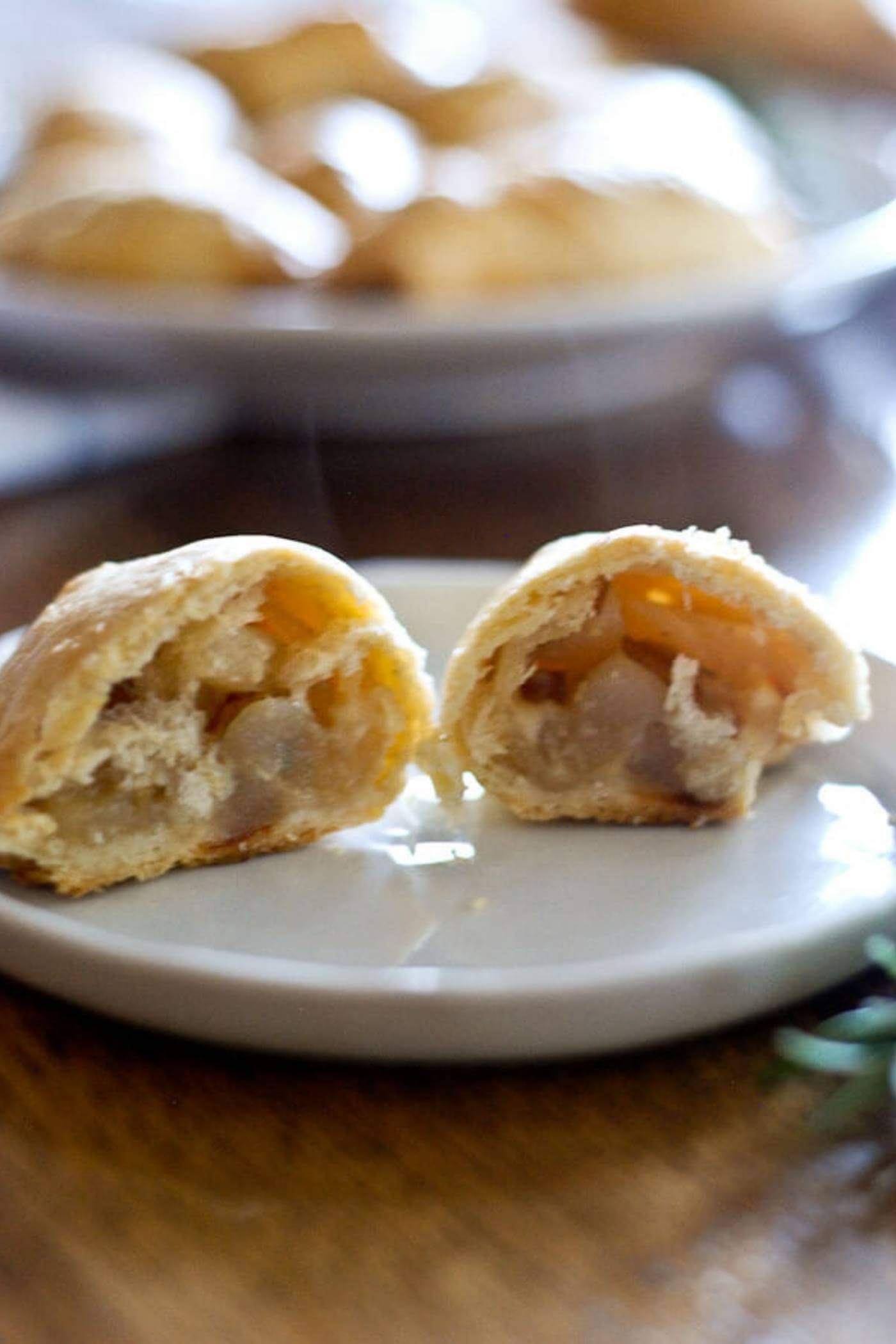 What Are Hand Pies?
What are hand pies, you might ask? They're tiny little pies that can fit into the palm of your hand and they make a great appetizer. I made these last weekend to bring over to some friend's house for dinner and they were the perfect cool-weather dish, although they're maybe not quite what you expect when you hear "pie".
Yes, they're a bit sweet because of the pears, but they're also savory, stuffed with sautéed onion, rosemary, and sharp cheddar. They're the perfect compliment for a fall get-together (or for Thanksgiving!) and create that wonderful salty/sweet combo that I love.
How To Make These Pear And Cheddar Hand Pies
You can make these pear and cheddar hand pies the hard way or the easy way. The hard way involves making your own pastry, which isn't really all that tough (instructions below) but does require a bit of extra effort, and IMHO is completely worth it. There's just nothing like the flakey buttery crust of homemade pastry dough.
But, if you're short on time and/or just don't want the hassle of rolling out pastry dough and covering your kitchen with a fine layer of flour (I swear, every time, even when I'm trying to be careful. Flour explosion), you can totally use store-bought puff pastry and the filling will carry it.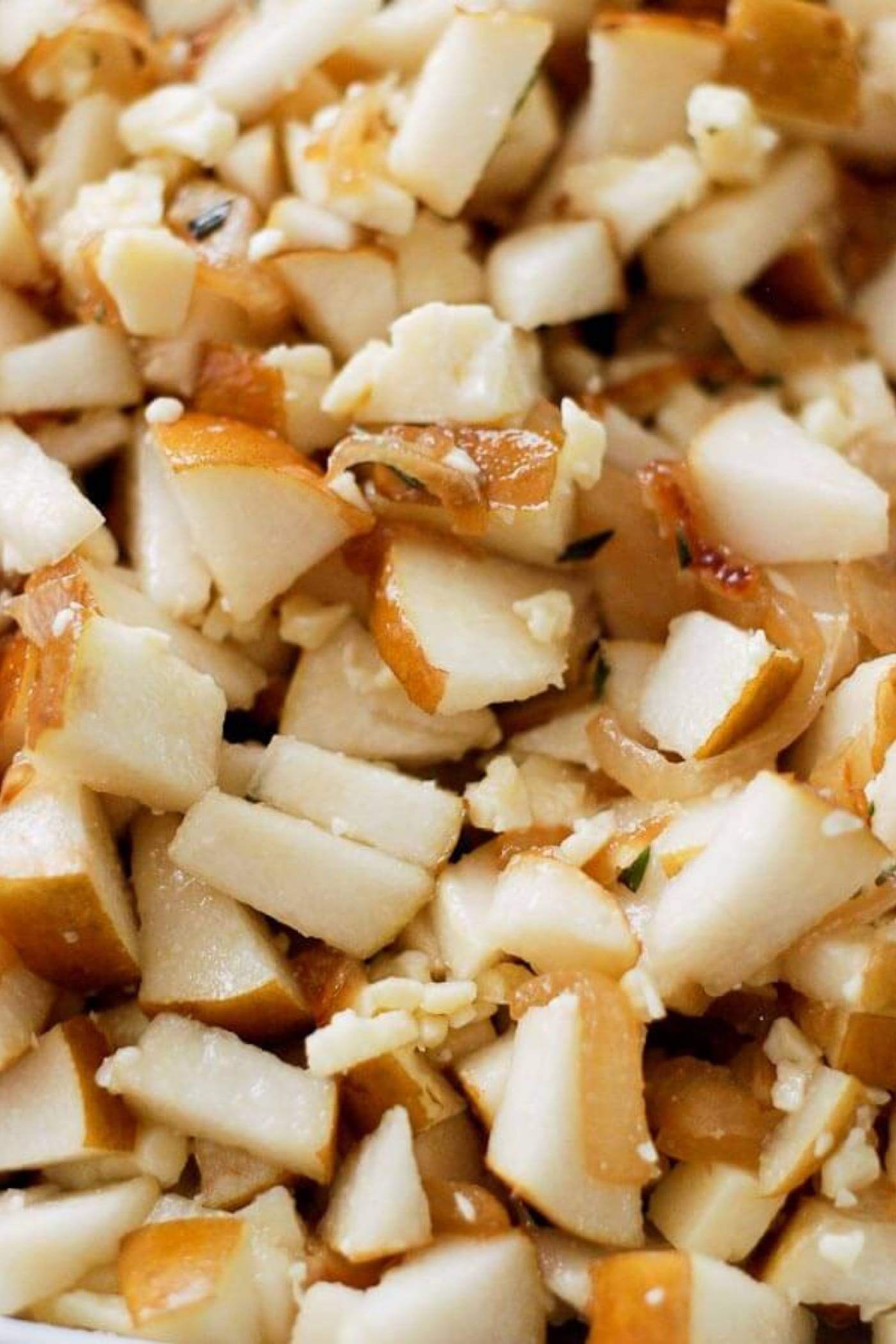 Making The Pastry
If making pastry dough intimidates you, I'd encourage you to give it a try at least once. I think you'll find that it's actually not that hard, and the resulting crust is so far beyond what you get from the store it's worth the tiny bit of extra effort. Here's how I make my pastry for these pear and cheddar hand pies:
First mix your dry ingredients together - the flour, sugar salt, and cinnamon in a large bowl.
Cut very cold butter (I actually like to keep a few sticks in the freezer for this very purpose) into the flour mixture using two knives, or a pastry cutter. Keep working, quickly, until the mixture resembles wet sand. It's ok if you have some bigger chunks in there - those pockets of butter will melt when baking and create a beautiful flaky crust.
Mix half of a beaten egg with water and apple cider vinegar, then add it to the flour and butter mixture and stir to combine.
Roll the dough into a ball, wrap it with plastic wrap and allow it to chill in the refrigerator for about an hour. While your dough is chilling, you can make the pear and cheddar filling.
Making The Filling
Make your filling by sauteing your onions in oil for about a minute. Add sugar to the onions and turn the heat down to low. Continue to saute for 30 minutes, until they become nice and caramelized.
In the meantime, chop your pears, cheddar, and rosemary, and combine them in a bowl with salt and pepper. Once the onions are caramelized, add them to the mix.
A side note on the cheddar. You can use whatever you like, but I think the sharper the better for these. I used my new fave, Trader Joes Unexpected Cheddar, of which I'd heard rave reviews but only just came out from under the rock I've been hiding to try. Seriously – go get it if you haven't already. It was all I could do to not eat the whole block as I was chopping it up for these pies. Yum!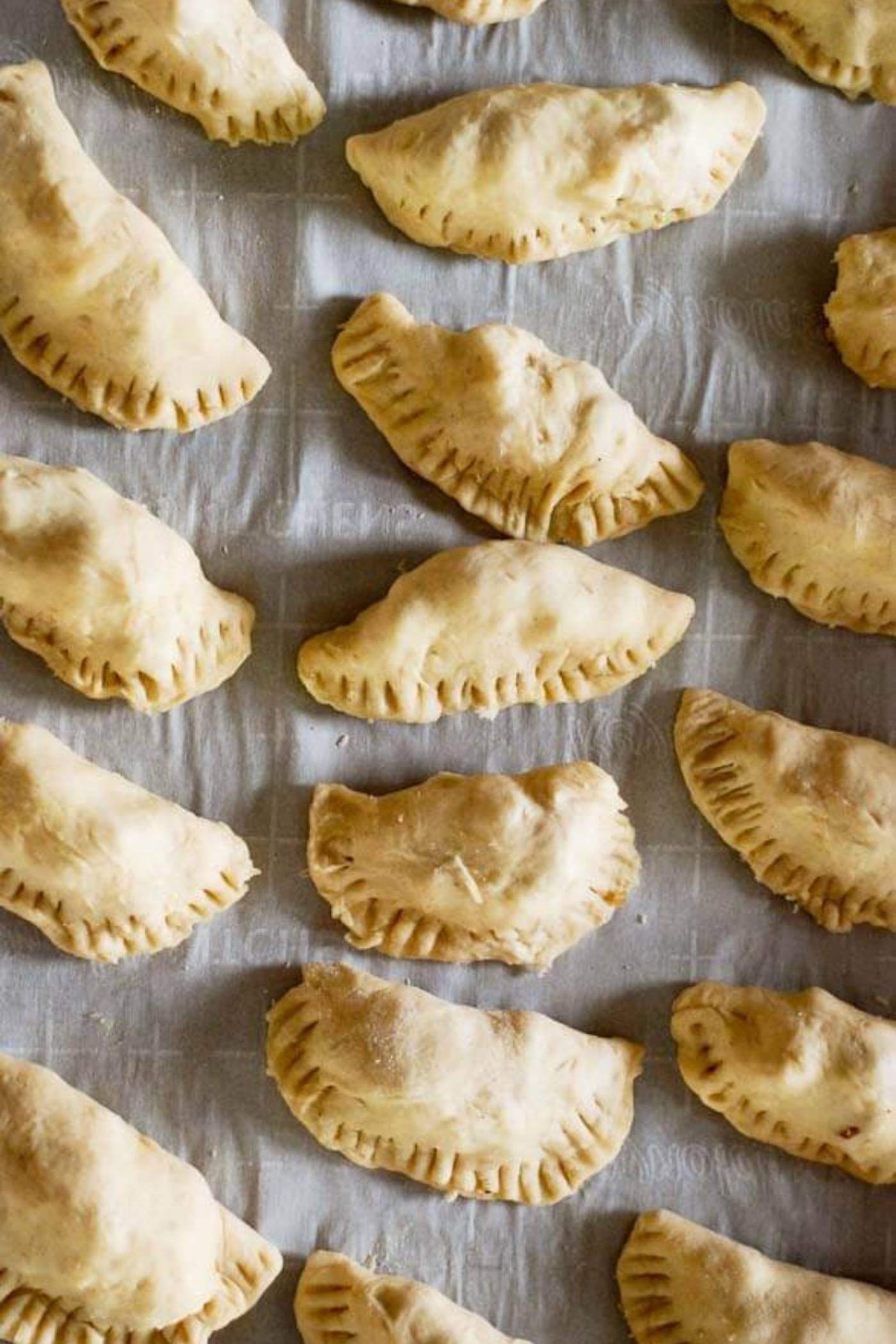 Assembling The Pies
Now comes the fun part!
Roll your dough or puff pastry out into a sheet, and cut into circles about 6-8 inches in diameter. Remember, you're going to be stuffing these and then folding them in half. So don't roll your dough too thin or the hand pies will burst.
Add your topping to the dough circles and then fold them in half. Use a fork to press the edges together. Cut a small slit into the top of the dough on each of the hand pies to serve as a vent.
Place the hand pies onto a baking sheet covered with a slipmat or parchment paper. Brush the tops with an egg wash and sprinkle with sea salt. Then bake just over a half hour and DEVOUR!
We ate these out on a back porch, one hand cupping a gorgeous glass of red wine and the other holding these little babies. I literally cannot wait to make these pear and cheddar hand pies again. You shouldn't wait either. GO MAKE THEM! NOW!
If you do make these Pear And Cheddar Hand Pies, let me know your thoughts in the comments. And tag me on Instagram - I love to see your creations!
Inspired by this recipe from Nothing In The House.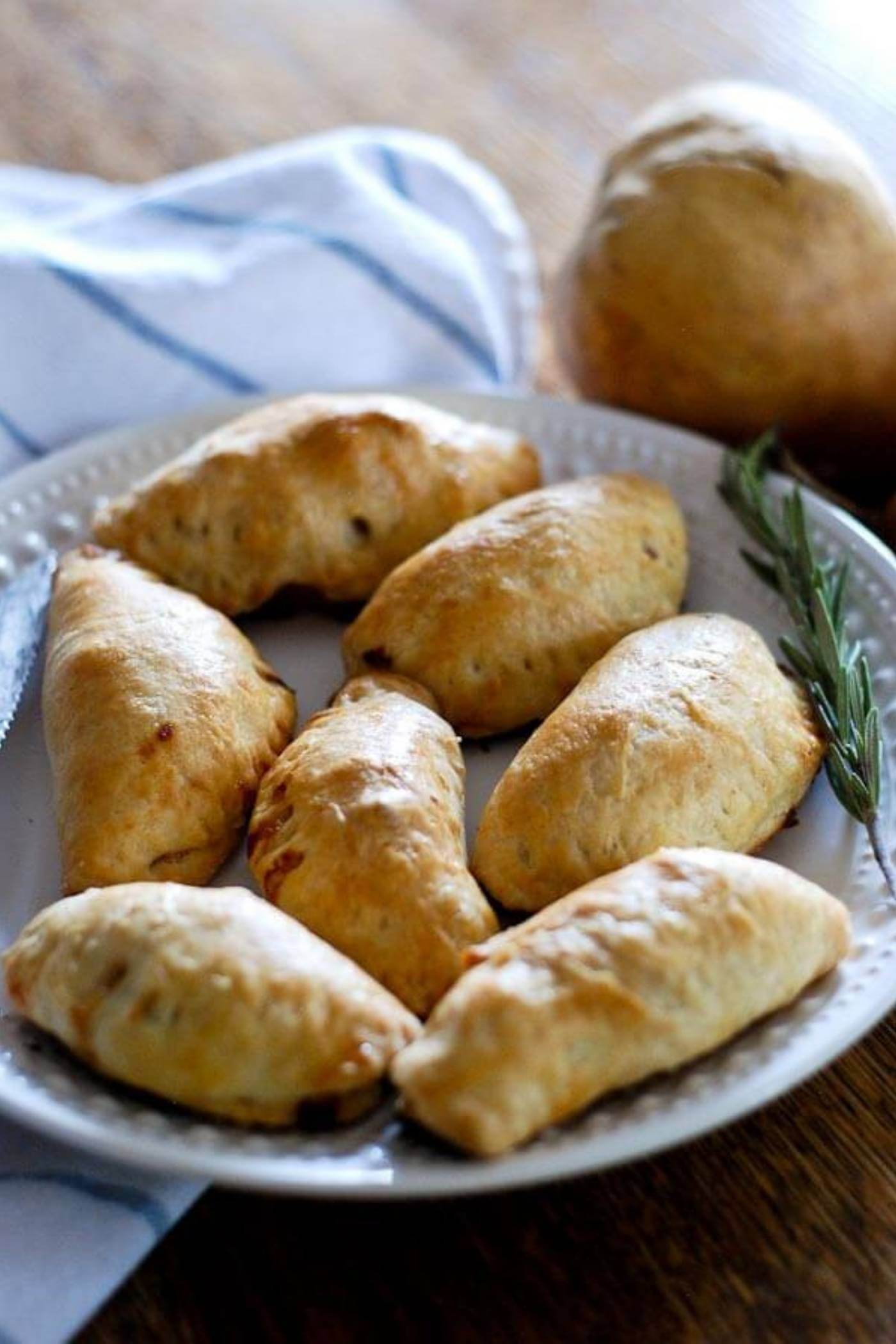 More Easy Appetizers!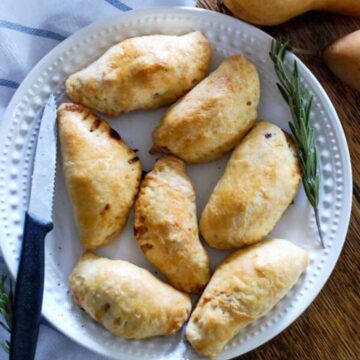 Pear And Cheddar Hand Pies
These sweet and savory hand pies make a great appetizer. Stuffed with tart pears and sharp cheddar cheese, they're perfect for your next party or holiday meal!
Ingredients
For The Crust (you can also just use puff pastry if not making your own crust)
2

cups

all-purpose flour

½

tablespoon

granulated sugar

1

teaspoon

salt

1

teaspoon

cinnamon

1 ½

sticks cold, unslated butter, cut into small pieces

1

egg, beaten and divided

¼

cup

ice water

½

teaspoon

cold apple cider vinegar
For The Filling
1

yellow onion, finely chopped

1 ⅕

tablespoon

white sugar

2

tablespoon

olive oil

2

pears, chopped into small pieces

5-6

oz

chopped/crumbled sharp cheddar cheese

1

teaspoon

fresh rosemary, chopped

salt and pepper to taste

1

egg, beaten - only if using puff pastry.
Instructions
Start by making your crust. Combine the flour, sugar, salt and cinnamon in a large bowl. Add the butter and cut it in using a pastry cutter, or a fork and knife (which is what I usually do). You can use your hands a bit at the end to break the butter up, but do it quickly since it's best to keep the butter as cold as possible – you don't want it to melt! Keeping small chunks of cold butter in the dough is essential if you want a flakey crust – when you bake it, the butter balls melt and create those amazing buttery, flakey pockets that make homemade pastries so delicious.

Mix half the egg (save the other half for later), the ice water, and the apple cider vinegar together, then add to the flour mixture and stir until just combined. 

Form the mixture into a ball and wrap tightly in plastic wrap, and then chill in the fridge for an hour.

While your dough is chilling, prepare the filling.  Sauté the onions in 1 tablespoon of olive oil over medium heat for one minute. Add the sugar to the onions and continue to sauté on low heat for an additional 30 minutes until they become very soft and caramelized.

Once the onions are done cooking, combine them with the chopped pears, cheddar, rosemary and salt and pepper in a large bowl.  Set aside.

Roll out the dough onto a floured surface and cut into circles (you can make these as big or as small as you like. I made mine about 6-8 inches in diameter so they'd be easy to fit in your hand, but you could also make them bite-sized for a more elegant appetizer, or if you're feeding a larger group.

Spoon a small amount of the pear filling onto each of the cut pastry circles, then fold in half to create a half-moon shape.

Press the edge of a fork around the side of each pastry to seal them and to add a bit of a decorative edge. Use a knife to create a small slit in the top of each pastry to act as a vent.

Use the remaining half of the egg to brush atop each pastry. Sprinkle with sea salt, if desired.

Bake the pastries on a parchment-lined pan for 35-40 minutes at 375 degrees. Remove from the oven and allow to cool slightly before serving.