Yes, you can have Popcorn For Dinner – don't knock it till you've tried it! Adding some extra ingredients can turn popcorn into a full-fledged meal. Try these four delicious ways of dressing up your popcorn for a healthy snack or light dinner!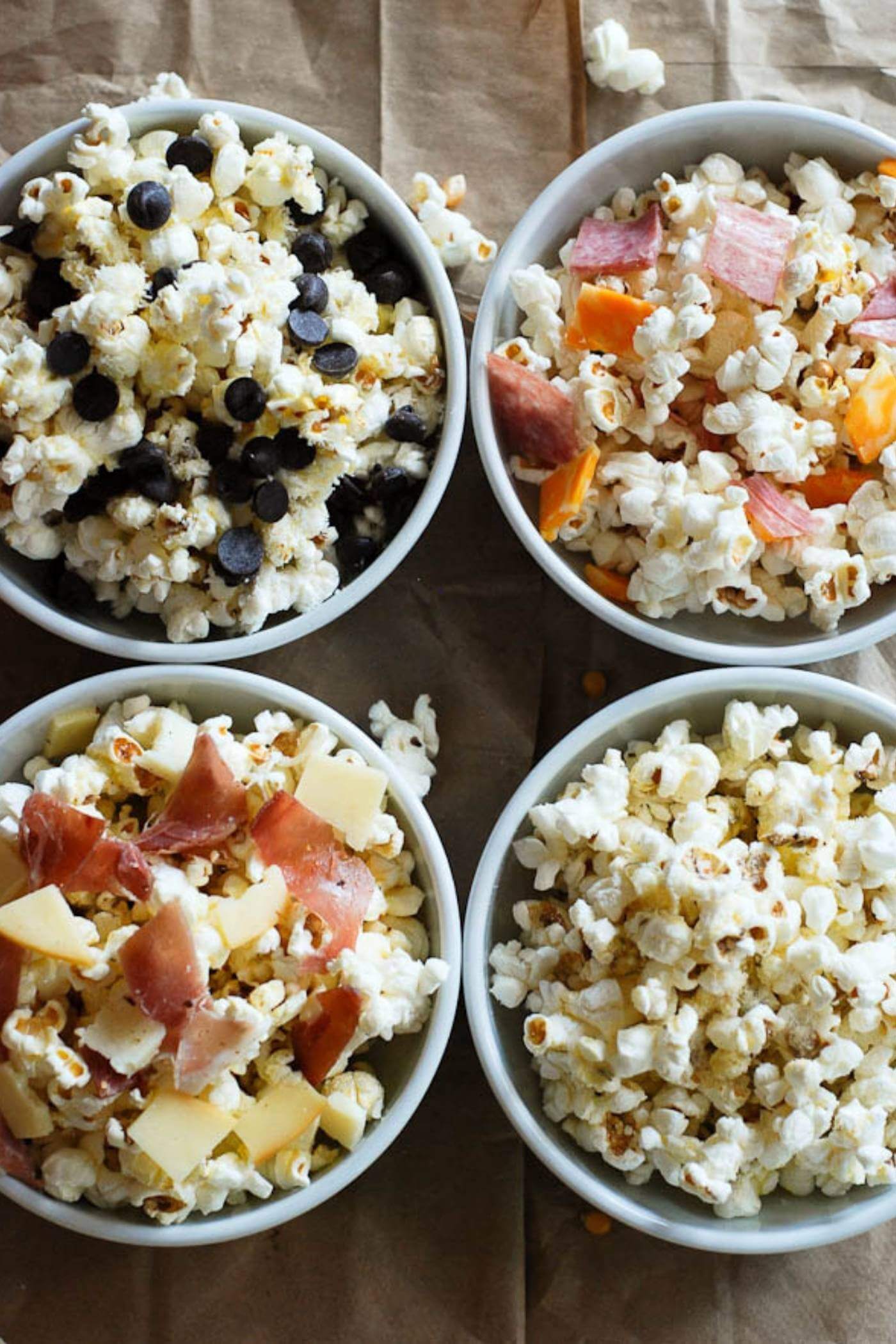 You know those days when you just don't feel like cooking? When the thought of chopping and slicing and preparing and even just turning on the oven feels like too much? Those are exactly the kinds of nights when popcorn for dinner is appropriate, and it's just the kind of night we had last weekend.
Yes, my friends, popcorn for dinner is a thing.
It was just the kiddos and I last weekend and I had promised them a movie night. And while I don't normally serve popcorn as a full-blown meal, since it was just us and we wanted something easy, popcorn it was. Plus, the boys love it and it's always a special treat for them.
I grew up eating this combo often (waaay before Olivia Pope made it a thing). I have vivid memories of spending the night at my grandparent's house with my siblings and my cousins, my grandma violently shaking the oiled pan of popping corn over the gas burner so that it wouldn't burn. She'd pile the popcorn high in our bowls, but it didn't stop there. Next came "the toppings". What – you didn't know that popcorn could have toppings? Read on my friend.
First, a little background. My Grandpa was a butcher and the owner of a meat market in the small town where they lived called Eckert's. His father had owned the store too, and my Grandpa had grown up, alongside his brother, working in the store, which is what they both did until they finally sold it many years later. In the old days, they used to butcher the hogs and steer (and probably scores of other game) right in the back of the store!
Eckerts was known for its quality meats and cheeses, but the store also stocked a small selection of grocery items, and I loved stopping by grandpa's store with my Mom when we were little to pick up our essentials.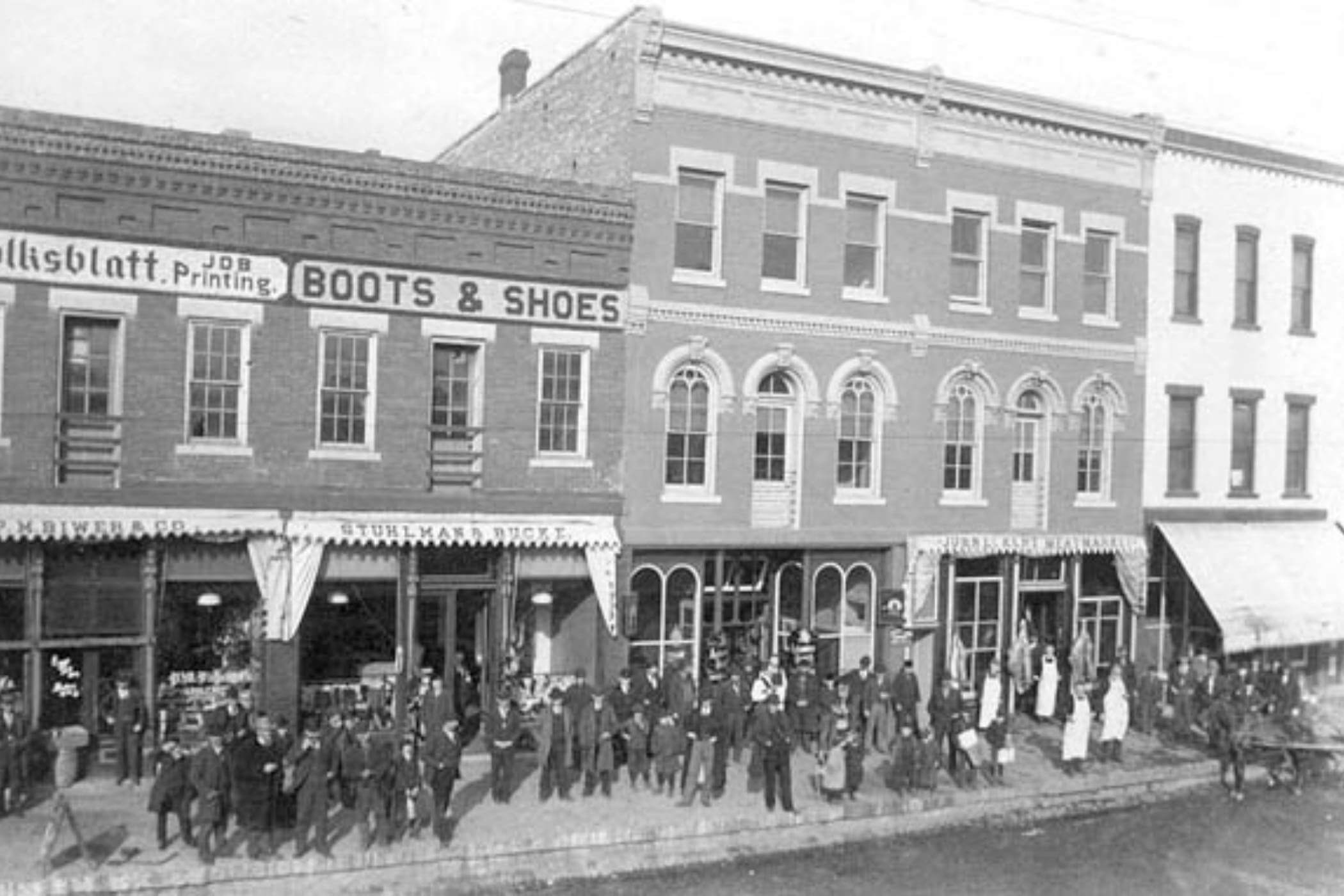 Back To The Popcorn Toppings
So, back to the popcorn toppings. Being a butcher, my grandpa naturally brought home lots of delicious deli meats and cheeses with him from the shop. And they all managed to find their way atop our popcorn bowls on these nights we'd stay with my grandparents.
Salami and ham, cheddar, Swiss, and Munster….the saltiness and sharpness of the meats and cheeses mixed so well with the oiled corn, and the combined texture made it completely addicting.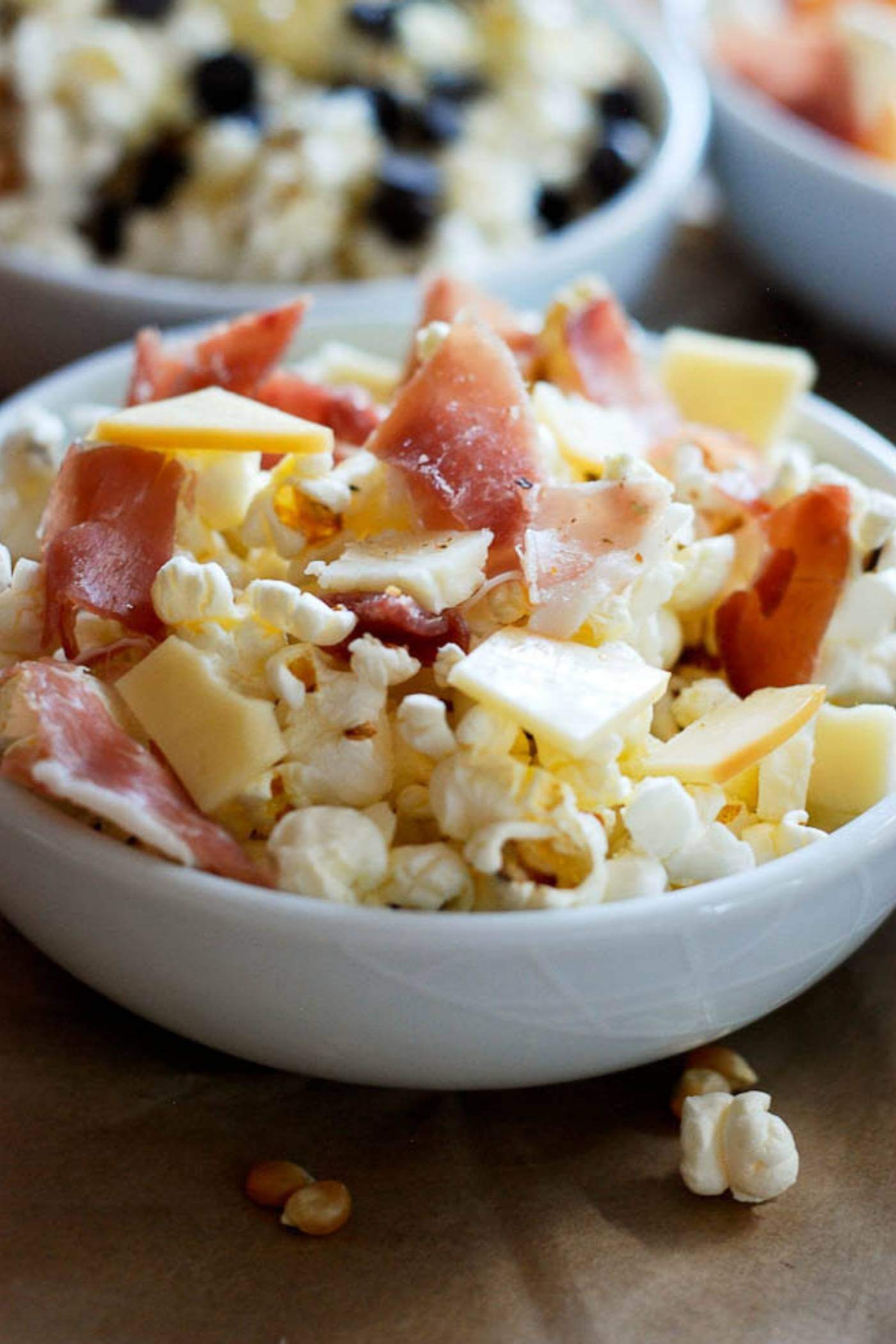 So, yes. Eating popcorn as a meal is totally a thing in our house. My kids have grown to love this combo, so it's always on the menu around here, especially during movie nights. I decided to play around with a few more mixes for variety and came away with some definite winners.
Serve these gussied-up popcorn bowls at your next party, movie night, or whenever you feel like taking a night off from the kitchen. With a little creativity, you can totally serve popcorn as a meal. And your family will thank you, trust me.
What Goes Good On Popcorn?
Really, so many things! Popcorn is such a simple treat (or meal!), but it's so customizable - you can make it sweet or salty, or both! Simple or gourmet. Try some of these delicious ideas for popcorn toppings.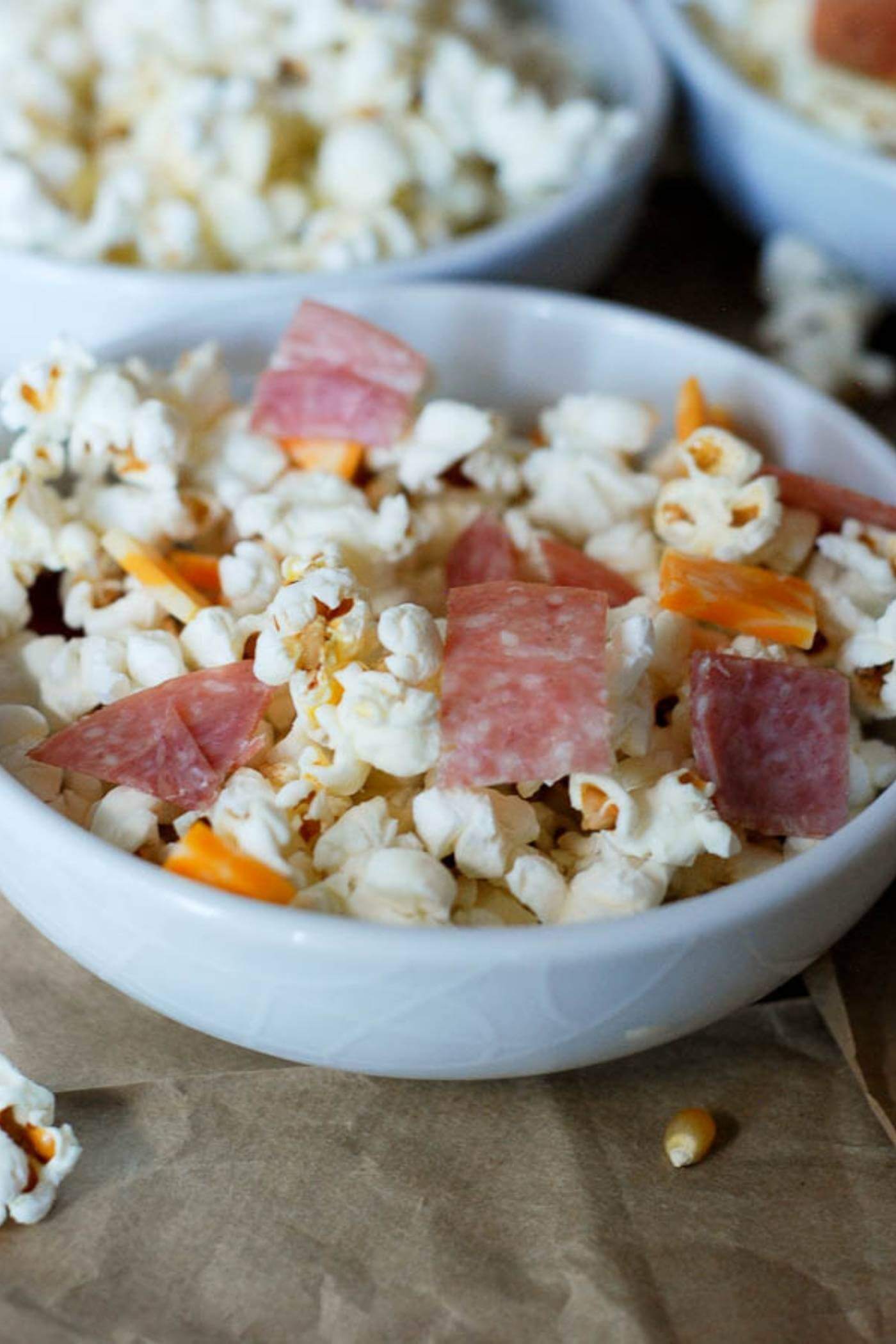 Meats and cheeses!
This one is obviously my fave, and you can customize it however you want! Spicier meats and cheeses like salami and pepper jack provide a bolder flavor, while more mellow varieties (ham and swiss, or Colby jack) offer a sweeter, more mild topping for your popcorn.
When choosing your meats and cheeses, I find that meats like salami, ham, or prosciutto work better than something like turkey. Sharp cheeses, like cheddar, gouda, swiss, or pepper jack work better than a soft mild cheese.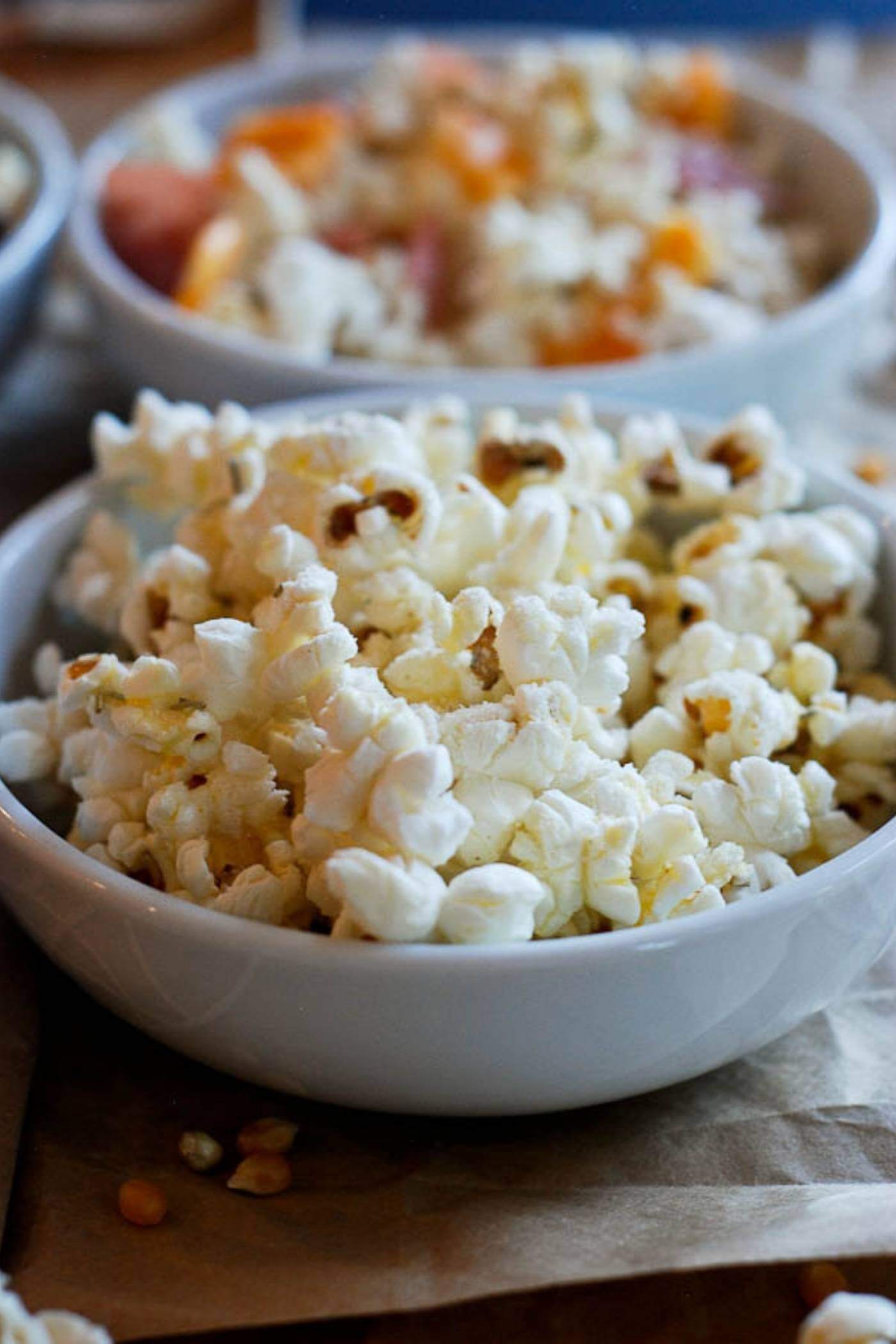 Spices!
Experiment here and see what you like - you might be surprised by the results! Some ideas for spices are lemon pepper, rosemary, and thyme, Italian seasonings, jerk seasoning, curry powder, garlic powder, ranch seasoning, and flavored salts - the choices are endless!
Combine spices with your choice of oil and you'll have an easy and healthy way to add some new flavors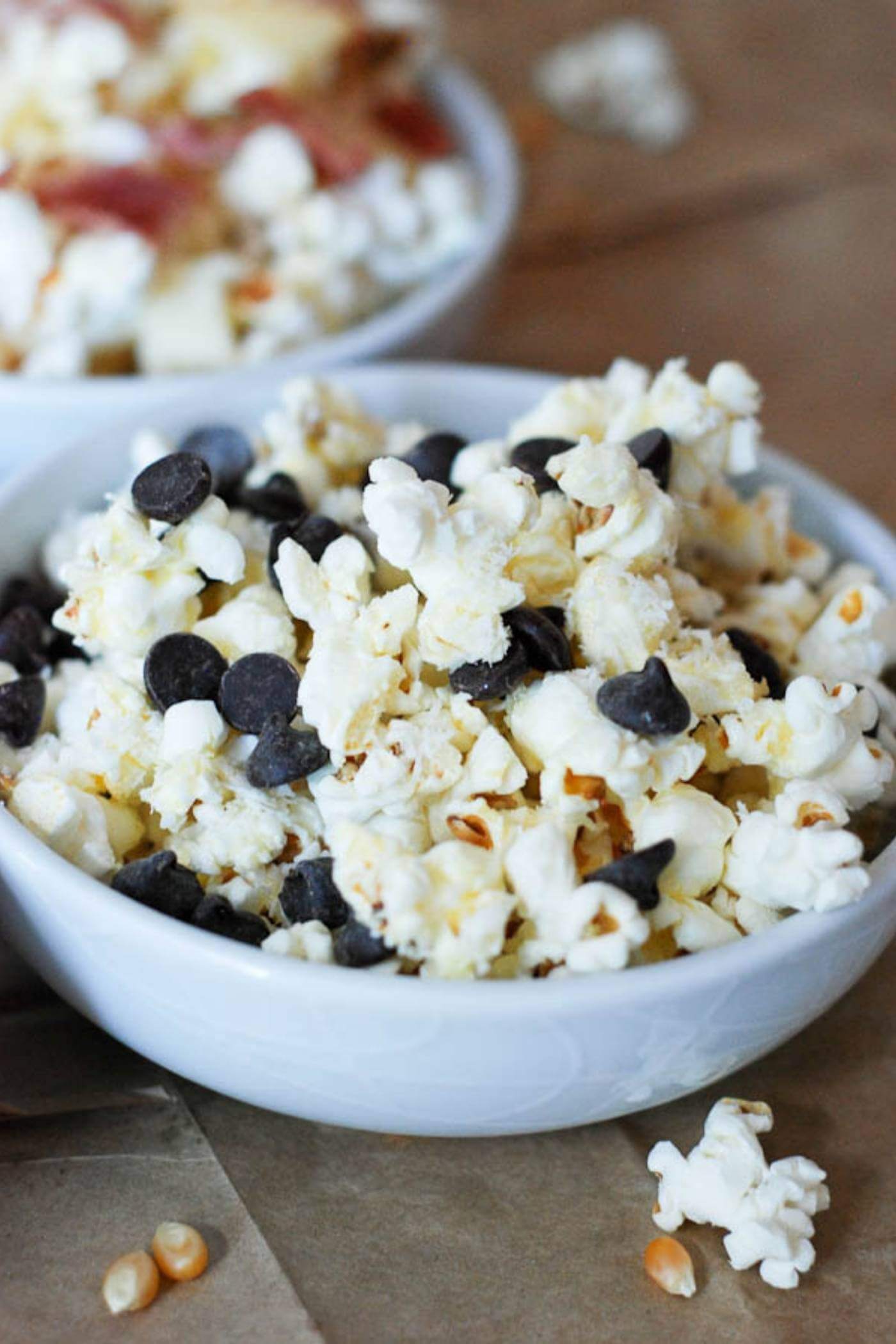 Make it sweet!
Who said dessert popcorn wasn't a thing? Of course, you've probably had caramel corn or popcorn balls, which are great options. But even adding a bit of chocolate, dried fruit, or even small candies, like M&Ms can be fun for a treat. Or, try adding a little cinnamon and sugar mixture to your buttered popcorn to make it sweet.
The sky really is the limit and you can experiment with all different kinds of flavors, including different flavored oil for popping, spices, and toppings. Just use your imagination and have fun.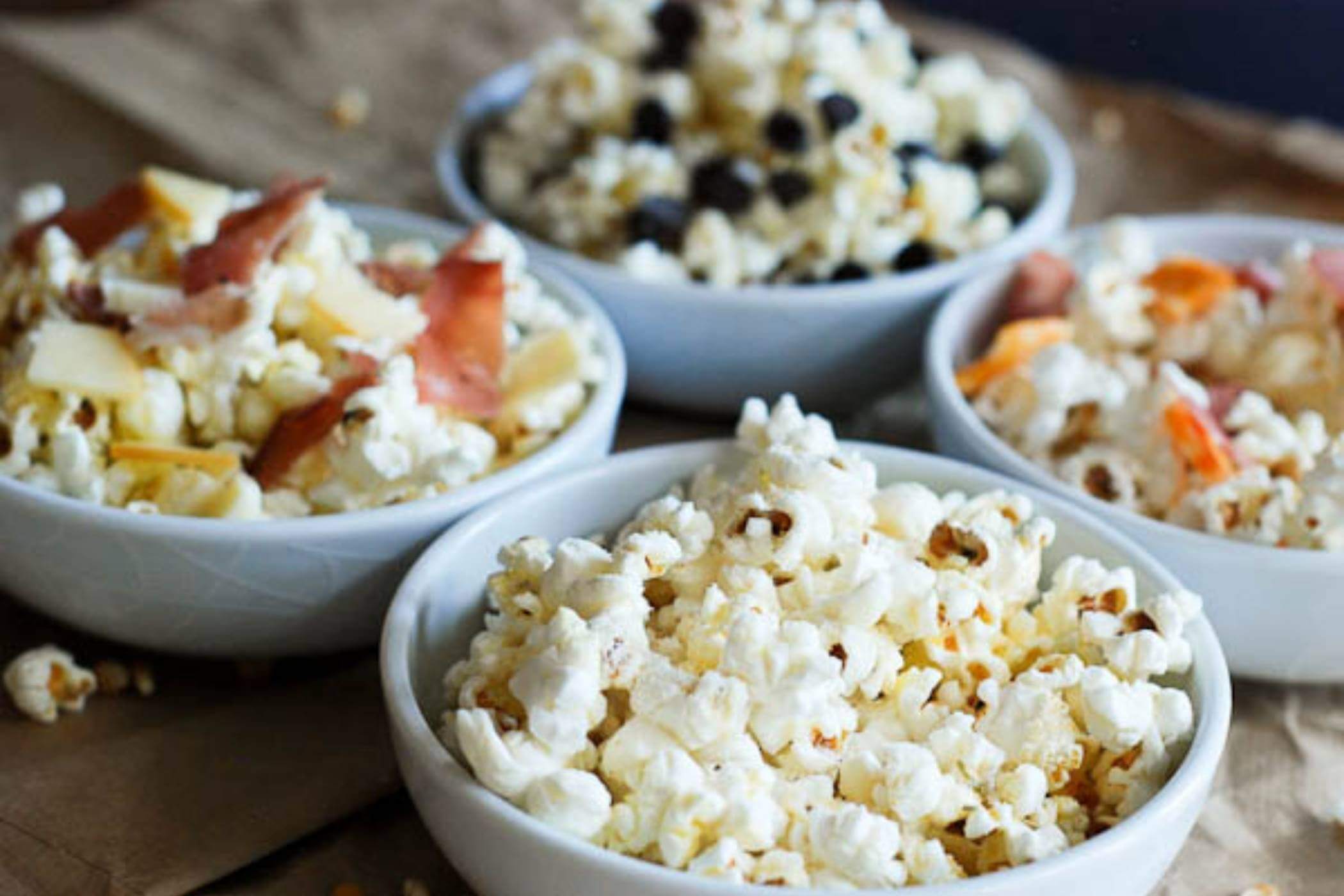 Is Popcorn Healthy?
Popcorn is a great healthy option if you're trying to watch your weight. On its own, air-popped popcorn is relatively low in calories and packed with fiber. This makes it a very filling snack (more so than a bag of chips!). It's also loaded with good-for-you vitamins like Vitamin B, Magnesium, Iron, Potassium, and Zinc.
Popcorn is also a great night-time snack. Since it's a complex carbohydrate, it helps to boost serotonin, a hormone that helps you to relax and feel sleepy.
Where you need to watch out for is the type of popcorn you eat, how it's prepared, and what you put on top. Movie theater popcorn, for instance, is loaded with unhealthy fats, artificial seasonings, and loads of salt or sugar. And, while microwave popcorn is an easy option, some varieties use artificial flavors, partially hydrogenated oils, and unhealthy chemicals in their bag liners, making them a risky choice.
The best and healthiest popcorn is made at home. I like to use real popcorn in a healthy fat like butter or oil (you only need a small amount) and just a bit of seasoning and/or toppings for flavor and fun.
How To Make Popcorn On The Stove.
All of the popcorn recipes below are made by heating the oil in a large pan over the stove along with the popcorn, which is my preferred method. Yes, you can make air-popped popcorn, and it's probably healthier (ok, definitely healthier). But the flavor with that method is lacking and for a special treat, the oil-popped corn can't be beat. And, even if this isn't as healthy as air-popped corn, it's definitely healthier than a store-bought microwave bag.
A word of caution – once it gets going, the corn pops FAST! You'll need to be ready and waiting by the stove. Keep one hand holding the pan (shaking it back and forth as it pops to avoid the corn from burning) and another hand holding a lid over the popping corn so the oil doesn't splatter. And, just a little goes a long way. Fill your pan too full of un-popped kernels and it will overflow, resulting in popped corn all over your kitchen! Also, be wary of stray kernels popping out of the pan – they're hot little suckers!
So in summary, yes, popcorn for dinner is truly a thing. And it can be yours with just a little creativity and about 20 minutes.
Did you try any of these popcorn combinations? Let me know what you think in the comments! And tag me on Instagram with your pics of how you decide to do Popcorn For Dinner- I'd love to see what else you come up with!
More Great Snack Recipes!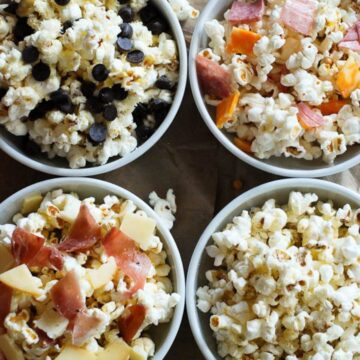 Popcorn For Dinner
Yes, you can have popcorn for dinner – don't knock it till you've tried it!  Try these four delicious ways of dressing up your popcorn for a healthy snack or light dinner!
Ingredients
Combo #1: Deli Meat And Cheese Popcorn
2

tablespoon

canola oil

2

teaspoon

salt

½

cup

popping corn

¼

cup

butter, melted

chopped deli meats and cheeses

We used a couple of different mixtures here - salami and colby jack for one, and prosciutto and gouda for the other, which was my favorite. When choosing your meats and cheeses, I find that meats like salami, ham or prosciutto work better than something like turkey. Sharp cheeses, like cheddar, gouda, swiss or pepper jack work better than a soft mild cheese.
Combo #2: Fancy Italian-Style Popcorn
2

tablespoon

olive oil

½

cup

popping corn

¼

cup

butter, melted

2

teaspoon

rosemary

½

teaspoon

garlic powder

2

teaspoon

salt

¼

cup

grated parmesan cheese
Combo #3: Trail mix Popcorn (Also known as dessert!)
2

tablespoon

peanut oil (coconut oil could also work well here)

⅓

cup

dark chocolate chips

2

tablespoon

coconut flakes

¼

cup

roasted peanuts
Instructions
Pour oil into a large pot over medium heat.

Once oil is hot, add popcorn to oil and cover the pan with a lid.

As popcorn starts popping, shake pan to prevent it from burning.

Once all corn has popped remove the pan from heat immediately and pour popcorn into a large bowl.

If using butter, pour the butter very slowly over the popcorn in a circular motion, while at the same time stirring the popcorn to mix it.

Add all other ingredients and stir to combine.
Notes
Notes: 
Cooking popcorn on the stove is delicious, but it can be a bit messy and can add extra calories. Feel free to use air-popped popcorn instead if you prefer. 
If you're making popcorn on the stove, heat your oil in a large pot. You'll know it's ready when you add 1 kernel and it pops pretty quickly.