This recipe for No-Bake Peanut Butter Energy Balls is the best of both worlds - easy to make, loaded with nutrients, healthy (ish), and delicious. Perfect for a post-workout snack or beating the afternoon slump.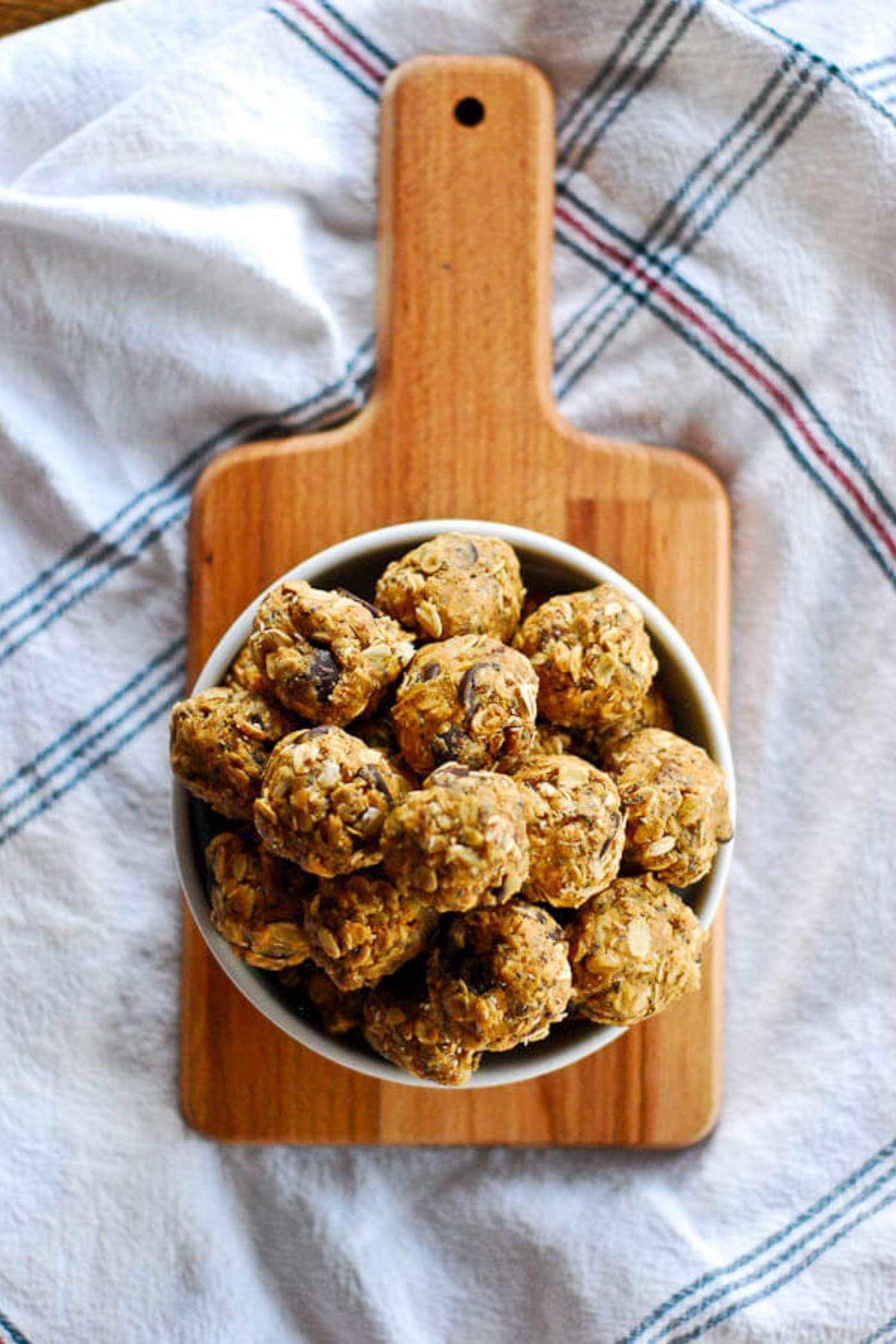 Is the February Funk a thing? Because I have to say, I've been in a bit of a funk lately. I always get this way this time of year. That general feeling of blah-ness, mucking about, trying to figure out which way is up.
Maybe it's the never-ending cold (although Colorado cold is not nearly as bad as the drizzly Illinois cold we used to live in). Or, it could be those early dark nights – watching the hasty sun go down far too quickly, six o'clock feeling like ten.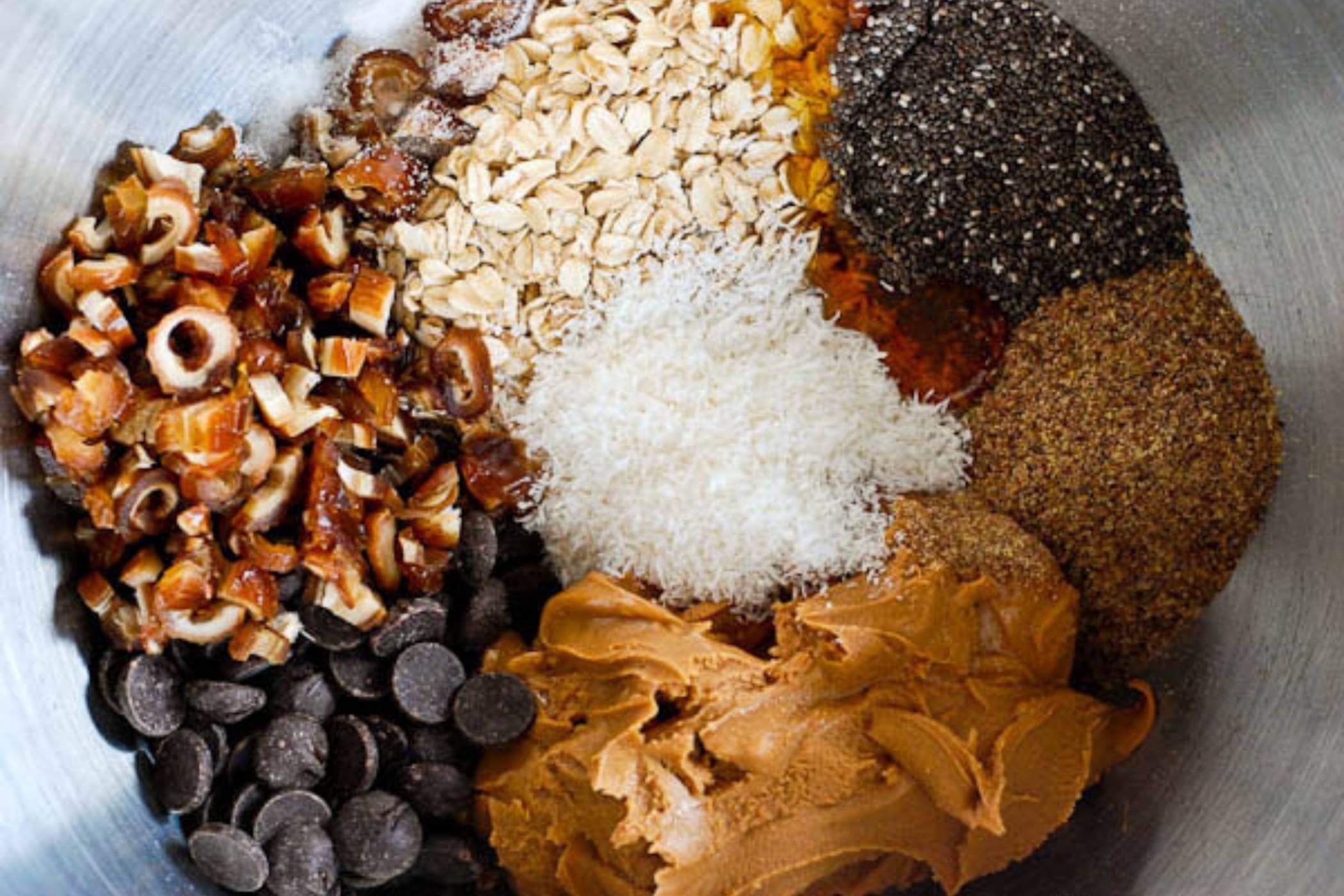 But, the dark afternoons will soon be coming to an end. The days are slowly getting longer, daylight savings is on the horizon, and I'm slowly digging my way out of my funk. One thing that's helping? These no-bake peanut butter energy balls.
These puppies are the perfect treat when I need a snack and a little extra oomph in my step. They're (mostly) healthy, give me a great boost after a workout or when I need that 3 PM pick me up, and don't leave me feeling too guilty afterward.
What's In These Peanut Butter Energy Balls?
Rolled oats. That means good old-fashioned oats, not instant, or steel cut (instant is too powdery for this recipe and the steel cut oats are too tough). This is the base of these balls gives them a nice chewy texture.
Chia and flax seeds. Two powerhouses on their own, these seeds are bursting with good for you antioxidants, minerals, fiber, omega-3 fatty acids, and protein.
Creamy peanut butter. Helps bind everything together and provides good energy. Try to choose a low sugar variety here. Ingredient lists with only peanuts and a little bit of salt are best. You can also sub in other nut butters if peanut butter isn't your thing.
Honey and dates. To give these balls just a little extra sweetness.
Chocolate chips and coconut flakes. Because they're GOOD!
Don't like flax seeds or chia seeds? No problem – just omit them. But if you don't mind them, leave them in as they add extra nutrition and help to keep you feeling full a bit longer. And, if these are too sweet for you, just nix the honey. These are totally customizable so play around with the ingredients and find what works for you..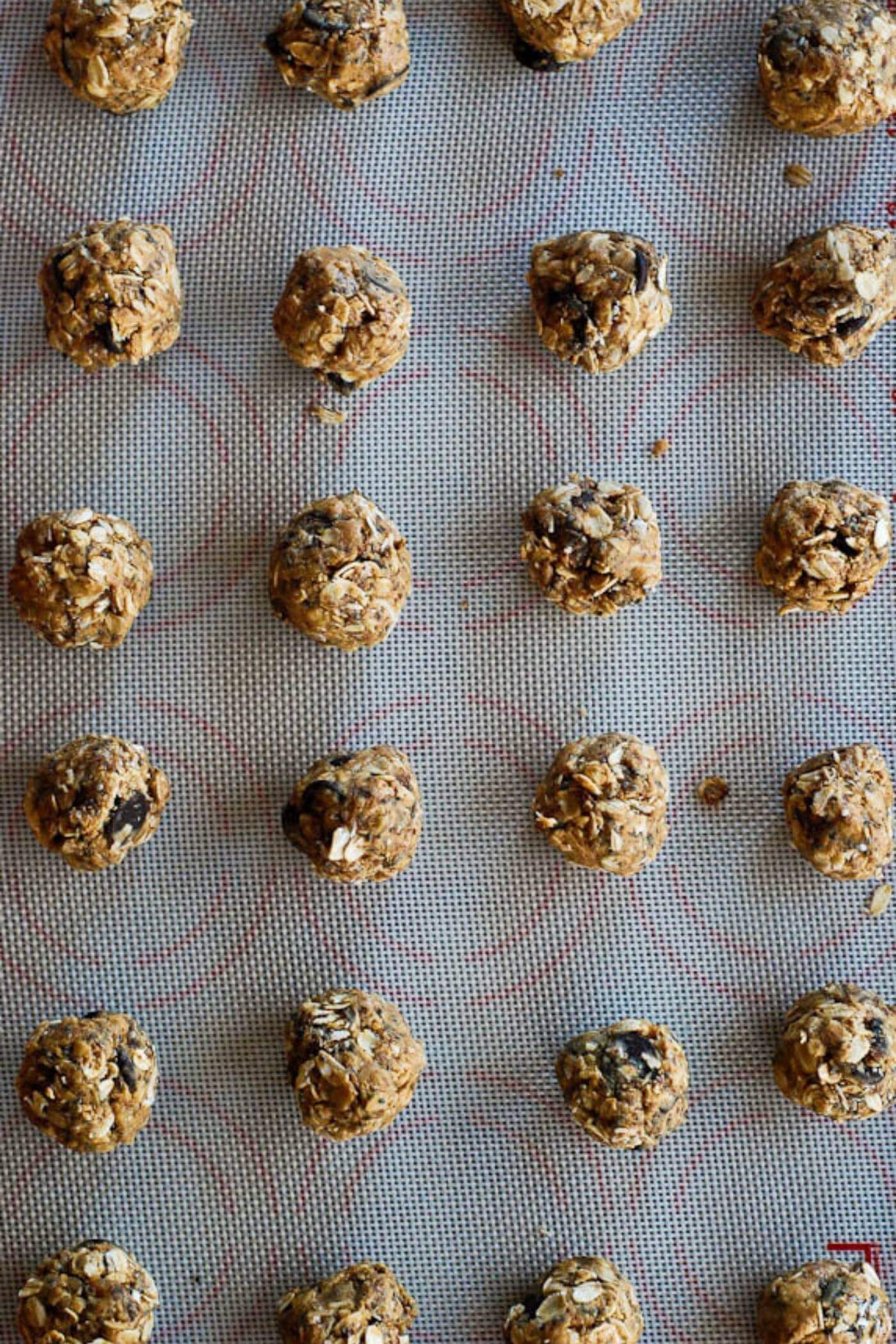 How To Make No-Bake Peanut Butter Energy Balls
These peanut butter energy bites are deceptively easy to make – you don't even have to turn on your oven! They come together quickly and use mostly pantry staples.
Simply add all the ingredients to a large bowl and stir until everything is combined.
Place the bowl in the refrigerator for about 15 minutes or so. This makes the mixture much easier to handle.
After chilling, remove from the fridge and use a small cookie scoop or a spoon to scoop portions of the mixture out and form into small balls. (Mine were about 1-inch in diameter). If the mixture seems dry at this point, add a tablespoon of water, mix, and try rolling again.
Place them all in an airtight container and pull one out anytime you need a little extra oompf in your day.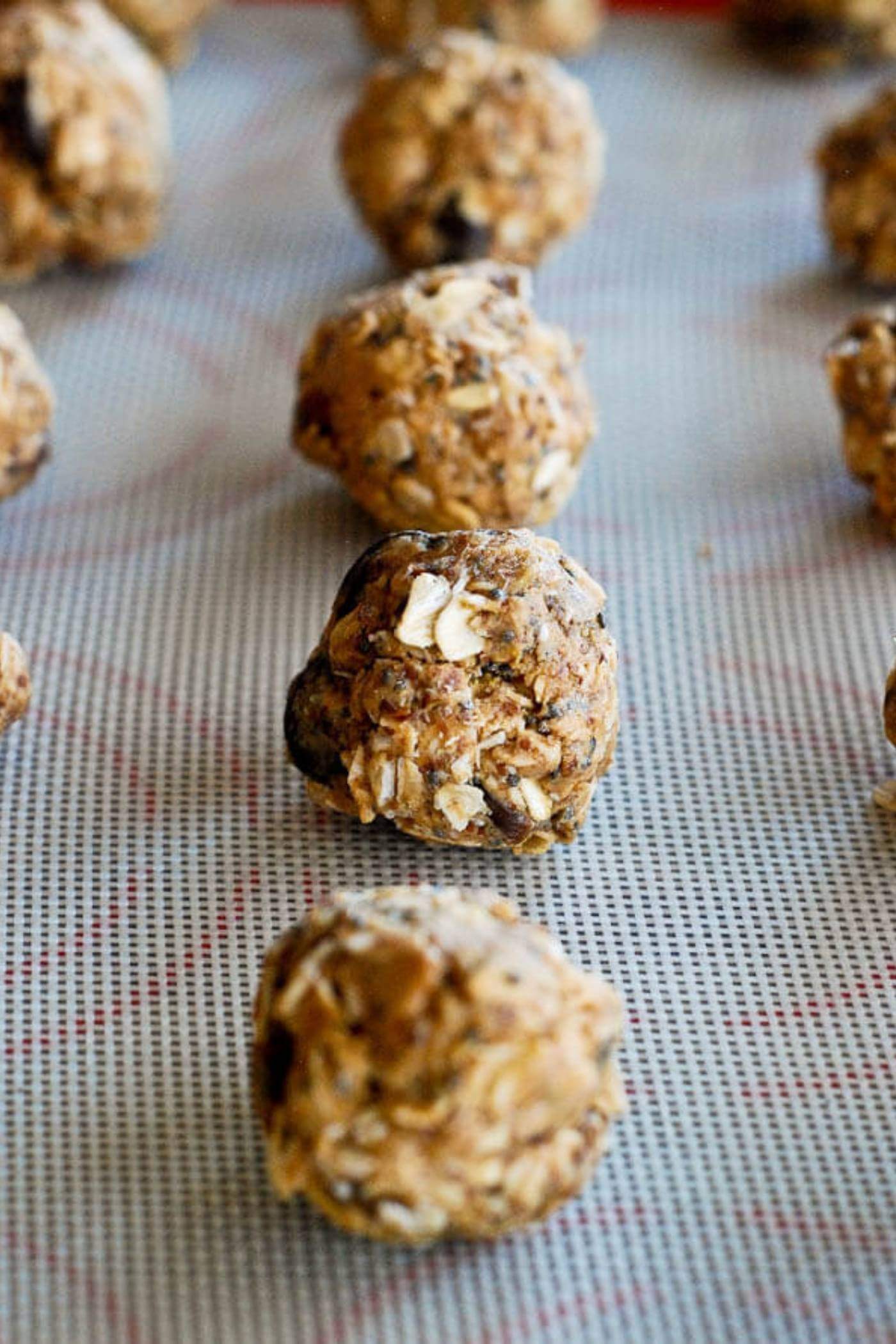 How Long Will These Keep?
These energy bites will last for about two weeks in the refrigerator, kept in an airtight container. Fair warning: these lasted about 2 days at our house and I'm already ready to make a second batch. You may want to do yourself a favor and double the recipe. Just sayin.
Can I Freeze Them?
Yes! Pop these into a freezer bag and into the freezer and they'll last for about 3 months. I love making a big batch and freezing them, then just pulling them out when I need one.
Here's to the end of the February Funk!
(PS – These also go great with vanilla ice cream. Or so I've heard….)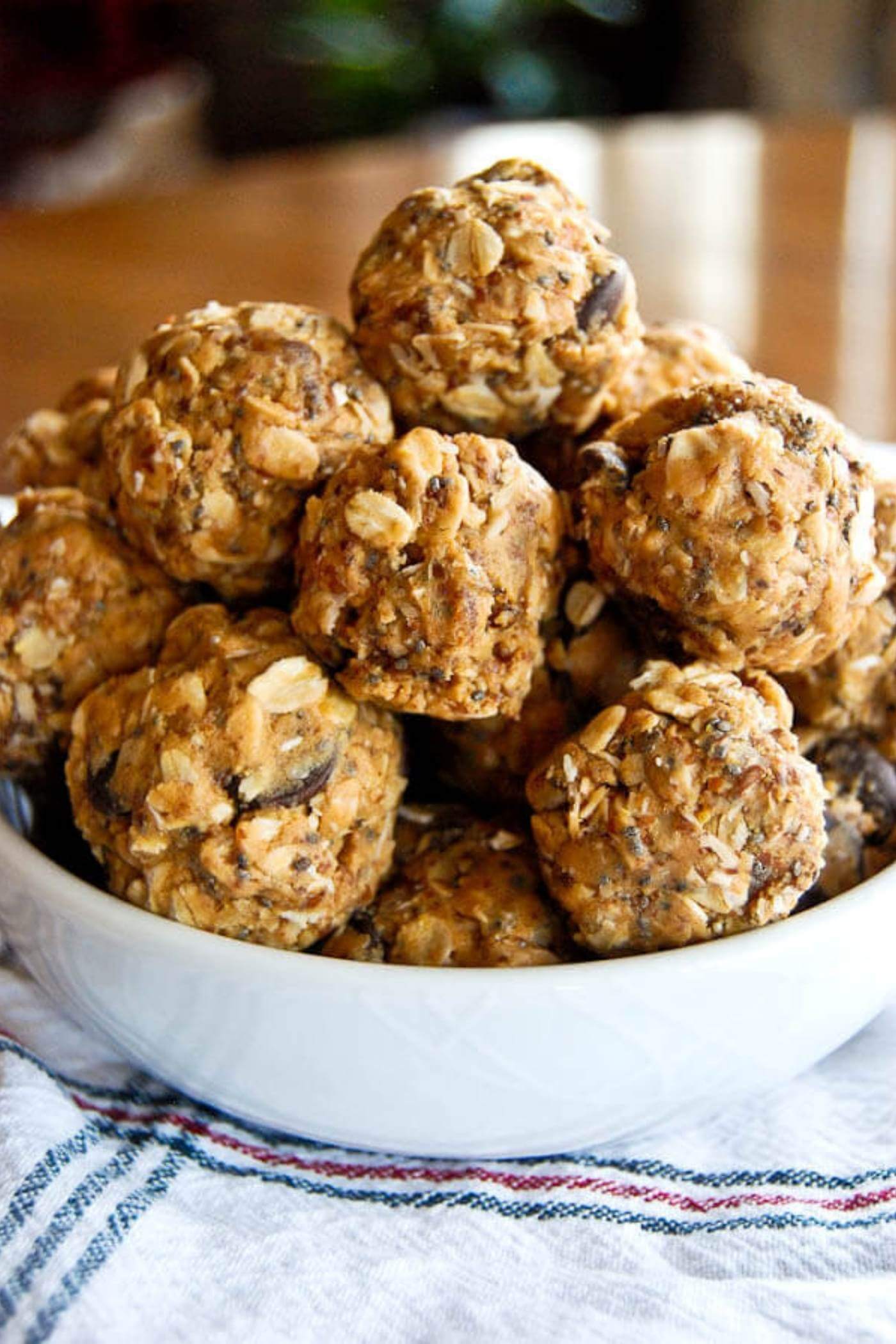 If you make these No-Bake Peanut Butter Energy Balls, let me know what you think in the comments! Then tag me on Instagram with a pic!
More Easy Snacks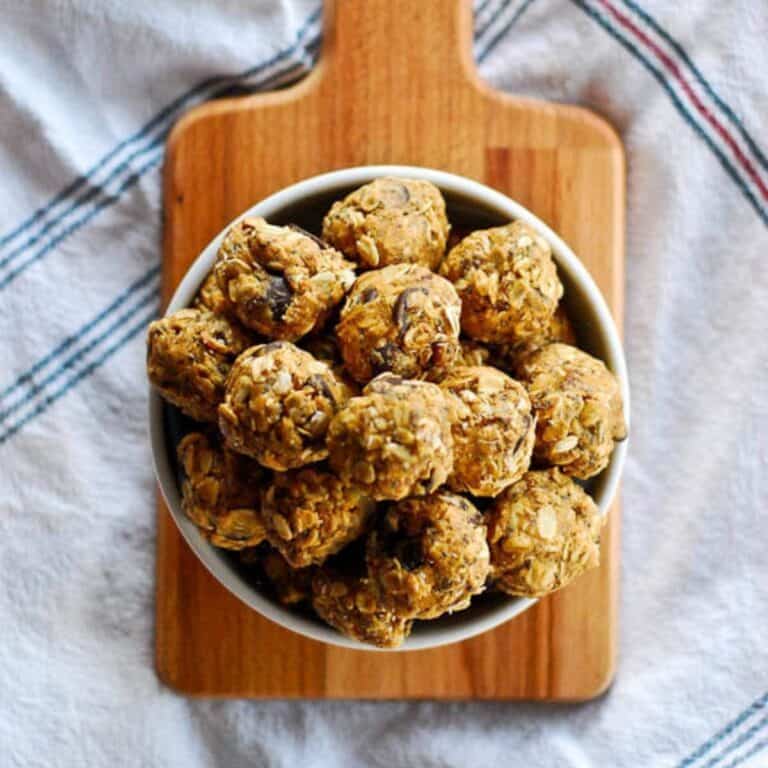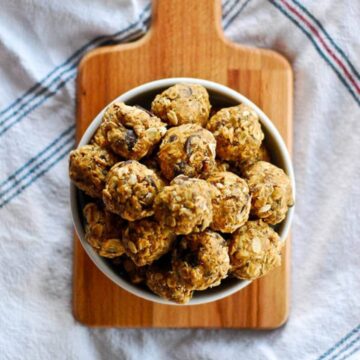 No-Bake Peanut Butter Energy Balls
This recipe for no bake peanut butter energy balls is the best of both worlds - easy to make, loaded with nutrients, healthy (ish) and delicious. Perfect for a post workout snack or beating the afternoon slump.
Ingredients
2

cups

rolled oats

⅓

cup

coconut flakes

1 ½

cups

peanut butter

½

cup

dark chocolate chips

⅓

cup

flax seed

⅛

cup

chia seeds

1 ½

tablespoon

honey

⅓

cup

chopped dates

1

tsp

salt
Instructions
Combine all ingredients in a large bowl. Stir to combine.

Refrigerate for 15 minutes. This will make the mixture easier to handle.

Roll the mixture into small balls, about 1 inch in diameter.

Store the balls in an airtight container in the fridge for up to 2 weeks, if they last that long.