If you've never had Roasted Garlic before, you're in for a treat! Roasting garlic in the oven turns hard, bitter garlic cloves into smooth, buttery, sweet nuggets of goodness that kicks the flavor of any dish up a notch. This roasted garlic spread is a simple appetizer to make and can be used in a number of ways.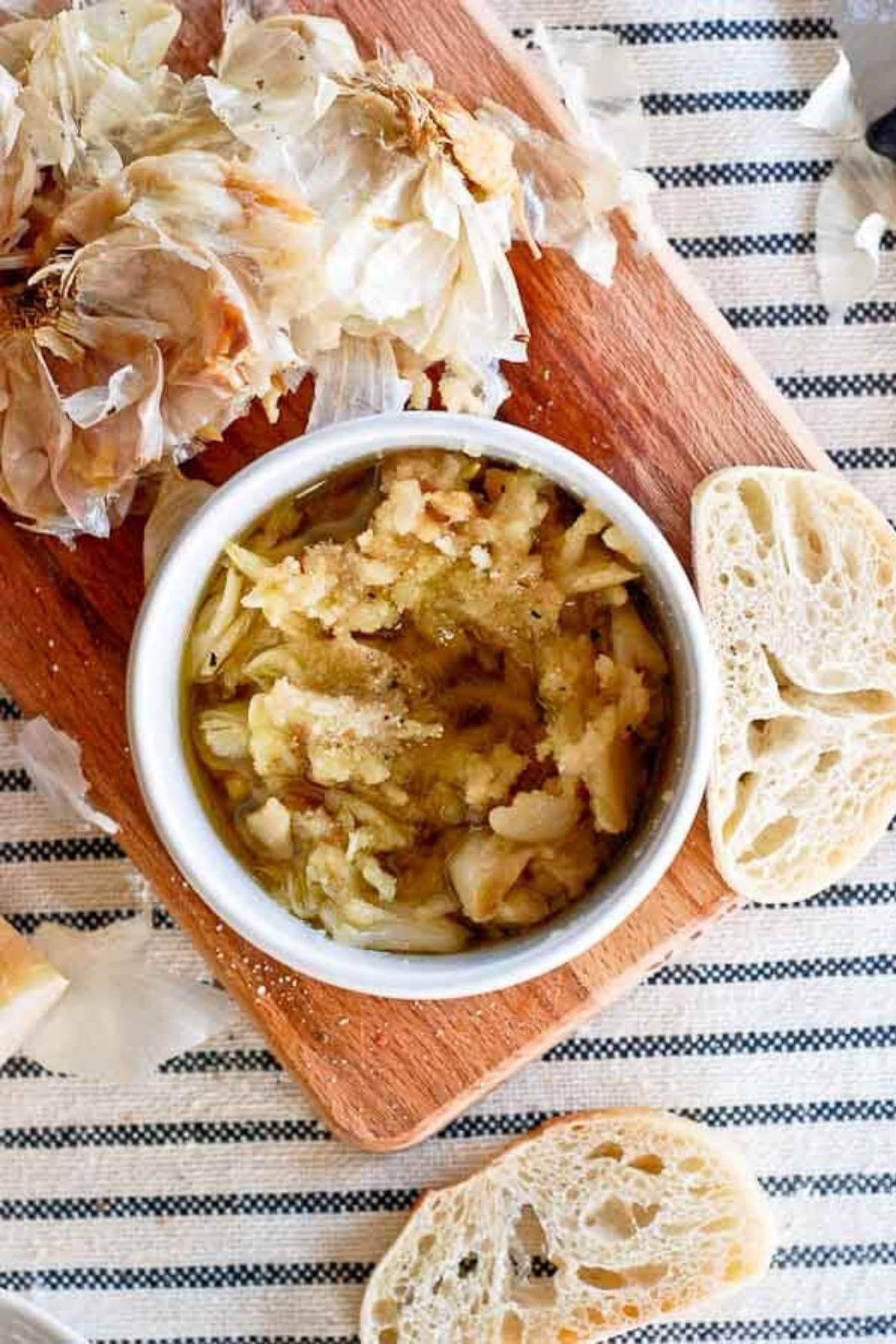 Years ago we used to go to this restaurant in Chicago that served a side of roasted garlic spread with the bread as an appetizer before each meal. It was my first exposure to this delicious app and from then on I was hooked. Little did I know how easy it was to make roasted garlic at home, and how versatile the dish is.
We use garlic all the time at our house. It's a staple we add to most of our soups, salad dressings, pasta – pretty much everything! Garlic is incredibly good for you too. Among other things, garlic is great for helping with a cold and can give your immune system a serious boost. In fact, any time we're feeling a bit under the weather, we chop up a bunch of raw garlic cloves and throw them atop a cracker with some tomato paste. It's a strong bite, but you can pretty much feel it working right away.
While raw garlic can be quite overpowering, roasting garlic in the oven completely mellows out that bitterness and makes for a delicious addition to almost any savory recipe, or even a great app all on its lonesome. We love spreading this on crusty bread or scooping up spoonfuls with a good heart cracker.
How To Roast Garlic In The Oven
Roasting garlic in the oven is really very simple. And even if you feel like you're not great in the kitchen, this little trick will make people think that you are because, 1. Your house will smell amazing while it's baking, and 2. It tastes incredibly delicious.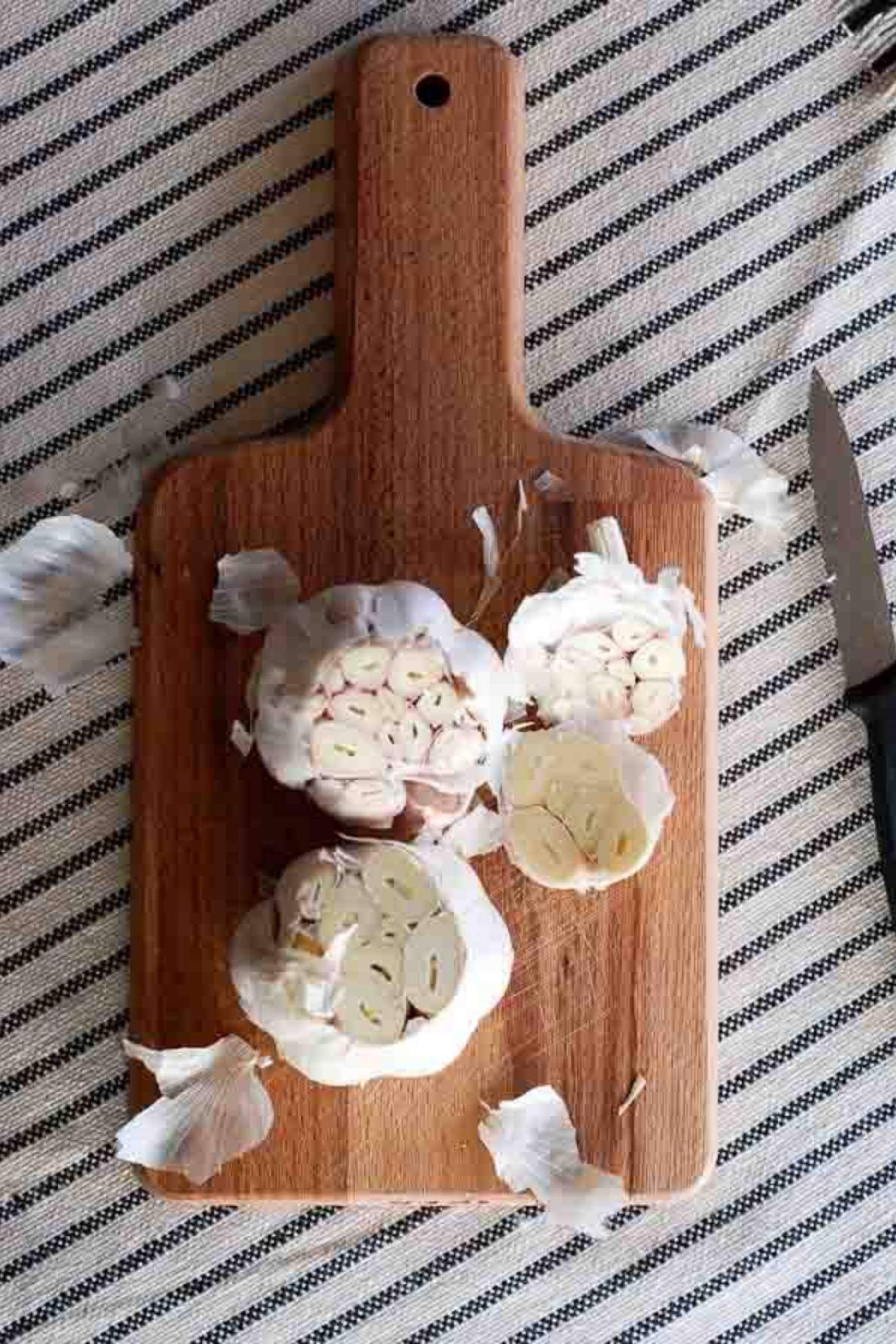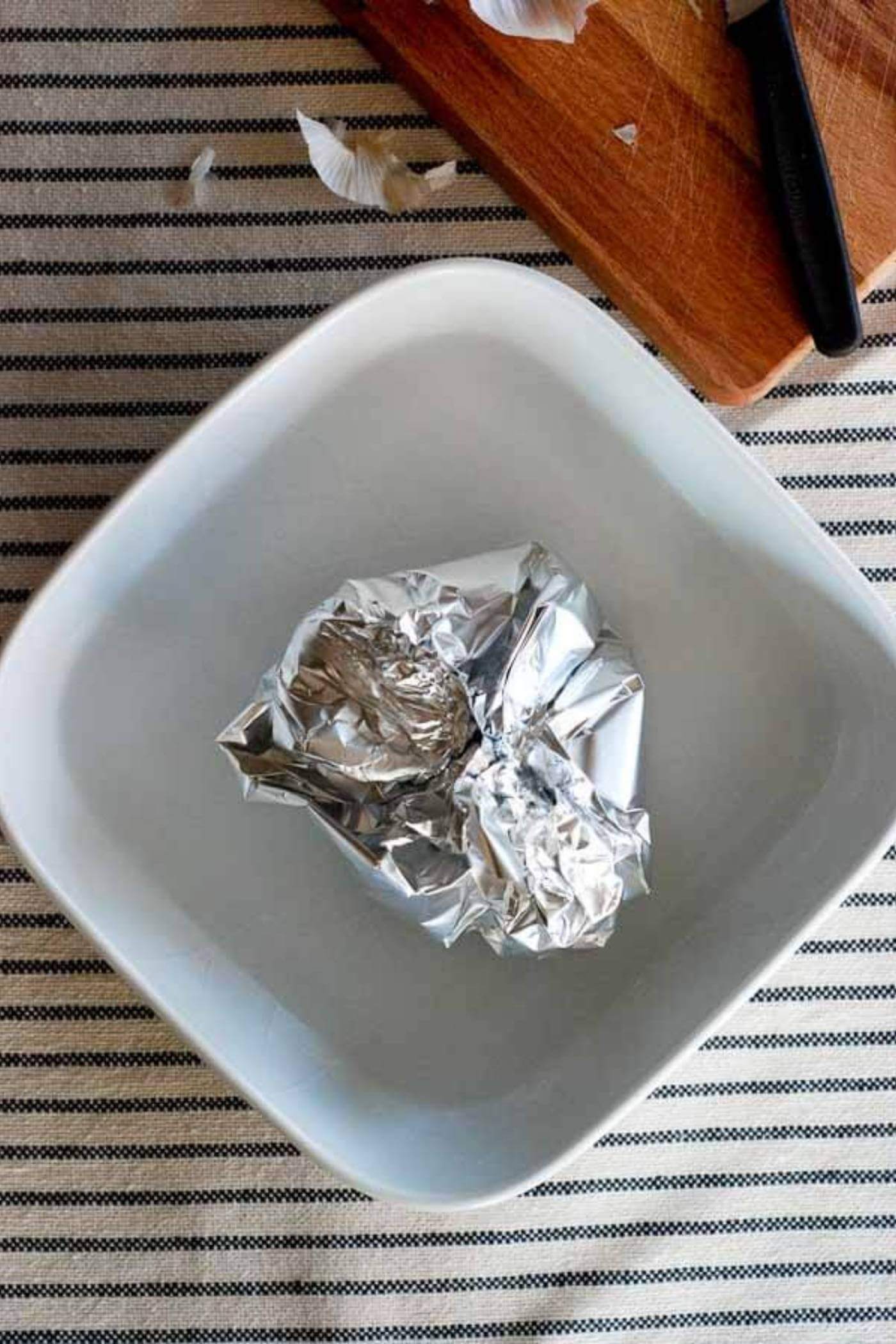 So, how do you roast garlic in the oven?
Start by preheating your oven to about 400 degrees.
Next, prepare your garlic by slicing off the top of the head so that your cloves are exposed. You want each of the cloves to be exposed for two reasons. First, so that they roast evenly so check around the garlic to make sure there are no small ones hiding out on the sides. If so, just use your knife to chop the tips off those too.
We'll get to the second reason to ensure ultimate clove exposure in just a second.
Remove the outer skin of garlic as much as you can. This just makes it a bit easier for the garlic to roast and easier for you to squeeze the cloves out once they're finished. (Don't stress about this being perfect - it's pretty hard to mess up.)
Take your garlic heads (including the tops you just cut off – there are sneaky little pieces of garlic hiding out in there!) and place them on a square of aluminum foil. Make a little pouch with your foil by pulling up the sides.
(You can also use a garlic roaster if you're lucky enough to have one. If not, don't sweat it. I used one for years until it broke and then started using the method I'm describing here. The garlic turns out just the same.)
Pour oil over the top of the cloves (I usually use about 1 tablespoon per garlic head), making sure the oil seeps down into all the little crevices of the garlic head. This is the second reason that we need those cloves exposed. The oil will coat each one and this will help to caramelize every inch of garlic while it's roasting.
Wrap the foil up tight and place it in a small, shallow baking dish or pan. Fill the dish with about 1 inch of water so that it surrounds your foil pouch. Place the dish in the preheated oven and bake for about 45 minutes.
When your garlic is fully roasted, remove it from the oven and let it sit to cool for a bit. Once you're able to handle it without burning your fingers off (about 10-15 minutes), squeeze out each of the cloves into a small bowl. (Don't forget about those little tips that were on the top of the head you chopped off!). This gets a bit messy so keep some paper towels handy.
Our favorite way to eat this is by mashing up the cloves with a drizzle of olive oil Then give it a good shower of shredded or grated parmesan cheese and a few twists of salt and pepper. EAT ON EVERYTHING.
Helpful Hints
Your baking time may vary depending on the garlic you use and the number of heads you're roasting. Larger heads may need a bit more time. I usually check my garlic after about 45 minutes, but if it isn't done, you can let it keep roasting and check on it every five minutes or so.
You'll know your garlic is done because it will turn a soft golden brown color and will be easy to pierce with a sharp knife. (I will mention that I have had instances in the past where my garlic has not turned brown, but still is soft and tastes delicious, so use the knife test as your main indicator that it's done, and don't fret if your garlic is still white when you check it.)
Remove the garlic from its paper coating by squeezing the head from the bottom. It's a bit of a trick but once you get the feel for it it's simple to do.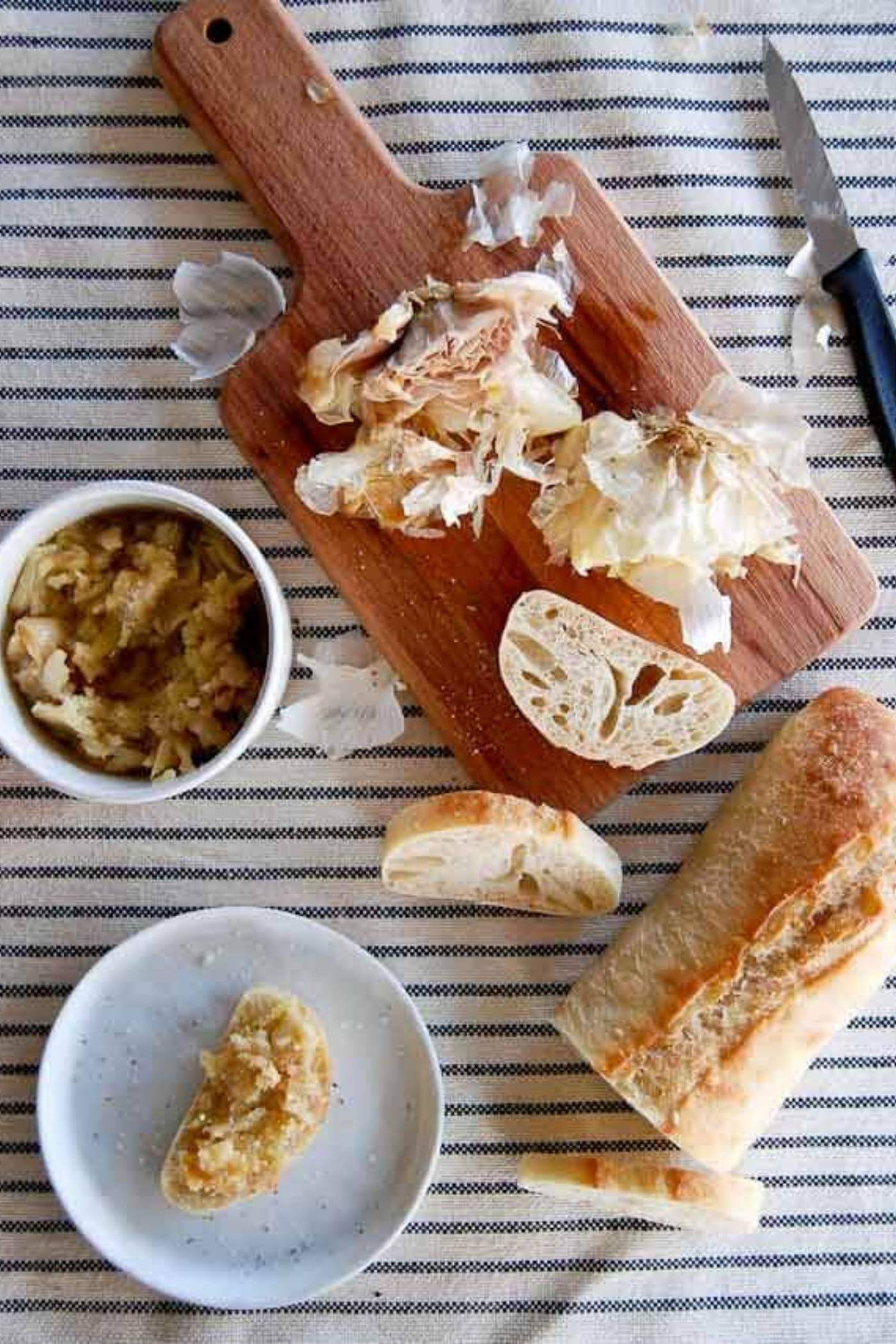 How To Use Roasted Garlic
There are lots of ways to use roasted garlic.
Add it to a salad dressing
Use it in a pasta dish
Garlic mashed potatoes (of course!)
Add it to soups
Use it in hummus
Put it on top of a chunk of meat (pork or steak are great!).
As a dipping sauce for bread.
Our favorite way to eat it is to pile it high on top of some thick, crusty hunks of bread. We serve it as an appetizer, just like we used to have it back in Chicago. Just mash up the roasted garlic cloves in a bowl, add a few more tablespoons of extra virgin olive oil, a dash of salt and pepper, and a generous amount of grated Parmesan cheese and you're ready to go.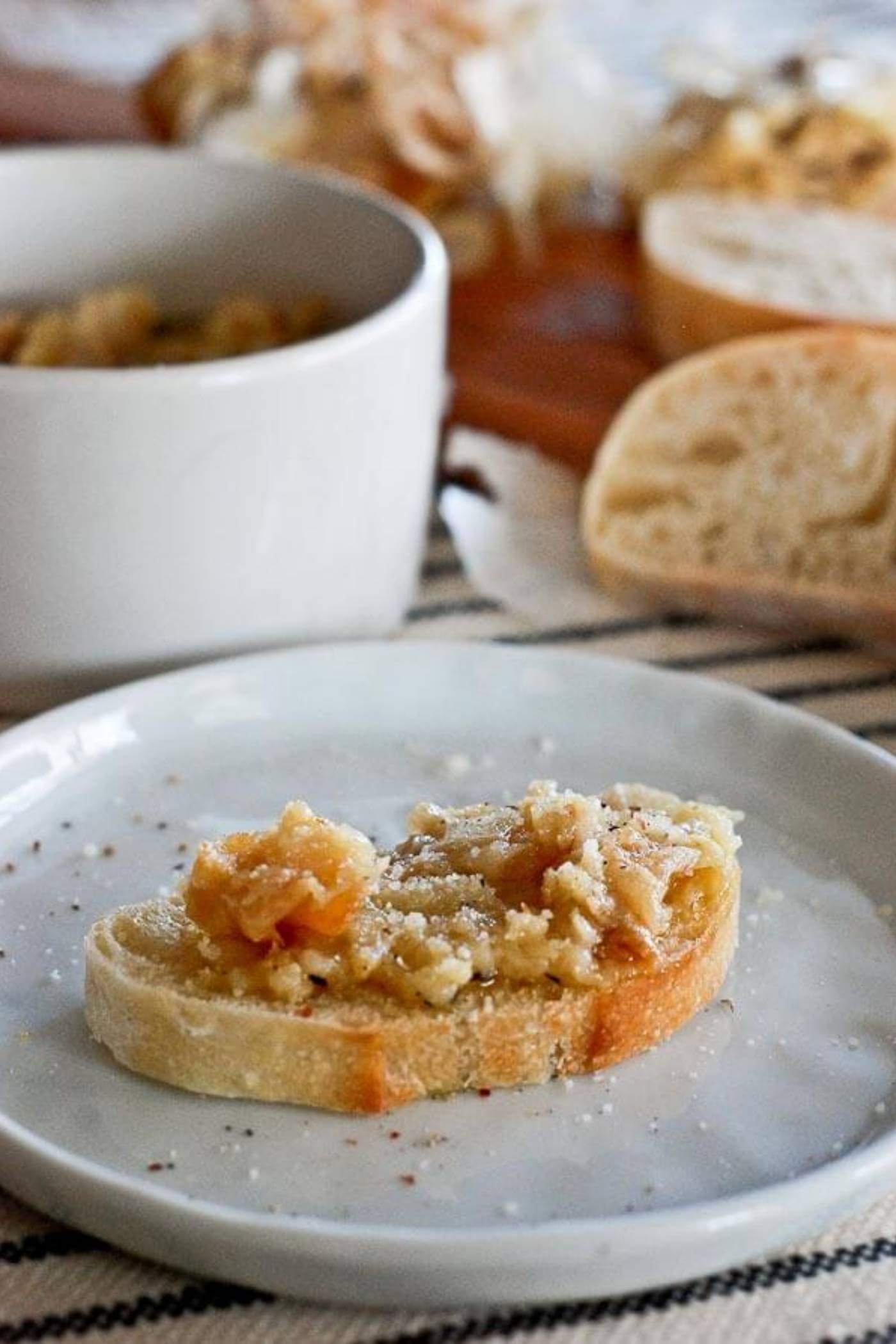 This is such a perfect app to make when you're short on time. (Like when you have an hour before people are about to arrive and realize that – oh shit! - you still have to take a shower!) Just throw it in the oven and forget about it for 45 minutes. Then mash it up, add some bread and it's pretty much ready to go! And if you have friends coming over, it will make your house smell amazing and everyone will think you've been slaving away in the kitchen all day. Which of course you should say you have, as you smile smugly to yourself and think what a divine kitchen goddess you are.
Try this Roasted Garlic Recipe and let me know what you think by sharing a comment below! And don't forget to me on Instagram!
More Great Appetizers!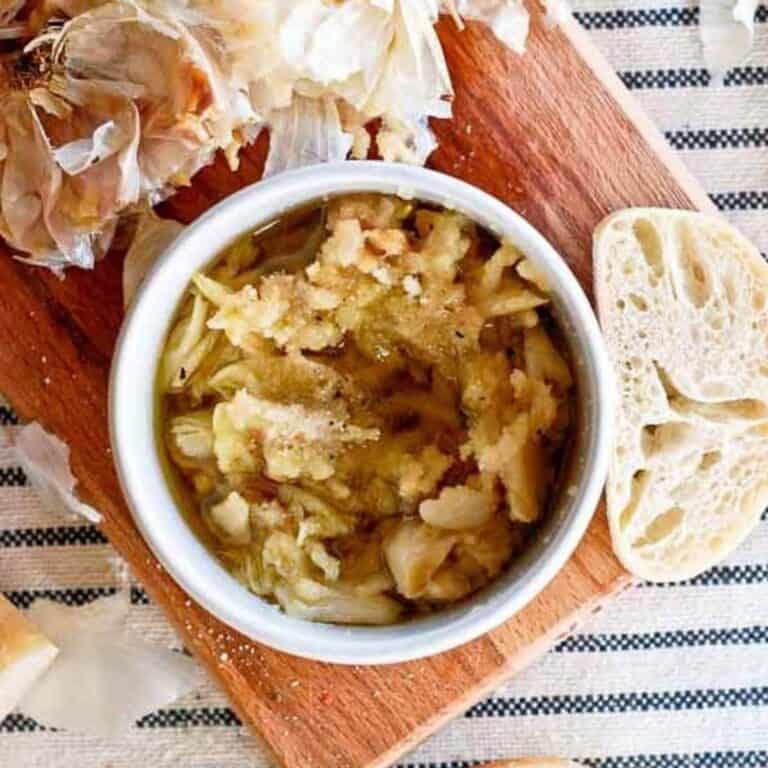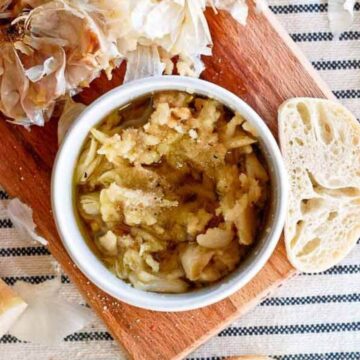 Roasted Garlic
If you've never had roasted garlic before, you're in for a treat! Roasting garlic in the oven turns hard, bitter garlic cloves into smooth, buttery, sweet nuggets of goodness that kicks the flavor of any dish up a notch. This roasted garlic spread is a simple appetizer to make and can be used in a number of ways. 
Ingredients
2-3

heads of garlic

3

tablespoon

olive oil

dash of salt and pepper

grated parmesan cheese to taste
Instructions
Preheat your oven to 400 degrees.

Prepare your garlic by slicing the top of the head off, and removing the outermost layer of skin. For your garlic to roast evenly (and to make it easier to remove the cloves), make sure each clove is exposed at the tip. This may mean you have to check around the sides once you've removed the top of the head and make sure you slice off any unexposed cloves.

Place the garlic (the heads too!) on a small square of tin foil and bring the sides of the foil up to form a little bowl/pouch. Make sure your garlic is facing cut side up.

Pour the oil over the garlic heads, making sure to let it really drip into all the crevices between the cloves.

Wrap the foil around the garlic heads and put it into a small baking dish or pan, filled with about ½ inch of water.

Place your pan in the oven and roast the garlic for about 40-45 minutes.  Check for doneness by piercing a clove with a sharp knife – it should easily cut through it. If not, roast for an additional 15-20 minutes, checking every five minutes to ensure the garlic doesn't burn.

When garlic is finished roasting, remove it from the oven and allow it to cool for about 10 minutes until it's easy to handle.

Once the garlic has cooled, use your hands to squeeze the garlic head and pop out each individual clove into a small bowl.

Use the garlic as is, or make a delicious garlic spread by mashing all the garlic in the bowl, adding an additional glug of extra virgin olive oil, salt and pepper, and parmesan.

Enjoy with bread, on roasted or braised meats, in soups, pastas or salad dressings.