Holiday appetizers just got easier with these easy Baked Pasta Nests With Meatballs! Cheesy baked pasta is topped with marinara-soaked meatballs to make the perfect Italian bite every time.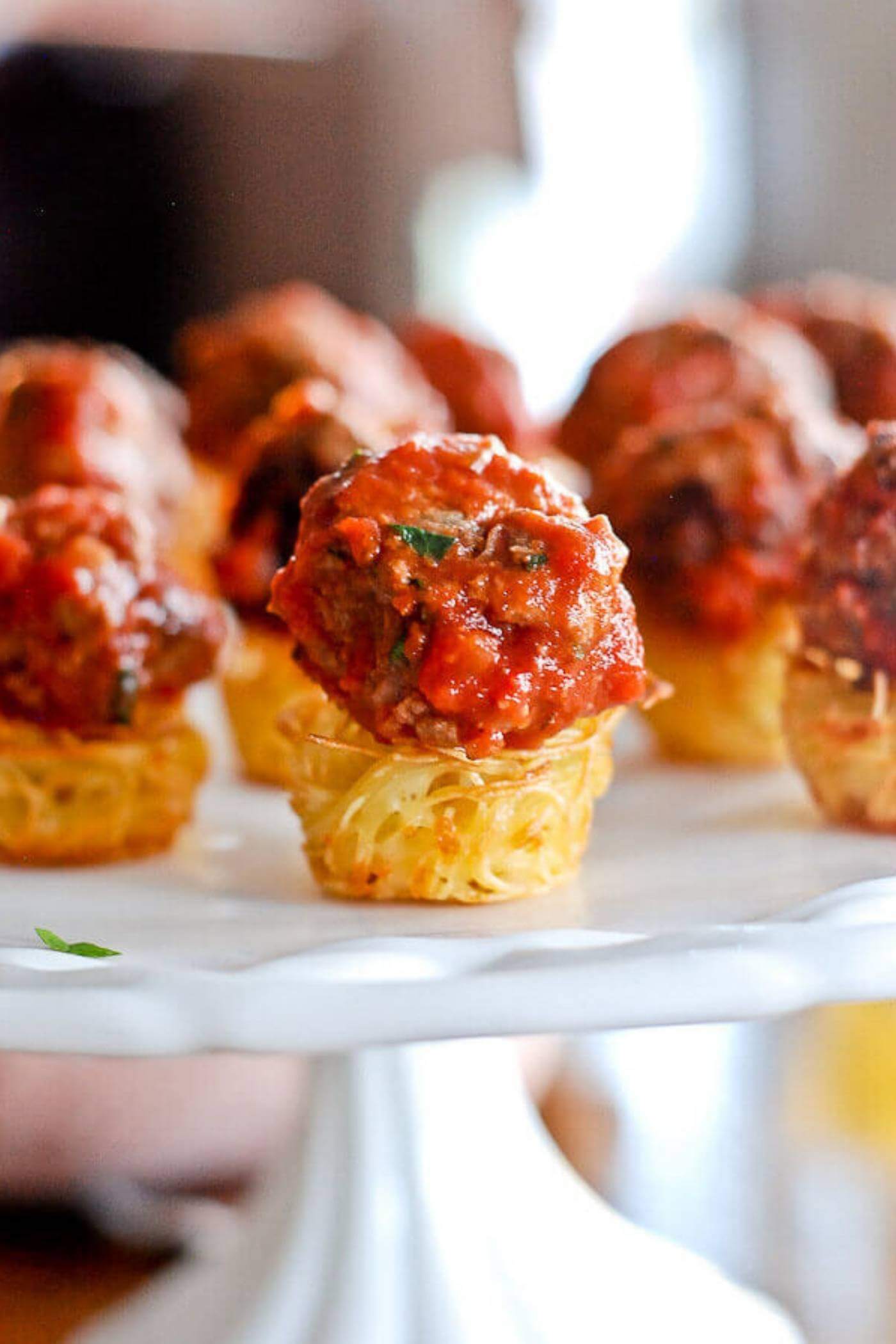 Ok friends, we're keeping this one short and sweet because it's down to the wire with Christmas shopping and I've got to get out there! But I couldn't help sharing these sweet little appetizers that will for sure be a hit at your next party. Baked pasta nests are so simple to make, and you can customize the toppings to whatever your hearts desire! I love these little guys! They're the perfect appetizers for the winter holidays, but I can see so many uses for them throughout the year too! So, here we go!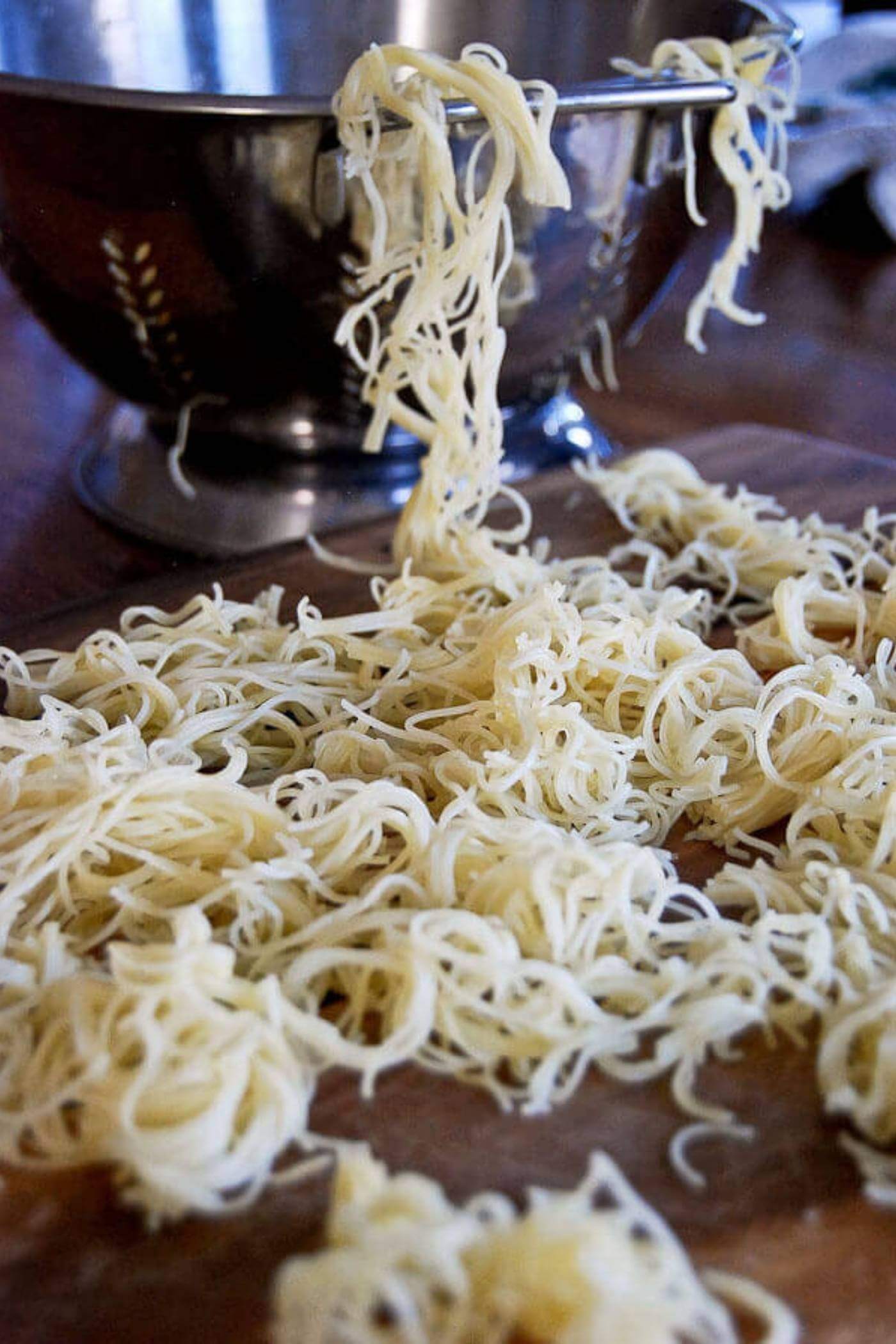 How To Make These Pasta Nests
I used angel hair pasta for these pasta nests since I wanted them to resemble an actual nest, and the angel hair is easily bendable to fit into my muffin cups. But the beauty of this recipe is that you can use whatever pasta you have on hand (even leftover pasta would work great for this!) So pick whatever pasta suits your fancy and go from there.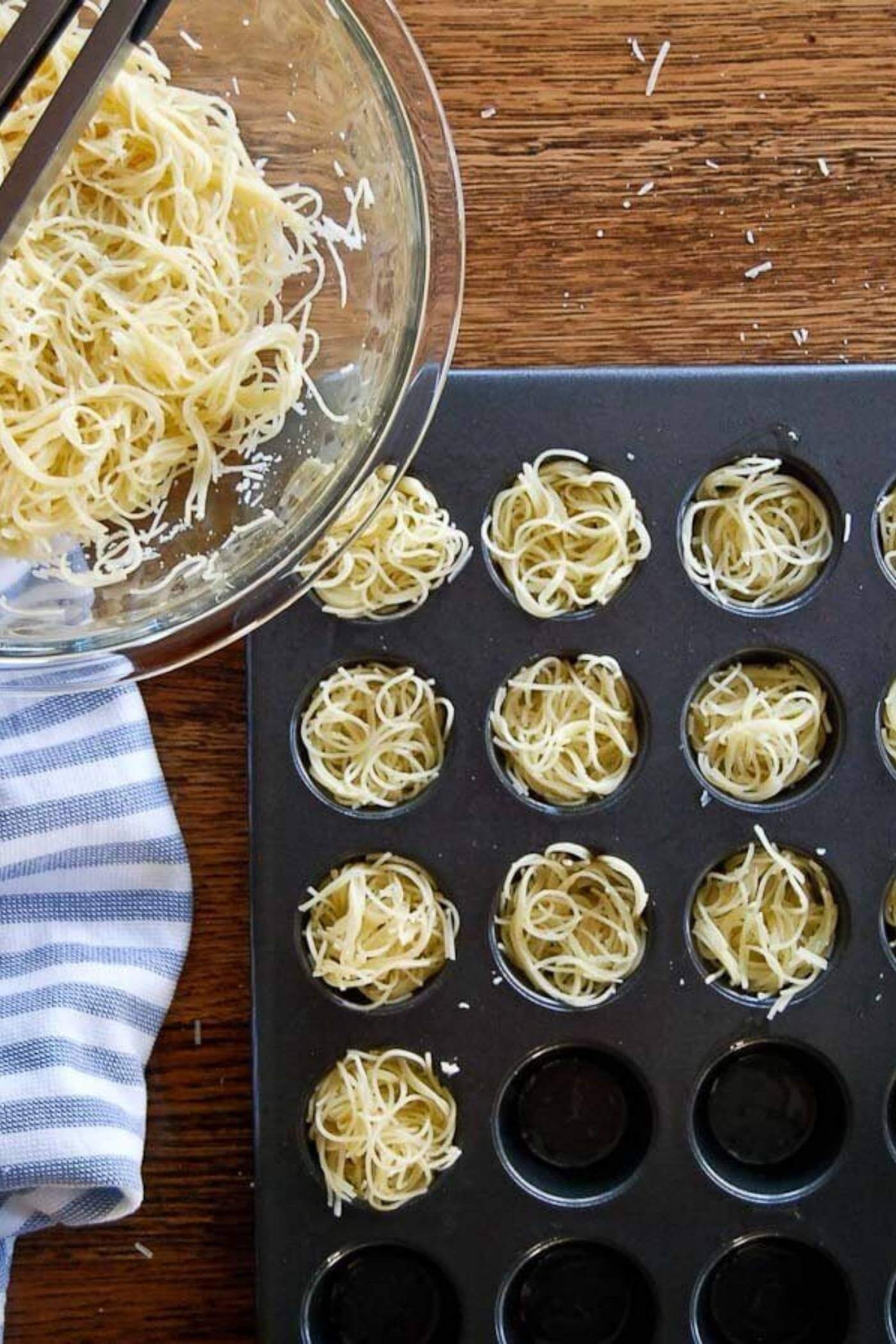 Cook your pasta according to the packaging, then drain and set aside.
While your pasta is cooking, spray your muffin tins with a non-stick spray, and preheat the oven to 375 degrees. A note on muffin tins – I used a mini muffin tin here since I wanted these to be bite-sized appetizers, but you could also do regular-sized muffins and serve these as a side or a main dish if you'd prefer.
Mix together the rest of your ingredients – mix your seasonings, then add in the egg whites and the cheese and combine well. The egg whites and the cheese are what's going to hold your pasta nests together and make them a delicious crispy on the outside, cheesy on the inside delicious bite. I used Parmesan and mozzarella since I served these with meatballs and marinara, but most melty cheeses will work well here so just use what you have.
To make it easier to fill these muffins, I cut my pasta up into smaller strips (you could also just break your pasta in half before boiling it). It just made it easier to fit the shorter strips into my smaller muffin cups. Combine the cooked pasta with your cheesy egg mixture and toss until fully coated.
Fill your muffin tins with the pasta then top with the remaining Parmesan cheese and you're ready to toss these into the oven! Easy peasy!
Once your nests have cooked, remove them from the oven and pop them out of the muffin tin. (They should slide right out.) Top with meatballs soaked in marinara sauce, sprinkle with even more Parmesan cheese (can you really ever have too much?), and serve immediately. (You can make your own meatballs and sauce, or just buy premade meatballs from the store to make this a really simple and time-saving appetizer!)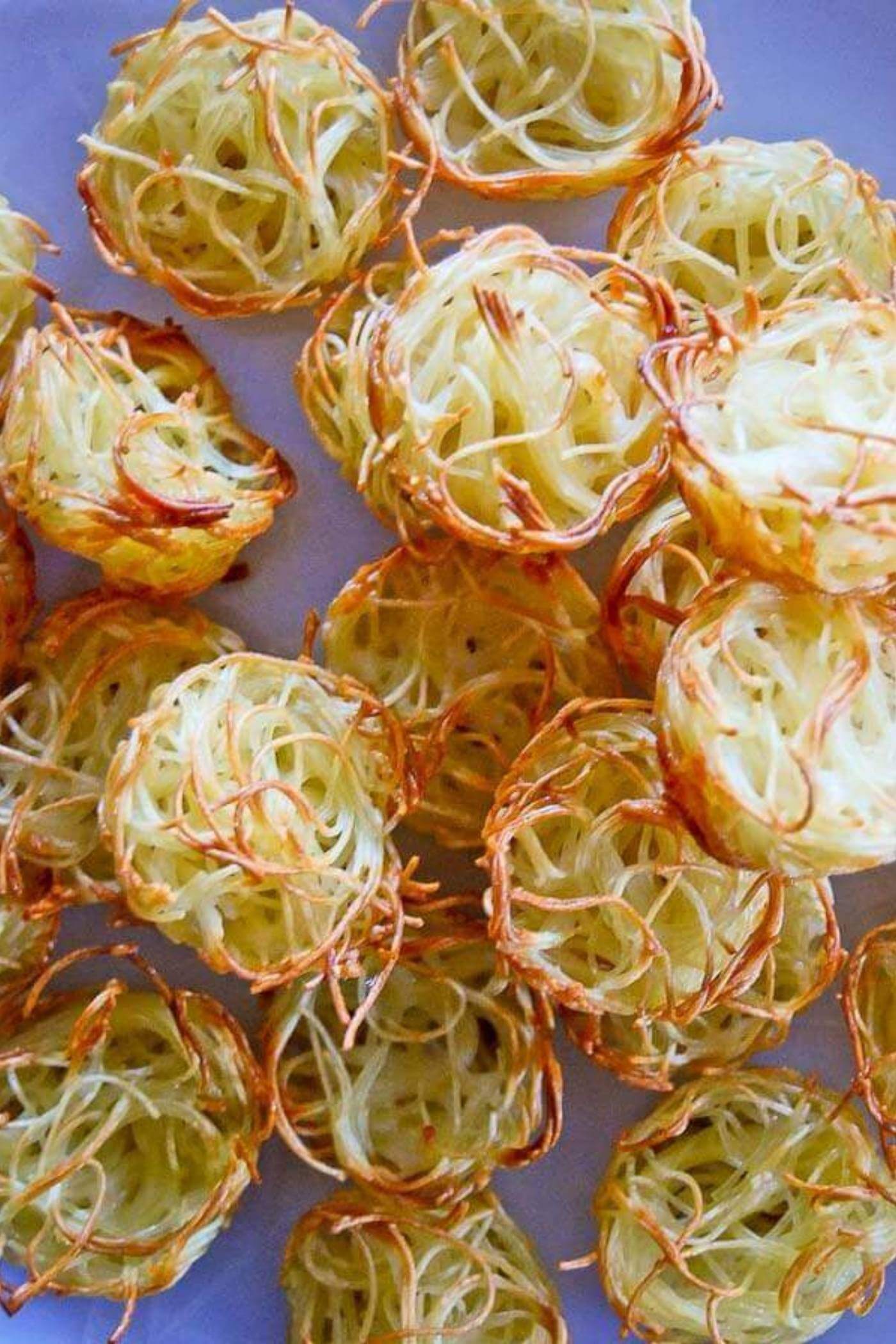 If you make these Baked Pasta Nests With Meatballs, please let me know what you think by leaving a comment below! And don't forget to tag me on Instagram! I love to see your creations!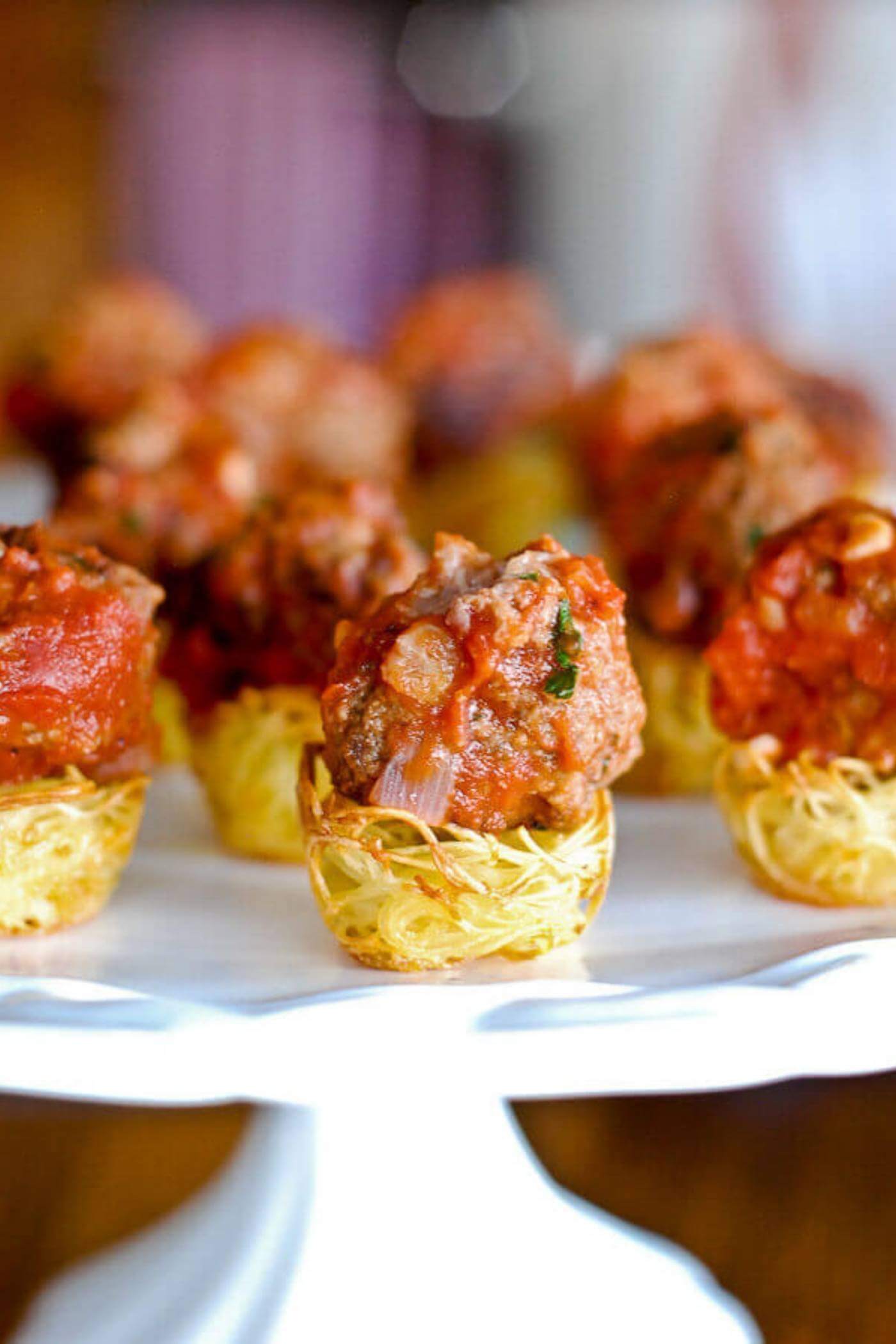 More Easy Appetizers!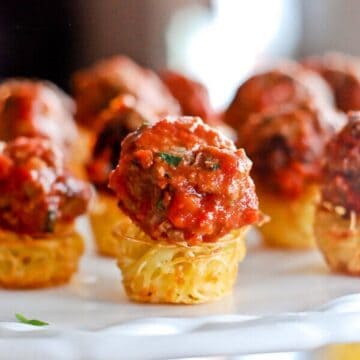 Baked Pasta Nests With Meatballs
Holiday appetizers just got easier with these easy baked pasta nests with meatballs! Cheesy baked pasta is topped with marinara soaked meatballs
to make the perfect Italian bite every time.
Ingredients
½

package angel hair pasta

2

egg whites

½

teaspoon

salt

¼

teaspoon

ground black pepper

2

tablespoon

parsley, finely chopped

¼

cup

Parmesan, plus more for garnish

¼

cup

mozzarella

½

teaspoon

garlic salt

store-bought or homemade meatballs and your favorite marinara sauce
Instructions
Preheat oven to 375 degrees and grease a muffin tin with butter or oil.

Cook pasta according to instructions.

Mix the egg whites, salt, garlic salt, black pepper, ¼ cup of Parmesan, mozzarella and parsley together.

Cut pasta into smaller strips.

Add the pasta and toss well to coat.

Place pasta into muffin cups, pressing into the cups to fill until level.  Top each pasta nest with a sprinkle of Parmesan cheese.

Bake for 14-16 minutes, or until pasta starts to brown slightly at the tips.

Remove from oven and pop nests out of the tins.

Immediately top with marinara dipped meatballs, an extra sprinkling of Parmesan, and serve hot.