An Easy Meatball Recipe that comes together quickly, uses basic ingredients, tastes delicious, and can be used as an appetizer or a main dish! These versatile meatballs are great with spaghetti or served in marinara sauce with toothpicks for your next party.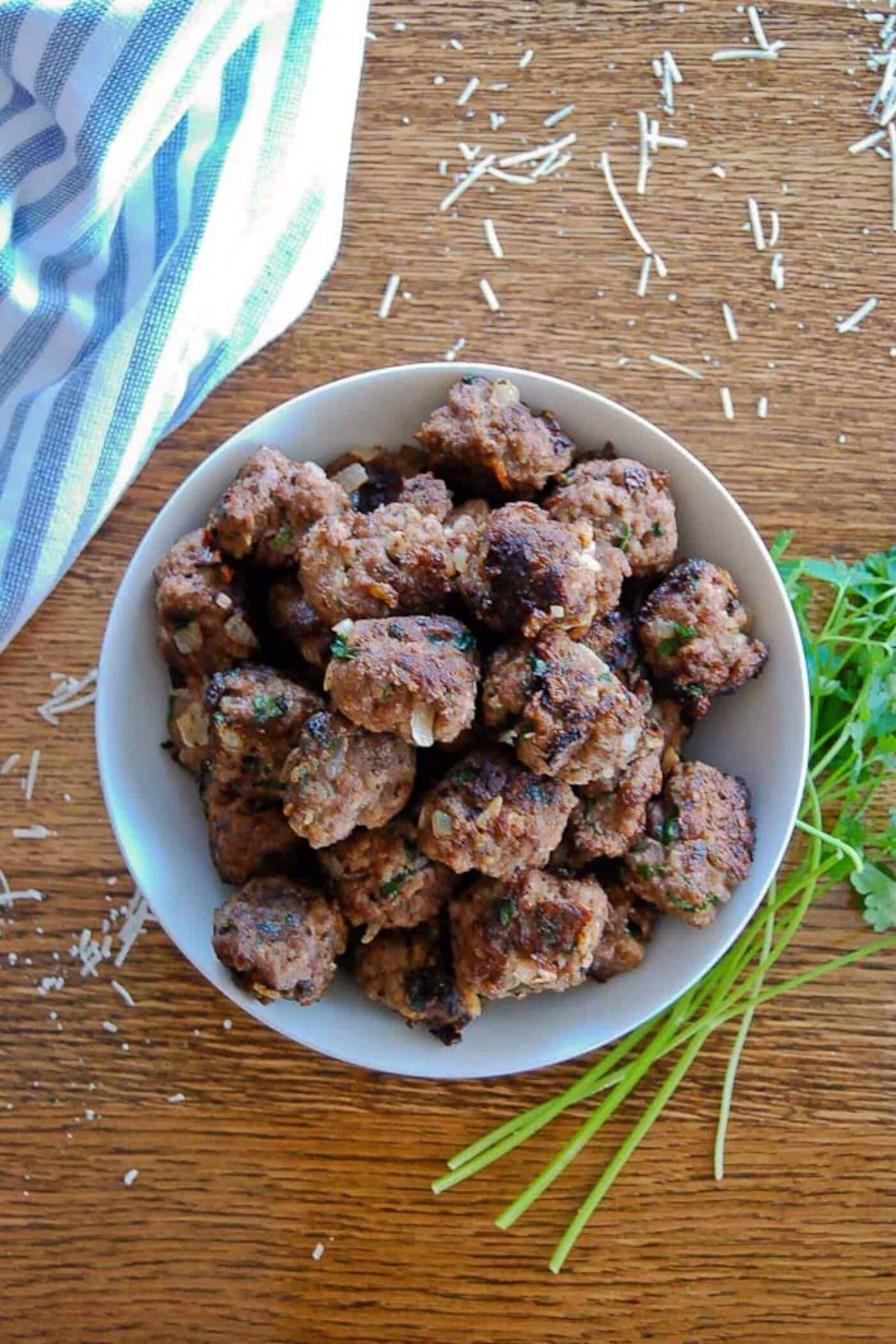 Party season is here people. Holiday parties, office parties, neighborhood gatherings, and family get-togethers. Tis' the season for being social and it's good to have a back-pocket recipe handy to use when you're the host (or when you're asked to bring something).
Why Meatballs Make The Best Appetizer
Meatballs are one of my favorite things to have on hand since you can use them in a pinch in so many ways...
They're so versatile in terms of serving since they could be an appetizer, served with toothpicks and a delicious marina or bbq sauce, or as part of the main dish like spaghetti.
Meatballs are easy to transport if you need to bring them to a party.
They can be customized based on the theme of what you're going for, whether it's the most obvious choice of Italian, or something a little funkier, like Mexican or Indian-style meatballs.
I love that you can use pretty much any ground meat you like – turkey, lamb, chicken, beef, pork – they all work beautifully and can make this dish the one that keeps on giving throughout the holiday season, just by changing up your meat and spices.
Meatballs are like the chameleon of foods – warping and changing as your tastes and needs require.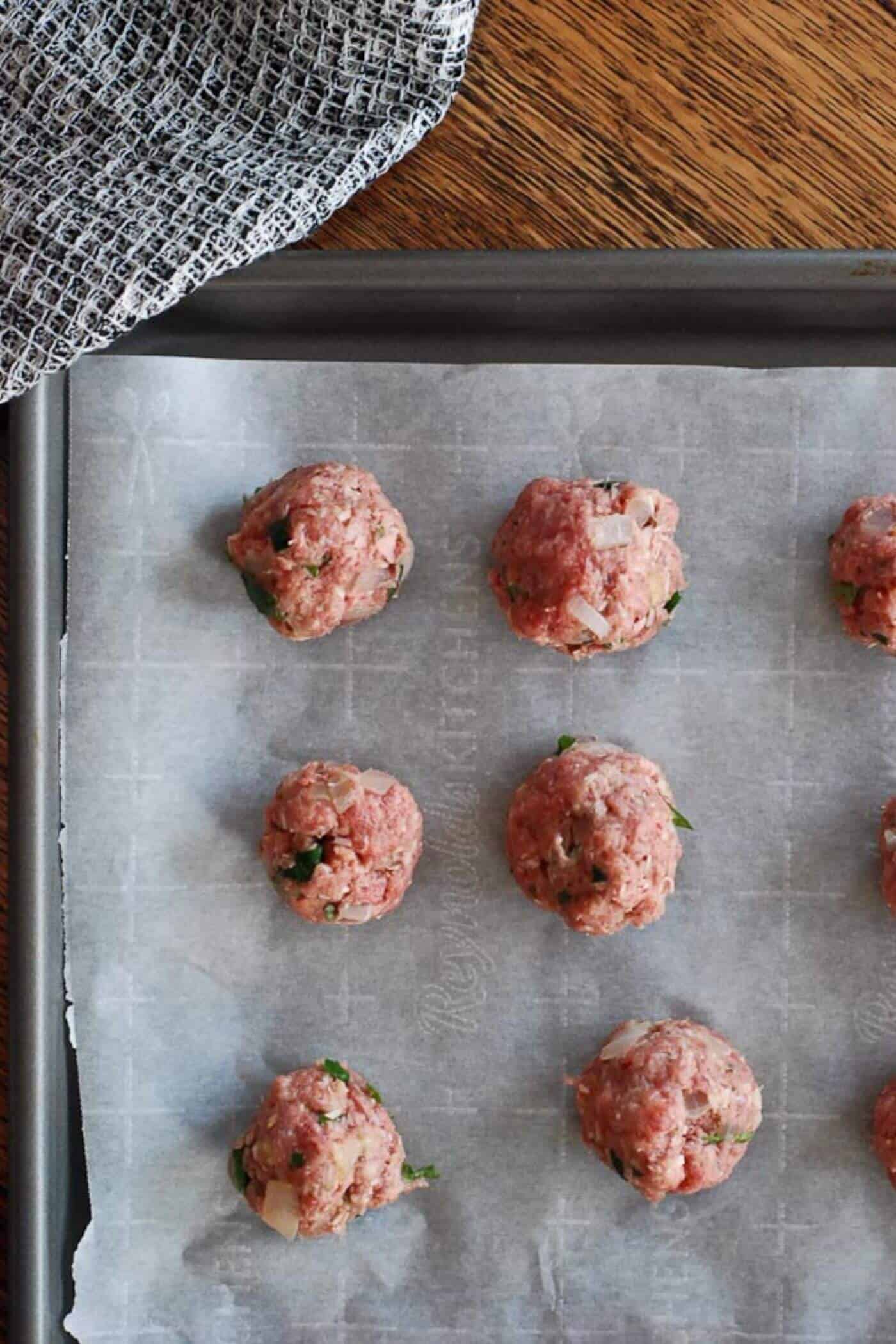 What Ingredients Will I Need?
This recipe is the classic meatball recipe, with simple ingredients you won't have to hunt down at the eleventh hour (and likely already have in your fridge).
Ground beef. As mentioned above, feel free to change the meat up depending on your tasts. Lamb, or even a beef/lamb combo could work here. Turkey or chicken will give you a bit of a different taste/texture but could also work in a pinch.
Onion & Garlic. I like to use yellow or sweet onions for meatballs so that the taste is a bit milder. The garlic adds a bit of spice and also a mildly nutty flavor when baked with the meatballs.
Spices. Red pepper adds a tiny bit of heat to these. meatballs and fresh parsley adds a peppery brigtness to them. Salt and pepper round out the flavors.
Breadcrumbs, eggs, and a bit of shredded parmesan cheese help to bind these meatballs together.
How To Make These Homemade Meatballs
If you have 30 minutes, you can easily whip up a batch of these exquisite, savory balls of goodness. And, strangely, I find shaping the meatballs a bit meditative.
Start by sauteing your onion, garlic, and red pepper until soft and fragrant.
Add the ground meat, throw in some cheese, eggs, and breadcrumbs and fresh herbs, and mash it all up and you have the basis for what will soon be your go-to meatball dish this season.
These meatballs are made on the stovetop in a large skillet and browned until cooked through. I think this takes just a little bit less time than baking the meatballs in the oven, although you could do that as well. But if you're having a party and need your oven for another dish, the stovetop option is a nice way to go since it frees up the space. Plus, making these meatballs on the stove gives you that nice browned crispy outer edge that you can't get when you bake them.
These are seriously GOOOOOD.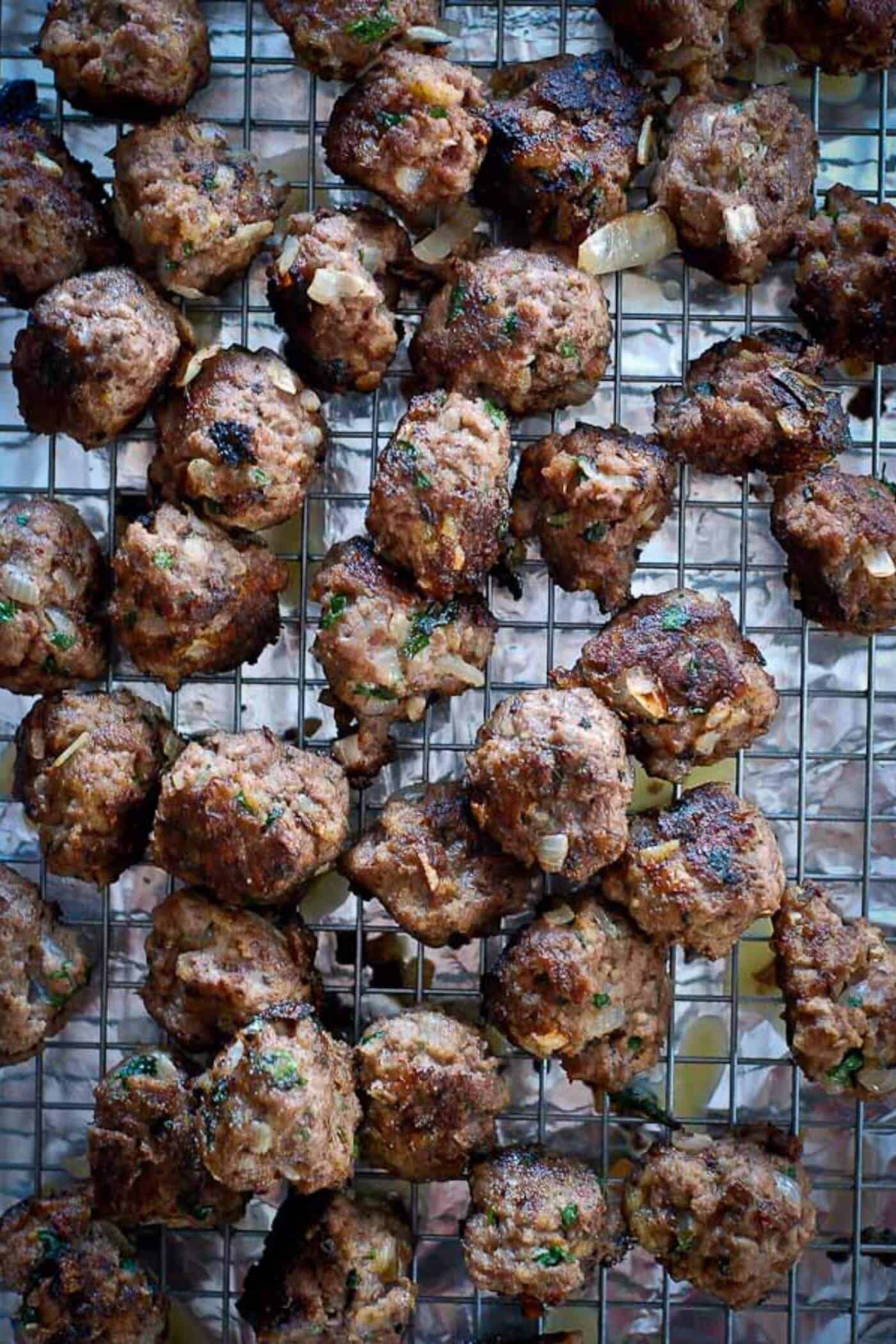 How To Serve These Meatballs
If you're looking for ways to serve meatballs, the choices are pretty much endless. You can:
Make spaghetti and meatballs (obvious, but I have to say it)
Add them to a sub roll and have meatball subs
Throw them in a shallow dish with some marinara sauce and serve them as an appetizer
Serve them on top of mashed potatoes or polenta
Add them to a casserole
Freeze them to use later for an easy weeknight meal
Throw them in a soup
Add them to your mac and cheese for some extra protein (and deliciousness!)
Seriously – the list could go on and on.
Give this Easy Meatball Recipe a try with your favorite marinara sauce and some spaghetti, then tag me on Instagram with a pic and let me know what you think in the comments below!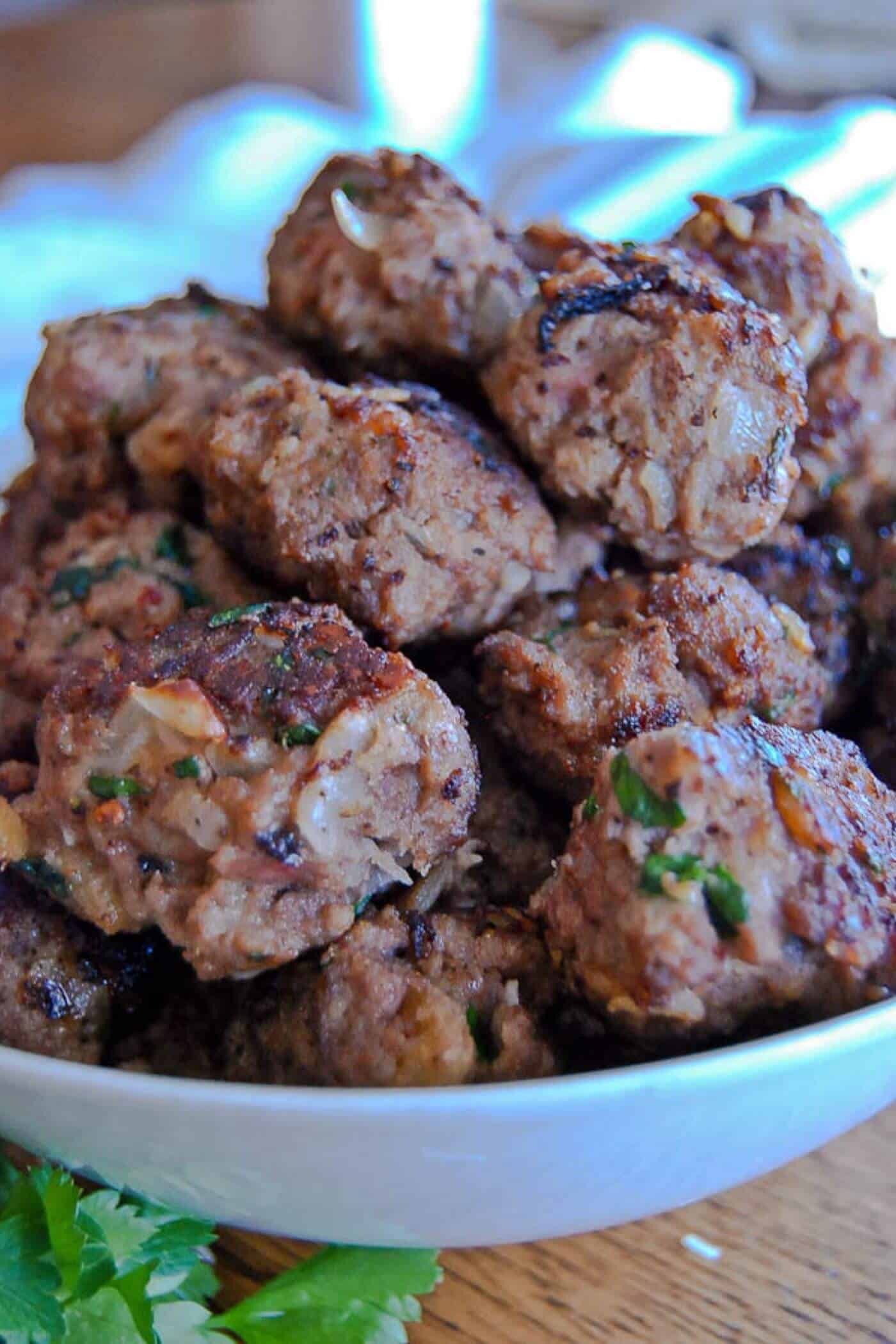 Want More Appetizers? Check These Great Recipes Out!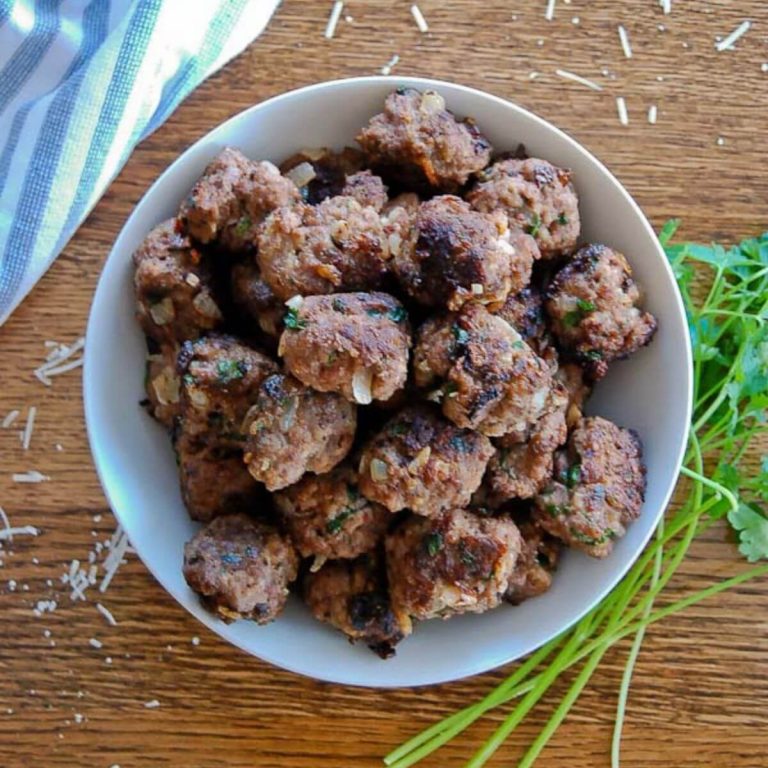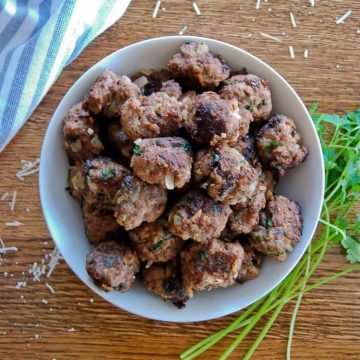 Easy Meatballs
An easy meatball recipe that comes together quickly, uses basic ingredients, tastes delicious, and can be used as an appetizer or a main dish! These versatile meatballs are great with spaghetti, or served in marinara sauce with toothpicks for your next party.
Ingredients
2

tablespoon

olive oil

1

large onion, finely chopped

8

garlic cloves, minced

1

teaspoon

red pepper

1

cup

bread crumbs

1

cup

finely shredded parmesan

2

lbs

ground beef

½

cup

parsley, chopped

2

large eggs

1 ½

teaspoon

salt, plus more as needed

½

teaspoon

ground pepper

¼-1/2

cup

water
Instructions
In a large pan, sauté the onion in the olive oil for 4-5 minutes over medium heat, until onion is soft and starts to look translucent.

Add minced garlic and red pepper flakes and sauté for one minute more, being careful not to burn the garlic. Set garlic and onion aside and allow to cool.

In a large bowl, using your hands, combine the bread crumbs, parmesan, ground beef, parsley, eggs and salt and pepper. Add the garlic and onion and stir well to combine. (You're gonna get a little messy here, but just get over it.)

Add about ¼ to ½ cup of water to the meatball mixture – you want the mixture to be moist – and mix well.

Roll the meat mixture into balls – the size is really up to you, and may depend on how you're serving these – spaghetti and meatballs may require a larger meatball, but if you're serving as an appetizer, think about your guests and try to go smaller. Just try to stay consistent with size so that they all cook evenly.

Add meatballs to a skillet in batches (don't overcrowd the pan!) and brown on all sides, sautéing them on medium heat until the meatballs are cooked all the way through.

Remove meatballs from the skillet and place on tray topped with a cooling rack (put some foil underneath the rack to help catch the drippings. Let cool slightly, then serve!