If you're looking for a different side dish to make, try this Roasted Garlic Cauliflower Mash recipe. A delicious alternative to mashed potatoes, this cauliflower mash recipe delivers big on the creamy consistency of the standard classic without all the extra carbs! Perfect for the holidays, or any time!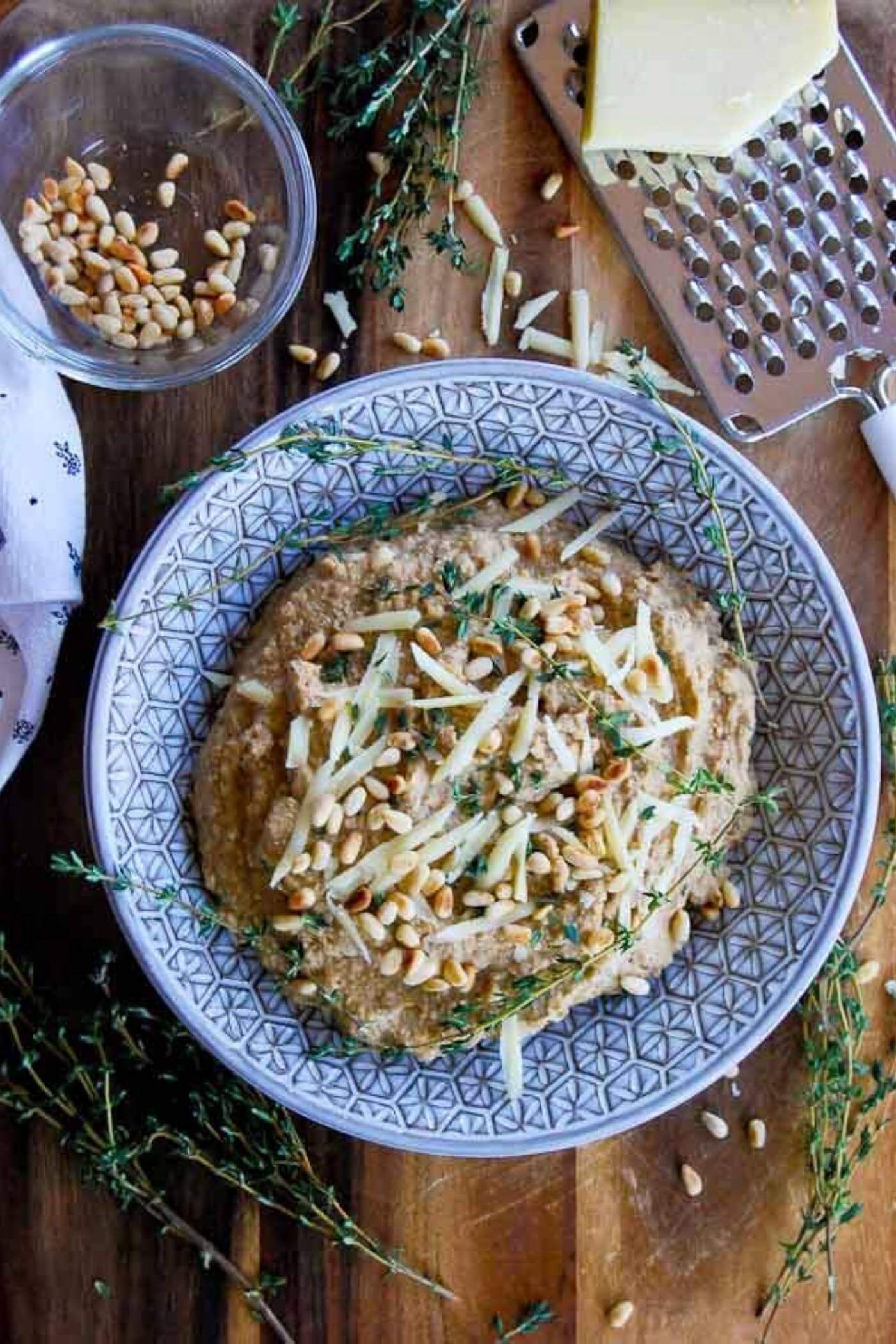 Unless you've been living under a rock, you probably know that cauliflower as a vegetable has really been having a moment. Because of its versatility and the many ways it can replace high-carb dishes, it's showing up in place of all sorts of things like pizza crusts, rice, and yes, mashed potatoes.
What is Cauliflower Mash?
It's likely that by now you've heard of making cauliflower mash, but if not, let's play catch-up. Cauliflower mash is simply mashed up cauliflower, typically combined with some type of dairy, (or dairy alternative) which gives it the consistency of mashed potatoes.
I know what you're probably thinking: "What kind of ridiculous person would want a substitute for mashed potatoes? They're delicious! They're creamy, and smooth and are even more amazing when you add in things like butter, sour cream, garlic, bacon. This is foolery!
I hear you, friend. I LOVE mashed potatoes. But I have to say that after experimenting a bit with cauliflower mash, this meager vegetable has won me over. And while it might never totally replace my first love, it deserves a seat at the table.
So, you might be wondering, "What does cauliflower mash taste like?"
One of the things that makes cauliflower such a great sub in for other dishes is that, by nature, its flavor is sort of bland. It works great as a sub for mashed potatoes because you can make it taste eerily similar by adding in much of what you would normally add in to regular mashed potatoes.
Butter, cream, sour cream, cheese, etc. – the cauliflower will blend seamlessly with all of these and pick up their flavors, and when you puree it with these ingredients once it has been cooked, it takes on a very mashed potato-y type quality. This is great if you're truly trying to replicate mashed potatoes, or want a low-carb alternative. You can even make this version keto-friendly if you sub out the half n half for heavy whipping cream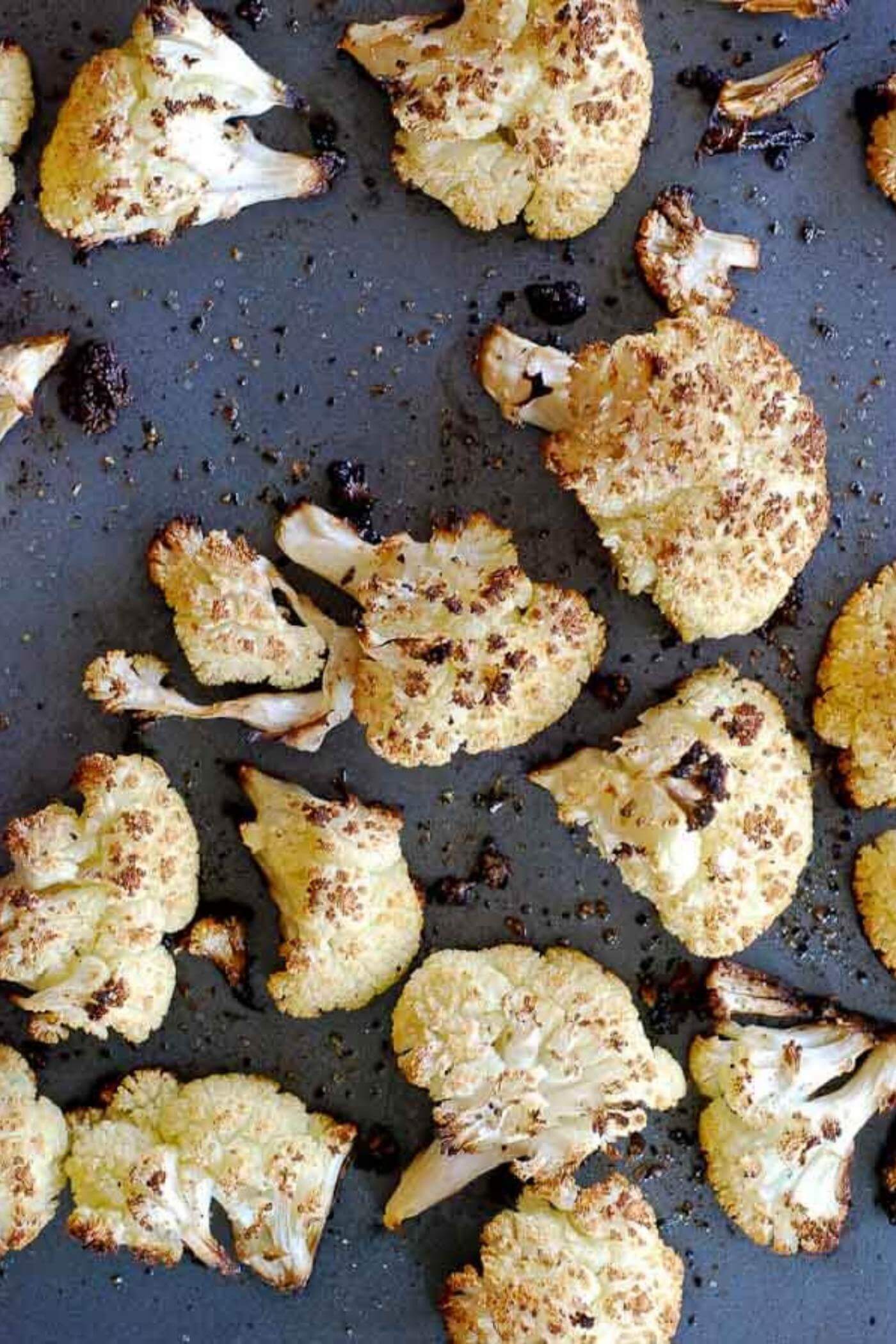 How Do you Make Roasted Garlic Cauliflower Mash?
There are many ways to make mashed cauliflower, and you may find you prefer one method over another, as different methods will deliver different textures and tastes. As I mentioned before, I actually love mashed potatoes, so I wasn't really trying to replace them with this recipe. Rather, I wanted to make something that resembled them but totally stood on its own, with its own, unique taste.
This recipe calls for roasting the cauliflower, which I love because it yields a slightly nutty flavor and I think roasting the cauliflower gives it a bit more depth than boiling or steaming. And the addition of roasted garlic on top of that, well, what's not to love?
I used butter, half n half, and cheese to pull the mixture together and make it creamy, but feel free to use sour cream, ghee, milk even - whatever you normally would use when making mashed potatoes. All of this gets pulsed in the food processor until it's mostly smooth.
And I highly recommend the addition of toppings (mashed potatoes and cauliflower mash really are like savory Sundays, no?) Nuts, extra cheese, herbs, bacon, scallions - all are worthy accompaniments to the delish base.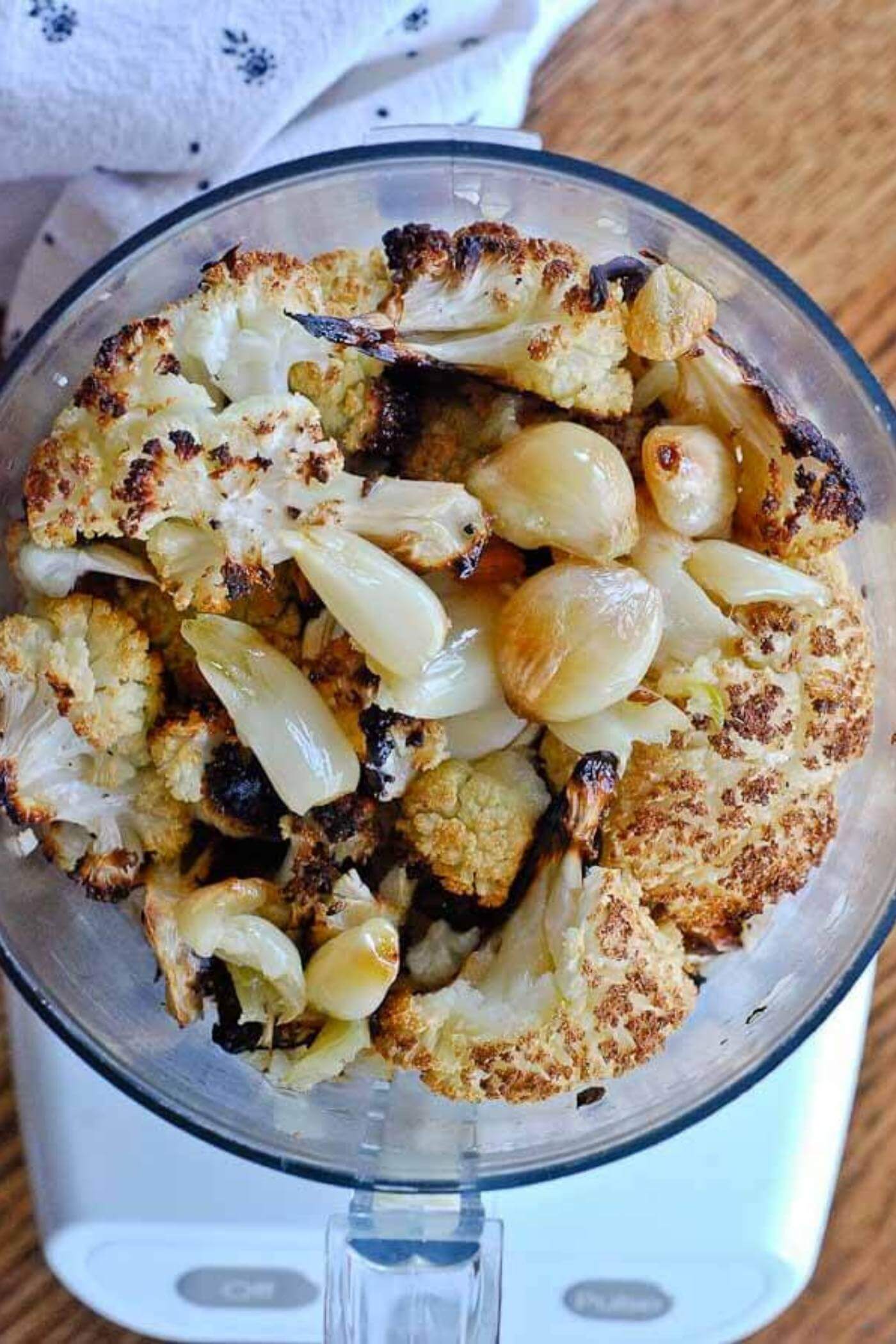 While I prefer the roasting method, many people do like to steam or even, gasp, boil their cauliflower prior to mashing it, which can lead to slightly creamier results since you don't have the sometimes crispier pieces you get from roasting it (though, this also yields less flavor, in my opinion). Play around with different methods and see what you like best.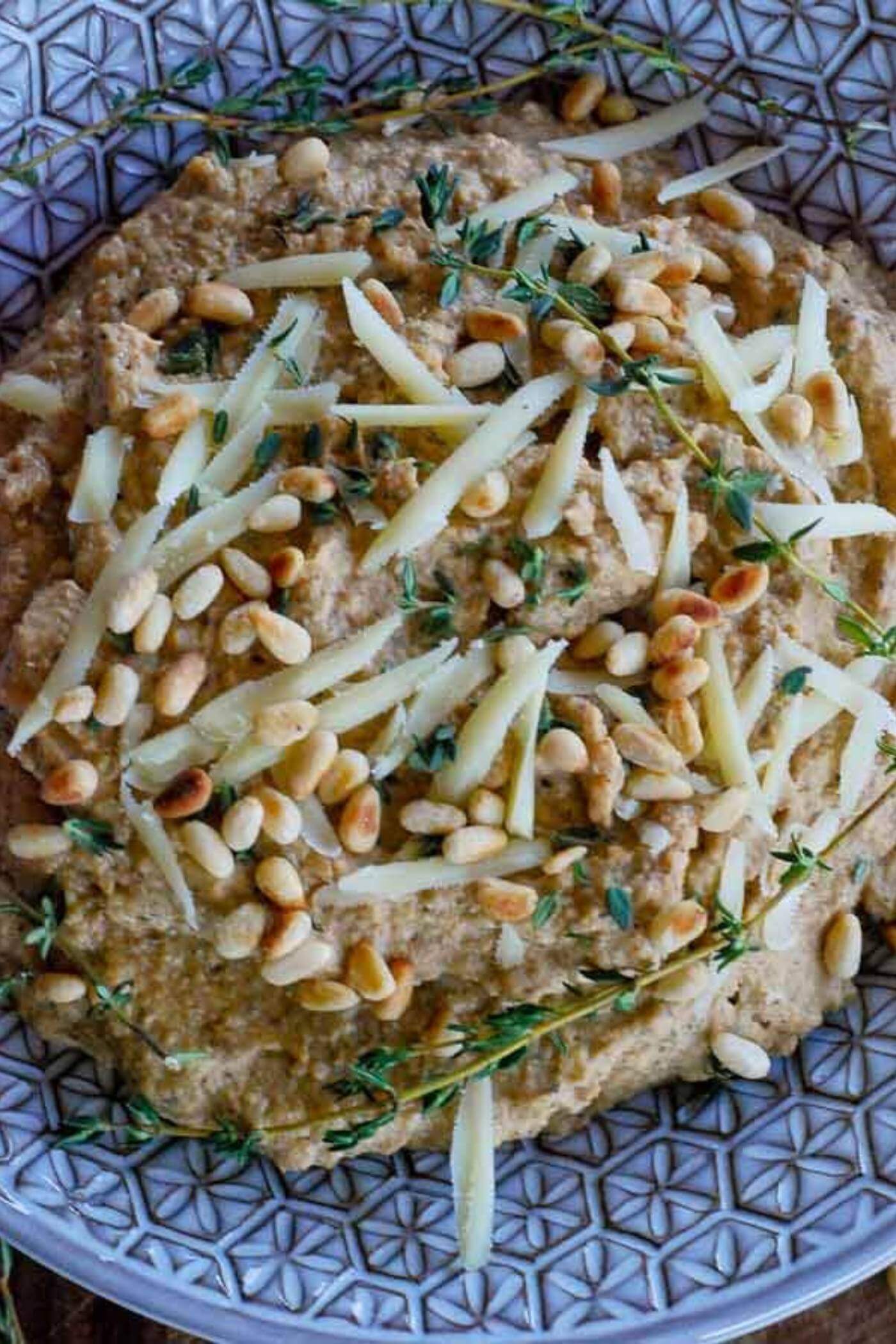 Ready to give Roasted Garlic Cauliflower Mash a try? Serve this alongside or in place of mashed potatoes at your next gathering! And if you do, snap a pic and tag me on Instagram!
Try These Other Great Sides!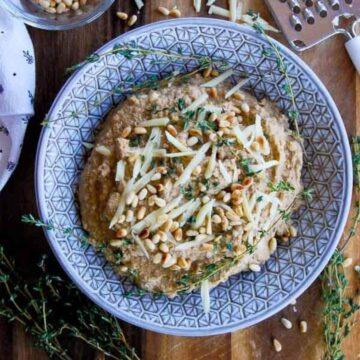 Roasted Garlic And Cauliflower Mash
This cauliflower mash recipe delivers big on the creamy consistency of the standard classic without all the extra carbs!  Perfect for the holidays, or any time!
Ingredients
1

head cauliflower

2

tablespoon

olive oil

¼

teaspoon

each, salt and pepper

1

head roasted garlic

½

cup

half n half

3

tablespoon

buttter

⅓

cup

grated gruyere cheese

1

tablespoon

thyme, plus more for garnish

⅓

cup

toasted pine nuts
Instructions
Preheat the oven to 450 degrees.

Chop up cauliflower head into bite sized pieces and arrange on a foil lined sheet pan. Add olive oil and, using your hands, mix cauliflower until well coated. Sprinkle salt and pepper over the cauliflower mixture and set aside.

Prepare your garlic for roasting.  Chop off the top of the garlic head, place it in some foil and add olive oil to the tip of the garlic head. Wrap tightly in the foil and place it in a shallow baking dish with about 1 cup of water.

Bake the cauliflower in the oven, uncovered, for about 30 minutes, checking often to make sure the cauliflower pieces are not burning. You can roast the garlic at the same time in the oven for about 45 minutes, or until the garlic cloves are soft.

As the cauliflower and garlic are roasting, toast the pine nuts over low heat in a skillet on top of the stove for about 2-3 minutes, stirring often. Remove from heat once they become fragrant and start to brown slightly.

Once the cauliflower and garlic have finished baking, allow them to cool slightly. Remove the garlic cloves by squeezing them out of the head of garlic (they should slide out easily).

In a food processor, add the cauliflower, garlic cloves, half n half, butter, ½ of the cheese mixture, and the thyme.

Pulse in the food processor until smooth, adding more half n half as needed to get the consistency you want.

Transfer the mashed cauliflower to a serving bowl, and top with the remainder of the cheese, extra thyme, and pine nuts.