Maple Bacon Brussels Sprouts are a delicious side dish that can be made in 20 minutes with only 5 ingredients! Maple syrup adds a touch of sweetness while the bacon gives these Brussels a salty punch.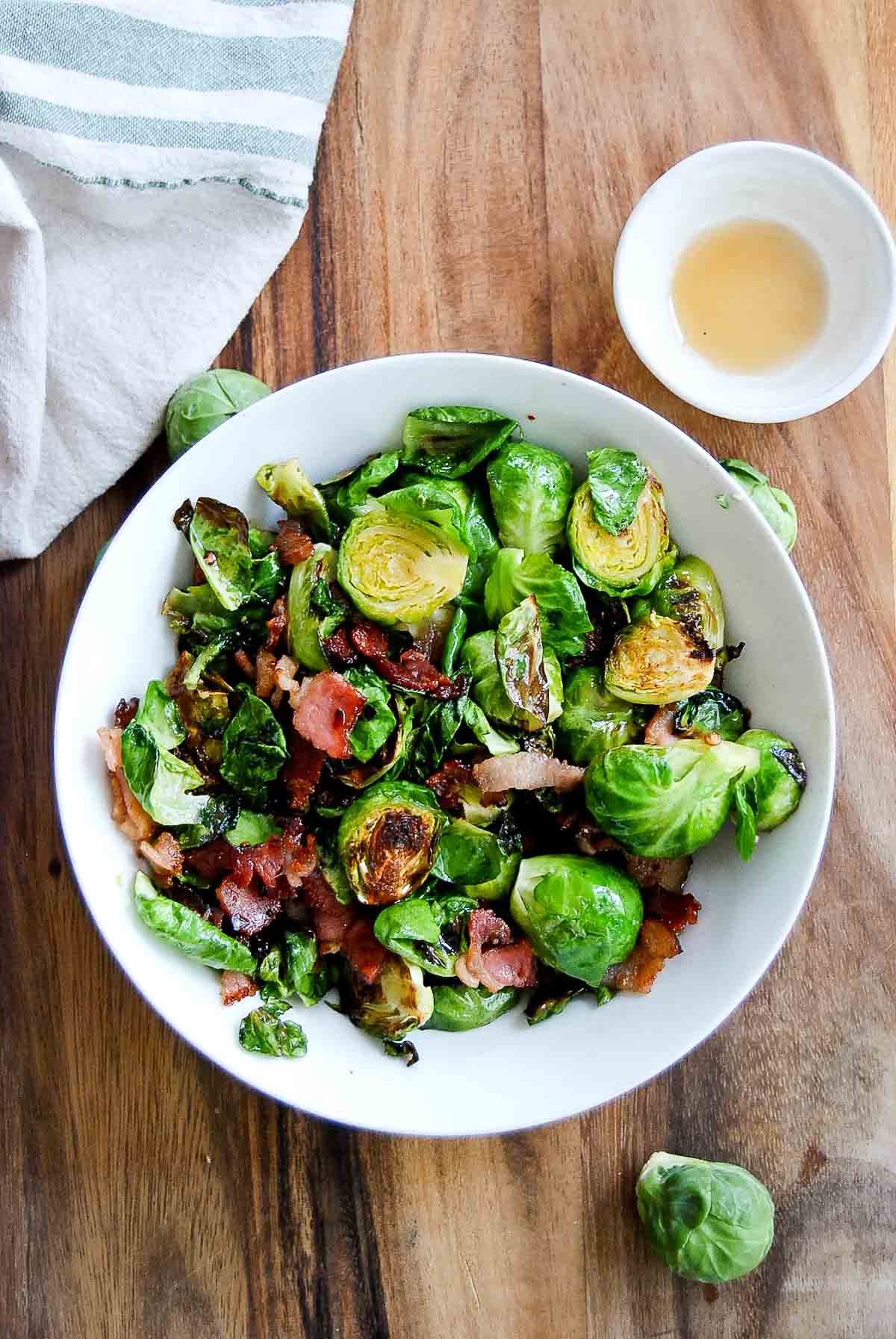 I think by now we all know that yes, we actually DO like Brussels sprouts! (And if you haven't hopped on that train yet, keep reading!) When prepared correctly Brussels sprouts become crunchy, crispy little nuggets of goodness that are hard to resist. Everyone has their favorite Brussel sprouts recipe, and this one should definitely be a contender. 
This maple bacon brussel sprout recipe is another great way of serving these amazing veggies.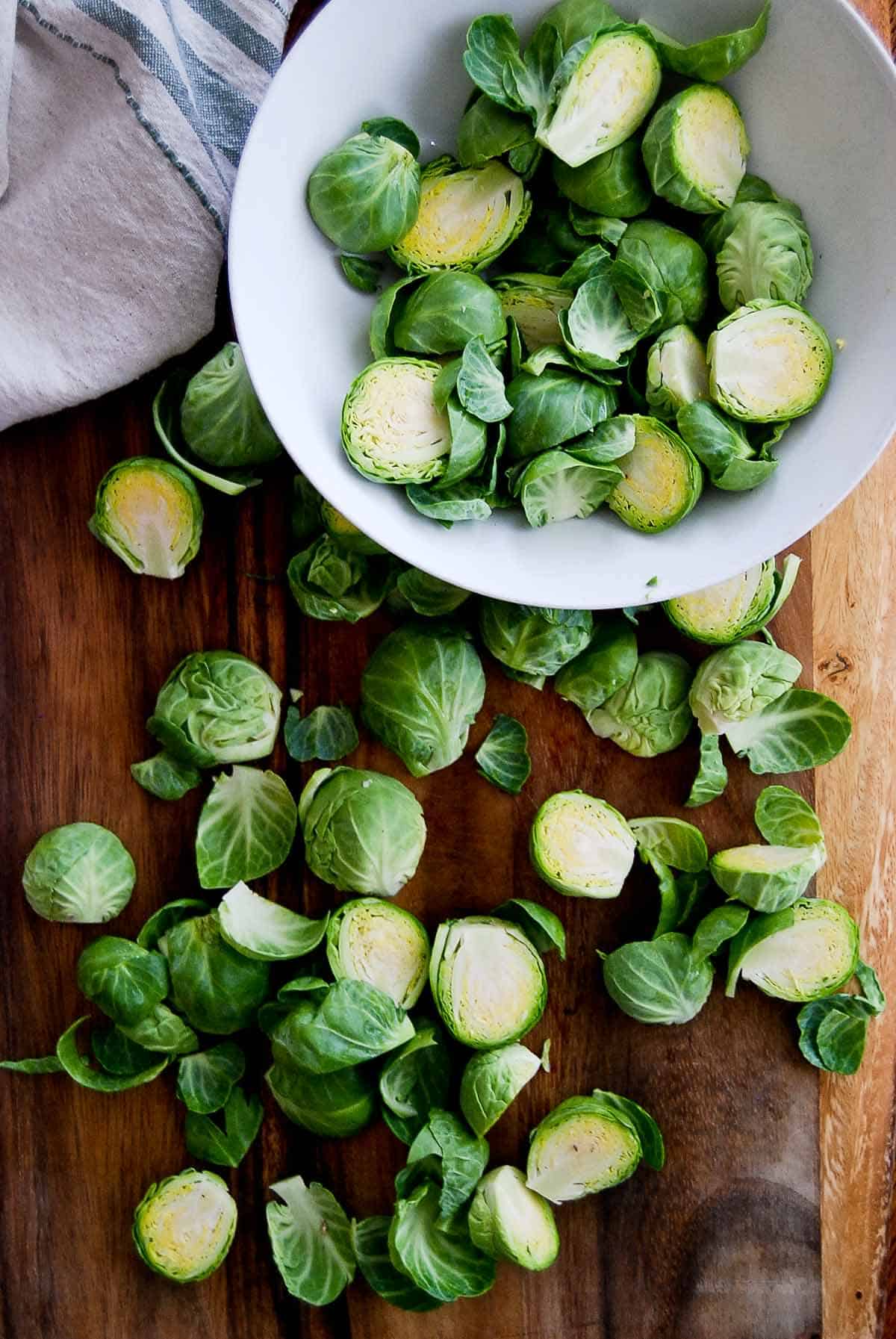 Why I love this easy side dish!
It's fairly healthy. Brussels sprouts are so good for you! Yes, the maple syrup adds a touch of sugar, and the bacon adds a little bit of fat, but it's in small qualities. And since you're using the residual fat from the bacon to cook the Brussels, you don't have to use extra fat (aka, oil) for the brussels sprouts.
These maple Brussel sprouts with bacon are so delicious. The combination of sweet and salty from the maple syrup and bacon takes these over the top. It's a decadent dish and the perfect side dish for a holiday meal.
Sauteed Brussels Sprouts mean extra oven space! Pan-fried brussels sprouts are the BEST when you don't want to take up valuable space in your oven. Don't get me wrong - you could roast these if you want, and they would be just as delicious. But sauteeing the brussels sprouts is a bit faster, allows you to really customize the caramelization on each side of the brussels sprouts, and gives you space to use your oven for other things - especially helpful when you're preparing for a bigger meal.
Key Ingredients For Maple Bacon Brussels Sprouts
These ingredients won't surprise you if you've read the title of this Brussel sprouts with bacon recipe, but that's what makes it so great. It really is just a short, simple list - only 5 ingredients total!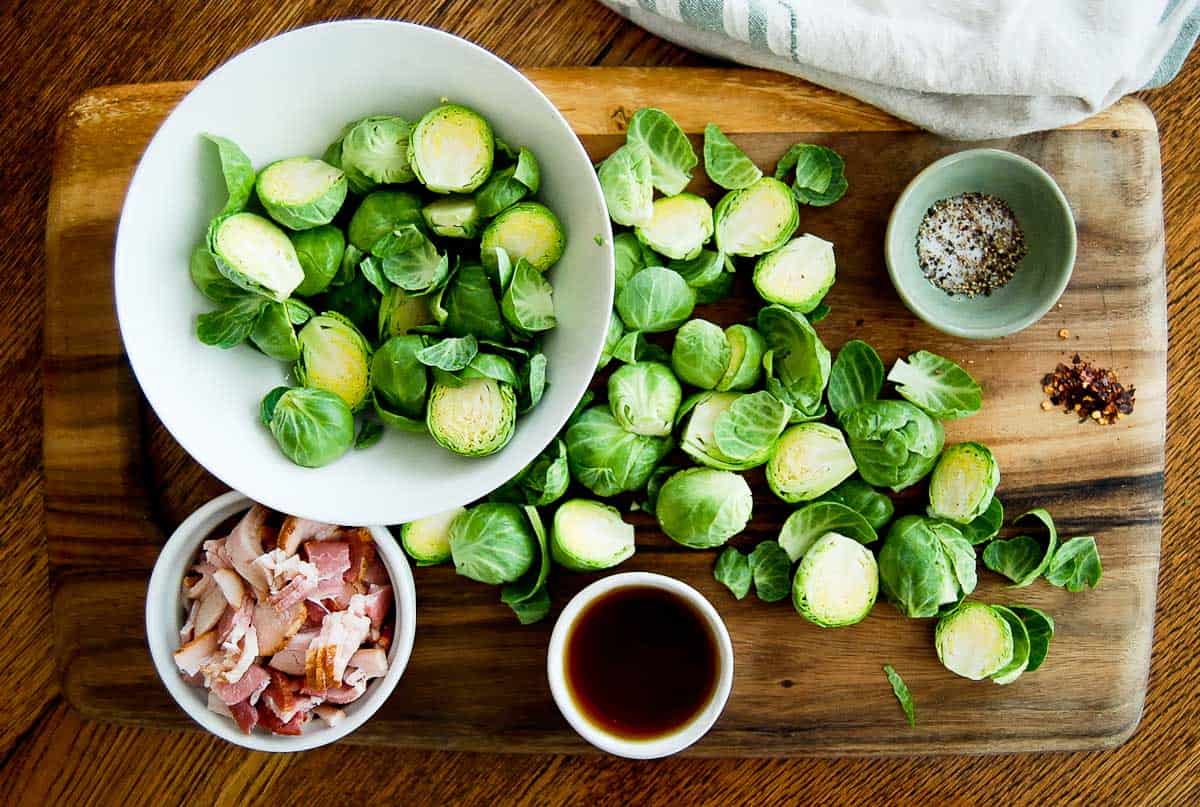 Brussels Sprouts. You either love them or hate them. But I'd argue if you think you hate brussels sprouts, you haven't experienced Brussels sprouts with bacon. Pan-frying them (or roasting them) allows them to develop a crispy, crunchy exterior and the right seasonings (even just a little salt and pepper) can make these a delicious side dish. Plus, you really can't overstate the health benefits of Brussels sprouts.  They can help protect you against many types of cancers and other health issues, like high blood pressure, heart disease, and diabetes.
Bacon. Oh, bacon. It makes everything a little better. I used about half of a 1-pound package in this bacon Brussel sprouts recipe, but if you're concerned about the calories in bacon, feel free to cut back. Even just using a few slices will add a balcony flavor to the dish and give it that salty smoky flavor that we're after here. Crispy Brussel sprouts with bacon - once you've tried it you won't ever want Brussels sprouts without it! 
(Note - The best type of bacon to use here is standard-cut bacon. Avoid using thicker-cut bacon here, which may be a bit fattier and produces chewier pieces instead of the crispy nuggets we're looking for in this dish.)
Maple Syrup. Just a touch of maple syrup helps to coat everything in a light caramel sweetness. Try to use 100% maple syrup here for these maple Brussel sprouts if you can. The flavor will be richer and more caramely. Artificial maple syrup will do in a pinch, but it just can't compare to the real thing.  
Salt & Pepper. Helps to enhance the flavor of everything!
Crushed Red Pepper. This is an optional addition, but if you like a touch of spice, it's definitely recommended. Combined with the maple syrup it's unbeatable.
How To Make These Pan-Fried Brussel Sprouts With Bacon And Maple Syrup.
This is a super easy side to make.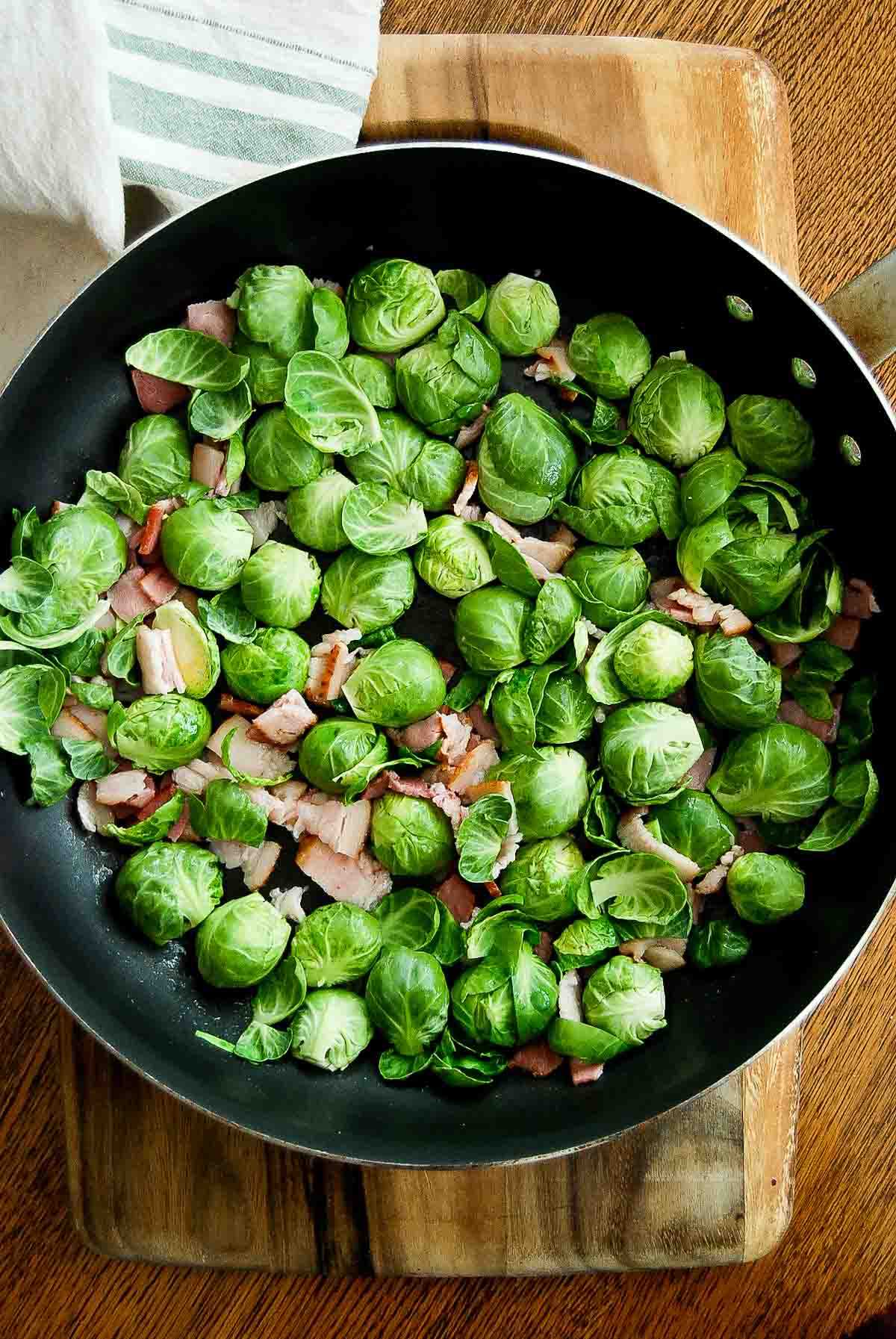 Start by sauteing the chopped bacon over medium heat in a large skillet. Cook the bacon bits until they're brown and crisp, then remove them with a slotted spoon and set aside. There will be a bit of residual bacon fat in the pan - don't wipe this clean! You'll want to reserve about 1 tablespoon of it to cook the brussels sprouts in. Discard the rest.
Add the Brussels sprouts to the pan, placing the cut sides of the sprouts down against the pan. Allow the sprouts to cook undisturbed for about 6 minutes, or until the cut sides are a rich caramel color and are crispy. Add a touch of salt and pepper to the pan, stir, and cook some more, until the Brussels sprouts are nice and crispy.
Remove the Brussels sprouts from the heat and add in the bacon. Drizzle the maple syrup over the top of the dish and stir to coat.
Serve immediately.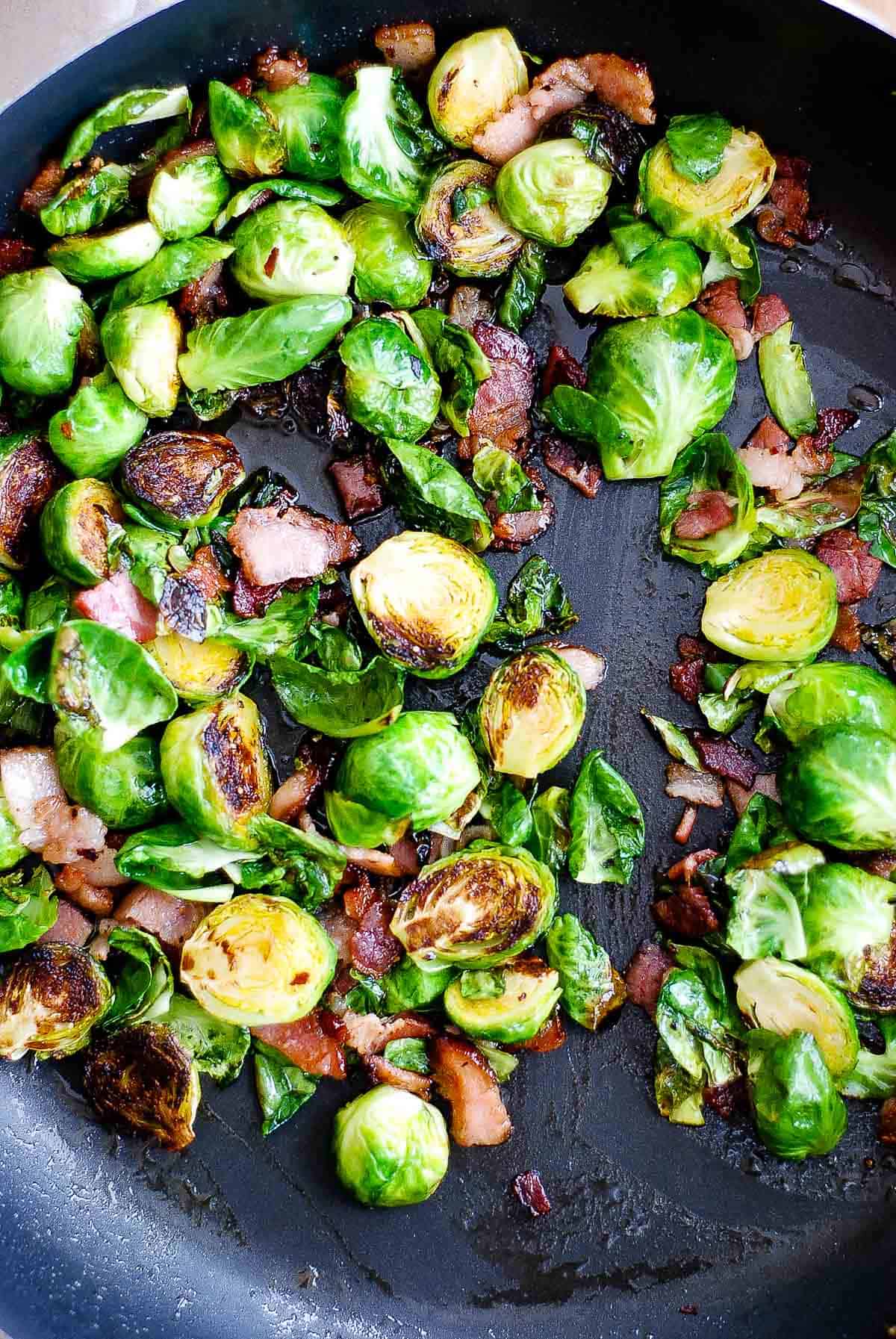 FAQs And Helpful Tips
Can I make these maple bacon glazed Brussel sprouts ahead of time? Well, sort of. Brussels sprouts don't hold up well after they've been cooked, and they're difficult to reheat because they become quite soft. However, if you want to save yourself some time, wash, trim and divide the Brussels sprouts, and chop your bacon ahead of time so that everything is ready to throw together when you're ready to cook.
Can I freeze this dish? Again, freezing and reheating will lead to soft Brussels sprouts, so freezing is not recommended. This dish is best served immediately.
What kind of bacon should I use? We want our bacon to be nice and crispy for this easy side dish, so using standard-cut bacon is recommended. Thicker cuts of bacon tend to have a higher fat content and may end up being chewier.
Do I need to warm the maple syrup up before adding it to the dish? Nope! The heat from the Brussels sprouts will be enough to heat the syrup.
Can I roast these instead? Yep! If you'd rather pop everything into the oven and walk away, no problem! Just toss your Brussels sprouts in about 1 tablespoon of oil before placing them on the pan with the bacon. This will ensure they caramelize all over and crisp up nicely.  (We don't use oil in the original maple bacon Brussels sprouts recipe because the Brussels sprouts fry up nicely in the leftover bacon fat!)
Did you make these Maple Bacon Brussels Sprouts? Let me know what you think in the comments below!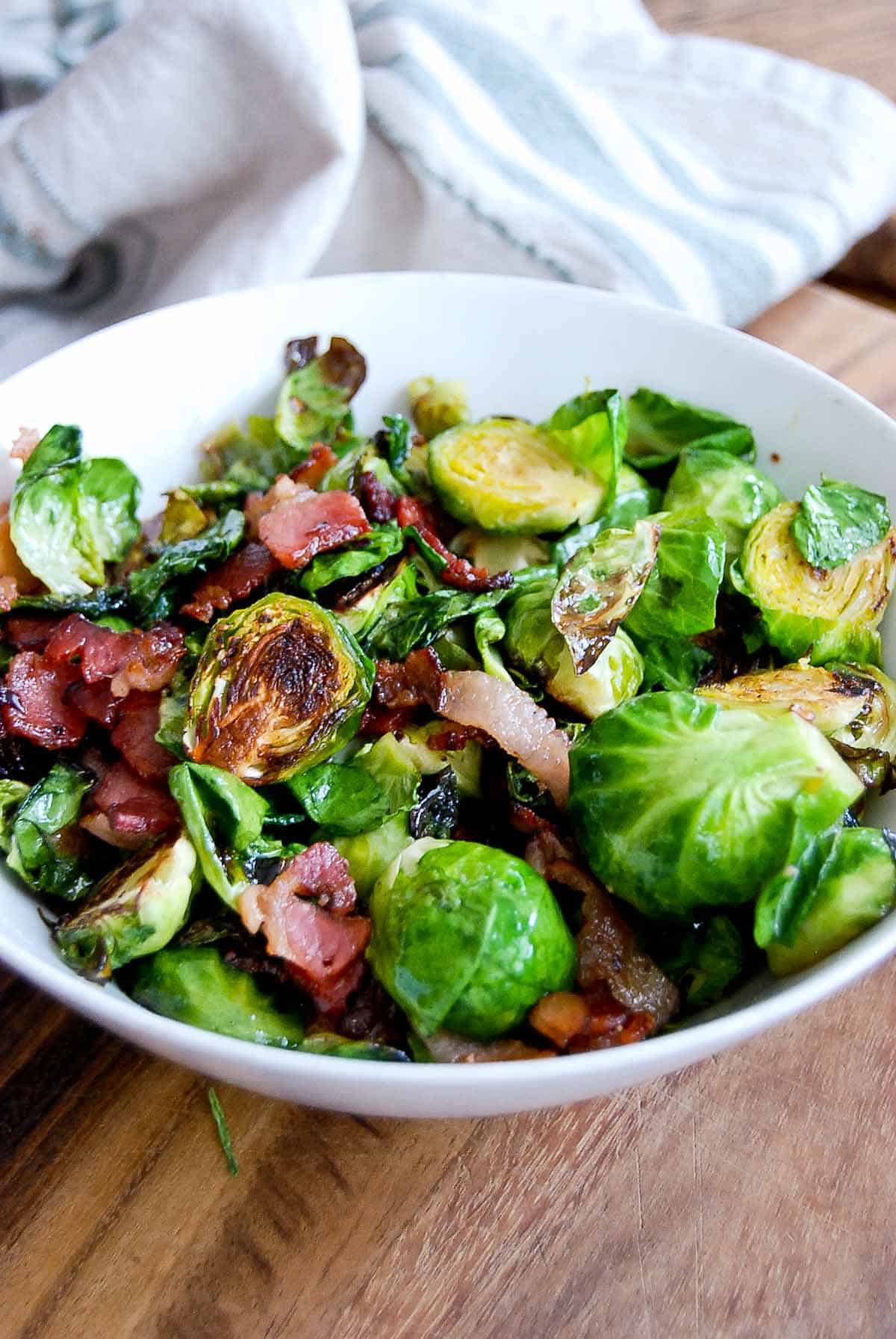 More Easy Side Dishes
Recipe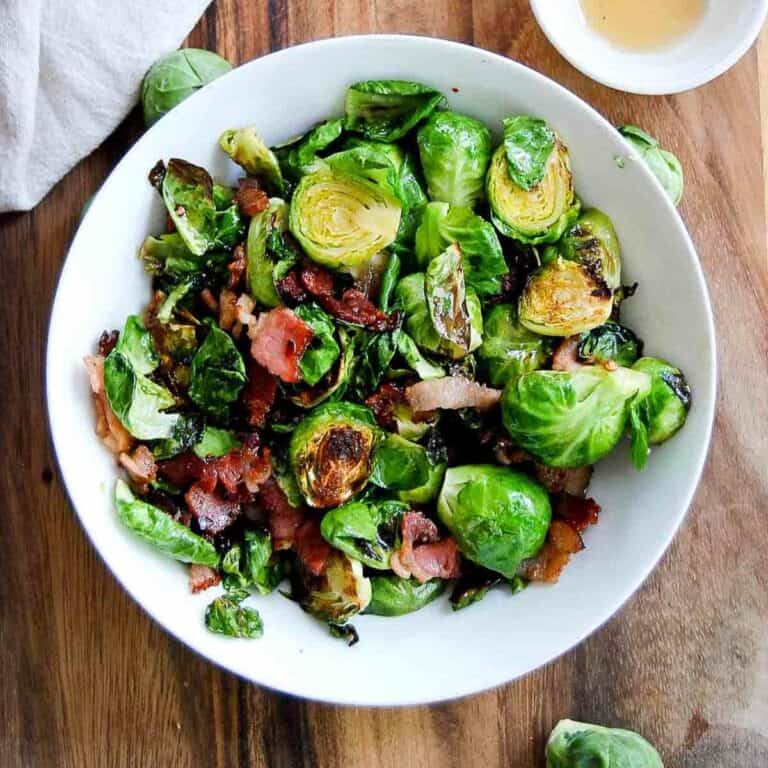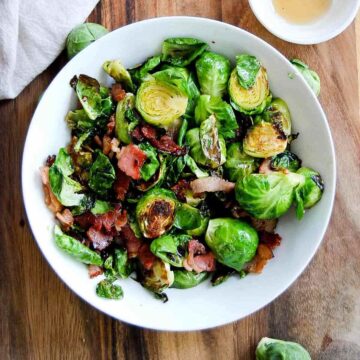 Maple Bacon Brussel Sprouts
Maple Bacon Brussels Sprouts are a delicious side dish that can be made in 20 minutes with only 5 ingredients! Maple syrup adds a touch of sweetness while the bacon gives these Brussels a salty punch.
Ingredients
1 ½

lb

Brussels Sprouts, halved

½

lb

bacon, choppd

1

tablespoon

maple syrup

salt and pepper to taste

½

teaspoon

crushed red pepper (optional)
Instructions
Heat a large skillet over medium heat. Add the chopped bacon and cook until browned. Remove the bacon from the pan with a slotted spoon. Reserve about 1 tablespoon of the bacon fat in the pan. You'll use this to saute the brussels sprouts in.

To the same pan, add the chopped Brussels sprouts, cut side down. Allow Brussels sprouts to cook, undisturbed, for about 6 minutes, or until the cut side that's touching the pan is brown and caramelized. Add salt and pepper to taste and stir, cooking the Brussels sprouts for another 5-10 minutes.

Remove the pan from heat and stir in the bacon, and crushed red pepper if using. Drizzle the maple syrup over the top of the Brussels sprouts and stir to coat.
Notes
Use standard-cut bacon for this recipe. Thicker cuts will be fattier and chewier and not as crisp as we'd like for this recipe.
Not recommended to make ahead. Brussels sprouts don't reheat well, so make these just before serving. To save some time, you can prep the Brussels and bacon so that all you have to do is toss everything into the pan once you're ready to cook it.
Can I freeze it? It's not recommended to freeze this recipe. Again, when you reheat it, the Brussels sprouts will be a bit soft - definitely not as good as they are right off the stove!
Can I roast these instead? Yep! If you'd rather pop everything into the oven and walk away, no problem! Just toss your Brussels sprouts in about 1 tablespoon of oil before placing them on the pan with the bacon. This will ensure they caramelize all over and crisp up nicely.  (We don't use oil in the recipe above because the Brussels sprouts fry up nicely in the leftover bacon fat!)