Sheet Pan Chicken Thighs With Sausage And Potatoes is the perfect meal for a cold day, and an easy and delicious dish to serve to guests. The hearty dish is complimented with surprising flavors like oregano and orange zest, which blend to create an amazingly flavorful dish.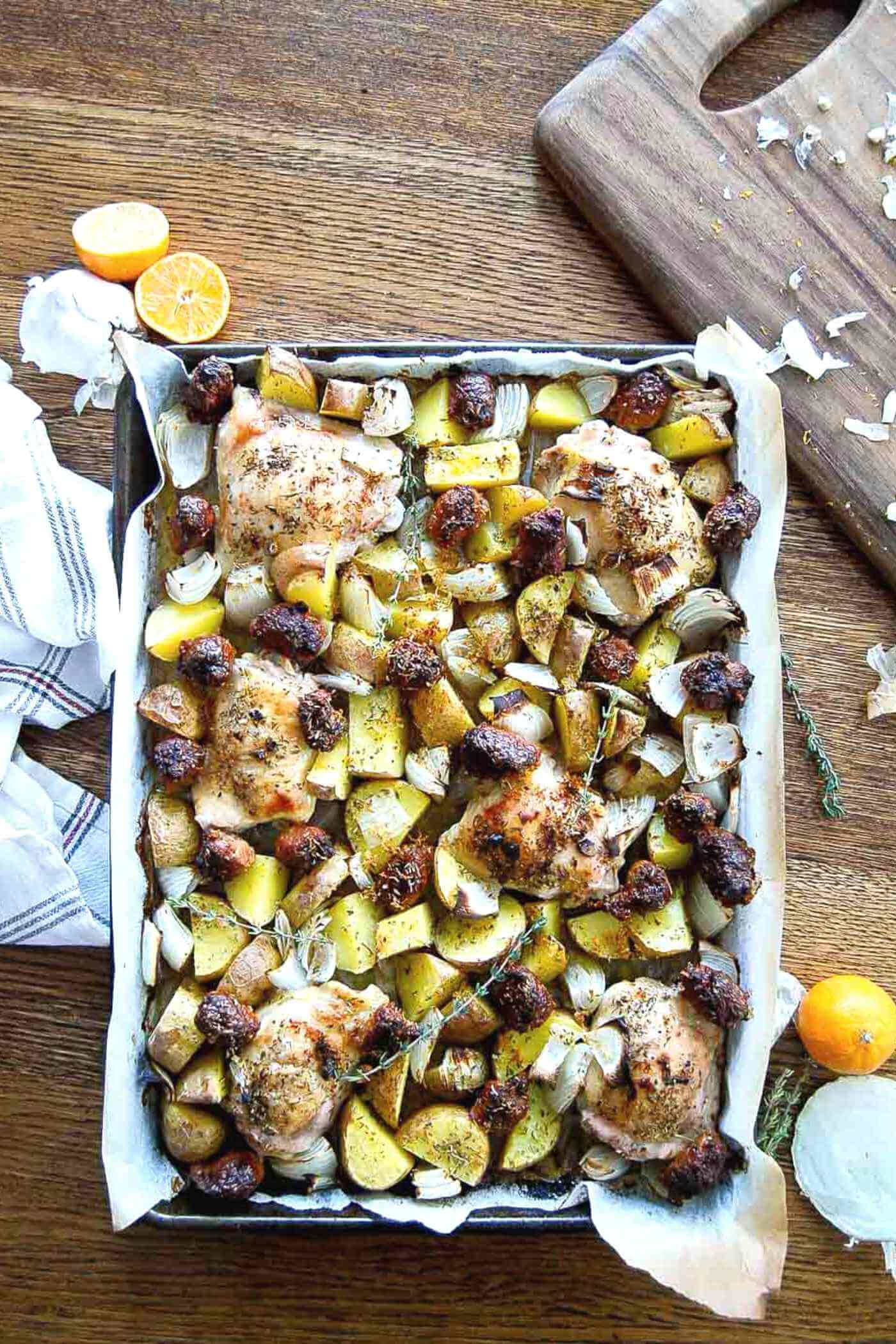 I love to cook, and there are times when I happily slave for hours over a dish for my family or friends, testing out new recipes and trying intricate techniques. But lately, I'm all about easy, and nothing is easier than a sheet pan dinner. And I'm truly loving this sheet pan chicken with sausage, potatoes, and orange zest.
What I Love About This Easy One Pan Weeknight Meal!
These sheet-pan chicken thighs are stupid-simple to make. You literally just pile everything on the pan - the chicken, sausage, onion, potatoes, garlic, and spices - and your oven does all the work. The best hands-off meal ever!
It's hearty enough for a fall or winter meal. Nothing says comfort like meat and potatoes, amiright?
It's so so good. This sheet pan chicken thighs recipe is layered with surprising flavors like oregano and orange zest, which complement the chicken and the spiciness of the sausage perfectly.
Easy enough for a weeknight dinner, but fancy enough for company. Just throw everything on a nice-looking platter and voila, dinner is served!
What Ingredients Do I Need?
The name of the dish sort of gives it away, but here are a few more details: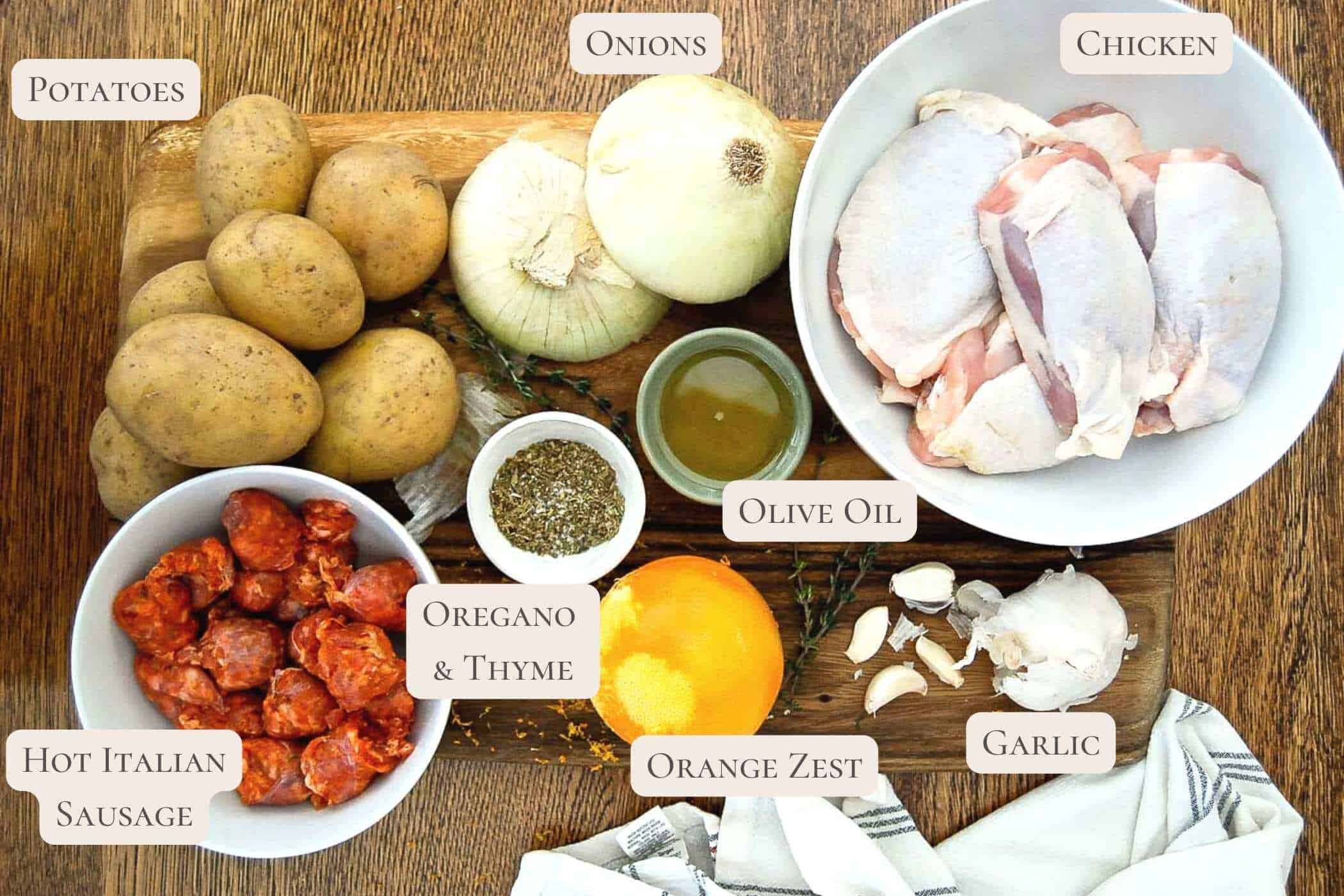 Chicken. I love using chicken thighs when roasting chicken because they're much more forgiving than breasts which can easily dry out in the oven if you're not careful. Be sure to use bone-in as the meat will be a bit more flavorful and tender.
Italian sausages. I love using hot Italian sausage in this dish to pump up the heat, but if you're not a spice fanatic like me, you can use mild and it will still taste delicious. Sometimes I even use a mix, especially when I know I'm serving it to little ones.
Potatoes. You can choose what type of potato you like here, but I think Yukon gold potatoes work great. Just be sure to cut them in a similar size so that they all cook evenly.
Onion and garlic cloves. These amp up the flavor. You can really use any kind of onion you want to - I used sweet onion here but have used red onion with great success in the past. And, have you ever had roasted onion quarters? Yuuumm…
Oregano & Thyme - so good with the chicken!
Orange Zest. The secret ingredient! Something about the addition of the orange zest here makes this dish. It brightens everything up in an unexpected way and really enhances the other flavors. DO NOT OMIT THIS!
How To Make This Delicious Sheet Pan Chicken Thighs With Sausage And Potatoes Recipe
No real tricks here folks -just arrange all the ingredients on a sheet pan and bake. Here's the order I like to follow:
Start by lining a large sheet pan with parchment paper, and pour the olive oil onto it. Then rub the chicken thighs in the oil on both sides to coat and arrange them on the tray.
Next, I typically add the potatoes, onions, and garlic, then the sausage.
Finally, sprinkle the entire pan with the orange zest and spices, pop the sheet pan in the oven, and go about your business. Rotate the pan halfway through and in an hour you'll have an amazing meal on the table.
This chicken, sausage, and potato dish is great for families (everyone in my family LOVES it), but it's classy enough to serve on a platter if you have company coming over. Add a salad and some crusty bread and you're good to go!
FAQs/Tips For Success
Does the chicken have to be bone-in/skin-on? Not necessarily, but it really does give the chicken more flavor than boneless/skinless thighs.
Do I have to use chicken thighs? Nope! I love the way the dark meat of the thighs pairs with the sausage, but if it's white meat you're looking for feel free to opt for chicken breasts instead. You can also use chicken drumsticks!
Don't skip the orange zest or oregano! They add so much flavor and make this sheet pan chicken dinner really pop.
Don't put all the same ingredients in one spot on the sheet pan. Be sure to spread your ingredients out across the pan - in other words, don't lump all the same type of thing in one spot. This dish really benefits from the flavors blending together and mixing the ingredients up on the sheet pan helps to do this while it is baking.
What if I'm making this for more than 4-6 people? As written, this recipe serves 4-6 and is made by roasting everything on one pan. But, as you can see from my pictures - this is a TIGHT fit. If you want your veggies a bit crispier, or if you're upping the recipe to feed more, just divide the ingredients onto two sheet pans. Then after the first 25 minutes, flip the pans, moving the top pan to the bottom rack, and the bottom pan to the top rack. This will ensure that everything bakes evenly.
Storage. Any leftovers can be stored in an airtight container for about 2 days.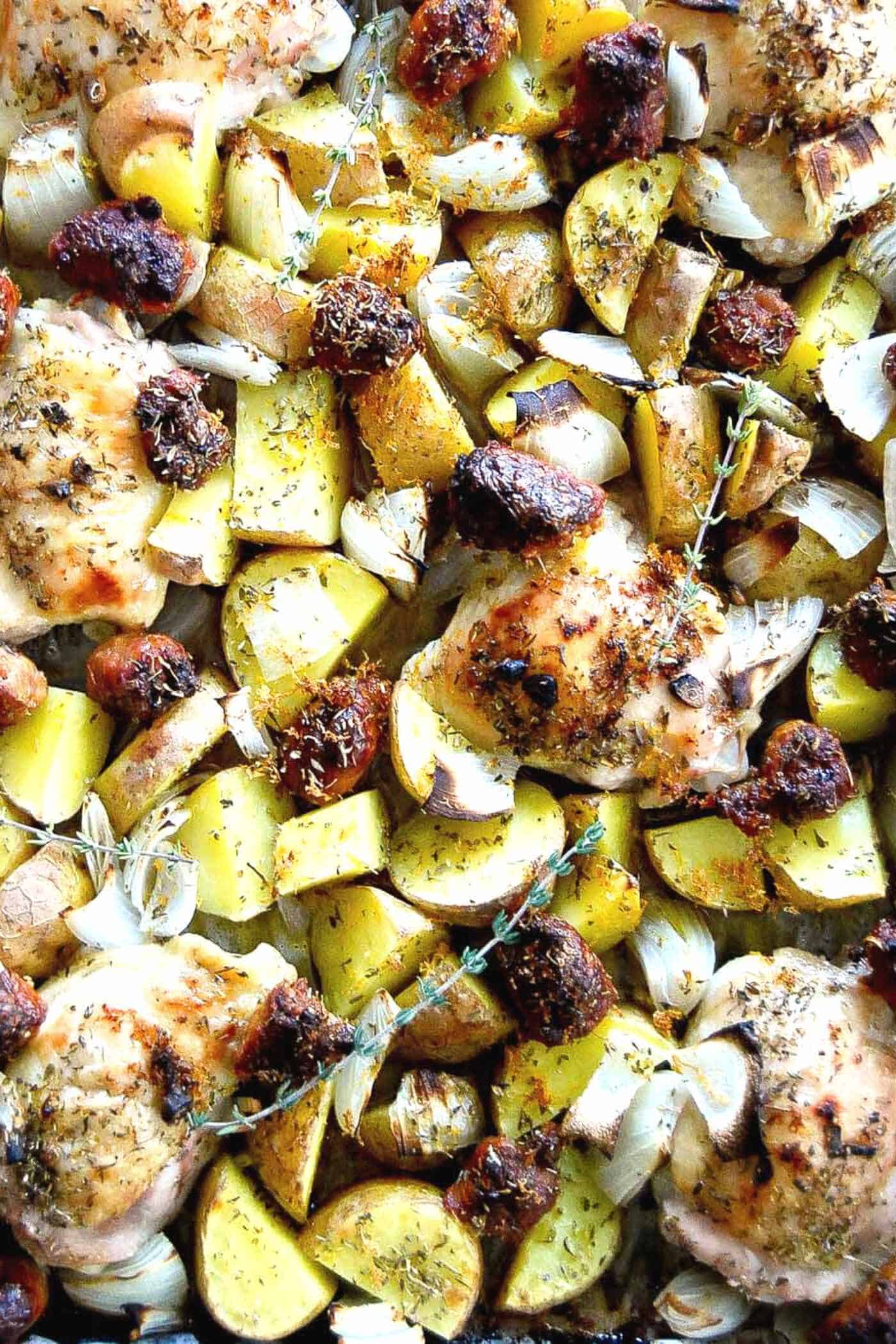 What To Serve With This Chicken Sheet Pan Dinner.
This recipe is great because you could serve it as a full meal all on its own. But if you're looking for a little extra, one of these salads or bread recipes is a great fit:
If you try this recipe, don't forget to tag me @FrontRangeFed on IG. I love to see your creations!
Recipe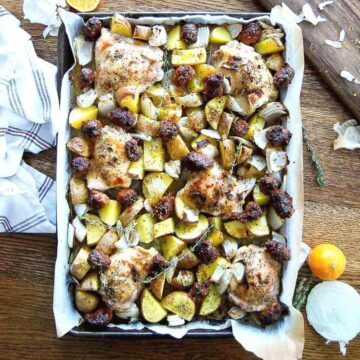 Sheet Pan Chicken Thighs With Sausage And Potatoes
Sheet Pan Chicken Thighs With Sausage And Potatoes is the perfect meal for a cold day, and an easy and delicious dish to serve to guests. The hearty dish is complimented with surprising flavors like oregano and orange zest, which blend to create an amazingly flavorful dish.
Ingredients
3

tablespoon

olive oil

3

lbs

chicken thighs, bone in with skin on (about 6 pieces)

4

hot Italian sausages, sliced into 14 inch rounds

2

lbs

yukon gold potatoes, cut into 1 inch pieces

1

large onion, quartered, and divided

4

garlic cloves, roughly chopped

1

tablespoon

dried or fresh oregano

½

tablespoon

dried thyme

zest of 1 orange

salt and pepper to taste
Instructions
Preheat the oven to 450 degrees F.

Line a sheet pan with parchment paper. Pour 2 Tablespoons of olive oil onto each sheet pan. Rub the chicken in the oil to coat on both sides, then place skin up on the pan. Season with salt.

Add the potatoes, sausage rounds, quartered onions, and chopped garlic to the two pans, divided evenly.

Sprinkle the oregano, thyme and grated orange zest over the pans.

Cook for 25 minutes, then rotate the pan in the oven and cook for an additional 20-25 minutes, or until chicken is cooked through and the potatoes are crisp.

Transfer the contents of the sheet pan to a platter, sprinkle additional oregano on top, and serve immediately.
Notes
Bone-in chicken. Use bone-in, skin-on chicken thighs if you can - the meat will be so much more tender and flavorful.
Try other cuts of chicken. Chicken drumsticks work great with this recipe too. And chicken breasts will work too, although they may be a bit direr than the dark cuts.
Spread the ingredients across the pan and mix it up. This helps the flavor blend together and complement each other.
For crispier veggies, don't crowd the pan. You may even want to spread all the ingredients into two pans for optimal crispiness. Just be sure to rotate the pans from top to bottom racks halfway through cooking to make sure both pans cook evenly.
Don't skip the orange zest or oregano! These two ingredients make the dish and add so much flavor!