"What is a Grinder Sandwich?" you may be asking. This Grinder Sandwich Recipe is basically a meat and cheese-packed sub that is toasted in the oven, then topped with a tangy tomato, onion, and lettuce salad. Easy to make and even easier to eat, this classic Italian sandwich is great for a casual lunch or dinner.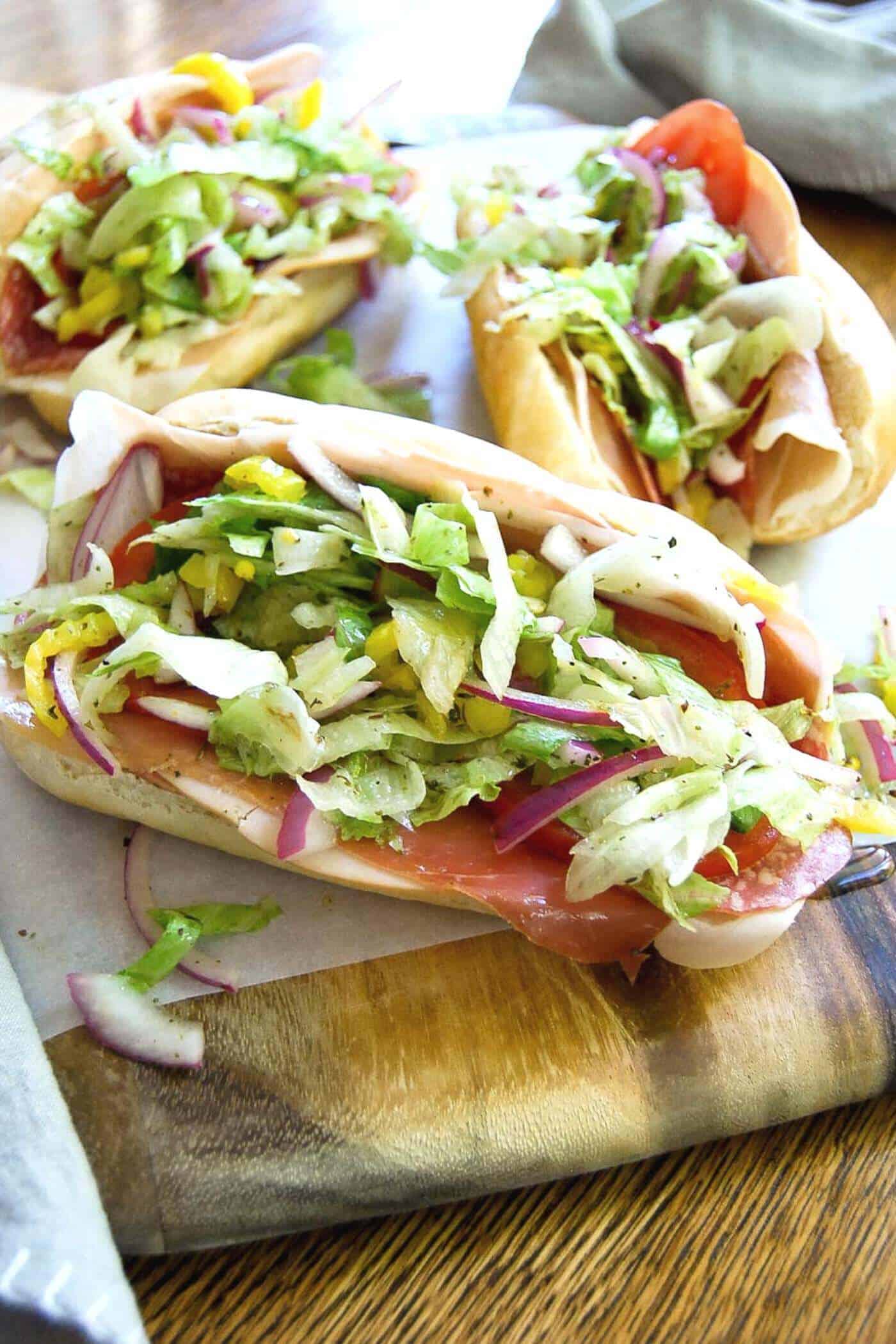 Why I Love This Delicious Italian Grinder Sandwich Recipe
Grinder sandwiches are the perfect lunch option for cooler weather - the delicious crusty bread, warm deli meat, and melty cheese make this a total comfort food. There's a reason these grinder sandwiches have gone viral on Tiktok!
The "grinder salad" provides such a nice tang and crunch.
Easy to make in under 15 minutes.
These Italian grinder sandwiches are perfect for a casual lunch or dinner!
Key Ingredients For This Grinder Sandwich Recipe
Bread. This may actually be the most important ingredient in my opinion. The best bread for a grinder sandwich is a bit crisp on the outside but soft in the middle. I like to use sub rolls, but if yours are a bit soft, an easy fix is to just pop them in the oven for about 2-3 minutes at 350 degrees. This will make the outside the perfect amount of crispy and leave the inside pillowy soft - perfect for this Italian grinder!
Deli Meats. A nice mix of deli meats is good here, but be sure to use at least a couple that are somewhat salty, like a good salami. I used a mix of turkey and ham as the base, then topped these off with salami and prosciutto.
Provolone Cheese. This is a must-have in my opinion. Provolone produces just the sort of melty cheese you want here and has a nice mild flavor that won't cancel out the strong taste of the deli meats and your tangy slaw topping.
Grinder Salad. This is a mixture of chopped lettuce, tomatoes, red onion, banana peppers, Italian Spices, vinegar, and olive oil. It gives the whole sandwich a nice tangy crunch!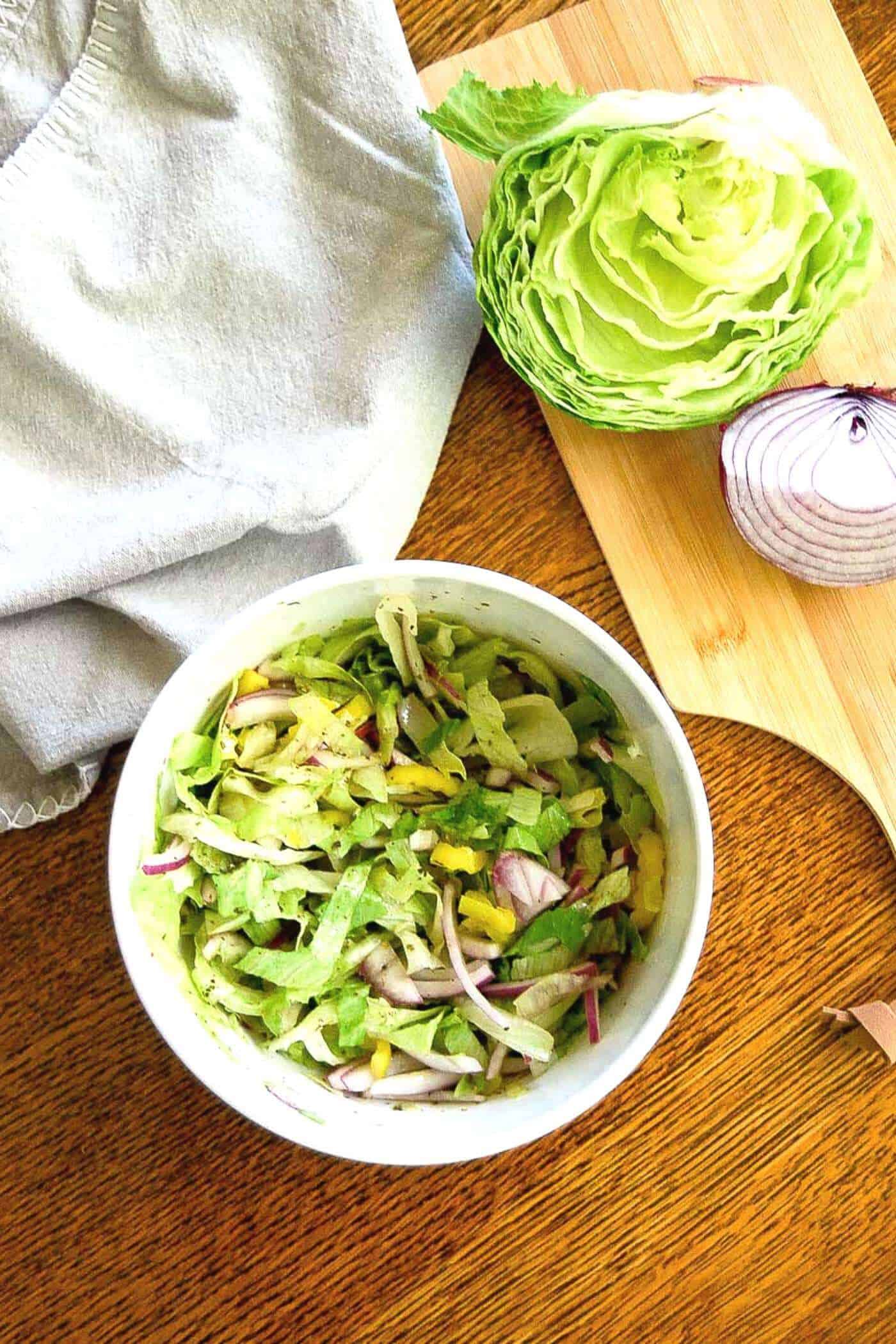 How To Make A Grinder Sandwich
Making a grinder sandwich is really all about layering.
Prepare your bread. As I said above, a crusty on the outside, soft on the inside bread is the best for this sandwich. If your bread is too soft on the outside, heat it in a 350 degree oven for about 2-3 minutes, then slice in half lengthwise and you should be good to go.
Make your grinder salad. Slice your iceberg lettuce into ribbons, thinly slice your onions and chop your banana peppers, then add some red wine vinegar, Italian seasonings, salt and pepper and mix until well combined.
Cover your cut sub rolls with the Provolone cheese and broil it in the oven on high for about 2 minutes. Watch this carefully - you want the cheese to be nice and melted, but not at all burnt. If it starts turning brown, take the subs out immediately.
Layer on your meats - turkey, ham, salami and prosciutto - on top of the melted cheese. I like to lay these out across the whole sub so that it makes a nice "hammock" or casing for the grinder salad.
Add thinly sliced tomatoes to the hoagie sandwich.
Add your grinder salad in the middle of the grinder sub, fold the subs in half and enjoy!
Tips For Success
Prevent a soggy sub. A common pitfall of a grinder sandwich is that the grinder salad can sometimes be a bit too liquidy and can create a soggy sub, which no one wants. A couple of tips for this are to layer your meat and cheese across the whole sub. This creates a nice barrier between the grinder salad and the bread.
Additionally, use a slotted spoon to dish out the grinder salad onto your subs. Make sure the extra juices drain away before applying the salad to the sub sandwich.
Watch your cheese carefully as it's melting and do not let it burn or stay in the oven too long. I've been on the wrong end of "melted" cheese, and it will ruin your sub. Even just a couple of extra minutes under the broiler can blacken your cheese and can turn your perfectly crisp bread into a crumbling dry mess. Tread carefully here.
Can I Make These Subs Ahead Of Time?
While you could make these ahead of time, I don't recommend it. They really don't store too well because the grinder salad will eventually bleed onto your bread, making the bread a bit soggy. You also want your cheese to be nice and melty, which means you really have to heat them just before serving.
If you're really looking to save some time though, you could assemble the bread, cheese, and meats, ahead of time, and prepare your grinder salad on the side. Then you could heat the sandwich up (meat included) and just add your salad mix. Not quite the same, but works in a pinch.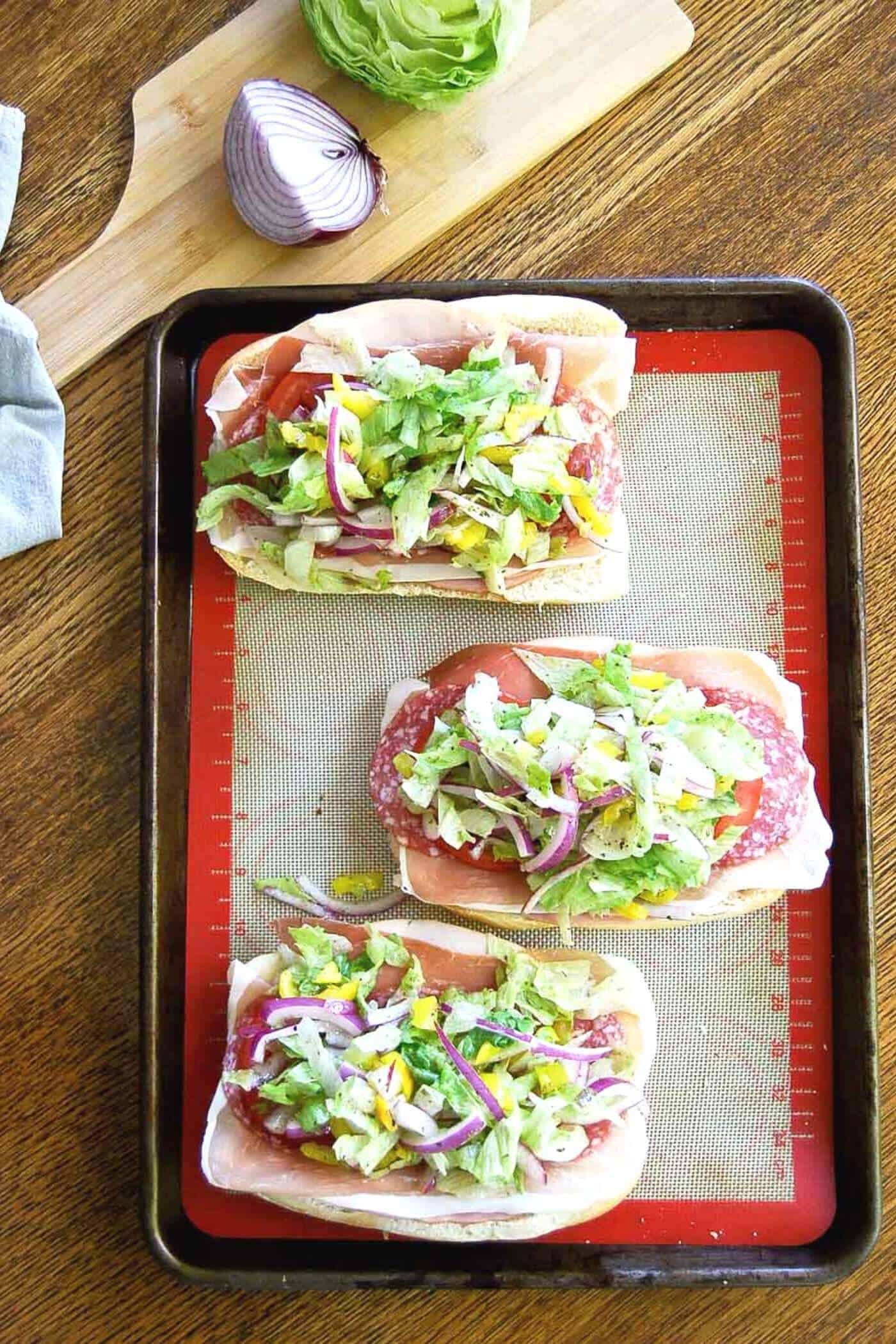 What To Serve With Grinder Sandwiches
Grinder subs are a perfect casual lunch or dinner option and the serving options are really endless. Here are a few things I love serving with these
Potato chips
Fries (these Carrot And Parsnip Fries are delish, or try my Louisiana Voodoo Fries for a really decadent treat!)
A light salad. (This Chopped Zucchini Salad would be amazing with these subs.
Roasted veggies.
Potato salad
Creamy slaw
If you make this recipe for Grinder Sandwiches, please let me know what you think in the comments, and tag me with a pic @frontrnagefed on Instagram. I love seeing your creations!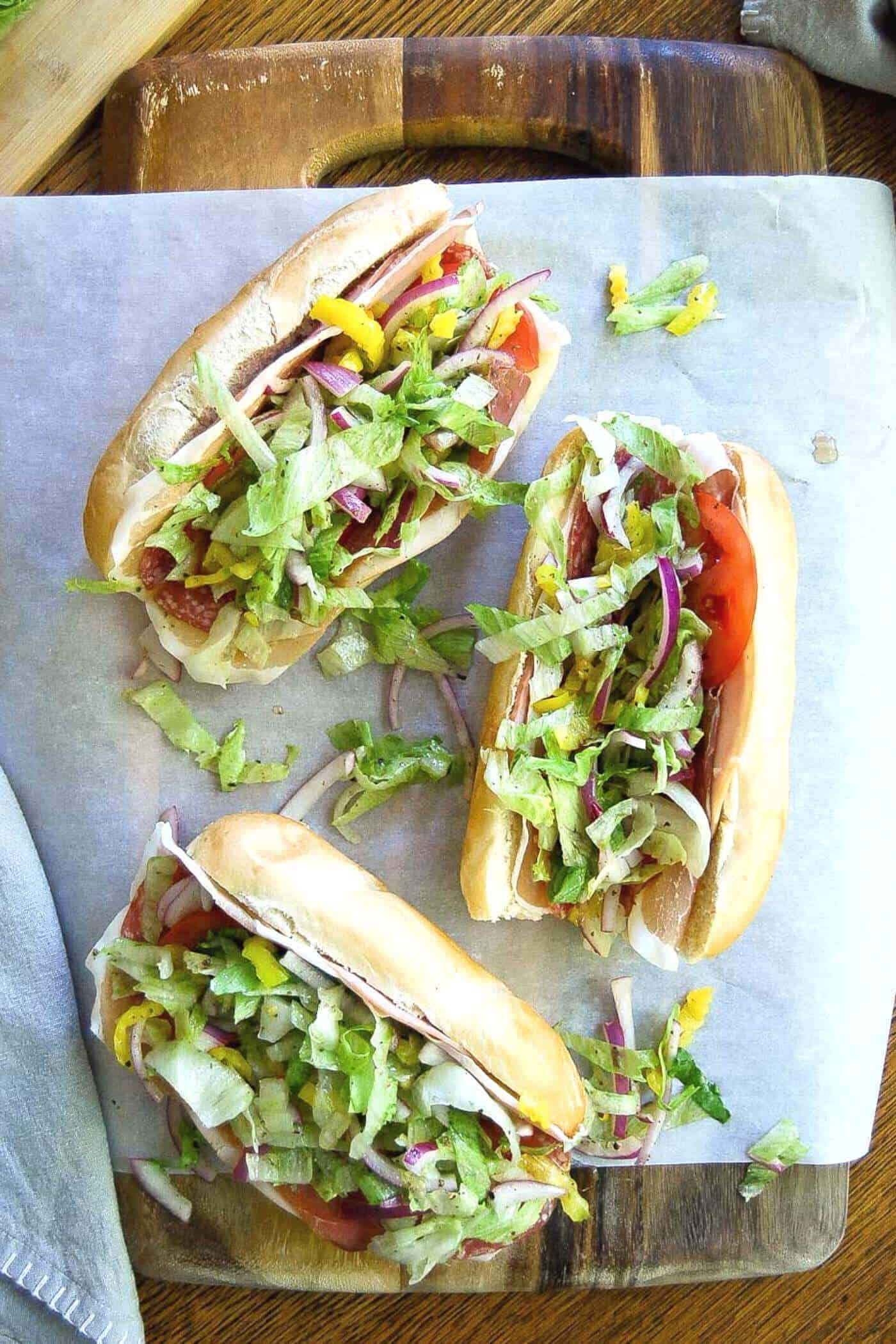 More Awesome Sandwiches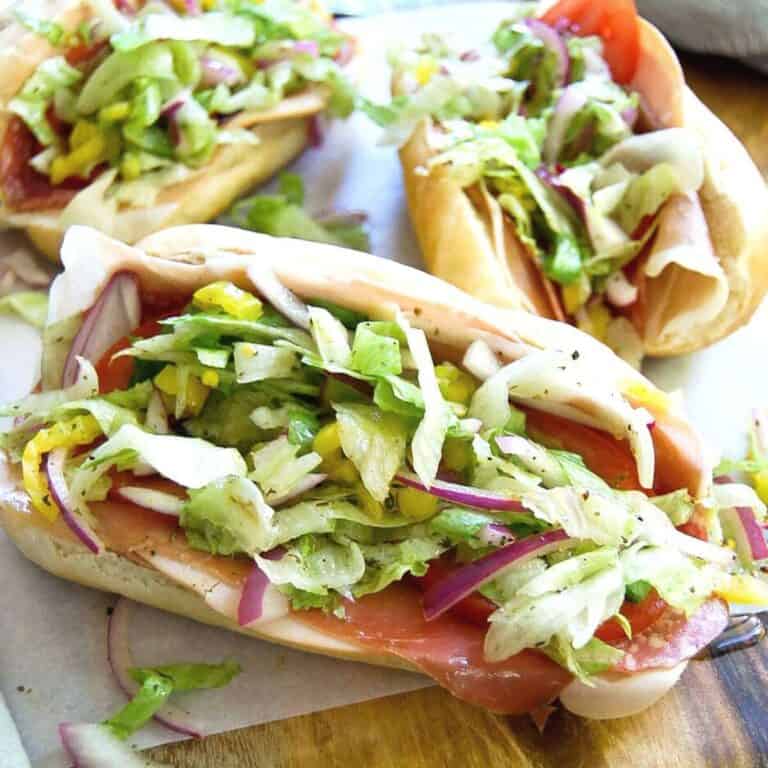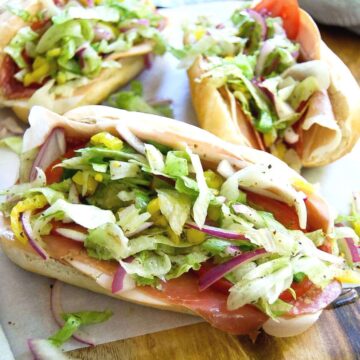 Grinder Sandwich Recipe
This Grinder Sandwich Recipe is basically a meat and cheese-packed sub that is toasted in the oven, then topped with a tangy tomato, onion, and lettuce salad. Easy to make and even easier to eat, this classic Italian sandwich is great for a casual lunch or dinner. 
Ingredients
½

head

iceberg lettuce, thinly sliced

¼

red onion, thinly sliced

½

cup

sliced banana pepers, chopped

1

thinly sliced tomato

2

tablespoon

mayo

2

tablespoon

olive oil

2

tablespoon

red wine vinegar

½

tablespoon

Italian seasoning

½

teaspoon

kosher salt

½

teaspoon

ground black pepper

4

sandwich rolls- hoagies or Italian sub rolls

8

slices

provolone cheese

4

large ham slices

4

large turkey slices

12

slices

salami

8

slices

prosciutto
Instructions
Pick high quality sub rolls - crusty on the outside and soft in the middle is ideal. If your rolls are soft, set the oven to 350 and bake for 2-3 minutes to achieve the crusty/soft combo.

Make the grinder salad topping. Mix chopped iceberg lettuce (slice into ribbons), sliced red onion, banana peppers, mayo, red wine vinegar, Italian Seasoning, Salt, and pepper. Mix well.

Slice sub rolls in half lengthwise. Spread cut sides of rolls with mayo, then apply cheese to the entire surface (2 slices per roll) and broil for 2 minutes on high until cheese has melted.

Remove the subs from the oven and top the melted cheese with layers of ham, turkey, salami, prosciutto and tomato. Layer the meat so that it lays across the entire roll. This will allow you to use the meat as a hammock to hold the grinder salad mix.

Add a generous helping of the grinder salad mixture to the middle of the sub, right in the middle.

Fold subs in half (using a knife to "press" the mixture into the sandwich as you fold it makes this easier).