These Hearty Mushroom Burgers are the best! Loaded with mushrooms for a hearty, earthy taste, flavored with garlic, onions, and spices, and bound with beans and quinoa. A great healthy alternative to burger night!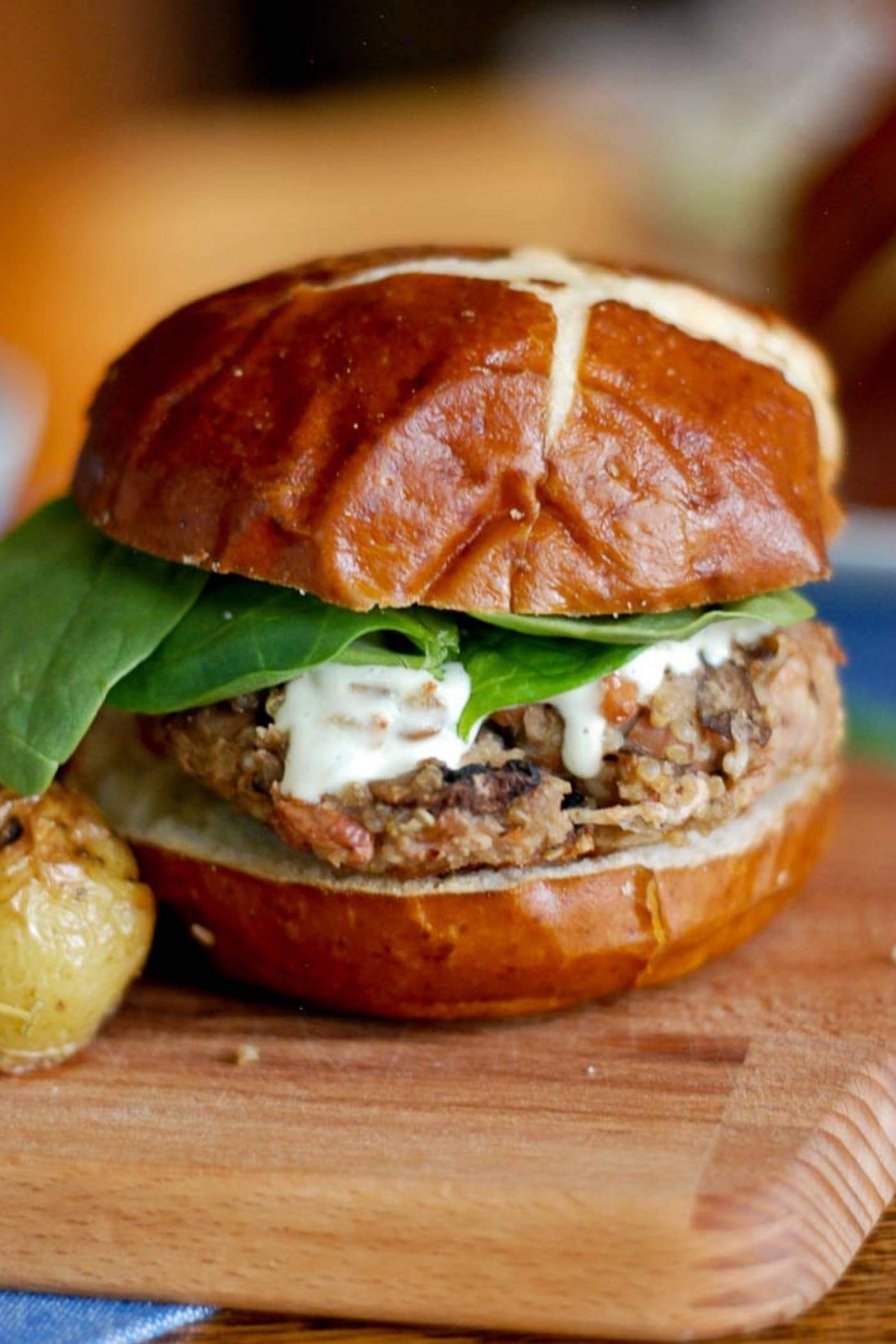 A while back I had one of the best mushroom veggie burgers I had ever tasted at a local brewery down the street from us. You know how a lot of veggie burgers taste dry or to bread heavy? This one was the exact opposite. Moist, with tons of flavor, and hearty mushrooms that gave the burger that delicious umami flavor that's sometimes missing from veggie burgers. For me, it was the ideal alternative to a great burger, and it's something that I immediately set to work to figure out how to make.
Don't get me wrong – I love a good burger. My grandfather was a butcher after all! But lately, we've been making a conscious effort in our family to eat less meat. Fewer calories, less fat, healthier. At least a few times a week, that's our goal.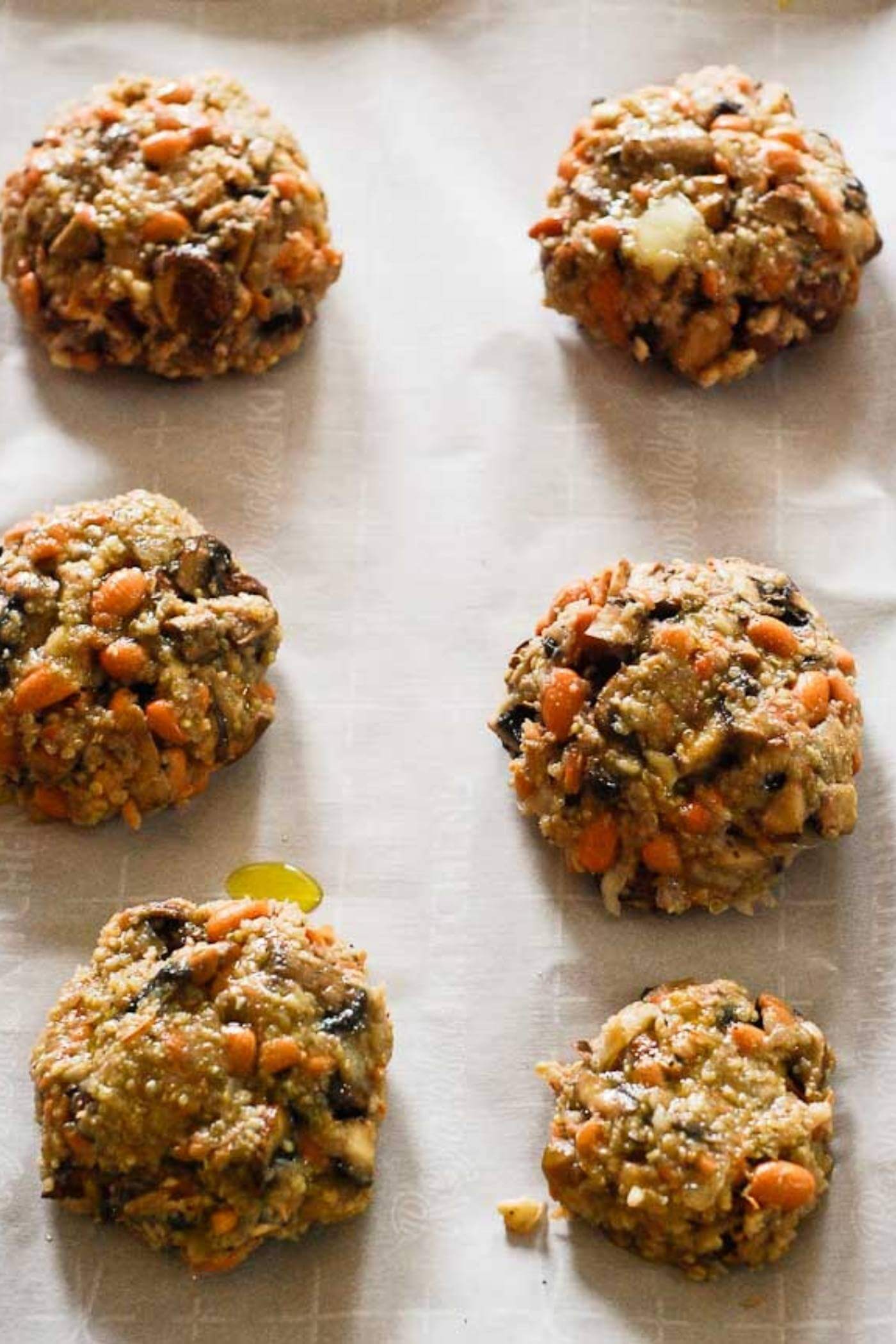 Enter, this veggie burger. It's loaded with good-for-you veggies and spices and gets its binding from pinto beans, bread crumbs, and quinoa.
How To Make Them
Veggie burgers can be tricky: add in too many veggies and they come out watery and are a pain to put together. Make them too dry and they turn out all crumbly and falling apart.
To solve this problem, I roasted the mushrooms for about 10 minutes before adding them to the patty mixture to dehydrate them a bit. This removed some of the water from them and only deepened their flavor. And, using the mashed beans as part of the binding helps to keep the patty together without drying it out.
So here's what you do.
Mix all the mushroom burger ingredients together, form it into patties, and then brush the top with olive oil.
Then roast the burgers in the oven for about 15 minutes, flip them over, and roast for an additional 10 minutes.
For toppings, the sky's the limit. I added a simple garlicky mayo (don't be fooled - it's delicious and packs a punch!), some Swiss cheese, and spinach. But feel free to mix it up. Sriracha, lettuce tomatoes, pickles, and even good old-fashioned ketchup and mustard all work well here.
And, served on a pretzel bun, this can't be beaten! (I mean, IMHO, anything on a pretzel bun is deserving of my attention, am I right?)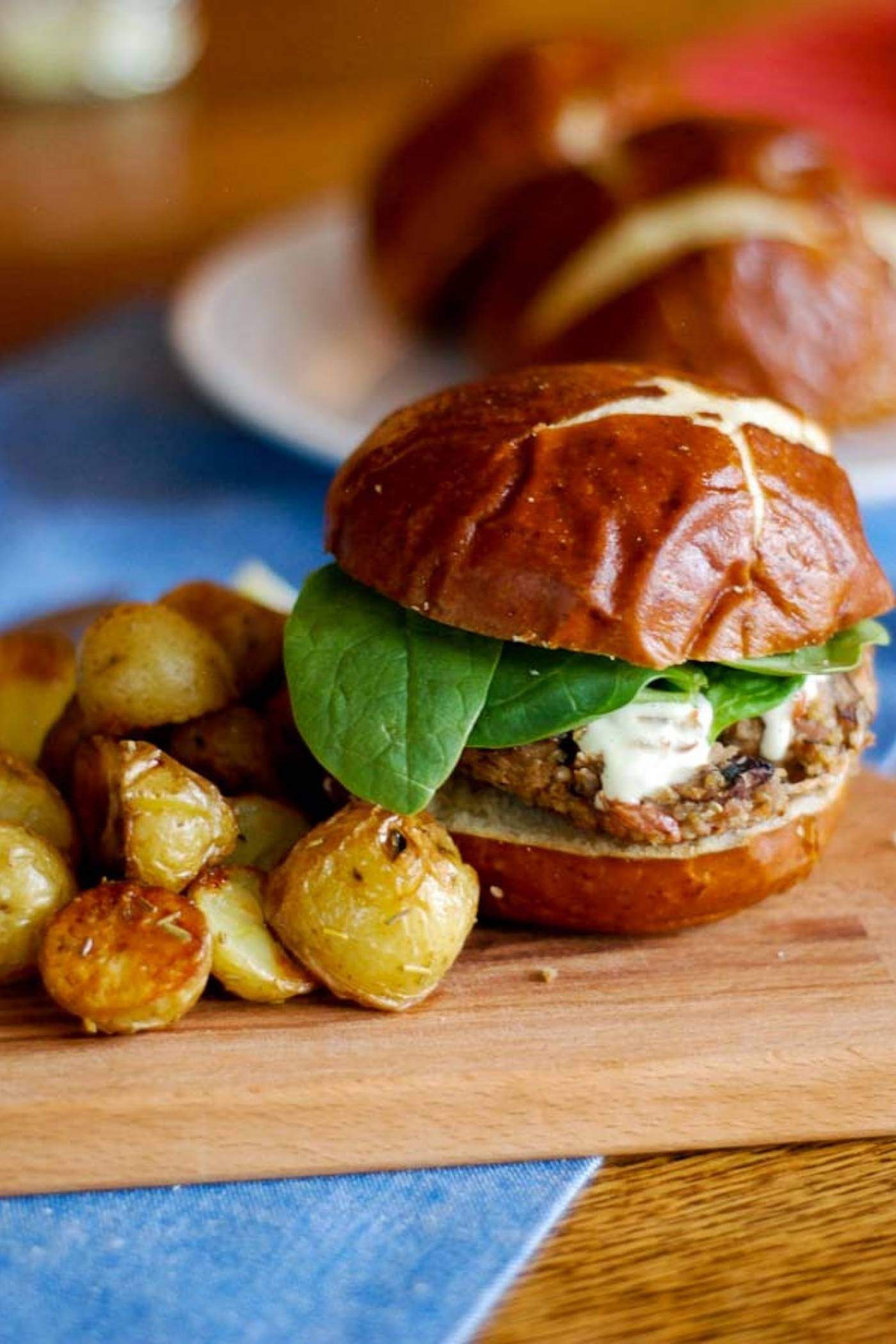 Give these Mushroom Burgers a try if you're in the mood for a lighter burger option! They pair perfectly with oven-roasted potatoes, french fries, or if you're feeling really decadent, these Louisiana Voodoo Fries.
If you do try these mushroom burgers, let me know what you think in the comments below. And don't forget to tag me on Instagram!
More Great Sandwich Recipes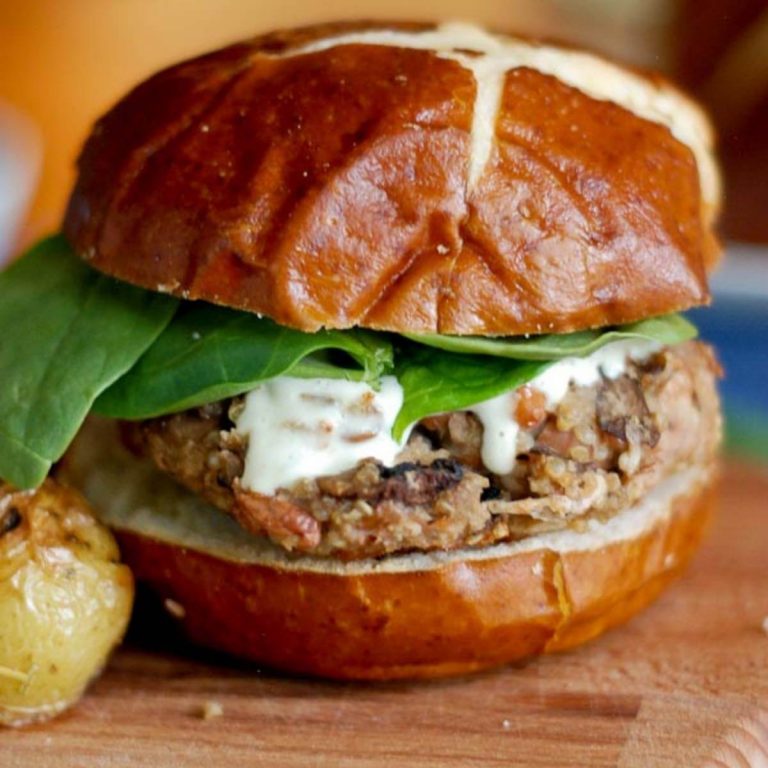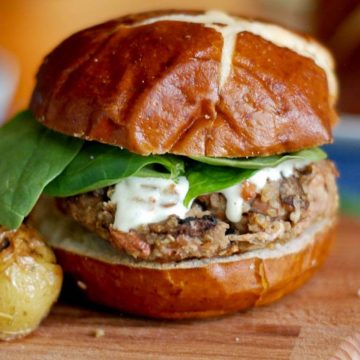 Hearty Mushroom Burgers With Garlicky Mayo
This mushroom burger is the best! Loaded with mushrooms for a hearty, earthy taste, flavored with garlic, onions, and spices, and bound with beans and quinoa. A great healthy alternative to burger night!
Ingredients
For The Mushroom Burgers
3

cups

mushrooms, sliced

1

small onion, shredded

8

garlic cloves, minced

1

egg

⅓

cup

breadcrumbs

½

cup

cooked quinoa

¼

teaspoon

paprika

¼

teaspoon

oregano

¼

teaspoon

cumin

1

can

pinto beans, mashed

salt and pepper to taste
For The Garlic Mayo
½

cup

mayo

2

garlic cloves, smashed

1

teaspoon

lemon juice

1

teaspoon

olive oil

salt and pepper to taste
Instructions
For The Mushroom Burgers
Preheat the oven to 350 degrees and line a baking sheet with parchment paper. Roast sliced mushrooms for 10 minutes, then remove from oven and let cool.

While mushrooms are roasting, sauté shredded onion and garlic cloves for 1-2 minutes in 1 tsp. olive oil over medium heat. Remove from heat, place in a large bowl, and allow to cool slightly before handling. Add mushrooms to the bowl.

Add remaining ingredients to the mushroom/onion/garlic mixture and combine well.

Form the mixture into individual patties (you should have about 6-8 burgers depending on how big you make them.)

Brush tops of burgers with olive oil

Place the burgers into the oven and roast at 400 degrees for 12-15 minutes. Flip burgers and brush the other side with oil.

Bake burgers for another 10 minutes or until lightly browned on top.

Serve on a toasted bun (we prefer pretzel buns!) with garlic mayo and the toppings of your choice!  Goes great with roasted potatoes or fries! 
For The Garlic Mayo
Whisk the mayo, garlic, lemon juice, and oil together in a small bowl.

Add salt and pepper to taste.