These Chorizo And Red Pepper Tostadas With Avocado-Lime Sauce are the ultimate in both taste and simplicity. Topped with a creamy avocado sauce, fresh cilantro, lime, and cotija cheese, this quick and easy tostada recipe will soon be a regular in your weeknight meal rotation.
Ok, well, I'm a couple of days late for Taco Tuesday with this post. Or maybe I'm 5 days early. Either way, this tostada recipe is the BEST and, in truth, I'd gladly serve this up any night of the week. Seriously. These are good you guys.
One of my 2020 resolutions is to simplify. I'm trying to do this in every area of my life to make room for the things that are important to me. I'm sick of the clutter, the unnecessary activities, the "feeling busy" all the time but not really seeing results. I want to cut out all the extra "stuff" and focus only on the good things.
And while I am seeing flashes of my overstuffed closet in my head as I type those last few words, I will say that this concept also applies to the food I am preparing and eating. I want it to be simple. Real food, easy-to-prepare meals with pure ingredients.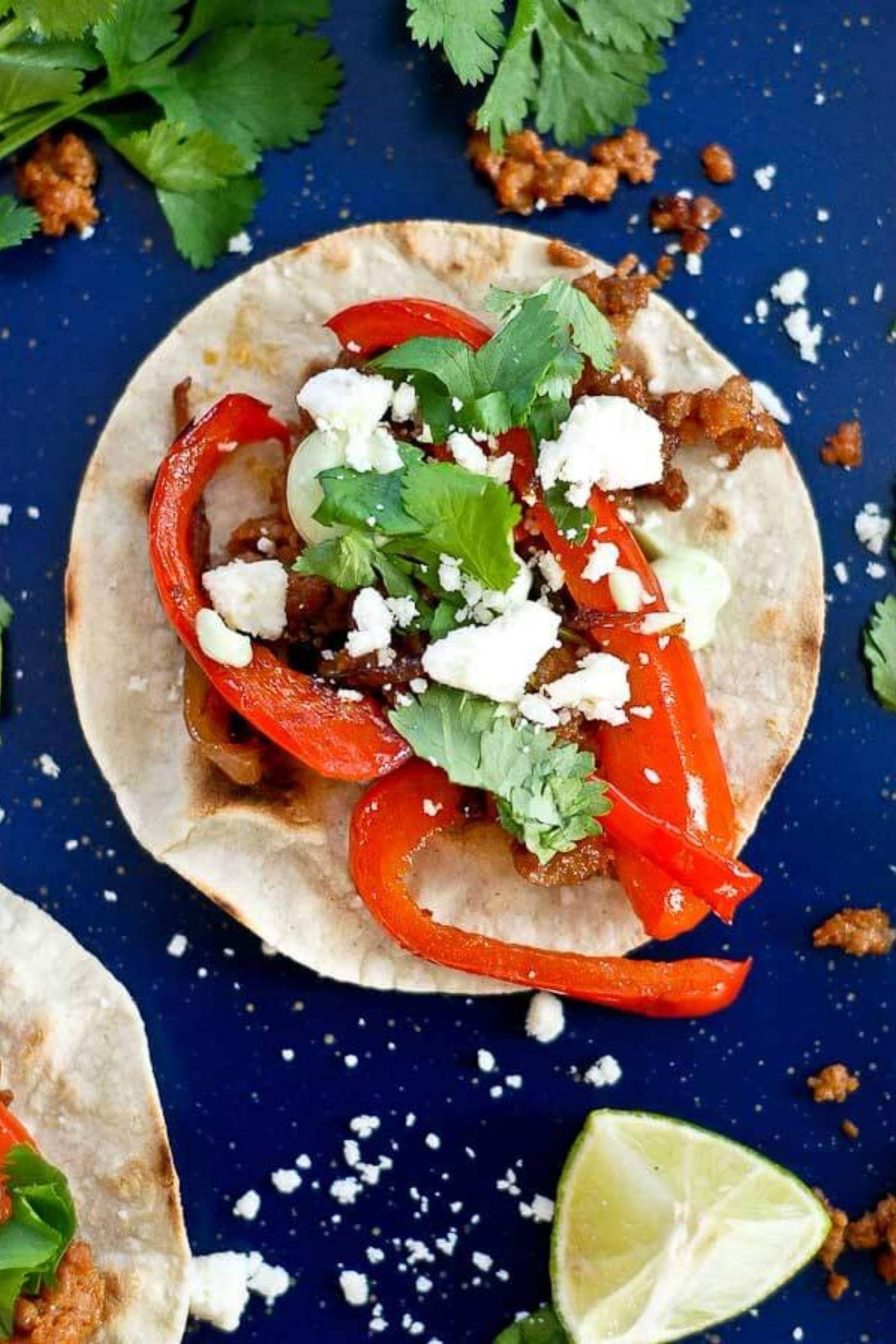 Don't get me wrong. There will always be a place in my kitchen for long Sundays laboring over a roast, waiting for fresh bread dough to rise, or making the perfect 5-hour Bolognese. But weeknights are not for those types of frivolities, and I'm making every effort to find healthy meals that can be made quickly, with few ingredients, and that taste delicious. These chorizo and red pepper tostadas are one of those meals.
How To Make Them
Let's start with the base. Tostadas are basically crispy tortillas that you pile your toppings with. Pretty much like a large tortilla chip. They're easy to find in the store, but if you find yourself with some extra tortillas and just want to make your own, that's pretty simple to do too.
How To Make The Tostada Shells In The Oven
Here's how you can make homemade tostada shells in the oven.
Heat your oven up to 400 degrees, spray a large baking sheet with cooking spray, lightly spray both sides of your tortilla with cooking spray, sprinkle with salt and then bake for 5 minutes.
Flip them over and bake an additional 5-10 minutes and you're done.
And if you'd rather not bother with any of that and you have some tortilla chips on hand, there's no shame in just doing these tostadas up as nachos. Whatever works – they'll still taste delicious.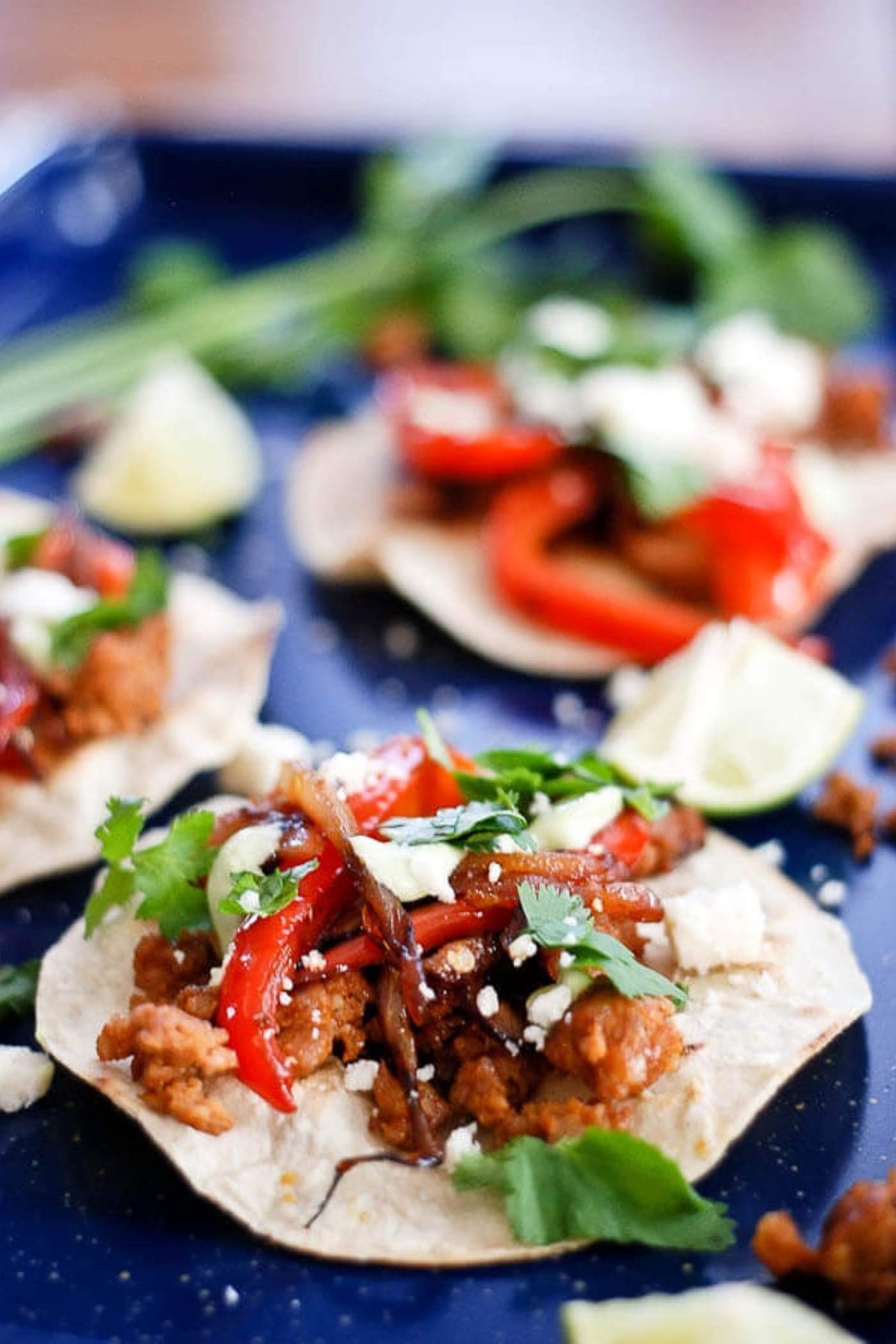 How To Make The Chorizo Topping
Next up, the toppings. Chorizo is a spicy sausage made up of ground pork and spices (mainly garlic, salt, and paprika). And while you should probably consume this meat sparingly (it is fairly high in salt content and in fat), it is low carb and contains a good amount of protein. Also, It. Is. Delicious. Everything in moderation, right?
The chorizo is cooked through in a skillet, breaking and crumbling the meat into crispy nuggets of goodness. Once it's done cooking, remove it from the skillet and set it aside. (Don't you dare wipe that pan out though!)
In the same skillet, with the leftover spicy juices from the chorizo, sautee the onion and red peppers. I added a bit of serrano pepper here too because I like the heat, but if you're more of a mild gal or guy, you can omit it. Cook until the peppers are soft and the onions are translucent.
Everything is then piled atop a tostada and topped with a small dollop of a delicious, creamy avocado lime sauce.
Making The Avocado Lime Sauce
Wait, did I not yet mention the avocado lime sauce? Not really a salsa, sort of like a spiked sour cream, it's the topping of your dreams. At least for Mexican food. But seriously, it's so good – you'll want it on your eggs at breakfast, your ham sandwich at lunchtime, and your tostada for dinner (you saw that coming, right?). Trust me. The tostada by itself is good, but the avocado cream sauce really pulls the whole thing together. And it's a cinch to make.
Combine avocado, sour cream, lime juice, and spices & herbs (cumin, cilantro, and salt) in a food processor or blender.
Blend on high until the sauce is smooth and creamy.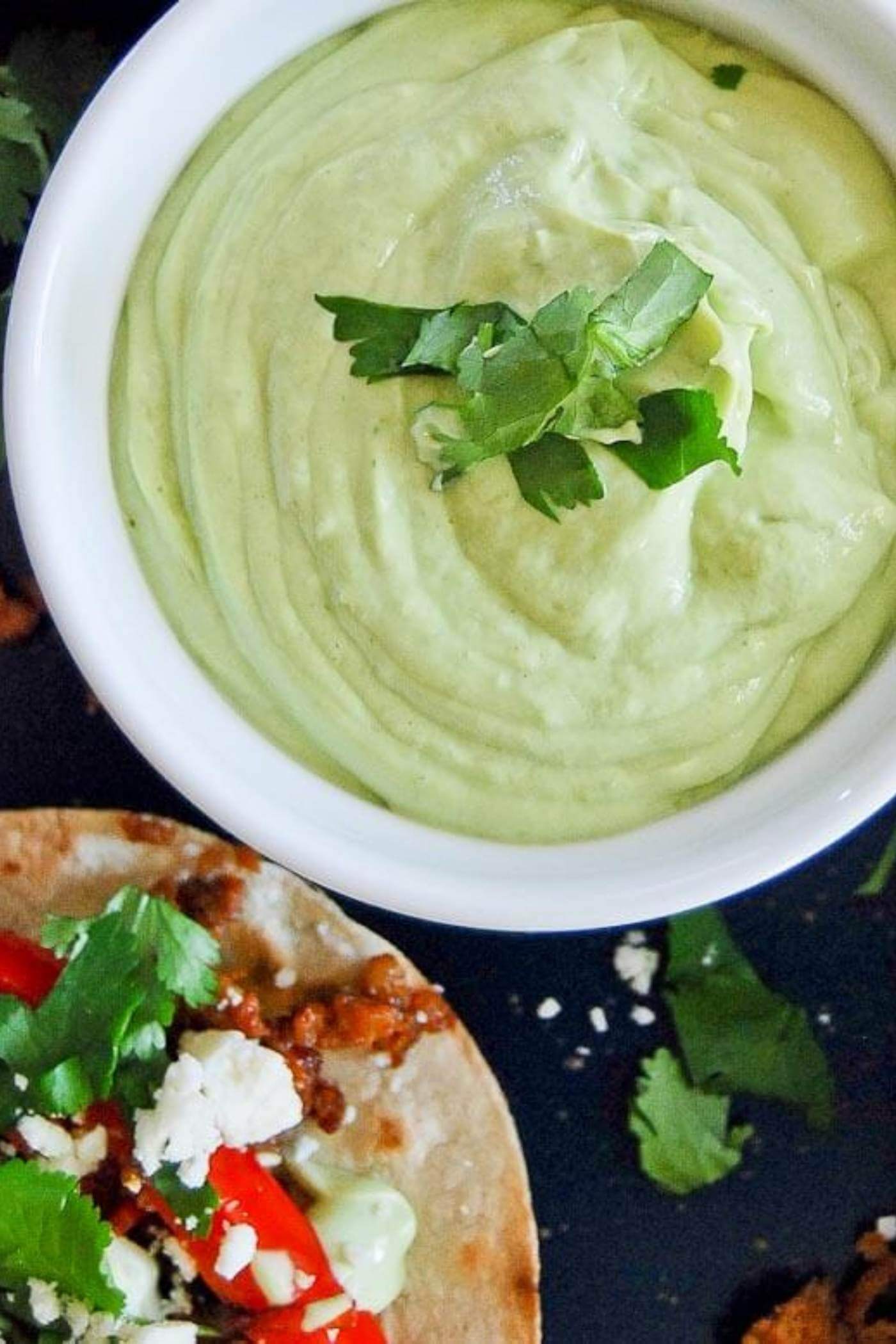 Finally, top your assembled tostadas with the garnish of your choice. I highly recommend some crumbled cotija cheese, a squeeze of lime, and some chopped fresh cilantro.
Try these Chorizo And Red Pepper Tostadas, you guys. They're delish, easy as can be, and (mostly) healthy.
And if you do try this tostada recipe, be sure to leave a comment or tag me on Instagram!
Try These Other Easy Mexican Recipes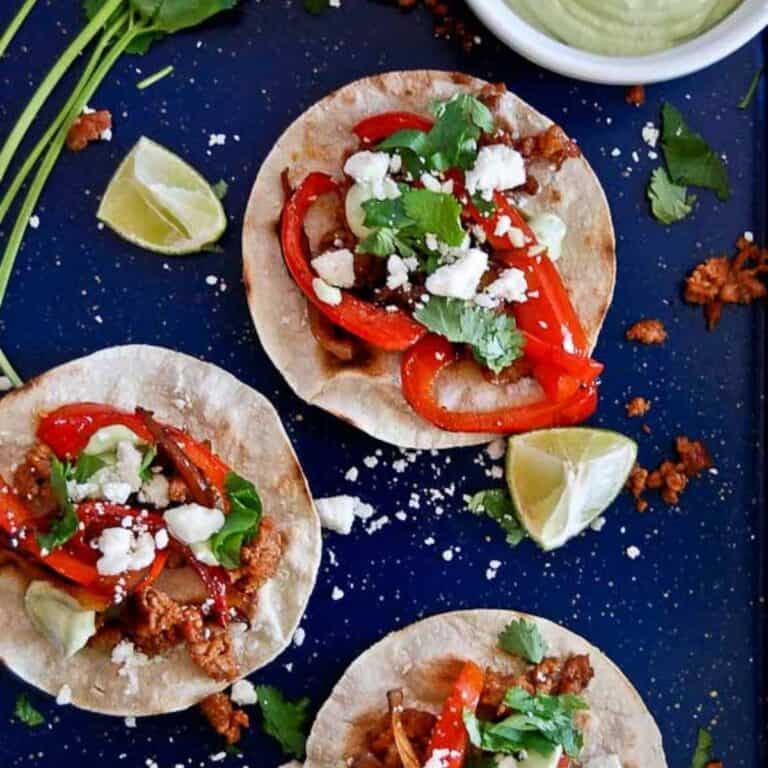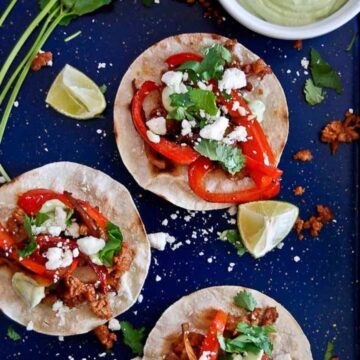 Chorizo And Red Pepper Tostadas With Avocado Lime Sauce
Tostadas are the perfect easy weeknight meal, and this one with chorizo and red pepper is the ultimate in both taste and simplicity. Topped with a creamy avocado sauce, fresh cilantro, lime and cotija cheese, this quick and easy tostada recipe will soon be a regular in your weeknight meal rotation.
Ingredients
Tostadas
1

teaspoon

extra virgin olive oil

1

lb

ground chorizo

2

red peppers, sliced thinly

½

medium red onion, sliced thinly

1

small serrano pepper (optional)

¼

teaspoon

ground cumin

8

small white corn tortillas or tostada shells
Avocado-Lime Cream Sauce
1

large avocado

¼

cup

sour cream

juice from 2 limes

⅛

teaspoon

salt (plus more to taste)

¼

teaspoon

cumin

2

tablespoon

cilantro, divided
Garnishes
cilantro

lime wedges

crumbled Cotija cheese
Instructions
In a large skillet, heat 1 teaspoon of oil over medium heat. Brown the chorizo, breaking up to a crumble as it cooks.  Remove chorizo from pan. (Don't wipe the pan out!)

In the same pan, with the drippings from the chorizo, sauté the sliced red peppers, onions, serrano pepper (if using) and ¼ teaspoon of cumin. Cook until red pepper is soft and onion is translucent, about 5-7 minutes.  Remove from pan.

Meanwhile, make the avocado cream sauce by combining all sauce ingredients into a food processor or blender and blend until smooth.

Assemble your tostadas by topping each tostada shell with a spoonful of the chorizo, and the pepper and onion mixture. Spoon a small amount of the avocado cream sauce over each tostada and garnish with cilantro, lime wedges, and crumbled Cotija cheese.