This creamy Avocado Smoothie uses banana and pineapple to add sweetness, and uses almond milk to make it a dairy-free, vegan smoothie. It's a delicious and ultra healthy way to start your morning!
It's that time of year again – spring cleaning! A great time to organize and refresh your home. But what about your body? For me, this avocado smoothie is the perfect fix for fueling me up in the morning and giving me a bit of a reboot.
What Makes This Avocado Smoothie Recipe Great
All healthy ingredients! Seriously - there is NOTHING bad in this smoothie!
Dairy Free. Yep - this avocado smoothie dairy and lactose free.
Vegan.
Works well with many different fruits.

I used pineapple and banana as a sweetener here, but you could also add blueberries, strawberries, mango - whatever you want!

Low-Calorie. All the ingredients used here are low-calorie making it great for those on a low-calorie diet.
Creamy texture. Using avocado here really gives this smoothie an ultra creamy consistency.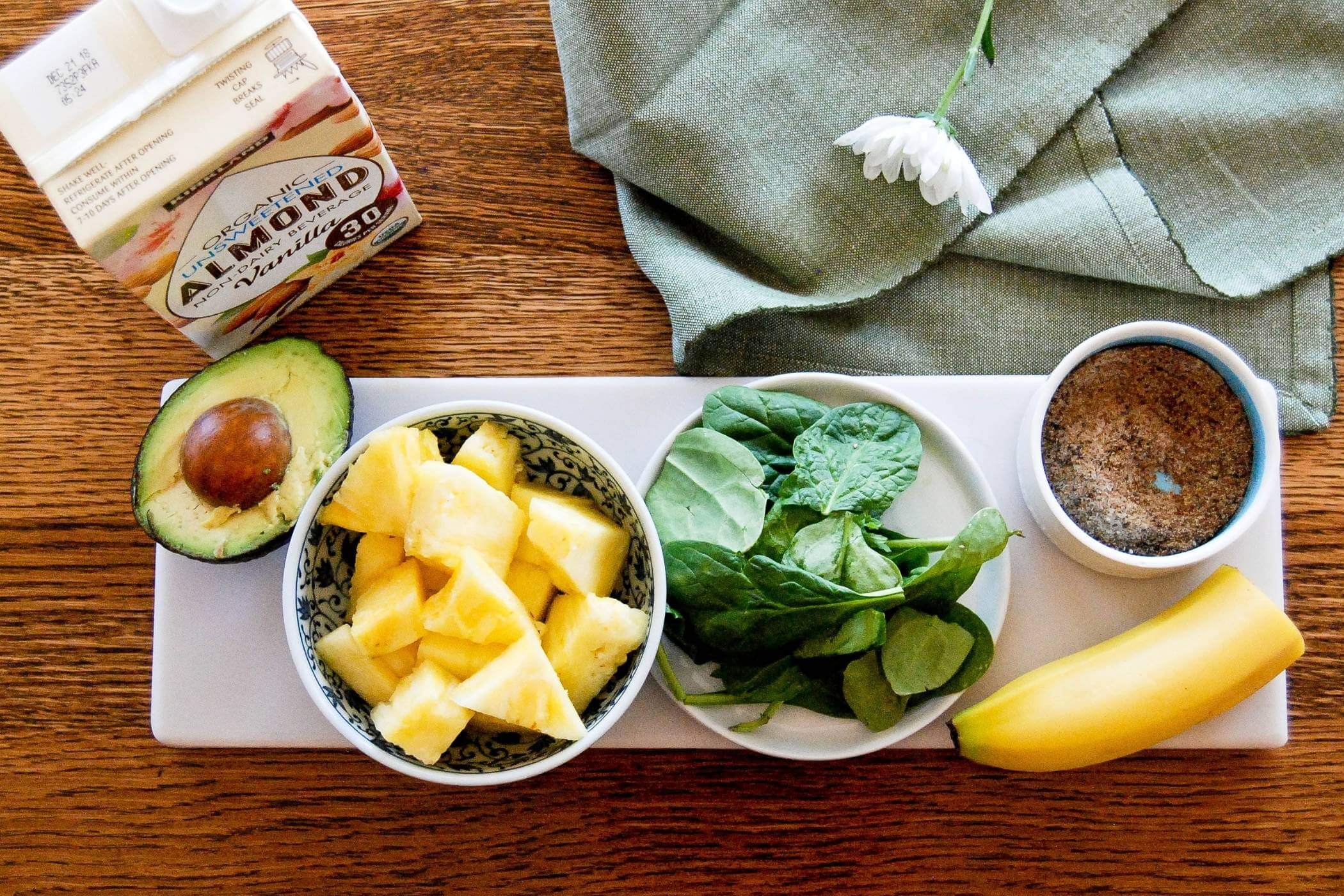 Ingredients
You need only a handful of ingredients to make this avocado smoothie recipe:
Avocados. The star of the show! Not only does this give the smoothie a delicious creamy texture, it has tons of health benefits! They're a great source of Vitamin C, E, K and B6, folate, magnesium, potassium and omega 3 fatty acids. Their also high in fiber and healthy fats, which help to keep you energized and full between meals. Yay!
Pineapple. While you can add any fruit to this smoothie, pineapple is a great choice. Like avocado, it's loaded with vitamin C and other nutrients and is great for fighting inflamation. You can even save the core of your pineapple and throw that in, while it's pretty tough to eat on its own, it's a great addition to smoothies!
Spinach. This superfood is packed with vitamins A, C and K1, is high in fiber, and is an excellent source of iron and calcium.
Almond Milk. Not only is it low sugar and naturally lactose and dairy free, almond milk has tons of vitamins, is a great source of vitamin E and promotes healthy skin!
Banana. Typically an essential smoothie ingredient, bananas add sweetness to this avocado smootie and provide a good dose of fiber and other essential vitamins. Plus, it's a great workout recovery food, making this smoothie perfect to drink after your morning sweat session.
Extras. I like to add flax seeds and chia seeds to my smoothie for a little added fiber and nutrients. But feel free to omit these if they don't appeal to you or sit well with your stomach (some people have trouble with them). This smoothie is still great without them!
How To Make An Avocado Smoothie
This avocado smoothie recipe is super easy to make! Just chop up your pineapple, combine all ingredients in a blender and blend until smooth.
Can You Taste The Avocado?
If you've never had an avocado smoothie before, you may be wondering about the taste. The beauty of using avocados in your smoothie is that they are actually pretty neutral taste-wise and make the consistency of the smoothie so thick and creamy.
Can You Use Frozen Avocado?
You can use fresh or frozen avocado for this smoothie. If you have very ripe avocados on your hands, freezing them is a great way to keep them for future use, and frozen avocados are great for smoothies!
How To Freeze Avocados
Make sure your avocados are ripe.
Peel and cut your avocado. You can do this easily by halving the avocado, removing the pit, then cutting each of the halves again leaving you with quarters. Peel the skin off each quarter.
Place some parchment or wax paper on a baking sheet or pan and place your avocado quarters on top.
Freeze for 1 hour, but no more than 3. You don't want the avocado to sit too long uncovered in the freezer.
Remove the frozen avocados from the freezer, then place them in an airtight container to use for later.
Easy!
What If My Avocados Aren't Ripe?
Avocados are one of those pesky fruits that take forever to ripen. This smoothie recipe calls for ripe avocados and using an unripe avocado is not advised. To make an avocado ripen faster, I like to place it in a paper bag with a banana. Bananas produce a gas called ethylene, which can trigger the ripening process, especially when placed inside a paperbag, traping your avocado with the gas. You probably won't be able to use it same day, but after a couple of days it should be ripe.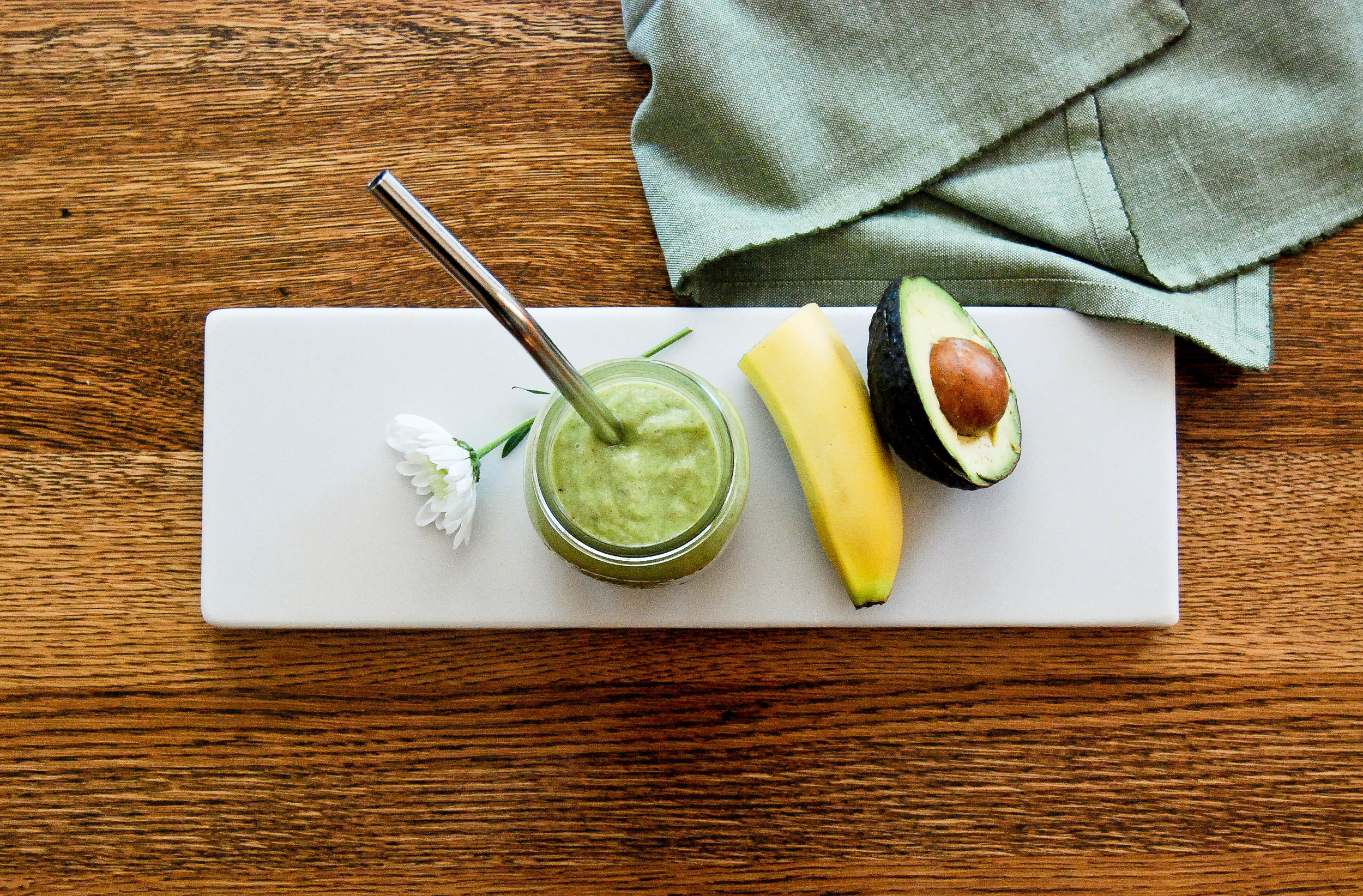 Can I Use Regular Milk?
Sure. If you're not worried about dairy content or making this smoothie vegan, feel free to use whatever type of milk product you like best. You can even sub out almond milk for coconut milk, which gives this smoothie a more tropical feel!
If you try this avocado banana smoothie, let me know what you think in the comments below! And don't forget to tag me with a pic on Instagram so I can see what you've created!
More Delicious Smoothie Recipes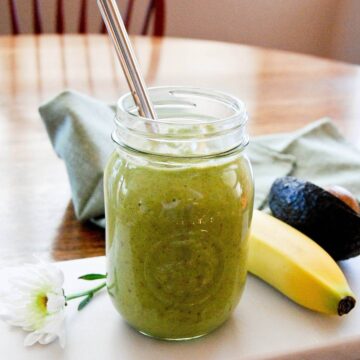 Creamy Avocado Smoothie
This creamy avocado smoothie uses banana and pineapple to add sweetness, and uses almond milk to make it a dairy free, vegan smoothie. It's a delicous and ultra healthy way to start your morning!
Ingredients
½

avocado

1

cup

fresh cut pineapple

1

cup

spinach

1 ½

cups

almond milk

(I used vanilla flavored but you can use whatever version you prefer)

½

banana

½

cup

ice

½

tablespoon

flax seed (optional)

½

tablespoon

chia seeds (optional)
Instructions
Add all ingredients to a blender.